25 Best Modern Black Farmhouse Designs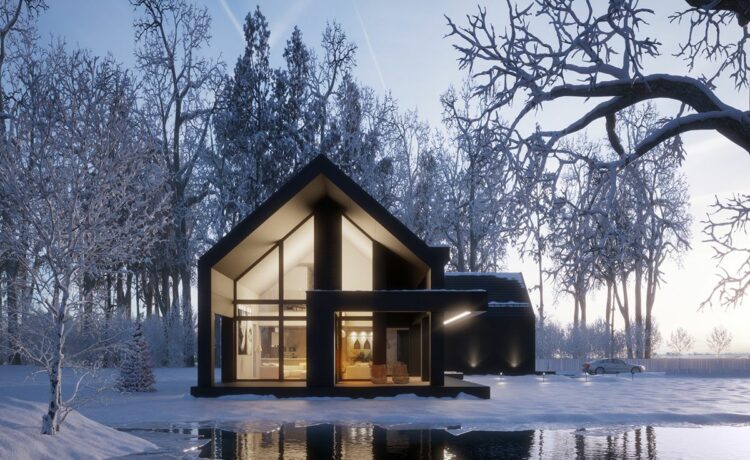 Farmhouses have been common throughout many centuries, and in different places, farmhouse designs have evolved according to the local architecture of that place or country.
If you want to remodel your old farmhouse or have purchased a new one, you must be looking for ways to make it chic and posh. Though you can try to do plenty of things, you can be sure of one thing: painting a black farmhouse.
Painting your farmhouse black is one of the best ways to make it stand out in the crowd. But if you want to beat the boredom, try something new, and are not afraid of experimenting, then there are more than one ways to beautify your farmhouse.
Modern farmhouses host advanced amenities to combine simple living with comfort. Hence we will take you through a range of modern styles and designs that will show you there are more than one ways to design a black farmhouse.
What are the Salient Features of a Farmhouse?
The traditional farmhouse embraces the rustic country interior styles, focusing on vintage furniture and deeper colors such as green, burgundy, and blue. At the same time, modern farmhouses don contemporary elements like clean lines, neutral color schemes, and sophisticated finishes. Modern farmhouses reflect more of Scandinavian aesthetic touch than American vibes. Today architects combine elements from both the traditional and modern styles of farmhouses to balance simplicity with chic and comfort.
Before delving deeper into the ways to style a black farmhouse, we have enlisted the salient features and key elements of farmhouse style accommodations:
Neutral color palette
Vintage and antique furniture and accent pieces
A large number of cabinets
Ample greenery and plants around
Large furniture pieces
Lots of reclaimed wood and exposed wood beams
Black Farmhouse Design Ideas
Without further ado, let's begin with the ways to decorate a farmhouse in black in more than ways.
1. Traditional Black Cottage
An all-black cottage looks modern, regal, and chic. You can paint your cottage all black. An all-black exterior will reflect a smart persona. Make sure to include lots of green accents around to exude richness in the vast surrounding.
Hang some lanterns and use some contrasting or neutral shades in the interior to balance the heavy exterior. If you have an open porch, you can keep some bamboo furniture to accentuate the look and make a comfortable seating area.
2. Black Minimalist Farmhouse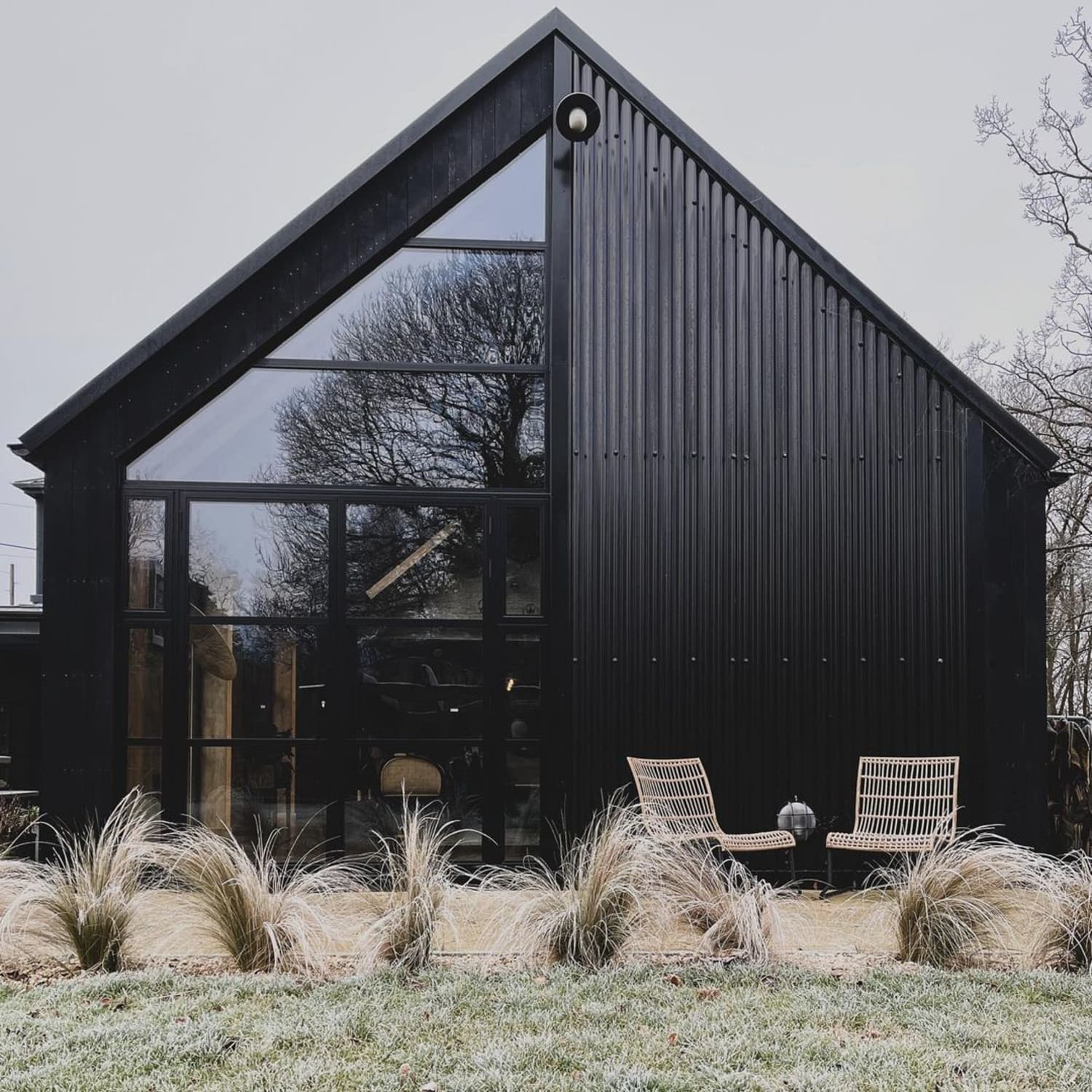 Exposed wood beams, boards, and rusty exteriors are characteristic of traditional farmhouses. So, to make your farmhouse look modern and chic, designers recommend painting your farmhouse in all-black paint.
You can just keep things minimal to grab people's attention and also to hide the wood beams and shaft and prevent it from looking tattered. Use glass to design your doors and windows. Other than this, keep the exterior plain and simple.
3. Black Modern Farmhouse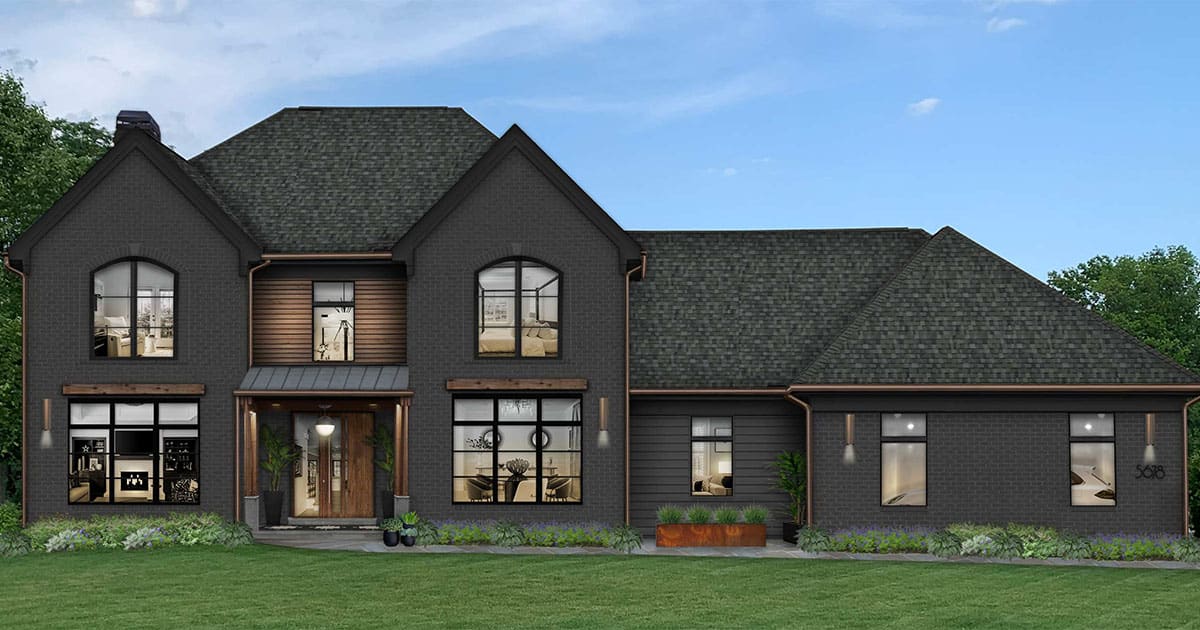 You can incorporate modern architectural elements such as black siding. Black siding has recently become a popular choice for residential buildings even though they have remained in trend for commercial buildings. It can be customized as per the housing structure.
One ecological benefit of using black siding is that it can absorb the sunlight and keep your house naturally warm during the bitter winters. So you can save on your energy bills effectively.
4. Black Farmhouse with Red Roof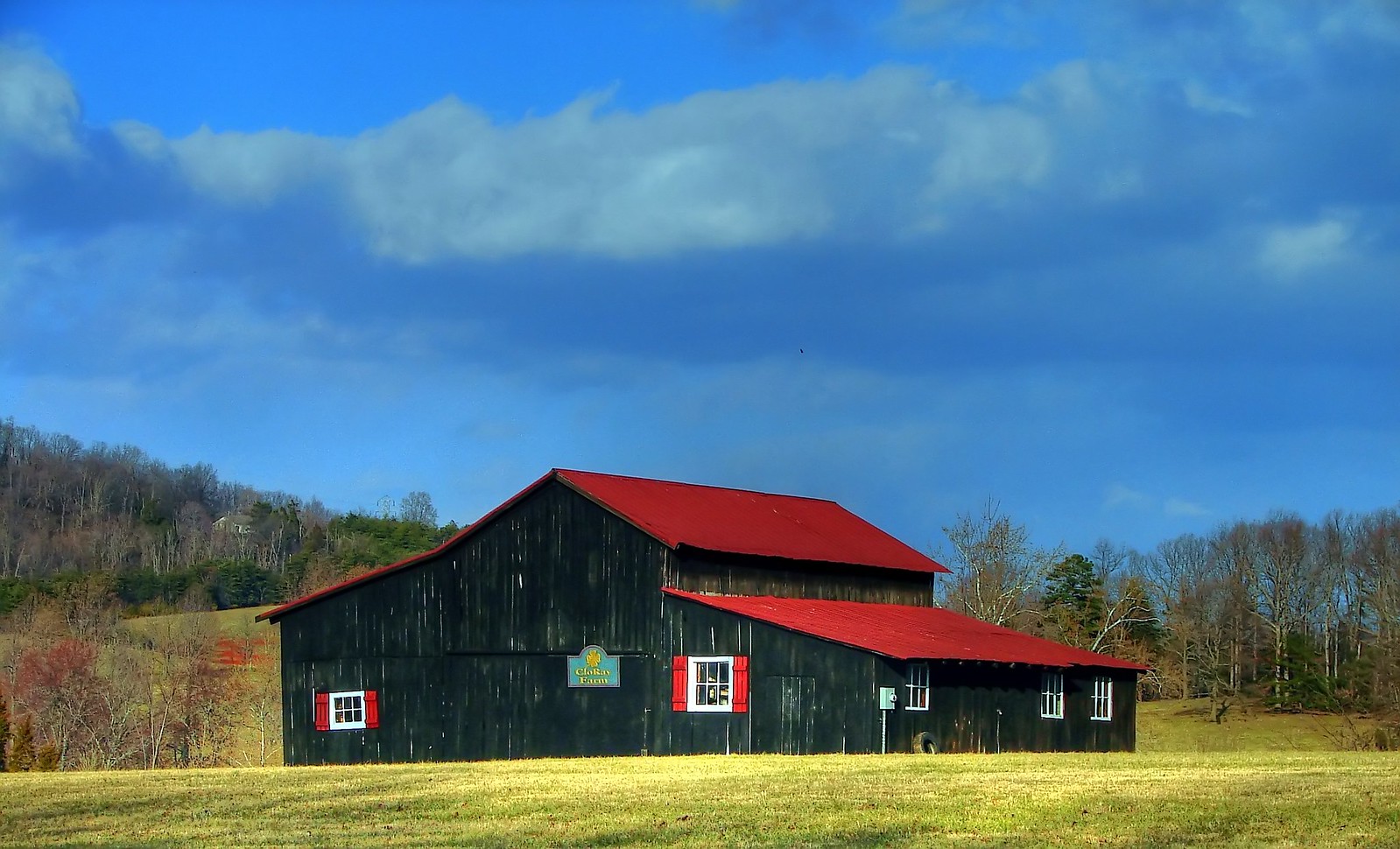 Another black farmhouse idea is to combine two bold colors to break the monotony of monochrome. Plus, black is a color that can be combined with any other color, like white, without exuding the feel of an odd color combination.
You can paint your plain and simple farmhouse all black and use scarlet or crimson red color for the roof part. This color combination will certainly add a dramatic appeal to your farmhouse or cottage and will make heads turn.
5. Black Outline and White Farmhouse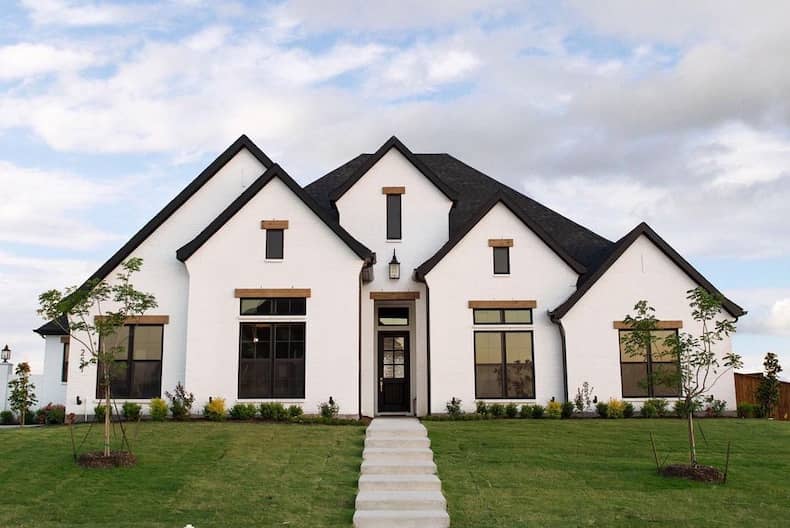 You can also choose to paint the vertical walls white and the roof pitch black in color. The black-and-white combination never gets out of fashion and can always be safe to go with if you are reluctant to experiment too much.
Another way to accentuate your farmhouse is by painting the windows and doors black. If you have glass windows and doors, you can paint the frames in black.
6. A-Frame Black Cabin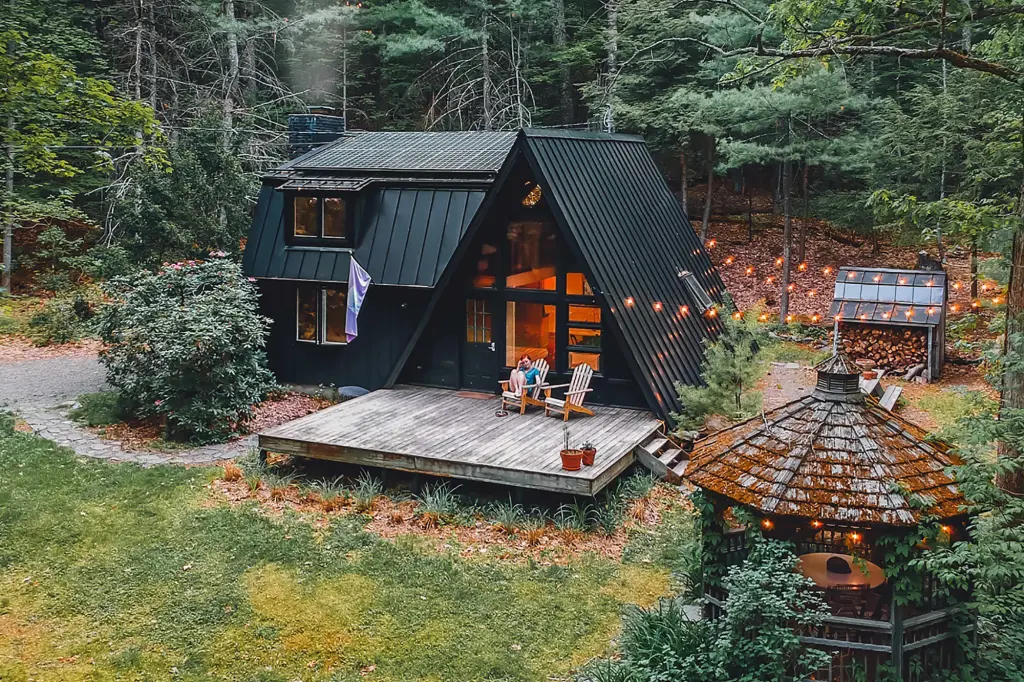 An A-frame black forest cabin is just another excellent black farmhouse idea. This is one of the most contemporary cottage designs, with a tall structure and an A-line roof.
You can paint the A-line roof black and paint the walls brown. Further, if you have added glass windows and doors, you can highlight them in white frames. This would make a perfect holiday home for your kids in the summer and during the winter vacations too.
7. Combine Charcoal Black with Blue Siding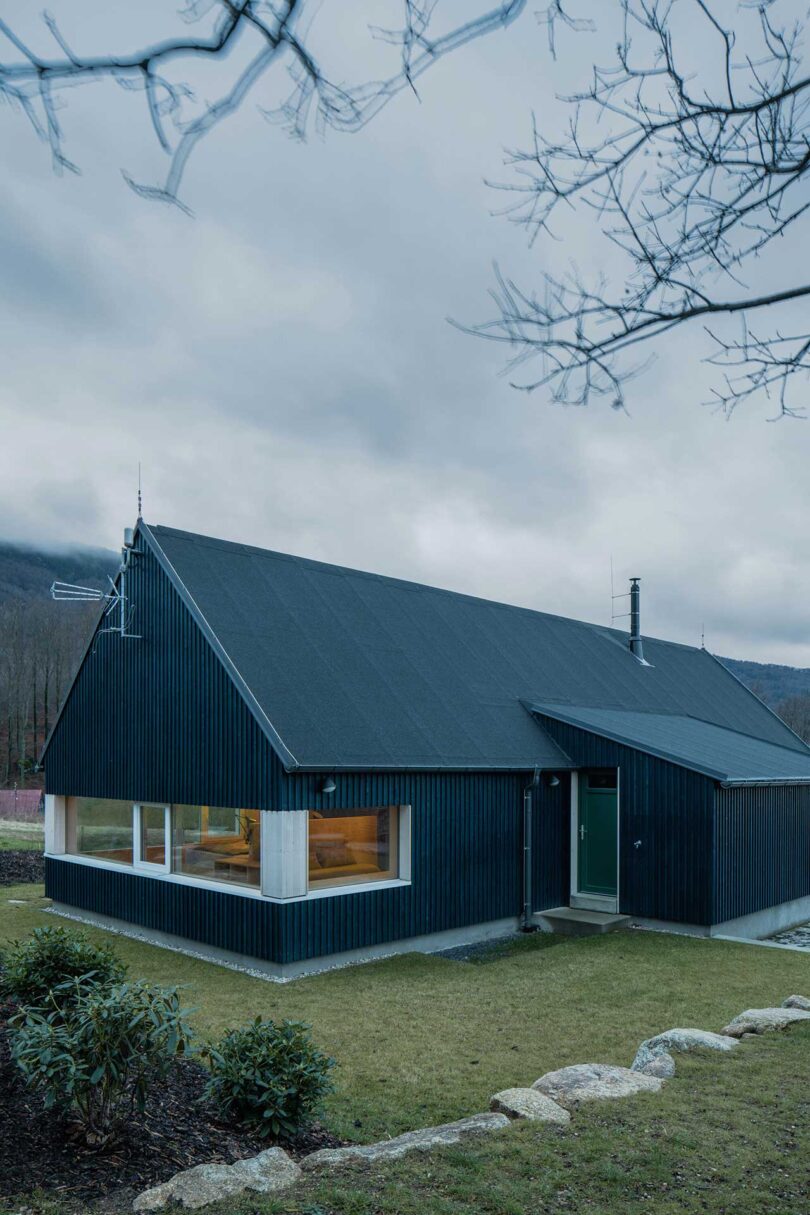 One wonderful way to showcase your black farmhouse is by painting the roof charcoal black and painting the siding deep blue. You can use another shade of greyish blue as an accent color.
The patio can be highlighted in white-washed bricks rather than using wood panels.
8. Black and Gray Combination
If you are happy with experimenting with blue, you can also try out something new with gray. One way to add some drama to your farmhouse is by painting the siding grey and the roof and trim black.
This would be attention-grabbing and minimalistic at the same time. You can also use wood panels for the porch or patio.
9. Black Farmhouse with Yellow Trim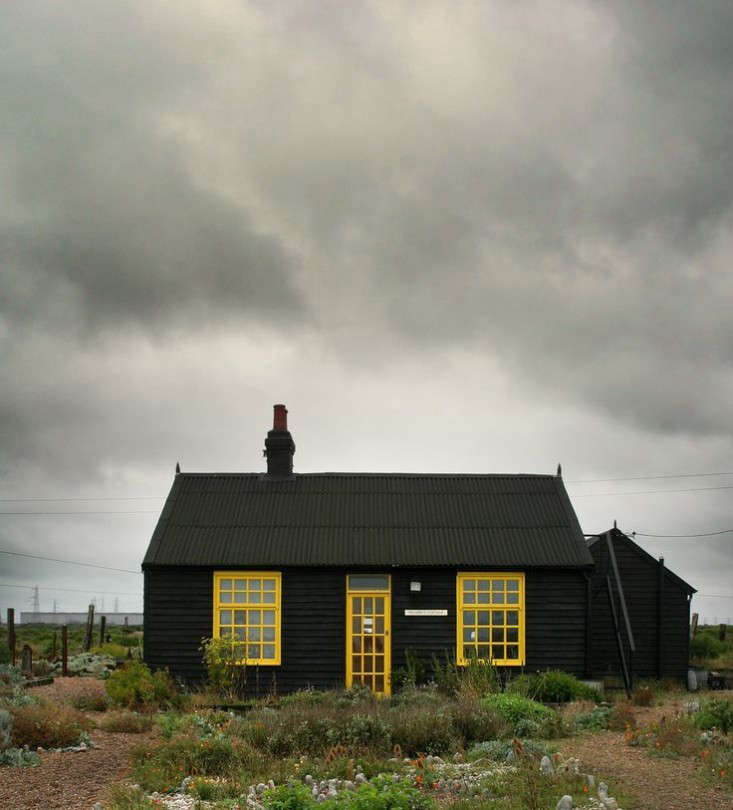 If you want to spice up your black farmhouse, you can paint the window and door frames in yellow. As mentioned before, black can go with any color without making things look odd and clumsy.
So, your jet-black cottage will shine more when you paint the trim and porch fence in bright yellow. It will break the monotony and heaviness of the black color and keep things chic and cheerful.
10. Black Farmhouse with Wood Log Rustic Charm
What is better than combining the rustic old charm of wood logs with a black farmhouse? Design a simple log cottage with black paint.
One way to maintain the rustic charm is to paint the exterior walls of the cabin in distressed black. You can add large glass panes to allow natural light to flood through the interiors.
11. Dark Brown Wood Panels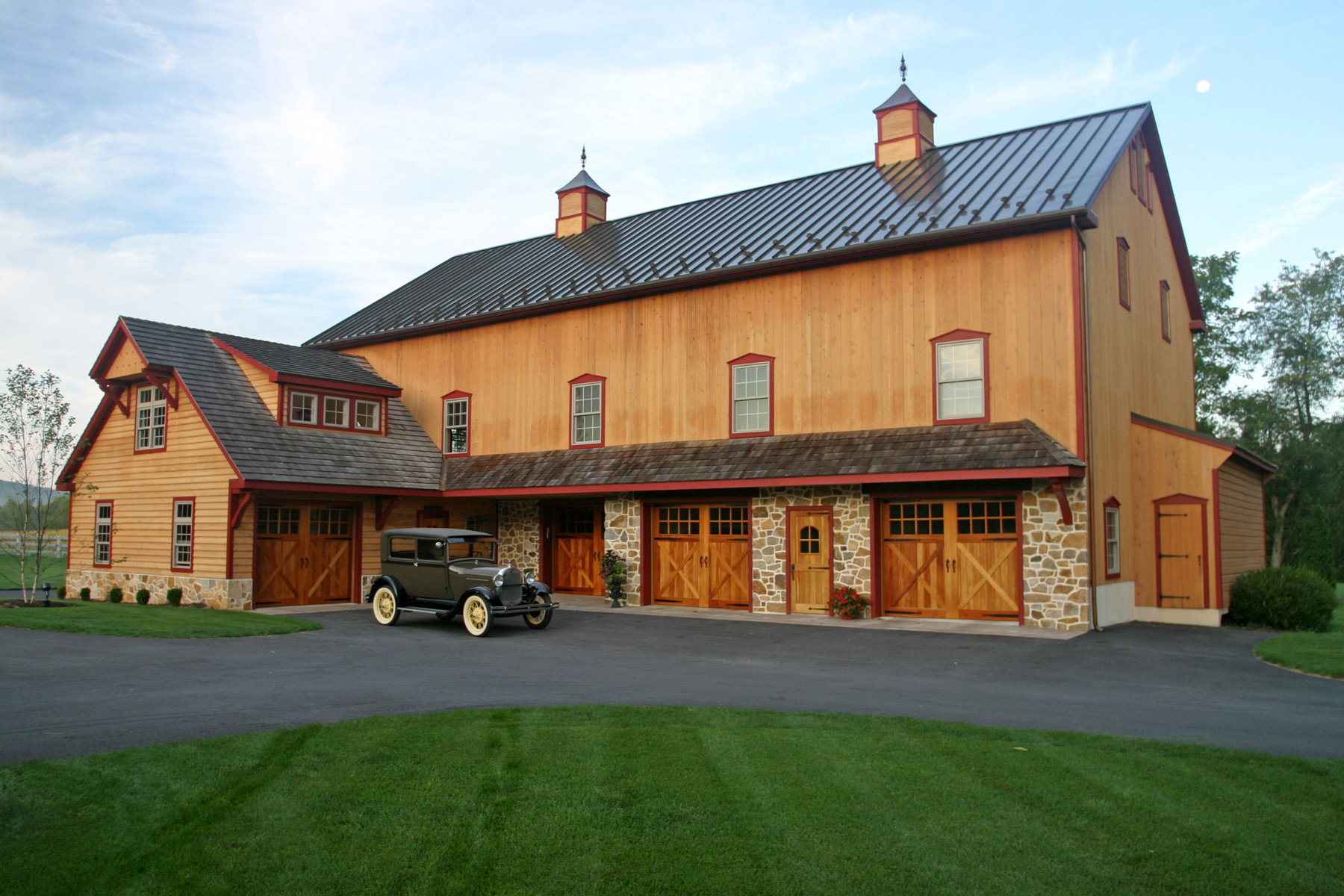 You have painted the roof black. There is nothing better than that, but how do you plan to decorate the rest of the cottage?
Use pale green for the board and batten, and for the wood panels, go for a deeper brown shade. This color combination will blend beautifully with the sounding forest or lakeside scenery. Additionally, it will look appealing to the eyes.
12. Wooden Exterior
If you have wood-clad doors & windows, metal roofing, and wood beams for the front patio as the key elements of your farmhouse, in that case, you must use deeper tones.
You could also combine different shades of brown as the exterior colors. Light brown tones look warm and natural. For the trim, you can use black color.
13. Mixing Wood and Stone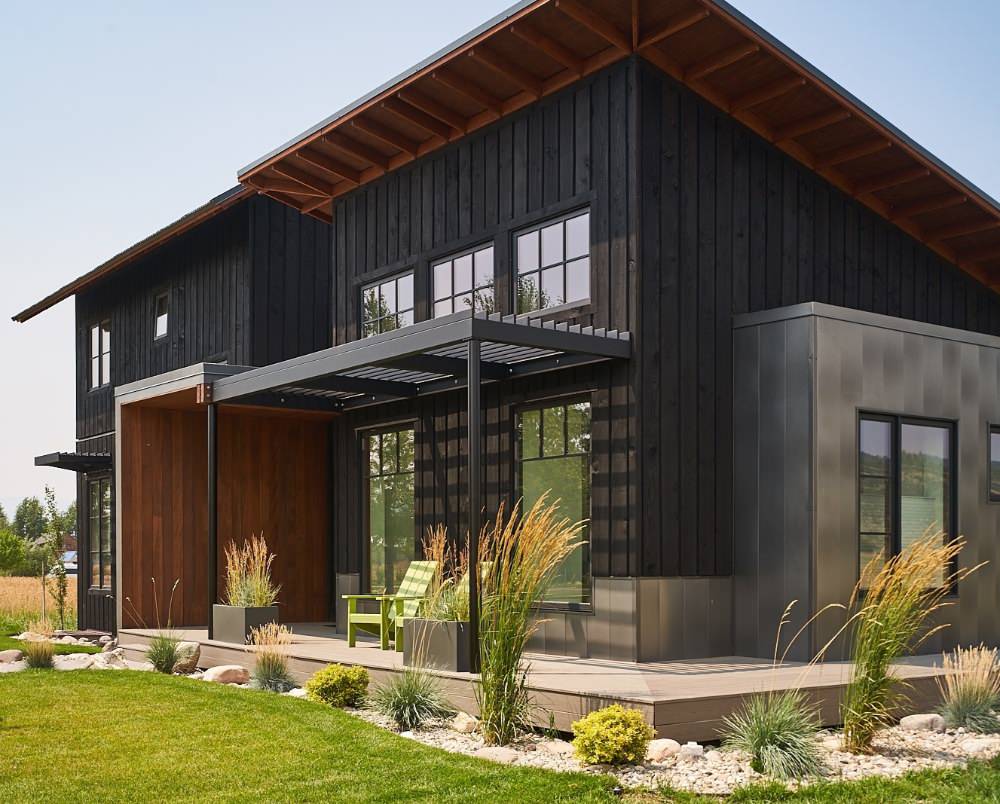 Combining stone and wood for constructing and designing the farmhouse can be an excellent way to manifest a classic and contemporary feel. Metal and asphalt shingle roofing, board and batten and cobblestone for the walls, and wood beams for the front porch are easy to make your farmhouse.
For the colors, you can use black on the roof, grey and white for the exterior wall surfaces, and yellow for the windows.
14. Deep Black Farmhouse
You have painted the walls deep black. Now its time to start adding some contemporary features like sliding glass windows, covered porches, industrial lights, black trim windows and black front doors, and board & batten siding.
15. Country Farmhouse with Modern Features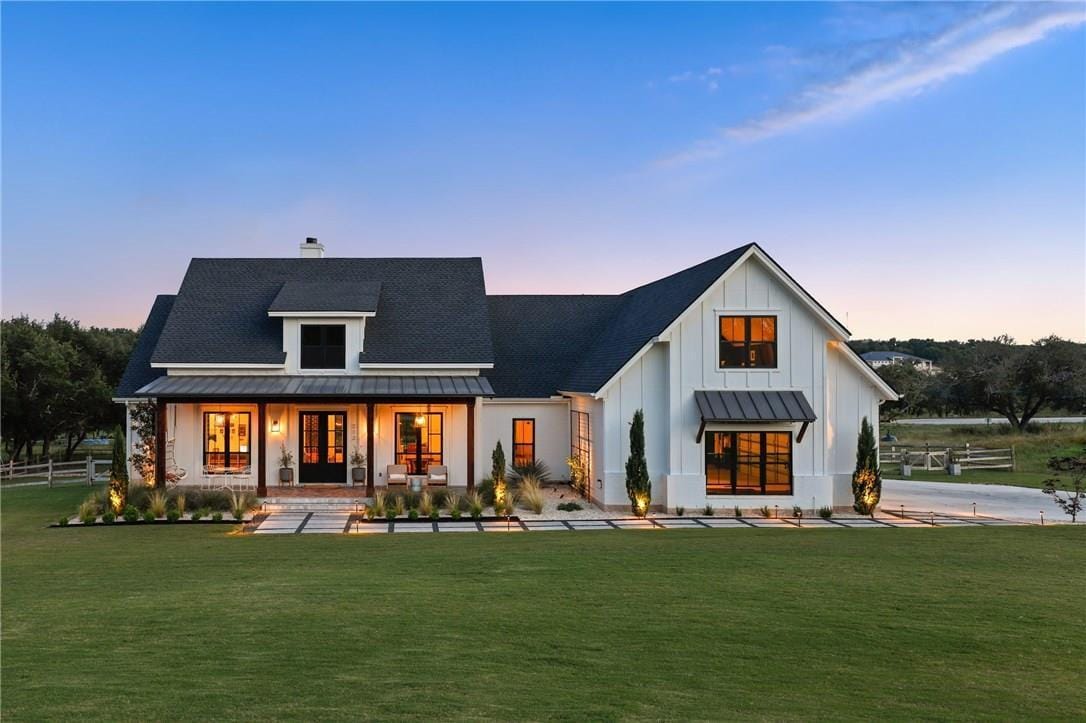 When you construct a double-story farmhouse, you can combine classic elements with modern elements. Use board & batten for the siding, metal & asphalt shingle for the roof, and large glass panes for the windows.
Besides this, for the color combination, you can try three or five tones together beyond the regular monotone and dual-tone styles. Black roof, white siding, brown trim, and gray or beige for the accent will be powerful and mesmerizing for your farmhouse.
16. Dual-Tone Farmhouse
When you want a black farmhouse but the minimalist way, you can go with two tones. Purple and black offers a powerful and captivating combination.
Use black for the walls and paint the roof, and trim in purple. Sometimes you can also play with a third additional color here, and that is white. White will reduce the heaviness of both bold colors and add a touch of sophistication. Use white in the trim line to create distinction.
17. Gray and Blue Farmhouse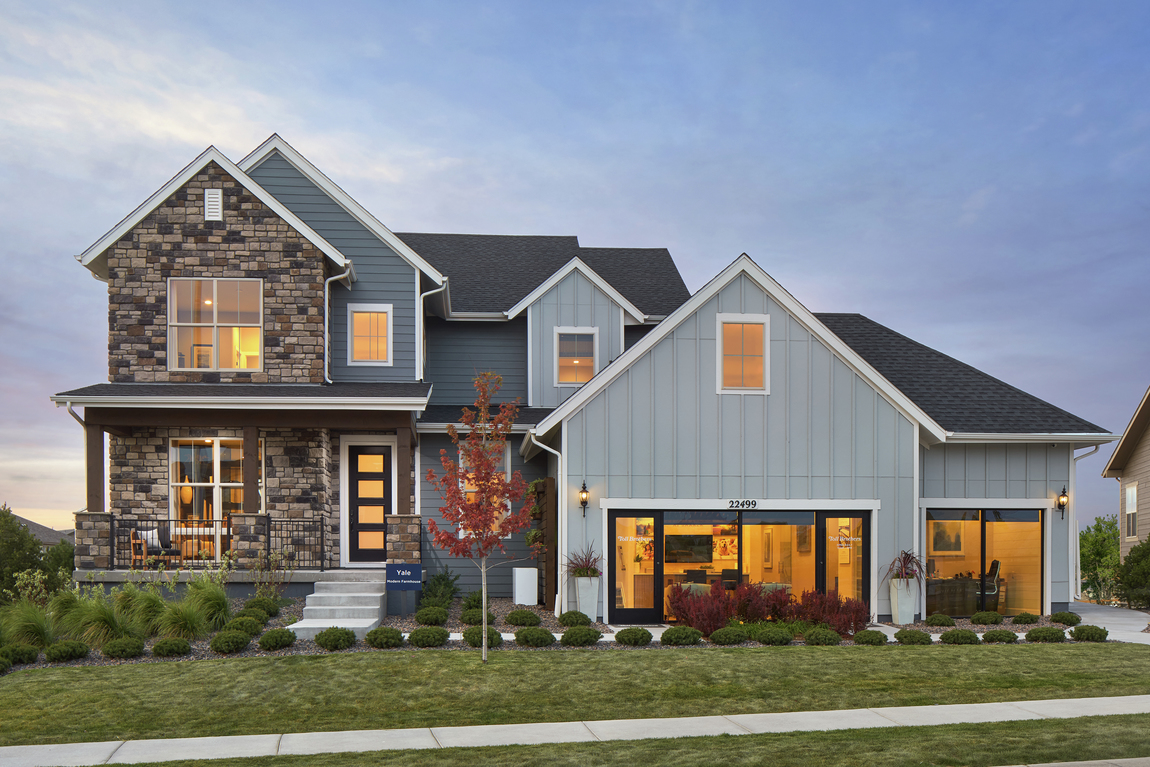 When you want to keep things modern and stylish, you can use the above color codes. A grey and blue farmhouse is another excellent alternative to a black farmhouse. All you need to do is keep the design neat and tidy and play with only two or three color elements at a time.
18. Dark Chocolate Farmhouse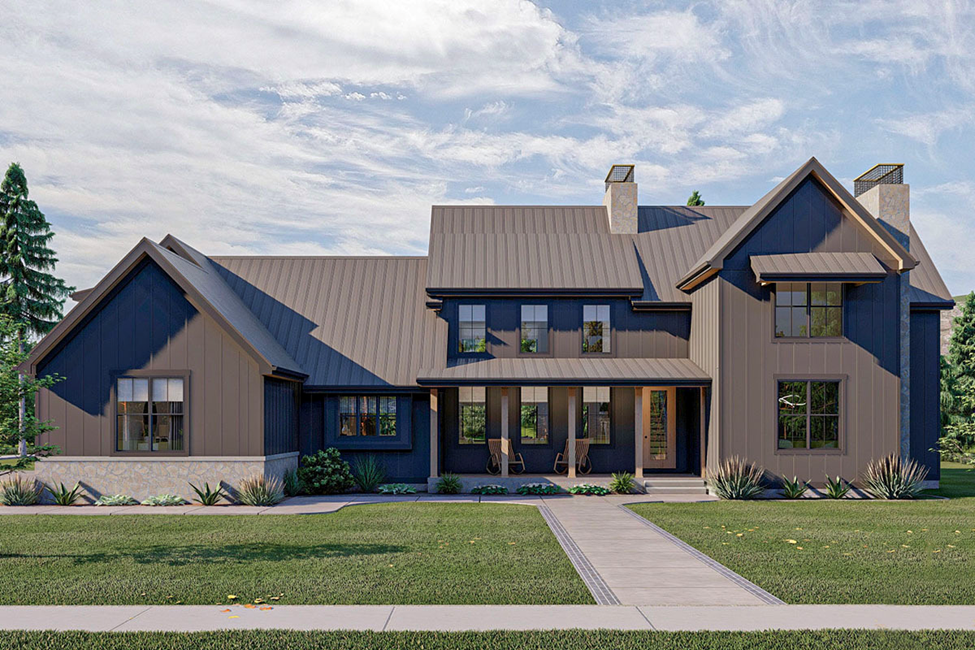 Who doesn't love dark chocolate? Imagine having a farmhouse that resembles this color of yummy indulgence.
Use chocolate brown for roofing, doors, and windows. Paint the siding in black and do the trim in washed chocolate brown. To keep things modern, you can also use glass windows.
19. Modern Coastal Farmhouse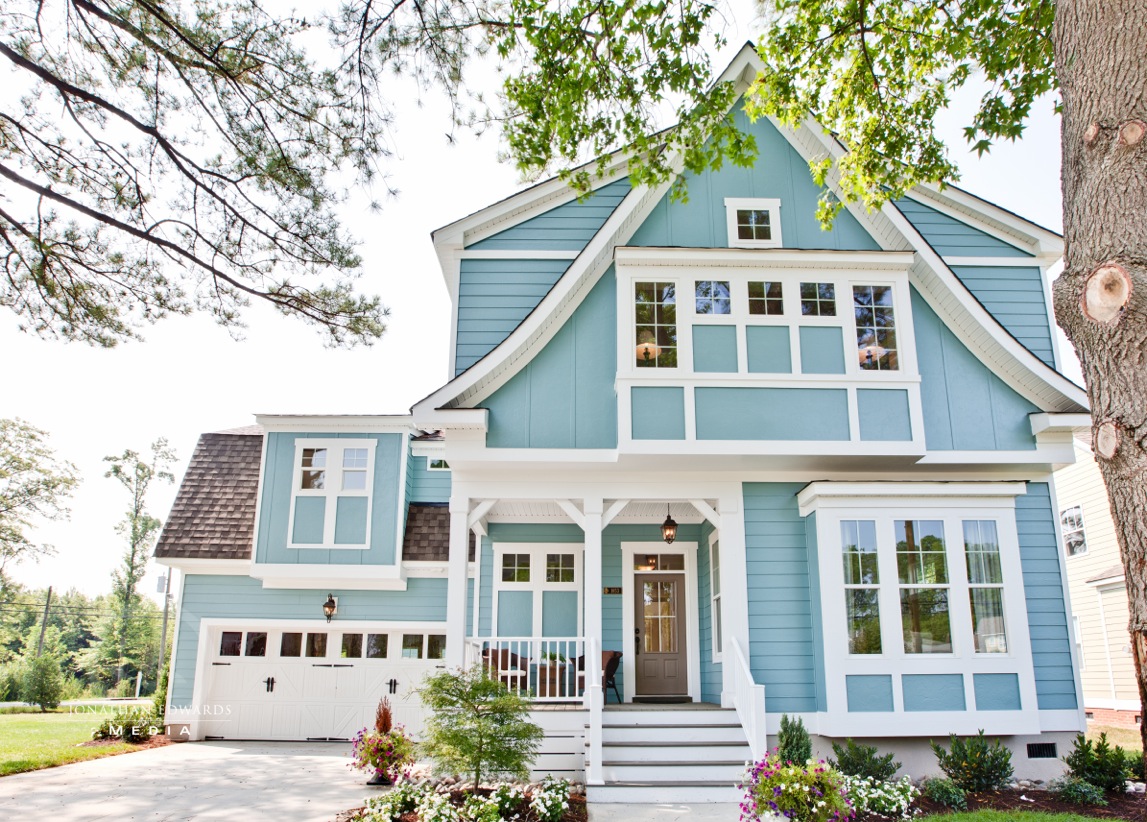 Use wood panels for the siding and large symmetrical windows. Use blue and white color codes to highlight and accentuate the key areas. Furthermore, use black for the trimline.
This would add coastal aesthetics combining it with contemporary aesthetics. You can also add wood beams and a stone foundation.
20. Farmhouse with Modern Flairs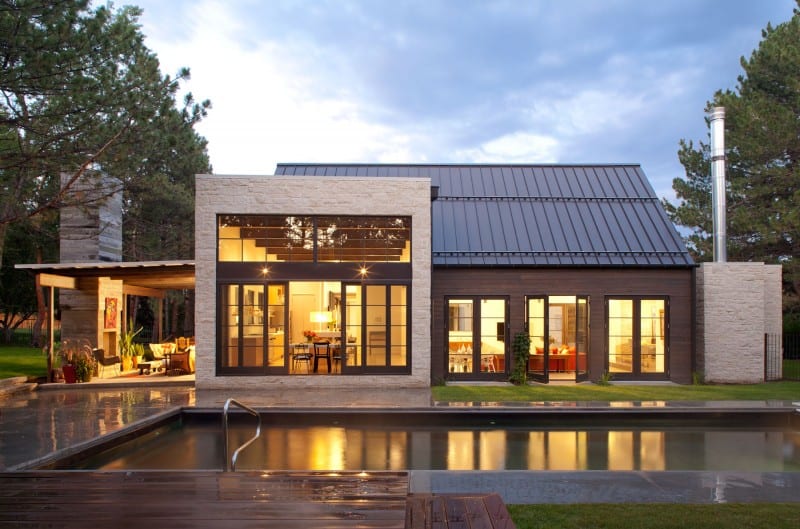 A metal roof creates a distinct countryside house style. Large, glass, wood-clad windows exude a modern aesthetic with wood doors. Even asphalt shingles can provide you with much-needed respite and bring forth a fresh appeal.
Use deep brown paint and combine it with black color and mix a small tinge of gray here and there to give it a blurry look. This is a perfect style with a modern twist.
21. Wood-Clad Windows and Wood Siding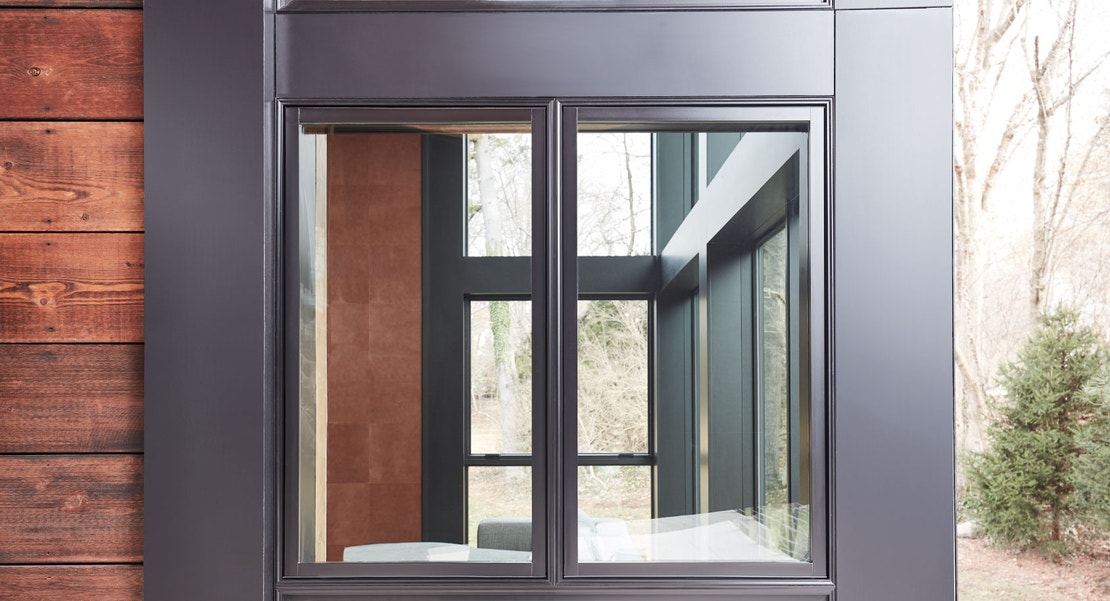 Fading wood panels and wood-clad windows can be painted white. The metal roofing in black color with a modern imprinted pattern will be another beautiful addition. This will add a perfect contrast to the natural color of the fading wood siding. If you want to contrast it with the surrounding, go for a bit of yellow here and there. Black and yellow often shine bright and might mimic the fall.
For a bright patch of sky in your home, go for turquoise with black. Nothing can beat the color combination. If you paint the windows turquoise or yellow, they will perfectly provide the look against the fading wood siding.
22. Bold Color Schemes
You can use some bold color schemes, such as red and black or white and black, to decorate your wood exterior. This will create a perfect balance of traditional and contemporary elements. But bold combinations for black are just not white and red.
Rather, try teal, turquoise, yellow, or even orange (a bright one). The renovation will never be so joyful as painting the farmhouse in these bright, vibrant colors aside from black.
23. Rustic Barnhouse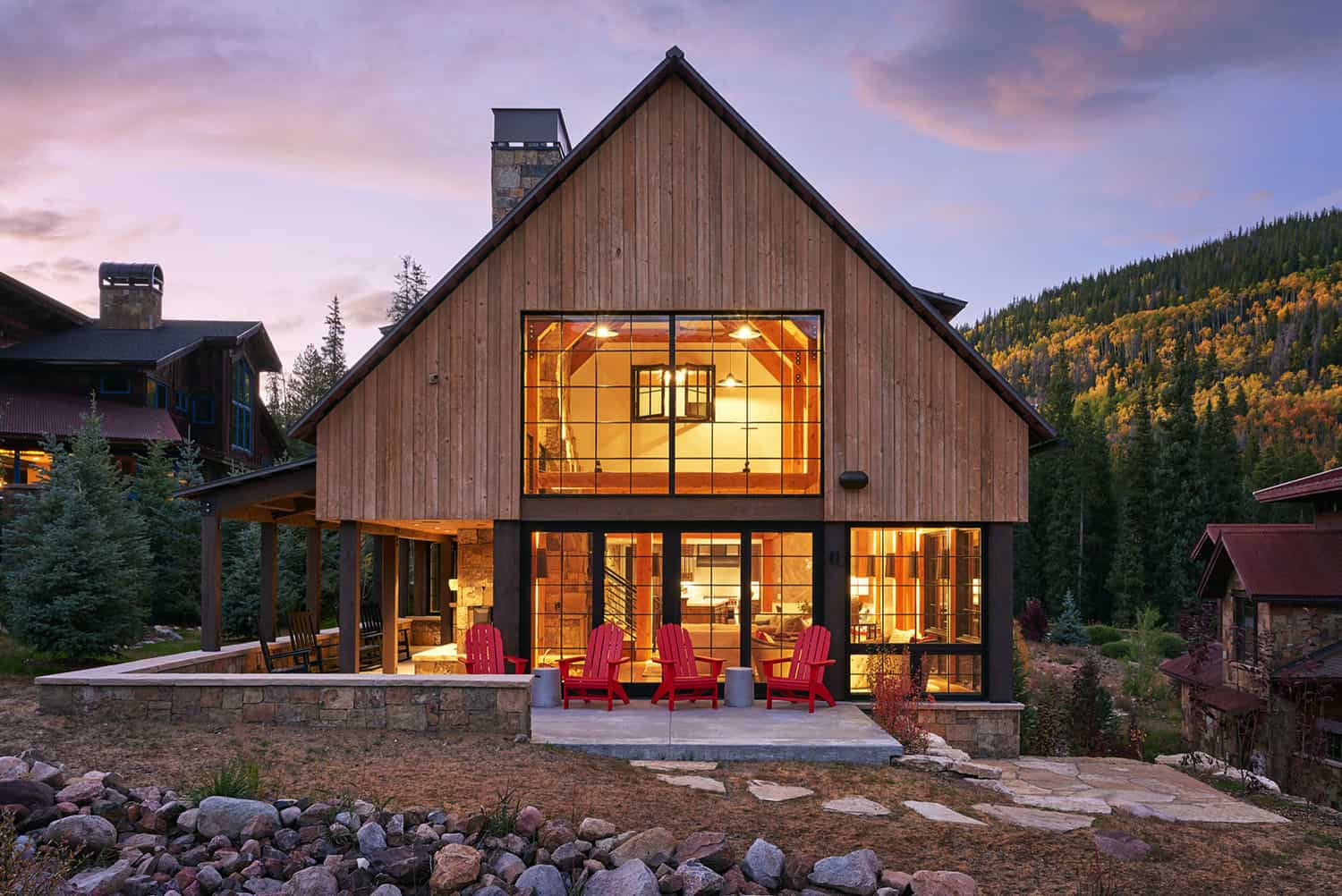 Gabled roofing faded wood panels, and large windows with exposed wood are all set to add that rustic charm to your barnhouse. Furthermore, horizontal siding, board and batten exterior, black roof, brown walls, and white trim will add the perfect effect.
The use of slate roofs can add a touch different from the ordinary ones, and even the use of customized staircases can help get to the final look.
24. Mountain Rustic Farmhouse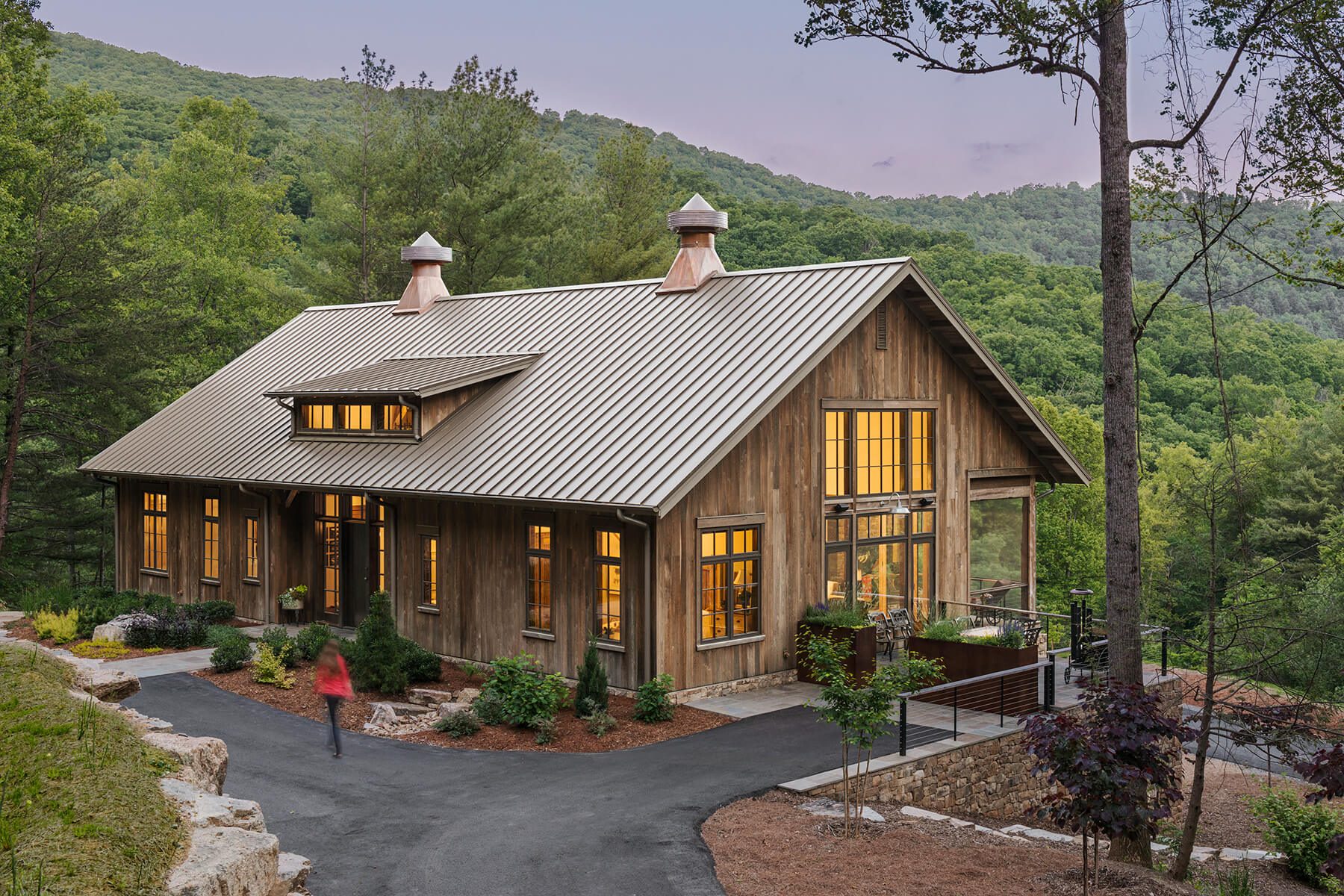 Nestled in the mountains, the black mountain rustic farmhouse can be remodeled with open floor plans, low-maintenance landscaping, a warm color palette, and some exposed beams.
Add an all-expansive rooftop for a beautiful warm view of the mountains, a sandstone fireplace, and black metal frames for doors and windows that can complete the look and use a bit of shimmering gold paint aside from black for catching the first light of the sun.
25. Go Neutral with Bold Accent Color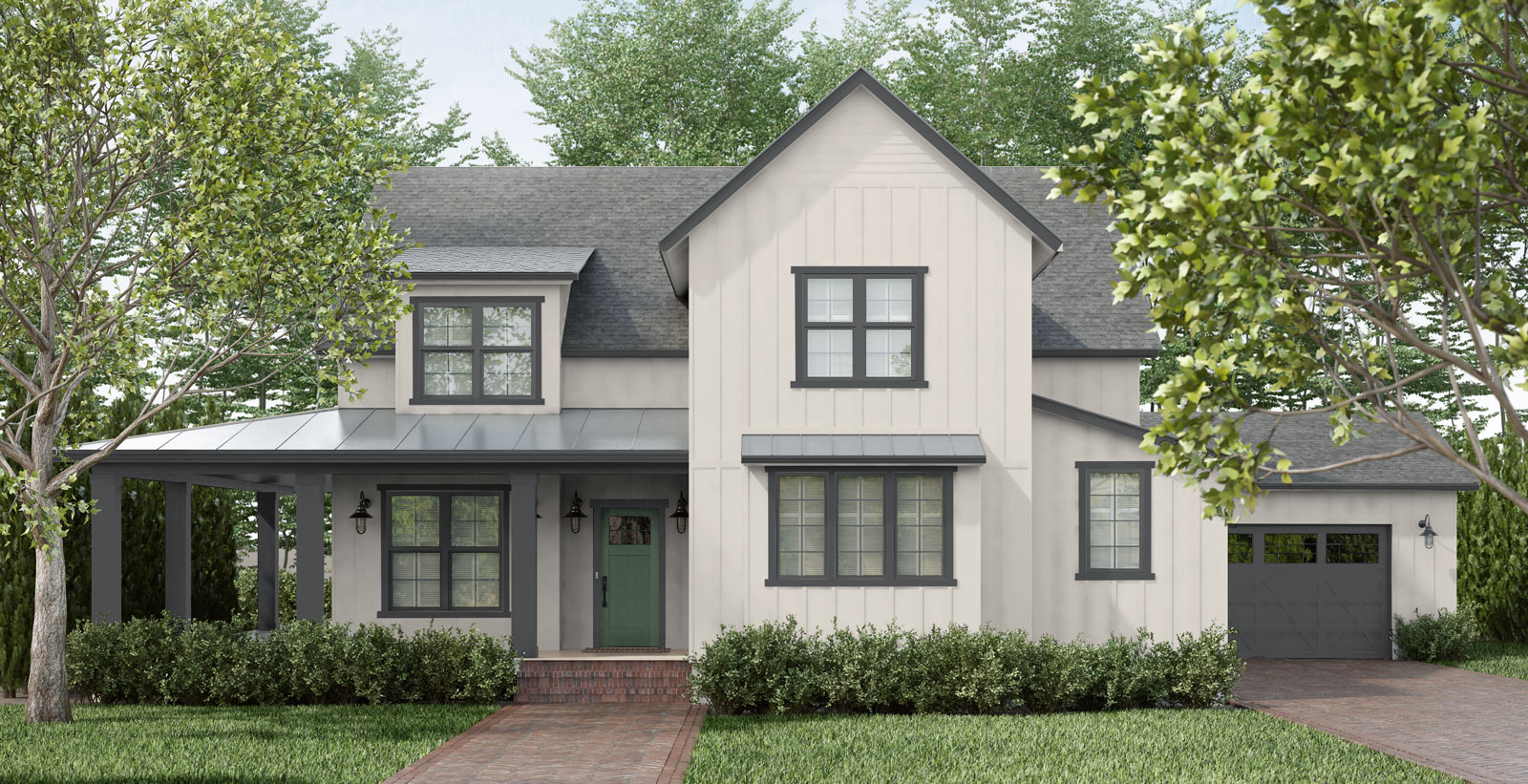 Contemporary style refers to using a neutral or natural color palette. But one way to beat the boredom and to spice things up is embracing a bold accent color, and what could be more bold than the color black?
Combining it with the right hues can add elegance, and the layering effect can compensate for what nothing else can achieve. Layer it with different shades of bluish or greenish grey, or go for pastel shades of oranges to add spring to your step. The black can add a lasting look when touched by the right shades.
This neutrality can be the best way to combat the heavy feeling of going all black, which seems to grow over time.
Tips for Designing a Modern Farmhouse
Open layout, simple siding, minute rustic details, metal roof, large glass windows, etc., are all key characteristic elements of a modern farmhouse. Here are five design tips for designing the perfect contemporary farmhouse exterior.
The Roof – The roof line adds character and depth to the farmhouse exterior. Modern farmhouses rely on metal roofing and asphalt shingle. Metal roofs last long, and you get the option to add additional color and texture to the roof.
The Siding – To create an intriguing view, don't ignore the siding. Working on different siding styles lets you add some dimension to your farmhouse. Horizontal siding is the most preferred style, while board and batten vertical siding are also catching up with the trend.
The Entrance – You can't miss having a wonderful entrance for your farmhouse. The color plays a crucial role if you want to have a wood door. Go with bold colors like black, green, or blue. If you have a glass door, you can paint the frame in white, black, or yellow.
The Lighting – Modern farmhouses can use barn-style lighting and copper light fixtures to match any design or style.
The Porch – After a hard day's work, relaxing on a comfortable porch is the best thing. Design your porch with rocking chairs, accent pillows, potted flowers, comfy rugs, and wood beams that can be the ultimate charmer.
Final Thoughts
People go to farmhouses nowadays to escape from the fast pace of life, stress, clamor, and pollution of all modern cities. The solitude, simplicity, silence, and peacefulness found in the farmhouse can often help us remember who we are and what our purpose is here.
In the above segment of the blog, you can find out various ways of designing and decorating a black farmhouse. Black is a color that never gets out of fashion. Black is bold, beautiful, and attention-grabbing. In fact, you always even need not paint your farmhouse black, and you can stick to various other ways of playing with the black color as per our suggestions.
So, what are you waiting for? Grab all the essentials today and start decorating your farmhouse. Do share with us your valuable suggestions by leaving your thoughts in the comments section.
Frequently Asked Questions
Why is It Called a Farmhouse?
In earlier times, a farmer's house built on farmland was known as a farmhouse. There are plenty of ways to build and design a farmhouse. People nowadays often buy a farmhouse to spend their holidays in solitude away from the city to avoid pollution and noise and to slow down.
What is a Farmhouse-Style Home?
A farmhouse-style home is built to reflect the vintage design and remind people of a simple living style. However, nowadays, architects and interior designers are also incorporating elements of modern comfort just to make things cozy and livable.
Who Started the Farmhouse Trend?
The farmhouse trend gained some traction again in the US in 2012, and all credit goes to Jaona Gaines and Fixer Upper for the same. However, many people instantly got attracted to chic farmhouse design ideas and decided to revamp their homes accordingly.
What is the Difference Between a Villa and a Farmhouse?
Villas are spacious, comfortable, and luxurious. They usually host a lot of amenities to tend to a large number of guests. But farmhouses can be a bit cramped up for too many guests. Most farmhouses are also located on the outskirts of a city.
Sierra Rivera, a passionate home decor enthusiast, runs the popular blog CozyCottageCute.com. Sierra shares decor tips, DIY projects, and personal insights. Off the blog, she's often at antique markets or redecorating corners of her own space.