21 Decor Ideas for Dark Green Bedroom Walls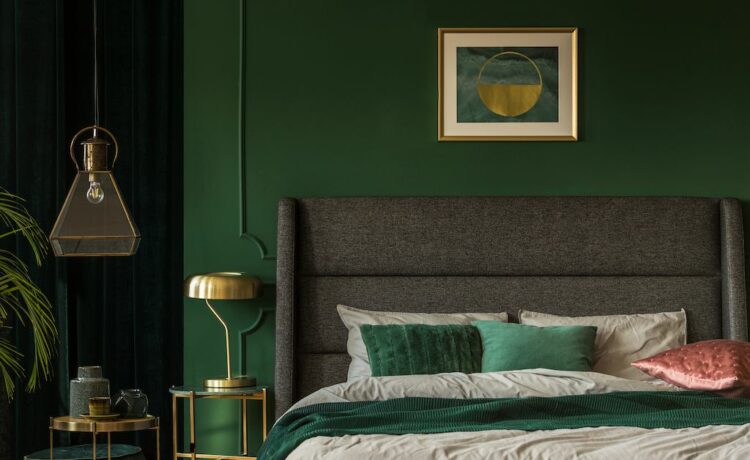 Do you know the human mind can comprehend 10 million distinct colors? Crazy right? We bet we can't even name a mere fraction of all that we see and recognize. Yet here we are! So, with so many distinct colors around us, it becomes our duty or more like an opportunity to utilize as many shades in our lives as we can.
So let's see, where do we need colors? Apparel, footwear, food, vehicles, … well, you get the point. Basically everywhere. But what is that one place where the colors impact our lives daily? Right! Our homes. Or, more precisely, bedrooms.
Therefore, it's crucial to choose the right color that makes the peace, positivity, and energy of your mind evergreen. Hmm, green… that's right. That's the color. As per psychology, green bedroom walls help maintain a relaxing environment while making it look classy. And the dark green color out of all is the one to go always! Why? Let's find out.
Why Choose Green Colour for Home Decor?
The green color is often related to negative things such as poison, envy, etc., but that's just another misleading perspective to keep you away from good health, wealth, and wisdom. Here are a few ways in which bedroom green walls benefit us.
Firstly, as mentioned above, the dark green color offers a soothing ambiance that helps maintain your mental health. Other than that, green represents good fortune. Therefore using it in your home can bring immense good luck. Like the 'green clover'! Green has a remarkable ability to make you appear kind, caring, optimistic, and connected to nature. Therefore, using green in your home is a wise choice.
However, like any other color, too much or very less of shade can ruin the look and vibe of your space. Now, let us do an exercise, close your eyes, and imagine you are standing in an empty room with dark green walls. No furniture or anything, just an empty room with dark green walls. How do you feel? Not great? Yes, that's normal. Now imagine again the walls of the room to be any other color. How does that feel? Same? Right. So clearly, it's not the colors' fault. Rather the decor that goes with it.
So let's find out some great decor ideas that make your bedroom green walls look classy and comfortable.
Trendy Decor Ideas for Bedroom Green Walls
1. Colour Combinations
This is literally the one and foremost advice any expert home designer would give you to decorate your bedroom with green walls. Color combination here refers to the colors your bedroom has in different elements, with the walls having an overall dark green color. When choosing a color combination to go with your bedroom's green walls, it is a must to know the kind of bedroom you want.
For instance, if you want a toned-down dark green bedroom wall, try to go with earthy tones such as beige, brown, and grey. However, if you want a more intense, luxury setting, opting for shades like pink, gold, or black can do the magic for you.
2. Luxury Fittings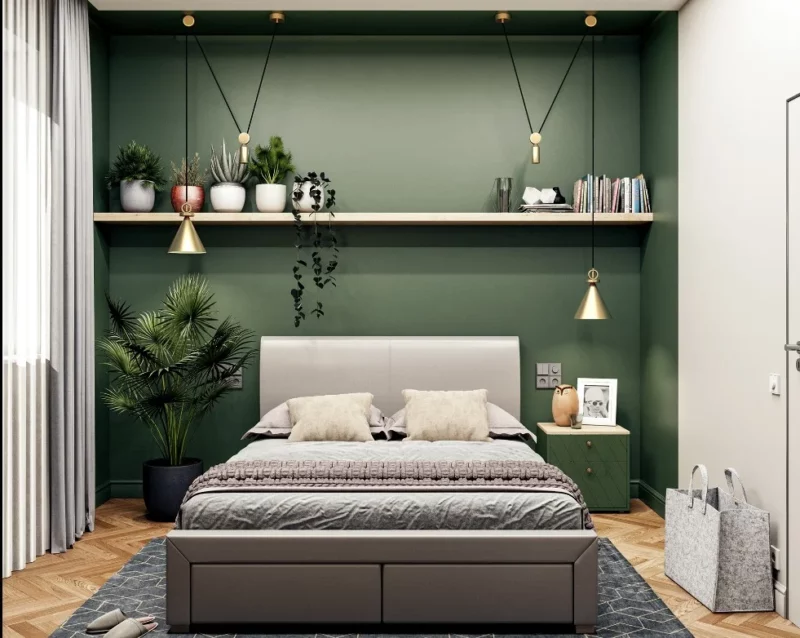 This is yet another element that one must consider while decorating their bedroom green walls. It's quite a fascinating thing that adding specific items to your room or interior can make those four solid-colored walls appear more luxurious than ever. Therefore, if you are looking for some elegant and rich luxury fittings for your bedroom green walls, try these tips.
Fittings and furnishings here refer to the doors, handles, window frames, and even the type of pillows you use. So basically, from rug to ceiling wallpaper, your regal choice must reflect in your dark green bedroom décor. You can opt for small prints or abstract designs on your decor items for a standard look.
3. Black or Beige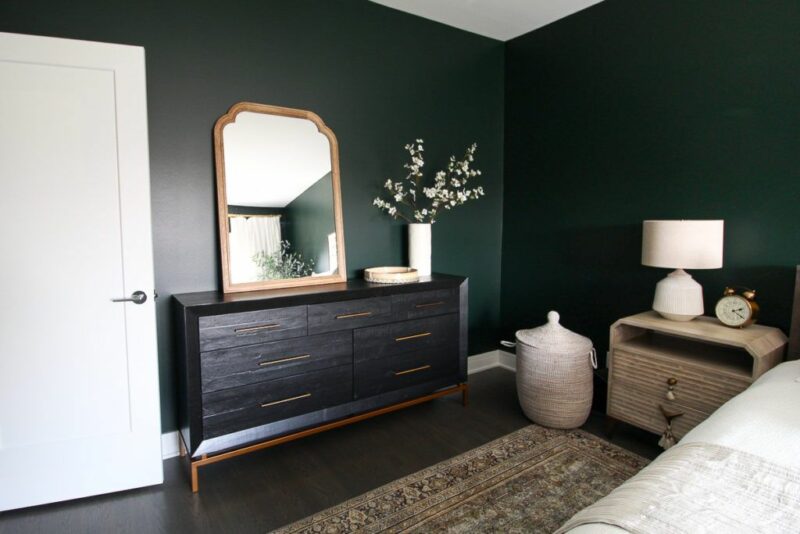 These two shades are pretty much in contrast to each other. While black is a contemporary shade to dark green, it blends with the primary color, creating an illusion of a deep, luxurious private space. One where you spend your most intimate hours. The beige tones offer to balance out properties, creating more of an inviting ambiance in your bedroom with green walls.
Now, how and where to use these colors? Well, that is most definitely an important question. So the way to go about using black and beige in your bedroom is in a way that doesn't take away the calming properties of green, such as in bed frames, vanity sets, drapes, and even decor items like mirrors, lamps, rugs, etc.
4. Florals
Green, as we know, is the color of nature. So one might feel skeptical of using more nature inside their bedroom. And that's understandable. But when it comes to flowers, they are not green. You can pick light-colored flowers or pink flowers to create a lively atmosphere. This will not only increase the freshness quotient but also create a sense of purity in your life.
Not to forget, when we mention using flowers, it's not only in their natural form. You can also use floral patterns and accents to make your bedroom look bright.
5. Balancing Wall Trims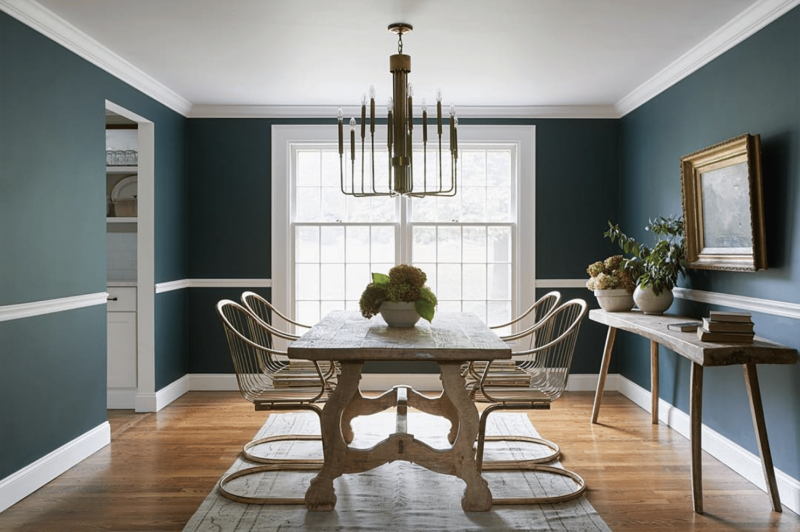 Wall trims, if your bedroom has them, can become your master tool to illuminate your bedroom's green walls to another level. Wall trims create a perfect division and balance in your interior decor. It offers you a chance to tone down your dark green bedroom walls and make the room appear much brighter and spacious.
To ensure such a breezy atmosphere in your bedroom, you can go for earthy or dumbed-down shades like creme, beige, or even accents of green. With deeply hued walls, choosing lighter shades for trims can actually lead you to have much more elegant decor than you would have initially imagined. So, do not trim down on your aesthetic planning when it comes to trims.
6. Abstract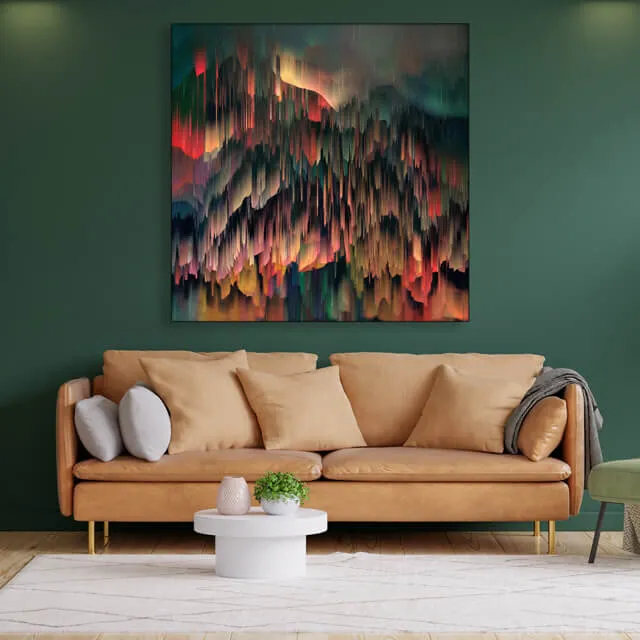 Are you looking to give your bedroom green walls an aesthetic appeal? What better than some abstract art? Abstracts are a representation of feelings and create a desired illusion in anything. When it comes to rich, elegant interior decor, opting for abstract patterns and decor items can lead to a promising rich effect in your bedroom indoors.
Therefore, next time you go home decor shopping for your bedroom green walls, try looking for some abstract artworks, paintings, and design elements to bring new, impressive energy to your indoors.
7. Print and Patterns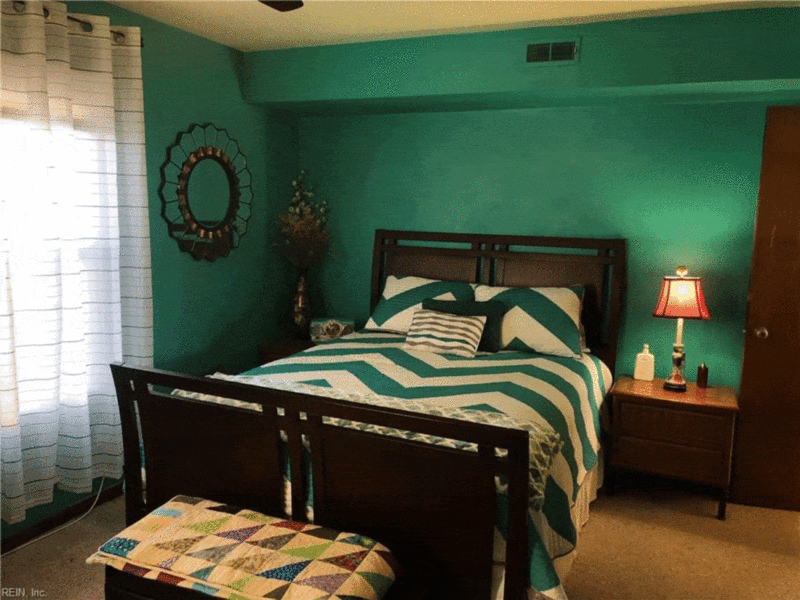 While we fully support the ongoing minimalism trend, a little bit of print and pattern does no harm. If your bedroom has deep dark green walls, you must, and we mean you must, use prints and patterns and watch your bedroom look as elegant and classier as ever. While there is a strong opinion or, rather, myth around prints that they offer a bubbly or flamboyant vibe, it's obviously wrong.
While prints do carry a charm with them, a unique one that is, they often can dictate the elegance of your space. All you got to do is choose the right ones. For instance, big, bold prints give a minimal look and make the space look compact. Fine prints have more traditional elements to them.
8. Lighting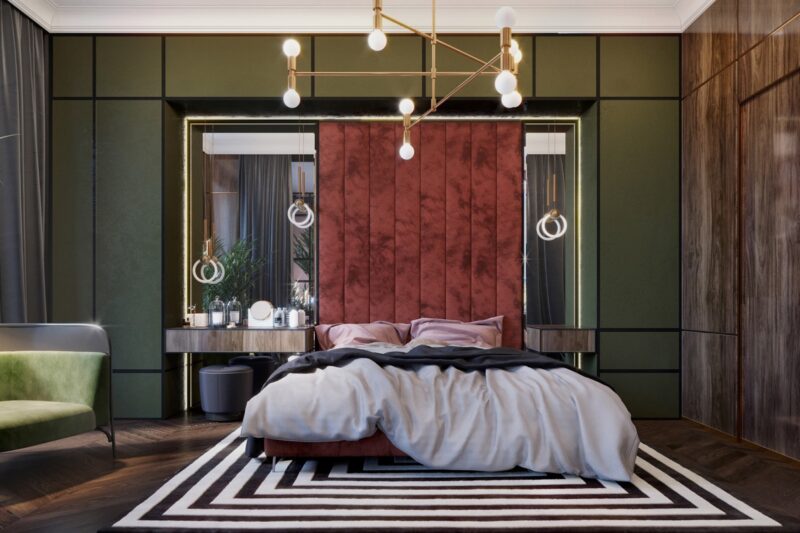 No discussion on home decor can be complete without discussing the lamps and lights. Lights are a crucial part of the home decor process. After all, the correct shape, size, color, and placement of lights can enhance your bedroom's green walls accent. So let us understand which type of lights suits the dark green bedrooms the best.
The right kind of lights and lamps also depend upon the structure and space of your room as well. For instance, if you have a wide, spacious bedroom, you have much more liberty to incorporate medium to large size chandeliers. Whereas even if you have a small bedroom with green walls, you can go for small wall lamps or mirror work wall lights and so on.
9. Plant It Up
First flowers, now plants! I understand you must be wondering how more greenery can make an already green bedroom look better. Well, the answer is by defining the vibe. When we say add plants to your bedroom indoors, what we mean is to make sure that the life inside your bedroom isn't all artificial.
As Indoor plants not only add lushness to the luxury of bedroom green walls but also revivify the positive environs. They increase the fresh, positive vibes to the atmosphere, making your bedroom truly a place of comfort and freshness.
10. Accent Additions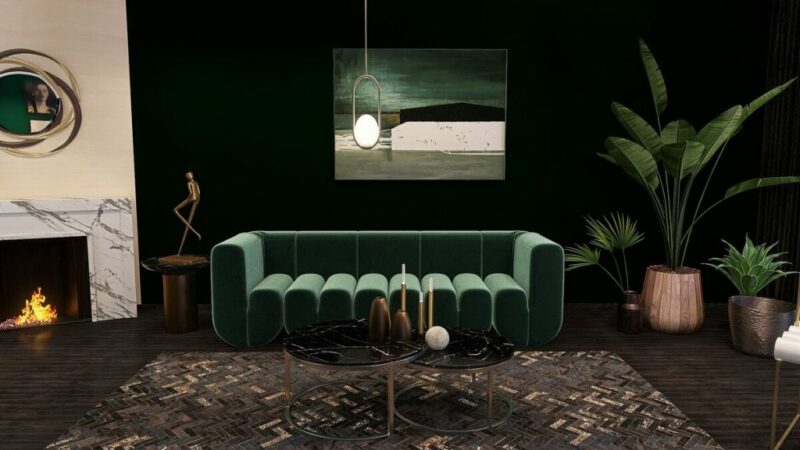 Accents basically refer to the part or element of the room that stands apart from the rest of the room. Also, another definition of accent suggests it to be an element that is very similar yet unique in itself, such as different shades of green.
Thus creating attention to the elements/accent items while preserving the beauty of the decor. For dark green bedroom walls, there are a lot of accent options, such as metal framed mirrors, natural fabric drapes in earthy tones, glass/metal vases, and so on.
11. Statement Headboard
Statement headboard in itself is a piece of choice of the elites and often goes well with large bedrooms and king-sized beds. When it comes to headboards, they can help amplify the overall look of the room.
One way to do so is by using different fabrics than the rest of the room. The other way is to choose contrasting, contemporary colors and shades. While picking fabrics, try to go for fabrics like velvet, leather, etc., to give your room a rich look.
12. Mix Design Styles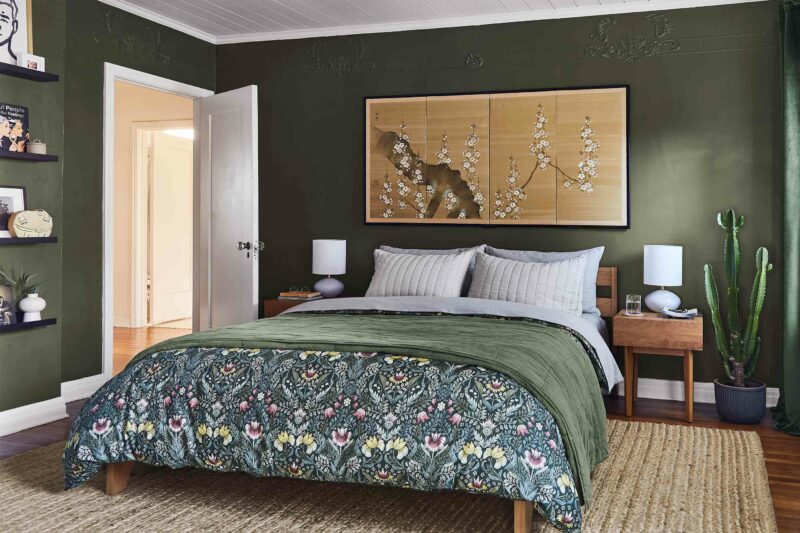 Printed rugs with velvet cushions or cotton beddings with leather headboards? Sounds weird? Damn right! That's the fun of decor. The more you experiment, the newer combinations you discover, thereby creating a sense of novelty in your bedroom's green walls.
Using a mix of prints of fine and bold type, along with a blend of textures and shades of similar colors, is how you achieve your desired, focused bedroom interior.
13. Bright Bedding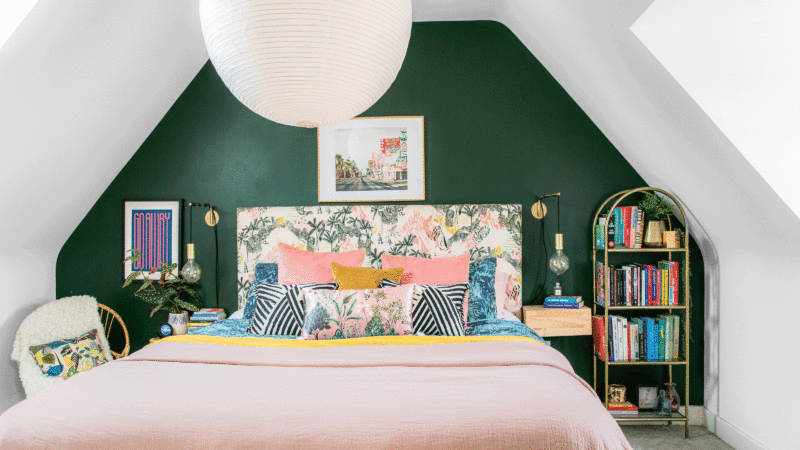 Colors can definitely brighten up any space. But in the case of dark green bedroom walls, finding the right color requires a proper understanding of colors and shades.
For example, dark green walls prefer shades of blush pink, beige, or earthy yellows with a hint of shimmery gold for cushions and pillows.
14. Subtle Bed Frame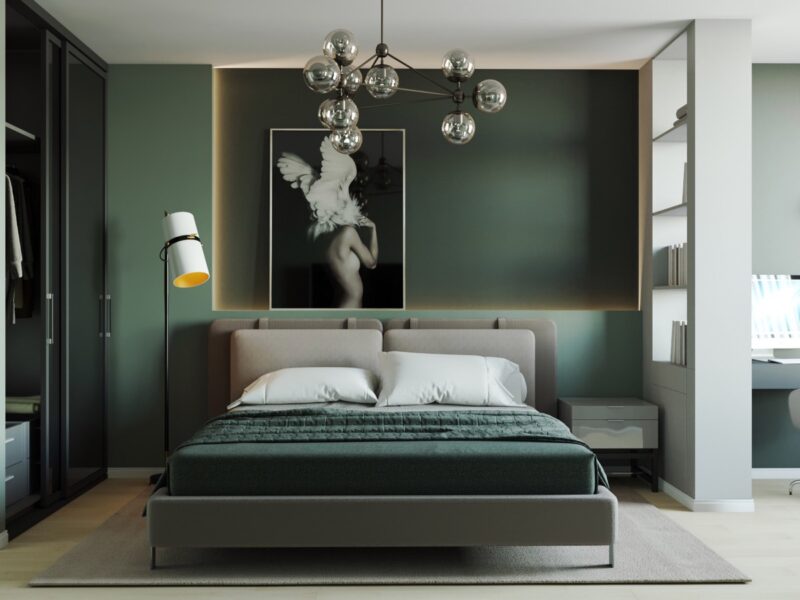 With deep green walls and intense room decor, it's okay to go light with the bed frame. For the bed frame of your luxury, elegant bedroom with green walls, you can try out colors like off-white, silver, beige, gold, or even black.
And in terms of material, you can go for metal frames, sturdy plastics, or even teak wood.
15. Luxury Fabrics
This one piece of home decor advice suits all types of rooms, aesthetics, and wall colors. Whether you have bedroom green walls, beige, orange, or any other color, the right fabrics can steal the show. Now, let us see where we use fabrics in our decor.
One and primary is the bed, be it the mattress cover, pillows, cushions, comforters, or headboard. Bed used the most fabric pieces at a time. Second, is the drapes, and then the rugs. So basically, fabrics are a crucial decor item in any bedroom.
16. Chandelier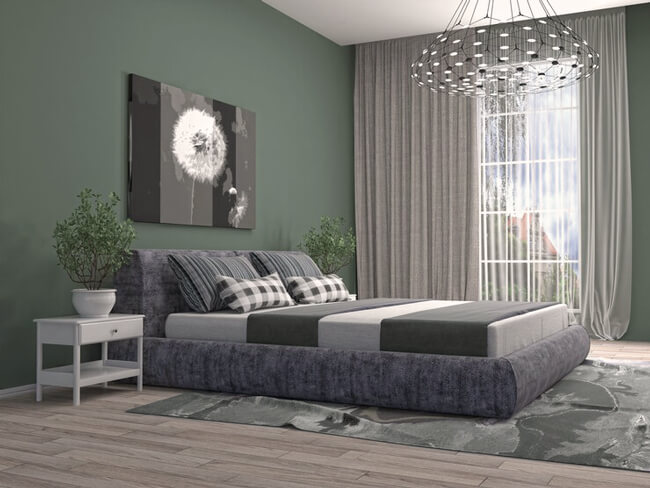 Want a lavish bedroom? What better than a shining chandelier? Chandeliers, as most people imagine, don't only come in magnificent sizes. There are small chandeliers as well. In fact, you can even place more than one mini chandelier if your room is spacious enough.
Chandeliers also serve as luxurious alternatives to lights and lamps, which not only will enhance the warmth and brightness of the room but give your space a much-needed accent.
17. Bohemian Styles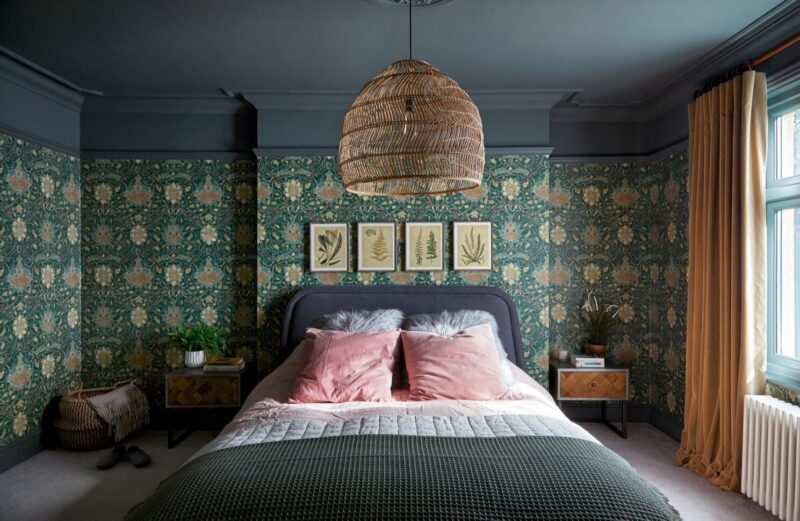 A dark green bedroom is your perfect opportunity to create the kind of aesthetic that suits your personal style. Our favorite is Bohemian. Why? Well, firstly, bohemian culture and art represent a deep connection with free-spirited nature while being subtle and elegant.
Therefore, using bohemian elements with your bedroom's green walls creates a sense of nature's glory within your personal space. How can you do it? Well, it's easy. You can pick bohemian show pieces, bohemian printed drapes, cushions, etc., and even additional ornamentations in bohemian style.
18. Contemporary Elements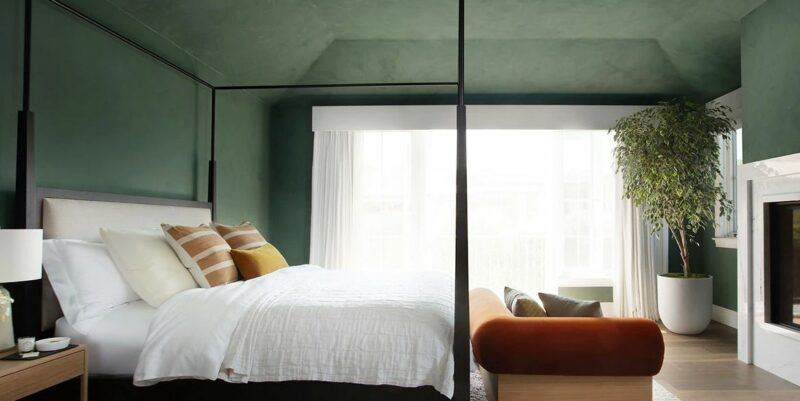 When we say contemporary elements, we mean the in-trend decor items or the ones representing the modern age. For instance, some people love the vibe of vintage decor.
Still, in reality, dark green is itself an intensely deep shade, and pairing it with vintage or too many futuristic patterns and elements can kill its natural essence. Therefore, choose modern times' minimalist ideas, such as oval mirrors, velvet pillows, and so on.
19. Big Windows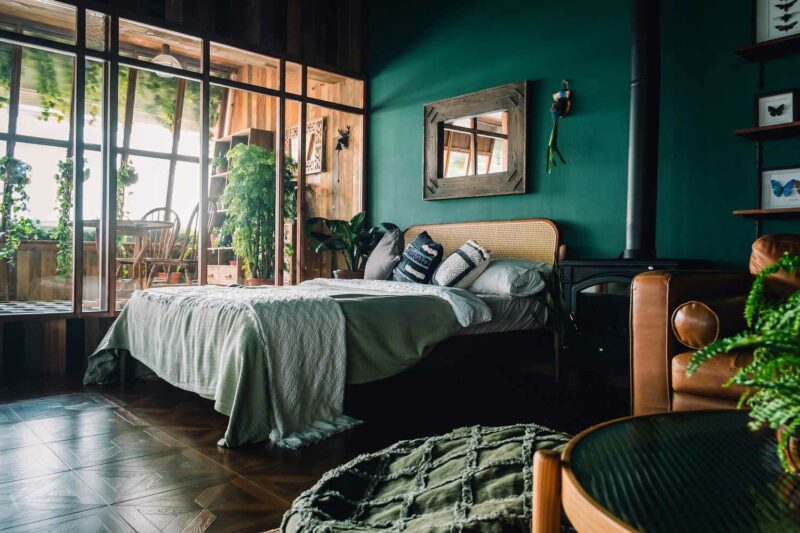 Windows are a gateway to nature from inside the home. Even if the bedroom itself offers a lush ambiance. Having big windows is, although, not a decor advice, rather a home design input.
But if you can manage it, windows bring bright sunlight inside and offer a natural luminescence to your bedroom interior. Other than that, having windows allows you to use drapes in a more efficient manner.
20. Rugs & Drapes
Well, we have already mentioned above quite a few times how fabrics in the form of bedding, rugs, or drapes can uplift the overall look of your bedroom's green walls. Therefore, here we will talk about the drape and rug materials. Fabrics, as you must know, come in different thicknesses, textures, and as per the different climates.
If you live in a cold climate, it would be best for you to go with heavy fabrics such as velvet, while if you live in moderate or warm climatic zones, choosing lighter fabrics will create a balanced look for your room. For drapes, you can opt for sheer, cotton, satin, and even tule fabrics, as they do not overshadow the other prints and design elements of the room.
21. Gold
This is one such accent color that goes best with dark green walls, whether you use it on bed frames, headboard elements, pillow covers, lamp frames, or even door knobs.
A little accent of gold offers a luxurious feel to your dark green bedroom without making it appear out of sync with the rest of the decor. One more tip regarding using gold with bedroom green walls is in small abstract ways such as in wall clocks, as the rim of flower vases, and so on.
Conclusion
Phew! Now that was one long list of decor ideas for your bedroom green walls. Green bedrooms, despite having a naturally rich vibe, require a particular kind of design theme. The bedroom with green walls gives an extra edge to make the decor and elements shine bright with a touch of personalization. So, now that you have a comprehensive curation of these creative bedroom green wall decor ideas, do you think you can use any of them, or are you already using them?
Either way, one pro tip when it comes to bedroom decor is to never go small on accents and additions. They are truly game-changers.
Now, we hope, at least, you won't feel stuck with bedroom green walls. Rather, see it as an opportunity to bring luxury to your life.
Sierra Rivera, a passionate home decor enthusiast, runs the popular blog CozyCottageCute.com. Sierra shares decor tips, DIY projects, and personal insights. Off the blog, she's often at antique markets or redecorating corners of her own space.