21 DIY Easy and Affordable Built in Shelves in Wall Ideas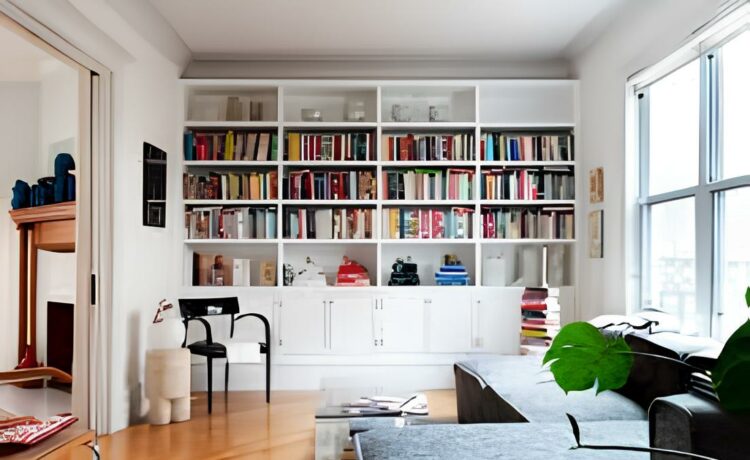 Are you tired of your cluttered bookshelf? Do you want to add some personality to your home decor? Building a DIY bookshelf is the perfect way to bring organization and style into your space. This blog will dive into 21 unique ways to make your DIY bookshelves. From simple step-by-step guides to elaborate designs, we have got you covered.
We will also address common questions like what materials are required to build DIY bookshelves and how to organize your books. Additionally, we will talk about the impact of DIY bookshelves on home decor and how they can be incorporated into kids' rooms.
So, whether you are a seasoned builder or new to the DIY scene, read on for some exciting ideas that will elevate your home design game.
Understanding the Basics of DIY Bookshelves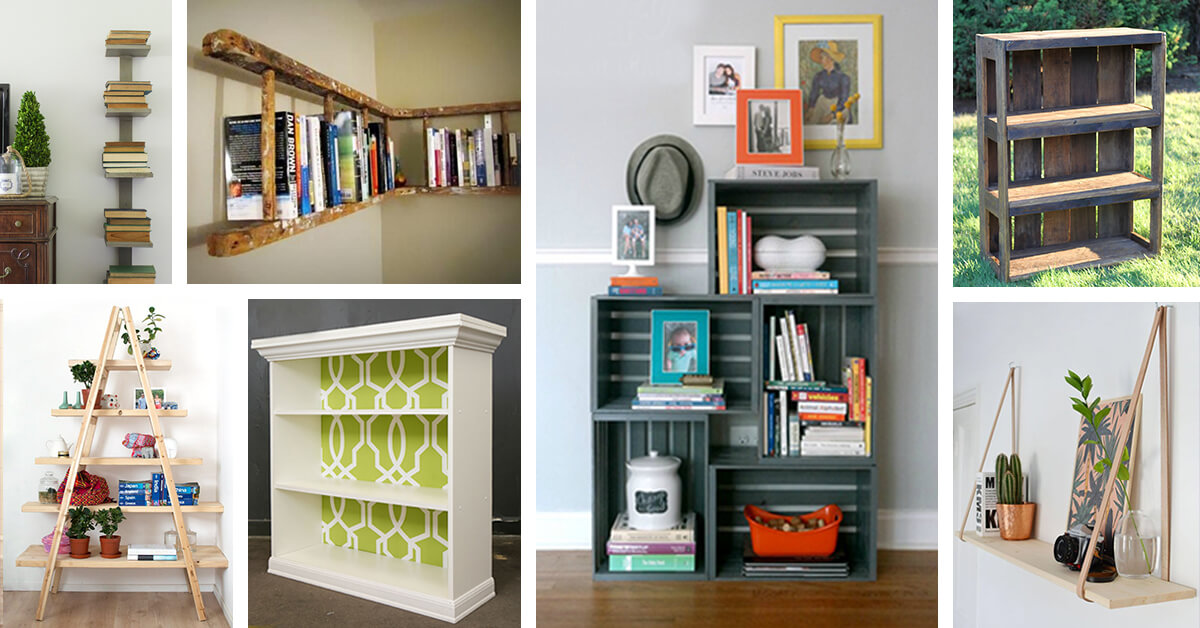 While building your DIY bookshelves, it's essential to understand the basics to ensure a successful project. Start by choosing materials like plywood or hardwood that suit your needs and preferences. Accurate measurements and careful planning are essential before you start building, so take the time to create a detailed plan.
Having the proper tools, like a table saw and drill, will make the construction process smoother. Don't forget to sand the surface of your bookshelves and apply a finish, such as paint or stain, for a polished look.
Finally, consider adding customization options like adjustable shelves or decorative elements to make your bookshelves unique. Following these steps, you can create beautiful and functional DIY bookshelves for your home.
A Step-By-Step Guide to Building a Simple DIY Bookshelf
1. Craft Your Literary Haven: DIY Built-In Bookcase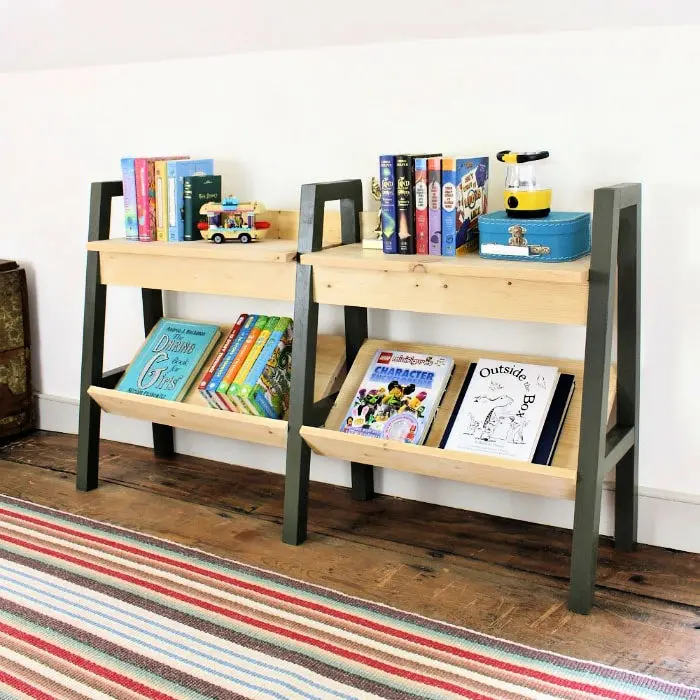 Building your DIY bookshelf is a rewarding project that anyone can tackle. A built-in bookcase adds style to your home and provides functional storage for your books and belongings. The design of the bookcase can be customized to fit the dimensions of your space, allowing for a perfect fit. With a little effort and creativity, you can create a beautiful and functional bookcase that will be the centerpiece of any room in your home.
2. Elevate Your Space: Unveiling Exquisite Custom Built-Ins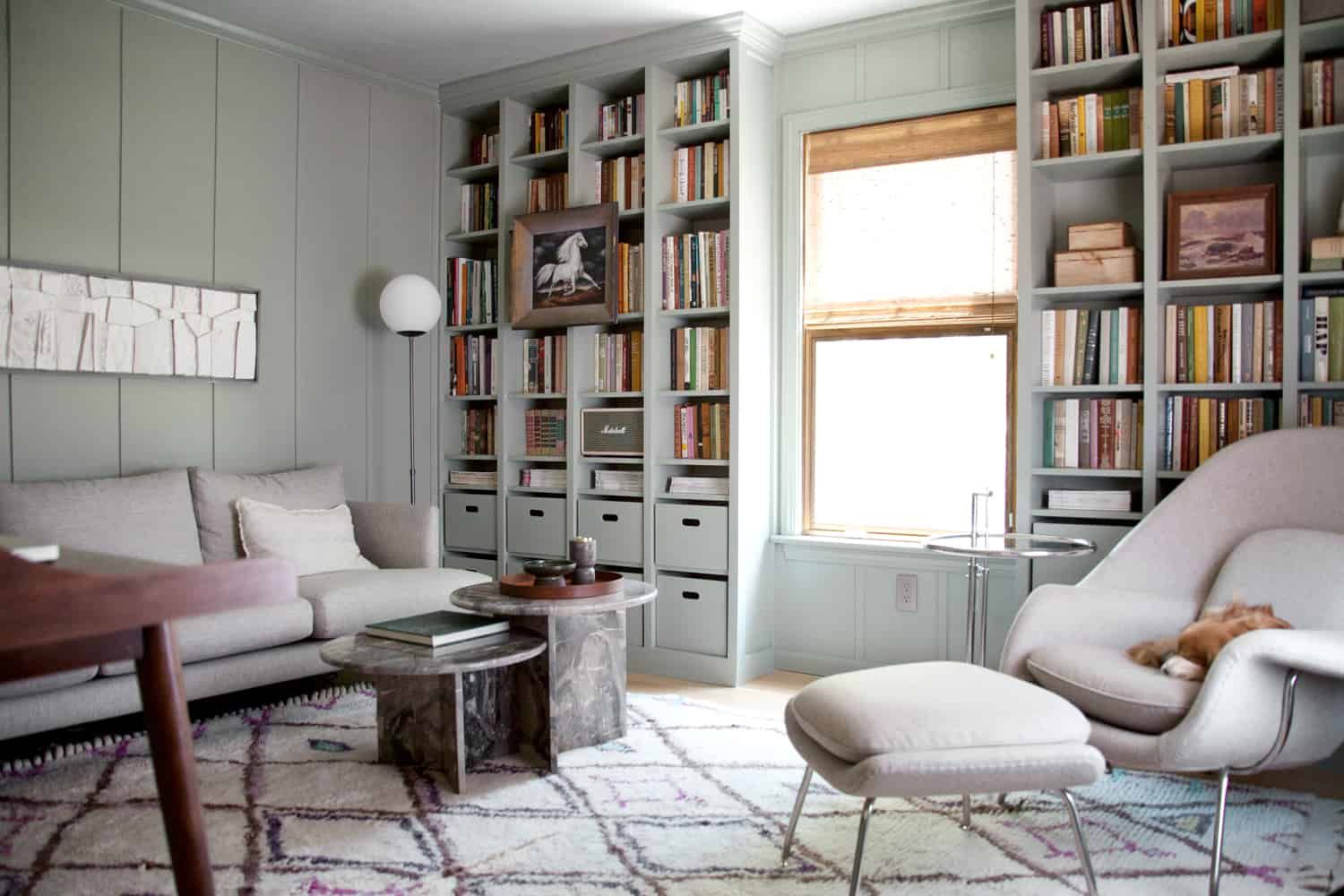 Custom built-ins are a great way to add a unique touch to your space while maximizing storage. Whether you're looking to create a home office, a bookshelf for your living room, or even a fireplace surrounded by built-in shelves, custom built-ins offer endless possibilities. To achieve the desired look, you can choose from various materials, such as wood, metal, or reclaimed materials. Careful planning is essential to ensure the built-ins fit the space ideally and meet your storage needs.
3. Unleash Your Creativity: Crafting Stunning DIY Built-In Bookshelves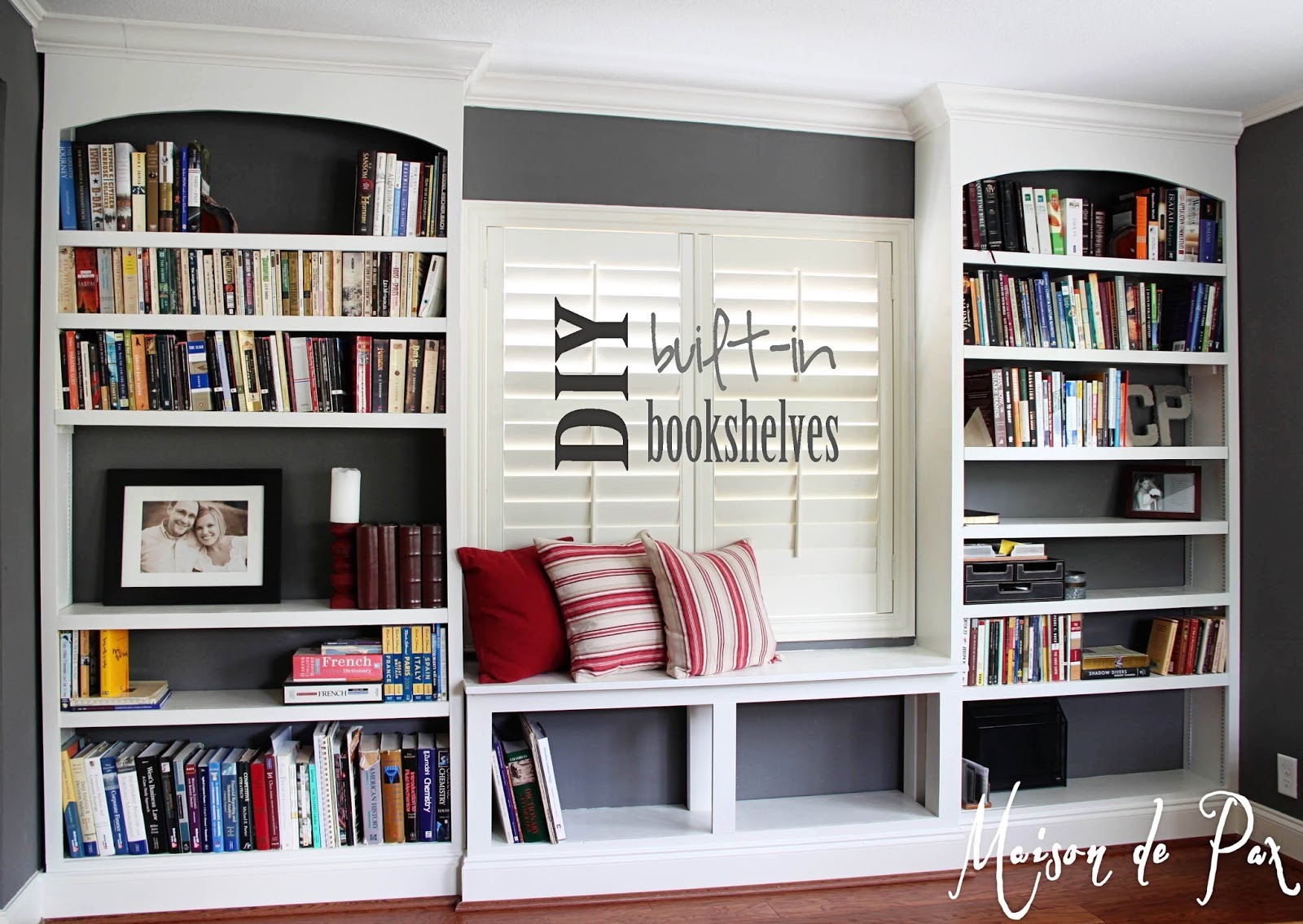 DIY built-in bookshelves are a great option to add a touch of elegance and sophistication to any room. These bookshelves provide a seamless and integrated look for your wall, maximizing your storage space.
Precise measurements and careful planning are essential to building your DIY built-in bookshelf. Use high-quality materials and tools for a study and a long-lasting bookshelf. You can also personalize the design of your bookshelf with decorative elements to make it a unique and eye-catching centerpiece.
Overall, DIY built-in bookshelves offer functionality and style to any living room, home office, or dining room.
4. The Ultimate IKEA BILLY: Ingenious Built-In Bookcase Hack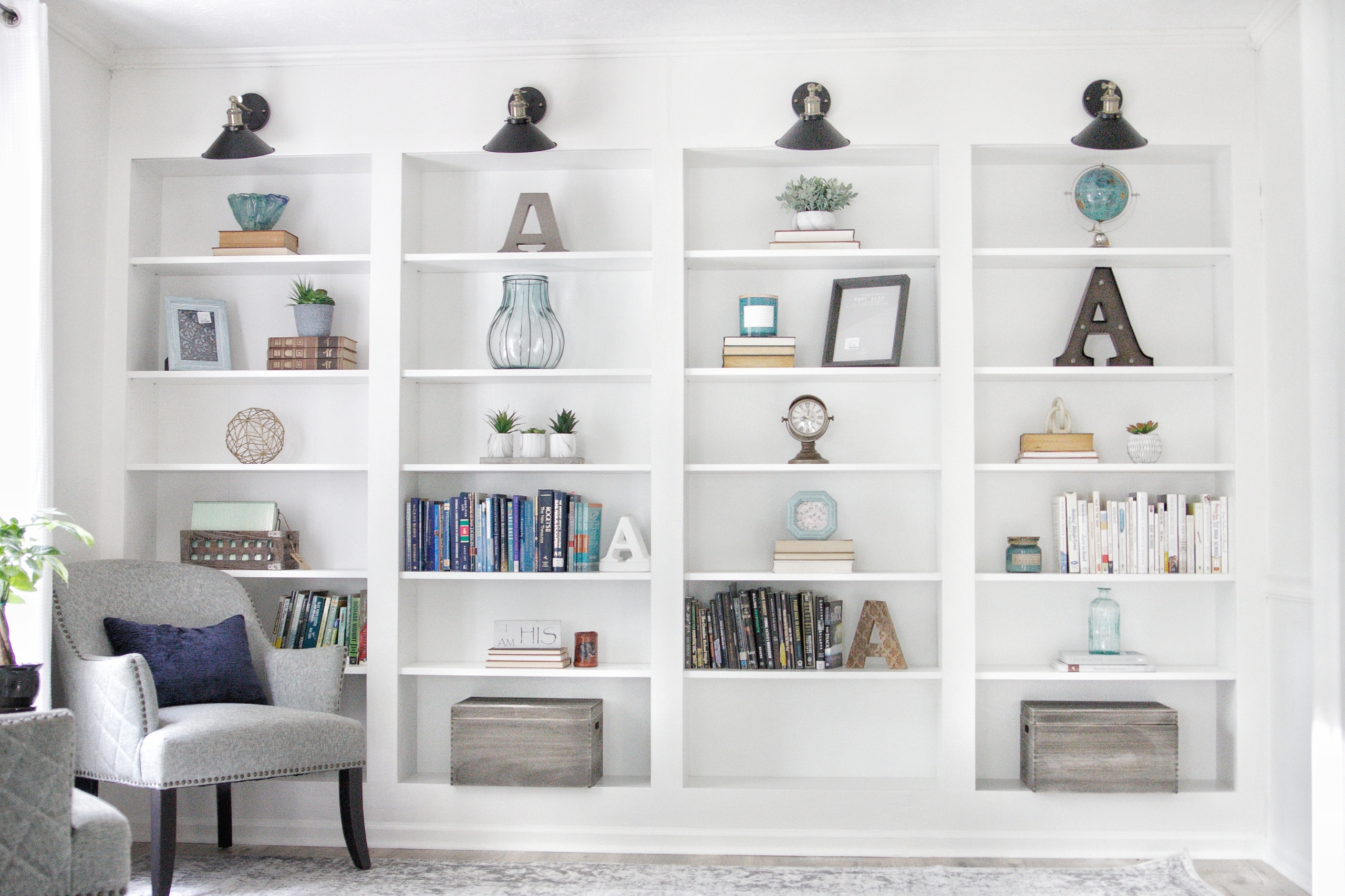 Transforming the IKEA BILLY bookcase into a custom built-in bookshelf is a DIY project that can create a seamless and stylish look in your home. Securing the bookcases and adding crown molding can achieve a high-end, built-in aesthetic.
The beauty of this hack is that it can be customized to match your style, whether you paint or stain the bookshelf. The IKEA BILLY hack is budget-friendly and allows adding extra shelves or lighting options for further customization.
5. Storytelling Spaces: Tailored Built-In Bookshelves for Your Abode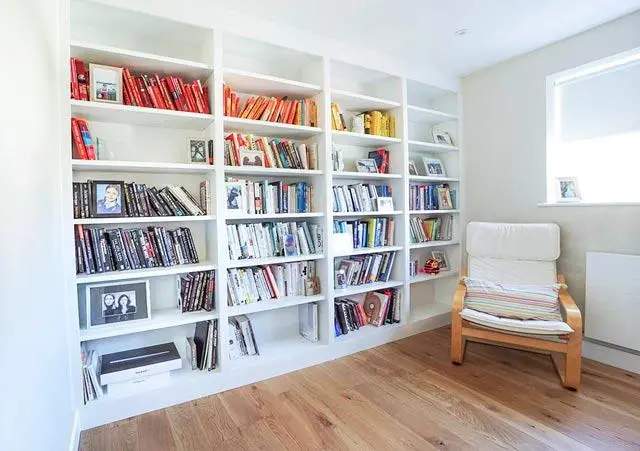 Built-in bookshelves offer a sleek and customized look to any home, maximizing space and fitting any room or wall size. When creating DIY built-ins, it's essential to consider the type of wood and finish that will match your home; decor. These built-in shelves are perfect for creating a cozy reading nook or displaying your favorite items.
DIY built-ins, you can transform any space into a stylish and functional storage solution that adds a touch of elegance to your home.
6. Elevate Your Workspace: Transformative Office Built-In Bookcases
Office built-in bookcases are a great way to maximize space and create a sleek, modern look in your workspace. These bookcases can be customized to fit your specific needs and the layout of your office. When installing built-in bookcases, having a moderate level of carpentry skills and the necessary tools is essential.
Choosing suitable materials, such as hardwood or plywood, will ensure the durability of your bookcase. To add a finishing touch, consider adding trim or painting the bookcase to match your office decor. With office built-in bookcases, you can create a functional and stylish storage solution for your workspace.
7. Swedish Chic Meets Functionality: Built-In Bookshelves from IKEA
IKEA bookcases offer a convenient solution for creating custom built-in bookshelves. You can easily find the perfect fit for your style and space in various sizes and colors. You can transform these bookcases into seamless built-in shelves by following step-by-step instructions online.
Consider customizing your bookshelf with additional molding, trim, or lighting to add a touch of flair. The best part is that using affordable pre-made bookcases saves you money and time on your DIY project. Get creative and give your space the built-in look it deserves.
8. Into the Abyss: The Allure of the Black Custom Built-In Bookcase
Black custom built-in bookcases offer a sleek and sophisticated addition to any home. These custom bookcases perfectly fit your space's unique layout and design, maximizing storage and aesthetic appeal. The black finish allows the bookcase to effortlessly blend into any room's decor, adding a touch of modern elegance.
With built-in bookcases, you'll have plenty of storage space for your books, decor, and other items while keeping the room organized and clutter-free. Plus, by opting for a DIY approach, you can create a stylish and functional storage solution at a cost-effective price.
9. Whispers of Simplicity: White and Bright Built-In Bookshelves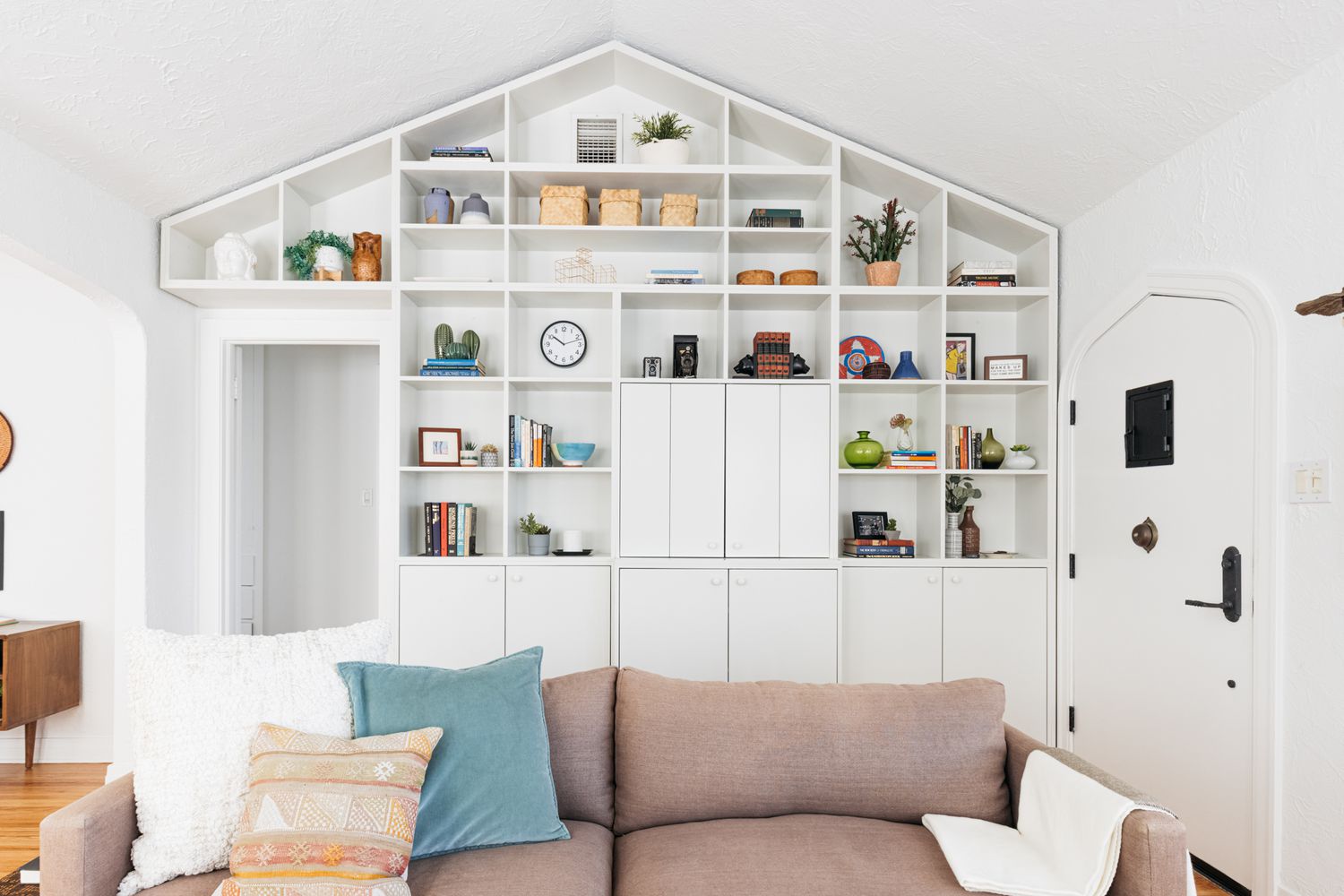 White and bright bookshelves are a popular and modern choice for DIY projects. They can be made using affordable materials like plywood and paint. To create a unique look, consider adding a pop of color or pattern to the backing of the bookshelf.
For a sleek and minimalist design, floating shelves are a great option. These white and bright bookshelves can add brightness and openness to any room. Embracing the DIY spirit, you can quickly transform your space with these stylish and functional storage solutions.
10. Serene Depths of Blue: Crafting Your DIY Blue Built-Ins
Adding a pop of color to your room while providing ample storage, Blue DIY Built-Ins is a perfect way to enhance your space. The best part is that you can customize the color to match your decor or personal taste. By building your bookshelves, you save money and experience a sense of accomplishment. DIY Built-Ins can be designed to fit any space or room size, making them versatile and adaptable.
To elevate the overall look of your bookshelves, consider adding decorative elements like molding or trim. With Blue DIY Built-Ins, you can create a stylish and functional storage solution that reflects your unique style.
11. Reimagine Storage: Open DIY Bookshelf Plans for Creative Souls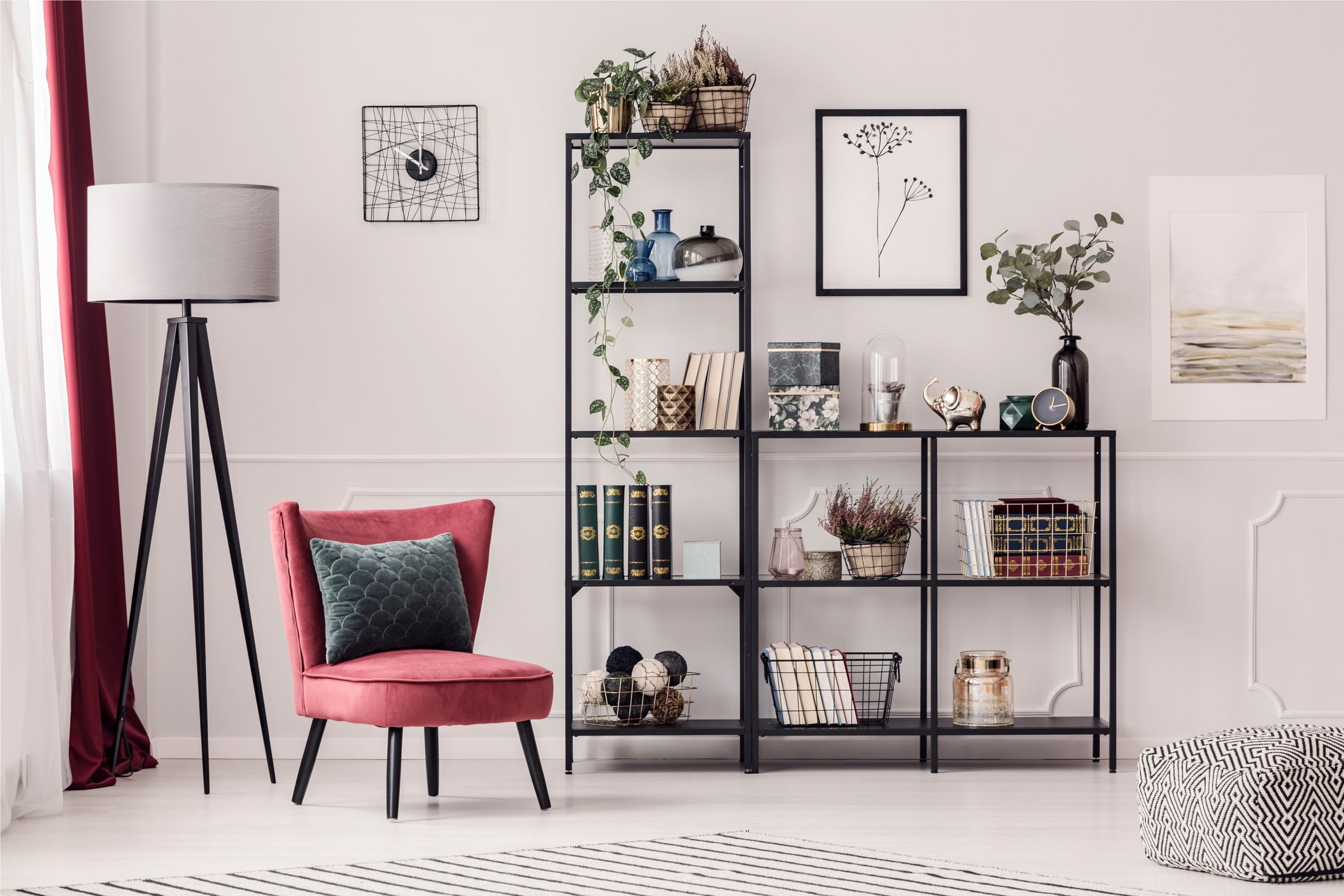 Looking to add storage and style to your space? Open DIY bookshelf plans are a great option. You can easily create your bookshelf with simple materials like wood planks and brackets. The available design allows for customization and creativity in arranging books and decor.
Plus, you can paint or stain the shelves to match your room's style. Whether you're looking for a bookshelf for your home office, living room, or even by the fireplace, open bookshelves can be built to fit any size or shape of the room. Embrace your woodworking skills and create a personalized storage solution.
12. Immerse in Elegance: Discover the World of Built-In Bookshelves
Built-in bookshelves offer a custom and polished look to your home décor while maximizing the use of limited space. Their versatile design can be tailored to fit any room size or shape. These built-ins provide storage space and a multifunctional option for displaying books, decor, or a stylish room divider.
Building your built-in bookshelves can be a rewarding DIY project with proper planning and execution. Whether in your living room, home office, or even around a fireplace, these built-ins add functionality and beauty to any space.
13. Culinary Chronicles: Designing Your Custom Kitchen Bookcase
You can add practical and decorative elements to your living space when designing a custom kitchen bookcase. It's essential to consider the size and layout of your kitchen before deciding on the design of your bookcase. Choose materials that match your kitchen decor and complement the existing cabinetry. Customize the shelves to fit your cookbooks, small appliances, and other kitchen essentials. Add finishing touches such as paint or stain to blend seamlessly with your kitchen. A well-designed custom kitchen bookcase can enhance your interior design and provide extra storage space for all your culinary needs.
14. Warmth and Wisdom: Electric Fireplace and Built-Ins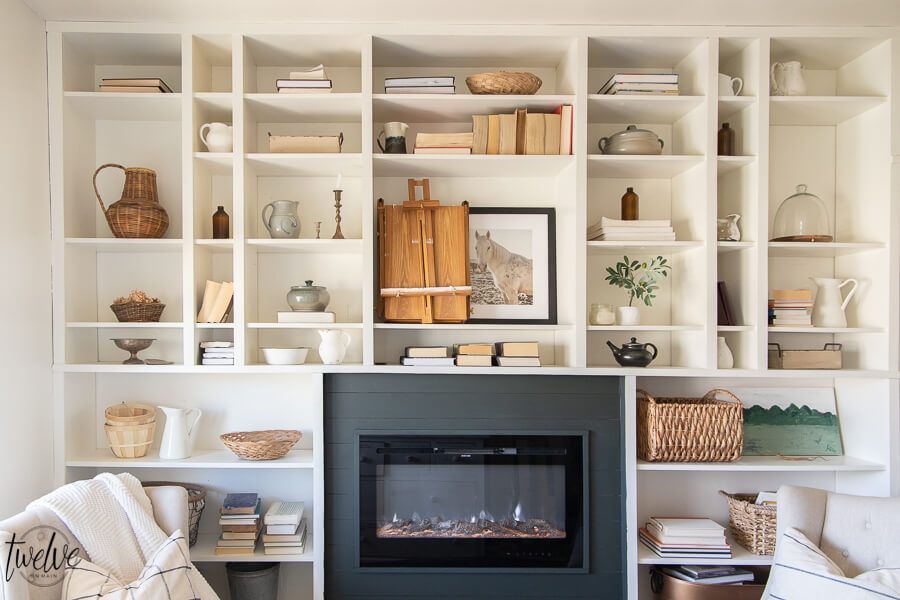 Looking for a great way to add warmth and storage to your space? Consider an Electric Fireplace with Built-in Bookshelves. This bookshelf design combines practicality with a cozy ambiance. The electric fireplace provides warmth and visual appeal, while the bookshelves offer ample storage for books and decorative items.
With proper installation, this design can add value to your home and become a focal point in any room. DIY enthusiasts can customize it with different materials, colors, and sizes to fit their unique tastes and style. It's a great DIY project that adds functionality and aesthetics to your living space.
15. Architectural Elegance: A Glimpse into Stunning Built-In Bookcases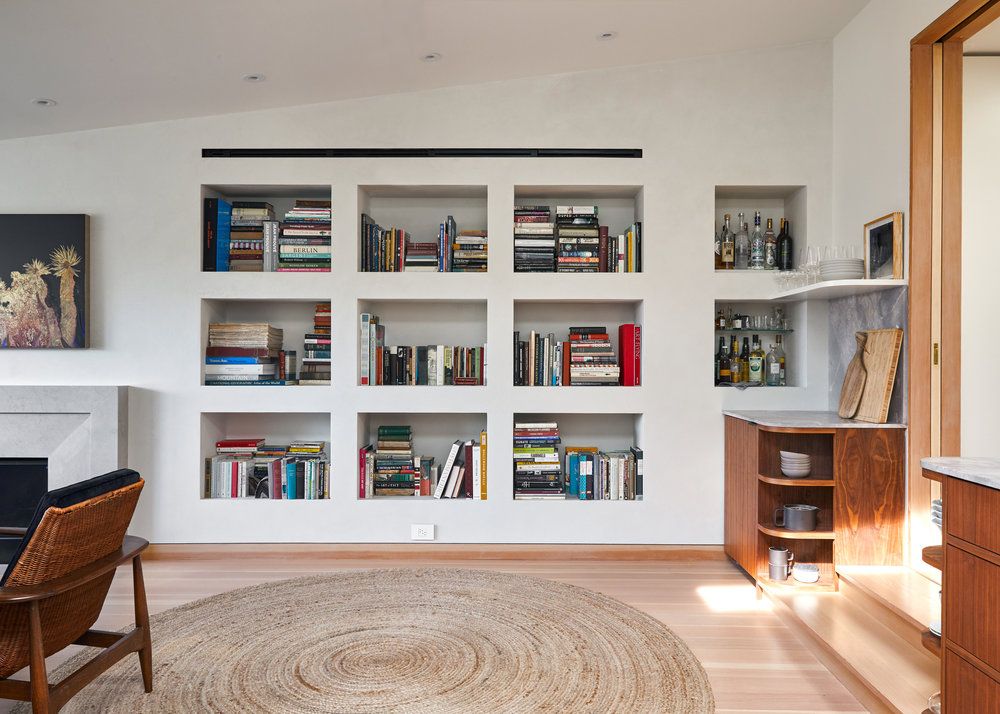 Built-in bookcases offer a brilliant solution to optimize space and enhance the value of your home. With their customizable nature, you can tailor these bookcases to fit any room size or design preference, making them versatile for any home. Not only do built-in bookcases provide ample storage for your books and decorative items, but they also serve as room dividers, creating distinct functional areas within your living space.
However, it's important to note that building built-in bookcases requires careful planning, precise measurements, and skilled installation. These bookcases can be constructed using various materials like wood, metal, or glass, allowing you to achieve the desired aesthetic for your interior design.
16. Tailored to You: Mastering DIY Custom Built-In Bookcases
Custom built-in bookcases provide a personalized and unique storage solution for books and decor. They allow you to customize the size, shape, and design to fit your space perfectly. Before beginning construction, careful measurement and design planning are essential. Materials like wood or MDF can be used to construct the bookcase, allowing you to choose the option that suits your preferences and budget.
Adding finishing touches such as crown molding or paint can elevate the look of your custom bookcase and create a cohesive and stylish aesthetic. With DIY custom built-in bookcases, you can create a functional and beautiful storage solution that seamlessly complements your home's interior design.
17. Hidden Marvels: Simple Yet Striking Recessed Bookshelf Ideas
The Simple Recessed Bookshelf is a practical solution for people with limited space. Building it into the wall saves valuable floor space and gives any room a neat appearance. Basic carpentry skills and tools are needed to construct this bookshelf.
Its recessed design ensures that books can be stored securely without the risk of falling over. Once completed, the bookshelf can be customized to match the room's decor with a coat of paint or stain.
18. Touching the Sky: Floor-to-Ceiling of Built-In Bookshelves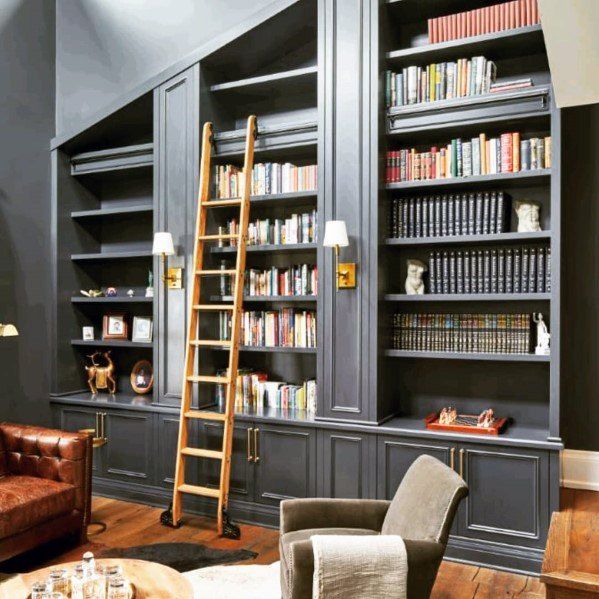 Floor-to-ceiling built-in bookshelves are a fantastic way to maximize storage space in smaller rooms. These bookshelves can be customized to fit the dimensions and style of any room, creating a seamless look that blends effortlessly with the rest of the decor. While building floor-to-ceiling bookshelves may require professional help or specialized equipment, DIY enthusiasts can still achieve a custom look using pre-made bookshelf kits.
Whether for a home office, living room, or even around a fireplace, floor-to-ceiling built-in bookshelves offer a stylish and practical solution for storing books and displaying cherished items.
19. Whispers of Grandeur: Full Wall Bookcase Designs
Full-wall bookcases are a fantastic way to showcase your style while maximizing storage space. With ample room for displaying books, décor, and collectibles, they can be customized to fit any room size or style preference. Whether you prefer the rustic charm of wood, the sleekness of metal, or even the industrial look of pipes, full-wall bookcases can be built using various materials.
To add functionality, consider incorporating built-in lighting or ladder systems for easy access to high shelves. An entire wall bookcase is a practical storage solution and an eye-catching centerpiece in any room.
20. Seamless Sophistication: Easy Built-In Bookcases

Built-in bookcases are an excellent solution for saving space in smaller rooms, offering a customizable option to fit any room's size and style. They can be constructed using various materials, such as wood, metal, or repurposed materials, allowing DIY enthusiasts to create their unique bookshelf.
These built-in bookcases serve as storage units and versatile pieces that can be used as room dividers. Opting for a DIY built-in bookcase provides a cost-effective alternative to store-bought options, allowing you to showcase your carpentry skills and add a custom look to your home.
21. Craftsmanship Redefined: Journey into the Arts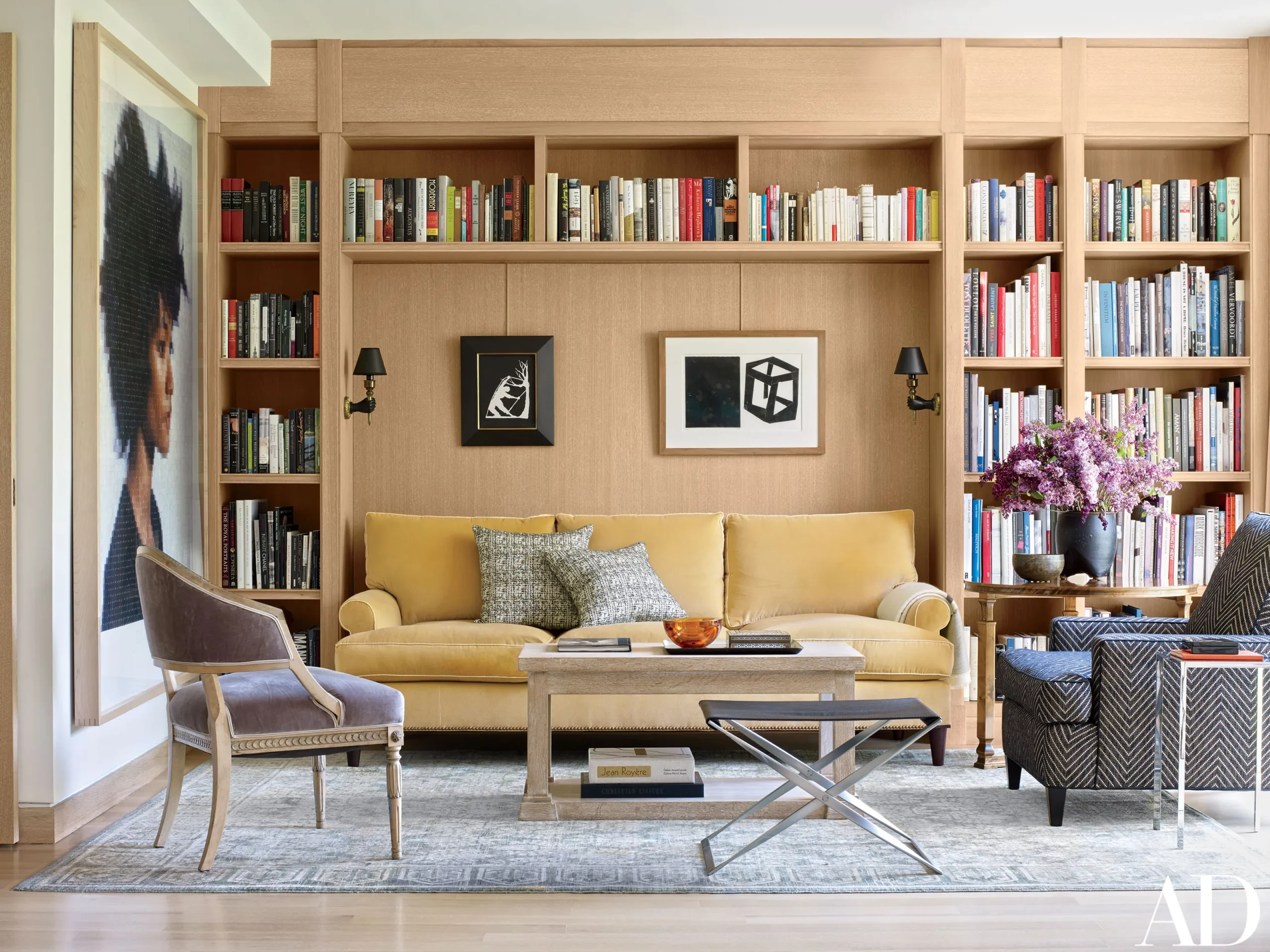 Crafted from solid oak, this bookcase boasts adjustable shelves, allowing you to customize it according to your needs. The detailed instructions and materials in the Fine Woodworking plan make tackling this project easier for intermediate woodworking enthusiasts.
Remember that this DIY endeavor requires specialized tools and intermediate woodworking skills. Once completed, this Arts and Crafts Bookcase will add character to your living space and provide functional storage for your beloved books.
Conclusion
In conclusion, building your DIY bookshelves can be a fun and rewarding project. Plenty of options exist whether you're a beginner or an experienced DIYer. From simple designs to more complex built-ins, you can create the perfect bookshelf to suit your needs and style. Consider the needed materials and follow a step-by-step guide for a successful build.
Once your bookshelf is complete, you can add a stylish touch by incorporating decorative elements or creatively organizing your books. Remember to maintain and care for your DIY bookshelves to ensure they last for years.
So get started on your DIY project and enjoy the satisfaction of having your custom bookshelves in your home.
Frequently Asked Questions
What Materials Are Typically Used to Build DIY Bookshelves?
Wood is often the go-to material for DIY bookshelves, but other options exist. Metal pipes, cinder blocks, and even cardboard can be used creatively. Plywood and MDF are affordable choices. Consider repurposed materials like pallet wood or old doors for a unique touch.
What Materials Are Needed to Build DIY Bookshelves?
To build DIY bookshelves, you will need materials like wood boards, screws, nails, brackets, and paint or stain for finishing. Tools such as a saw, drill, measuring tape, and level are also necessary. Before purchasing materials, a detailed plan or blueprint is essential for your DIY bookshelf project.
Can DIY Bookshelves Be Customized to Fit Specific Spaces or Needs?
DIY bookshelves can be easily customized to fit your specific spaces and needs. Whether you need to adjust the size of the shelves to accommodate your books or other items or create a modular design that can be rearranged as required, DIY bookshelves offer flexibility and the opportunity to create a unique storage solution for any space.
What Are Some Creative Design Ideas for DIY Bookshelves?
Consider using repurposed wood or crates to achieve a rustic look. For a unique touch, incorporate ladder-style shelves. You can also create geometric shapes like hexagons or triangles with the frames. Add some lighting to give your bookshelves a cozy and modern feel.
What Tools Will I Need to Build My DIY Bookshelf?
You will need a few essential tools, such as a saw, drill, screwdriver, measuring tape, and level, to build your DIY bookshelf. Additional instruments may include wood glue, clamps, sandpaper, and a paintbrush. Ensure you have the right tools and safety equipment before starting any DIY project.
Sierra Rivera, a passionate home decor enthusiast, runs the popular blog CozyCottageCute.com. Sierra shares decor tips, DIY projects, and personal insights. Off the blog, she's often at antique markets or redecorating corners of her own space.