21 Stunning Modern Farmhouse Exterior Designs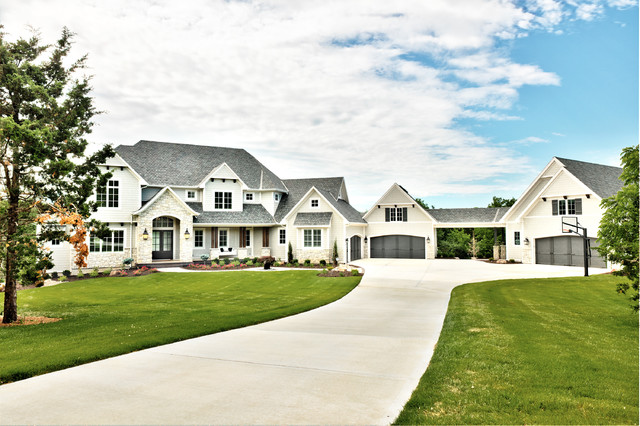 Believe it or not, even luxurious city life can turn boring after one point. And that is why many rich people invest in luxurious countryside homes or farmhouses as their vacation homes or even retirement homes. However, while the number of people purchasing farmhouses could be a lot, only a few know how to maintain that rich countryside charm. Whether it is a lavish contemporary condo or a classic countryside farmhouse, the right décor tips can do the magic, farmhouses are often categorized as luxury property types situated on the outskirts of cities and often purchased as leisure homes. However, the bigger the property, the better the chances to decorate this lavish property.
If you already own one or are planning to buy a farmhouse, here are some farmhouse exterior décor tips to help you ease the hassle of design thinking.
1. Swing Benches or Sofas
This is one of my favorite farmhouse exterior décor. And my reason for keeping it at the top of the list is that it not only offers your farmhouse an elegant and classy look but also a perfect setting to spend your leisure time in. Adding front swings to your farmhouse exterior creates a welcoming environment for your guest while justifiably utilizing the outdoor space.
One important benefit of front swings or porch swings is that they connect the indoors to the outdoors. So whether you wish to spend a leisurely evening or a fresh morning reading, a front yard swing is your best decor item choice.
2. Lights and Lanterns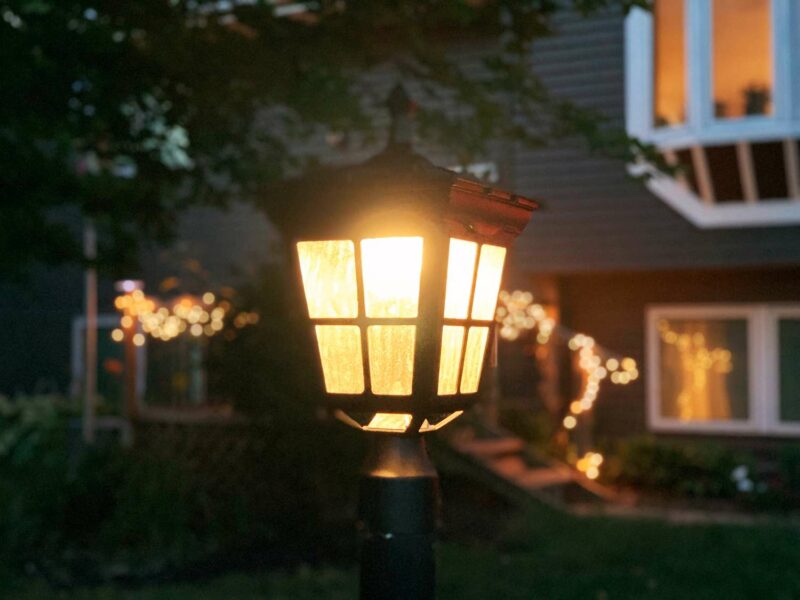 Who doesn't like a well-lit entrance? Be it the residents of the home, or the guests, having a bright and welcoming farmhouse exterior is loved by all. Lights are a magical decor item when it comes to farmhouse exteriors. Using lights in the right manner can help you create unique and personalized farmhouse exterior designs.
For example, if you wish to have a subtle, warm evening welcome, you can choose yellow light lamps on your front door, and if you wish to have a bright, daylight kind of vibe, we say you go for decorative white lights. You can even match the color of your lights and lamps with the exterior paint. Having contrasting or matching light shades creates very harmonic farmhouse exteriors.
3. Contrasting Shades & Patterns
If you wish to have a well-balanced farmhouse exterior, we suggest trying out contrasting colors and materials. The contrast here refers to a mix and match of shades, patterns, and materials. For instance, you can keep your farmhouse exteriors a blend of stone walls, tin shades, pastel trims, or bright window sills, basically, whatever defines your personal style.
Especially when it comes to contrast, a mix-up of warm and cool shades and materials creates a perfectly homely and harmonic vibe.
4. Slanted Contemporary Roofs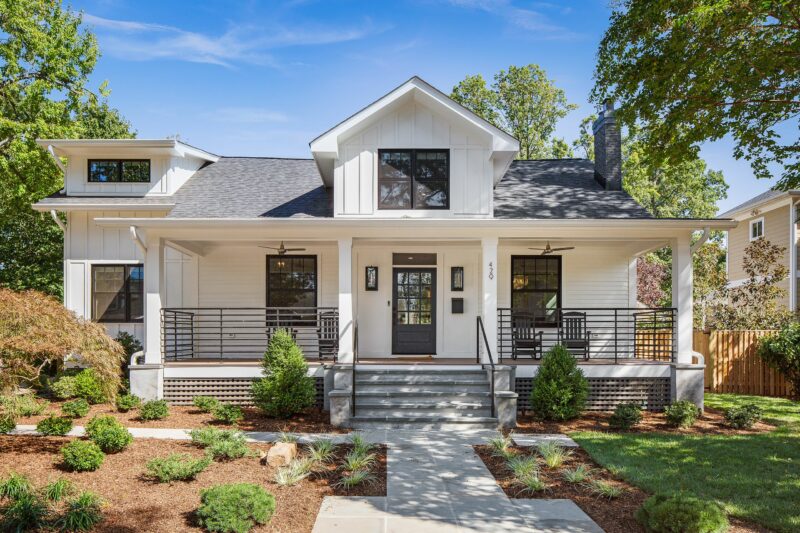 Picture in your mind an elegant farmhouse. What do you see? Well, in most cases, what many people imagine is a pastel-colored, huge farmhouse with slanted roofs. Slanted roofs not only create a proper farmhouse look but also are quite weather friendly.
Steep contemporary roofs create a modern yet classic exterior look for your farmhouse. This style of farmhouse exteriorsallows a diverse use of design and decor concepts. In this exterior style, you can use diverse materials such as glass doors, wooden fences, and so on.
5. Minimal with a Pop of Colour
One mistake that most farmhouse owners make is that they use monotone for their farmhouse exteriors. Although that does create a uniform design for once, for a longer duration, it might create a sense of boredom. That's where the decor tip of using pop colors comes into play. Here, what we are suggesting is that you don't need to use bright neon shades all over your farmhouse exteriors.
Rather, use any one minimal pastel color and pair it with a brighter shade of the same color. This trick will create not only a colorful farmhouse exterior but also a balanced approach, and as we know, colors determine your state of mind.
6. Wide Glass Windows
Using big glass windows has more than just décor benefits. Firstly, it creates a well-ventilated ambiance in your farmhouse. Secondly, it offers a clean look to your farmhouse exteriors. Also, having wide glass windows or multiple glass windows makes you experiment with the décor in terms of curtains, etc.
Hence, if you wish to have a minimal yet modern farmhouse, go for glass materials as much as you can. Especially if you live in areas where winters are extreme, glass keeps the indoors warm.
7. Additional Courtyard or Entryway
This is again one of my and, in fact, many farmhouse owners' favorite exterior decor styles. Imagine walking through a lavishly designed gateway. Most often, what many farmhouse exterior designers do is that in the absence of any possibility of changes that can be done to the existing layout.
One more thing that you can incorporate into your farmhouse exterior decor is the dual-tone styling. This will not create a unique blend of shades but also draw attention to the farmhouse.
8. Wooden Main Gate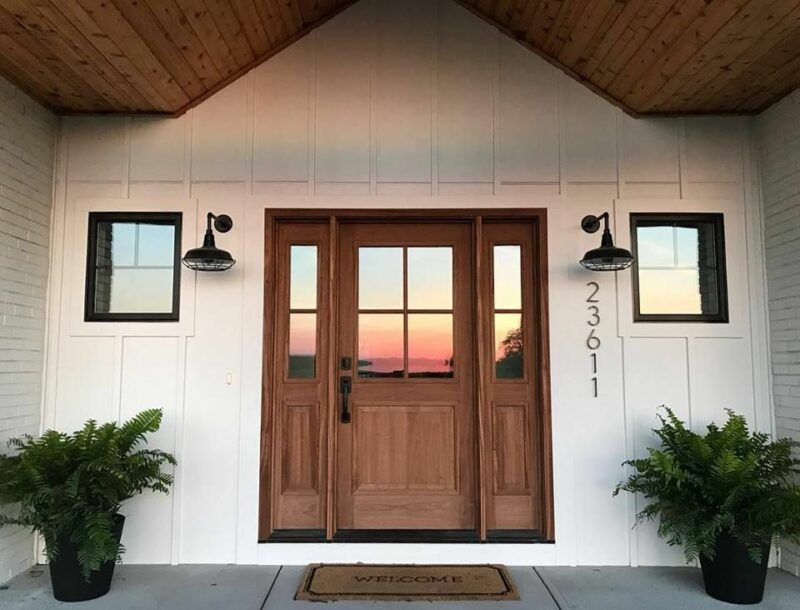 Houses, modern or classic, one thing we all can agree on is that wooden doors and exterior furnishings create the most elegant look for your farmhouse exteriors. Wooden doors, especially the front wooden doors, i.e., The main gate of your house, is that part of the house which is most connected with the natural world.
Hence, using any artificial material for it will make it look out of sync and may create a wrong decor impression on your guests. Hence, if you wish to keep your farmhouse exteriors in sync with the design and decor styles used by the best home designers, go for wooden doors.
9. Porch
Needless to say, every home has a porch, except apartments, of course. So when the porch is such an important aspect of houses, why not utilize it properly? When planning for farmhouse exteriors, try to determine, first hand only, your plan for porch space.
For instance, if you wish to decorate your front porch as a personalized sitting space or create a mini garden using pots and climbers, or maybe even put up some lights and place a chair for some nice aesthetics.
10. Kid's and Pet Play Area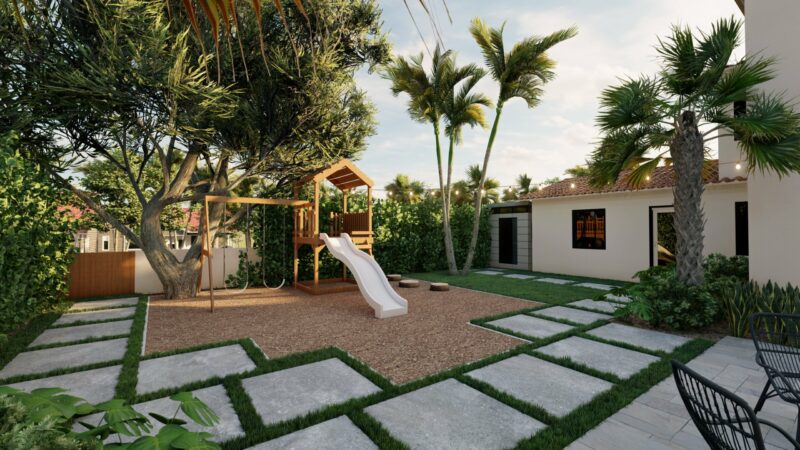 This is one of the best and most creative ways to decorate your farmhouse exteriors. Most often, when you visit your farmhouse or if you live in one regularly, you must have noticed that children and pets seldom stay indoors.
They necessarily want to go outdoors and play. And that, by the way, is a really healthy practice. So, how can you create a fun outdoor space in your farmhouse? A few ways are to create a small artificial pond, add bushes, etc., so that kids can play treasure hunt. Also, do not forget to add fences for protection.
11. Little Garden Area
What's even the point of having a farmhouse if it doesn't have nature's touch? And what better way to bring about that natural vibe, if not by a garden? The best gift you can give your farmhouse exteriors is a well-maintained garden area.
Make sure your garden isn't just an empty lawn space with some bushes here and there. Try to plant as many vibrant plants and trees and well-trimmed grass as well. Also, you can set up a mini bonfire pit with a stone boundary for impromptu party plans.
12. Fenced Entryway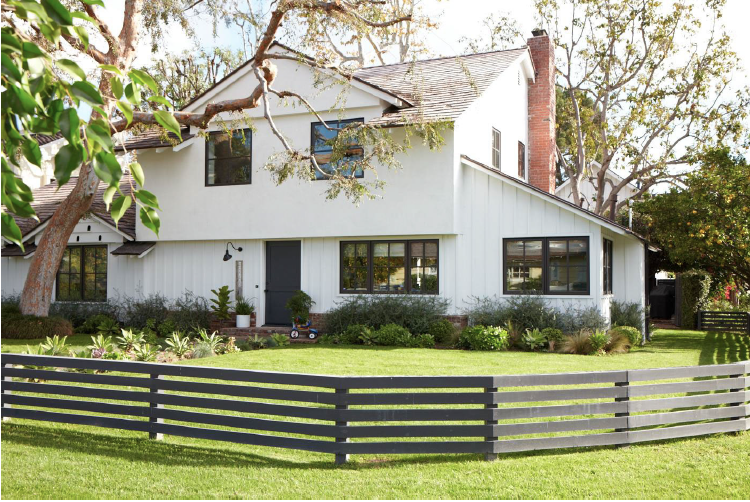 Ever seen farmhouse exteriors or ranch outdoors in movies? What is that one common thing you observe? For me, it's the fences. Fences are the original decor item that has been used in farmhouse exteriors since always. Fences create a sense of boundary and hence, private space.
Now, when we say fencing, it doesn't necessarily mean wooden fences. You can be creative with your farmhouse decor and choose other materials, such as iron bars, etc, to create a more modern look.
13. Colonial Themed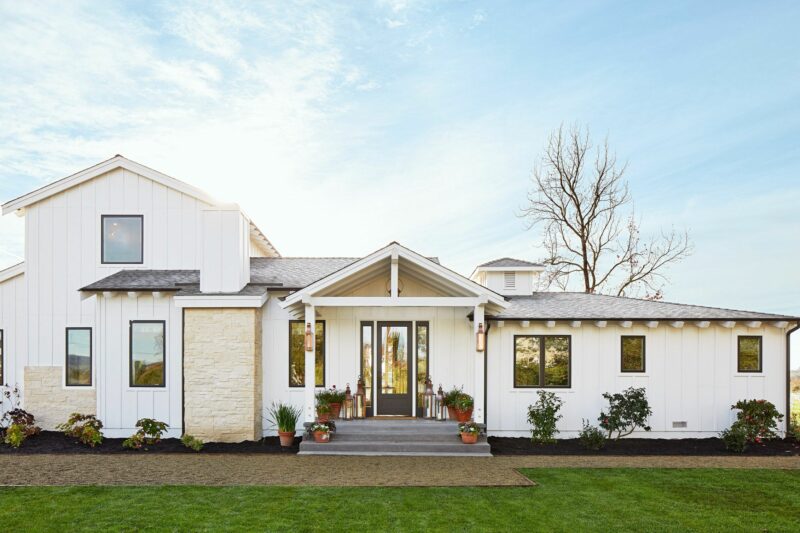 This is one way to select your farmhouse exteriors. Out of many color themes, colonial themes are what give a versatile look to your farmhouse. Colonial themes give you the freedom to be subtle on the outside and play with colors and patterns in your interior decor.
Colonial farmhouse exteriors are marked by minimal pastel or white paint, with the same shade trims and a darker shade roof.
14. Backyard Style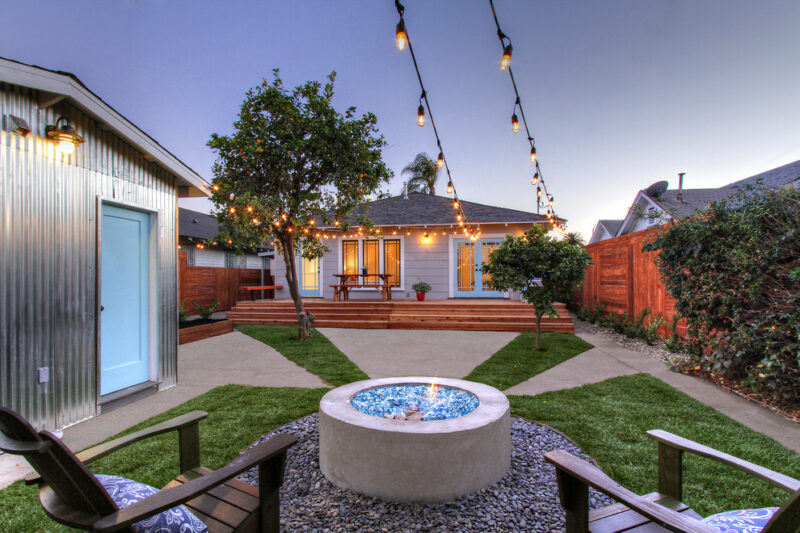 When it comes to farmhouse exteriors, let us not forget that some farmhouses do not have enough front yard space, but they have wide backyards that can be utilized well.
For instance, you can create a backyard garden and bring in a swing sofa for it to spend your quality time in. Also, you can build a dedicated barbeque station for backyard parties.
15. Barn Design
Suppose you are someone like me who prefers to own a farmhouse for its classic barn beauty. You can add design elements and details of old, classic barn style, which includes a bright monotone shade of exterior walls made out of wood and purely out of wood.
Barn-style farmhouse exteriors are the best pick when your farmhouse is situated in the far countryside.
16. Stone Material on The Outdoors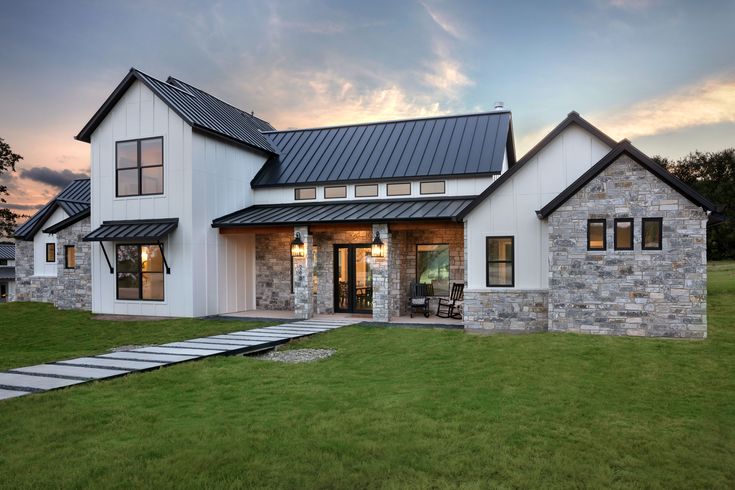 You may or may not have heard, but as per many architects and home designers, the stone is one such material that, despite being so in touch with nature, is used in all kinds of homes.
Whether you want a cozy, neutral farmhouse exterior or a majestic modern home, using stones in the form of big boulders and small chips can do the magic.
17. Tree-Lined Exteriors
Have you ever wondered what makes those luxury high-rise societies look so inviting? Well, the answer could be in the lush details surrounding the community spaces. For instance, those palm-lined trees, walking with you to the front porch, or tree-lined drive-throughs.
But is this kind of grandeur only possible in high-rise societies? Not really. You can create for yourself lavish farmhouse exteriors by planting trees in a linear fashion. This will create a natural vibe for your home.
18. Sitting Space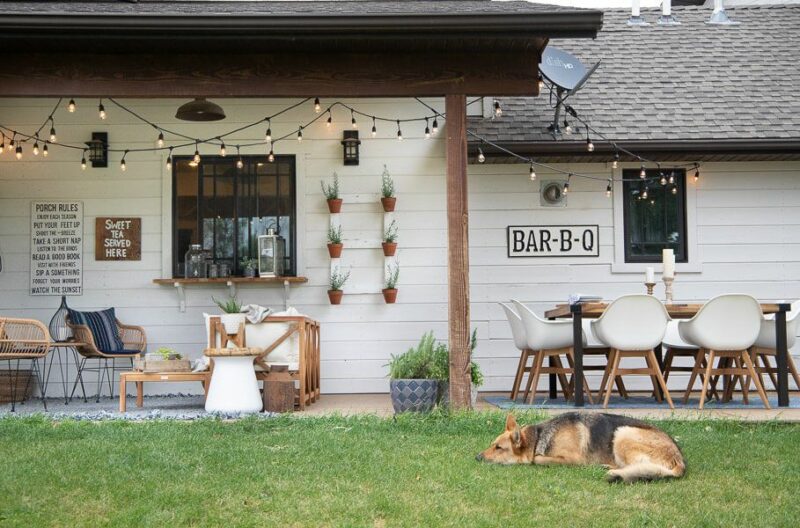 This is yet another way to design your farmhouse exteriors. Having a dedicated sitting space in your outdoors not only helps in utilizing the front space but also creates a sense of belonging.
Sometimes, you must have experienced that despite having a lavish drawing room, you may want to sit outdoors for a calming cup of evening tea. Well, that's how having an outdoor sitting area will help you.
19. Symmetrical Farmhouse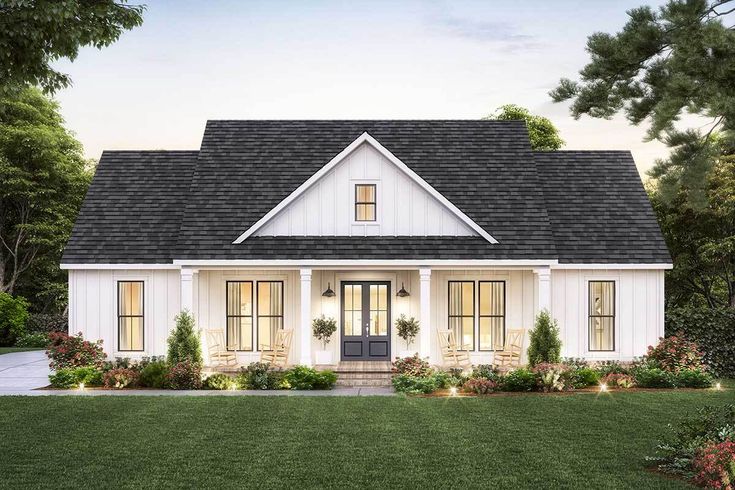 Now, this is one very basic yet often neglected trick to make your farmhouse exteriors look drool-worthy. So, the deal is to make your farmhouse appear classy, not crafty, and that happens only while building the house.
So make sure, while you are planning to build your farmhouse, the structure should appear symmetrical from the exteriors. That way, you can ensure that your farmhouse exteriors will give a neat and clean look even with bare minimal decor.
20. Flower Beds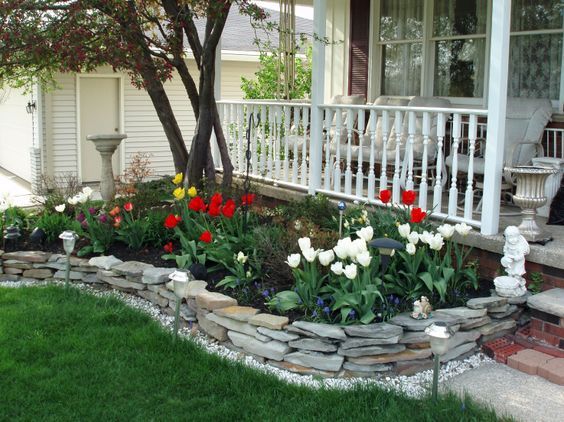 Imagine walking up the staircases that are lined with beautiful flowers of various kinds. That sounds pretty right! That's exactly what you can do with your farmhouse exteriors. One way to incorporate flower beds in your exterior home decor is by digging a quarry in line with your house wall and sowing flower seeds in it, and waiting for them to flower.
Or, in case you don't have enough time and expertise for that, you can buy already-bloomed flower pots and organize them on your farmhouse porch. Flowers, as we know, will give the entryway of your home a fresh and positive energy.
21. Swimming Pool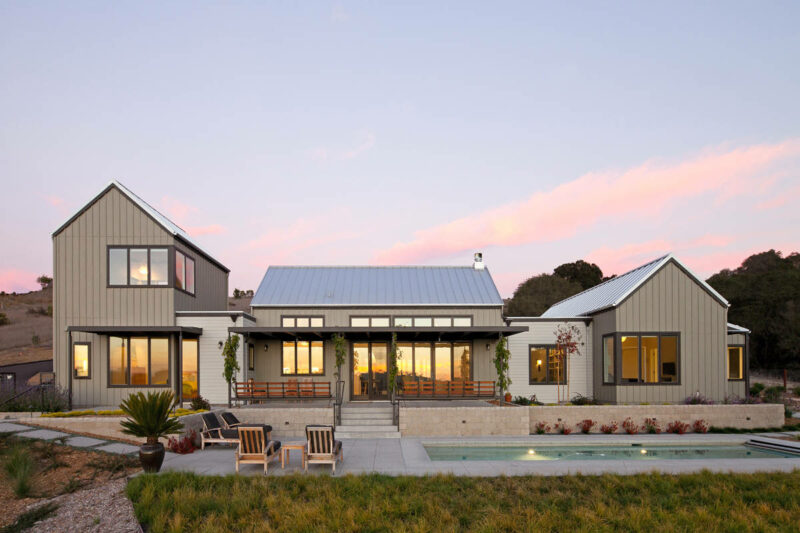 Most often, it is wrongly believed that a swimming pool is a feature of a modern city home. However, what better setting can be there for a pool than a farmhouse? Therefore, having a pool on your farmhouse exteriors is a unique yet crafty decor idea that not many people are doing.
The swimming pool gives a quite natural ambiance to your farmhouse. It can even function as a nice space for evening sundowners or bonfire plans. After all, most farmhouses are bought and maintained as leisure or recreation homes only.
Conclusion
Farmhouse exteriors are like a playground for design and decor enthusiasts. With such wide and open space, along with natural light, you are given varied options to choose from for the decor theme. Farmhouse exteriors are basically the first thing that anyone entering your house notices. The better the front yard, the higher the prestige. Also, the vibe of your farmhouse entryway determines your personality as a homeowner.
If your entryway is mismanaged, it portrays you as a person with a messy, cluttered personality. However, if your farmhouse outdoors is green and well kept, it determines a positive energy all through your life.
Hence, use any of the decor mentioned above ideas and ensure your farmhouse exteriors compel people to stop and admire.
Sierra Rivera, a passionate home decor enthusiast, runs the popular blog CozyCottageCute.com. Sierra shares decor tips, DIY projects, and personal insights. Off the blog, she's often at antique markets or redecorating corners of her own space.
Sierra Rivera
October 11, 2023