21 Unique and Distinctive Decor for Blue Walls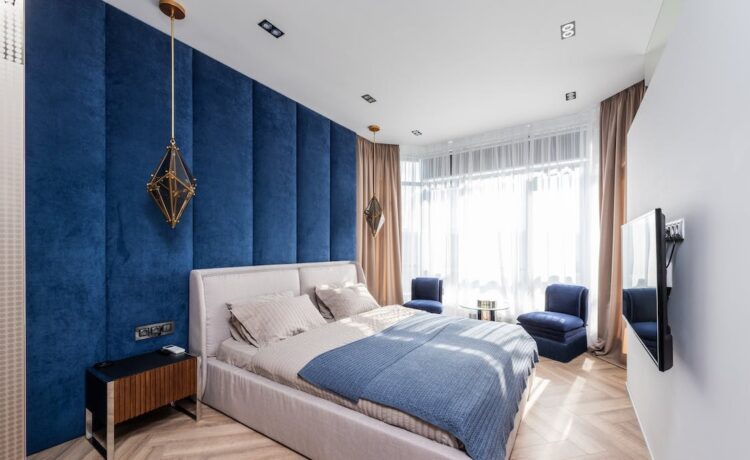 Decorating your home is one of the greatest joys in the world. Your personality comes out onto the blank canvas, which is your home. The furniture, curtains, color scheme, kitchen utensils, and other decorating items are all picked by you and anybody else living with you.
You get to decide what goes where and how much to decorate your home; you can fill your home with as many knick-knacks as you want or decorate your home in a minimalist style.
If you are having problems with decorating, there are numerous tips out there that you can use easily. Whether you have an apartment, house, townhouse, penthouse, or RV, there are decorating tips for you.
Blue is the color of the sky, sea, and calmness; it can easily be incorporated into your home, such as on your walls. In this article, you will learn all about decor for blue walls; find out which decorating style suits your blue walls. The list of blue-centered designs will help guide you in furnishing your home.
Decor Suggestions for Blue Walls
There are plenty of ways you can decorate your home if you have blue walls. Blue is becoming a neutral color and adds a good vibe to your home.
Let's look over this decor list for your blue walls.
1. Classic Navy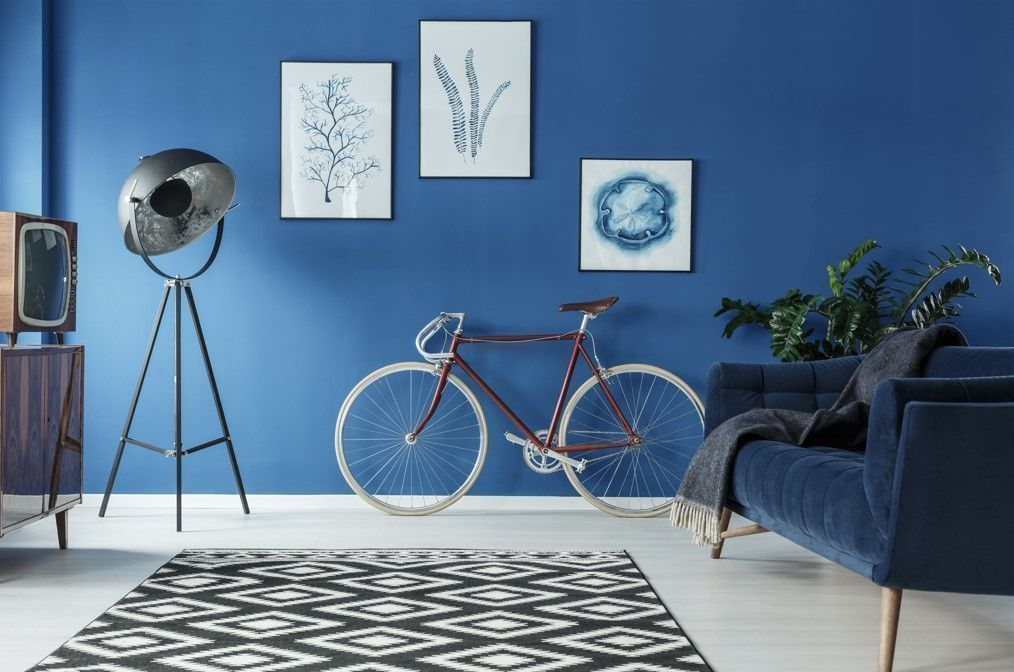 Classic decor is the most common style you will find in homes. The less is more concept really helps the blue stand out; if you are on a budget, this style concept only requires putting up a few decorations. The main star will be the blue wall, especially in your living room. Your classic living room with blue walls needs a couch, a few paintings or photos, a small plant, and a TV on a stand. A classic look in a room with plenty of light makes your house feel like it belongs in the countryside or a movie set.
2. Blue Bedroom Walls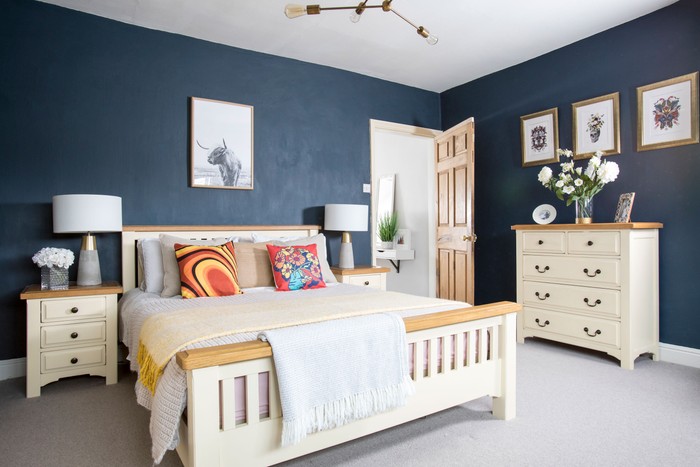 Your bedroom will look gorgeous with blue walls as they add a cozy element to it; plenty of decorating styles will complement your blue walls. Pick pieces of furniture in white color as they go perfectly well with the blue walls. These blue walls will contrast wonderfully with the white furniture. You can even go for the bohemian look for your blue walls with an eclectic mix of decorations; you can add colorful pillows, vibrant bedding, and black-and-white photos or paintings. You can even pair brown-colored furniture and beige bedding with your blue walls.
3. Blue Children's Bedroom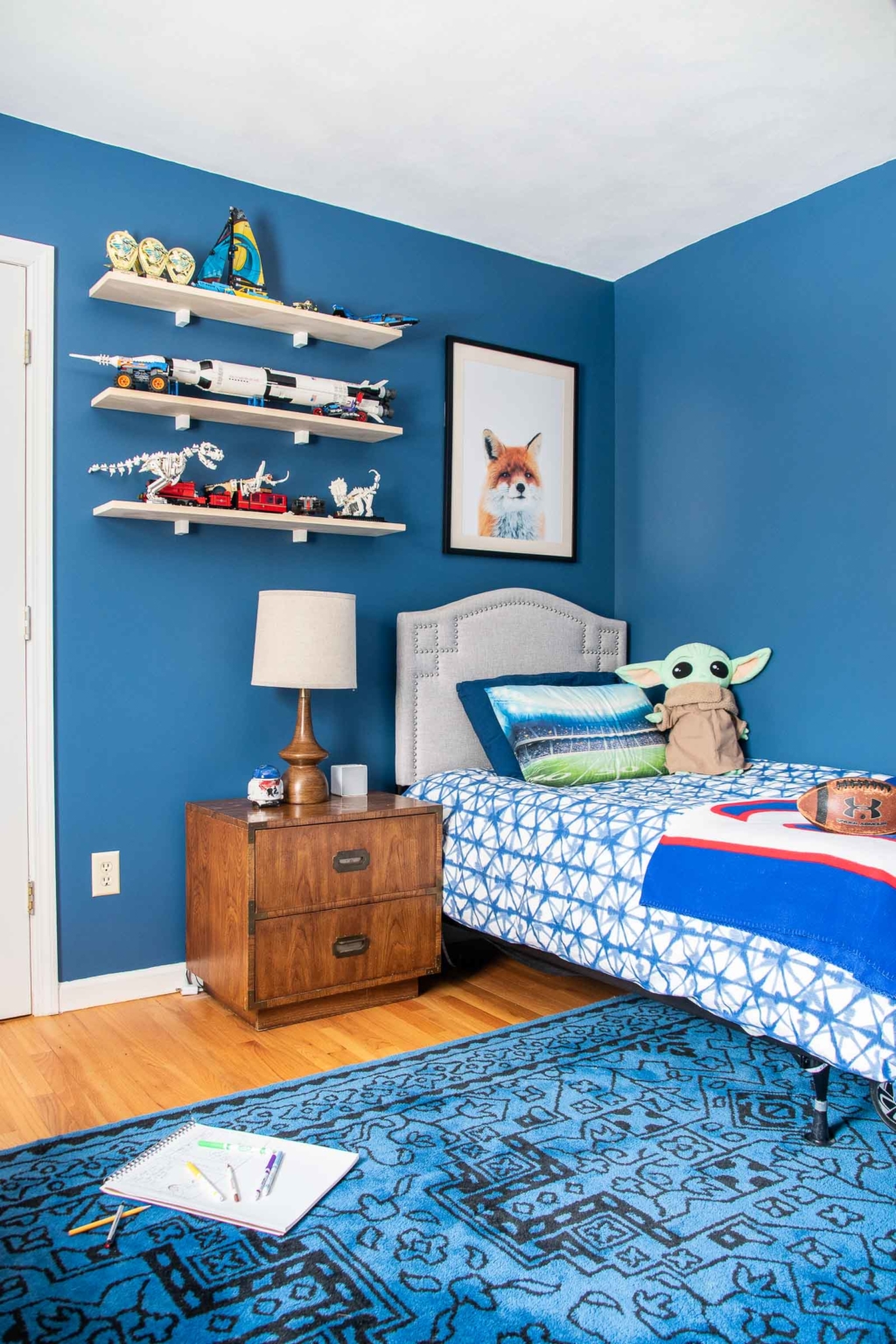 As blue is a calming and cheerful color, it will be perfect for a child's bedroom. Plenty of children's toys are blue in color or complementary colors so that they will go perfectly well with the blue walls. The blue color will make the child's room more welcoming and friendly. Blue is becoming a gender-neutral color, so both girls and boys can enjoy blue walls in their bedrooms. You can coordinate the bedding and furnishings to go with the blue walls. You can pick a soft blue color for the child's room and then paint it another shade as the child enters their teenage years.
4. Glossy Blue Walls For The Living Room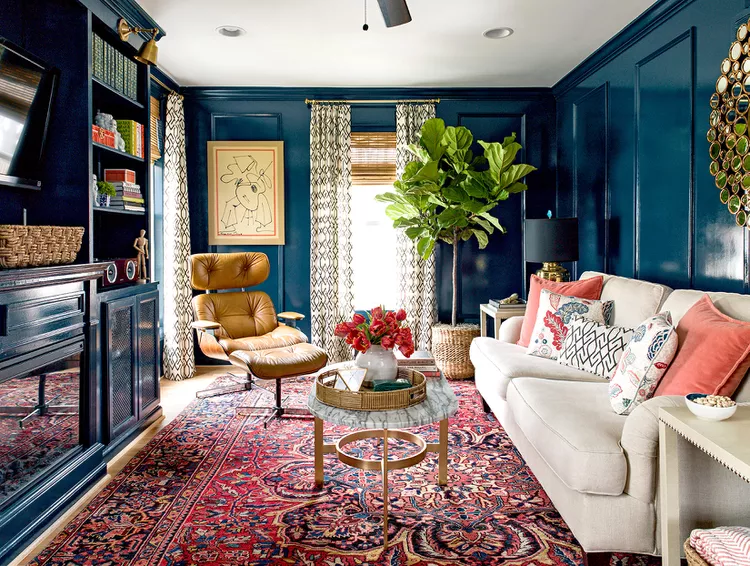 Dark colors make the room look smaller, but with a glossy sheen, you can have the opposite result. The blue walls will reflect the light coming into the room and make the living room brighter and bigger. You can fill the living room with colorful pillows, a couch, chairs, plants, curtains, tables, paintings, flowers, and more; try out brass accents or magenta tones. The glossy sheen will brighten up your living room so you may spend many hours relaxing. If you have a small living room, then this style will make it seem like your living room has more space.
5. Dark Blue Wall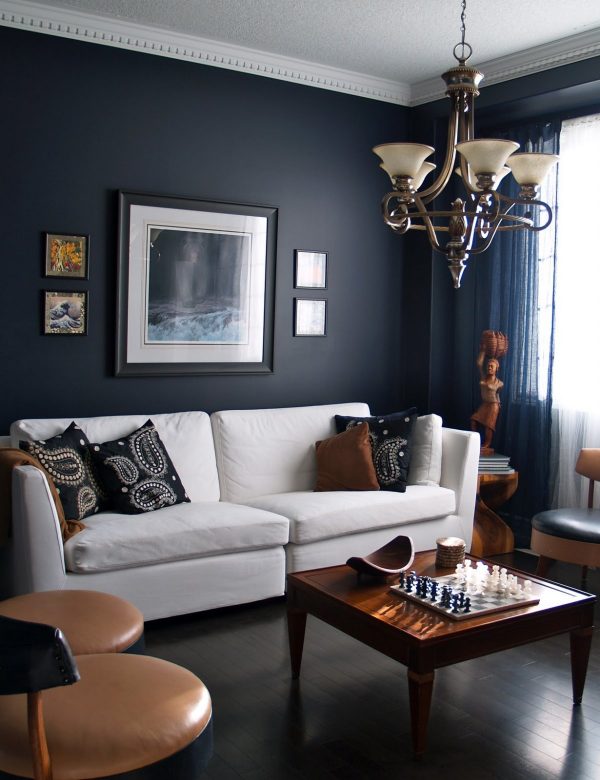 A dark shade of blue will give your house a more serious look; wooden furniture should be on your mind with these shades of blue. A contemporary house will greatly benefit from these dark blue walls, especially if there is wooden furniture in a dark tone. This rich hue will wonderfully frame the paintings you put up in this room and the windows with curtains in dark tones. Choose dark picture frames for your paintings for a better look. You can mix light and dark tones when picking the furniture to balance out the dark blue walls. This decor for the blue walls style will enhance the room's vibe.
6. Blue Walls with Contrasting Colors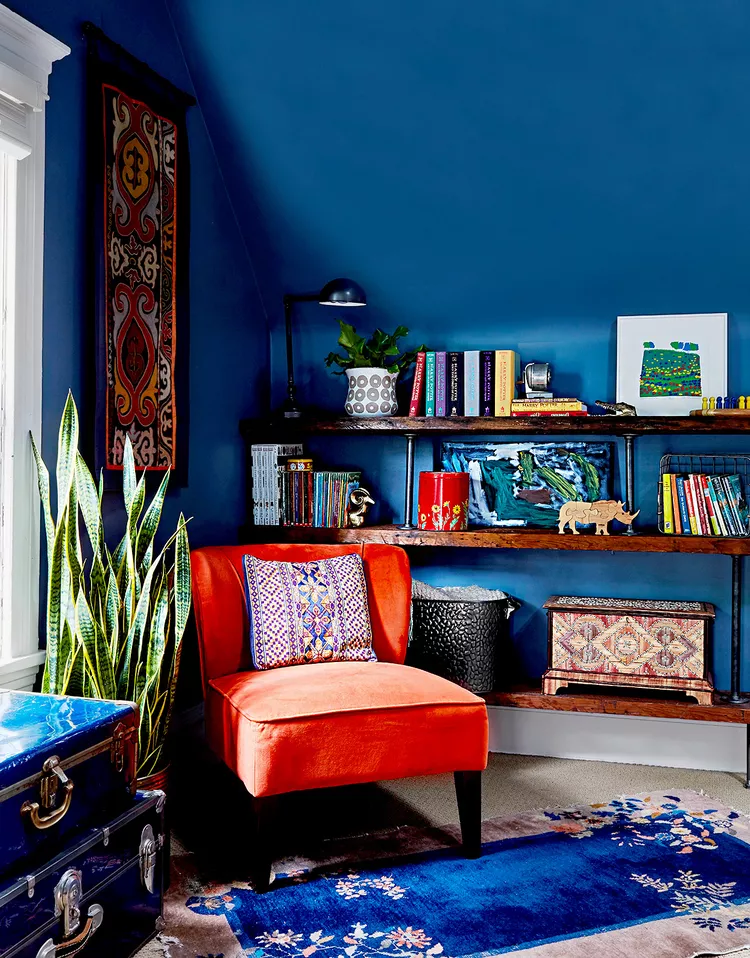 Everybody likes when things match in art, interior design, or life. But contrast in interior design should also be taken into account. Red or orange will greatly complement your blue walls. These dynamic combinations will put a new spin on your room. You can play around with the color wheel to get many striking looks. If you love bright colors and spaces, then this combination will be perfect for you. Put some funky furniture or paintings for a unique design; you will not regret it. This explosion of color will make your home more inviting and brighter; a place home equals a happy person.
7. Blue Kitchen Walls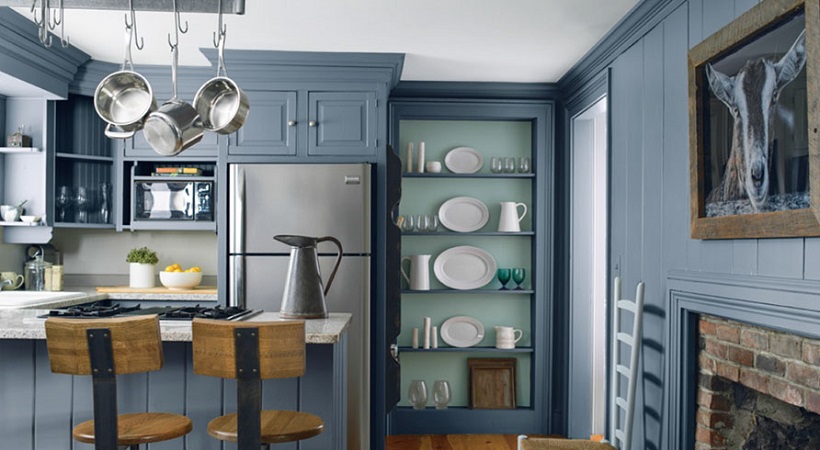 The kitchen is one of the most important rooms of a house, so, of course, the color blue should be considered when designing the kitchen. With blue walls and cabinets, your kitchen will have a cozy feel; this is especially helpful when you have a small kitchen. You can get the cutlery and cooking utensils in complementary colors so that they match the blue walls. This way, you can turn a sterile place into a fun and calm room. If you do not have a completely blue kitchen, then you have a blue kitchen counter along with the blue walls; the cabinets can be a complementary color or another shade of blue.
8. Light Blue Walls in The Bathroom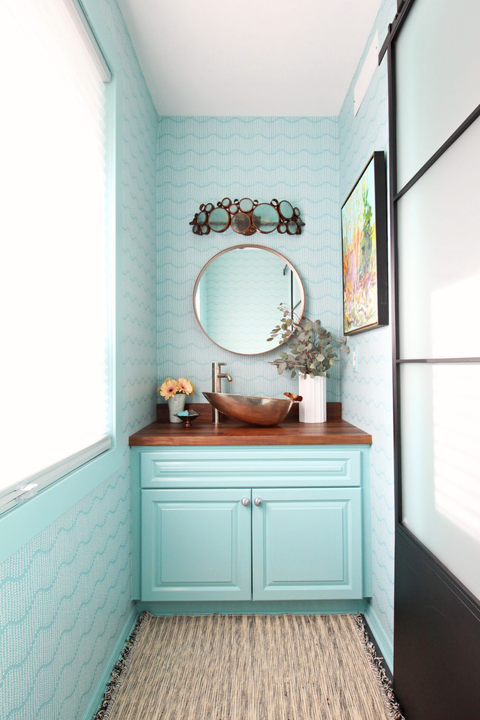 A bathroom is a place where you refresh yourself or just need a moment by yourself. So it makes sense that you decorate it so that your safe place has a cozy vibe. You can also add more depth to the bathroom so that it appears bigger than its original size. Blue walls can offset the wooden aspects, which gives your bathroom a fresh feel. You can add some flowers or plants so that your bathroom feels like a bonafide spa. With minimal decor for blue walls, your bathroom will easily become a space where you can let your hair down and let go of the stress.
9. Blue Walls with Photos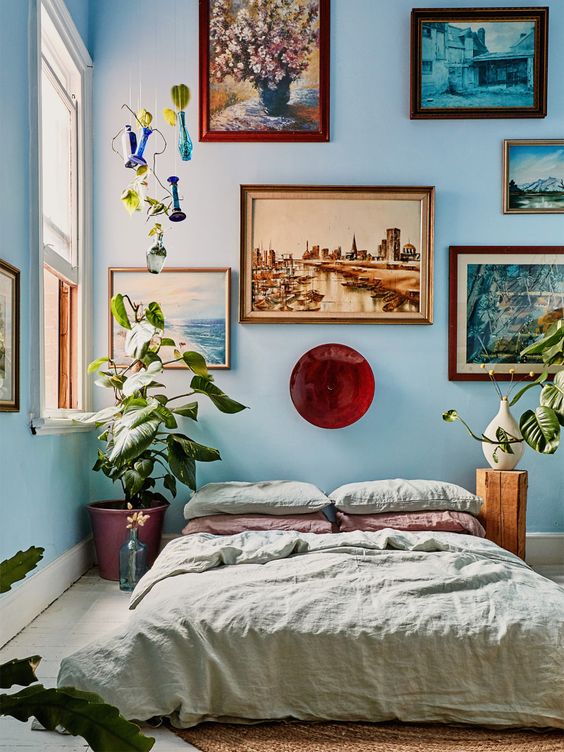 Are you a lover of art? Love paintings or photographers? Or an artist or photographer? Have too many paintings to put up? Do not worry; there is a design solution for you. If you forgo a bed and keep your mattress on the floor, then you will have more space to hang up your paintings. Your painting wall will absolutely frame your mattress and turn your bedroom into a lively art gallery. The different colors of the paintings will greatly complement the light blue shade of your bedroom walls. Add some plants or flowers to get a fun and cozy vibe.
10. Blue Walls for Minimalism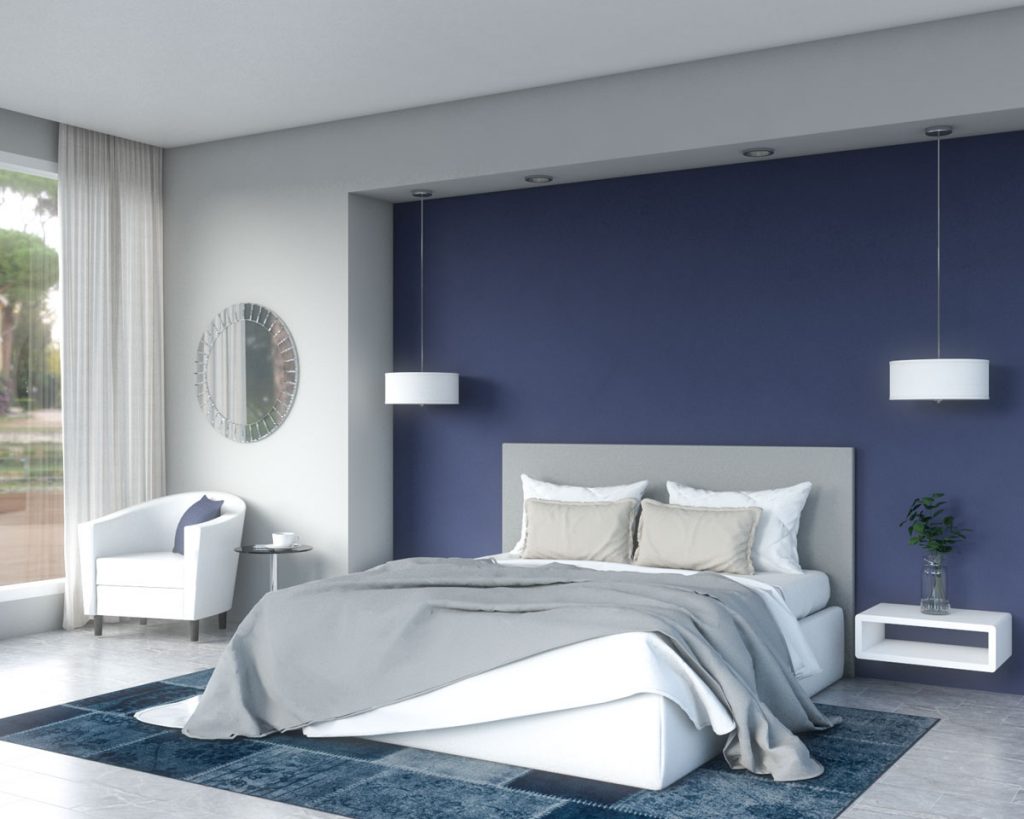 Are you not interested in decorating? Interior design is not your jam? Do you prefer simple designs? Minimalism is becoming a popular design style these days, especially for the fans of Marie Kondo. A blue wall and your bed can be the main focal point of your bedroom. You can paint all the walls blue or have just an accent blue wall depending on your preference; just add some floating nightstands and elegant lights for a chic look. Get blue or gray bedding and white furniture, along with a blue carpet, to complete your bedroom. All of these small things will bring your bedroom look together.
11. Blue Walls with Red Accented Furniture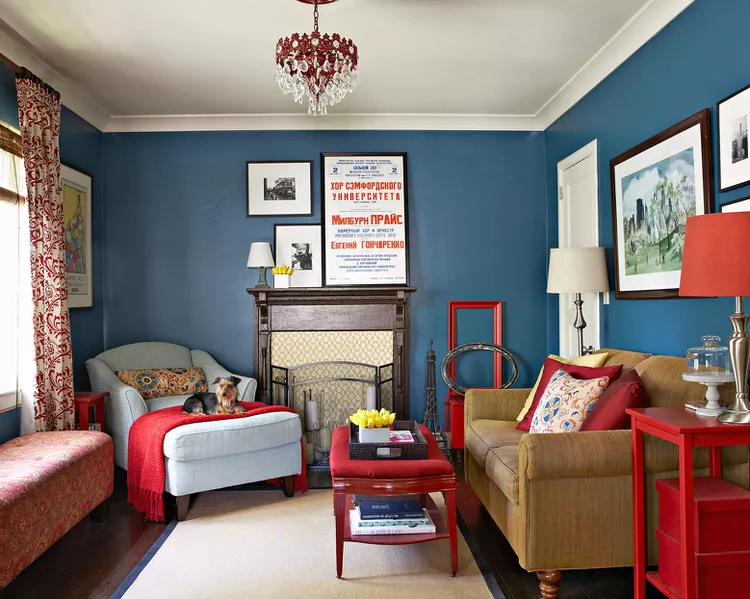 Blue is a great color to use in decorating your home. There are various shades of blue, and it goes really well with other colors as well. So if you are confused about which color to use, then red should definitely be on your list. Look into the sapphire blue and ruby red shades. Add red-colored furniture, which is a great companion to the blue walls. The combination of blue and red will make your room look wonderful; keeping a couch and some chairs in neutral tones will not overwhelm the blue and red. This balanced look will make your room more vibrant and open.
12. Combine Blue and Pink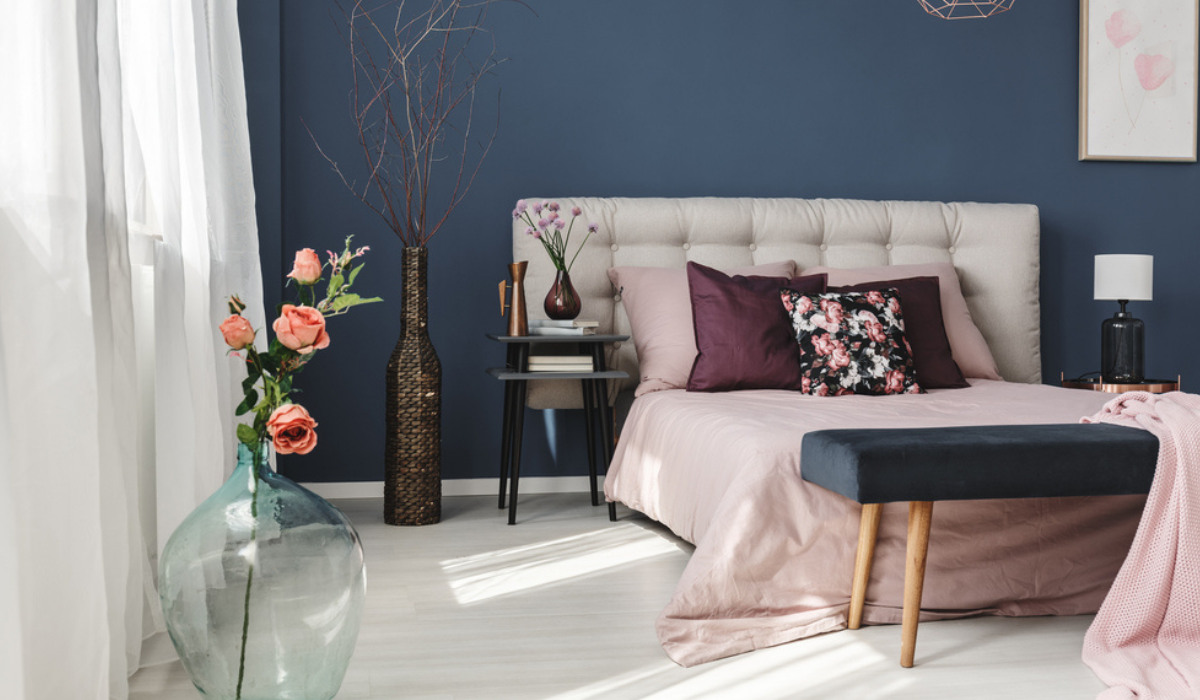 Society has assigned pink to girls and blue to boys, but pink and blue do go really well together, contrary to popular belief. As the world becomes more gender-neutral, more people are becoming aware of how pink and blue are complementary, especially if you are bored with the blue-and-white combination. Try out dusty pink to pair with your blue walls for an eclectic look; check out other muted shades in this combination. The pink and blue shades in any room also do not fight for your attention, but they share it, which makes your room all the nicer.
13. Pair Grey and Blue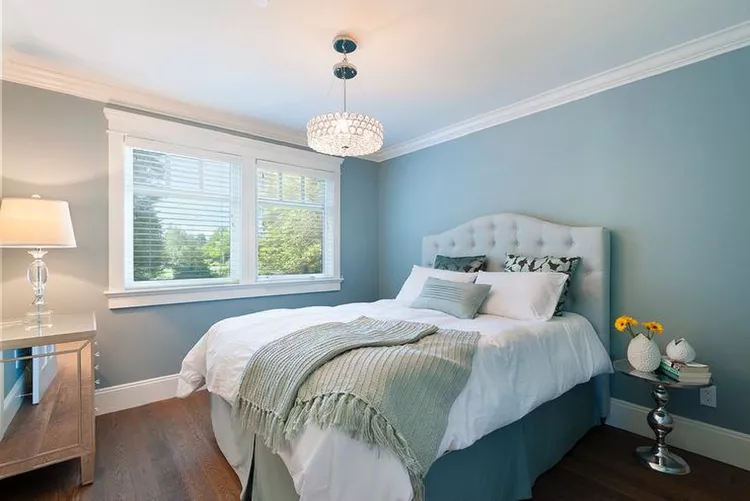 As you know, blue comes in various shades, so you have a lot of choices when you pick on decor for blue walls. This gray-blue tone is an extremely relaxing color, which is why it is perfect for your bedroom. Getting the required number of hours of sleep is important, and this needs the perfect environment. This gray-blue shade will do just that for you. It is muted, so it is not in your face, just a soothing color for a good night's sleep. Keep elegant light fixtures, lovely furniture pieces, and other gentle touches in the rooms, especially in light colors.
14. Blue Wallpaper
If you do not want to paint your walls, then wallpapers are a good alternative. You can experiment with designing your rooms with wallpapers. You can get various bold and graphic patterns that immediately become the main focal point of the room. There are many options, from one shade of blue to loud patterns. For children and teenagers, sleep under a starry wallpaper and enjoy the magnificence of the Milky Way. There are many whimsical wallpapers available for children. If you are an adult, do not fret; even you can get wallpaper for your bedroom or any other room in your home, regardless of your age.
15. Modern Blue Wall
If you like a modern or contemporary look, you are in luck. Blue is an excellent color to use when designing your home. Modern interior design may not be for everybody, but if done right, it looks exquisite and thought-provoking. A modern design will make your guests stop and think over it, mull things over, and discuss it with your artistically inclined friends. This modern design will be eye-catching for anybody who walks into that room, so make it a good one. Neutral-colored furniture pieces will be a great contrast to your modern blue walls, especially in white color.
16. Blue Walls for The Hallway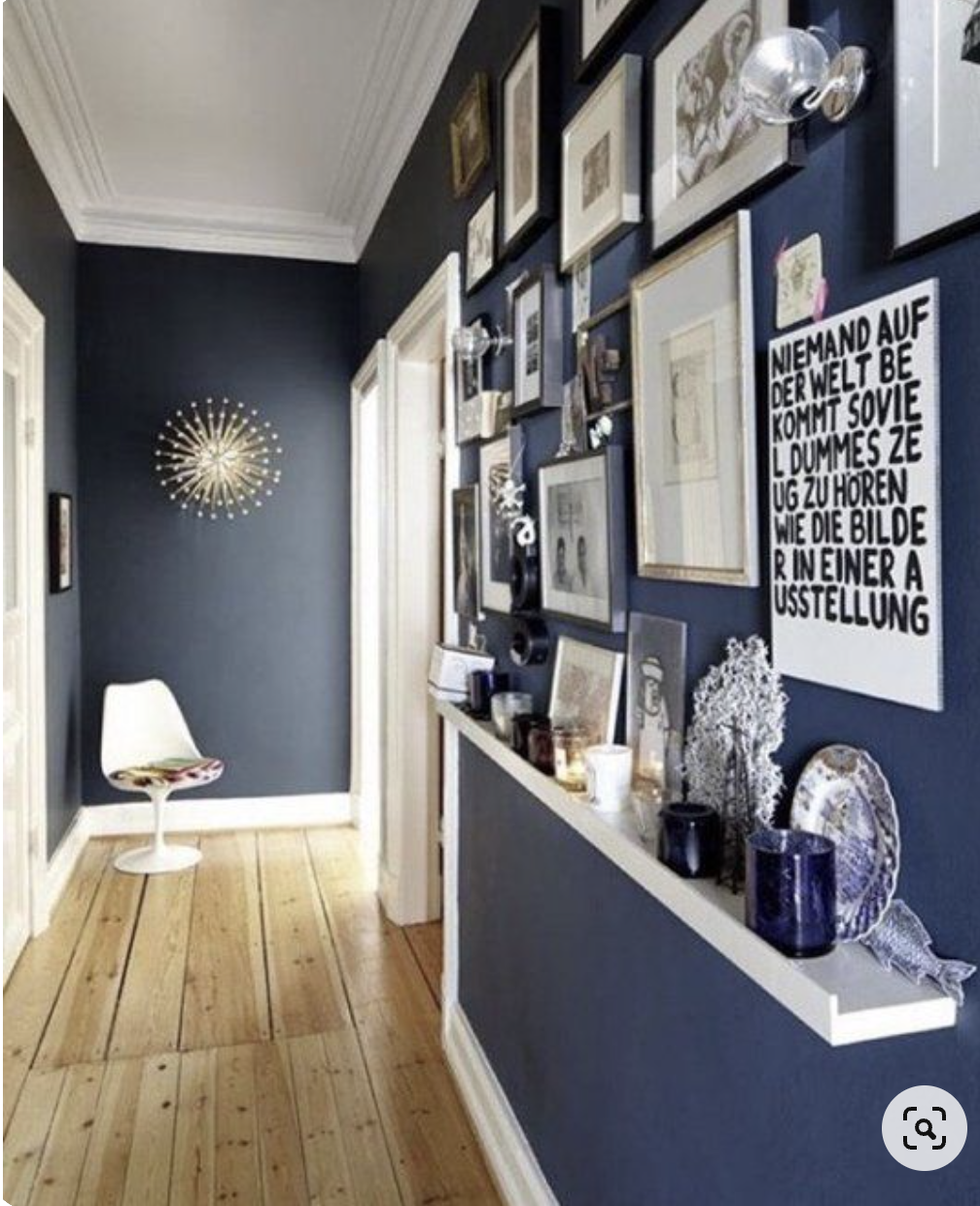 When designing your home, do not forget the hallways; along with photos and paintings, put a bit of color onto the hallway walls. If you prefer darker shades of blue, then go for lighter shades of wood in your hallway. This way, your hallway is not too dark or light, just the perfect amount. Use white or light gray shades so that the look is softened and not overwhelming for anybody who walks through. Shades like orange and yellow will shine brighter against the blue walls. Gold, if used in lamps and picture frames, will make the light bounce around the hallway.
17. Analogous Colors for Blue Walls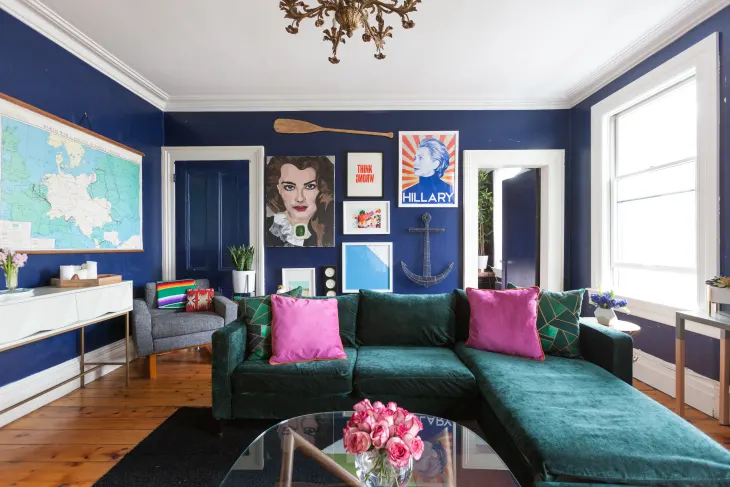 Some colors go really well together, and some just clash horribly; designers pay close attention to these combinations when creating a new design piece. If you are not a designer, do not worry; there are plenty of style guides to help you pick the right colors. For a unique look, use purple and green for your blue walls. This will work because blue, green, and purple are analogous colors meaning they are next to each other on the color wheel. Add green and purple on the furniture, like the pillows and couch; hang up a few colorful paintings to complete the look.
18. Blue Walls in The Laundry Room
The laundry room should not be forgotten when decorating your home; this room might not seem important enough to decorate as much as the rest of the house, but it is a part of your home. Since most washing and drying machines come in limited colors, your blue walls will fit right in. Get your cabinets in neutral tones like white, and your curtains can also be in shades of blue if you want; then, you will be all set. Granted, all you do in this room is put in and take out laundry; it can still be a nicely decorated room.
19. Dual Shades on Blue Walls
Most suggestions for decor for blue walls include one shade. But if you want to do something different, you can use more than one shade. Just split your wall into different sections; you can put one shade on one section and a pattern on the other section. This way, you do not have to pick between a shade and pattern; you get them both on your wall. The pattern can be in blue or other complementary colors, while the other half is completely one shade. Or the pattern can have blue while the shades section is in a complementary color. Mix and match to find the perfect combination of blue shades for your home.
20. Shades and Patterns
For children's rooms, it is difficult to pick one design since they are growing and their tastes keep changing. So to keep up with their tastes, you can mix shades and patterns when designing their room. This way, the room's design is laid back and fun but still stylish and chic. A child really needs to feel comfortable and safe in their room since they play and grow up in that room. Even an adult will enjoy this kind of room and spend many hours playing with the child while wishing that they had this room when they were little.
21. Monochrome Blue Walls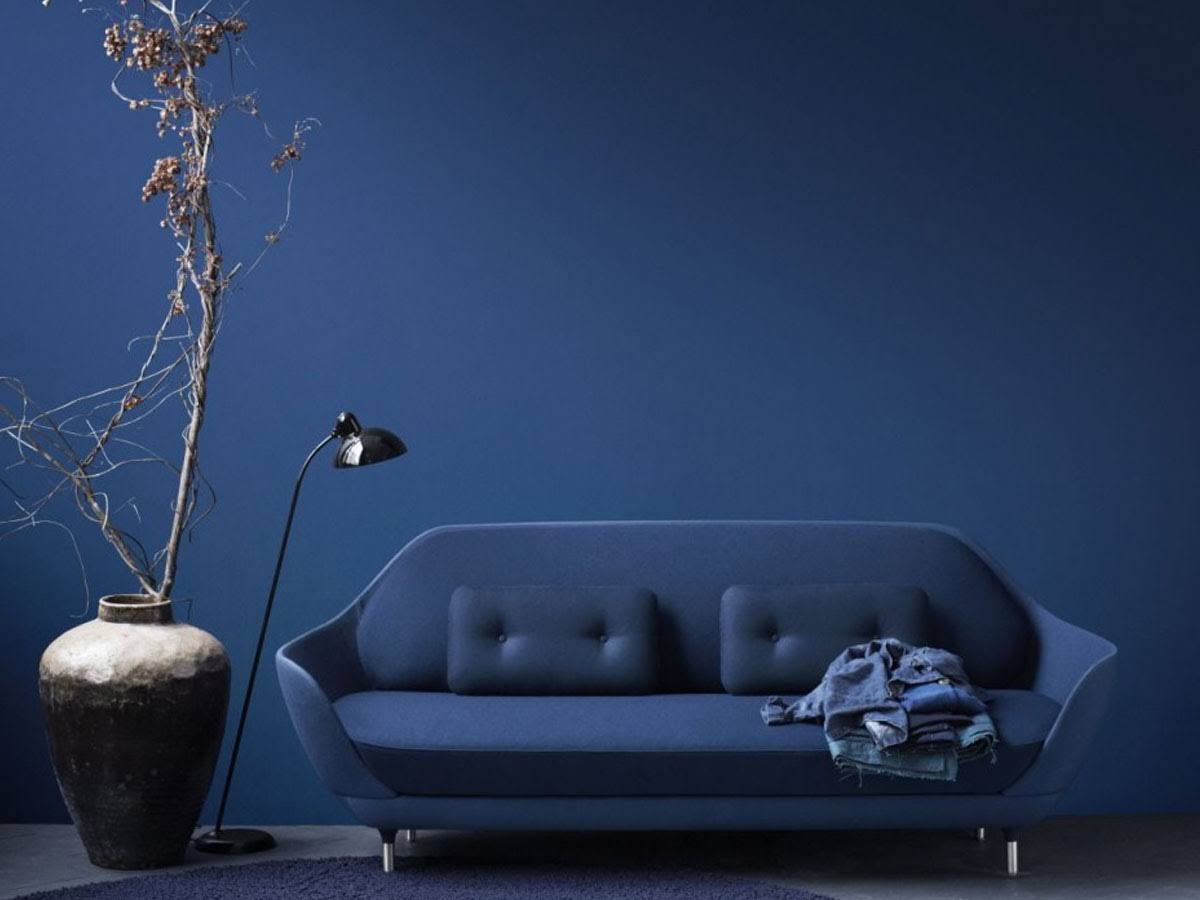 Really love just one particular shade of blue? Want to use just one shade in decorating your home? No problem. Get a monochrome design for one room or your whole house; just pick what makes you happy. You can get furniture and bedding in the same shade to match your monochrome walls. Using one shade is very modern should anybody ask why you decided on this design. Some people like more than one color in your home, and some prefer just one; both design preferences are equally valid. Do not let anybody tell you otherwise; choose what you want.
Final Thoughts
Having your home decorated in your personal style is such a delight. The furniture, furnishing, bedding, and decorations are all chosen by you. All of these things will give the whole house a unifying theme. There are various style types and color shades to choose from, along with many helpful suggestions.
Blue is such a classic color when it comes to decorating; there is a wide range of blue shades, such as cerulean, robin egg, teal, navy, turquoise, and many others.
Known for clarity and calmness, blue is an amazing color to use while decorating your home, especially on walls; blue walls are the perfect look for any home. This article helps you know all about decor for blue walls so that you can spend less time decorating and more time admiring your furnished home.
Write in the comments below how you styled your home to complement your blue walls.
Sierra Rivera, a passionate home decor enthusiast, runs the popular blog CozyCottageCute.com. Sierra shares decor tips, DIY projects, and personal insights. Off the blog, she's often at antique markets or redecorating corners of her own space.