21 Subway Tile Bathroom Styles to Elevate Your Décor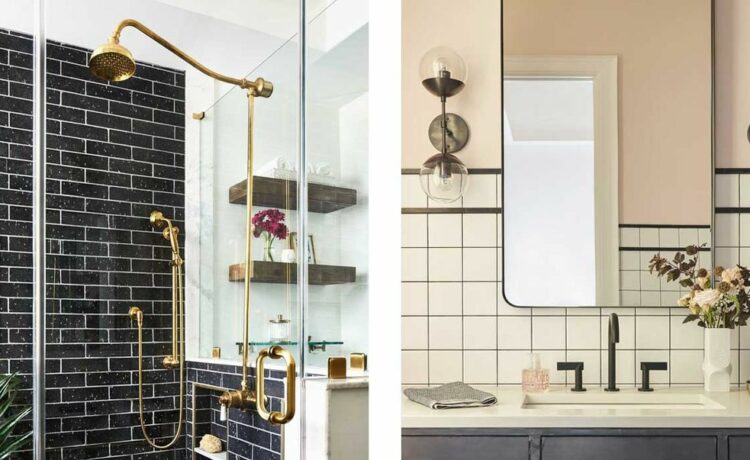 Can the most controversial tile decor be converted into the most attractive and mind-blowing splashes of the decade?
Subway tiles are the 'New Age Batman' of the room decor and trendsetters. It is the most efficient and original classic in the world of interior decor. Even after being efficient in a variety of different ways, it is infamous for being boring, bland, small, and simple in nature. It might be difficult to style these tiles and bring the much-needed sass or light to your bathrooms!
Many people adorn and use these subway tiles because they are stain resistant, easily manageable, and easy to clean! They are also extremely efficient because they are versatile in their usage; from walls, counters, and vanities, to floors, they can be effective in all scenarios. Yet, Its durability, customizability, and timelessness are the show stealers of the "tile world!"
Styles and Themes to Spark up Your Subway Tile Bathroom
1. The Classic Black and White Chic
One of the most striking yet simplistic looks is always the classic black and white. Some ideas can never go wrong. Hence, with a back doorway and a patterned floor with black designs, it can really add a splash of contrast that you didn't even know you needed!
The dark accents add a traditional hint while adding some modern designs on the floor can be an additional touch you can consider to spark up your classic theme. Another addition that can add an eclectic, vintage, yet chic look is adding silver or gold accents. You can utilize a variety of gold curtains or accessories, like towel or adhesive hooks, curtain rings, hooks or ball rings, Hardware Accessories like towel racks or holders, or additional accessories like bottles, ceramic holders, etc.
2. The Gray Spectacle
If you want to go for a minimalist yet slightly different vibe, then experimenting with different shades of gray can be a great idea! Gray as color gives a classic yet off-the-standard vibe where it is elegant, bold yet soothing, but not as plain as white. Playing with different hues of gray can give your bathroom give a classic yet cheeky vibe and will also add a sense of modernity to the age-old classic subway tile theme.
Another out-of-the-box addition that you can try to add a darker tone to your bathroom can be brown leather pulls, or black leather pulls for drawers. These will add some darker-colored touches to the soothing tones of the bathroom hence balancing out any bland spirit that the gray tones could be adding to the bathroom.
3. A Classy and Trendy Hardware Mix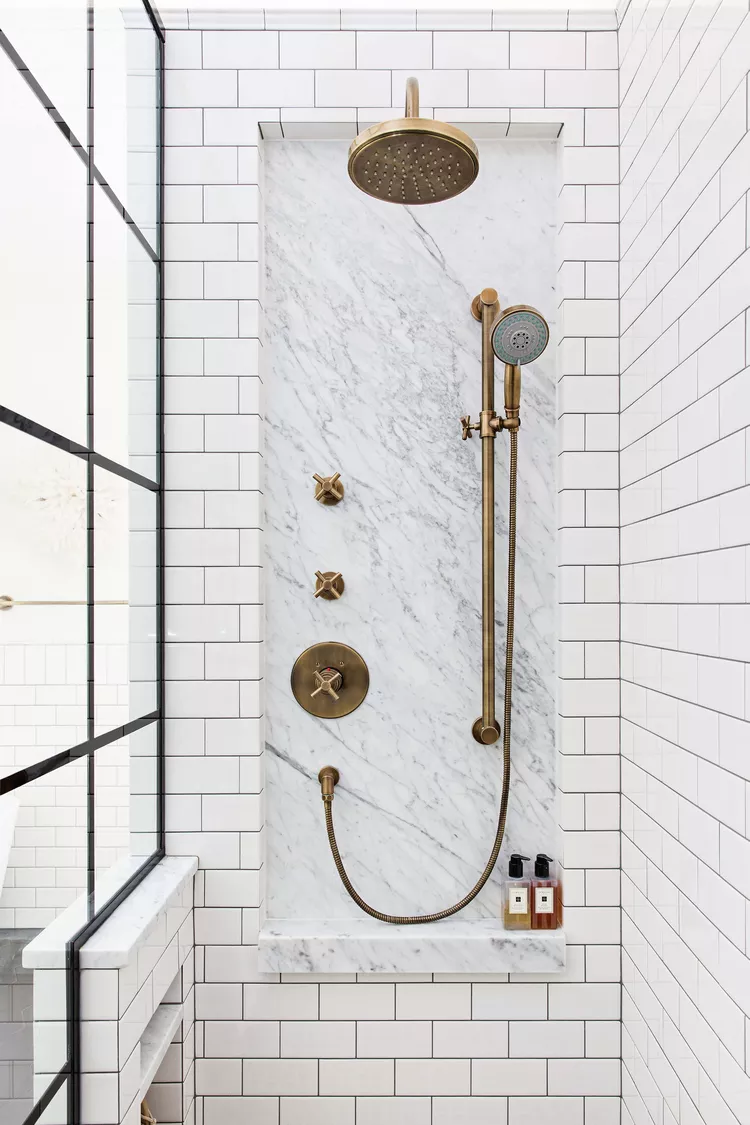 If deciding between a classic or trendy look is your Pandora's dilemma, then this look is for you! Combine the best of both worlds by utilizing different hardware, like a trendy slab shower that adds the perfect 'wow' factor to your bath space! That pop of color and diverse designs can truly add the spark you need while staying in the 'subtle lane.'
You can use modern or smart showers, or you can go ahead with slab showers to add the funk you need! This theme can look basic, but with an addition of standard or statement pieces like slab showers or unique bathroom lighting, it can be quite interesting. Adding other small, statement modern pieces like shelves or classic glass bottles to store your products could also add to the character.
4. The Oomph Factor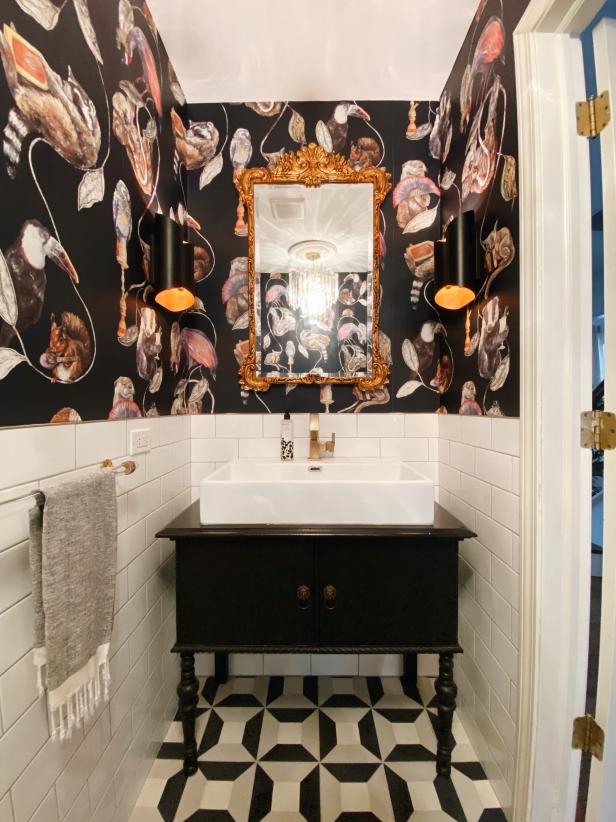 Suppose you want to pair a subtle and classic vibe with a dramatic all-time showdown! Then this vibe is just the one for you! Give off an eclectic vibe with the much-needed 'oomph factor' of your classic subway tile look.
You can go ahead with white, gray, or black tiles to cover half the area, preferably the lower half of your space, and then add a splash of funky designs or wild-painted wallpaper! You can pair these with some subtle and classy hardware or decor. You can also try a majestic look with big patterns on darker colors or include detailed thematic designs like 'the space' or Greek mythology-inspired wallpapers.
5. The Dark Drama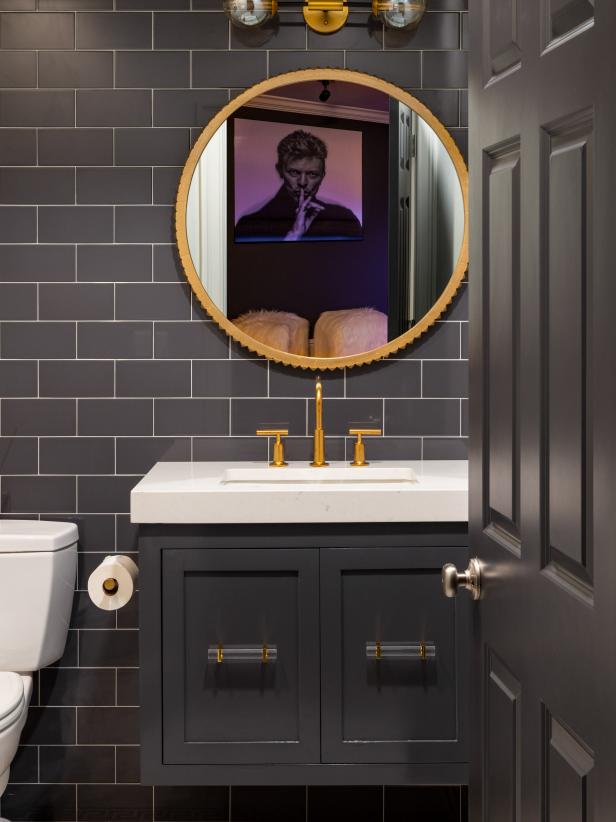 If dark drama or dark-themed decor is your vibe and the love of your life, you shouldn't just add a tinge of drama but a wave of drama with a completely dramatic theme where you can go all out with the artist inside you!
Dial up the dark drama with dark tiles, a gold-tinted mirror, and gold detailing on the decor and hardware, like faucets and holders. To add to the drama, you can try adding large paintings or posters that add a 'main character energy' to your bathroom. To create the 'aroma' of dark drama, you can also play with ceiling lighting or lights behind the mirror or colored lighting like red or green.
6. The Marble Mix-Up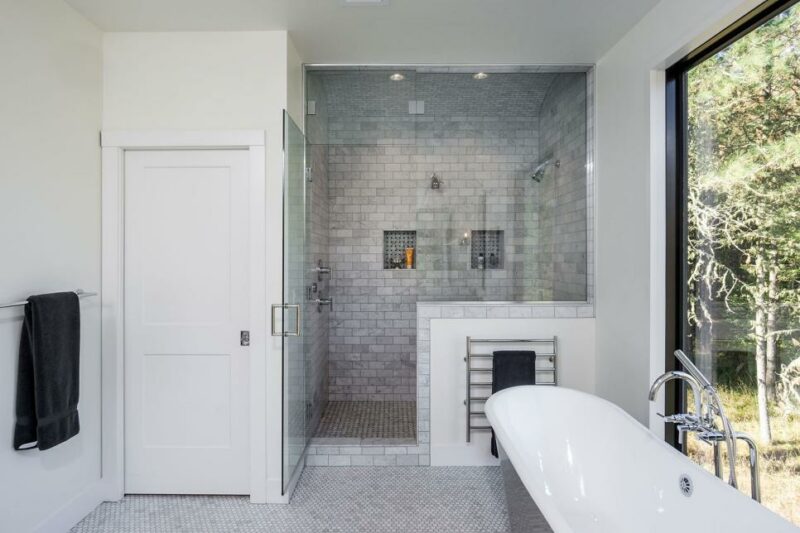 If you're going for a minimalistic setup with a touch of the contemporary world, this is the look for you! Combine subtle white tiles with gray tiles and a floor with the same accent shades of color. This will add a sense of color symmetry, which will create a subtle look, but having a change of structures and some dark-colored accents would guarantee a contemporary look.
Now you can combine these with subtle hardware, and you can follow them with marble accessories to add to the minimalist yet chic look. You can use marble bathroom accessories or a fine set of marble color-themed rugs, curtains, and other accessories. To add to this look, you can also include glass windows and mirrors.
7. The Crazed Tile Theme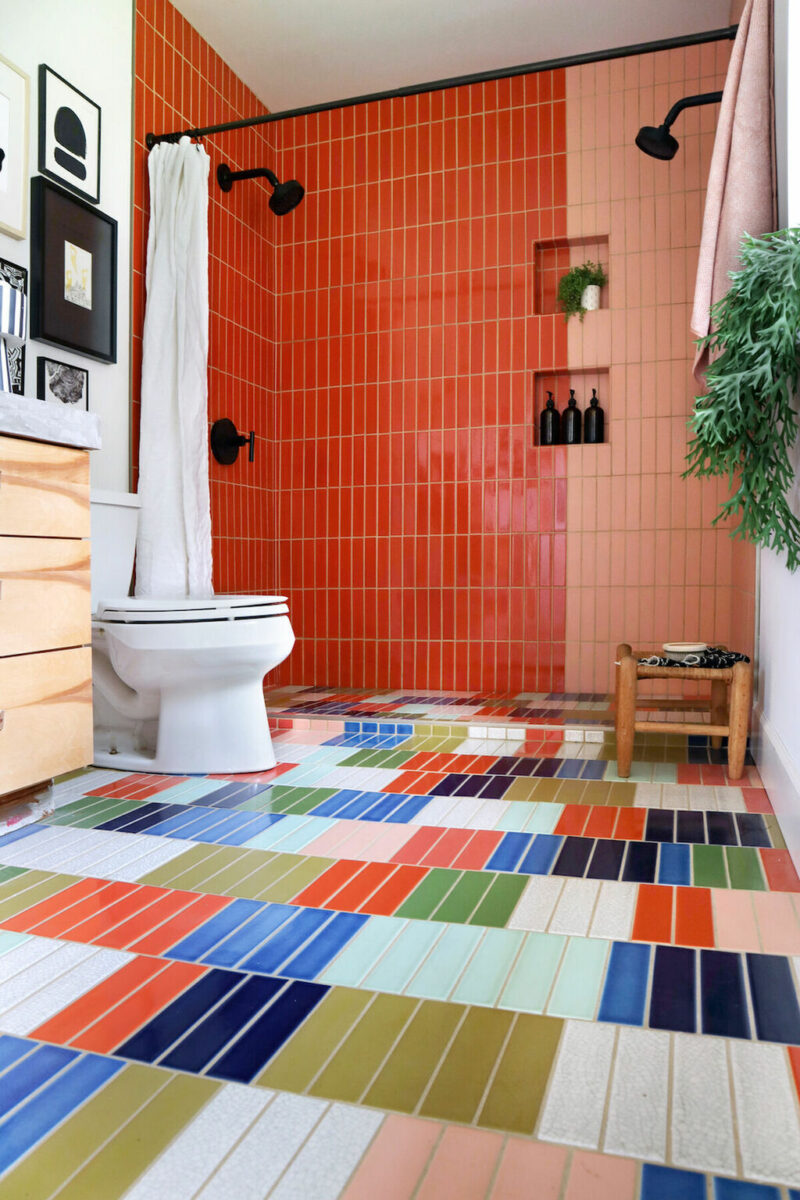 If being subtle or sticking to a theme doesn't look like your vibe or your cup of tea, our best suggestion is to go rogue and craze it all out! It's time for you to mix and match and experiment with strong and bold-colored tiles and backgrounds. This is your chance to go all for it, so pick your favorite colors and paint the 'bathroom' red.
For example, as you can see in the picture for inspiration, you can match dark and light color accents with drastically contrasting colors like red, pink, blue, green, or other strong colors. You can pair these flashy and attractive tiles and floors with very subtle or black subtle black and small accessories or hardware like, faucets, shower heads, and sinks.
8. The 3-Tile Stock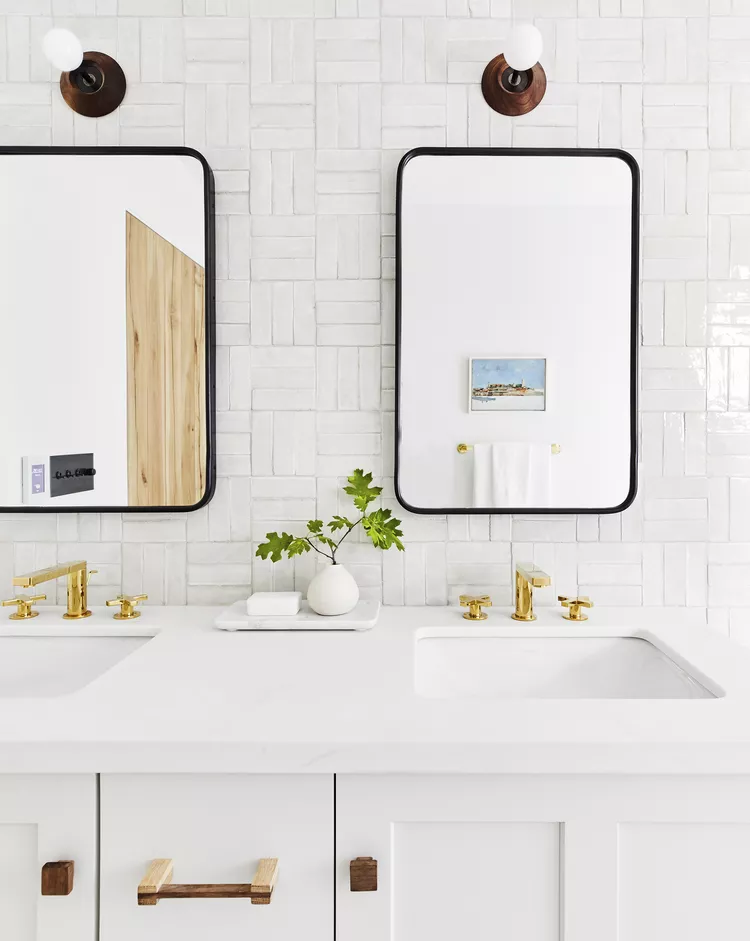 If you don't want to go all crazy but want to develop a twisted or out-of-the-box perspective while keeping it chic and minimalistic, then you need to know about the 3 tile stock pattern! It is extremely effective and interesting. This consists of three horizontal and three vertical subway tiles, and we now use them to form repetitive patterns with them.
It isn't necessarily an 'out0there' pattern but will help you gain the asymmetrical symmetry look you're going for. You can stick to lighter colors for this pattern so as to let the pattern do the talking. Try lights and pastels like green, yellow, blue, or beige. This will form subtle yet interesting patterns. You can combine them with mirrors, gold or silver faucets, and cabinet holders.
9. The Classical and Classy
If you don't want to try any experimentation on subway tiles, then you can go ahead with the basic classic look, but to add the oomph factor, you can play around with classy hardware, plants, and decor. If it becomes too bland for you, you can try experimenting with patterned floor tiles or hexagonal tiles that will work well with the predictable effect of the subway tiles.
You can start off with gold-plated showers and faucets and adorn them with gold-plated towel racks and decors or light-colored decors like pink bathroom trays or yellow dispensers or tumblers. These will add more character to the basic subway tile look and hence become the focal points that don't always take away from the background but add to it.
10. The Vertical Pink Wonder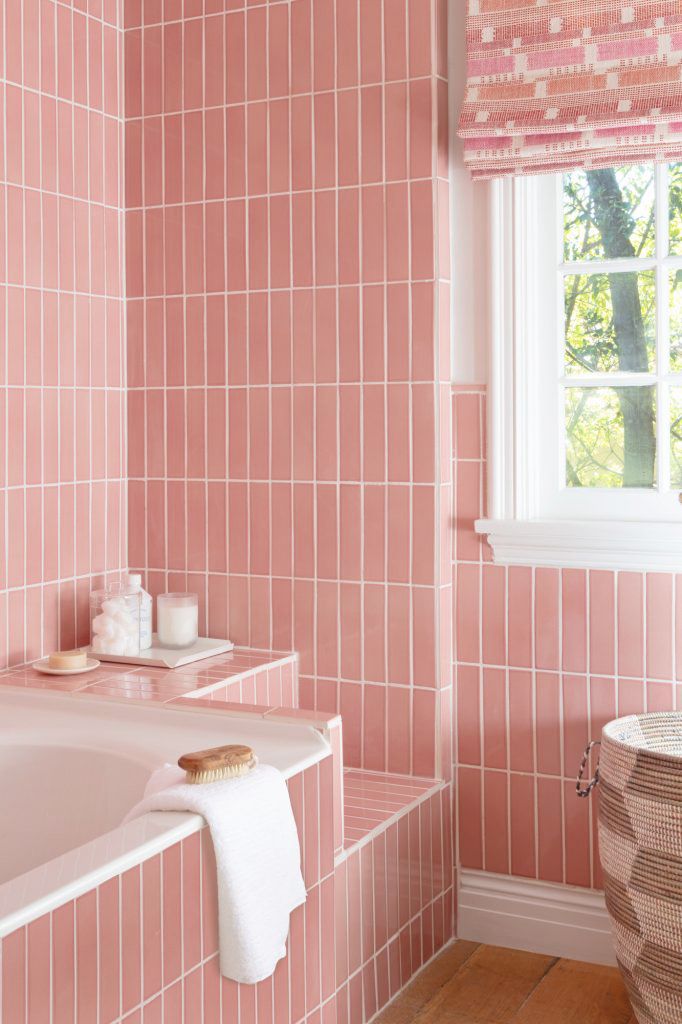 If you want to keep it subtle yet colorful, you can never go wrong with a pink-themed palette. You can go for a dark theme or a light, subtle palette. If you want to approach a fresh yet soothing palette, then you can combine both of them together to create an ombre effect. To add a touch of symmetry and change, go ahead with a vertical setup of the tiles.
Pink, in general, can give any vibe, ranging from 'the extra' look to soothing, dreamy pastels. Hence deciding on the shade of pink is crucial to the final vibe your bathroom will have. You can pair these with similarly themed curtains, white windows, and marble-based decor and hardware. To add a splash of other colors and textures, you can add jute bags or small yellow or light blue decors.
11. The Traditional Twist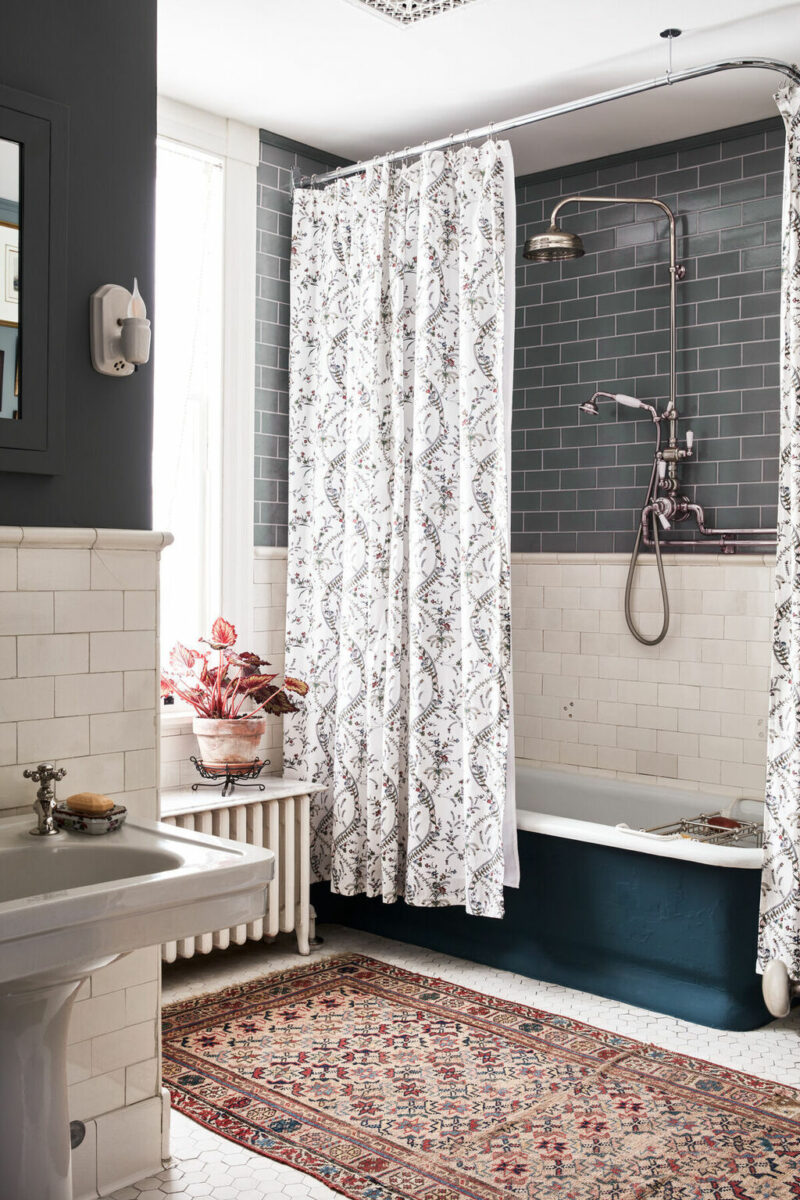 If the modern, subtle, or dramatic themes just don't catch your attention or define your vibe, you can rely on the magic of owning the traditional. To own a traditional twist, all you need are rooted print designs, stainless steel or marbled decor, and hardware. You can start with steel showers and shower heads, some attachable shelves, and steel wall sets and holders.
To adorn the curtains, you can go for floral garden patterns or dark broad designs, and for the floor designs, you can opt for eccentric yet repetitive broad designs and rugs. It is crucial to focus on curtains and rugs as they will add the major traditional drama to your private space, and your choices in them will help determine the focal point of the room.
12. The Herringbone Treatment
If you're going for a fresh, contemporary, yet classic look, then the herringbone treatment will do wonders that you didn't even expect! For this, keep the decor and the hardware classy and minimalist, and play with the tile patterns and floor designs or rugs.
Also, you don't want to forget the highlight of this theme which is the pattern of the subway tiles. They should be set in a criss-cross format hence diagonally, which is a fresh change from the vertical or horizontal setup of these tiles.
13. The Modern Spark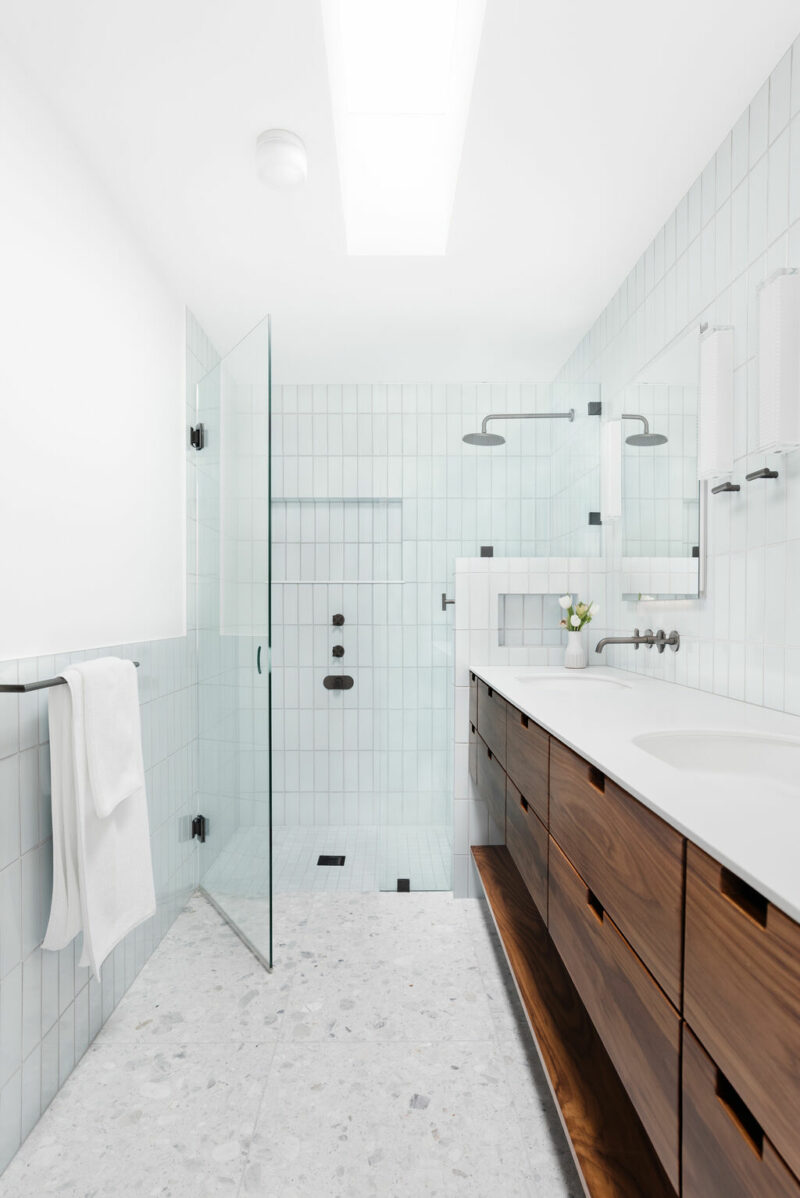 If you're not feeling up to utilizing a lot of different mixes and matches or heavier and darker themes, then this simplistic and modern touch is the exact one for you!
Using minimalistic yet modern showers, shower heads, faucets, and lighting will help alleviate the modern touch while keeping the wall and floor simple, and combining them with wooden drawers will add a tinge of the essence you need. If you're looking to add more to the charisma of the modern spark, don't forget to add glass doors and mirrors.
14. The Stripes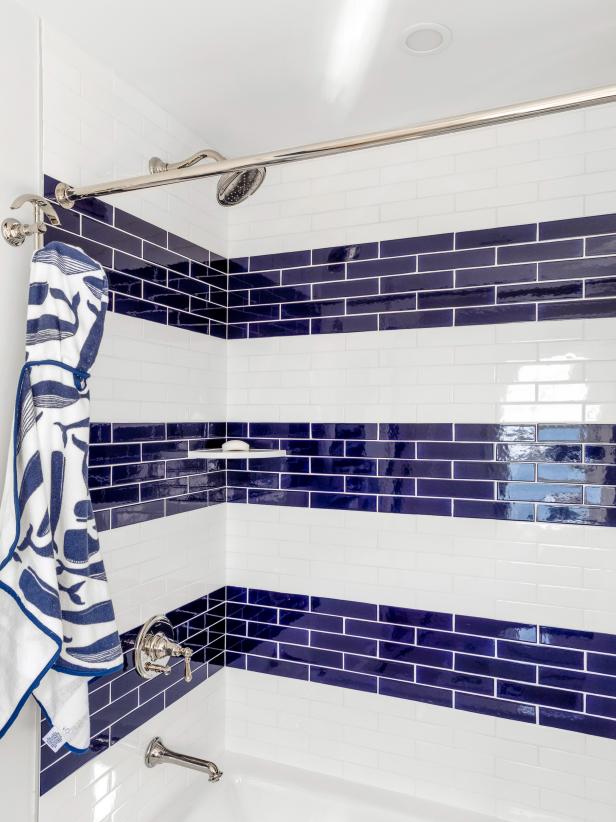 This out-of-the-box little change will add a whole new vibe to your bathroom. If a striking 'I wish I thought of this!' is the response you wanted, then this is the look for you!
This look consists of sneaking in the dark, strikingly colored stripes that catch your attention but aren't overwhelming! To get the most out of this theme, you want to try darker yet bright colors like navy blue, dark green, or orange. You can pair this with subtle curtains and large simple patterns for the floor, which will provide a coastal pattern and a wave of beauty in your space.
15. Subway & Pencil Match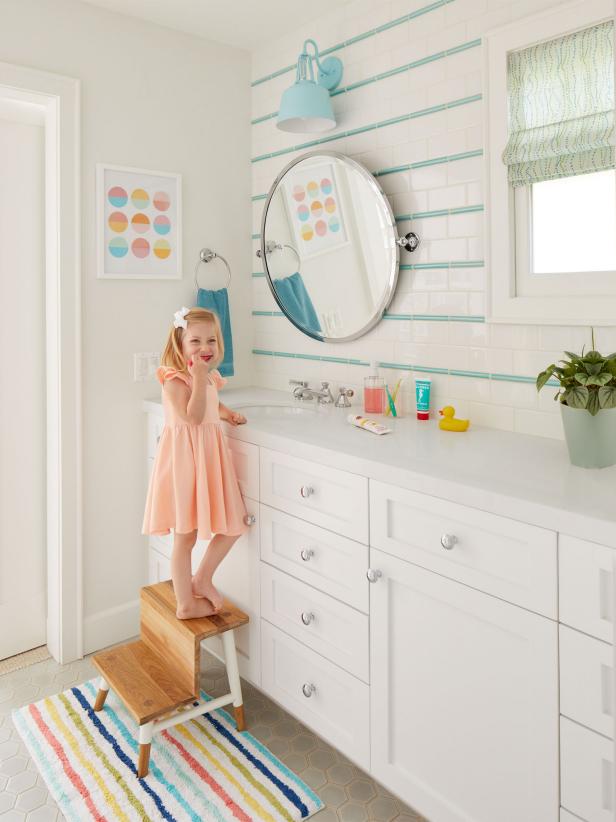 If a splash of color or out-of-the-box patterns isn't your cup of tea, then this combination is for you. It will help you get the most out of your subway tiles and minimalist hardware and will give you a striking structural, pattern, and color change to your bathroom. The highlight of this design is its unique combination of normal subway tiles and colored pencil tiles that give it a symmetrical yet fresh pattern.
You can use the same color as the subway tile if you're going for less change, but if you want the pencil tiles to be the attraction or focal point of the bathroom, then try colors like yellow, light blue, or green paired with white subway tiles.
16. The Mysterious Vintage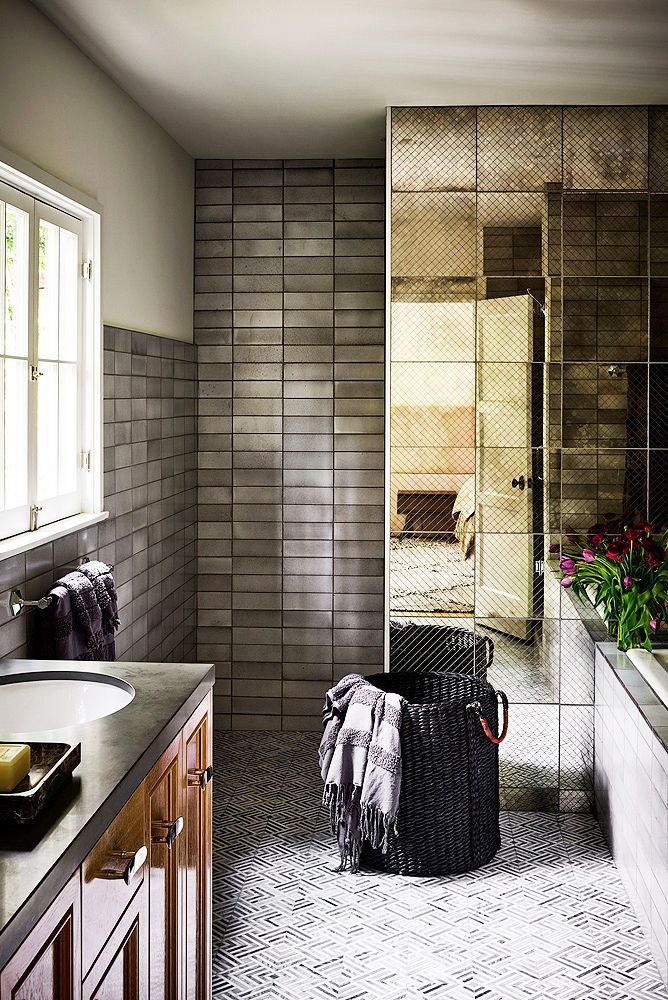 If you want to take a trip down a dark, musty, and dreamy vintage world, then this is for you! Using subway tiles has never been more striking and breathtaking!
Start off by adding either ombre colors of dark green, musty yellow, or a wooden color; this will add a touch of vintage that you need, 'just for old time's sake.' Combine these with rustic decor and long mirrors, and combine them with black or wooden decor. To add more to this woody yet vintage look, use house plants and flowers.
17. Go Halfsies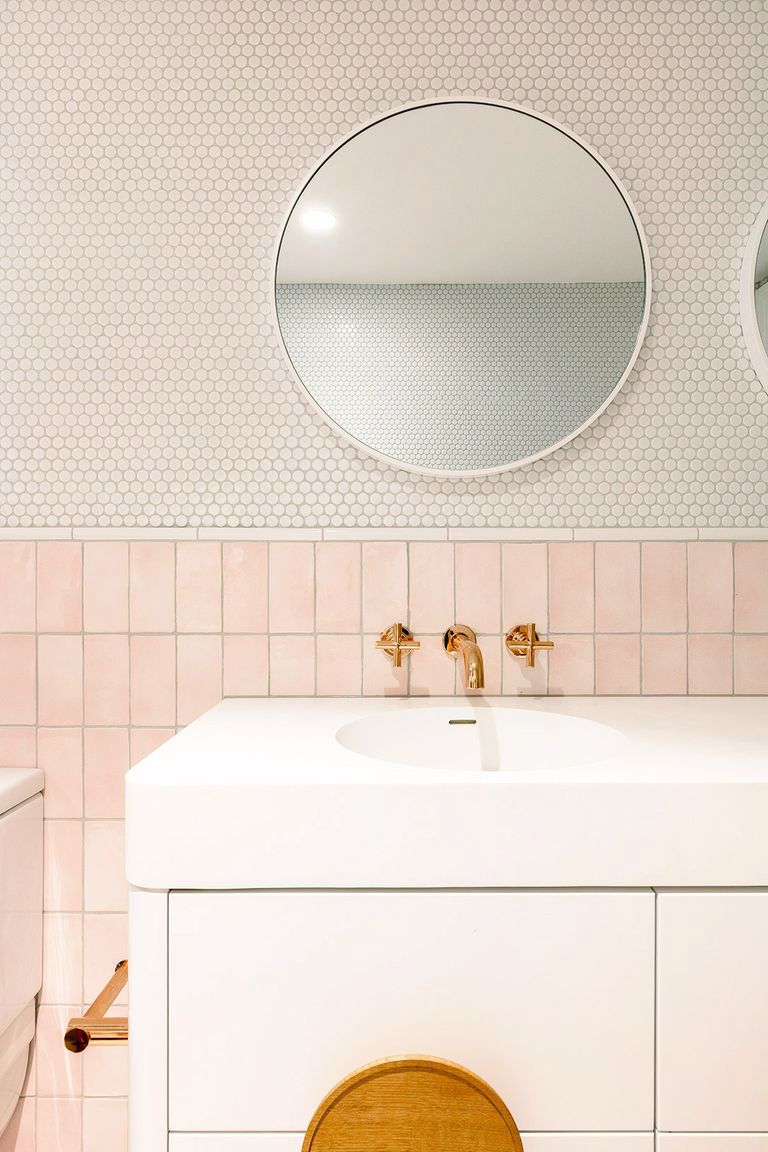 It might be difficult to just create an effective wall background with subway tiles, even after trying different arrangements and, more importantly, deciding what to stick with at the end. If you don't want to choose between two striking patterns or vibes, then this is the one for you! Combining two different and striking tiles can be scary and exciting, but going halfway can go a long way!
It will inculcate a sense of structure as well as some variations that will keep you excited. You can play with the orientations, vertical and horizontal halves), or you can go with a hexagonal tile pattern with the subway style to get the best of both worlds! You can pair them with mirrors or minimalist decor and hardware.
18. A Fresh Perspective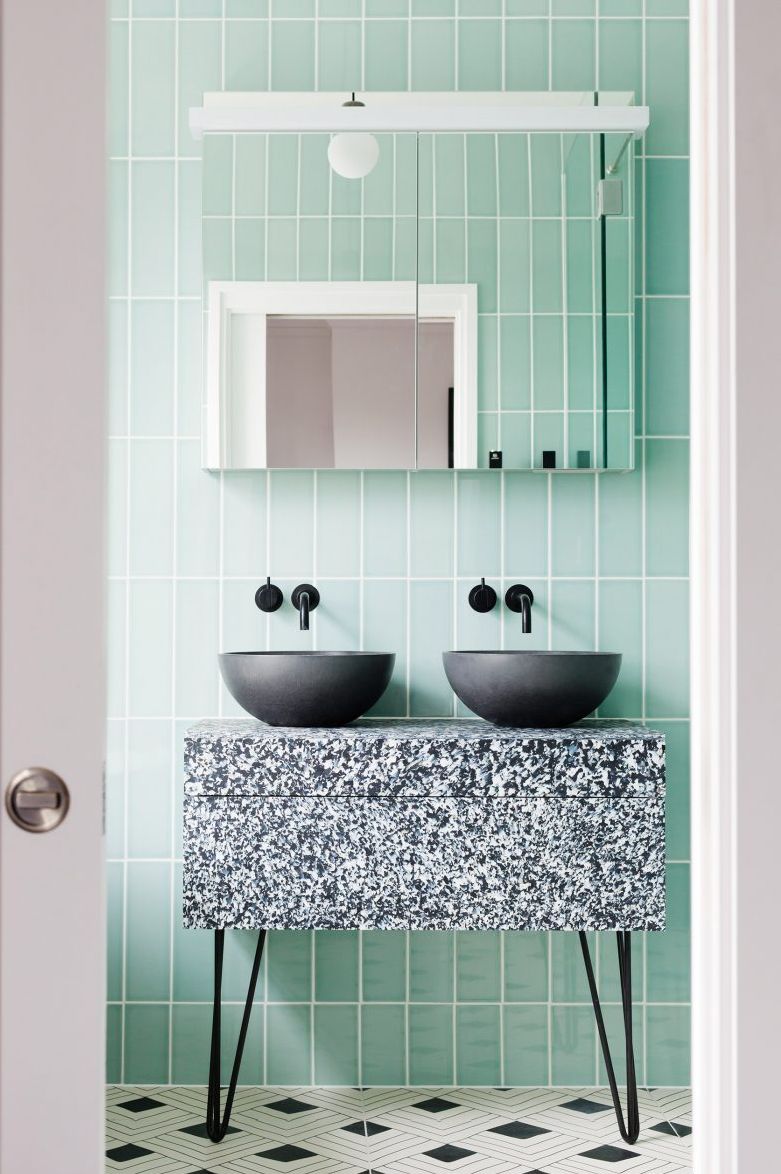 If you want a chic yet fresh and soothing theme for your bathroom, then this is the one for you! For this, you don't have to experiment too much with the tiles or bold patterns but go for the colors that soothe you and the ones you want to wake up to every morning.
Use light patterns, colors, and simple vertical or horizontal tile structures. It helps you frame a soothing and happy vibe. Using peach, green, pastel yellow, ombre, or turquoise can be a good start. Combing them with chic and black yet soothing decor can be comforting with soft white rugs and towels.
19. Statement Pieces
It can be very tedious to go through the whole process of painting walls, finding the themes, and setting them up, but does that mean you have to settle for a basic subway tile bathroom, not necessarily? If you don't want to experiment a lot, you can just invest in striking statement pieces. Adding one or two statement pieces will brighten up your room or add a sense of character to your bathroom without changing the room as a whole.
The best and easiest option to start with is statement tubs, like brightly colored ones, a glorious copper bathtub that will be classy and beautiful to look at hence, becoming the major focal point of the whole conversation. You can also try a large abstract painting or piece of art to create the bathroom masterpiece.
20. A Neutral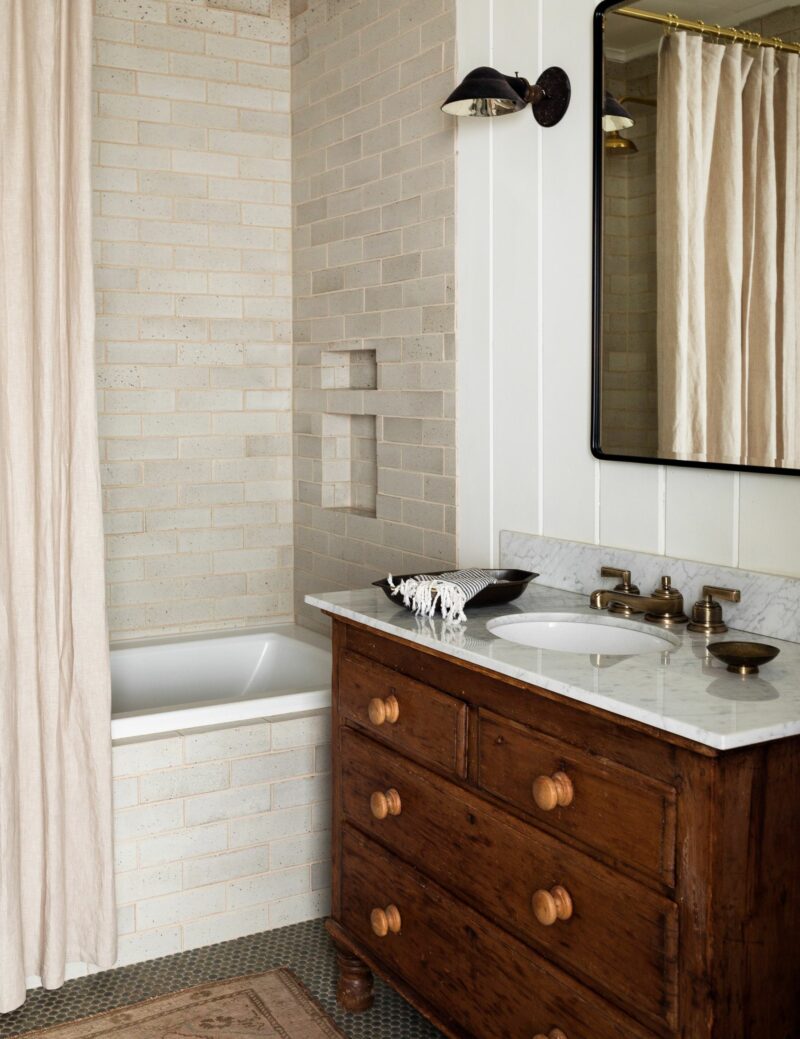 The one thing to note when you're doing anything interior or decor-based art is that YOU CAN NEVER GO WRONG WITH NEUTRALS! This helps create a sense of warmth, beauty, and soothing nature to your decor and vibe in your bathroom. You can make a minimalistic and soothing vibe with additions of neutral or pastel pink or beige satin or basic curtains to add to the mix of texture that adds more comfort to the place.
To inculcate more dark hues in the theme, you can opt for darker wood-based shelves and lighting, as well as hardware that can range from steel or other similar materials. Also, never forget the magic that rugs and robes can bring to the place.
21. A Retro Vibe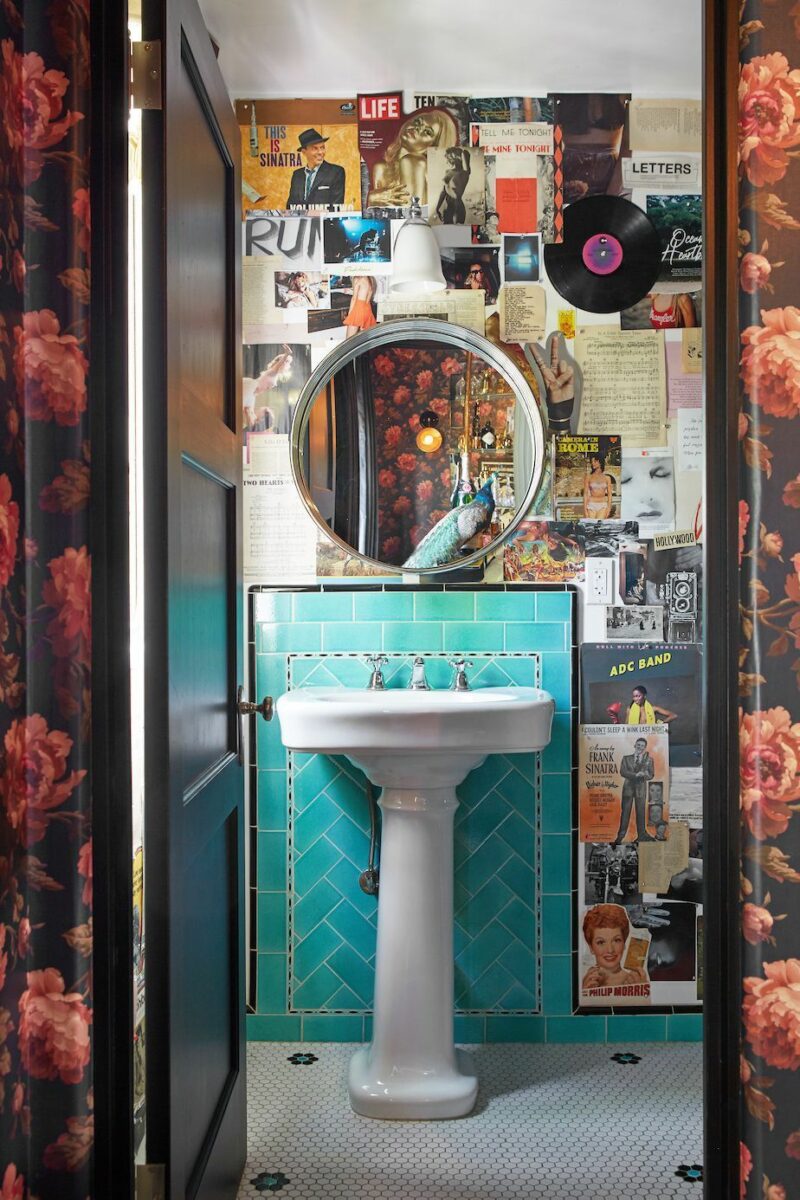 If you want to go all out with your subway tile idea and add a sense of art and drama, then this is exactly the one for you! This is exactly where texture, colors, and decor have no boundaries, so going all out is the goal with this theme! The best way to start with the theme is to include a plethora of posters and a splash of colors and fill it with all things happy.
The other way to utilize this theme is to relive, relive your favorite artists, their music, their paintings, their CDs, the polaroids, posters, and magazines. You can try a 70s vibe, 90s vibe, or time that is truly meaningful to you! You can also try different combinations of the subway tile structures, vertical and diagonal or horizontal and vertical.
Final Thoughts
When you want to create a change, you've got to be it! Hence, we hope that this journey can be your first step to discovering the makeover of the phenomenon of subway tiles and not another 'SUBWAY TILE BATHROOM IDEAS'! Subway tiles can now be interesting but also breathtaking! This list hence contains all of the major themes and styles that you can go for, from all-out crazies like retro and all-colored ones to subtitles pinks and neutrals!
However, styling them can require patience and a lot of brainstorming, but it is absolutely doable. Now, it's time to go all out with the efforts and turn on the ACTION MODE!
Get it and let your private spaces be striking enough to be the talk of the town!
Sierra Rivera, a passionate home decor enthusiast, runs the popular blog CozyCottageCute.com. Sierra shares decor tips, DIY projects, and personal insights. Off the blog, she's often at antique markets or redecorating corners of her own space.