21 DIY Painted Accent Wall Idea that Will Amaze You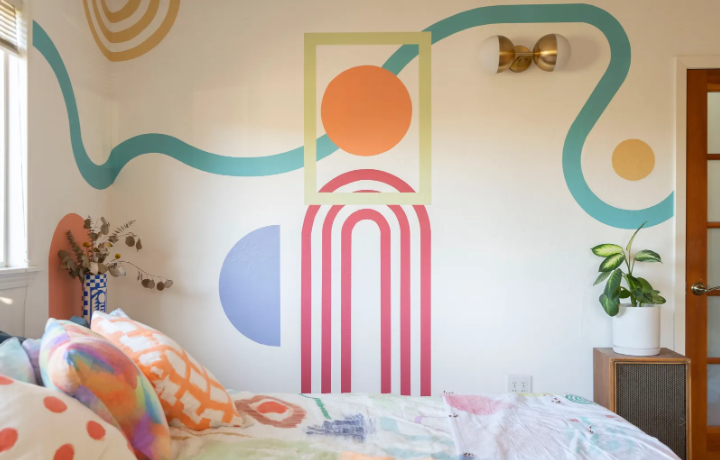 Are you searching for an affordable way to change the atmosphere of a room completely? Discover the painted accent wall ideas. These innovative designs offer a cost-effective solution to revamp your space without draining your wallet. By adding a painted accent wall, you can effortlessly transform the look and feel of any room.
From vibrant and bold colors to subtle and calming hues, the options are endless. Whether you desire a geometric pattern, an abstract motif, or even an intricate mural, DIY accent walls provide an opportunity to showcase your creativity and style.
With just a few essential tools and a splash of paint, prepare to be amazed at the remarkable impact a painted accent wall can have on the overall ambiance of your living room, bedroom, or office.
Brilliant DIY Accent Wall Ideas You Need to See
1. Geometric Patterns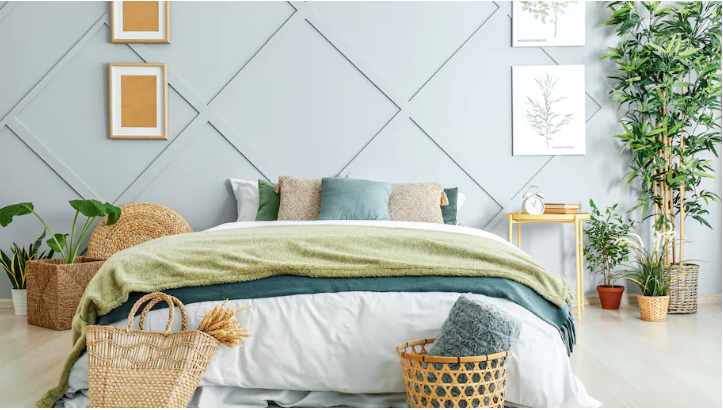 Looking for painted accent wall ideas? Geometric patterns offer an irresistible charm. With creativity and painter's tape, turn a plain wall into a stunning masterpiece. Embrace shapes and patterns for visual interest and depth. Explore designs like chevrons, triangles, or hexagons.
Play with color combinations to craft a unique statement wall. There are endless possibilities, and the result? An awe-inspiring centerpiece elevates your interior design with sophistication and style.
2. Wood Planks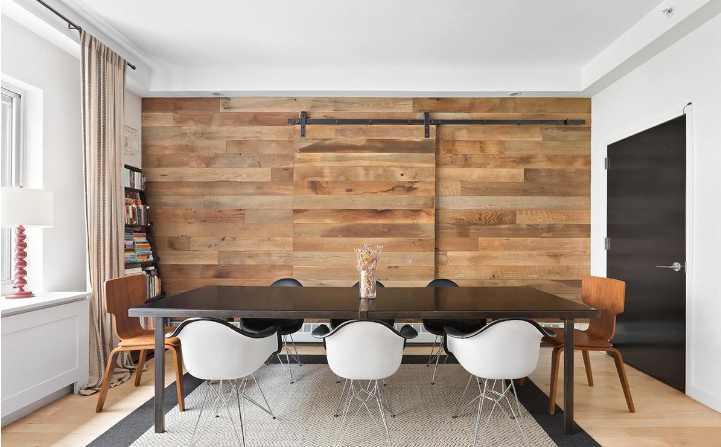 Are you searching for painted accent wall ideas? Try installing reclaimed or distressed wood planks on one wall to infuse your room with warmth and texture. The charmingly weathered appearance of these wood planks adds character and a touch of rustic elegance.
Whether you opt for a light or dark shade, the painted wood accent wall effortlessly becomes the focal point, boosting the overall aesthetic of the space. Embrace the natural beauty of wood and let it inspire your creative design choices.
3. Stenciled Designs
If you're looking for a unique painted accent wall idea, stenciled designs offer a fantastic option. By using stencils, you can effortlessly create intricate and eye-catchy patterns on your accent wall. What makes stenciled designs particularly appealing is the wide array of patterns and colors available.
Whether you prefer intricate geometric patterns, elegant floral motifs, or abstract designs, stencils offer endless possibilities to create a unique accent wall that reflects your individual taste and enhances the aesthetic appeal of your surroundings. The versatility of stencils allows you to achieve a customized and visually captivating look effortlessly.
4. Wallpaper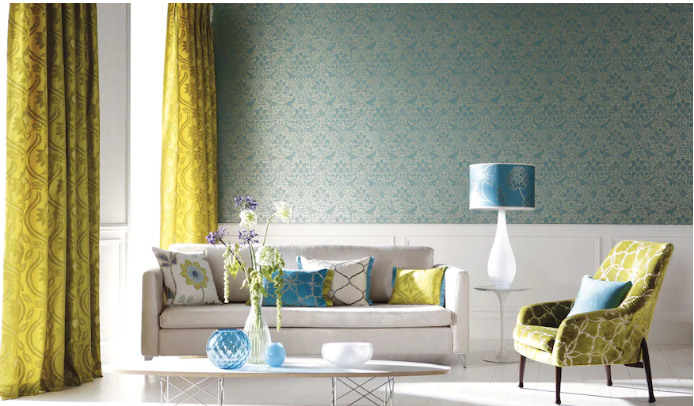 Enhance your interior design with painted accent wall ideas that are sure to leave a lasting impression. Instead of settling for a dull backdrop, choose a bold and eye-catching wallpaper designed to transform your accent wall into the captivating centerpiece of the room.
Whether you prefer vibrant patterns, geometric shapes, or nature-inspired motifs, the right wallpaper can instantly boost your space and add a touch of personality. Embrace creativity and let your accent wall shine as the focal point, creating a visually stunning atmosphere in your home.
5. Fabric Panels
Fabric panels are a fantastic way to spruce up your walls with an infusion of texture and color. By hanging these panels, you can effortlessly enhance the aesthetics of your space. From intricate designs to simple motifs, you can select the ones that resonate with your aesthetic preferences.
Whether you prefer bold and vibrant designs or subtle and elegant ones, fabric panels offer endless possibilities for creativity. For a touch of uniqueness, consider pairing them with painted accent wall ideas, allowing you to achieve a truly captivating and personalized interior.
6. Chalkboard Wall
Enhance your space with painted accent wall ideas that combine functionality and creativity. Transform a wall into a chalkboard masterpiece by applying the chalkboard paint. This versatile choice allows you to write important notes, discover your artistic flair through drawings, and showcase captivating artwork.
Whether it's in your kitchen for recipe reminders, your office for brainstorming sessions, or your child's playroom for endless creativity, a chalkboard wall adds a dynamic touch to any room. Embrace the charm and utility of a painted accent wall, making your space truly remarkable
7. Map Mural
Improve your space with a captivating touch by opting for a map mural as your painted accent wall idea. Be it a vintage map or the sleekness of a modern design, this unique concept allows you to infuse your personality into the room. Transform your wall into an immersive work of art that doubles as a conversation starter.
With a map mural, you can effortlessly combine aesthetics and functionality, creating an unforgettable focal point in your living space. Discover your creativity and embark on a visual journey with this inspired decorative choice.
8. Pallet Wall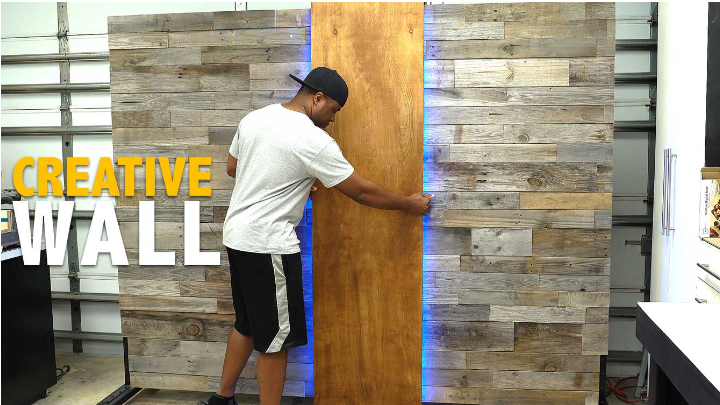 Maximize your space with a captivating pallet wall, making the most of recycled materials. Embrace the rustic charm by repurposing pallets into a striking accent wall that exudes character.
Utilize the versatility of this project by staining or painting the pallets, allowing you to personalize and harmonize the wall with your existing decor. Explore an array of painted accent wall ideas to add an artistic touch to your space, transforming it into a visually captivating environment that showcases your unique style.
9. Stone Veneer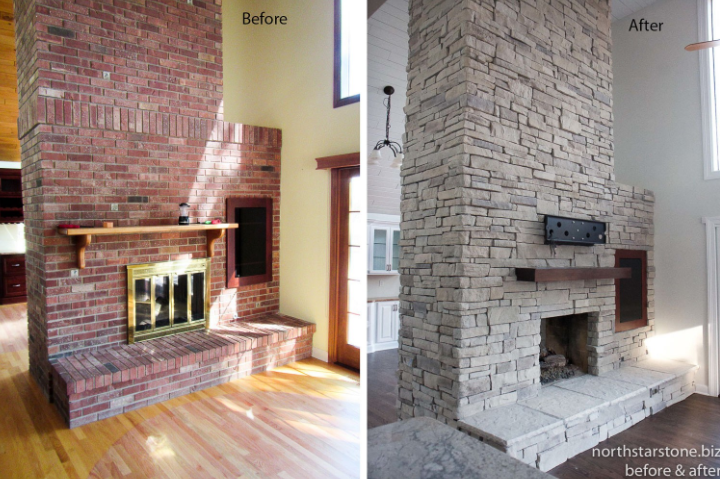 Strengthen the ambiance of your space by opting for stone veneer installation, infusing it with a captivating natural and earthy touch. Consider adorning your fireplace wall or a bathroom feature wall with this exquisite choice.
The versatility of stone veneer effortlessly elevates the aesthetic appeal of any room. As you explore painted accent wall ideas, let the seamless integration of stone veneer welcome your vision, accentuating the distinct charm and character you seek.
10. Bookshelf Wall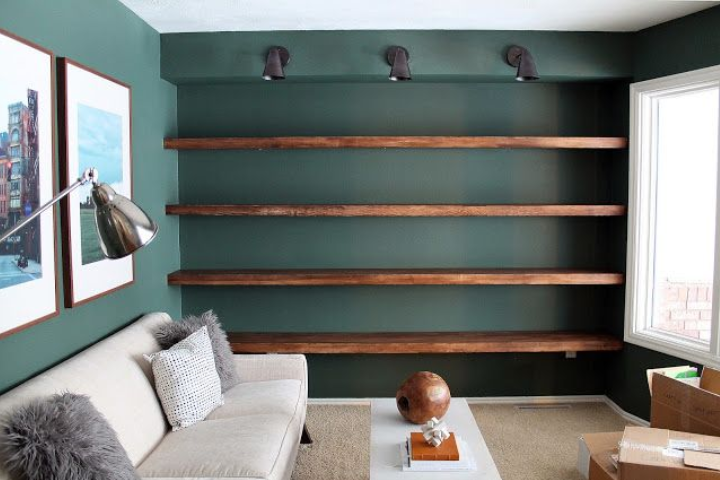 Enhance your living space with a stunning bookshelf wall, a perfect fusion of aesthetics and functionality. Install elegant floating shelves along one wall and adorn them with a curated collection of books, vibrant plants, and eye-catching decorative items.
This cleverly designed accent wall creates a captivating focal point while serving as a practical display space. With painted accent wall ideas, you can enhance the visual appeal of your home, adding a touch of personality and style to the room.
11. Ombre Effect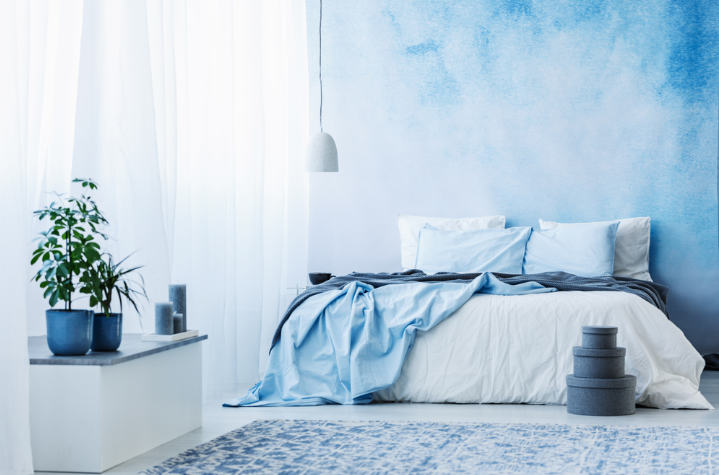 Looking for creative painted accent wall ideas? Consider the ombre effect to add a stunning gradient touch to your space. This technique involves painting your accent wall with a seamless transition of colors, starting with one shade at the top and gradually shifting to another hue at the bottom.
The ombre effect technique opens up a world of possibilities, enabling you to blend colors easily from top to bottom. Transform your room into a work of art by incorporating this trendy and dynamic design element into your decor scheme.
12. Mosaic Wall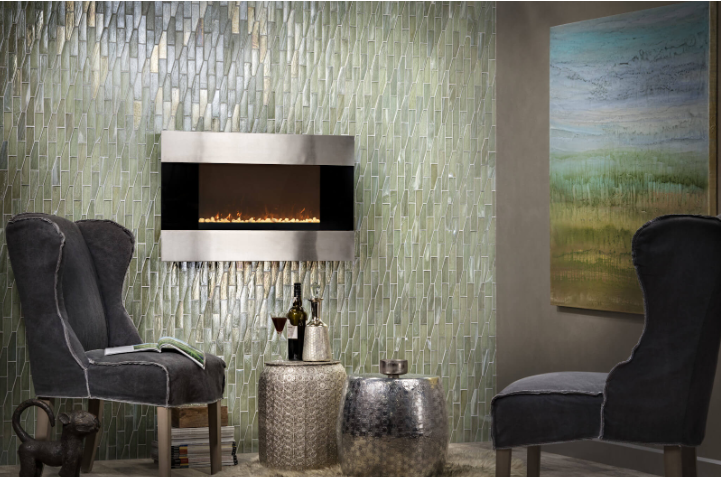 Enhance your living space with a captivating mosaic accent wall, utilizing small tiles or fragmented glass pieces. This unique design choice injects vibrancy and artistry into your surroundings, leaving a lasting impression.
Let your creativity flow as you arrange and craft a personalized masterpiece showcasing your individuality. With a myriad of colors and patterns to choose from, this mosaic wall becomes a stunning focal point, effortlessly transforming any room into a visual delight.
13. Brick Wall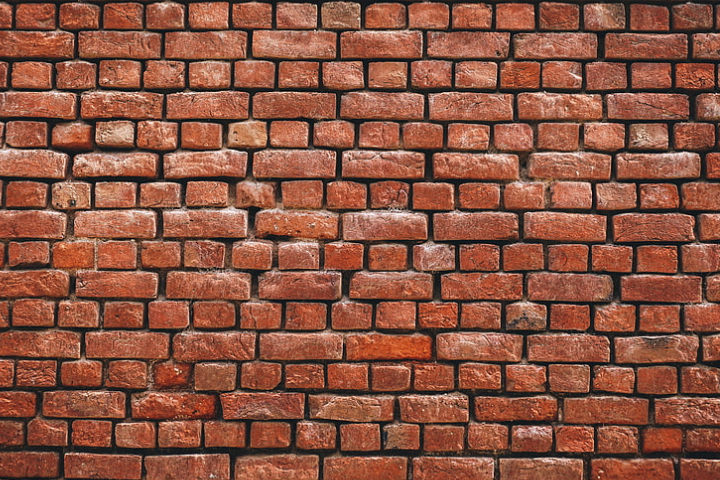 One innovative approach for a painted accent wall is to expose the brickwork, giving your space an industrial and urban look. If you don't have access to real bricks, you can still achieve this aesthetic by using faux brick panels or brick wallpaper.
By incorporating this design element, you can add texture and visual interest to your room while embracing a trendy and unique style. The rugged texture and raw charm of exposed brick can create a captivating backdrop that effortlessly complements various design aesthetics. It helps in creating a visually captivating space.
14. Picture Gallery
Improve your living space with painted accent wall ideas through a captivating picture gallery. Transform any room into a vibrant oasis by adorning a focal wall with a collection of framed pictures or artwork. Arrange them thoughtfully in a grid pattern, allowing each piece to complement the others in a harmonious display.
For a more eclectic touch, opt for an assortment of different sizes and shapes, creating a visually dynamic and engaging arrangement. Let your walls become a mesmerizing canvas of personal expression.
15. Shiplap Wall
Transform your space with a charming shiplap wall installation. By positioning the shiplap boards horizontally, you can effortlessly infuse your accent wall with a delightful farmhouse or coastal-inspired vibe.
Embrace your creative flair by exploring painted accent wall ideas that enhance the overall aesthetic. Whether you opt for a crisp white, soothing pastel, or bold hue, a painted shiplap wall adds personality and depth to your room.
16. Metallic Accents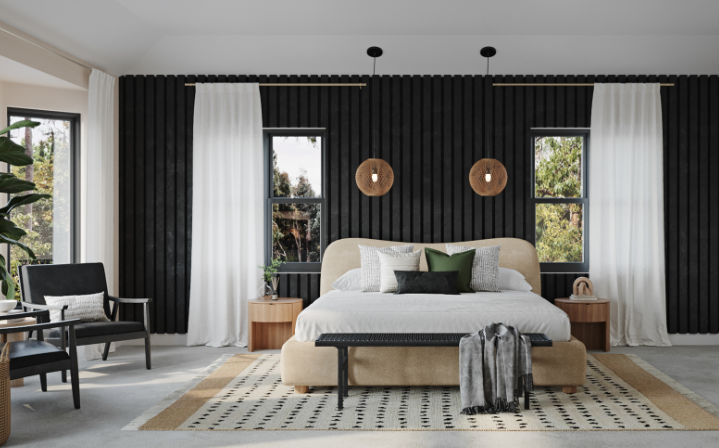 Improve your interior design with painted accent wall ideas that exude elegance and opulence. Boost your space by introducing metallic accents, infusing it with a touch of luxury. Incorporate the shimmering effect of metallic paint, wallpaper, or even foil to create a stunning focal point.
From sleek silver tones to warm golden hues, these metallic finishes bring a captivating dimension to your decor. Transform any room into a sophisticated sanctuary with the radiant allure of metallic accents on your accent wall.
17. Newspaper Wall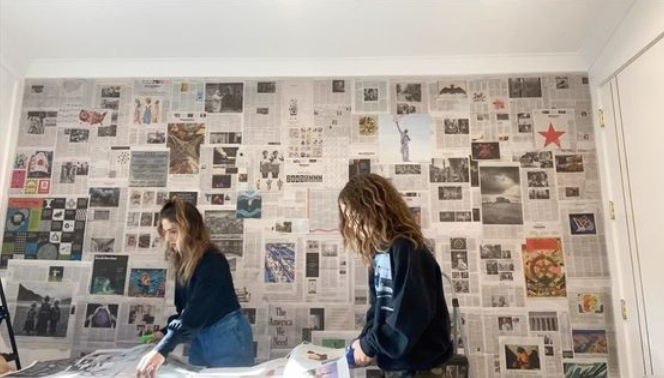 Transform your living space with painted accent wall ideas that won't break the bank. Embrace a distinctive touch by covering an accent wall using pages from old newspapers or magazines.
The text and imagery will bring character and a vintage vibe to your room. For added durability and a polished look, apply a clear coat to seal the newspaper wall, creating a glossy finish that protects your creative masterpiece.
18. Tapestry Wall Hanging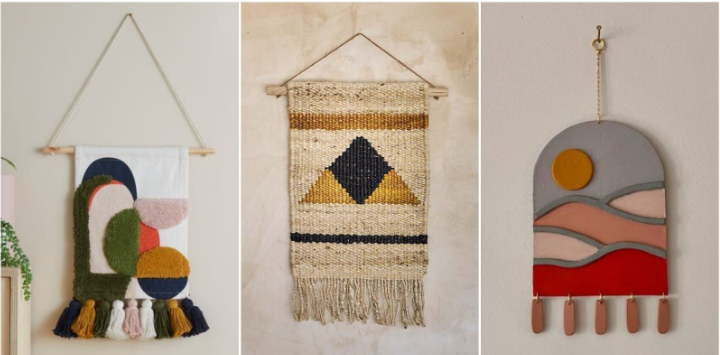 Strengthen your living space with a captivating tapestry wall hanging that effortlessly infuses your room with vibrant hues, tactile appeal, and an alluring bohemian atmosphere. Improve your decor by adorning your painted accent wall with a large tapestry, an ingenious way to inject life and character into your surroundings.
The tapestry's intricate patterns and rich textures become a striking center point, complementing the painted accent wall ideas you've envisioned for your home.
19. Charming Plates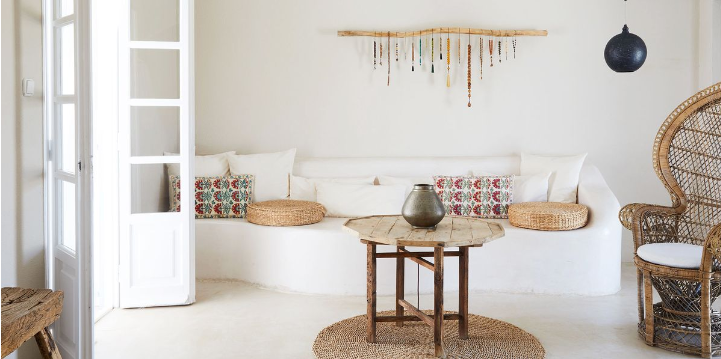 Transform your painted accent wall into a captivating showcase by arranging an array of decorative plates. Bring out your innovation as you experiment with various sizes and designs, infusing your space with an eclectic charm that's uniquely yours.
Whether it's a vintage-inspired display or a contemporary arrangement, these painted accent wall ideas will boost your decor and make a striking statement.
20. Cork Walls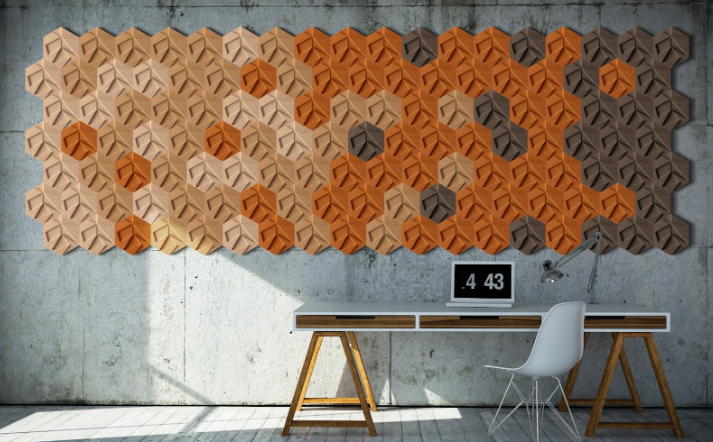 Add a unique touch by installing cork tiles on your accent wall. This ingenious idea not only adds functionality but also brings a stylish flair to your interior design. Create a dynamic and practical display by utilizing the cork surface to pin important notes, cherished photos, and captivating artwork.
The versatility of cork allows you to seamlessly blend functionality with aesthetics, making it a perfect choice for your painted accent wall ideas.
21. 3D Wall Panels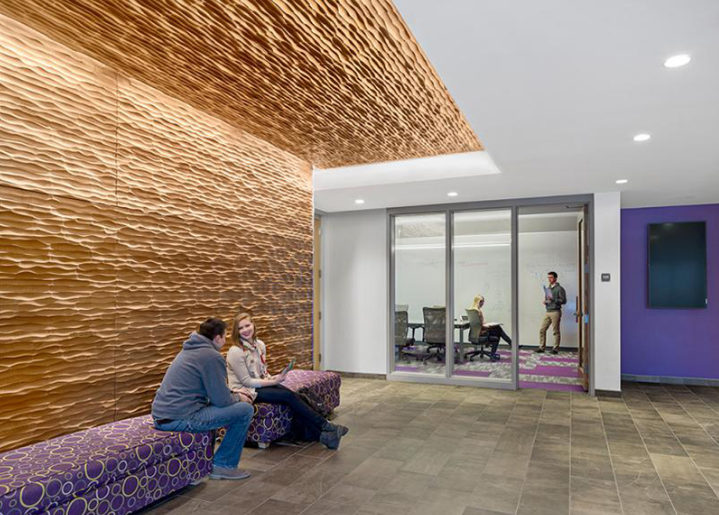 Decorate your living space with the captivating allure of textured 3D wall panels, offering endless painted accent wall ideas. Transform any room into a haven of contemporary elegance by incorporating these versatile panels that boast a variety of captivating designs. Customize your ambiance with a myriad of colors, allowing you to harmonize the panels seamlessly with your existing decor.
Conclusion
The world of interior design offers countless possibilities when it comes to transforming a space. Painted accent wall ideas have emerged as a brilliant way to add character and style to any room. These DIY projects showcase the creative genius of individuals who dare to think beyond the conventional boundaries of design.
By exploring various techniques and color schemes, homeowners can personalize their living spaces and create a unique ambiance. Whether you prefer a bold and striking statement or a subtle and elegant touch, there is an accent wall idea out there for you.
So, if you're looking to revitalize your living space and inject some artistic flair into your home, don't shy away. Let your walls tell a story that is uniquely yours.
Frequently Asked Questions
What Are Some Unique DIY Accent Wall Ideas?
Discover a world of creativity with unlimited DIY accent wall ideas. From geometric patterns created with washi tape to stenciled designs, reclaimed wood panels, or even framed fabric, you'll find plenty of inspiration to transform your space into something truly remarkable.
How Can I Choose the Right Accent Wall Idea for My Room?
When selecting the perfect accent wall idea, consider factors such as the room's theme, existing color scheme, and desired atmosphere. Opt for bold colors or patterns to create focal points, or choose subtle textures and materials to add depth and sophistication. Let your personal style guide your decision.
Are DIY Accent Walls Difficult to Create?
DIY accent walls can be as simple or complex as you desire, depending on the idea you choose. Some projects may require basic painting skills or using adhesive materials, while others might involve intricate patterns or woodworking. With the right tools, materials, and patience, you can create stunning accent walls without professional help.
Sierra Rivera, a passionate home decor enthusiast, runs the popular blog CozyCottageCute.com. Sierra shares decor tips, DIY projects, and personal insights. Off the blog, she's often at antique markets or redecorating corners of her own space.