Step-by-Step Guide: Easiest Way to Paint Your Furniture Black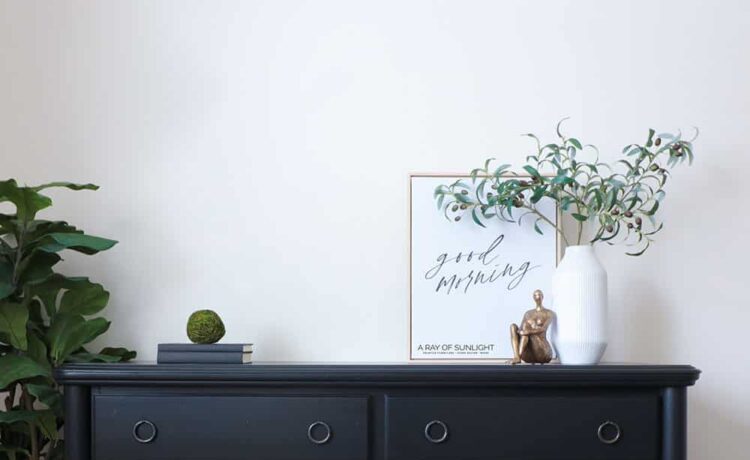 Furniture refurbishing can sometimes be a tacky process, especially if you are painting furniture black. Although painting your furniture black can revamp your living space, doing so in a hassle-free manner is quite challenging, especially for beginners.
Using dark or black color paints on furniture can add a statement to your space. It can also make your otherwise dull room gorgeous and chic. Black color furniture further complements other colors of your room. But painting black or dark color paints on furniture surfaces or even on walls poses problems such as requiring a number of coats to provide a smooth finish and not leaving brush marks.
Beginners often struggle to get a painting job at one go and also without spending heavily on one job.
So, here we are with a tutorial to guide you on painting furniture black without any expertise or prior experience.
Why Should You Think of Painting Furniture Black?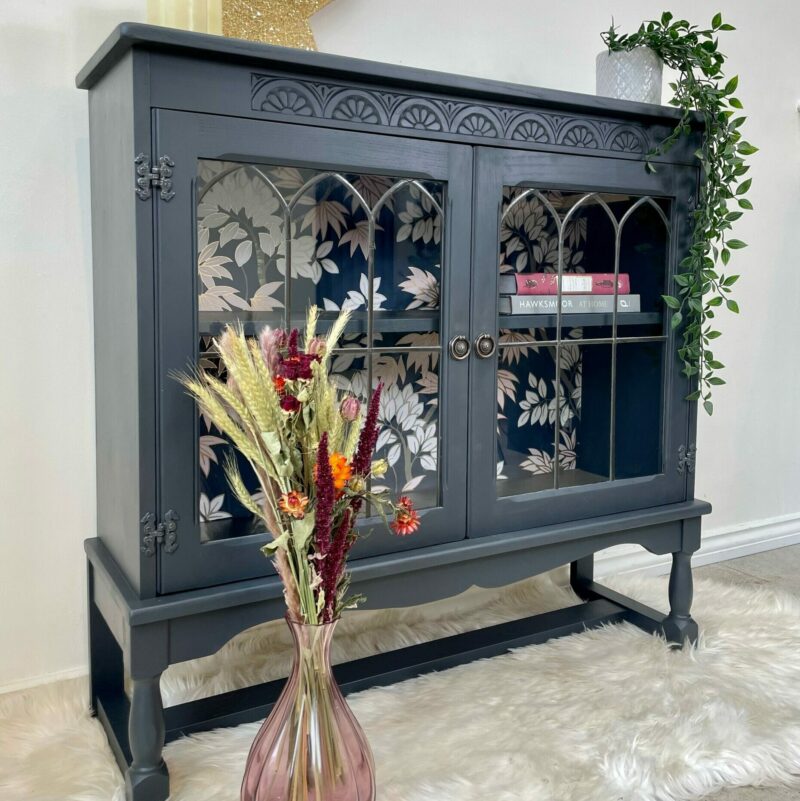 Black is bold; black is beautiful. Black accentuates the beauty of all other colors. The color black adds life to everything else in the room. Hence painting furniture black is a wonderful recommendation to add a touch of grandeur to your room.
List of Important Things Needed for Painting Furniture Black
The best way to do a neat furniture painting job, even as a beginner, is to have all your essentials prepped up before starting the job.
Tack cloth – The first thing to arrange for is a tack cloth to remove sanding dust. You can also collect and keep other rough cloth ready with you.
Murphy's oil soap – Murphy's oil soap is a good cleanser to remove dust and is safe for furniture
4-inch rollers – Rollers are great for achieving a smooth finish on furniture.
Brushes – Brushes are of different kinds and sizes and help to apply the paint swiftly and evenly on the surface.
Sandpaper – To sand your furniture, it is essential to use the right kind of sandpaper. This helps to remove dirt and old coats. Medium-grit sandpaper is best for this purpose. Fine sandpaper can be used in between coats.
Primer – Primer serves to be the base coat on the furniture surface. It acts as an adjuvant for the paint to adhere to the furniture surface in a firm manner. The primer also helps to retain the paint for a longer span. When you are planning to paint furniture black, choosing a gray primer would be pragmatic as it can save a lot of painting time.
Paint – Furniture paints are of various kinds. Chalk paint is one kind that doesn't need a top coat but should preferably be sealed with a sealant. Other than this, there is fusion mineral paint that doesn't require any top coating and gives an automatic smooth finish. There are some other paint options, like latex paint, milk paint, and even enamel. Latex paint can also give a smooth finish. There are also oil-based paints and waterborne alkyd paints.
Spray paint – Spray paints are another option, and the finish can range from flat to satin finish, matte finish, semi-gloss, and even high gloss finish.
Topcoat – The topcoat can be a sealant to offer a smooth finish and also seal the pain from degrading.
What Are the Steps for Painting the Furniture Black?
Black paint is not only versatile. It goes with any style of decor. The beginner's guide to painting furniture black is given below.
Step 1: Prep the Surface
The first thing to consider is dismantling the furniture. For example, if you want to paint your table black, then you need to take the drawers out and dismantle the knobs. You can also go for stripping a surface, especially when you are planning to stain the surface, or your current paint is chipping off.
Step 2: Sanding the Surface
After removing the hardware, you need to start sanding the surface. If you wish to sand your furniture quickly in about five minutes, you have to use an electric sander. You can use a mouse or palm sander. Orbital sanders are also available, but they offer lesser control. The advantage of using an electric sander is that there isn't much sand dust to deal with. But you can also use some sandpaper too if you want to go the traditional way of sanding. Traditional sanding is also an option when you have to sand a small piece of furniture, and you have got all day to do the job. You can use medium-grit sandpaper to remove the old paint. After sanding, you will have to clean the surface with a tack cloth to remove all the dust. Removing the dust helps to achieve a flawless finish.
Step 3: Priming the Surface
Now once the surface is cleaned, priming is the next job. Priming the surface of the furniture is indispensable as it helps the paint to set up quickly and firmly on the surface. Priming also helps the paint to last long. Further, priming also helps to reduce the number of expensive paints needed. It also helps to achieve a smooth finish. Oil-based primers are also great. Use a darker primer for painting furniture black.
Step 4: Sanding It Again
It is advisable to sand the surface again at this stage because this will help you to achieve an even finish. Even if you are a newbie, you can get professional quality with this trick. Fine sanding after each coating. Nonetheless, you can go ahead without this step.
Step 5: Painting the Surface
Finally comes the main activity, and that's painting. Begin with the application of thin coats of paint. You may need to sand the surface a few times in between to ensure that you achieve a lump-less and glossy finish. You can paint your furniture black with a paint sprayer, brush, and roller. Rollers are preferred over brushes when you want to avoid brush strokes. Foam rollers can help to reach fine crevices where brushes fail to reach.
After finishing painting, let the paint dry for 24 to 48 hours. You can give some touch-ups if needed.
Step 6: Protecting the Surface
Once you have achieved the desired result, you can proceed to seal your furniture with a sealant. For this, you need to apply a top coat of sealant to create a glossy and easy-to-clean surface.
It is recommended to avoid using a polyurethane sealant for light-colored or white-colored furniture. Also, allow 30 days of curing time. You can use a clear coat also in place of sealant, but it's pragmatic to use it only for high-end furniture such as bistro tables and dining tables. You can choose a satin finish or a matte finish of a clear coat.
What Is the Way of Painting Furniture Black Distressed?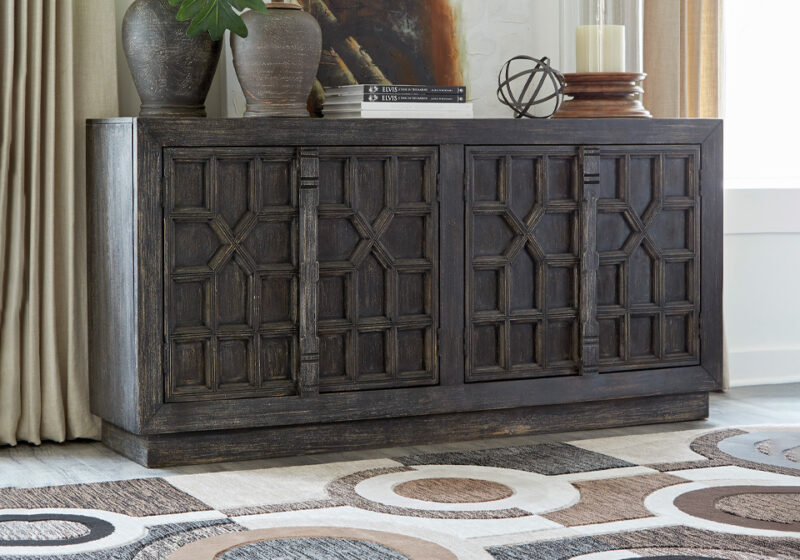 Like distressed jeans, furniture can be painted distressed black too. Here's how?
If you want to create a slightly distressed piece of furniture, you need to slightly sand the furniture piece after applying 2-3 coats of paint.
But hang on, if you want some white distressed look, you can spray white paint over the black paint.
For a metallic distressed look, you need to grab some gold or silver gilding wax. This is typically useful for giving a vintage touch to your piece of furniture.
How to Paint Furniture Like a Pottery Barn?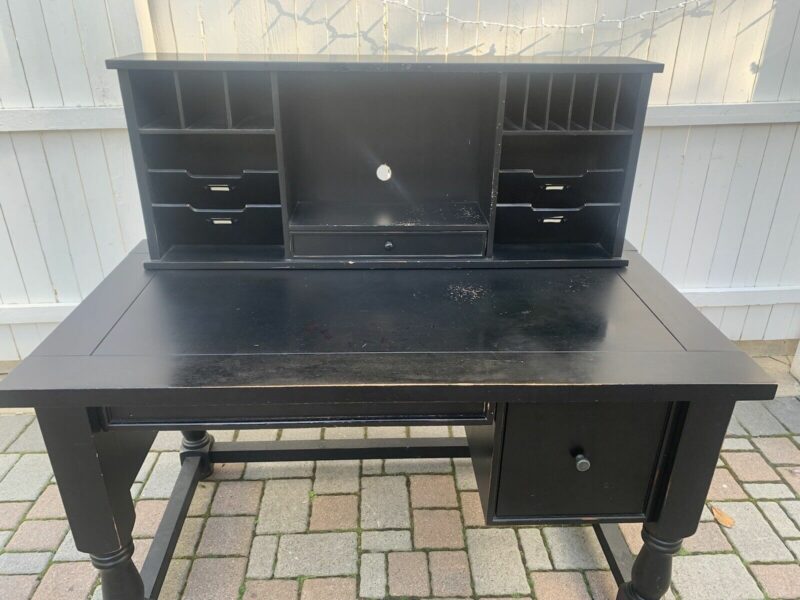 One specific thing about the pottery barn is that it offers a matte finish to the pottery piece. So, for your piece of furniture, if you want to achieve a similar finish, you can go for chalk paint. It can offer a matte finish and, at the same time, offer the right amount of shine. Further, to distress your furniture piece, use some fine sandpaper.
Types of Black Furniture Paint
If you want to know which paints are best for painting black furniture, here are some exclusive suggestions:
Fusion Mineral Paint – This is a foundation cum finish paint all-in-one. Fusion paints are non-toxic, ammonia-free, formaldehyde free, and lead-free. They also do not contain any odor.
Shabby Chic – This is basically chalk-based paint.
Dixie Belle Paint – This paint is considered best for novices as it is chalk mineral paint, and it is absolutely ideal for plastics, metal, wood, brick, concrete, stone, etc.
Rust-Oleum Latex Paint – This is a premium latex-based brush-on paint that dies off quickly and delivers a smooth finish.
Country Chic Chalk Style Paint – This is an eco-friendly paint for furniture and is considered all-in-one. It doesn't need wax or any other content.
General Finishes Milk Paint – This paint has high durability with good adhesive power. It is suitable for exterior and interior painting, and the best part is that it doesn't require a topcoat.
General Finishes Enduro – The Enduro black poly is a blend of polyurethane and faux paint.
Krylon Fusion Spray Paint – This is an all-in-one paint with supreme qualities like durability, rust protection, and adhesion.
Retique It Chalk Furniture Paint by Renaissance DIY – This paint is formulated specifically for furniture and offers superior coverage.
Wrapping Up
When revamping our homes, most of us forget the old furniture. But did you know that ignoring old furniture isn't a smart option? Rather, it is always economical and wise to refurbish your old furniture to give a new feel to your home.
So, whenever you are planning to give your home a makeover, don't forget to paint your furniture black with the tips shared with you above. Our do-it-yourself beginner's guide is quite helpful for those who want to avoid doing a messy job.
Our tips will help you to achieve a professional finish in less time and without burning a hole in your pocket.
Do leave a comment and share your feedback in the comments section.
Frequently Asked Questions
How Do You Paint Furniture Black without Sanding It?
If you want to paint furniture like a pro, then you can initiate painting furniture with a sound plan and then move to sanding the surface. Further, you can use some rollers and paintbrushes to get the right painting output.
What is the Easiest Way to Paint Furniture?
The easiest way to paint furniture is to clean the surface and then sand it with sandpaper. You can use chalk paint that dies off quickly and seal the paint with sealing wax.
Is It Hard to Paint Furniture Black?
No, it isn't hard to paint furniture black, but sometimes it can be difficult to achieve a smooth finish. You can follow the steps given in the above blog to know how to effortlessly paint your furniture all black in color without any hassles.
Sierra Rivera, a passionate home decor enthusiast, runs the popular blog CozyCottageCute.com. Sierra shares decor tips, DIY projects, and personal insights. Off the blog, she's often at antique markets or redecorating corners of her own space.