21 Office in The Bedroom Ideas for Enhancing Productivity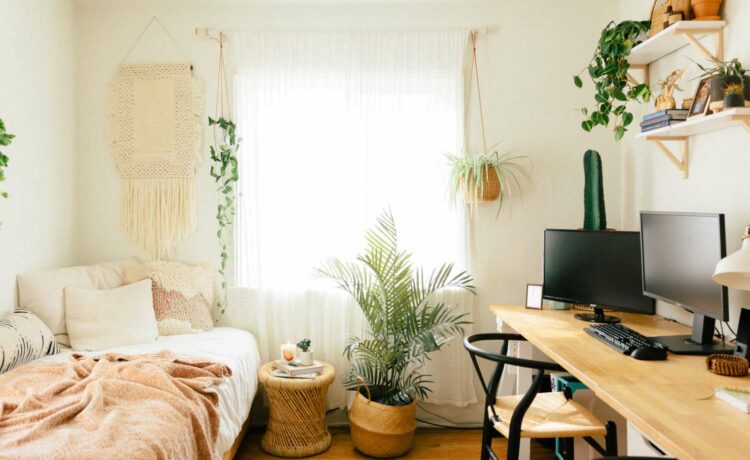 The hideous task is to get up on a Monday morning and rush to the office with a tie in one hand and coffee in the other. And the first thought that pops into my mind is why can't work be done on the bed itself.
Well, with the new world order that is focusing rapidly on 'WORK from HOME' criteria, it is easier to have a built-in office at home that gives a professional yet homely feel. Now, it is possible to get half dressed and work beside the bed more joyfully and efficiently.
A space that calls out for hard work and is interesting enough to make one commit to the work is what every achiever needs.
Scroll down to find 21 amazing office-in-the-bedroom ideas, each one being extraordinary and useful.
1. Adding Space to Small Bedrooms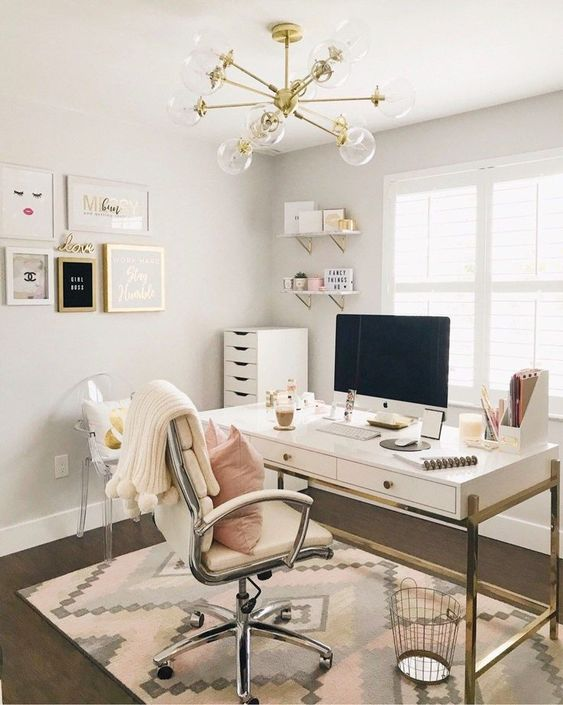 But there are a few creative office-in-the-bedroom ideas that can help you make the most of your space. Begin with nailing in the right desk and other basic requirements for a built-in office.
Floating Desks to Victory
The compact small room can become spacious with a wall-mounted floating desk which can be closed on Sundays to remove all the working evidence. Design the office with colorful desks to make it look more vibrant and add a hint of life to the space.
Corner Desks to Utilize Space
The corners of the room are often left unattended. It is suggested to use a corner desk to work as it brings space to the room without making it look messier. It is also suggested to mount the desk in the corners of the window to have a pretty gaze of the outside world and recharge oneself when needed.
Maximize Spacing with Loft Beds
It is a perfect solution for small areas. The beds above and desks below are a much more organized style with a professional outlook to be applied in compact rooms.
A Walk-In Office
If you have a walk-in closet, you could convert it into an office. This is a great way to get a private and dedicated workspace in your bedroom. You can add a small desk, some storage cabinets, and a lamp to create a comfortable and functional office space.
No matter what your space constraints are, there is plenty of office-in-the-bedroom ideas that can work for you. With a little creativity, you can create a productive and stylish workspace in your bedroom.
2. An Ambiance to Give Serenity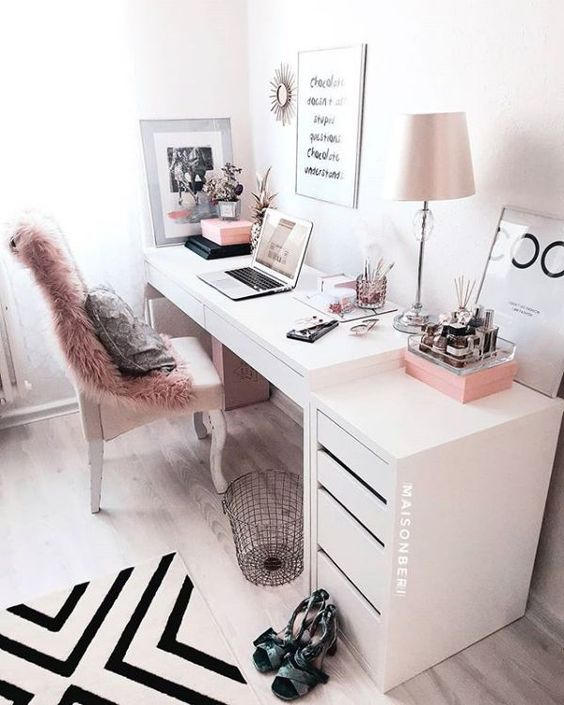 Keep up with an ambiance that imparts calmness and attracts one to work around them effortlessly.
Keep in Touch with Nature
Feel freshness around the desk by applying nature-friendly products, be it a small planter or a wooden hanging, an all-straw cabinet, or a small fish jar. Enjoy merging daily routines with nature's beautiful elements, and the positive energies will knock on the door. This can be a great way to incorporate office-in-the-bedroom ideas, as plants can help to purify the air and create a more relaxing environment.
Soft Lighting is a Must
It is recommended to build an office where natural lights fall to avoid straining the eyes. For the night workers, it is recommended to use soft lights rather than eye-scratching ones to avoid double strains from the lights and the computers.
Cool-Toned Color Schemes
It has been tested that the background color of a room has a big impact on performance, so it's suggested to surround the office with pastel themes to increase focusing efficiency. Use salmon pink, sea green, beige, and light brown tones to keep the serene outlook alive. This makes the office-in-the-bedroom ideas one of a kind and superior to all else.
Enhance the beauty of the room by adding aesthetic decors like a breezy painting or a pleasing lamp.
Add sculptural furniture with antique chandeliers and deep-toned drapes with your favorite themed color to not compromise a single penny on styles.
3. Wiping out The Sweat
Your physique plays an important role in what you do, desire, and decide. Therefore, it's time not to turn a blind eye to your curved back but take good care of it. Read along and get the best of what suits the best to your back.
Ergonomic Desk and Chair
Invest in a comforting desk and chair to ensure better posture while working. Add additional pillows and cushions for extra comfort. This office-in-the-bedroom idea has helped many and will help you without a doubt.
Desk with Proper Height
This office-in-the-bedroom idea will for sure tempt you. A benefit of a built-in office is to customize it accordingly. It is a must to use a desk with a height in proper ratio to the person rather than suffering from standard designs at the cubicle.
Keep Working While Relaxing
Use ergonomic comforters to ensure a strainless body. Use a head massager, foot comforter, lumbar support pillow, and laptop stand desk to work efficiently straight up to 8-9 hours.
4. The Projection of Personality
What you see is what you grasp, and to reflect who you are, your room must speak for you in a bold and trusted manner. Scroll along to make a statement for yourself without getting into the ugly business of words.
Motivating Walls
Decorate the working space with inspirational callouts. Use motivational posters and artistic wall art that go on with a deep meaning. Hang your memories in collages or a favorite song framed so that while taking a break acknowledging the positivity becomes a habit.
Display Achievements
It is a must to be kept reminded of one's goals. Displaying the awards and achievements on the side would make one enthused. Other than that, change the decorations by adding some stuff that represents the personality, like a favorite colored showpiece, a replica of a pet, a chic car to buy in a frame, etc.
Bulletins are a Must
Make sure the office has a bulletin board with sticky notes to keep it organized and analytical. A whiteboard or an iPad is also recommended to maintain the TO-DO LIST. This bedroom-in-the-office idea is especially for the ones who need constant reminders and organization at peak.
Keep It Organized
Organizing is the key to success. Ensure that the office passes every requirement beginning with a clock to the calendar, storage shelves, dust bins, lamp shades, mouse pads, etc. It is recommended to make all the stuff color-coordinated as the setting would look more promising and classic. This, among all else in the office in bedroom ideas, will keep your entire aura intact and clean.
5. Multifunctional Furniture for Multitaskers
Technical and organized? Well, then, this point in the entire office in the bedroom ideas is just for you.
Desk with Shelves
Spending smartly is more precise than spending on wasteful objects. This, among all the office-in-the-bedroom ideas, will help you bag in the best at the lowest prices. For all the writers or officers, it is advised to install a desk and shelf combo to avoid the usage of extra spaces in cabinets juggling over files again and again.
From Having Tea to Having Meetings
Dining tables transforming into working desks and cabinets is a must-have for those who can work in multiple settings. The table kept in the dining hall could also be used for signing contracts and storing confidential papers in the kitchen to avoid the risk of being stolen.
6. Feel the Breeze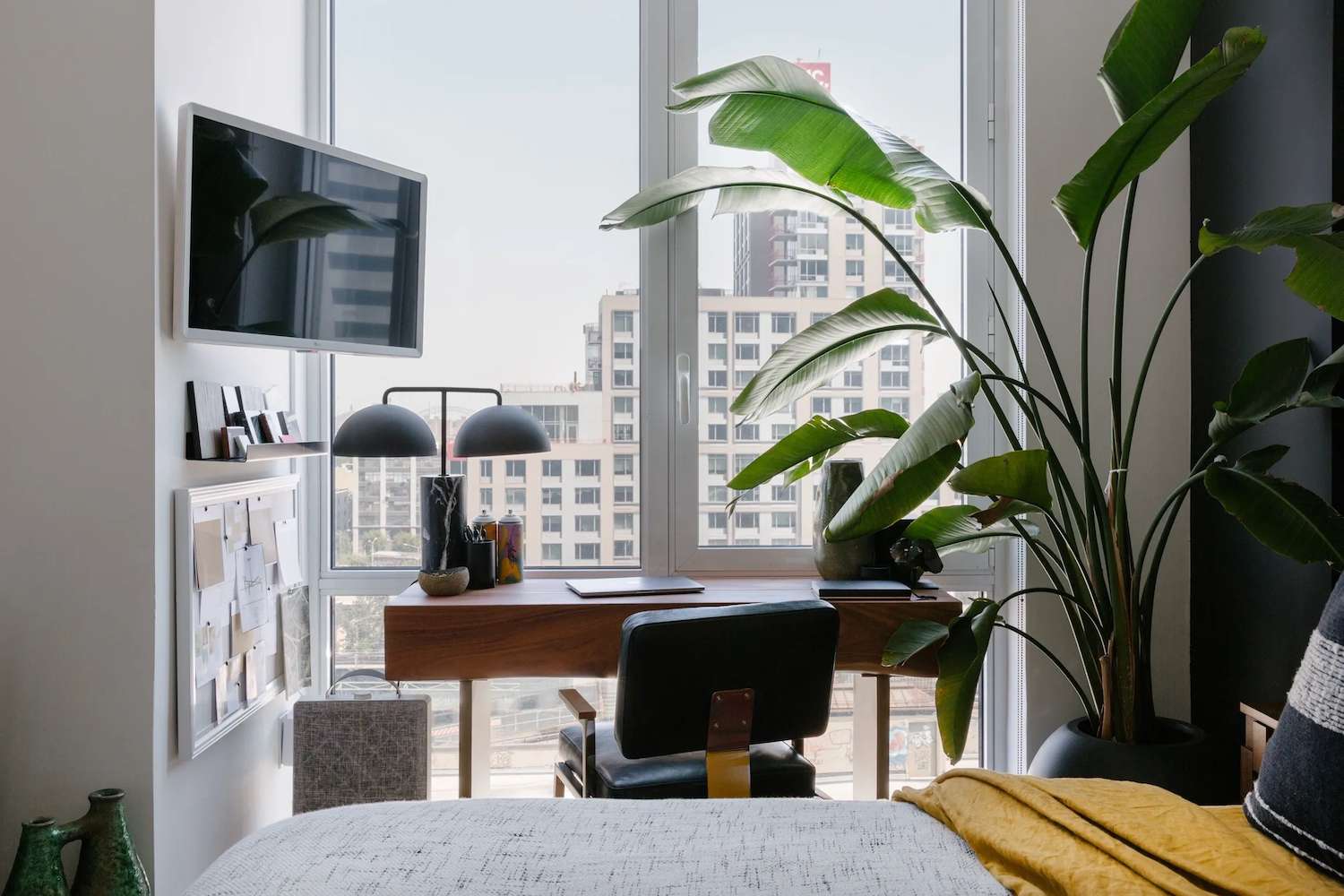 The view matters: Imagine a pleasant morning. Before starting work, a final yawn occurs with the chirping of the birds passing through the ears and a cold, subtle breeze swiping off the face. This is surely the best way to start any work rather than sipping coffee in a plain dark room with no natural light or pleasing elements.
That's why this office-in-the-bedroom idea recommends you place the working desk just next to the window to have direct contact with the perks of nature.
Beautify with Drapes
Apart from minimalist stuff, it is also important to make sure the room format gives its vibe. It can be done by adding drapes to enhance the details. A wide range of drapes can be used.
Orienting the Desk in Nature
For a writer or an artist, it's very important to feel the environment to enhance creativity. It is advised to set up a mini office on the porch, roof, or garden. Writing on a wooden desk with natural air and light would give a heavenly feel and creativity to the work.
Placing the desk in front of the floor-to-ceiling windows with a view of the skyline will give the thoughts a new height, and placing a big plant on the side will help in dividing the workspace from the bedroom.
Built the office with the best of office-in-the-bedroom ideas where the office should be set up in an alcove giving out a rustic vintage vibe. This would separate the office from the rest of the room. Paint it with vintage brown color and wooden detailing to make it look more precise.
7. Shaking Hands with Nature
A break from the hectic schedule should not be wasted on scrolling reels on social media or sipping wine and taking a puff, but a proper break should be one that could re-energize and rebuild the motivation to sit back on the chair. A small open balcony space next to the bedroom office with a relaxing couch and slow music is just like an instant promotion for the worker. Mark this among the other office-in-the-bedroom ideas as the best to inculcate productivity.
Plants to The Rescue
Indoor plants are a must-have in a bedroom office setup. The plant takes up the negativity and fills the environment with natural air and positive energy. Plant a few big ones on the sides and a small one for the desk.
Vertical Greenery
If the room lacks space, refer to this point in the office in the bedroom ideas. The point suggests that it is more convenient to hang vertical planters to enhance the beauty of the room. Vertical planters can be used as a divider to separate the office from the bedroom.
The Wall of Greens
With minimal maintenance, a perfect decoration for the room to make it stand out among others is the artistic moss wall art. A big chunk of greenery pasted on the wall will give wholesome Amazon feels.
Be Particular with The Materials
It is very important to choose the right material before designing the office. It is recommended to use products made up of natural materials for sustainable development.
Wooden desk and chair, wooden pen stand, laptop stand, showpieces, wooden shelves, etc., not only brings aesthetics to the offices but provides many other benefits as well.
8. Satisfactory Storage
Dumping clothes in a closed space will make your room look tidy and professional. But where to get that space in the claustrophobic little space? Now, if this is the case, then this section in the entire office in the bedroom ideas is just for you. Read along to know more.
In-Wall Shelves
With new techniques and hacks, it is now possible to make out big spaces in small areas. In-wall shelves are a great way to store things in spacious cabinets.
Bed with Cabinets
Office-in-the-bedroom ideas can be tricky, but once adapted, they are beyond the best. Installing an office in the bedroom can get more convenient by replacing the ordinary bed with one which stores space cabinets inside. Fill them with files and documents and get a tidy-looking room all the time.
Floating Cabinets
Another option to consume space vertically is by installing floating cabinets that can easily be removed and installed.
Get Crazy Organizations
The work done in a clean and tidy environment calls for perfection. Working in a bedroom may get messier, so it is better to be organized to save time and effort. Installing cabinet desks, pen and file holders, different sections with marked labels, a bright lampshade, a proper computer setup, a coffee machine, notepads, etc., are important materials to acquire while having a bedroom office.
9. Cut Off the World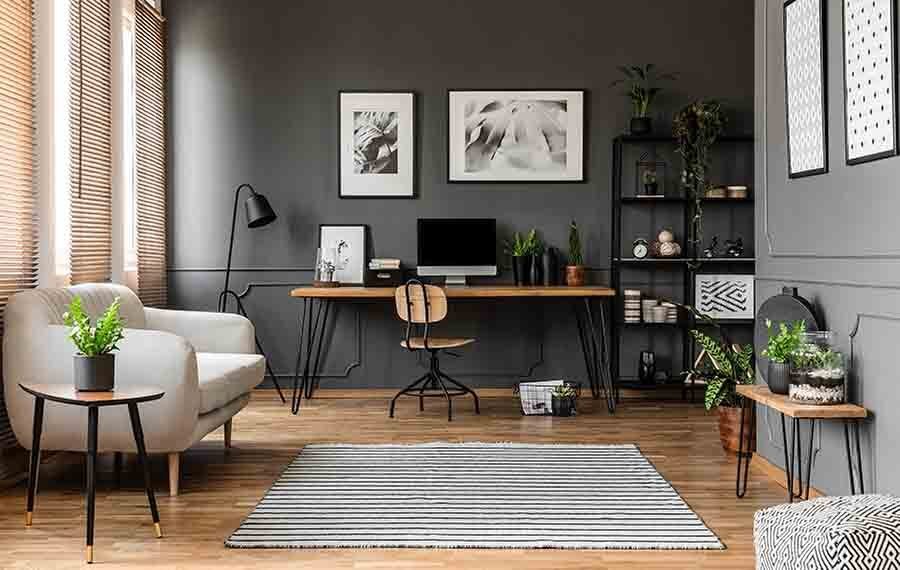 Hustle, bustle, and road traffic can be a real turn-off, but now you have a way to crisscross all the distractions. Read this office in the bedroom ideas section and dig out the best way for your peace.
Soundproofing the Zone
A person living in the apartment next to the road would understand how chaotic days and nights could get. Working in such a situation is an adventure in itself. Installing the sound-absorbing panels in the walls is an unavoidable option for them.
Blindfolding the Office
A so-called drawback of the office at home could be the consistent disturbance faced by the worker making him unable to concentrate and lowering the progress. Thick noise-canceling blinds are required to make the space separate and free from disturbance of all types.
Room Dividers
Dividing a section of the bedroom for the workspace is a very brilliant one from office in the bedroom ideas as this not only separates the office but gives a professional environment as well.
Dividers could be of varieties such as:
Oak screen
Wooden divider
Vertical planter divider
Macrame fabric divider
Sheer curtain divider
Wooden blind divider etc.
10. Make It Tech-Licious
Extensions, plugs, cables, and chargers! We all know how irritating and clingy these electrical mazes can be, but now the problem is almost tackled. With these brilliant add-ons, you can turn your bedroom free from tangles and troubles.
Avoid Wire Tangling
Technical workers must have rolls of wire attached to their machines. Handling them with care is required to avoid accidents. The built-in offices at homes should have wire organizers and cables made of shockproof materials as precautions.
Make It Gen-Z Kind
Gamers or content creators could attach colorful lights to their ceiling and decorate the room with brilliant wall art and neon signs.
Wireless Charging Ports
To avoid the mess of wires, use wireless charging ports to charge the gadgets. It saves time and looks classic as well.
Make Friends with Alexa and Siri
It is crucial to be developed and follow the trend because it is necessary in today's world. Get voice-activated assistants to ease your daily work and save time.
11. A Wall that Calls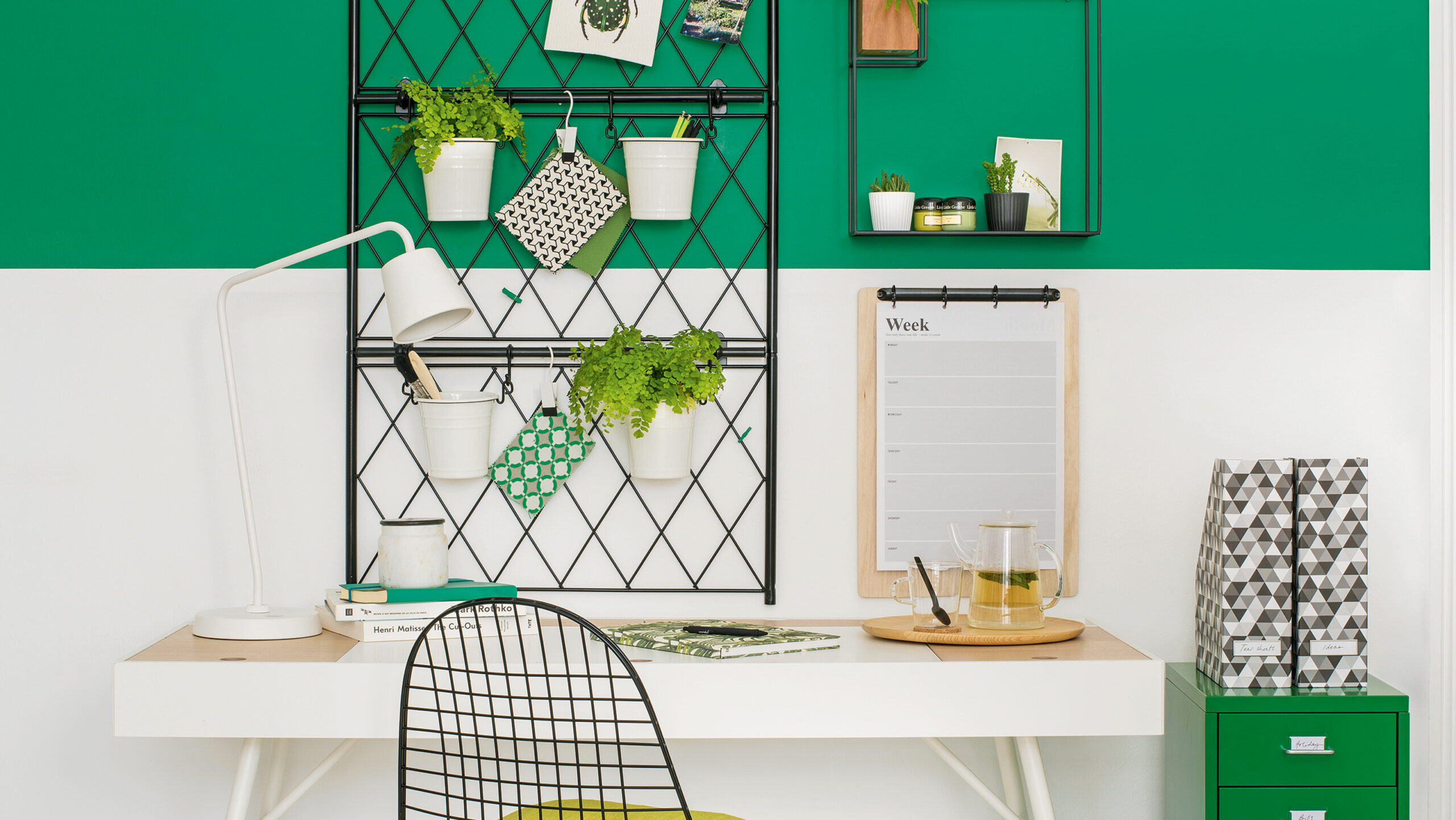 Any room or setting could look alive or dead because of its primary element, i.e., walls. From decorations to the color of the wall, everything needs to be well-planned to achieve the best office-in-the-bedroom ideas.
A Chalkboard Wall for Organizing
Paint a whole wall with a chalkboard to use anytime for planning, making notes, organizing, etc. It is erasable so that it won't cause a mess.
Walk Into a Photo Gallery
Photos and quotes are a great source of motivation. If wallpapers or plain paints are not the choices, cover the wall with photo frames, quotations, art, or personalized greetings.
Wallpaper
One of the offices in bedroom ideas could be to decorate the walls by attaching wallpapers. They remove the whole look of the room. From customizable to bold colored to aesthetic pastels, choose a wide range of wallpapers as per the choice.
12. Take a Break and Read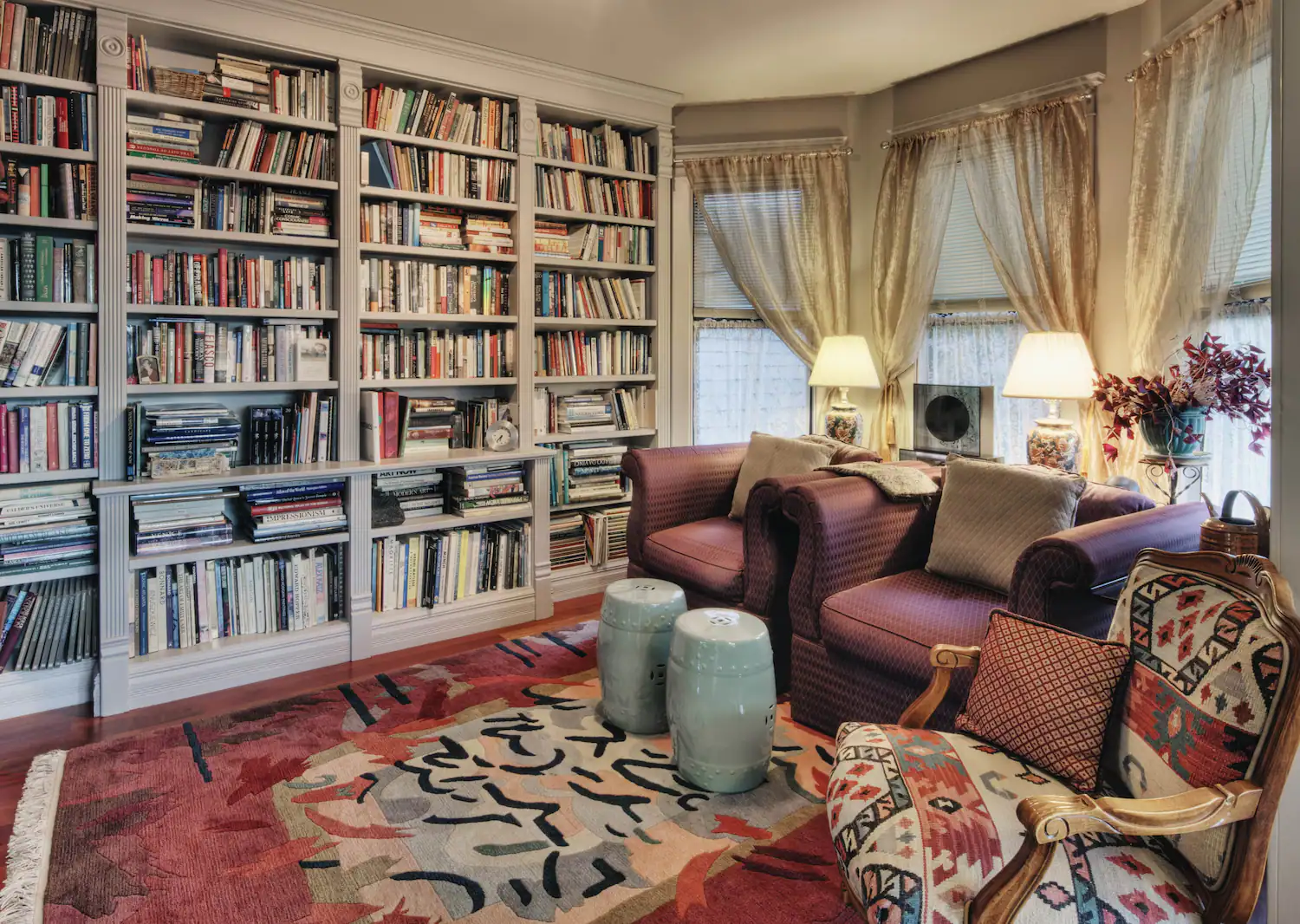 For those looking for relaxing office-in-the-bedroom ideas, this one is for you. Taking short breaks to relax is essential. Relaxation is the key to better performance and maintaining the work-life balance.
Jump Onto The Bean Bag
A bean bag or massage chair should fit in the space to throw out all the strain and give a good twist to the hardened back. This could be a great prop in this section of office-in-the-bedroom ideas.
Smooshy Cushions
Office floors can be decorated as well as made up for comfort by using multiple cushions piled up in the corner. It gives a homely vibe to the space and is best to rest upon.
Reading Lamp
While reading in the corner, a reading lamp with adjustable lighting is appropriate to complete the relaxing corner.
Maintain the Bookshelves
The corner would look more satisfying by adding a bookshelf showcasing favorite books. It is easier to take one and read during the break than to search from the boxes.
13. Keep Up The Motivation
Being motivated at home is a real challenge. Working while being at home with no colleagues can be tiring yet boring. One always needs others to have a cup of tea and some gossip to feel fresh. And to tackle this problem, the solution is to stay motivated with the help of office belongings. But to tackle this problem, the solution is to keep motivated with the help of office-in-the-bedroom ideas.
Quote Decals as Boosters
Thousands of quotes could motivate even the laziest person. Get the most exquisite one on vinyl material and stick them around.
Get Assurance with Affirmation Cards
This help to remind one's goal and capabilities. They play a very important role in making one believe in them, so why waste time? Stack up the office with them and shine.
Vision Boards for Adults
Sometimes we need reasons to do well, like buying a house, and the goal for the next two years is determined. A consistent reminder presenting the favorite car or a beach holiday just above the desk could be a game-changing tip in office in-the-bedroom ideas for sure
14. Work Out to Work Well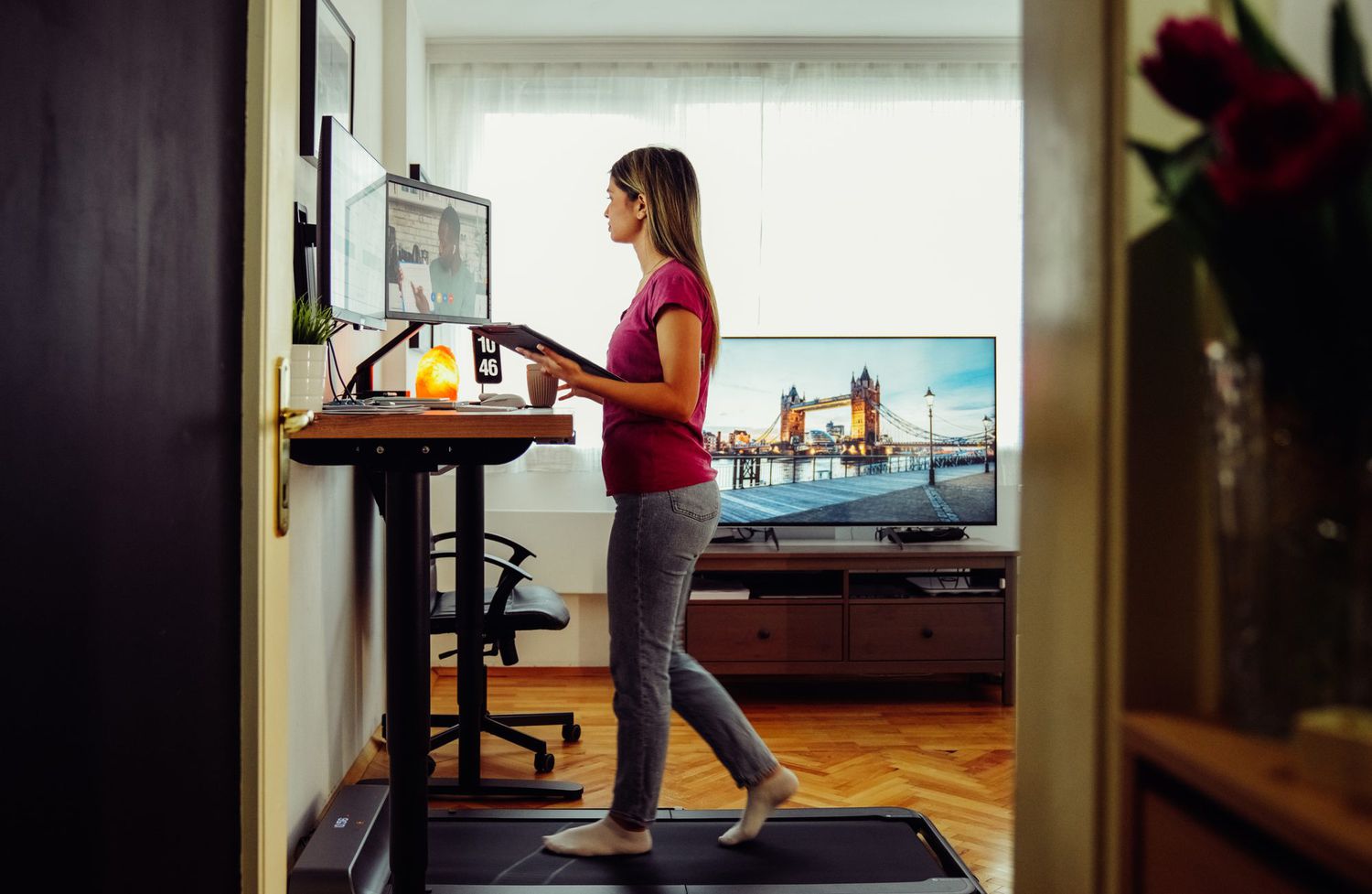 Continuous sitting on a chair is not healthy at all, so it is mandatory to induce physical exercises in the daily routine. There are numerous office-in-the-bedroom ideas that could make a person work out as well as work simultaneously.
Stand and Work
Adjustable desks can be used as means of physical activities. Switch them to the highest to stand and work. It will keep up the body's movement even for a short while.
A Healthy Corner
Set up the corner of the office with a yoga mat and props encouraging one to stretch.
Get the Legs Moving
under the desk, elliptical or mini riding bikes can be implanted nearby to use while being in an audio meeting or planning.
15. Organizing at Its Best
The organization is what an intellectual needs. The more organized you are, the most efficient you will get. Read this very great point from office in the bedroom ideas and game up your room's organizational skills.
Desk Dividers
Office stationeries and gadgets can make up a huge mess. Use desk dividers to make separate compartments for organizing it all well.
Cable Wire Management
Utilize cable clips, cable sleeves, or cable boxes to keep the cords and cables organized and tangle-free.
Stationary Organizations
Invest in those office-in-the-bedroom ideas that command for desk caddy or wooden boxes to keep materials of daily use organized and easily accessible.
16. Smell the Motivation
A good smell surrounding the office is a symbol of positivity which not only makes a person feel happy but lets him work with full efficiency. Thanks to this office in the bedroom ideas section where bringing this dream to reality is possible. Here is how a room can be turned into an office with a scent of professionalism.
Scented Candles
The aroma of candles on the desks would create a cozy and relaxing environment.
Fresh Flowers
One of the smoky offices in the bedroom ideas is to add flowers in the room as they are considered a sign of goodness. Fill up the office with the fragrance of fresh flowers and gaze at them to revive the mind.
17. It's Coffee Time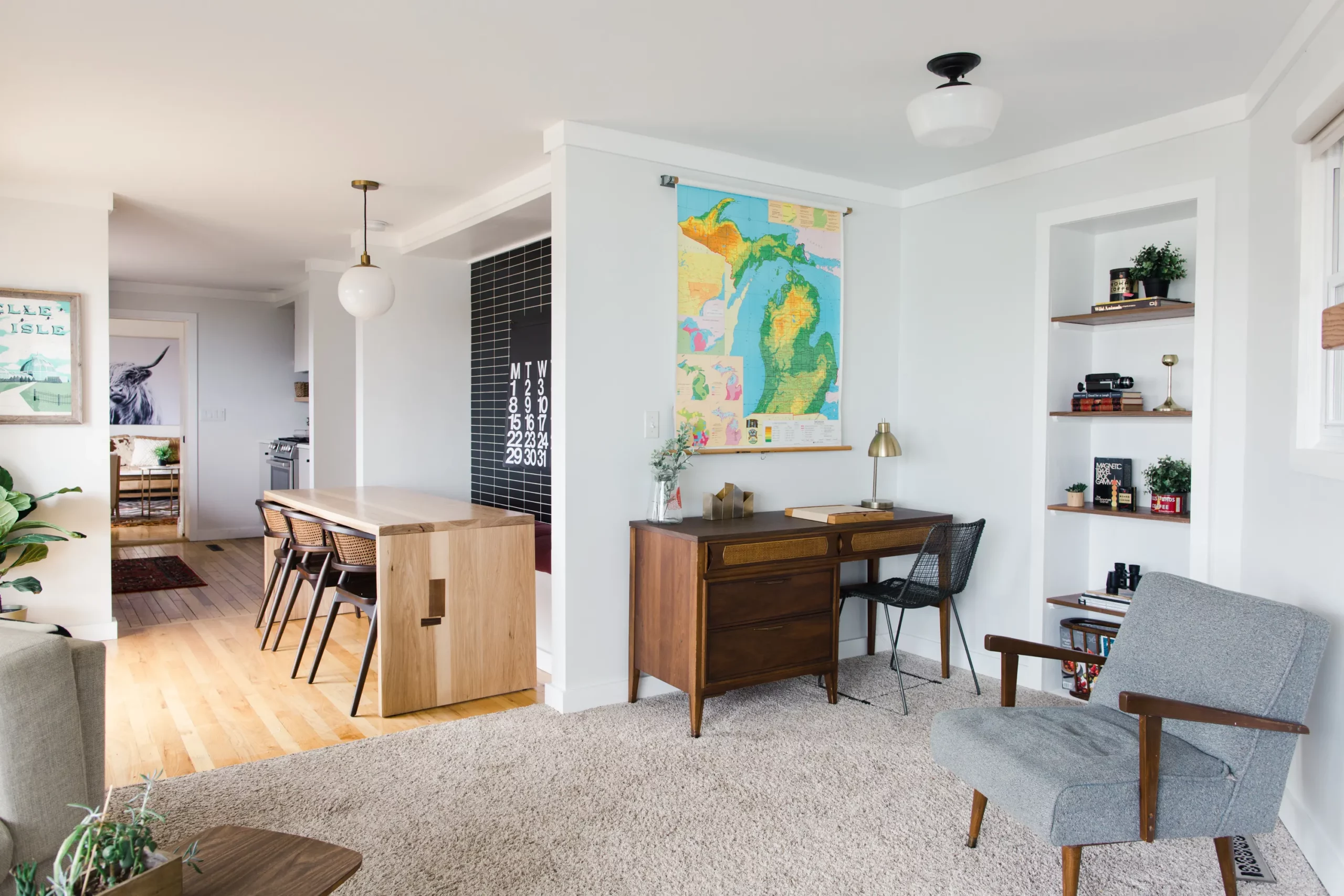 It's important to treat the stomach while working because if the tummy is happy, the mind gets happier. Learn how to set up a food and beverage junction in your bedroom with this point in office in the bedroom ideas:
Tea/Coffee Bar
Reserve an area for the tea station with favorite cookies and complete with a coffee machine, electric kettle, and an assortment of beverages. This is one of the best office-in-the-bedroom ideas to incorporate into your rejuvenating room.
Mini Refrigerator
Set your office with a mini refrigerator and stuff it with cakes, cookies, and water bottles. Reminder, being hydrated is a must.
18. Breath In, Breath Out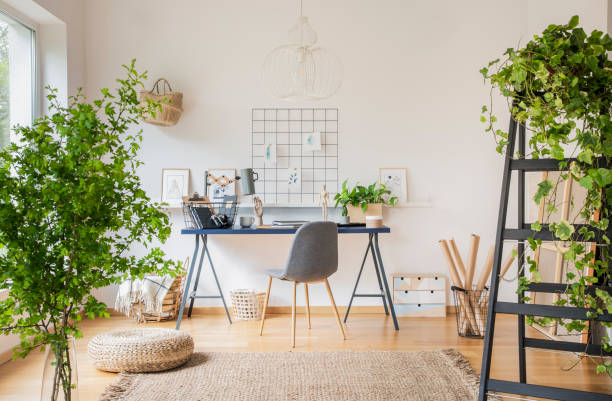 Meditating, be it for 5 minutes, helps calm the mind and problem-solving. Making it a routine while working can increase productivity and critical thinking. Here are some great office-in-the-bedroom ideas to levitate the office in the bedroom easily and nicely:
Meditation Mat and Cushion
For mindfulness and relaxation sessions, cover an area of the bedroom for meditation. Decorate it with warm breezy colored spiritual signs.
Incense and Aromatherapy
A hectic schedule can be brought to peace by lighting incense sticks and enjoying aroma therapies
19. Theme-Based Offices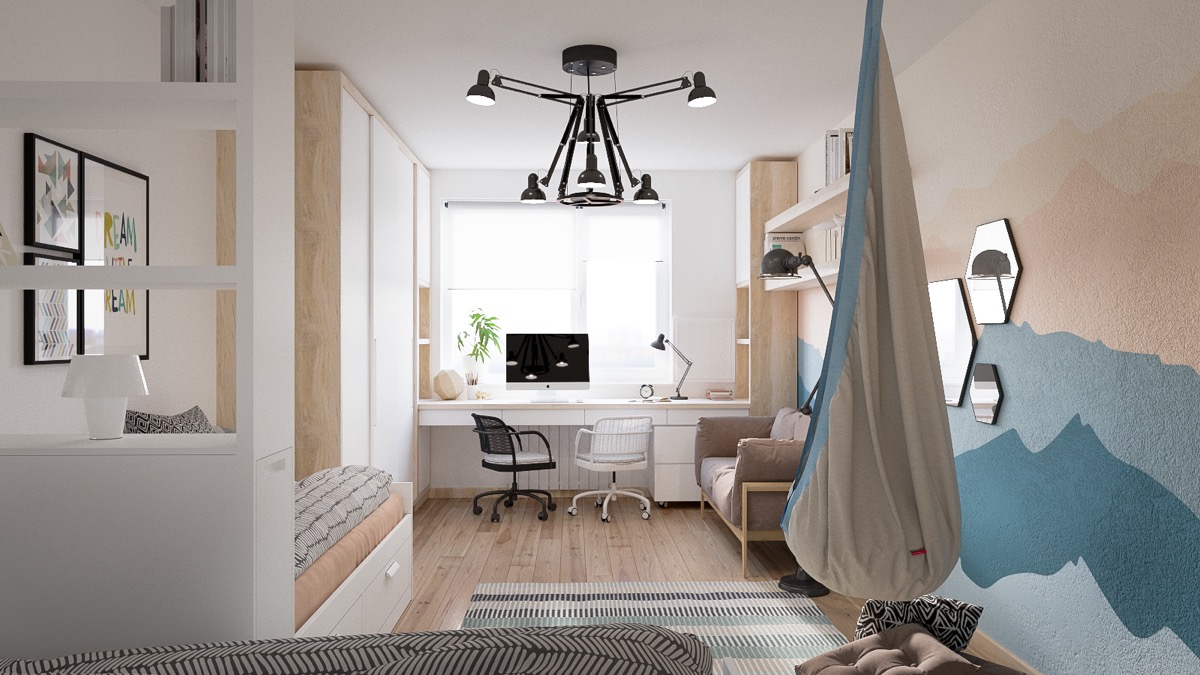 An office could look more pleasing when the design theme is coordinated. It calls for professionalism and a sophisticated look. Here are some office design themes that you can consider for office-in-the-bedroom ideas:
Bold and Classic
Design the office with dark shade combinations like black, gray, brown, and maroon to give a sleek, expensive outlook. Make sure to assemble all the stuff required in the office color-coordinated.
The White Mercy
For having an office with natural lights intervening and a view of nature, it is suggested to have brightly colored themes like white, cream, and beige. These tones possess calmness and serenity.
Aesthetically Pleasing
For those who need to keep Instagram updated, aesthetic themes with pastel colors, furry rugs, coffee mugs, and soft lights are the best way to design the office.
Art-Loving Space
For art lovers, abstract paintings, creative hangings, and handcrafted table stuff are best to showcase personality.
20. Gamer's Heaven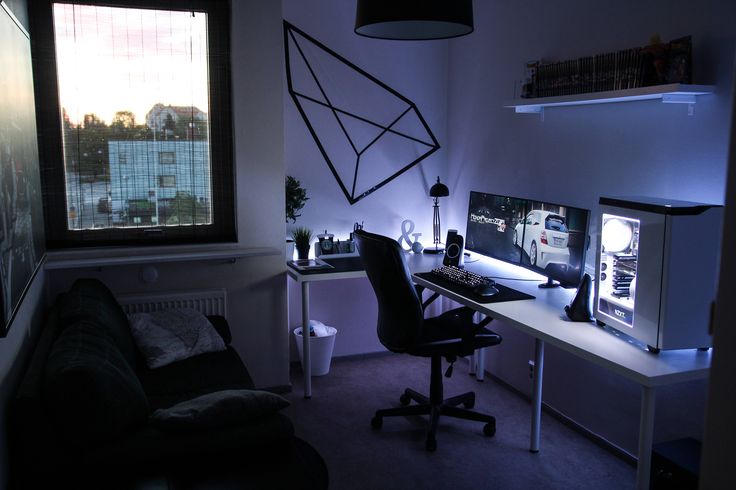 The new profession of gaming is spreading rapidly, and so is the need for office-in-the-bedroom ideas.
Cool Cameras
The gamer's space should have a proper setup of recording, cameras, headsets, noise cancellation walls, and good technologies. A desk to fill up plates for the adrenaline rush is directly correlated to a tempting tummy rush. Charging ports and Alexa or Siri are the necessary salt to the gamers' space.
The Special Space
Coming to the themes, the space should have dark colorful lighting with neon lights, game posters, comfortable gaming chairs, gamer's initials on the walls, and other decorations reflecting the personality of the attractions. These office-in-the-bedroom ideas will make your room stand out and, of course, a gorgeous attraction for your friends.
21. Make It Lively
Art is the best source to fill energy oneself. It makes a person live life willingly. Surrounding oneself with interesting artworks can help a lot in curing anxiety and workload.
DIY Art and Crafts
This section of office in the bedroom ideas is overpoured with aestheticism and color. For starters, you can create artistic showpieces and wall hanging to decorate the office, as it will develop a sense of attachment to the workspace. The perfect mood board with your desired themes like 'Dark Academia,' "Van Gogh's starry night' or maybe 'Travel-based themes with Burj Khalifa or Eiffel Tower will just light up the room in the best possible way.
Collaborative Artistry
Ask out friends and family members to bring a deep and self-created artwork that would help to increase positivity in hard times. You can add in self-written poetries and quotations to give a self-tone to your space.
Final Thoughts
This was all that we could gather to make your safe space sober and stylish. After a hectic day, when you return to your relaxing bed, all that matters is a beautiful space to replenish your soul and brighten your eyes. A little effort here and there will get you your perfect paradise right in your abode.
Working hard could get more exciting and fun when done in a habitual and pleasing environment. Here, all the promising office-in-the-bedroom ideas are screaming to be adapted, and watch one getting successful. Open the journal and mark favorites from these all to embrace office extraordinarily.
The recommendations provided are the best in every possible aspect. Either simply rely on these tips and tricks or collate some ideas from above and create your own unique idea to speak your style.
Sierra Rivera, a passionate home decor enthusiast, runs the popular blog CozyCottageCute.com. Sierra shares decor tips, DIY projects, and personal insights. Off the blog, she's often at antique markets or redecorating corners of her own space.