21 Farmhouse Decor Ideas from the Experts for Your Home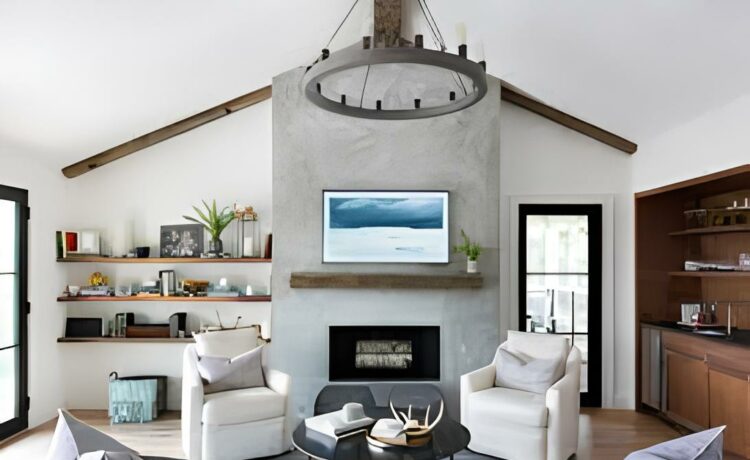 A brand-new twist to the classic decor, the unusual pop of colors, the blend of contemporary style with the vintage boho – the modern bohemian decor stands for a lot of things. These include elements that we would normally not imagine to be a part of our households. There are layers, there is fringe, you name it, and you have it.
This article is for all those people who always wanted a fresh look in their traditional farmhouse. If you have a farmhouse, most likely, you use this space as a holiday home or a zone where you gather with your friends, family, and loved ones during the holidays. And that is exactly why your farmhouse decor should reflect the vibe of fun and free spirit.
Using such kind of decor in the farmhouse puts everyone in that jovial, festive mood. Want to set your farmhouse up before you plan your next gathering?
Farmhouse Decor Ideas by Our Experts
1. A Rustic Bedroom
The symbolization of boho, when it comes to farmhouse decor, varies for each person. While bold, colorful patterns are a boho signature, using a bed of natural wood adds the element of rustic that boho stands for. Use a dark-colored wall behind the bed, throw pillows, rugs, and blankets that have unique designs and patterns.
Stick to a color palette of just a few bold hues to make the space stand out. You can also add a bold nightstand and a few decorative nester plants to complete the look of the space. You can make space below the bed to store boxes, luggage, etc. when visiting the farmhouse.
2. Tone It Down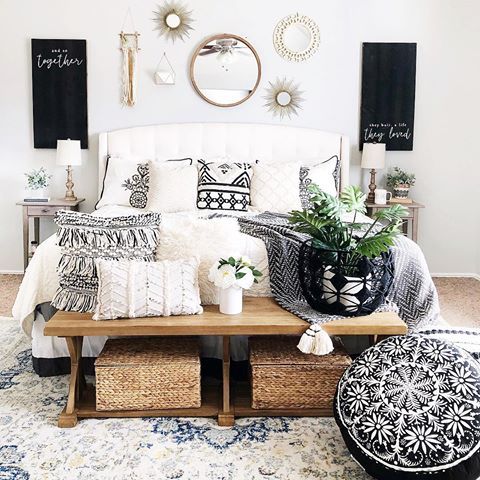 While many designers might argue that bohemian style is all about brightness and boldness, we disagree. Bohemian style can also be explored and showcased in its simplicity. If you are a lover of minimalism, stick to the black-and-white combination.
You can use accessories and Damask-inspired wallpaper to add the Boho style. Using fringe cushions or pillows is also a great way to incorporate this style in your farmhouse. The use of monochrome gives your space a clean and polished look.
3. Floral Prints and Framed Feathers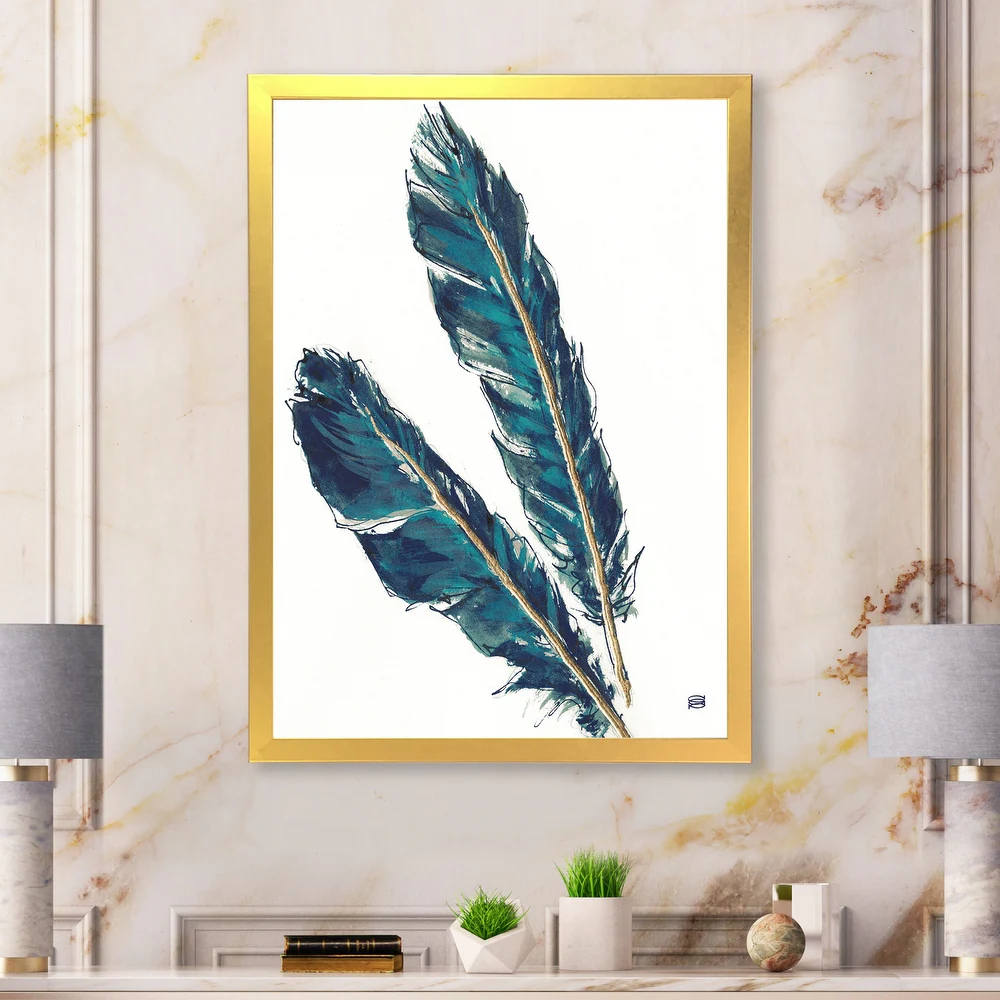 This farmhouse decor idea has been designed keeping in mind the living room. If you already have a fireplace, turn it into one made of bricks. You can stick to the natural tones or use white. Use floral prints (wallpaper) for the walls around the area. The floral background makes the space look more bright and vibrant.
Now for the boho decor, you can either use feathers that you might find around your farmhouse or store-buy them. Use vintage-style photo frames to frame these feathers and complete the look of the living area. To take the boho style a notch higher, you can use other decorative pieces around the area.
4. A Bohemian Porch
A farmhouse is most likely to remain incomplete without a porch. To add the free bohemian style, our experts suggest using Moroccan elements and patterns in the area. The furniture, decor, rugs, couches, and wall hangings – bring the Moroccan style to your doorstep.
A sofa with one high side, fringed textiles covering them, a wooden center table, and an armchair – when you combine them all, this space becomes warm, cozy, and welcoming. To add a hint of asymmetry, you can also use chandeliers and hanging lights at different heights. Make sure to decorate the space in a way that the porch is well-guarded and talks highly of privacy.
5. Matching Bedding & Wall Decor
If symmetry and synchrony are something that you live for, this is an idea that you will fall in love with. Your farmhouse should display your style and personality. This is the space where you are the host. No matter which rooms your guests are in. They should fall in love with it. For a perfectionist like you, our experts suggest using a combination of dark gray bedding and white pillows.
The kind of wall decor you use should also have the same color palette. You can use baskets in this case. If you are using this palette, make sure to keep the walls white. When choosing farmhouse decor, you do not necessarily need to stick to this combination. You can use combinations that you like to create a similar pattern.
6. Country-Style Laundry Room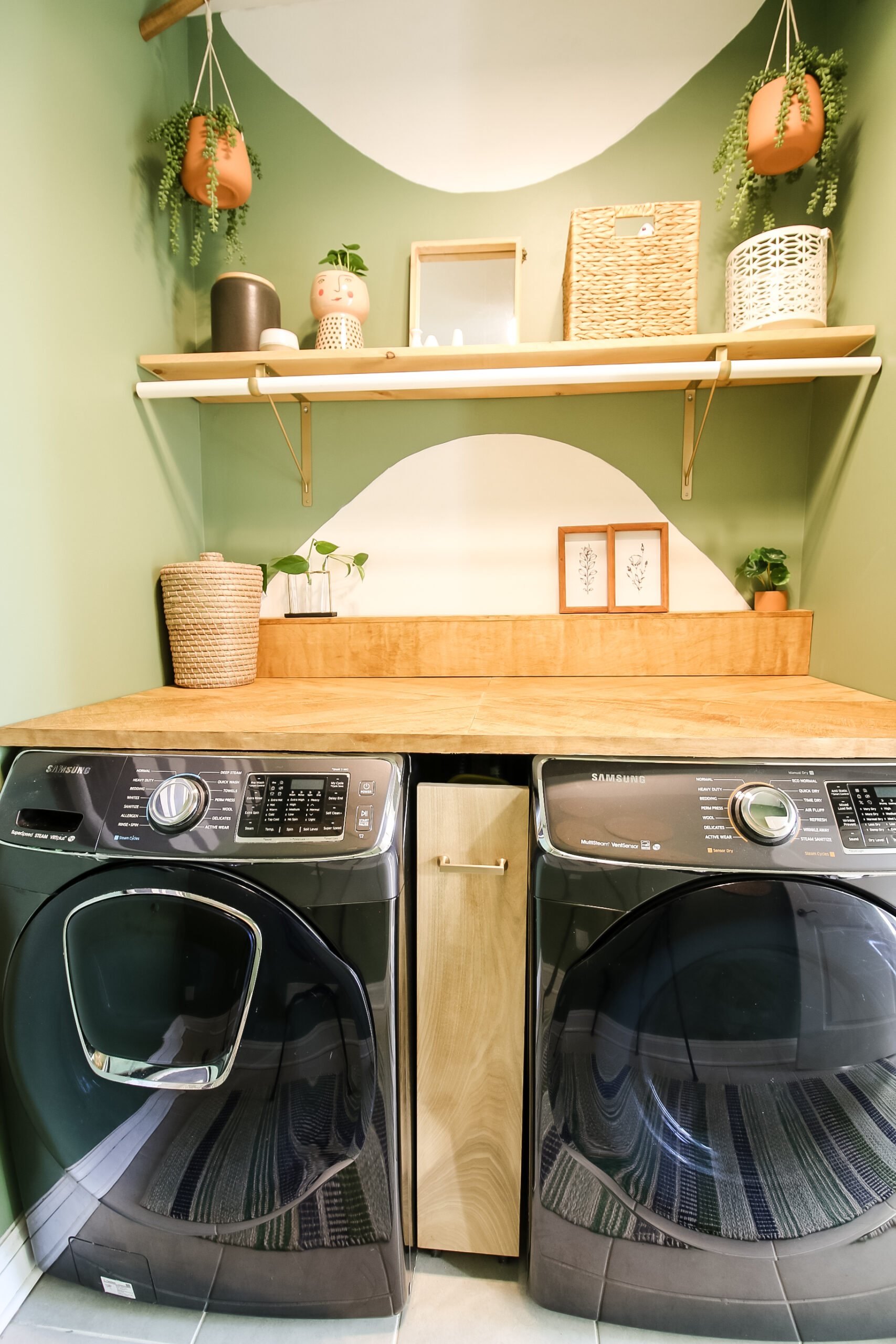 In this idea, we bring a combination of rustic charm and modern conveniences. Our experts suggest that you use vintage appliances, rustic sinks, and shaker-style cabinets. You can even use Boho-style wallpaper all over the space. Use natural materials such as wood to keep the free flowy style and warmth of the texture intact.
Macrame wall hangings and colorful textiles will help you take your country-style laundry room to the level of utmost grace. While the farmhouse might be a space that you visit occasionally, a laundry room is a must-have, especially if you have guests over a lot.
7. Dark Boho Office
In the past covid times, the home office has become the need of the hour. If an office is also a part of your farmhouse decor, here is how you can boho it up. Add a touch of mystery and artistry to your farmhouse workspace. The combination of black background and white decor in the fore is a great idea to achieve this goal.
Vibrant textiles, eclectic patterns, and plants are some of the most common ways to add boldness to the black background. Maintain minimalism when adding furniture; you do not want to make your office a storage space. Besides the regular chair and table seating area, you can also use bean bags or lower seatings.
8. Boho Bar Cart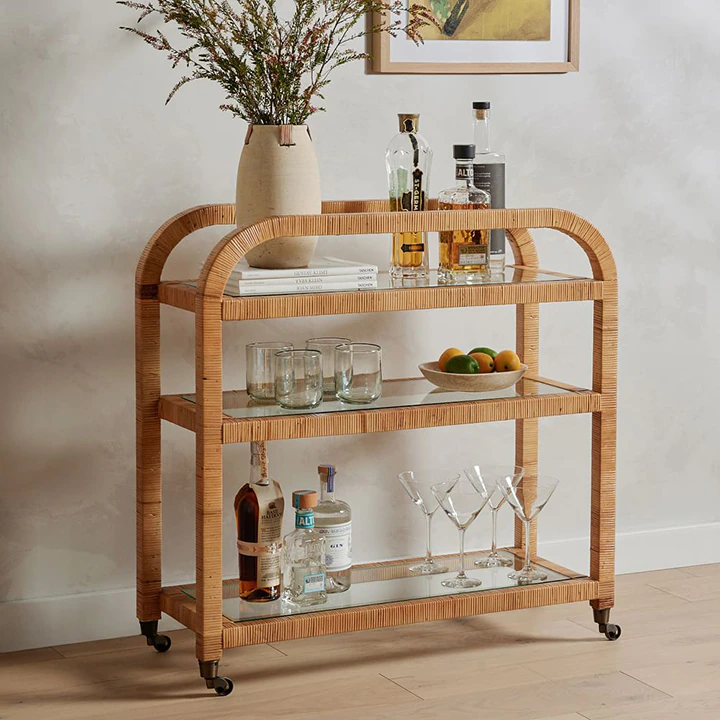 While most of the homes, including farmhouses, have a static bar, here is an idea to bring uniqueness. Install a boho-inspired two-tiered or three-tiered cart, and make it sturdy and spacious so that it can hold all your bottles and glasses to make it well-fit with the rest of the decor. Use natural materials like bamboo and fringe tapestries.
Use glasses from vintage-inspired coupes or hand-painted tumblers. You can also add fresh, colorful flowers to brighten up the cart. This uniquely-designed cart adds a whimsical touch and warmth to the space. What makes this a great addition is the fact that they can be easily moved from one location to another.
9. Bold Potting Station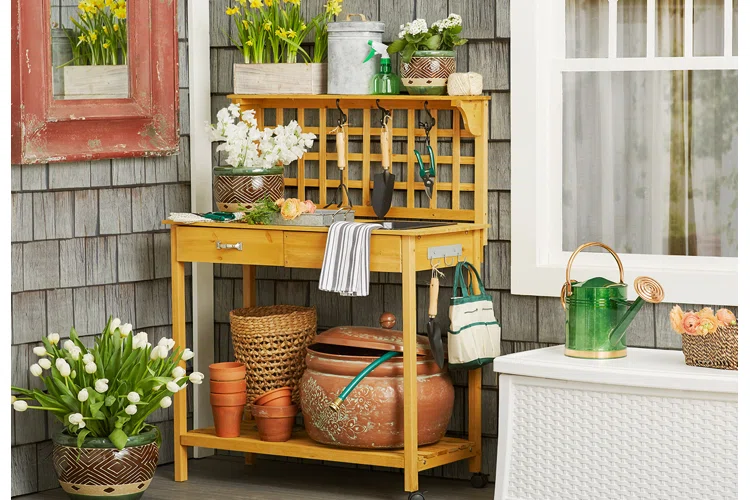 If you have been a plant enthusiast and for all the decoration, you can only think of plants; then this farmhouse decor idea is for you. Create an appealing and functional potting station, the runner used here and the back wall must be inspired by boho colors and patterns. You can even create the runner by yourself.
Make sure that the countertop is sturdy and can hold the weight of the plants. The one thing that you must keep in mind while setting up this space is that you must never use tall plants here. Create shelves beneath to store the gardening supplies. You keep the boho decor intact and shop for quirky, bold, and colorful pots.
10. Layer Rugs and Pillows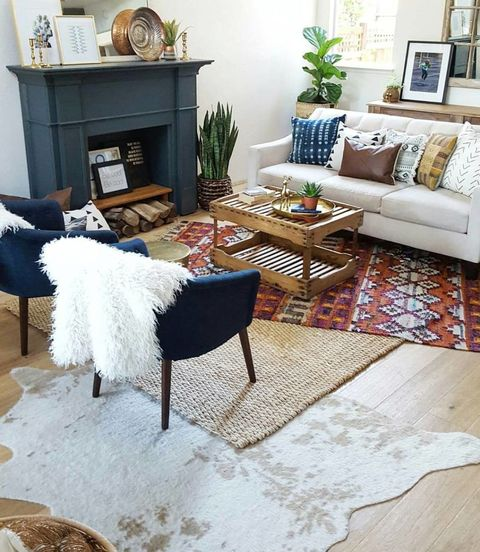 This decor idea isn't limited to just one part of the farmhouse. In fact, the layering can be seamlessly integrated into every corner. Layering rugs and pillows is yet another signature boho decor. Choose rugs of different textures, patterns, and styles and layer them in a way that they feel like a part of the extensive decor.
Just like the rugs, you can use pillows and cushions of different patterns, textures, and colors to build an asymmetrically symmetric look. Our experts suggest that you experiment with different combinations across the farmhouse unless you get the right fit. Layering is an age-old boho technique of creating vibrance in a space. Feel free to go crazy with your ideas.
11. Mix Vintage & Modern Elements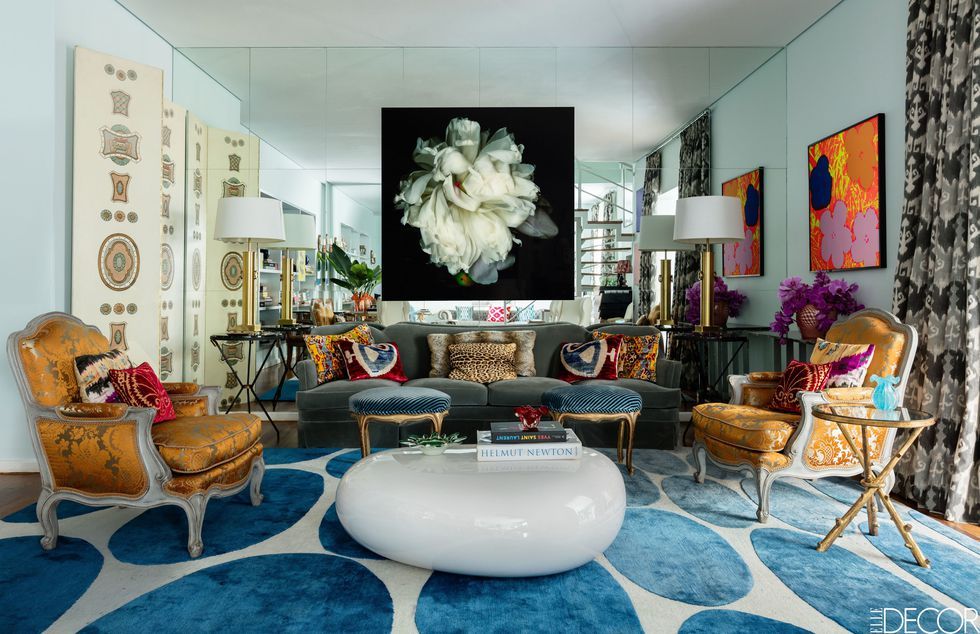 To integrate a boho-inspired look as a part of your farmhouse decor, you do not necessarily need to get rid of the modern decor and elements. In fact, our experts suggest that you make a perfect blend of the two. How? Use vintage furniture such as an armchair or a retro coffee table. Alongside, use sleek sofa designs and minimal lighting.
Watch modernism and classics blend like never before. When choosing this kind of decor, make sure to maintain the aesthetic value with the colors and materials used. While going on a journey of creating this contrast, the elements should not be so different that they end up looking like a disaster.
12. Use Statement Lighting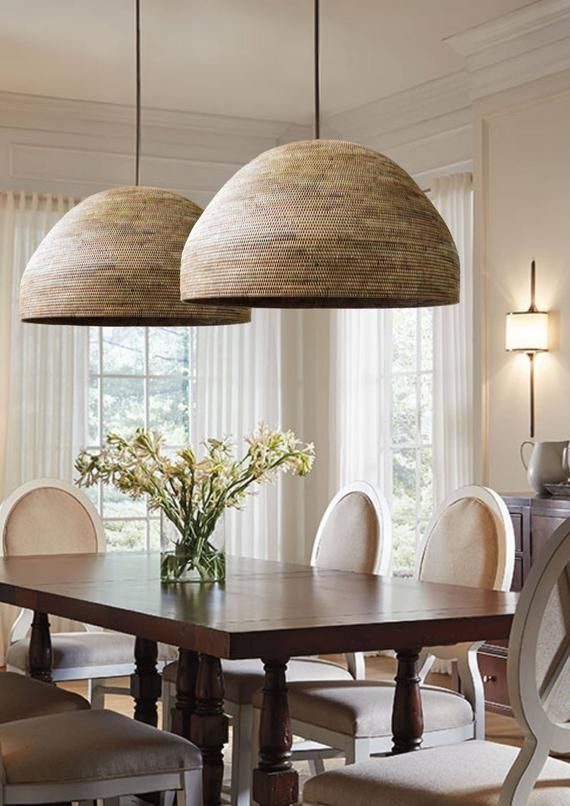 Lighting fixtures always make a huge impact on the kind of look that your homes get. When pepping up your farmhouse in boho fashion, it is important to be mindful of the lighting you use. Our experts suggest choosing statement lighting that complements the aesthetics of your living room while making a unique boho appearance.
There are a lot of light fixtures available that are made with natural materials like wood and bamboo. Choose them in interesting shapes and watch your space light up (well, literally). You can also add mood lights that change the ambiance just the way you like it.
13. Use a Lot of Art & Decor
While using decor in your home is always a good idea, using boho-inspired farmhouse decor, especially in the common areas, will take the look of it to the next level. Paintings, sculptures, and photographs that either depict something unique or have a bright and bold color are a great way to take your boho decor a level up.
Besides, you can also use vases, decorative bowls, and candles that are not usually found. You can even consider setting up a gallery in the living room displaying all the boho-inspired art. If your decor is a mix of modernism and boho, make sure to keep the art gallery slightly distinct from the rest.
14. Boho Textiles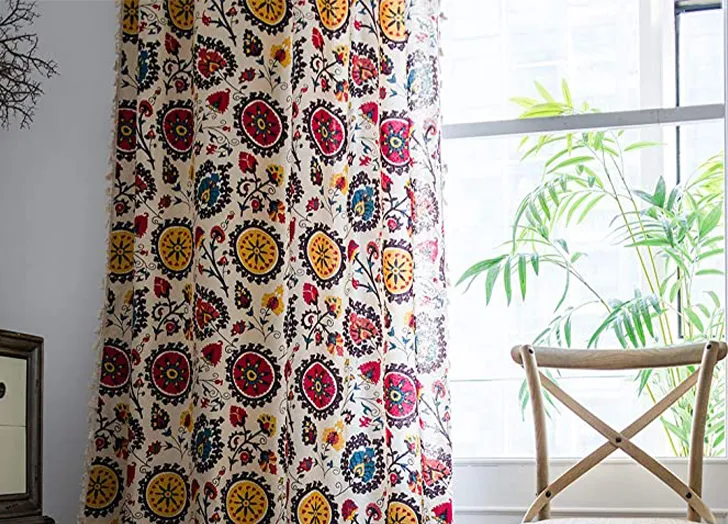 From curtains and rugs to pillow covers, runners, etc., the kind of textiles you use play a significant role when going for a boho-inspired decor. Textiles like velvet or knitted ones look amazing with this kind of look. You can also use wallpapers made of macrame and tapestries to complete the look.
The textiles used for different spaces can be a mix and match of different colors and patterns that are either complementary or contrasting. Try several combinations before you go with the final one of your choice. You can add more decorative elements within the house that go perfectly well with the boho-inspired textiles.
15. Use Macrame All-Around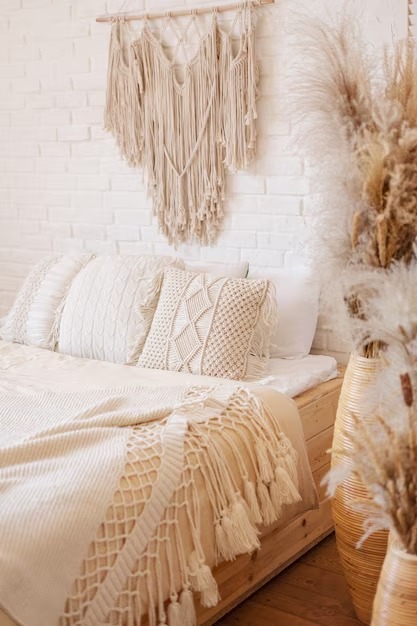 When it comes to boho-inspired farmhouse decor, you will be surprised to see the amount of macrame that is used in the households. The most interesting part of macrame is that it is not only used for decor. From curtains to furniture covers and runners, even pillow covers – macrame is a material widely used.
The artistic boho decor is also used for hanging plants or as a statement piece on a center table. Most items made from macrame are found in earthy tones, which makes them all the more appealing. Macrame is an affordable and versatile option for decorating every corner of your farmhouse.
16. Open Shelves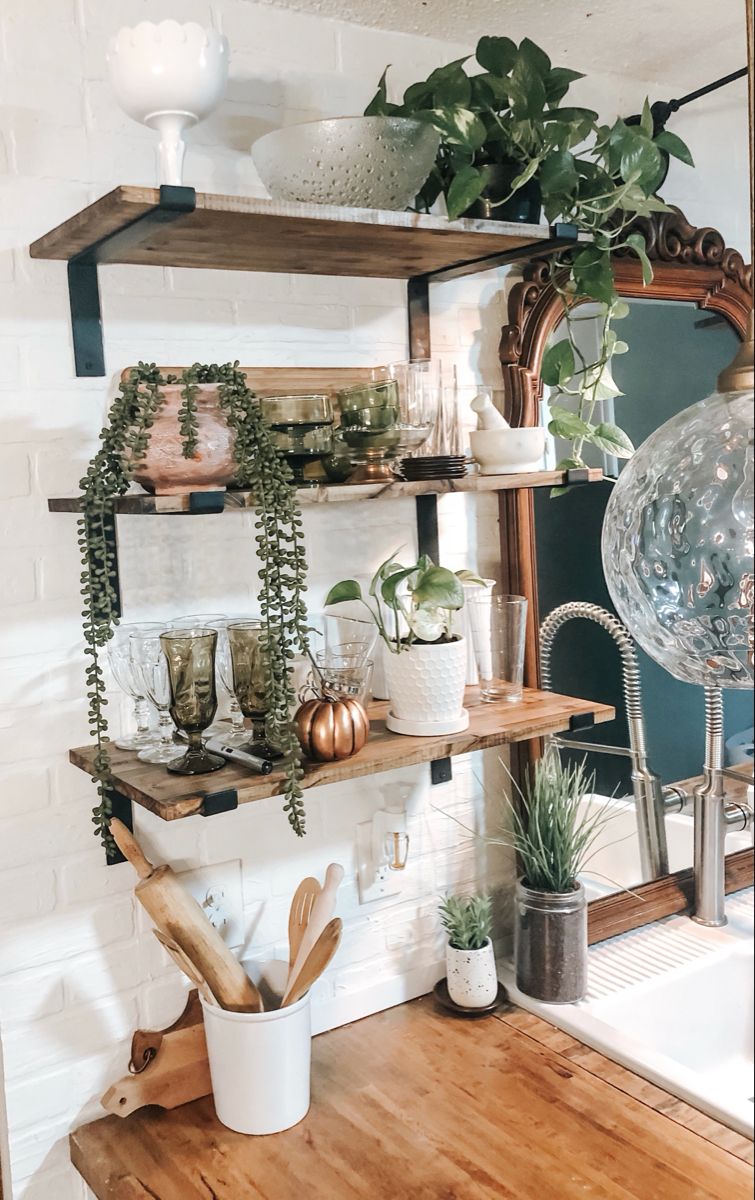 Another unique and popular modern boho decor is the open style of the shelves. Using these kinds of shelves allows you to display your favorite decorative piece, plants, and books without having to point them out to your guests. What is important is to choose the strategic locations of the open shelves.
They must be placed in a visually attractive manner and should gather all the attention. Our experts suggest using a mix of heights, textures, and patterns when installing these open shelves. It is not just about the shelves but also about the pieces that you would be placing on these shelves.
17. Install a Wall-Size Art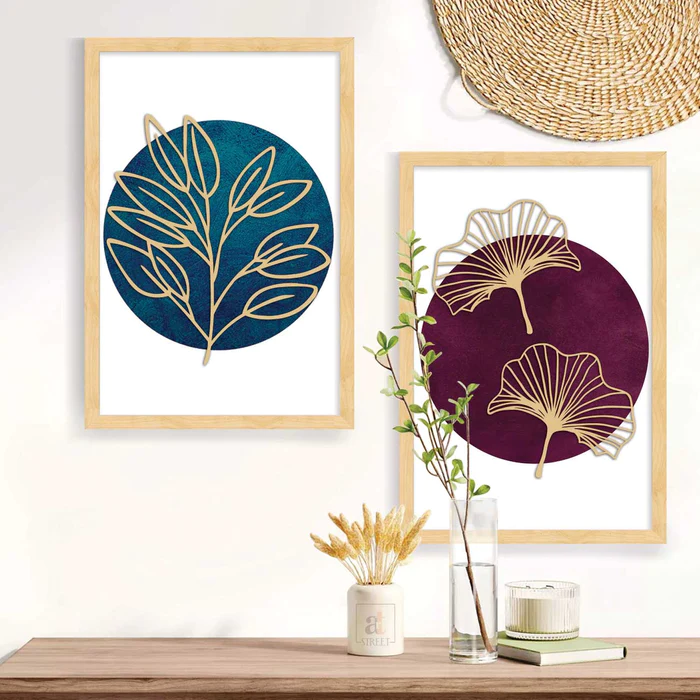 Boho-inspired modern designs are mostly about being abstract. And abstract art has been increasingly gaining popularity in recent times. If you are one of those people, it might be worth investing in wall-size Boho art as a part of your farmhouse decor.
The unique thing about abstract art is that they fit almost anywhere, and the use of versatile colors makes them stand out. Use an art that really pops or one that creates a contrast with the rest of the decor. This life-size art in a living room is a great way to add style and comfort.
18. A Rustic Reading Nook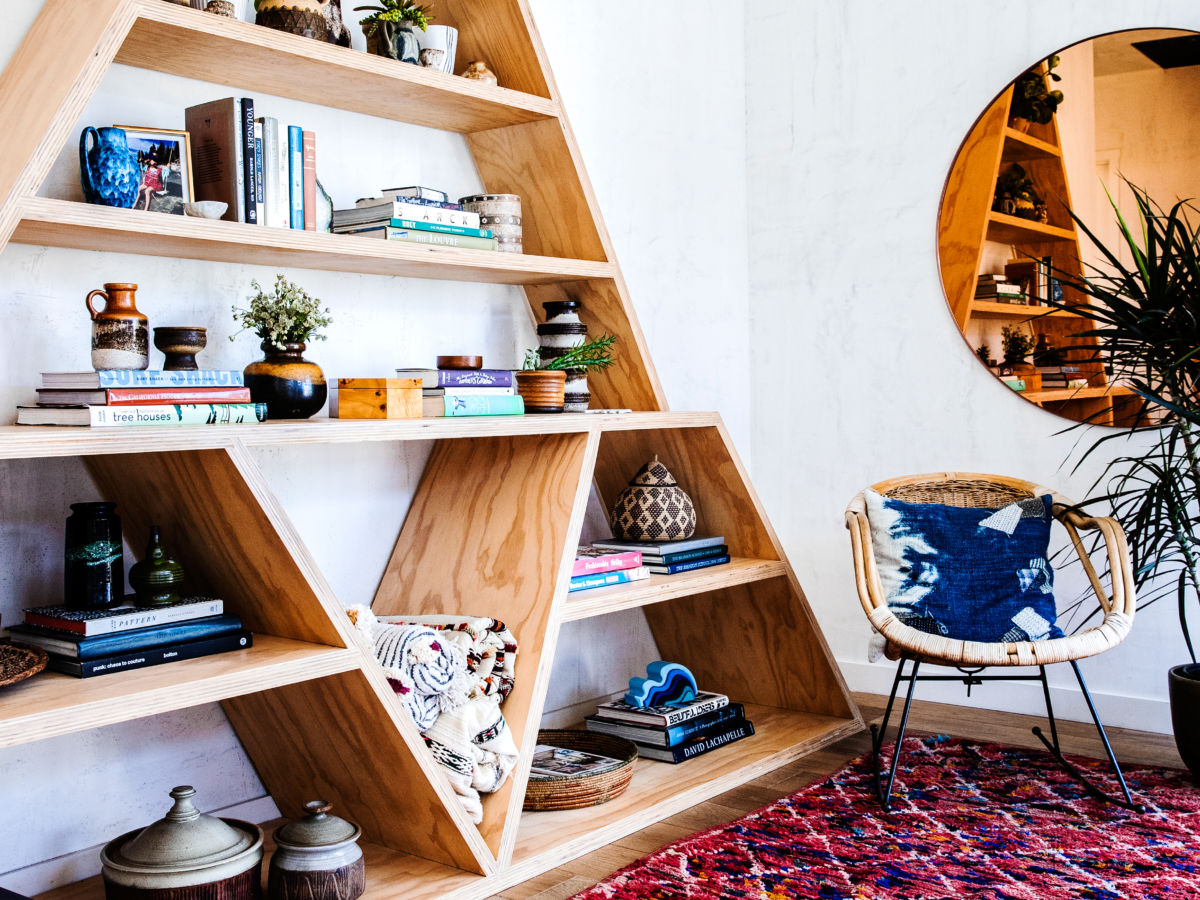 While some add a reading area because they love to see the books organized, others are actually readers. No matter the category you fall into, a rustic reading nook is the perfect addition to your boho-inspired decor. The space doesn't need to be too big. From the shelves to the sitting area, make sure to use natural elements like wood or bamboo and stick to natural or nude shades.
Add some plush pillows and blankets in patterns and a rustic coffee table to make the space warm and cozy. Keep this area quiet and away from distractions. You can also add a fireplace if there is enough space in the area.
19. Wall Hangings
They are an important part of the boho-inspired decor. These wall hangings can be a mix of materials and designs. But our experts suggest starting by choosing designs and patterns that resonate with your personality.
While mixing styles and designs, consider using a statement piece as the anchor. Be as creative as possible and play with different styles to add uniqueness.
20. Use Metallics
We always encourage using metallic pieces because they are sleek, they add shine, and they are an integral part of boho-inspired farmhouse decor. Think about the overall aesthetics of your living room or the farmhouse as a whole when choosing metallic finishes.
They should not look out of place with the existing decor. You can also add these unique metallic finishes to your bigger furniture pieces, like coffee tables and accent chairs. Take your time to complete this look.
21. Mirror as Decor
There is something unique about mirrors that is widely used as a decor piece. And when we talk about boho-inspired looks, this is no exception. The modern boho-style mirror usually has a decorative element.
This is true for both large statement mirrors and smaller creatively decorated ones. You can incorporate them as a part of your decor with the other pieces, as well as a standalone piece.
Conclusion
The fusion of modernism with boho-style farmhouse decor needs creativity and patience. When done right, this kind of decor is perfect for adding a distinct charm. Our experts understand that your farmhouse is the place where you relax and rejuvenate, and that is why every inch of the space should make your nerves calm and composed.
The 21 decor ideas that we have pulled together are meant to pinch your creativity and encourage you to try something new for your space. And most of the design ideas that we have spoken about can be seamlessly integrated into almost every part of the house.
Embrace the warmth of natural materials, vibrant textiles, and eclectic accents to give your space warmth and make them more inviting. Let your imagination run wild and give your farmhouse a rustic makeover.
Sierra Rivera, a passionate home decor enthusiast, runs the popular blog CozyCottageCute.com. Sierra shares decor tips, DIY projects, and personal insights. Off the blog, she's often at antique markets or redecorating corners of her own space.