11 Reasons for Choosing Kitchen Drawers Over Cabinets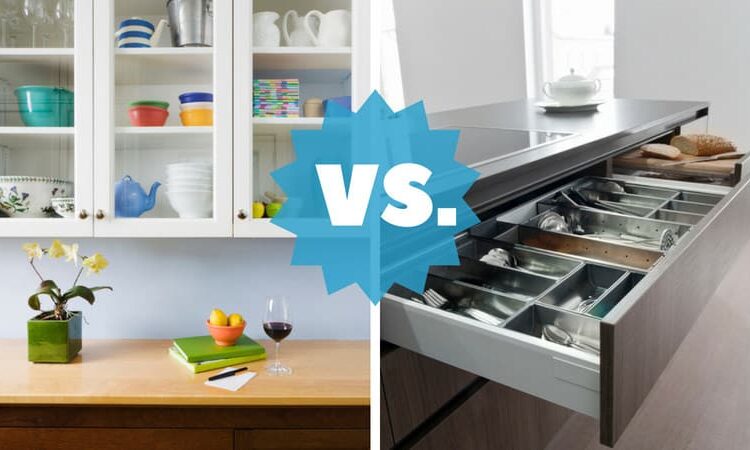 When it comes to the kitchen, sometimes many homeowners get fascinated by only design and don't make practical decisions and include these designs in their kitchen and later suffer from their impractical decision while accessing the kitchen daily basis.
According to kitchen interior experts, the kitchen needs some special attention when it comes to adding any interior elements in it, especially in the case of kitchen storage components.
In the kitchen storage interior aspect, one common question that people asks is what is the best option for storage? Kitchen drawers, cabinets, or shelves? And the experts' answer and suggestion is always "drawers." Here in this article, we are going to elaborate on why you need to have more drawers instead of cabinets and shelves in your kitchen interiors.
Apart from this, the article included some kitchen drawer cabinet ideas you can add to your kitchen.
Reasons to Get Kitchen Drawers Instead of Cabinets
1. Get Convenient Access
A kitchen with numerous cabinets appears very cluttered. Moreover, it consumes a lot of time to look for the necessary kitchen supplies, i.e., utensils, appliances, groceries, etc.
On the other hand, the kitchen, which is equipped with drawers, will allow you to gather your essentials with just the touch of a finger. As a result, you can enjoy hassle-free access to your kitchen with these pullout drawers.
2. No More Bending and Crawling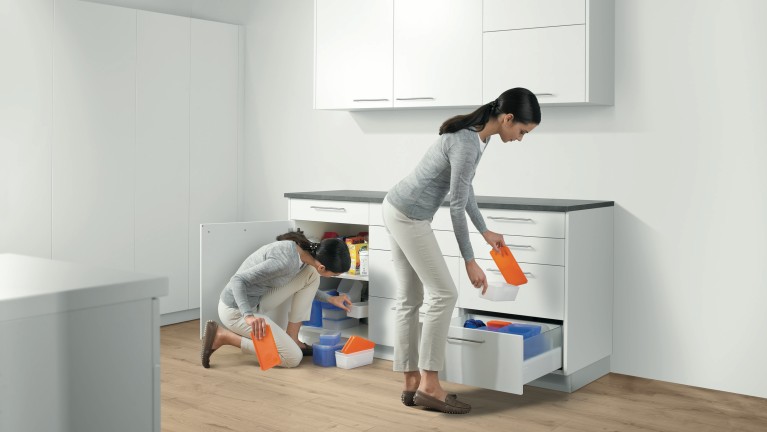 It takes a lot of effort to work in the kitchen for hours. In addition, if you have an impractical kitchen, this will be the worst kitchen experience. It might be a little exaggerated, but bottom cabinets are like a nightmare for any frequent kitchen user. Moreover, if heavy and necessary kitchen supplies are placed at the bottom cabinet deep underneath, then it requires unnecessary physical effort. To pull out these essentials, you have to bend a bit.
So to avoid this unnecessary physical exertion, kitchen drawer cabinets are the best solution you can include in your kitchen. It provides much ease to open with just a touch of the toe, and you can get your things right away without putting much effort.
3. Provide Subtle Organization of Kitchen Essentials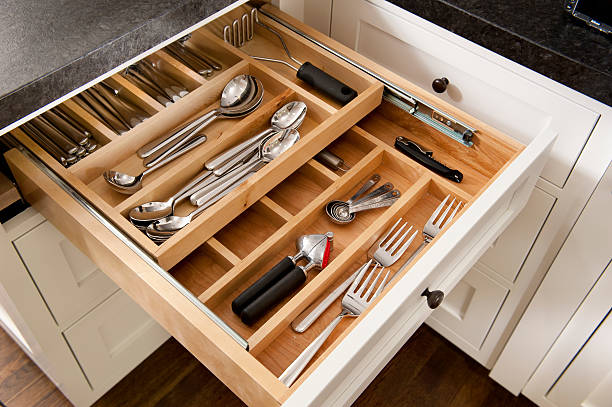 It is kind of a hectic daily job to arrange kitchen supplies in a particular way – especially in the case of cabinets or shelves. Even though we sort these cabinets on a regular basis but still can't stay organized as we expect them to be; you will notice a change of place every time you use them and place them in different places.
Whereas, in the kitchen drawer cabinet, it won't happen. These drawers provide far superior organization ease with their pullout feature. Basically, drawers can be pulled out entirely. Ultimately it will help to keep things well organized all the time.
4. Get Visibility of Supplies
Whenever we work in the kitchen, we expect to have our required supplies on our kitchen countertop without struggling to find them. However, we can't avoid this struggle in the cabinet structure to search for items like groceries, utensils, napkins, etc.
In contrast to cabinets, the kitchen enclosed with more drawer system for storage provide exceptional visibility. Hence, you can locate your required supplies within no time with the least effort.
5. Bears Heavy Load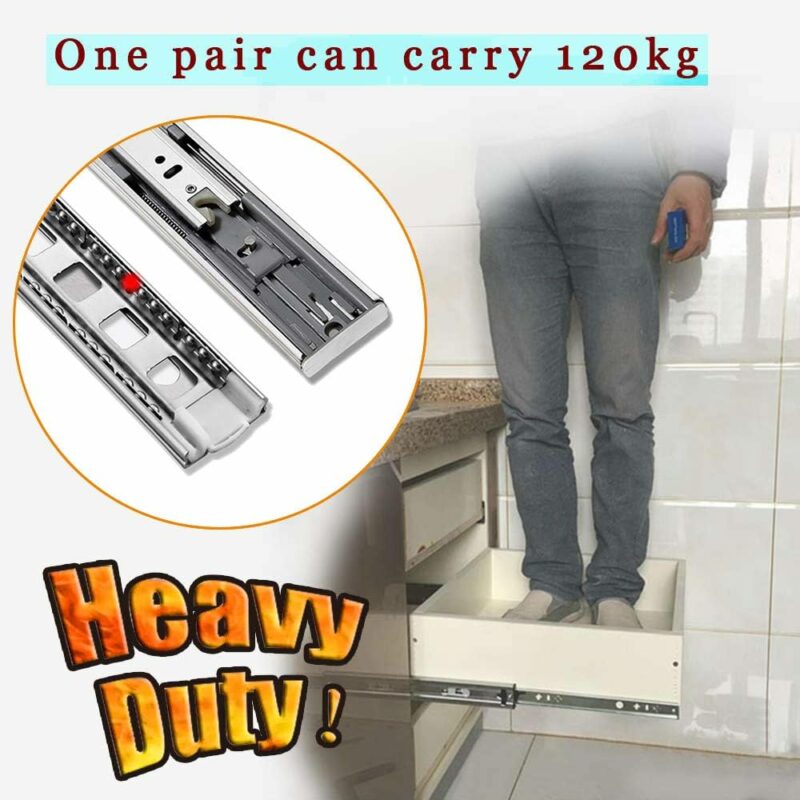 When we think of kitchen storage components, it is essential to install a heavy-duty storage system. As long as we think about cabinets and shelves, they are the least expensive option you have for the kitchen. But when it comes to its load-bearing capacity, it won't offer you sturdiness.
In the kitchen drawer cabinet, it will be exactly the opposite. The drawer system has a prestructured soft close channelmechanism. It provides strength to the drawer. Hence, the drawer system's load-bearing capacity is quite high compared to shelves, wire racks, or cabinets.
6. Space Saver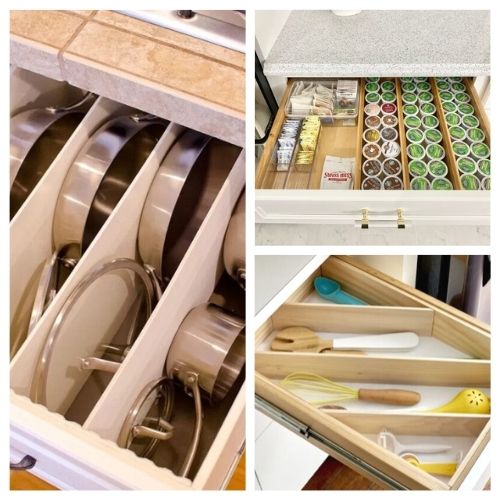 Kitchen cabinets with doors consume a lot of space in your kitchen. Most of the time, they have partitions, and we tend to use the front areas of these cabinets. So the underneath area of these cabinets remained unused. It would be just a waste of space.
As long as kitchen drawer cabinets are concerned, they offer access throughout the space with their entire pull-out system. Adding numerous cabinets and blocking your kitchen space won't be required. In addition to this, there are various space-saver kitchen drawer cabinet solutions available in the market, like hidden drawer units, deep drawers, shallow drawers, lazy susan, etc. There are trending corner cabinet and falls drawers system or under-sink organizer for space under the sink area that is also available for space utilization.
7. Offers Customised Drawer Solutions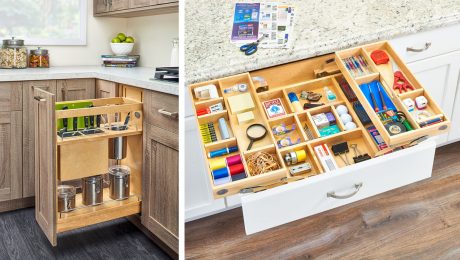 Kitchen cabinets, especially with doors, won't provide the option of customizing. We can't customize them as per our requirements because of their less flexible structure. Hence, most of the time kitchen seems unorganized and cluttered.
On the contrary, kitchen drawer cabinets offer a great customizing facility with a flexible structure. We can customize these drawers according to the accessories we are going to store in them. Moreover, some interior solution-providing companies are providing seamless and practical drawer solutions with various types of organizing inserts. Like cutlery trays, custom pull-out drawers for utensils, napkins, papers, garbage, etc.
8. Ideal for Small Appliances Storage
We use lots of small appliances daily, i.e., toasters, electric kettles, coffee pots, instant pots, hand mixers, and many other appliances. For storage of small appliances, cabinets can be preferred. But still, as we already discussed, cabinets can not stay organized. Thus every time we go to grab that appliance, we have to face a struggle to get that appliance in and out.
The ideal option for small appliance storage is drawers. We can place them according to our access to this particular appliance. For example, in the morning, if we prefer tea, we will place the tea kettle in drawers where we can easily reach it. And after usage, we can put it back in the same drawer. It ultimately makes your kitchen countertop look less cluttered.
9. Strong and Sturdy Components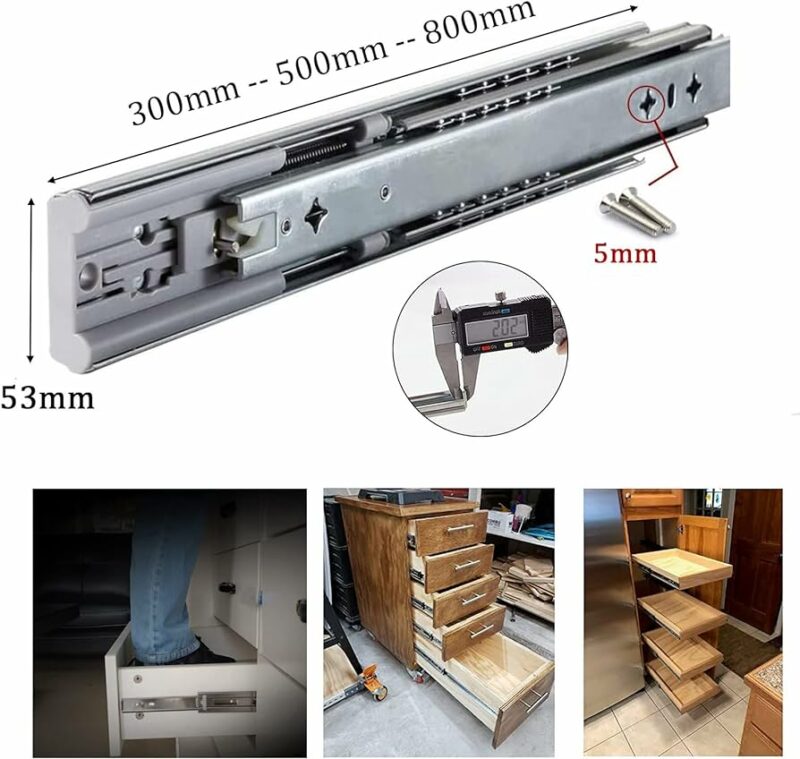 It is very important to have sturdy, long-lasting materials in modern kitchen interiors. Even though cabinets with doors are sturdy, they demand frequent maintenance. And though it is funny, it happened to everyone that cabinet doors remained open most of the time. This habit can damage the overall cabinet structure.
Whereas we talk about drawers, you can notice we always put them in our drawers after every usage. In recent years many brands have come up with the best quality and long-lasting kitchen interior systems. They offer kitchen drawercabinets with strength and rust-free features. Some brands even offer warranty periods and maintenance services too. Overall sturdy drawers are a more suitable option for kitchens.
10. Easy Sorting of Kitchen Essentials
As we all know, a sorted kitchen is like a haven for every frequent kitchen user. So when we need to sort kitchen supplies, cabinets can cause a disaster with their basic storage feature.
On the other hand, drawers are like saviors. We can sort things out and put that particular accessory into the dedicated drawer. For instance, drawers for pots and pans, cutlery, glassware, Tupperware, plates and bowls, and so on. Somehow this easy sorting feature of the kitchen drawer cabinet pulls out half of the load of our work.
11. Provide Accessibility for Every Age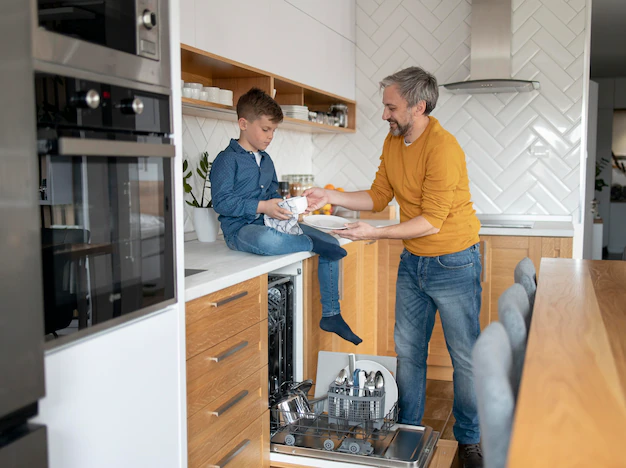 Families with elders and toddlers need easier access to the kitchen. In the case of cabinets, it will be difficult to get any necessary things because it has limited visibility, so they need to dig out all the elements to get the required thing.
Visibility will be a plus point for occasional users of the drawer system. Moreover, for kids, we can spare middle or bottom drawers. So they can easily get their glasses, plates, or bowls without the elder's assistance.
The above information will surely guide you in choosing the appropriate kitchen storage system for your kitchen. After getting through the prime part of the article, let's move forward and see where we are going to share some practical kitchen drawer cabinet ideas. These ideas can be incorporated into your kitchen as per the overall structure of your kitchen.
Beautiful and Efficient Kitchen Drawer Design Ideas
1. Enhance your Kitchen with Elegant Kitchen Drawers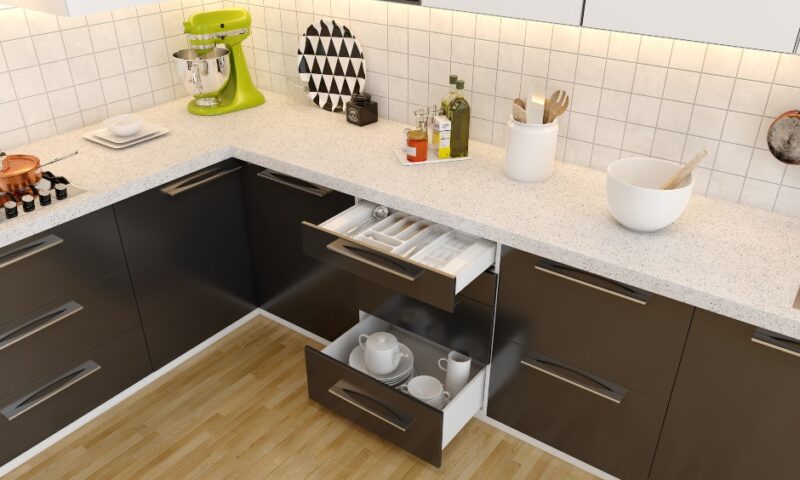 These charcoal gray colored kitchen drawers upgrade the look of the kitchen. Drawers are aligned with cutlery tray inserts and shelf liners, making users enjoy the kitchen's struggle-free environment. The usage of steel and practical board material with a soft-close mechanism showcases the sturdy nature of these kitchen drawers. You can include this subtle and practical kitchen drawer system in your kitchen to encourage your cooking experience.
2. Add Custom Pull Out Drawers
As you can see in the image homeowner has included customized kitchen drawers. This beautiful all-white kitchen countertop is accessorized with custom upper shelving and base shelving. The main attractive feature of this kitchen is the useful custom garbage and paper pull-out drawer. You can add these drawers to encourage your cleaning habits while cooking. Moreover, it will help you to put your kitchen countertop less messy.
3. Install Dedicated Kitchen Drawers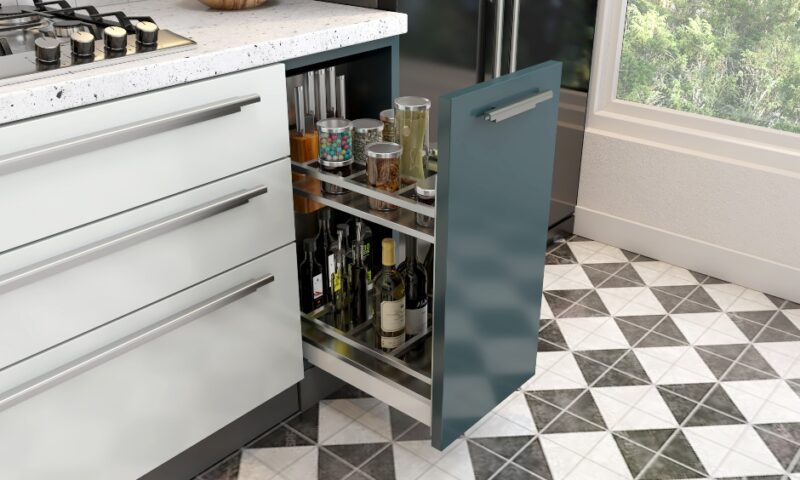 Most of the time, we feel like our kitchen is a mess and disorganized. However, to solve this problem, you can install drawers to place particular supplies in particular drawers. As the image shows, the pull-out drawer is specifically made for spices and liquor storage with shelf liners. This feature of the drawer will end your struggle to locate your required elements, i.e., groceries, utensils or appliances, etc.
4. Enclose More Drawers in Your Kitchen
Kitchen cabinets with drawers are best in comparison to doors. They tend to use the entire space of the kitchen, unlike cabinets with doors that won't allow them. In this image, the homeowner only included drawers at the kitchen countertop's base part. It helps to get quick access to the required accessories without any hassles. You can think of this practical design to add to your Kitchen.
Conclusion
As we all know, the kitchen area of our house needs easy access for every member of the house. But most of the time, we fail to get an accessible kitchen. And a major reason is disorganized kitchens and the storage system. It certainly needs improvisation. Adding a kitchen drawer cabinet is a great choice to get that improvisation.
In this article have discussed 11 reasons to guide you why a drawer system is better than a typical door cabinet and shelving system. We have also shared some kitchen drawer design ideas which you can implement in your kitchen.
This entire information will surely play the role of a guide in your kitchen organizing journey.
Sierra Rivera, a passionate home decor enthusiast, runs the popular blog CozyCottageCute.com. Sierra shares decor tips, DIY projects, and personal insights. Off the blog, she's often at antique markets or redecorating corners of her own space.