7 Trendy Open Kitchen Shelving Ideas to Fit Your Kitchen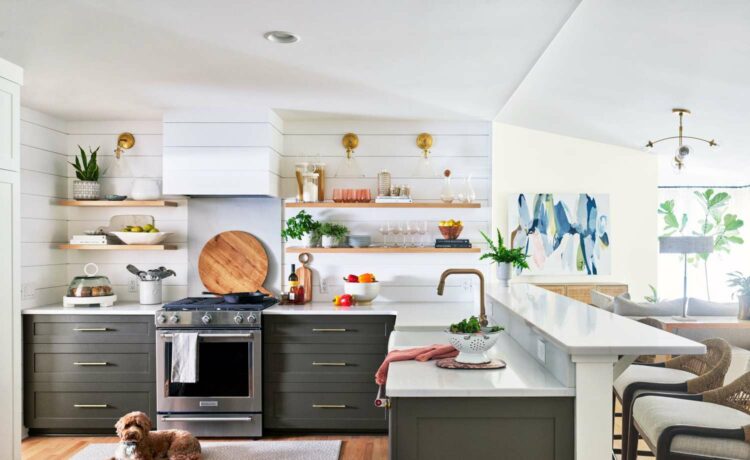 An easy way to improve the looks of your kitchen is to have open shelves, as every little detail in this room will make you more motivated. Although open shelves are not preferred because the clutter will be visible, when done right, these open shelves look stunning and are quite practical. These might be a good solution that helps you to clean and maintain your kitchen shelves effectively.
In addition, if you have some proud collections (e.g., ceramic bowls, teacups, etc.) that you want to show the world, displaying them on open kitchen shelves is a subtle way to do so. You can easily access the ingredients or utensils you need, and there is no need to search. All these benefits come at a budget-friendly price as well.
Since there are several options available, here are 7 trendy and functional open kitchen shelving styles.
Aesthetic & Functional Open Kitchen Shelving Styles
1. Wooden Shelves (With/Without Rails)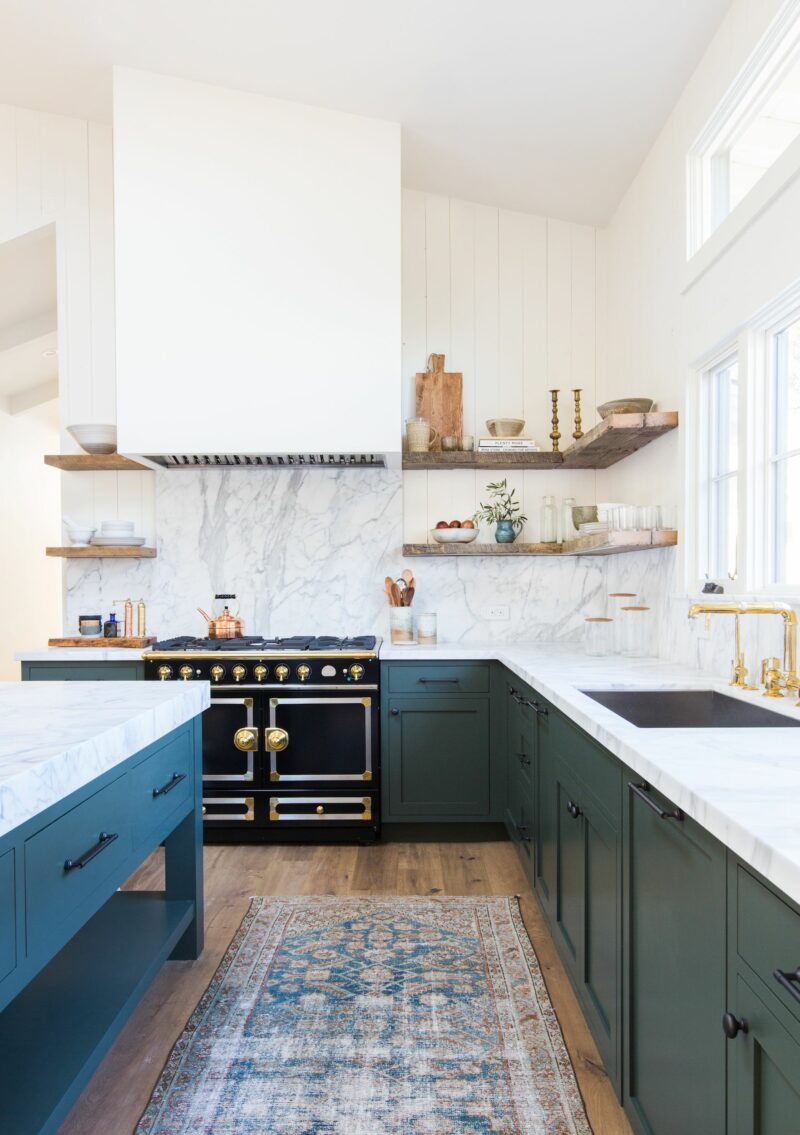 Wooden open kitchen shelving has been a popular choice for kitchens because of its versatility in usage and aesthetics. Regardless of what type of wallpaper or tiles your kitchen has, wooden shelves will most probably go well with it. For instance, it acts as a good contrast on tiled kitchen walls or colorful painted walls.
In addition, these wooden open shelves come in different styles, such as regular shapes like rectangles, squares, etc., having irregular edges, different colors of wood, different thickness, etc. These wooden shelves are durable and can withstand a considerable amount of weight when compared to shelves made of other materials. If you want, you can highlight your wooden shelves with brass or gold support shelf brackets. This will give your kitchen a royal and grand look.
A different open kitchen shelving style you can try experimenting with is to have a railing on the shelves. This will be another small detail that elevates the looks of your kitchen.
2. Remove the Doors of Your Cabinets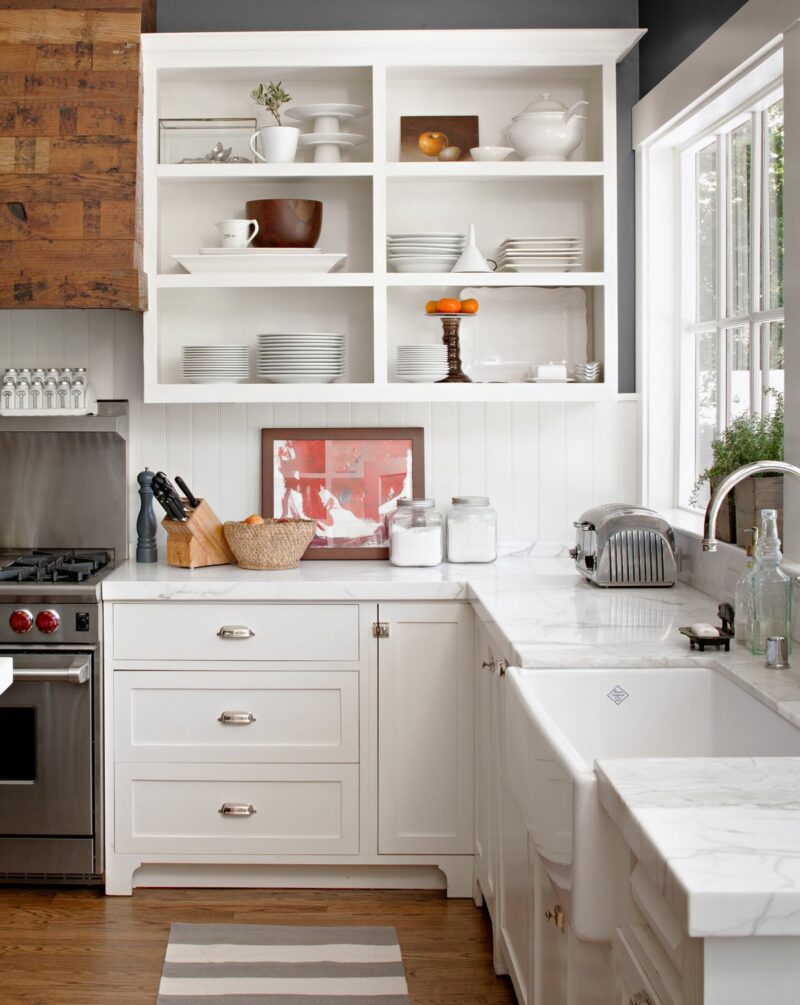 This is a method you can choose to save money, time, and resources. You can just remove the doors of your already existing wooden cabinets, and it will still look splendid. In fact, you don't need to install any new shelves, and you can even remove the door yourself. This makes it a simple and easy way to change the aesthetics of your kitchen. If you think the cabinets look plain, then you can paint them a contrasting color so they go well with the rest of your decor.
This is also another inexpensive way to update your kitchen. You will have enough storage, and you don't even need to figure out which goes where, as you can keep following your previous routine. You would already be familiar with the limitations and capacity of these shelves. Since you don't have the doors, you will not forget the location of the items, and therefore, they will all be used up when they are fresh. These are some of the benefits!
3. Farmhouse-Style Shelves
These rustic shelves in your kitchen can give it a warm and cozy feeling. These types of shelves are usually made out of wood which is distressed to give that natural look. What is unique about these shelves are the bigger and distinct shelf brackets that support them. They form a triangle and provide good support to the shelves, and so heavier utensils or materials can also be comfortably placed. If the wood is not of a proper shape, the open kitchen shelving looks even better.
However, these shelves can also be painted and added to modern kitchens as they will still look stunning due to their support brackets. However, because of the support brackets, you may not be able to place the shelves close together. Therefore, these shelves are a good idea if you have a lot of space on the kitchen wall. In addition, this style might not go well with a minimalistic kitchen because of its intricate details.
4. Glass Shelves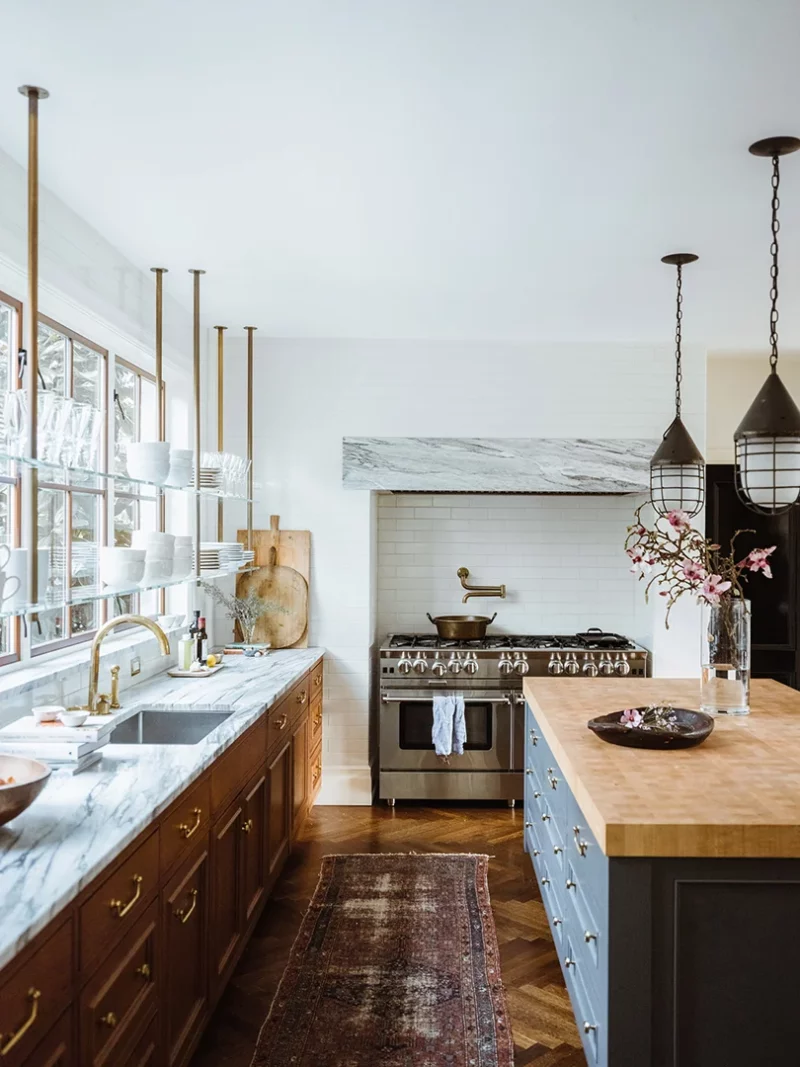 This style of glass shelves is also versatile, just like wooden open kitchen shelving. They pair well with modern and traditional kitchens. They are also thin and transparent, and easy to install. They don't take up much space when compared to shelves made of other materials and so you can have smaller open shelves even if you have a small kitchen area.
These can be quite sturdy also because they are made of tempered glass, but still, you need to have shelf brackets for support to keep these glass shelves in place. These brackets can be of any color and style, depending on your kitchen. For instance, if you have a modern kitchen, then it can be geometric, whereas if you have a traditional kitchen, then these support brackets can be curvy and in unique shapes. The color can also depend on the style and decor of your kitchen, but gold and silver are the most common colors.
But if you have children at home who will also access these shelves, you need to be careful and think through them before implementing them, as these shelves can break more easily. These shelves are a good choice if the purpose of the shelves is to display your precious collections. This is because glass can have better lighting as it is transparent, as opposed to wooden shelves, which require additional lighting. Also, the striking qualities of your collections can be seen from any angle. Therefore, depending on the purpose, consider this a reliable choice for your kitchen shelves!
5. Open Shelves – Same/ Contrasting Color as Your Cabinets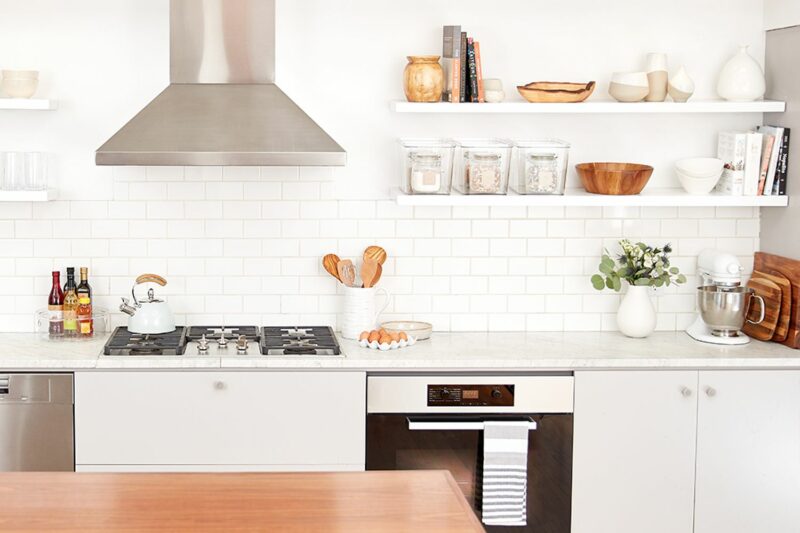 This is another style you can explore, as the shelf can be made of any material like wood or glass. Here, you can focus on the color of the shelves rather than the material. You can have these open kitchen shelving painted in the same color as your kitchen cabinets. This will give your kitchen a sense of continuity which looks pleasing to the eye.
You can also try painting these shelves in a contrasting color so that these shelves are bright and attention-worthy. For example, if your walls are white and cabinets are wooden, then deep shades of red, blue, or green will be good choices. In fact, if your cabinets are a bright shade, painting your shelves with the same color will also make your kitchen vibrant. The only additional task in this style, when compared to other styles, is that these shelves may have to be painted or custom ordered, which might make them more expensive.
6. Similar to Your Kitchen Backsplash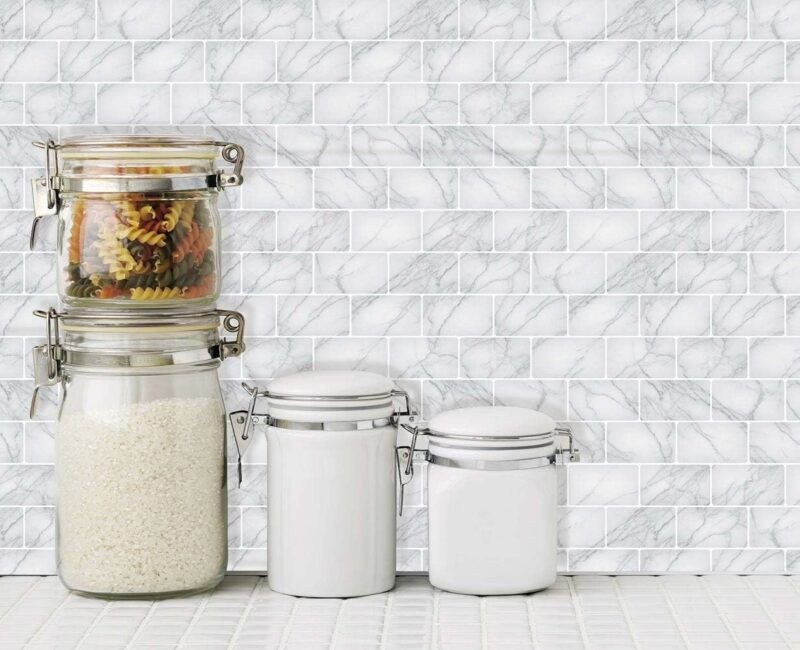 Kitchen backsplashes are added so that if the food or something spills on the wall during cooking, it can be easily cleaned up. Popular choices for kitchen backsplashes are marble, tiles, etc. You can consider having shelves that look similar to the backsplash, as this will also look splendid. For instance, if you have a marble backsplash, having shelves that look similar might be a good choice. It will look great and will go along with the rest of the kitchen walls.
However, this may not work out with different types of backsplashes like printed or specific types of tiles. But in this case, you can try making the shelves looks similar to the backsplash. This way, you can store more items as they will not be made of the same material as the backsplash.
Having your shelves made of the same material as your backsplash might not be the most budget-friendly choice or possible always. Because if your backsplash is made of marble, having multiple marble shelves might be expensive, or if your backsplash is made of metal, then also having shelves made of metal is difficult and may not be the best option. In these instances, you can try having open kitchen shelving similar to your backsplash. For example, you can have smaller marble shelves alternate with hanging storage or metal railings on wooden open shelves.
7. Open Shelves with Hanging Storage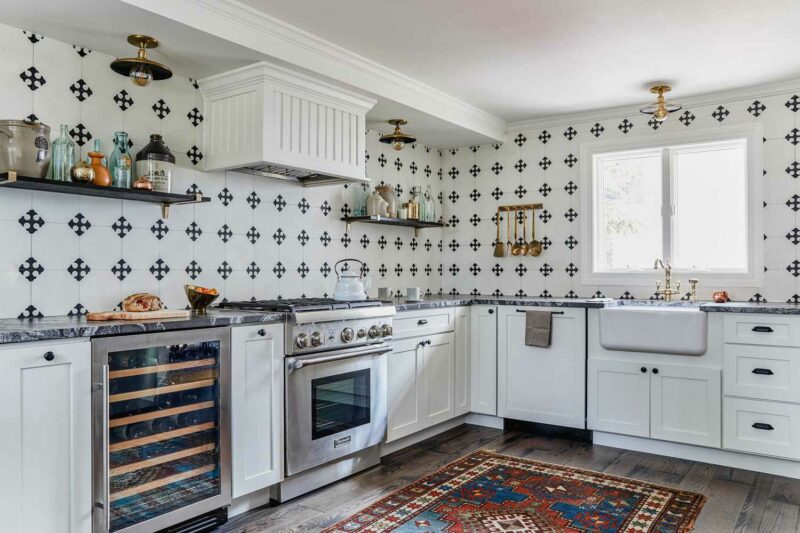 This type of open kitchen shelving will give you more options in terms of storage as the shelves will be alternated with hanging storage. This way, you can store more of your kitchen utensils like pans, different types of ladles, spoons, etc. This will make your kitchen more efficient as you can have your big utensils and ingredients on the floating shelves and the rest of the commonly used utensils on the hanging storage.
It will also be aesthetically pleasing, especially if your open shelves and the hanging storage are in different but complementary colors, like white shelves and golden/copper hanging storage. Hanging storage can be an option where having open shelves would be too cluttered or will take up too much space.
In addition, one benefit of alternating the open shelves with hanging storage is that you can prevent stacking up your utensils. Therefore, your utensils will be easily accessible and won't get scratched or damaged. You can store the commonly used kitchen utensils and appliances on the open shelves to save time in preparation.
Final Thoughts
Several choices are available if you wish to improve the looks of your kitchen, such as painting the cabinets, changing your backsplashes, or having open kitchen shelving. Having your utensils and cooking materials on display in open kitchen shelving styles will inspire you to try out more dishes and experiment. It will make you happy because of its aesthetic appearance and will make you more efficient at organizing in the available space.
Although you might dread or dislike open shelves because they make the clutter visible, when done right, these shelves effortlessly improve the looks of your kitchen and make it more sophisticated. Several ideas are available, but the most simple, efficient, and classy ones include having wooden shelves, removing the doors in the existing cabinets, painting the open shelves in different colors, alternating with open shelves, and hanging storage.
If you have tried or implemented any of the ideas mentioned, be sure to share them with us!
Frequently Asked Questions
Is Open Kitchen Shelving a Good Idea?
Yes absolutely! This type of shelving has several benefits, such as easy accessibility to your utensils and materials, proud display of your kitchen collections, better for organizing your equipment, ease of cleaning and management, and making good use of space as these can be installed in small spaces as well.
If I Have Less Space in My Kitchen, Which Type of Open Shelving Should I Try?
You can have your open shelves made of any material, although wood is the best option. You can try alternating your open shelving with hanging storage so that you can use every bit of the space available. You can also opt for open shelves, which are of the floating type (having no support brackets) because these shelves take up lesser space when compared to others, like farmhouse-style shelves, etc.
What Is an Inexpensive Way to Have Open Shelves?
The best way would be to remove the doors in your existing cabinets as this will give you open shelves easily. You don't need to spend money on buying new shelves or installing them. You can remove the doors by yourself as well. If you wish, you can repaint the cabinet shelves so that they go well with the rest of your decor.
Sierra Rivera, a passionate home decor enthusiast, runs the popular blog CozyCottageCute.com. Sierra shares decor tips, DIY projects, and personal insights. Off the blog, she's often at antique markets or redecorating corners of her own space.