22 Kitchen Cabinet Colors Ideas for Your Tuxedo Cabinets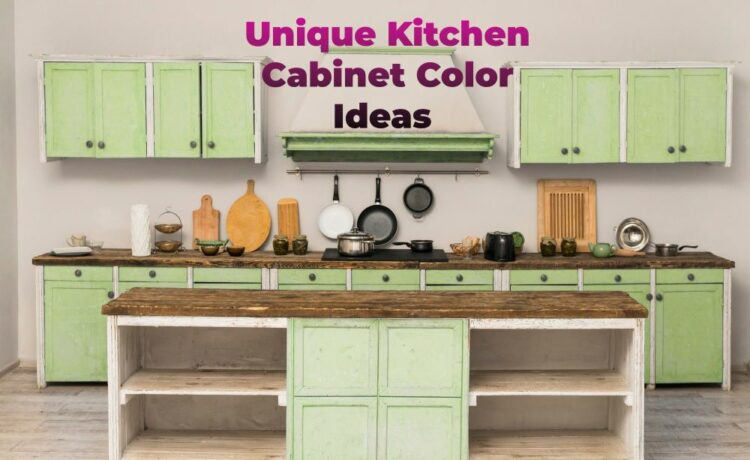 Tuxedo kitchen cabinets are really going out of style? Wait, if you are looking for an answer, then let me tell you, it can't be answered now. But this article will give you concrete information about kitchen makeovers with just a single activity.
We are sure your next question will be how? And the answer is simple cabinet painting activity can revive your boring or old kitchen without spending a lot of fortune in demolishing and rebuilding them. Especially if you have tuxedo kitchen cabinets and you want to add some colors to your kitchen, then without a doubt paint option is the best solution you will find.
In this article, we will discuss kitchen cabinet color ideas to rejuvenate the heart of your house, which is a kitchen with the least effort and minimum spending. We have rounded up 22 tuxedo kitchen cabinet paint pairing design ideas that you can try out for your kitchen cabinetry painting.
Before discussing the designs, let's take a quick look at some useful tips for planning a DIY kitchen cabinet painting activity.
So let's get started with the same.
Tips for Kitchen Cabinet Painting Activity
Firstly thoroughly clean or wipe out your kitchen cabinets.
If it is possible for you, then disassemble the cabinet doors.
Sand the corners and sides of the disassembled cabinet doors using a sand sponge. Use orbital sandpaper for large surfaces.
Wipe out the dust from the doors after completion of the sanding process.
After cleaning the cabinet doors, apply a first coat of primer on it and let it dry.
Use thin sandpaper and again sand the primer-coated doors and clean them.
Apply final paint on the cabinet doors. Try to apply two or three coats of final paint for durability. Use a similar method to paint built-in cabinets and let them completely dry.
After properly drying the cabinets and doors, assemble them back into the cabinets.
Tuxedo Kitchen Cabinet Paint Pairings Design Ideas
As far as kitchen remodeling is concerned, you will find tons of kitchen cabinet painting ideas in the market. However, you can't just choose any idea because it looks fascinating. Somehow, you need to pay attention to the elements in your kitchen already. According to it, you must apply the best paint color to your kitchen cabinets. Particularly to a tuxedo, or you can call it two-toned kitchen cabinets, you are thinking of adding two colors.
First and foremost, you need to understand the structuring of your kitchen, how much natural light it contains, which material or wood is used for cabinet formation, what kind of flooring you have in your kitchen, what kind of stone is used for the kitchen countertop, etc. After figuring out these aspects, getting the right cabinet paint paring will be easy.
Following tuxedo kitchen cabinet paint pairing designs will guide you in getting the appropriate paint pair for your two-toned kitchen cabinets.
1. An Ultimate Paring Gray & White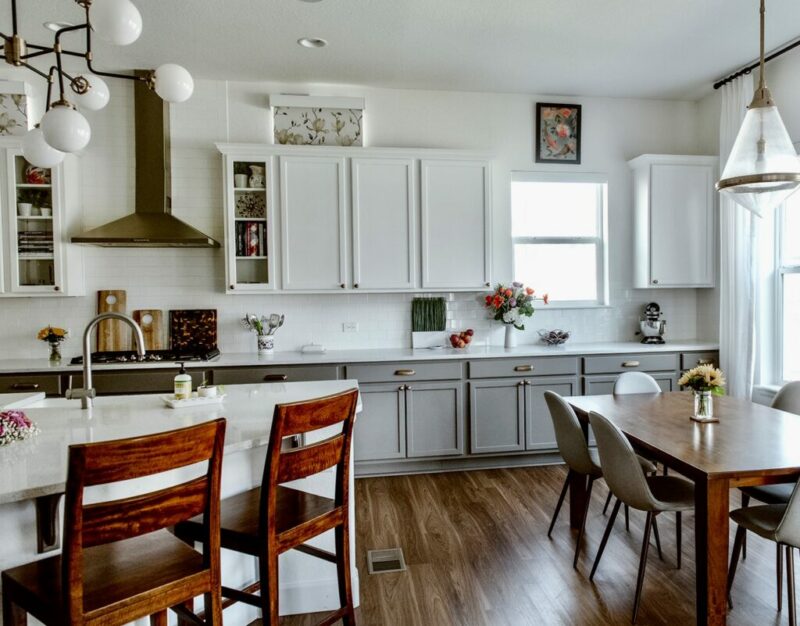 White paint is a safe choice for any kitchen. It adds clean and timeless beauty to your kitchen. In this image, the kitchen with wooden flooring and wooden furniture is where you can experience that beauty. Slight gray added white upper cabinets and light gray lower cabinets are creating a nice bright and airy wave in the kitchen.
2. Timeless Pairing Black & White
Although black and combination are extremely used since edges still have not lost their value. And this kitchen is a perfect example to prove that point. These tuxedo cabinets are not contemporary, but the paint pairing of the kitchen cabinets gives a new edge look to this kitchen.
3. Unique Contrast Pairing White, Gray & Navy
Adapting pastel paint shades in small spaces is unnecessary to make it look spacious. Sometimes it can experiment with different colors. Like, in this kitchen owner had added three shades to tuxedo cabinets in a small size kitchen. Upper white cabinets and lower gray cabinets are coordinated in a unique style with navy side cabinets. Altogether space flaunts nice contrast.
4. Guest Appearance Paring White & Sage Green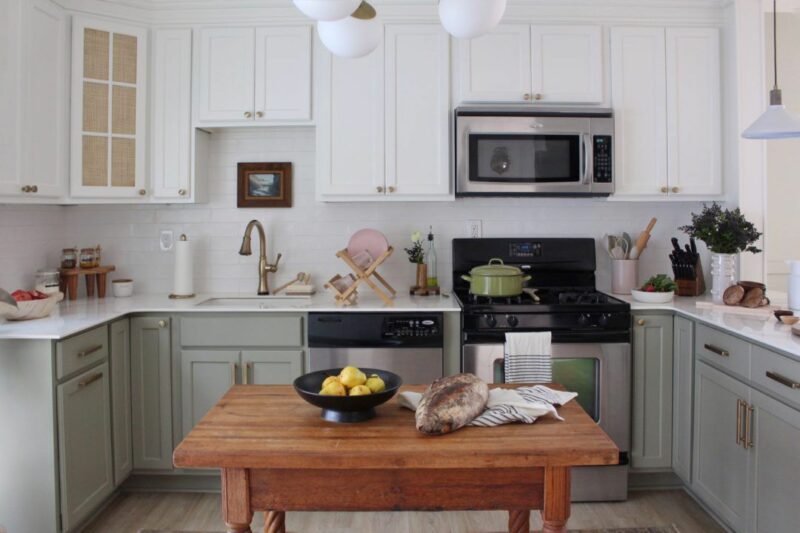 These tuxedo kitchen cabinets might appear gray, but you have noticed the reflection of sage green. These muted color painted cabinets have beautiful golden profile handles, which certainly enhance the look of these cabinets.
5. Dramatic Paring White & Dark Gray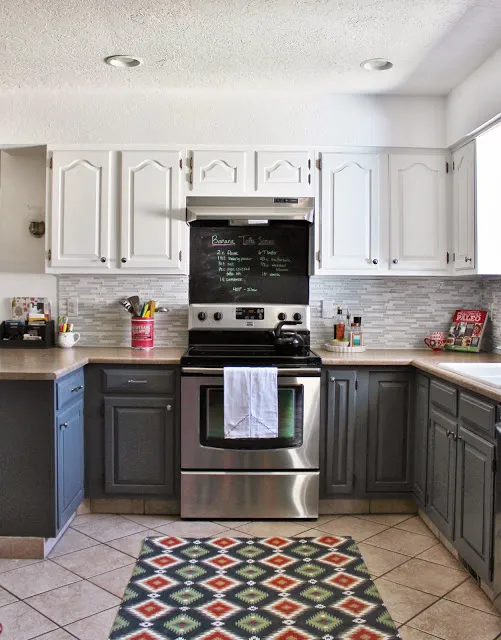 Gray color palate, whether light or dark, always adds value to your kitchen. Especially in two-toned kitchen cabinet painting. You can feel that through this image. The kitchen with white upper cabinets and dark gray lower cabinets with stainless steel profile handles added a dramatic appearance to the space.
6. Refreshing Pairing White & Coastal Blue
If you want to add more vibrance and refreshing vibes to your kitchen, nothing can beat the blue color palate. The kitchen feature in this image can give you an idea of representing freshness in your kitchen with blue and white painted cabinets. You will find in this image that there is no typical usage of white and blue for particular parts, i.e., white for upper cabinets and blue for lower cabinets.
7. Intense Paring Off White & Navy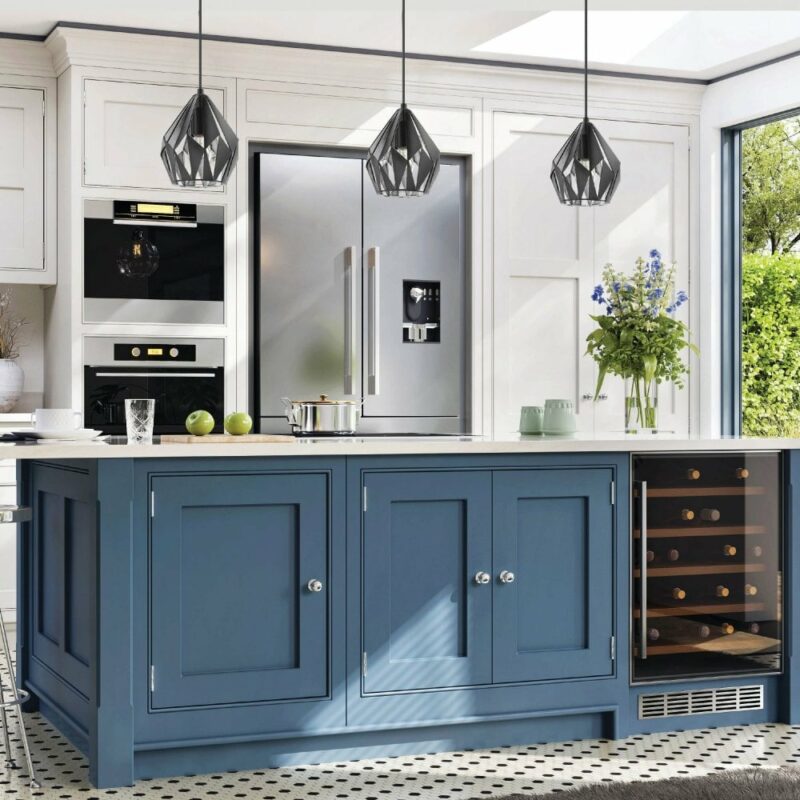 The minimal existence of deep color can generate a spark in the space. This image clarifies that the kitchen's off-white base and upper cabinets occupied the space. And only island with navy-painted cabinets upgraded the aesthetic of the kitchen with a very subtle appearance. Moreover, it has been a focal point of this kitchen.
8. Elegant Paring Creamy White & Dark Emerald Green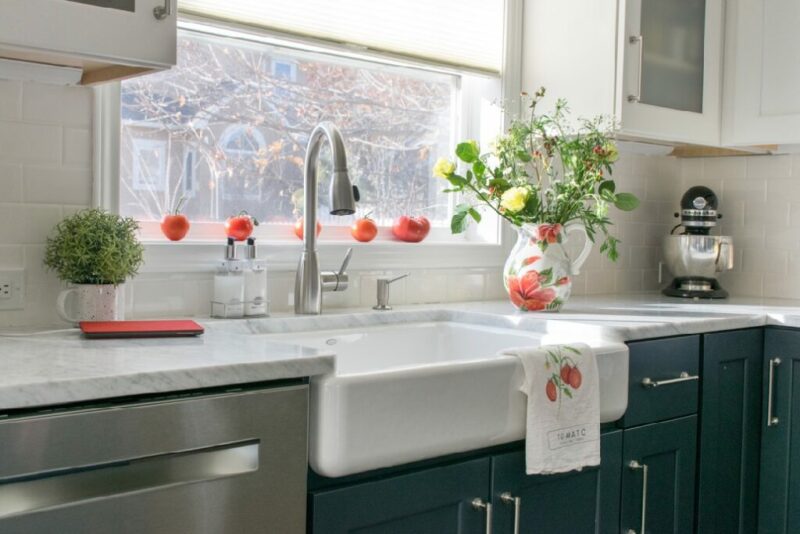 Green can add elegance to your space with their deeper shades. In this image, you will see the tuxedo kitchen cabinets have included a creamier white color palate for the top cabinets, and deep emerald with stainless steel profile handles add an elegant look to this kitchen. The textured light gray countertop base mingled very well with all structure. Moreover, this kitchen cabinet color idea can work effectively even in small kitchens.
9. Timeless Off White
As we all know, white never goes out of style in any case. Most people love to add white all over their space, without a doubt. In this kitchen, the owner has expressed his love for white, i.e., creamy white rooftop, upper cabinets, and lower cabinets painted using off-white, white pendant lights. This maximum usage of white has created a nice airy atmosphere in this place.
10. Darker Hues Paring Black and Brown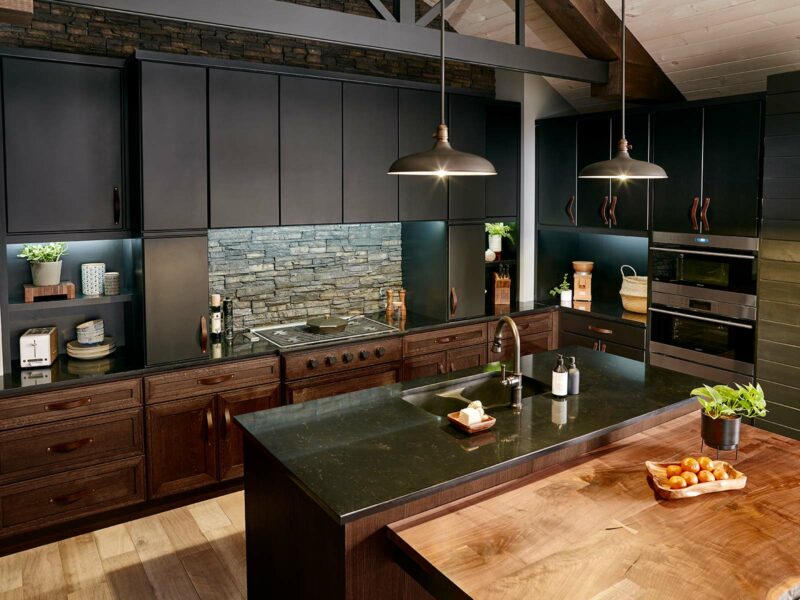 Dark color palettes can be a perfect choice for a few kitchen cabinets. As you see in this image, it consisted of darker shades and wooden elements the most. Somehow it's adding warmth to this space with black upper cabinets and brown lower cabinets. Apart from the dark kitchen cabinets, other elements also have dark hues in them. Overall structuring of this kitchen state's intense vibes of the place.
11. Energizing Pairing White & Pale Yellow
Yellows add energy to any space, but unfortunately, it is the least considered color palate for kitchens. But nowadays, some people enjoy this shade in their tuxedo kitchen cabinets. In this image, you will realize that transformation. All white top kitchen cabinets paired very well with the island's pale yellow base cabinets. This yellow and white pair contributes energy to this kitchen.
12. Playful Pairing White & Pink
Like yellow, pink was also a neglected shade for kitchen decor for a long time. Somehow this perception has changed in recent years. These two-toned kitchen cabinets represent the change in overall kitchen decor style. The all-white upper kitchen cabinets with a slight appearance of pink and pastel pink shaded base cabinets are encouraging to build a playful environment for this kitchen.
13. Monochromatic Paring Warm Green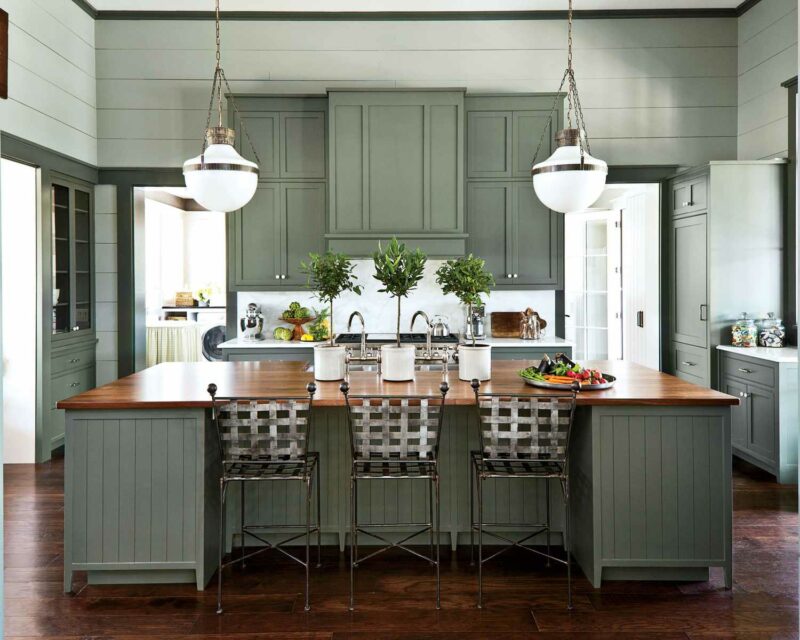 Adding two different tones for your tuxedo kitchen cabinets is unnecessary. Let one shade work for you without creating confusion in the search for suitable pair. Moreover, it can be a considerable cost-cutting aspect for you. In this image usage of warm green hues on both the parts of cabinets generated a subtle and sophisticated look in this kitchen.
14. Peaceful Paring Neutral Gray & Aqua
Neutral shades are popular for kitchen interiors. Especially in kitchen cabinet color ideas. However, neutral can craft a bright, airy environment with the use of a cheerful color palate. In this image, the kitchen has nice involvement of aqua-shaded lower cabinets with light gray upper cabinets. Combining these two shades has given a contemporary approach to this kitchen, which is certainly unbeatable.
15. Fascinating Pairing Taupe & Violet
Taupe shades are trending in any decor style, and the addition of violet to it makes it more fascinating. As you can see in this image, the upper kitchen cabinets are painted with a taupe color shade, and the bottom cabinets with a violet shade. Overall usage of earthy taupe and deep violet in other elements like wall paint, bar section on the wall, and brick wall on the kitchen countertop makes this place look unique and fascinating.
16. Stylish and Single Naval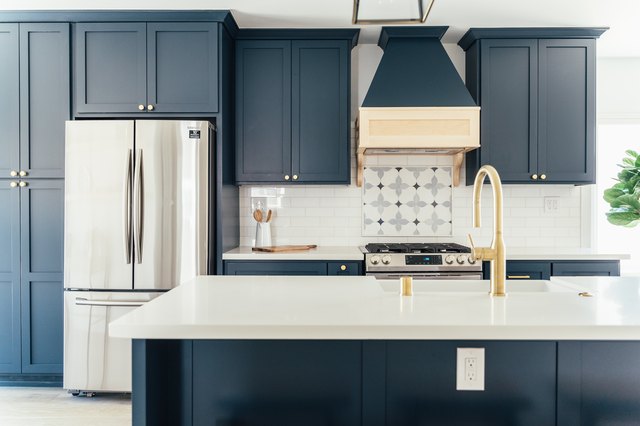 Deep dark colors are preferred in spacious places to create a cozier environment. Spacious kitchens have the advantage of adding dark shades without any second thought. The kitchen in this image can be a good example of this. The usage of a single naval shade at the bottom and upper cabinetry with a small golden profile handle added style to this kitchen.
17. Rich Paring Wooden Finish & Golden Yellow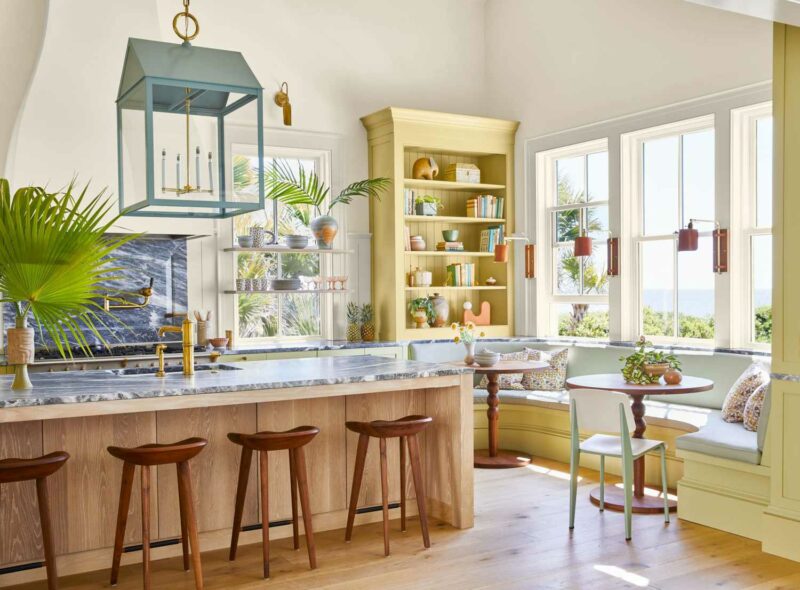 Wood finish is an evergreen aspect of interior decor, and it adds warmth to the place. Moreover, its combination with golden shades is like the cherry on top. The image shows the elegance of it with a golden yellow painted upper tuxedo kitchen cabinet, and the island base consists of a wood finish. This kitchen cabinet color idea will add richness to the place with its superior hues.
18. Balance Paring Dark Brown & Pastel Green
Deep shades and pastel shades can craft a balanced combination. Even though there is no typical structuring of the lower cabinet color palate and upper cabinets color palates still, the space in this image looks beautiful. Side and center kitchen cabinets consist of individual color shades for the whole cabinetry. Wooden flooring and furniture added extra coziness to this kitchen.
19. Calmer Paring Wood Finish & Teal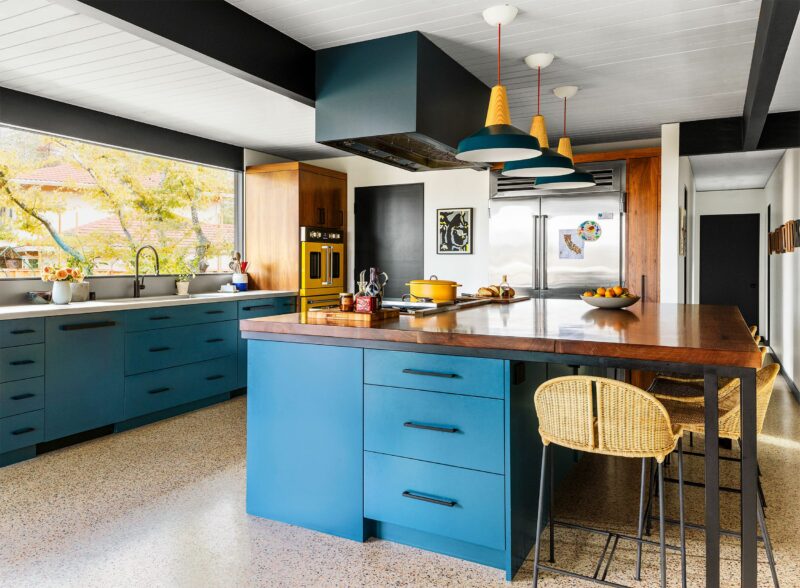 If you want to add colors but don't want them to appear too bright, then this combination will work best for you. Single upper cabinet with wood finish and bottom cabinets with muted teal shade encourages a soothing atmosphere for this space. This entire kitchen cabinet color idea is not looking bold, even if it has a slightly bright shade.
20. Three Hues Pairing Off White, Burgundy & Pastel Pink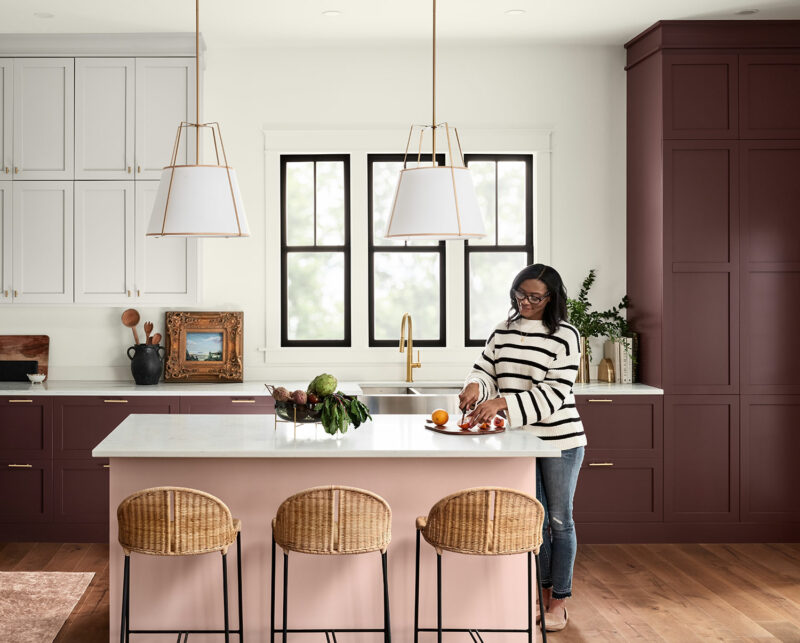 Adding three color palettes for tuxedo kitchen cabinets enhances its aesthetics. Somehow the choice of hues needs to finalize carefully before applying to the cabinets. You can go through this image to get your color inspiration for the same. The upper cabinets are painted off-white, whereas the side and lower cabinets have a nice burgundy shade.
21. Bold All Red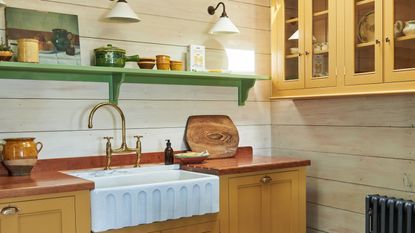 The red color palette in the kitchen might be a bold choice, but if you are fond of this shade, it is okay to include it in your cabinet painting section. As we said earlier, darker shades can be adjusted with smaller spaces. You can see in this image the kitchen exists in the image is compact, and the upper and lower red cabinets are going well with the space. Hence, you can apply this bolder kitchen cabinet color idea to your kitchen.
22. Versatile Pairing Green & Yellow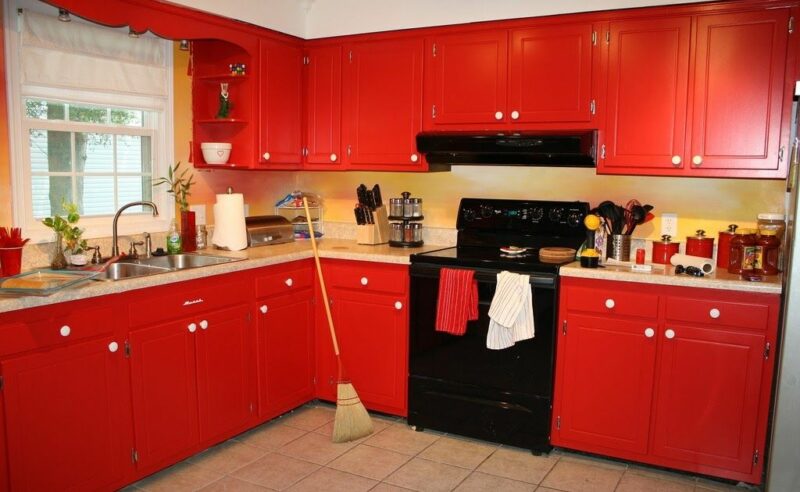 Adding bright colors make your kitchen look cheerful and lively. And to do so, no better option than playful yellow and green. It even suits compact kitchens. The kitchen in this image has minimal upper cabinets. Moreover, the center wall consists of only one green painted shelve and yellow pained side and lower cabinets.
Conclusion
Tuxedo kitchen cabinets or two-toned kitchen cabinets provide the best storage solution as well as beauty to any type of kitchen. However, it can excessively upgrade your kitchen's look with the right paint pairing. It does not matter if you have a small or spacious kitchen. You can add value to them by applying the correct paint on the tuxedo kitchen cabinets. Somehow it can be tricky sometimes to find your perfect kitchen cabinets colors ideas.
The 22 tuxedo cabinet paint pairings we have discussed in this article will guide you to find the right paint pair for your kitchen cabinetry. In addition, we have also shared some useful tips that can help you in your DIY kitchen cabinet activity. Apart from this list of some best cabinet paint colors you can try for your two-toned kitchen cabinets. This entire article has very useful information to guide you throughout your kitchen cabinet paint journey.
Frequently Asked Questions
Are Tuxedo Kitchen Cabinets Still in Style?
An answer to this question might not be possible right now. But homeowners who have tuxedo kitchen cabinets are choosing paint options rather than demolishing them. With the help of the right color choice, they are making them look almost contemporary with the best paint pairings.
Should I Paint My Kitchen Cabinets in Two Colors?
Yes, there are three categories first is monochromatic, in which you can apply the same color palette for upper and lower kitchen cabinets. The second is semi-monochromatic, in which you can apply the same color paint with a slight difference, i.e., a dark hue for the bottom cabinets and a lighter shade of the same color on the upper cabinets. Third is contrast, where you will get lots of options like black and white, white and gray, and many more.
Sierra Rivera, a passionate home decor enthusiast, runs the popular blog CozyCottageCute.com. Sierra shares decor tips, DIY projects, and personal insights. Off the blog, she's often at antique markets or redecorating corners of her own space.