15 Types of Wooden Fences to Elevate Privacy and Style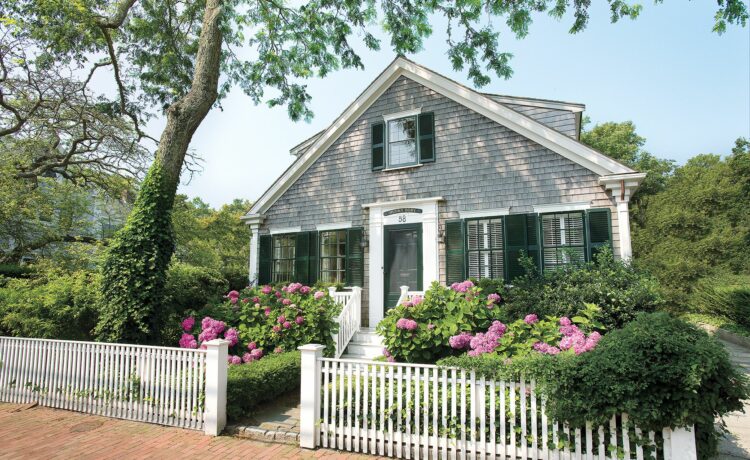 Are you a homeowner tired of the hassle of dealing with unnecessary things dropped in your yard? We have the perfect solution for you. You can fashion one of the several types of wooden fences described in our guide to create an easy solution. But why choose these?
Not only do wooden fences separate your outdoors from the neighbors, but they are also a great way to elevate your courtyard's theme and appeal.
Moreover, if you construct an outdoor seating, alfresco kitchen, or dining area in your garden, you can get some privacy for your family with the help of these wooden fences. However, installing plain ones could be monotonous and degrade your overall aesthetics.
Continue reading our guide to find some of the best and most creative types of wooden fences that would certainly elevate the quotient of style.
Types of Wooden Fences Based on Style
1. A Lattice Fence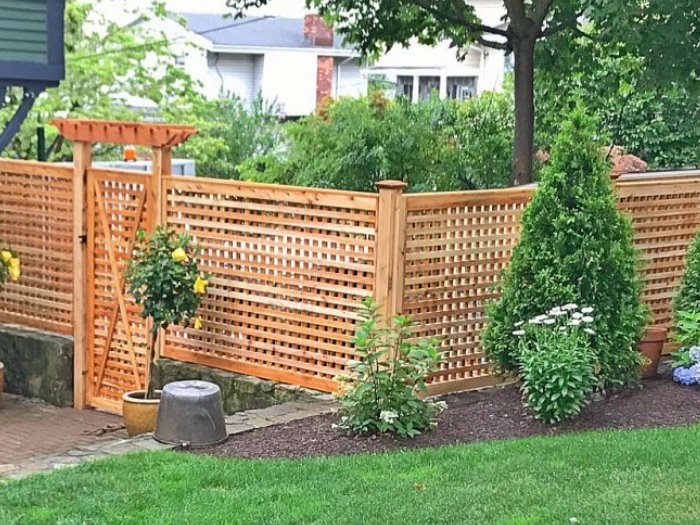 A lattice fence is typically a crisscross pattern of wood styled continuously. It is especially appropriate if you want ample air circulation or wind passage but also wish to block the view. You can plant creepers or climbers around it since it provides great support. A lattice fence is best constructed while keeping a vegetable garden, flower bed, patio, or pool in mind.
2. Picket Fence
It is one of the most popular types of wooden fences, perfect for a suburban house. The individual components of the fence are called pickets that are placed widely apart. They are also constructed with a pointed top to prevent people from climbing over them. Although they don't provide a lot of privacy, you can install them to create a barrier around your property or obstruct your pets from running away.
3. Post-and-Rail Fence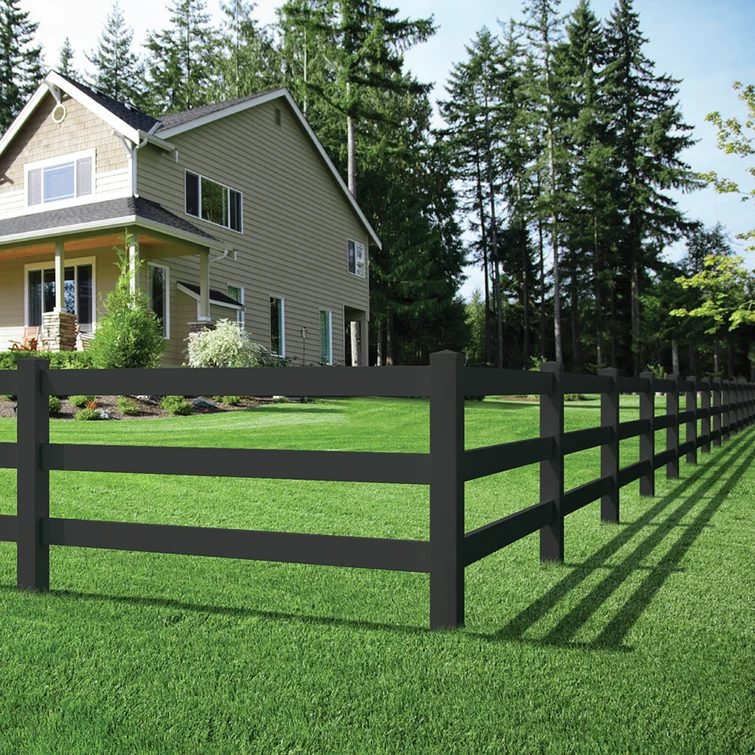 Even though it has a close to nil privacy factor, a post and rail fence works incredibly well if you simply wish to create boundaries and demonstrate a separation in your property. Since it is typically used for holding livestock, you can modify it to place the rails closer to each other and install it if you have bigger pets. We suggest you paint it or decorate it creatively to add some color.
4. Louver Fence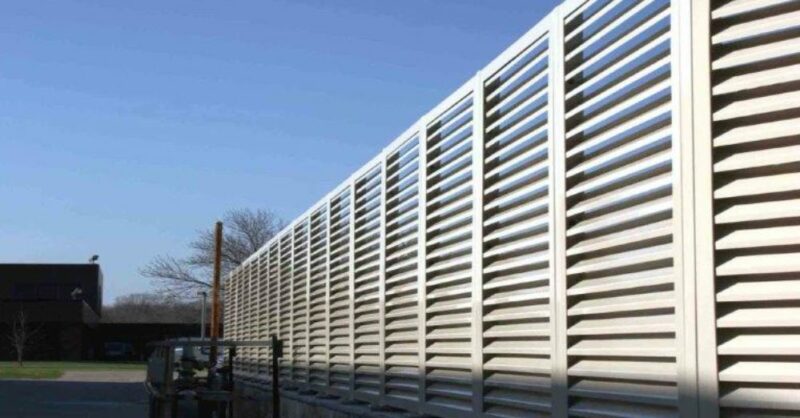 Louvre fences are a further modification of post-and-rail fences for added privacy and style. The horizontal boards are installed much closer to each other, almost to the point of being consecutively placed. Since the gaps are fewer, circulation will be cut off. However, you can install the boards overlapping each other so that larger gaps will be created for airflow. One of the sleekest types of wooden fences, the louver is great for pool decks, patios, and backyards.
5. Vertical Lining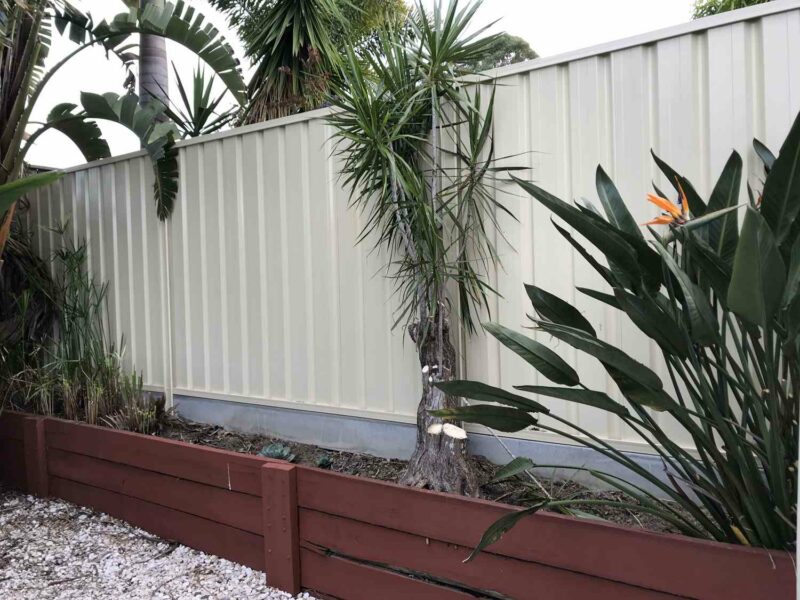 If privacy is your utmost priority, we suggest slightly different types of wooden fences to achieve your goal. Lining the wooden boards close to each other vertically will result in tall and pretty fencing. However, it also blocks a lot of wind passage, which might not be preferable for hot areas. Also, since it's one of the traditional types, you might want to check if it fits your aesthetic.
6. Shadowbox Fencing
It is a modified creative take on a traditional picket fence. The installation and construction are quite similar to the latter, the major difference being the gaps. For a shadowbox fence, a very tiny gap is left between the consecutive pickets. It will give your fencing a sleek and classy look while ensuring privacy. It also allows enough light, airflow, and durability against tough weather.
7. Chain Links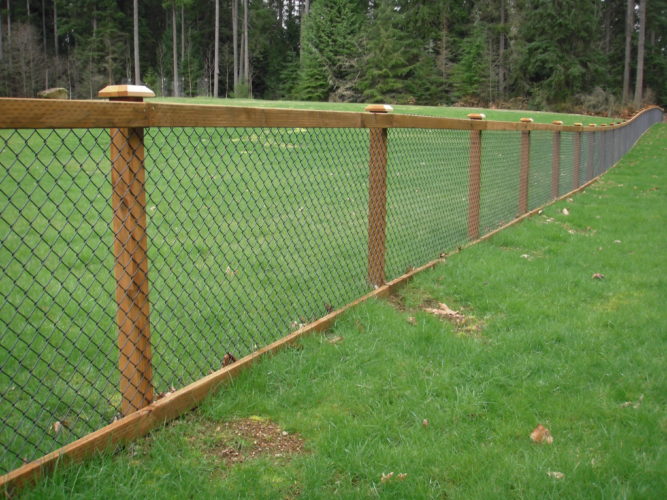 Chain links aren't traditionally included in the different types of wooden fences. However, they are just as effective. If you're a homeowner for whom security and separation of property is the topmost priority, a chain link fence is the best choice for you. You can install wooden posts to increase the stability of the fencing. Additionally, this type of fence barely requires any maintenance and is quite robust and durable.
8. Fence Toppers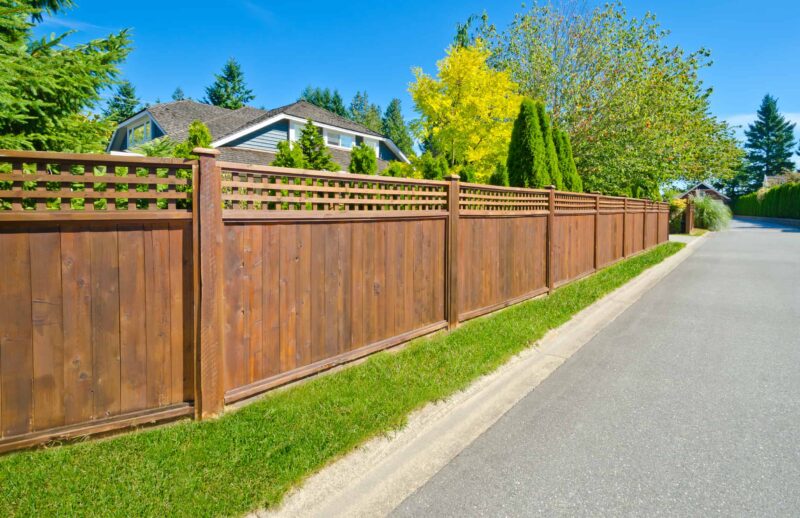 Similar to chain links, fence toppers don't necessarily come under wooden fences. However, they are a great accessory to elevate your fence. You can choose decorative ones with different accents that complement your fencing or plain ones to make them look more classy. Fence toppers exclusively for wooden posts are also available. You can get the ones with lights or designs to serve two means.
Types of Wooden Fences Based on Material
9. Cedar
It is one of the best and most popular choices for a wooden fence. Since cedar has a long lifespan, is durable, resistant to insects and decay, and is sustainable, it is an apt choice for fences. However, it is slightly more expensive when compared to other types of wooden fences. Also, cedar might not be apt if you want to paint over your fence since it doesn't hold the paint. You can select red or white cedar, depending on your needs.
10. Cypress
Cypress is ideal for wooden fences if you want a quaint rustic look for your courtyard. Its high price derives from its many advantages. Not only does it have high durability, but it is also naturally resistant to rot and pests. Cypress is also light in weight which increases the ease of installing it. You can stain the wood if you want to increase its durability and robustness further.
11. Pine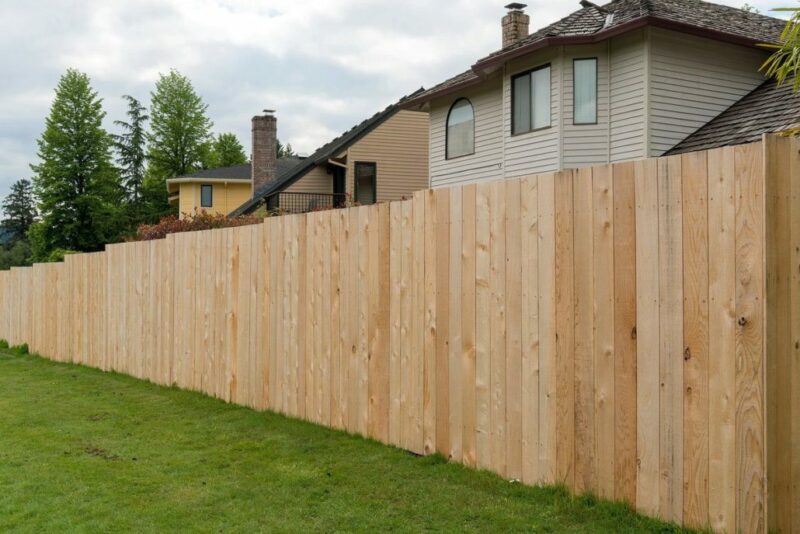 Pine is the best choice for extended durability of fences. Pressure-treated pine is preferable since it provides extra protection against unnecessary weathering, pests, insects, and rot. It is also quite soft and easy to work with. Pine is an affordable and easily available option if you're looking for a budgeted project for your courtyard fencing.
12. Redwood
Redwood is typically used for costlier types of wooden fences. It will give an excellent look to your outdoors and elevate the curb appeal manifold. Its high cost can be justified by its pest-resistant and rot-resistant nature. But you should consider staining the wood since it will protect your fence from moisture, rain, snow, or other weather conditions. It also helps to elongate the life span of the wood.
13. Spruce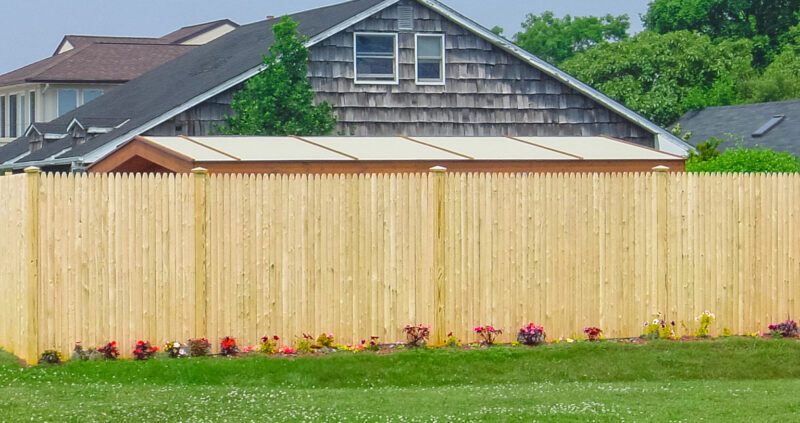 Spruce has an exceptional gray color that looks just perfect on fences. It is a great material for planning a fencing project on a tight budget. Although it darkens more as it ages, you can choose to paint it at the beginning if you prefer darker shades. However, homeowners must note that while spruce is cheap, it is less durable and tends to attract pests or rot if not treated.
14. Composite Wood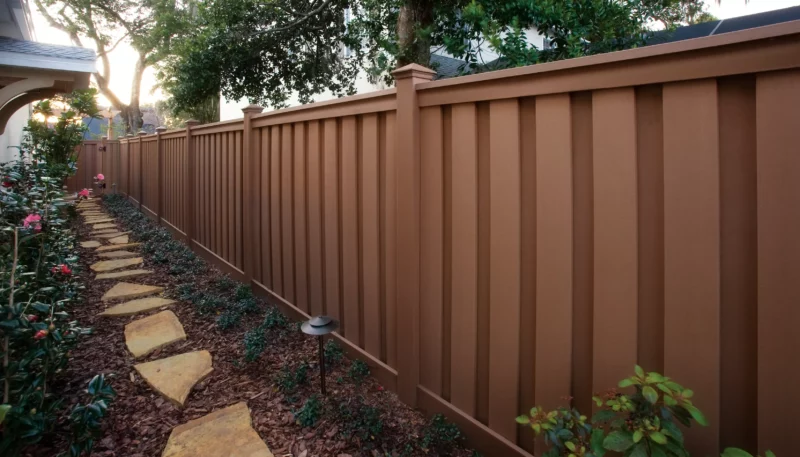 Composite wood stands for wood fibers combined with recycled plastic materials. Although it is slightly more expensive, they offer many advantages. Composite wood is much lighter and more flexible, which makes it easy to work. Since it bends, the chances of your fence breaking are much lesser. The treatments protect the wood from fluctuating weather conditions, precipitation, pests, and rot.
15. Oak
Oak is one of our top recommendations since it is extremely strong and durable. The appearance of the wood will make your fences look distinct and neat. You can apply a coat of natural oil on the wood to give it a lovely shine. Furthermore, finished oak comes in a variety of different colors like red, brown, and beige. Sometimes, the oak darkens over time and achieves an amber tone.
How to Choose from The Different Types of Wooden Fences?
Selecting the best choice for your fence might be challenging. We have jotted down the best tips you need to consider before making the decision.
1. Your Needs
As mentioned above, a fence provides more than just privacy. Not only do people install it for peace and quiet, but they also opt for fences to denote the property, keep your pets and kids inside the courtyard, or elevate the curb appeal. Assess your needs and choose from the types of wooden fences which satisfy them the most.
2. Costs
Costs and budgeting usually come into the picture while considering the material for your fences and the installation charges. You can opt for cedar, pine, or spruce if you have a tight budget. Professional installation typically costs around $3,000. You can save money by buying the materials yourself and paying for labor and installation.
3. Material
Some materials have more advantages of durability and life span over others. You can incorporate other materials with wood, like aluminum, vinyl, chain links, or wrought iron, depending on your needs and purpose. Including other materials can also help you save costs.
4. Adhering to The Homeowners Association
Almost all localities have a homeowner's association, which has a set of rules and guidelines to be followed. Before beginning a fencing project, you may want to check with the HOA and assess their regulations for materials and height.
5. Boundaries
Assess the measurements of your property you need the fencing over. It will be helpful for you to decide on a budget and, in turn, the materials. Ensure you don't accidentally measure over your neighbors' boundaries, or you might have to redo the entire project again.
6. Professionals
Installing fences is hard work and typically not a DIY project. You might want to hire an experienced professional to help you unless you have the specific tools and skill set of carpentry. Consider their prices, terms, license, and labor before you finalize the deal.
Conclusion
Fences are a great means to achieve privacy and style for your outdoors at the same type. Moreover, the different types of wooden fences elevate the curb appeal to the next level. To decide which fence is best for you, begin by assessing your needs.
Next, consider your budget since the cost is a major attribute while selecting the materials. You can choose the most suitable type of material depending on your durability needs, life span, maintenance, and robustness. Finally, understand the local rules and hire the best professionals.
You can select from the different styles mentioned in our guide, like the traditional picket fence, post, and rail, elegant lattice fence, or the classy louver. A simple picket or shadowbox fence will look great with the right type of material, like oak. Which is the most suitable fence for your courtyard? Let us know in the comments section below!
Frequently Asked Questions
What is the Most Common Type of Wooden Fence?
Cedar is the most common type of wooden fence. It is because it is highly durable and is resistant to most weather conditions like extreme sun or rain. On minimal treatment, cedar protects from pests and insects. It can also be painted or stained easily.
How Many Types of Wooden Fences Are There?
Wooden fences are typically categorized into three types depending on their purpose. The first is to ensure privacy and demarcate your property. The second is the functionality, that is, to keep your kids or pets inside. The last is for decoration – to enhance the looks of your outdoors.
What is the Most Appropriate Fence Height?
The most appropriate fence height is typically 6 feet. But you can opt for around 7 to 8 feet to ensure maximum privacy. However, it is essential to first check with the local guidelines or regulations set by the homeowners' association to make sure that you do not violate any laws.
What Types of Fences Are Easiest to Install?
Vinyl fences are the easiest to install. Typically, the posts of a fence need digging, after which you must fill them with cement. Vinyl fences don't require this process. They can be easily installed with a no-dig design and can be undertaken as a DIY project.
How Thick is a Fence?
On average, fences are around 1 inch thick. However, the final decision rests with you. You can pick half-inch thick material since it is more economical. Consider the strength and durability of the material before you arrive at a specific thickness for your fence.
Sierra Rivera, a passionate home decor enthusiast, runs the popular blog CozyCottageCute.com. Sierra shares decor tips, DIY projects, and personal insights. Off the blog, she's often at antique markets or redecorating corners of her own space.