22 Trendy Bathroom Design Ideas for 2023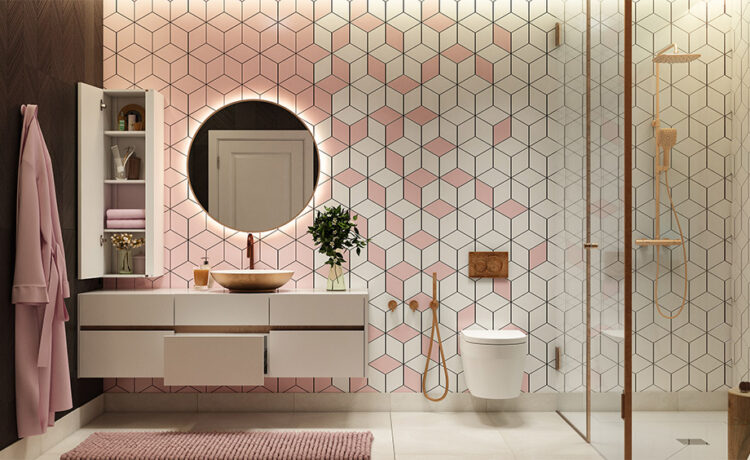 For most people, bathrooms are the space where they fidget with their thoughts. The long-forgotten lyrics, the strong comeback of that argument, even the decision of what to eat for the next meal – bathrooms are a comfort zone for thoughts. And honestly, nobody likes to spend such crucial moments in a dingy place. While there are so many memes out there talking about how many of us spend so much time in the bathrooms, our experts believe this is neither unnatural nor something new.
No matter how much we talk about alone time in the house, it is the bathroom where we are actually alone with our own thoughts and ideas. And that is why it might be time to boost the look of the bathroom altogether.
We bring to you some amazing bathroom ideas in 2023 that you will fall in love with. So are you ready to take a tour of some amazing bathrooms?
Let's get started.
Trendy and Stylish Bathroom Ideas in 2023
1. Walk-In Showers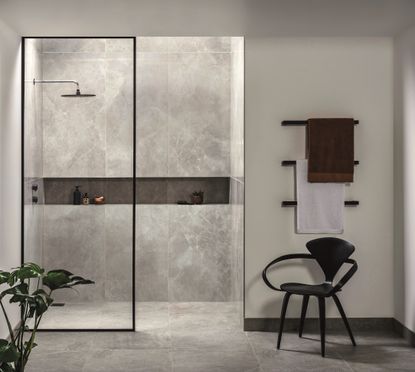 Research has shown that an "elevated shower routine" has been among the top trends this year. Since the past year, experts and researchers have shown an increased demand for upgraded showers. Hence, this can't escape our list. If you have a shower, it's time to replace it with one that accommodates more heads. While two-person shower has been a hit, there are instances where clients have requested those that can include more heads.
However, there is something to keep in mind when implementing this bathroom idea. They lack functional qualifications. The walk-in shower needs to be strategically placed to ensure that you do not face the wrath of water just while using the loo before heading out to work. Using an enclosed glass area with gorgeous tiles is a great way to use them.
2. Spa Inspiration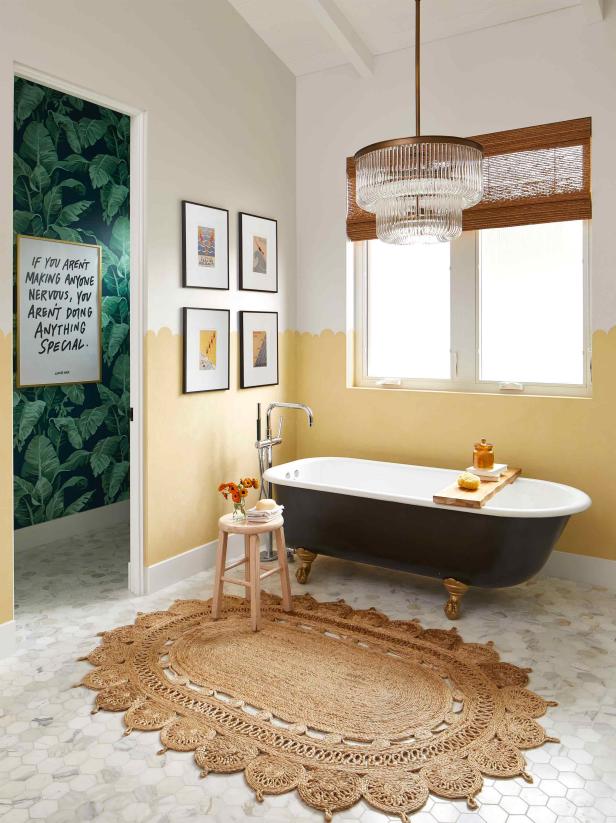 A bathroom is no longer just a functional space. In fact, in 2023, most people see them as an area to relax and take care of themselves. It is all about personalization. While that means a rainfall shower for some and a relaxing tub for others, our experts suggest creating a mix of the two.
Using steam can also be a great way to incorporate the spa effect you want in your bathroom. In such bathrooms, open shelves have been gaining popularity as they help to showcase the different kinds of towels rolled and your favorite essential oils.
3. Use of Terrazzo
This is a bathroom idea in 2023 for many. Terrazzo, for decor purposes, is not used on the floor. In fact, they are mostly used for decorating the countertops and the walls. They have a unique way of elevating the space and making them look gorgeous. When added to the countertops and the walls, they help add depth and texture.
If you are someone who appreciates minimal beauty, this is the way to go. Make a subtle yet powerful statement, or add fun and fancy. Terrazzo comes in a variety of shape and pattern that elevates your style and brings out your personality.
4. Add Color to Your Sink
Gone are the days when a steel-colored sink was all you got. While your entire house bursts with color and vibrance, why would the sinks not get a chance to make a statement? 2023 is all about bold and vibrant colors. If you plan to use a colorful sink, it might be wise to give your walls a powder coat.
This helps your sink pop and give the impact they are meant to give. As many experts believe, this kind of contrast helps add drama and gives the effect of the jewels in a rustic jewel box. Want to go experimental? Give this design trend a try.
5. Statement Bathtubs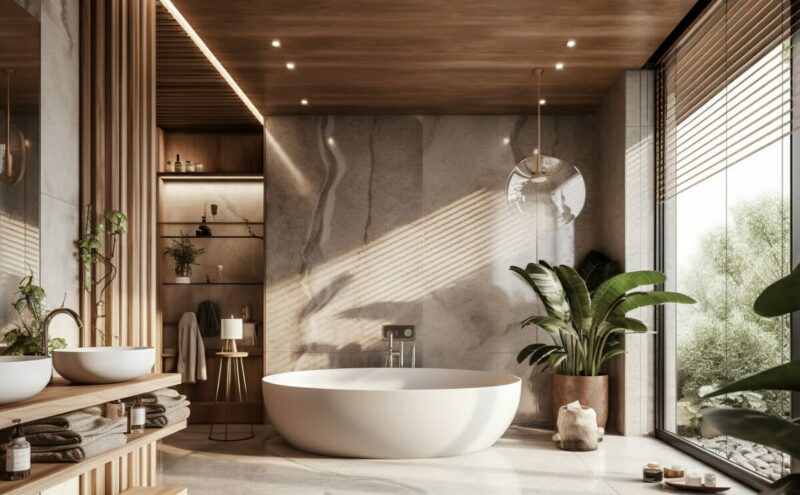 Bathtubs are directly associated with luxury and leisure. As you look for new bathroom ideas in 2023, our experts ask you to stick to the classics. A traditional, standalone bathtub has been in trend for years, and they are expected to stick around. If you want a majestic appearance for your bathroom, investing in some gold fixtures around the bathtub might be a great idea.
Keeping it away from the rest of the bathroom decor also helps create a focal point. You deserve to treat yourself like royalty after a long day at work, and this is definitely the way to go about it.
6. Brass on White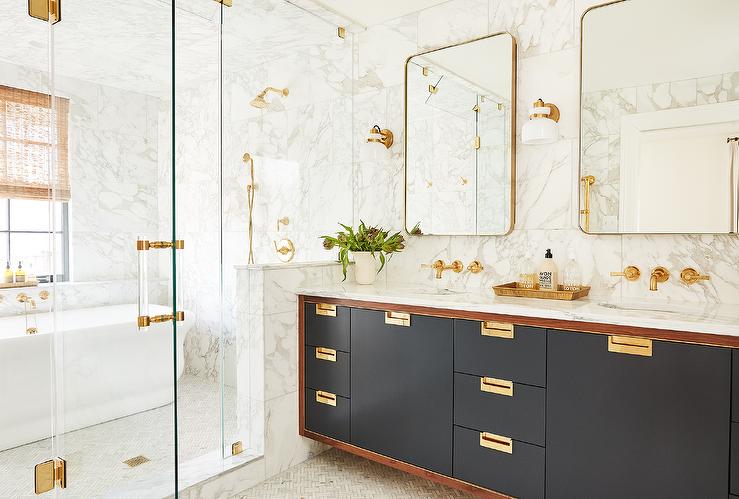 White is that one color that can never go out of trend, especially when we talk about bathrooms. This year, pep up your bathroom space with a unique look. The combination of white tiles and walls, along with brass hardware, speaks highly of your taste. While many designers believe that silver and black are a great combination with white, unlacquered brass has something distinct about itself that makes it hard to put them up for comparison.
Timelessness, statement, and neutrality – this combination has everything that one talks about when referring to a classy space. This season, try this gorgeous combination yourself.
7. Be Mindful of The Details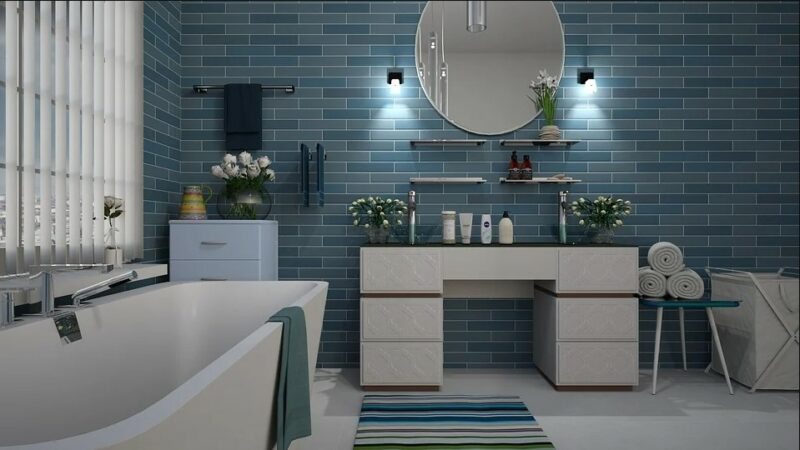 No matter if you are building your bathroom space from scratch or simply renovating it, attention to detail has been at the core of bathroom design ideas in 2023. From the toilet to the bathtub, the countertops to the shelves – the kind of tiles, materials, or ceramics used are being given a lot of attention.
Instead of going for the basics, our experts suggest trying unique colored ceramics for the bathtub. Using the same materials for the sinks and other parts might be a great idea to enhance the beauty of the bathroom space.
8. Wooden Vanities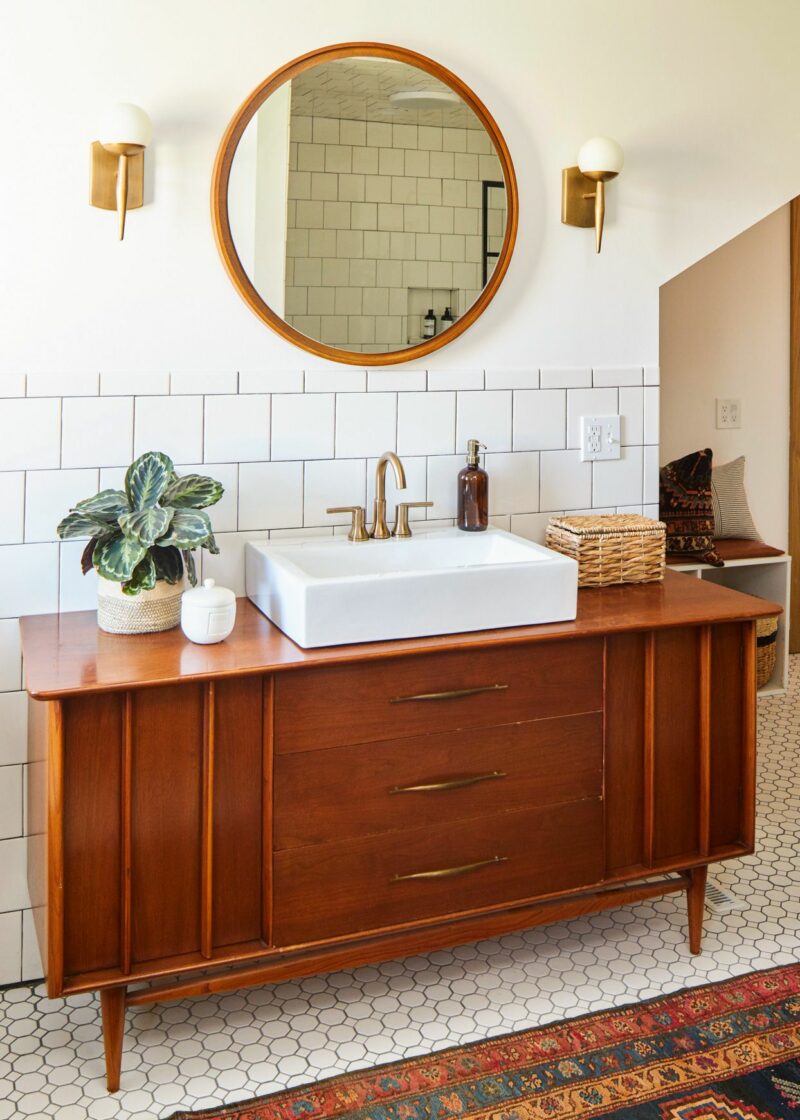 White-colored painted finishes have reigned the bathroom decor for years. But in recent times, it is more about getting close to nature, and that is equally applicable to the materials being used. When it comes to bathroom decors, like shelves, countertops, and even cabinets, wood has become the first choice for many.
Many people are also inclined to use the cane as a relatively cheaper replacement for wood. If you want to go all-natural or want to create a mix of white-painted finish and nature, you might want to try this bathroom design trend in 2023.
9. Popping Bathroom Accents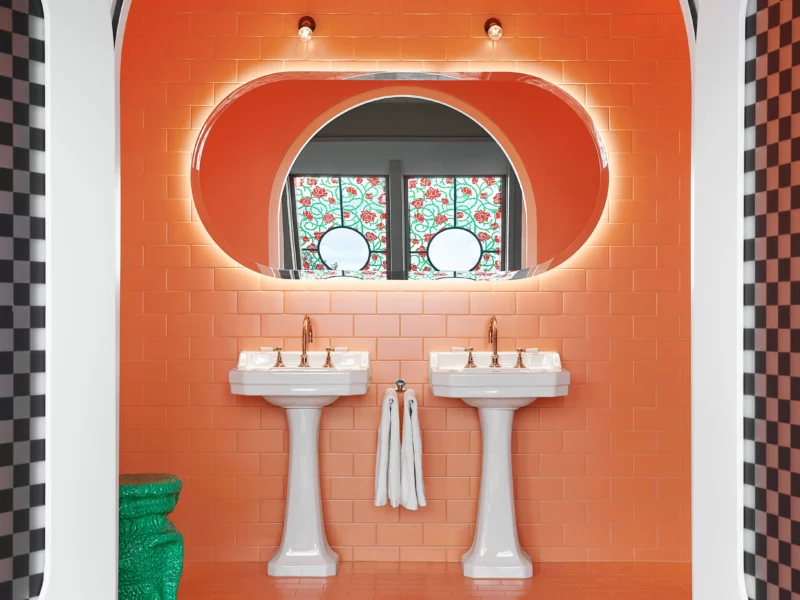 Trust us when we say this, you do not need a lot to make a popping bathroom accent. Just be mindful of the contrast you are creating. From curtains to countertops, sinks to showers – everything is a part of the accents. If you have a light-colored wall, all you need to do is use a bold or neon-colored curtain. Voila! You get what you want.
This is just one way, but there is so much to do here. People are gradually moving from calm backgrounds to the ones that really pop – and experts believe this has so much to do with the shift of the generation of home buyers.
10. Dark-Colored Palettes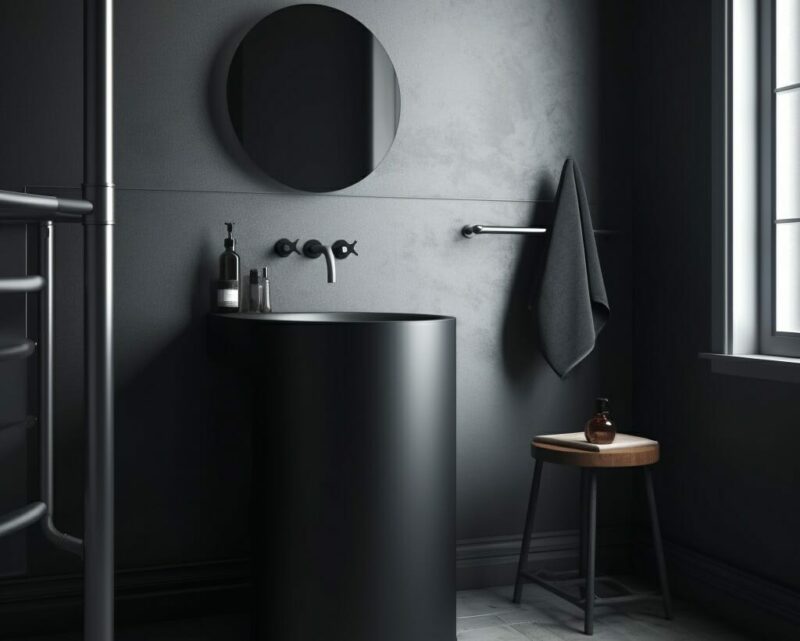 On the flip side of the above kind of bathroom decor lies this bathroom idea – this one is for all those who love things classic and sophisticated. Dark-colored palettes like black, gray, and blue have also become increasingly popular. Most people with this kind of background tend to use light colors for their sinks and cabinets.
There are many designers who also create unique patterns or use accents in different shades of the same colors. Our experts say it is all about balance and contrast, and if you pick this design trend, you should know how much of what gives a look you desire.
11. Cover the Walls in Patterns
If you have a high ceiling in your bathrooms, this might be the design idea you are looking for. There are a wide variety of patterned wallpapers available in the market, and people are falling in love as a result of a life-sized pattern wall.
Create a distinction with things like the sink and watch the contrast they create together. When looking at the beauty and the contrast, you might even travel to a parallel universe and forget all your worries at the moment. Avoid using wallpapers with extremely dark colors. They might ruin the aesthetic appeal of your place.
12. Include Symmetry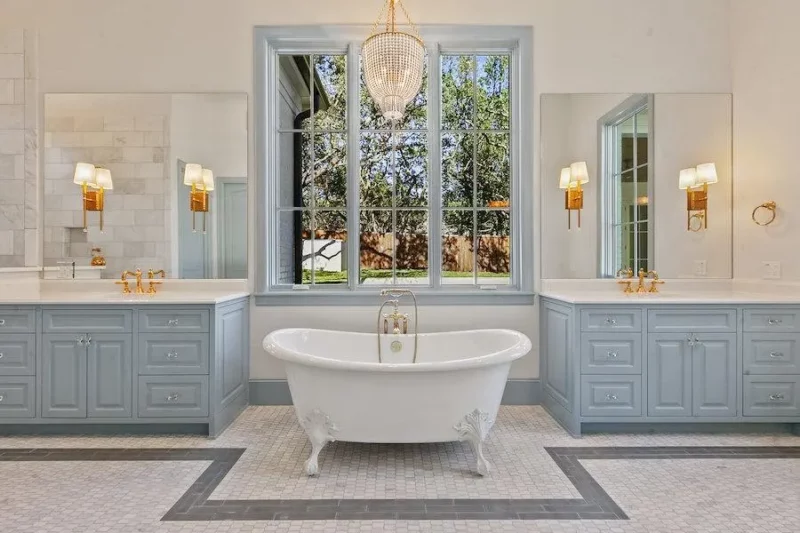 And this is not only in the way you place things – symmetry is so much more than that. The colors and the materials used play an important role in creating a visually stimulating symmetrical effect. This approach has become especially popular when it comes to living room decor, but our experts believe that this can be seamlessly integrated into your bathroom design as well.
Using double doors, placing the bathtub and the sink centrally, and placing an equal number of shelves on both sides are some of the most common ways to create symmetry. You can seek help from your designer on more techniques and materials that give the visual pleasure of symmetry.
13. Add a Stool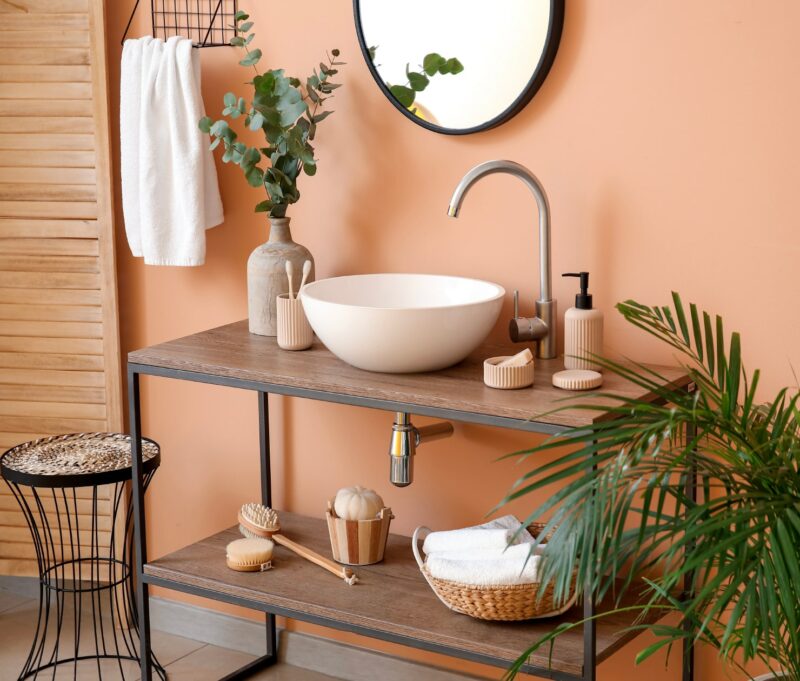 Want to sit down, place your towel, or keep your gadgets? You name it, and adding this accessory serves the purpose. Our experts say that with changing lifestyles and the fact that people spend a lot of time in their bathrooms have led to the rise of this trend. While some bathrooms have a separately placed stool that can be easily removed, for others, it is a thoroughly set-up, completely integrated part of the decor.
This bathroom idea has taken over the trends in 2023 and has entered many homes already. Sounds like an addition you would love to make? Add it separately or let it blend beautifully.
14. Make Room for Art
Another bathroom decor trend that has taken 2023 by storm, experts say that the bathroom is no longer just functional. In fact, they have become an extended space of the living room. With enough space dedicated, you can add large overscale prints on the walls or the doors that part your shower space from the rest of the bathroom.
When integrating this bathroom idea, make sure to design your bathroom in an artistic way where things are not just thrown here and there. It is actually arranged to appear like an art.
15. Arches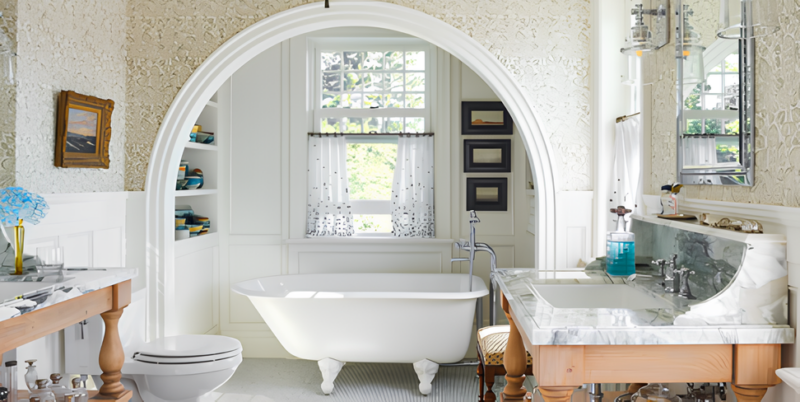 While decorating different parts of the house, we have seen arches gaining popularity. These historic structures are believed to bring a sense of royalty. These designs have also entered the bathroom spaces, making you feel like the royals. This structure is mostly being used to separate the rest of the area from the bathtubs, but you can feel free to redesign them the way you would like.
Many designers say that post the pandemic, people have been inclined to create a relaxing space in their homes. These archaic Roman-style bathrooms put you right in the middle of an unwinding session, helping you step away from the hustle.
16. Semi-Precious Stones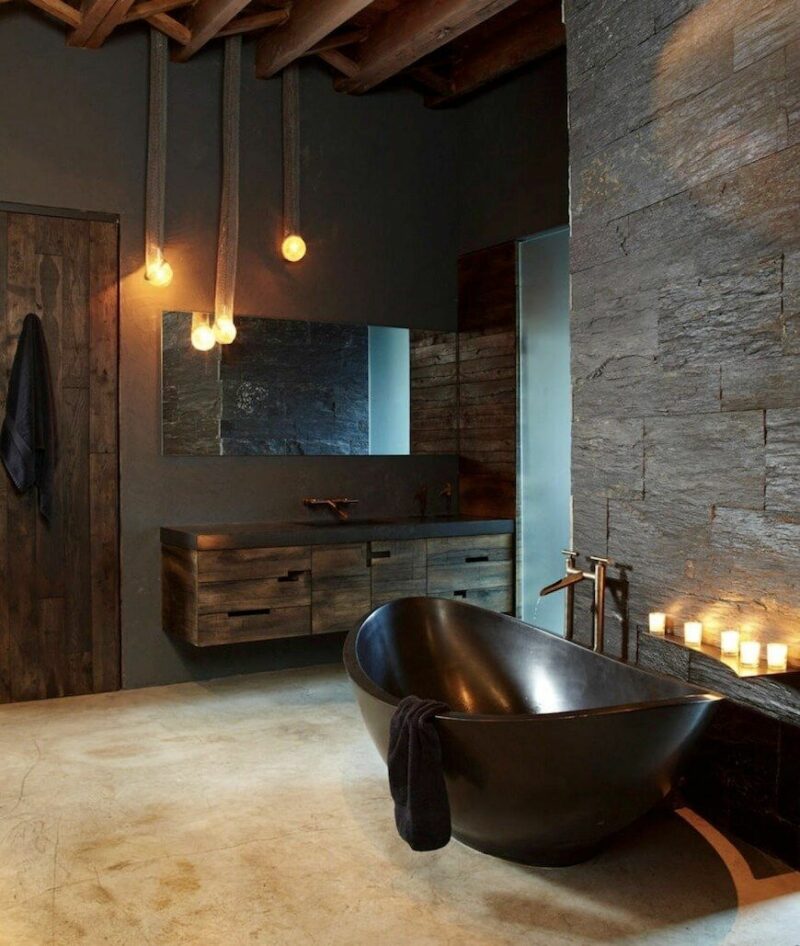 Bathrooms are no longer just about plain marble. In the year 2023, designers and clients have broadened their horizons, and they are entering a brand new age with the use of stones. People are moving away from the monochrome marble veining and choosing gorgeous patterns for showers, bathtubs, shelves, and countertops. There is a wide choice of hues available in terms of the marble and the tiles.
Besides the pop of the colors, natural colors and materials have become a new favorite for many. With these wide ranges of choices, you can lay the plot for a perfect background where harmony, instead of clash, is appreciated.
17. Golden Bath Trays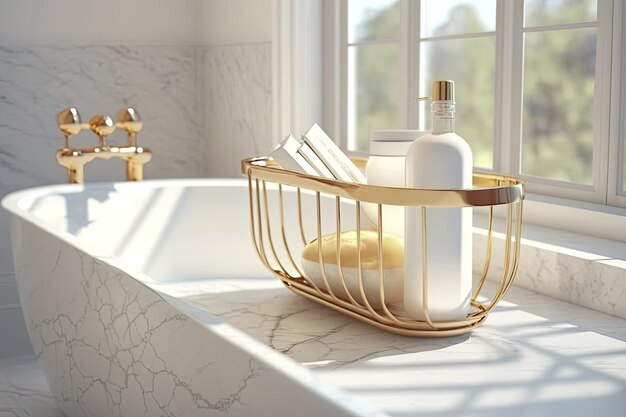 Bath trays are pretty important in the bathroom. And what can be better than a golden tray amid a calming background? It is not about storage and functionality. Just like every other element of the home, this one is also meant to elevate the aesthetics and give a luxurious experience.
If your bathroom is meant to give you the perfect area to unwind, relax and rejuvenate – you must consider adding this to the decor. Once you choose luxury and the calm they offer, you would hardly be able to go back to things that are common.
18. Forest Motifs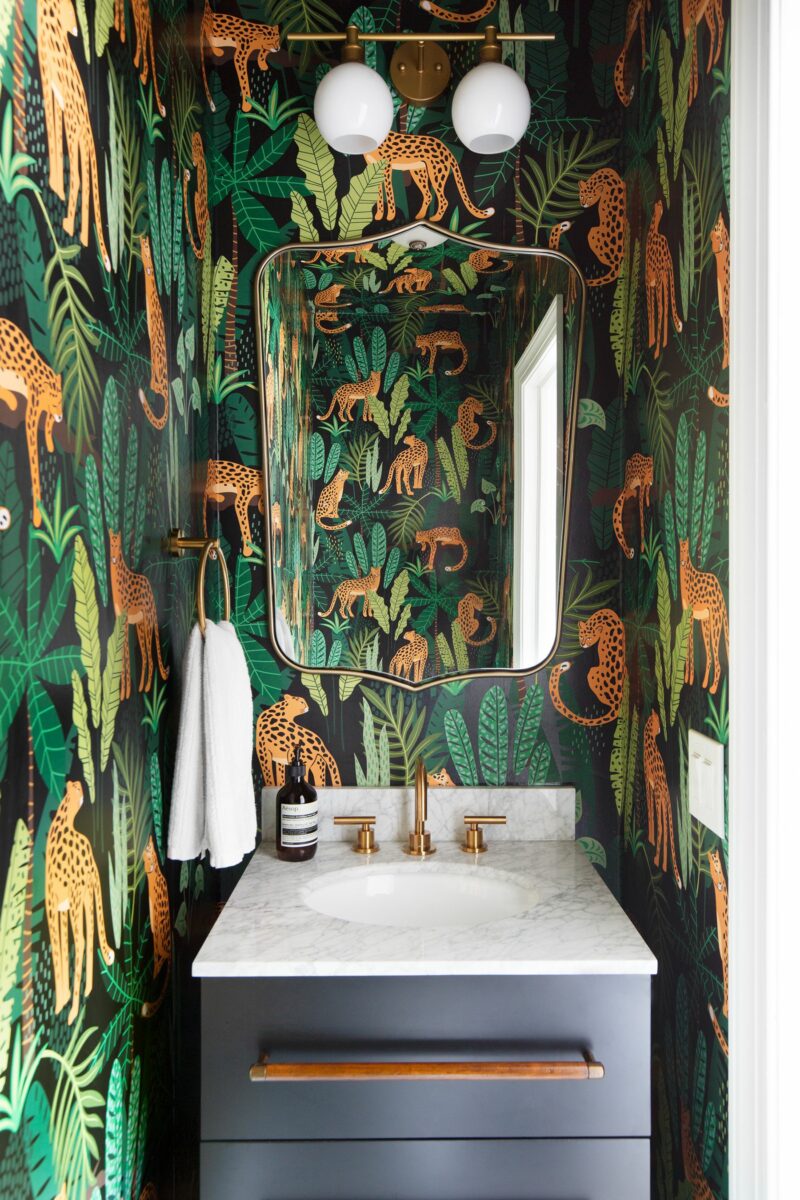 With this bathroom idea of 2023, we take trends to the next level. While being close to nature has been gaining popularity for all kinds of decor, the forest motifs on your walls take it a level up.
Bring nature into your bathroom walls, get the trees and the animals in their natural habitat, and transport yourself to a rainforest in your imagination as you unwind and relax. Watch the wild panoramic views as you soak in a hot bath after a long day.
19. Terracotta Tiles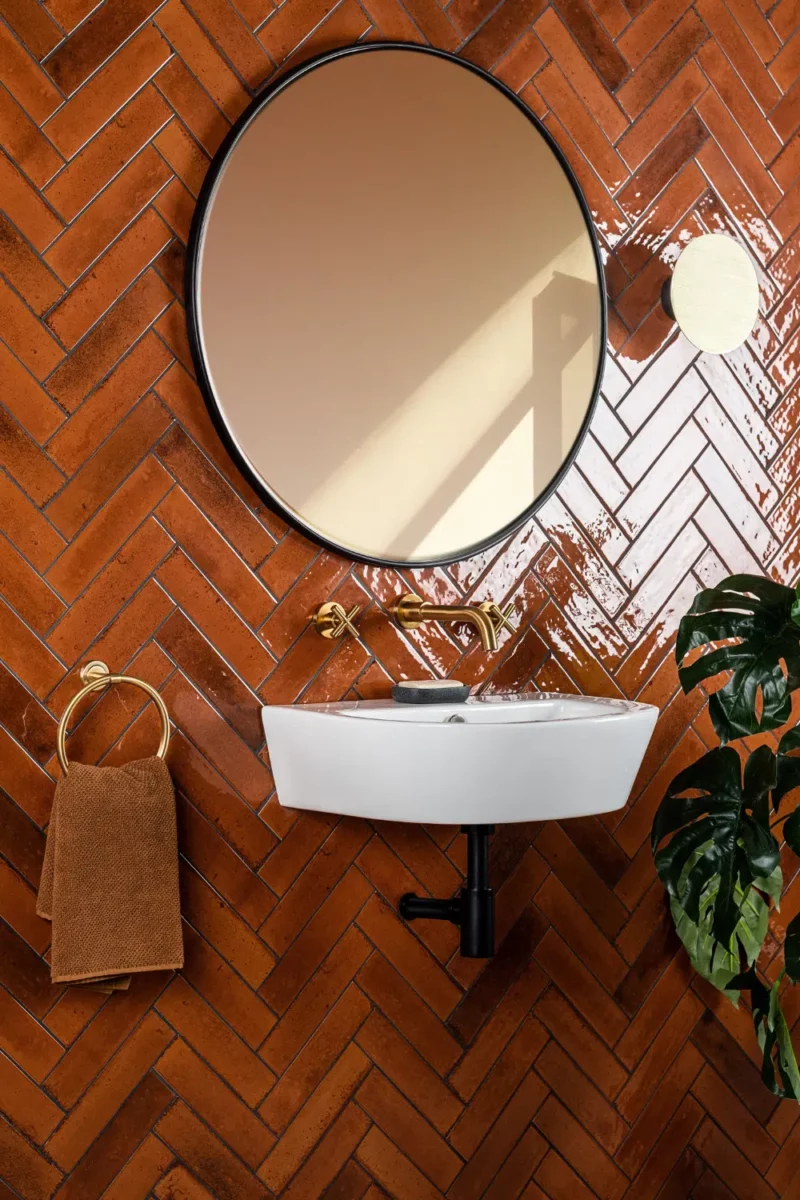 Terracotta is a popular color when it comes to kitchen decor, but we do not have to limit our bathroom design ideas. Bathroom designs are moving towards a warm, cozy, and comfortable look, and terracotta makes it possible.
As against the white color, the rusty orange of terracotta has been becoming extremely popular for bathrooms. Pair these fiery hues with minimal hardware for a rustic look. You can even pair brass hardware with these terracotta styles.
20. Statement Lighting
You can never go wrong in decor while adding lights, no matter which part of the home that is. This is applicable to brighten and pump up your bathrooms as well. Statement lighting, with the ability to set moods, is perfect for the evening when all you want is to step into the bathroom, dip in the bathtub, and sip on your favorite wine.
Statement lights are responsible for giving your space a contemporary yet vintage vibe. You can even try replacing the statement light with a chandelier to complete the royalty.
21. Cozy Textiles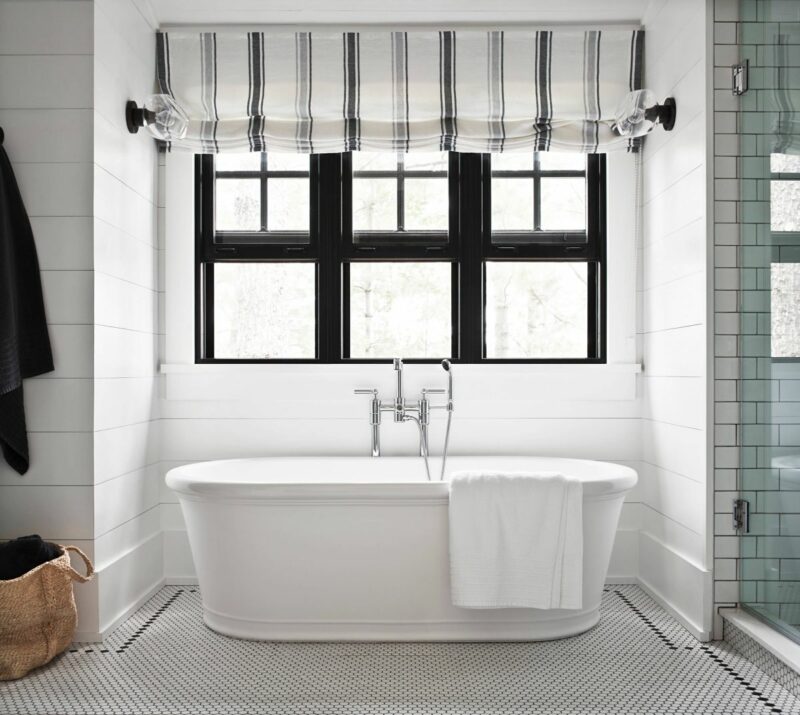 Textiles play an important role in the kind of look you want your space to be. With the belief that the bathroom space is mostly used to relax and unwind, our experts suggest using textiles for the room curtains, wall curtains, etc, that are soft and add warmth. Using heavy materials takes away the calming atmosphere that this space needs to have.
This year, the focus on bathroom ideas is gradually moving from regular binds to more soothing materials to complete the look of the space. While using textiles, keep practicality in mind. For example, avoid using long flowy curtains near the shower area.
22. Graphic Lines
What is the look that comes to your mind when we talk about calming yet boldness? The 3D feature of using graphic lines, along with subtle colors, creates a unique visual appeal.
The geometric shape they create gives a modern vibe that is the need in most modern homes. Be mindful not to use dark color backgrounds when creating this pattern.
Conclusion
There is no dearth of options when it comes to decorating your space, including the bathrooms. Earlier, the idea was that bathroom was that area of the house that had to be kept hidden, and hence, not much attention was given to the area. In 2023, bathroom ideas for design and decor changed.
People consider this as a place that needs to be shown off to the guests, just like the living room, balcony, etc. This year, if you are going for redecoration or building the bathrooms from scratch, here are some ideas that might come in handy.
We always believe that our homes speak a thousand words about us – our likes, dislikes, our personality and hence, it is very important that we present it to the best of our abilities. Did reading this make you want to take a long shower or soak in the warmth of the hot water tub?
Add the kind of beauty you want for the space and make your bathrooms worth showing off.
Sierra Rivera, a passionate home decor enthusiast, runs the popular blog CozyCottageCute.com. Sierra shares decor tips, DIY projects, and personal insights. Off the blog, she's often at antique markets or redecorating corners of her own space.