15 Creative Shelves Behind Couch Decor Ideas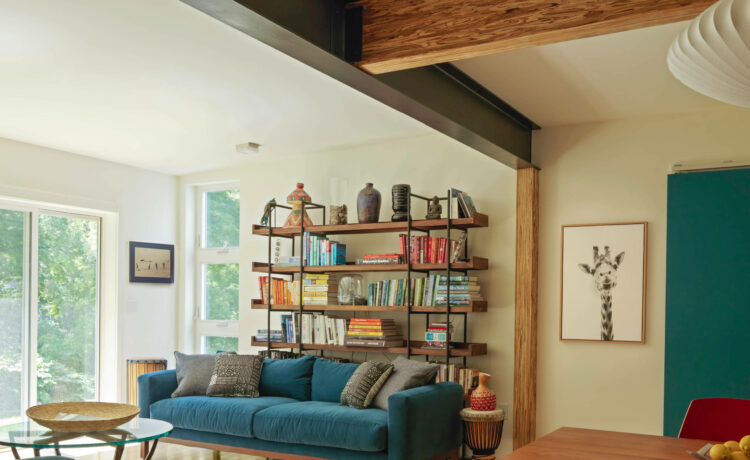 Are you also confused about where to put your couch, what interiors would complement it, and what decor ideas are ideal for your living room? Well, you have come to the right place.
We are assuming that you must be aware of the importance of a peaceful space where you can unwind and have a good time with friends and family. In this article, we will take you through some tremendous ideas and easy ways by which you can transform your living room into a dreamy haven to relax after a tiring day.
There is a wide variety of themes to choose from when it comes to the living room interiors. But the challenge is to creatively organize shelves behind the couch in the living room. Once you pick up a theme, customization can also be done to give it a personalized touch.
Scroll down and find out how to pull a theme to turn your space into a cozy retreat.
1. Floating Shelves Behind Couch in a Bohemian Setting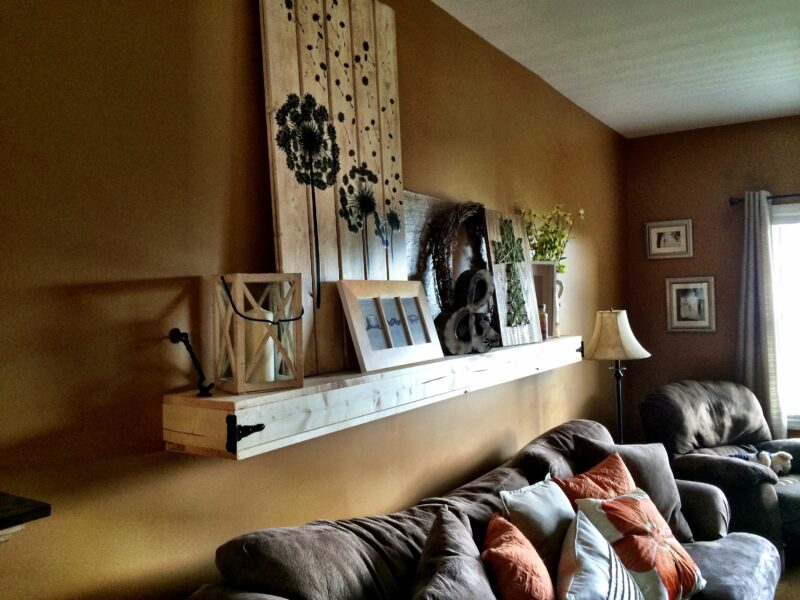 A bohemian theme is quite popular among people of all age groups these days. You can bring a bohemian vibe to your living room by incorporating little things like a wind catcher, a big mandala art painting on the wall, colorful cushion covers, and a big lamp in the corner that can illuminate the whole space. The white matt finish floating shelves can be installed behind the couch. Decorate the floating shelves with some mini house plants, and place your favorite books over them.
2. Shelves Behind the Couch for a Contemporary Theme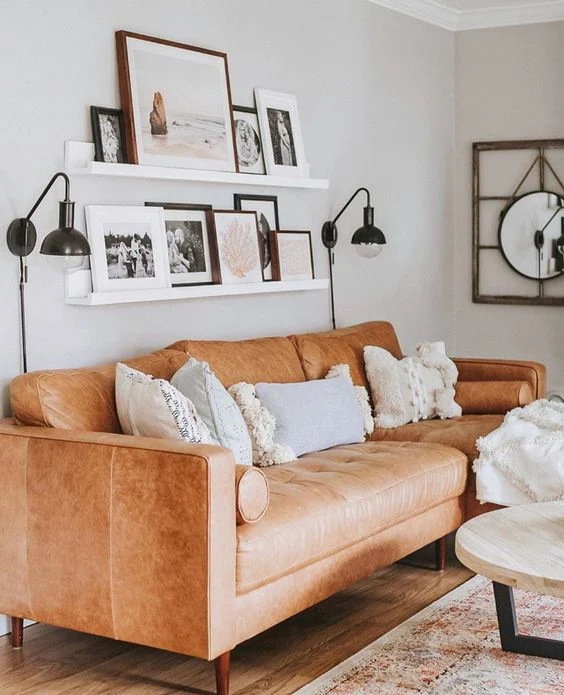 The contemporary theme calls for modern interiors. It is quite simple to pull off such a theme as you can either pick up a few designed fixtures or go for some minimalistic decor items. Just put up some designer or customized shelves on an empty wall. You can fill it with family photos, antique items, self-made portraits, and many more. Put some cozy cushions over the couch where you can snuggle, relax and breathe. A peaceful space is all that you need to escape from this modern madness.
3. A Coastal Vibe with Shelves Behind Couch
Are you ready to bring a coastal vibe to your living room? We are sure you must be excited about this particular idea. It is super easy to build plain shelves behind the couch. However, to give it a coastal touch, you can paint it with beach-inspired colors such as white, soft blue, and some earthy tones that resemble sand. Install some light fabric curtains in your living room for a breezy look. You can even put up a big blue vase with neutral-colored pampas grass to complete the coastal look.
4. Candles and Flowers on Shelves Behind the Couch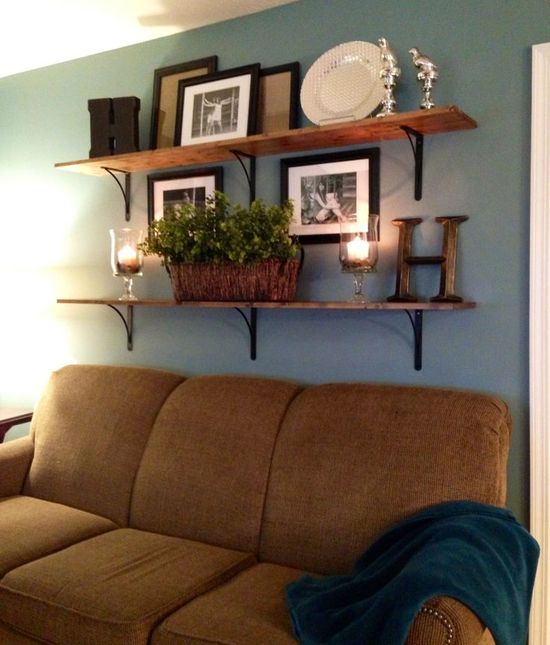 If your living room is small and you do not have any idea how to turn it into a fancy retreat, then little things can also help you achieve the same. Incorporate some nice fragranced house candles that can make your living room cozy. You can also put some flowers or house plants alongside the candles. Arrange the candles and flowers on the shelves behind the couch to create a warm and inviting space. This style is perfect for people who love to keep it lowkey but still do not want to compromise with the interiors.
5. Embrace the Greenery on Shelves Behind the Couch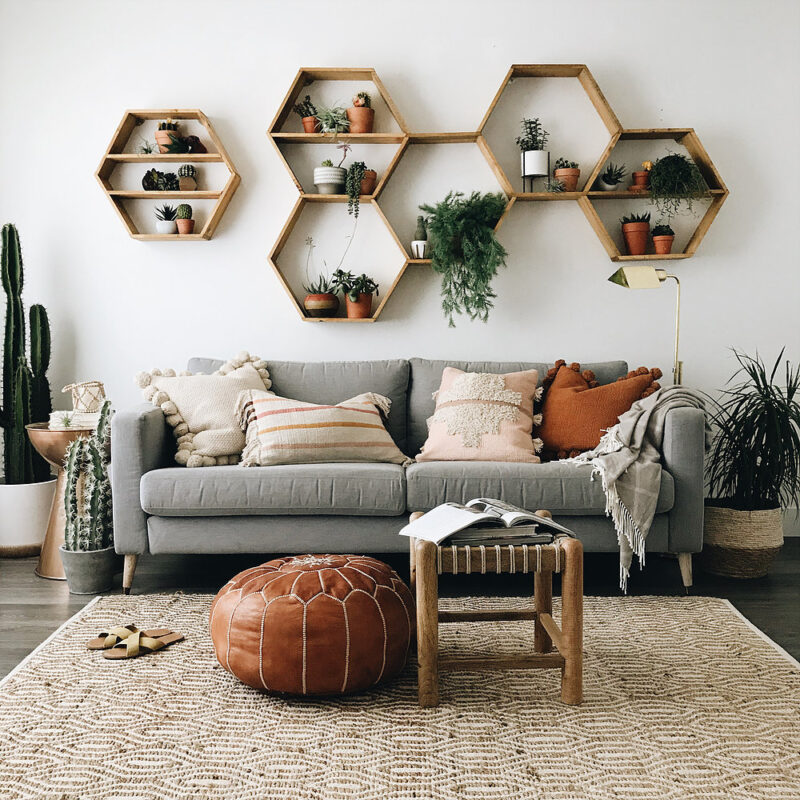 What is more energizing or refreshing than greenery? Include some nature-inspired freshness in your living room with some plants. Install hexagonal-shaped floating shelves; you can choose the color of the shelves according to your desires. We recommend the standard white color on which you can put different varieties of house plants that help in improving the air quality. Arrange them well on the shelves or keep them hanging on hooks to sustain the green theme.
6. Shelves Behind the Couch on An Accent Wall
An accent wall is a great addition to your living room if you are aiming to construct a beautiful living room with minimal effort. A bold-colored accent wall will do wonders for your space. A few floating shelves on that accent wall wouldn't do any harm. There you can display stuff like an old radio and DIY decor items. A comfortable neutral-colored sectional sofa will complement the bold accent wall. And the sofa is perfect for chilling and unwinding on Sundays when you do not want to step out and spend the whole day inside in your living room.
7. Scone Lights Alongside the Shelves Behind the Couch
Do you want to keep your space illuminated? Then installing some scone lights is an awesome addition. You can find the different design of scone lights online at affordable prices. And some shops that sell electrical appliances also keep such scone lights. Install them alongside the floating shelves behind the couch to create a dreamy atmosphere. The perk of having such light is you can keep your room bright and illuminated even if you do not have excess windows or any source of natural light in your living room.
8. Antiques and Artwork on Shelves Behind the Couch
What is a better way than showcasing your artwork in your living room? The best thing you can do with your living room decor is to fill it with personalized, self-made items. So that the next time when someone arrives at your house, they will have a clear idea about your art and craft skills. You can put up all your artwork, DIY decor items, antiques, and everything you think is worth displaying on the shelves. Use earthy tones in the room to give it an ancient touch.
9. Dual Toned Theme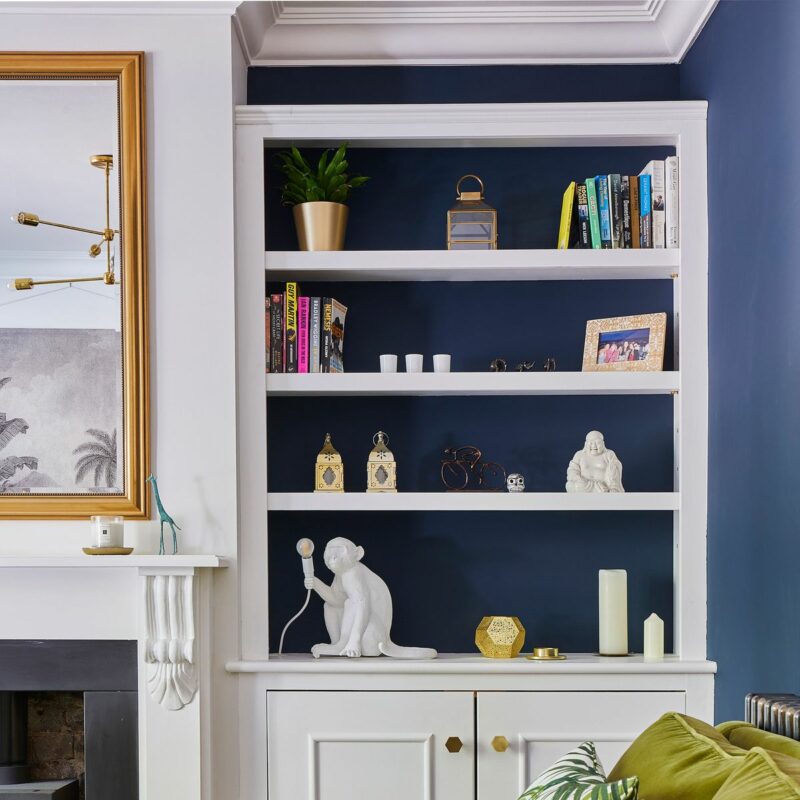 You can never go wrong with using two colors in your living room. Either go for a classic black-and-white duo or include a contrast of any two neutral or pastel shades; the result will certainly turn out to be awesome. On the shelves itself, place items with contrasting colors that would complement the vibe of the room. You can even find a dual-tone carpet, matching cushion covers, and similar curtains online that would help to bring the whole together.
10. Baskets on The Shelves Behind the Couch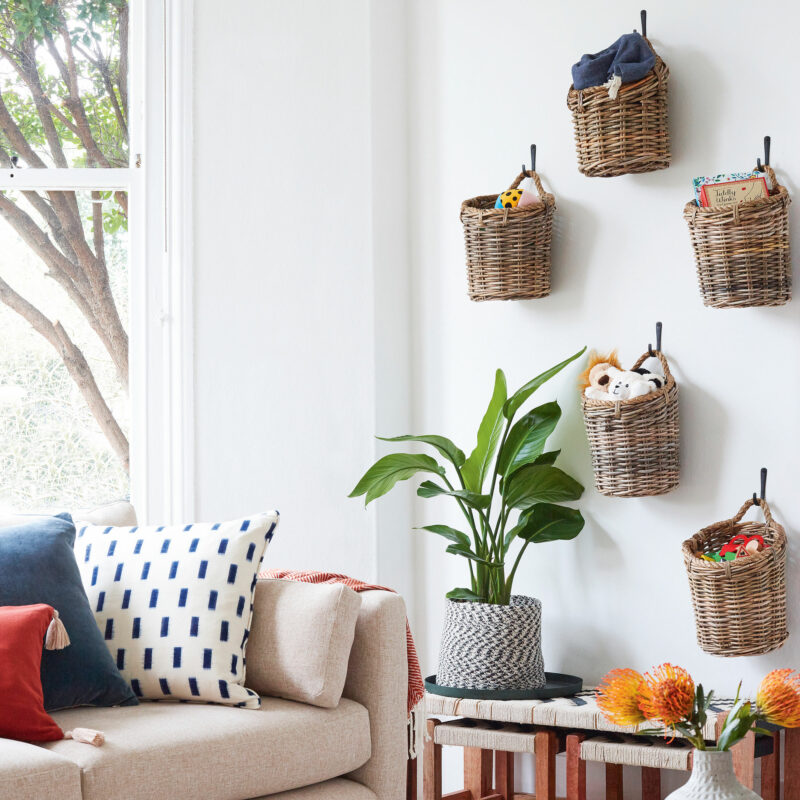 The interiors of your house are incomplete without the involvement of earthy tones, and you can introduce them in any form. Either in the walls of the living room or in the decor items such as carpets, curtains, wood of the ceilings, and many more. You can place straw baskets on the shelves behind the couch, which would solve multiple purposes. Firstly it will provide you with some storage, and secondly, it will also help you to elevate the aesthetic of your living room.
11. Farmhouse-Inspired Living Room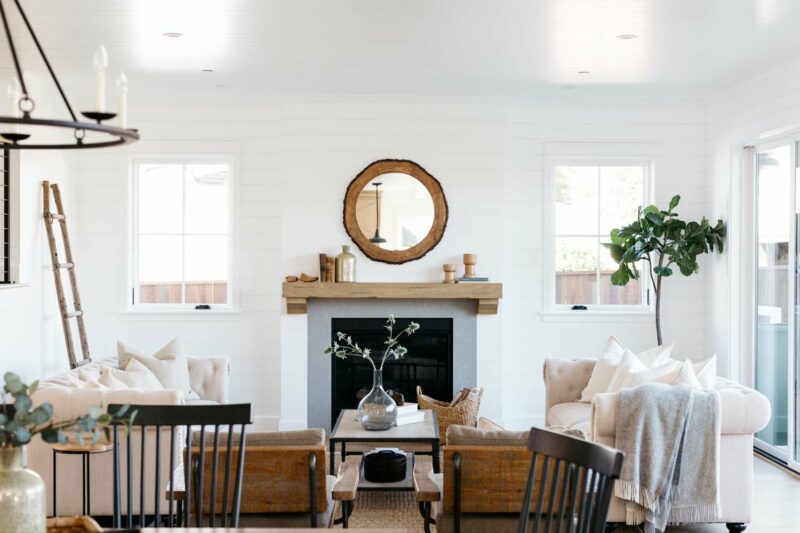 If you are aiming to construct a living room around the farmhouse-inspired theme, then this may be an ideal suggestion for you. Introduce a distressed white bench in your living room with an oak-stained rocking chair, complimented with a luscious green wreath that can be placed on the shelves or hung alongside them to complete the look. It is ideal for people who don't like to put too much effort but still want a touch of elegance in the interiors of their living room.
12. Framed Quotes on the Shelves Behind the Couch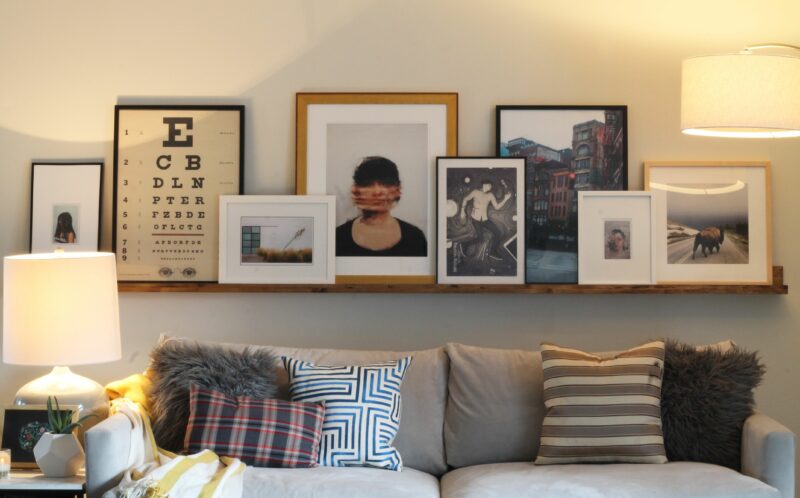 Let's jump straight for this one. Are you someone who wants to feel motivated or is looking for some inspirational quotes to survive the day-to-day challenges in life? Then, you have stopped at the right place. You can find multiple quotes on Pinterest, like inspirational thoughts or some funny quotes as well. Display these quotes inside a thin wooden frame for a sleek look. You can even showcase some mugs that have quotes written over them on the shelves behind the couch.
13. Add Mirrors to The Living Room Interiors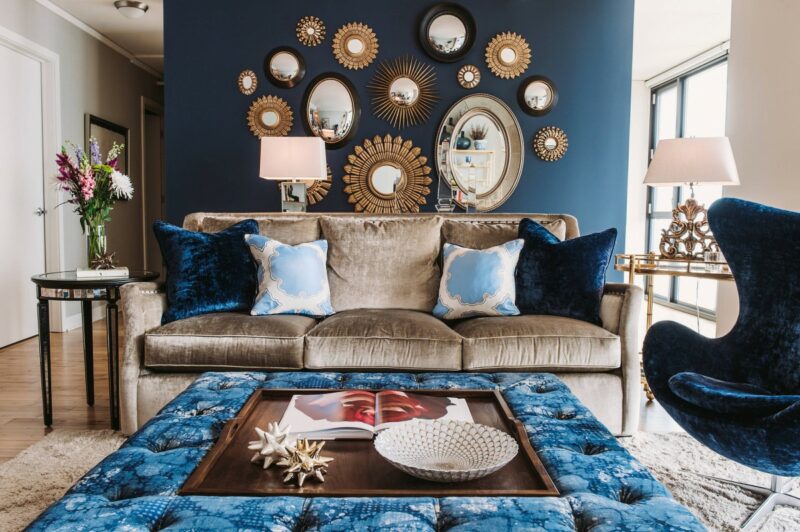 It may sound cliche but mirrors have been known for their decorative importance for many years. Use different types of mirrors and hang them all over the empty wall or place them on the shelves behind the couch. You can choose mirrors that have borders with intricate details. Turn your modern living room into a mirror maze with this idea. Also, Keep the color theme of the living room quite minimal as you do not want it to look too extra as well.
14. A Glamorous Touch into Your Living Room
When it comes to picking up living room themes, different people have different choices. Some people want to keep it lowkey and go for minimal choices, while some want to go the extra mile to pull off the best glamorous fixtures. Therefore, if you are also aiming to achieve a glamorous living room, then consider investing in an expensive couch with a stylish table; you can put luxurious decor items and fixtures on the shelves behind the couch.
15. Books, Books, and Some More Books
Turn your living room into a haven for all the book lovers, who can spend their days inside in the living room, disconnecting from the chaos of the outside world. Their endless love for books is satiated through this theme. You can put a lot of books on the shelves behind the couch in your living room. It will be a perfect retreat or a reading nook for all the bibliophiles. Plus, books are capable of making any place aesthetically pleasing. So, opting for this would not go in vain.
Summing Up
In the end, we would say that designing your living room is an art, and not everyone nails it, so we are here to help you. Whether you are a minimalist spirit or crazy for an all-glam look, we have included something for everyone.
As we have reached the end of this article, we hope you must have found your favorite theme. You can use this theme to create your personal retreat that will symbolize your taste and personality.
Since this list was created by keeping a wide variety of people's needs in mind, chances are you may want to mix and match some themes and customize them according to your desire. Therefore, it is safe to say that these themes will allow you to do so. Create a special place by organizing items on the shelves behind the couch in a systematic yet beautiful way.
Comment down below, and do let us know which theme caught your attention!
Sierra Rivera, a passionate home decor enthusiast, runs the popular blog CozyCottageCute.com. Sierra shares decor tips, DIY projects, and personal insights. Off the blog, she's often at antique markets or redecorating corners of her own space.