11 Over Washer and Dryer Shelving Unit Ideas for Organising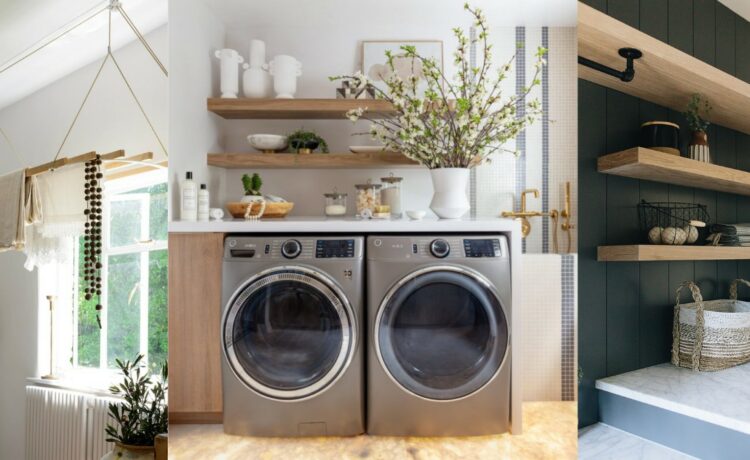 Regardless of where in the house, extra storage space is always appreciated, and that is the case in the laundry room/space, also. You can get this extra storage by simply installing shelves over your washer and dryer. This way, you can keep this space organized while making the most out of it by using it as storage.
In addition, by making this space aesthetic, you can be more motivated to do the routine tasks of washing, drying, and folding clothes. Installing over washer and dryer shelves is an idea that can work for small or bigger sized laundry rooms and for front load or top load washing machines.
There are some popular styles of shelves that are available that work for any budget. If you don't know what will suit your laundry room, we got you covered with these 11 aesthetic and functional over-washer and dryer shelf ideas.
Aesthetic and Functional Over Washer And Dryer Shelf Ideas
There are different types of shelves available made of different materials like wood, steel, etc. You need to consider the amount of space available, the type of machines (washer and dryer) you have, your budget, the purpose of the shelves, and whether or not it will suit the decor and style of the rest of the room.
This is because if you have a top-load washing machine, before installing your shelves, you need to measure the amount of space required to open the lid. If you want to store things in baskets, then shelves that are smaller in height, just big enough to fit the baskets, will do the trick.
By adding shelves, you can throw in some decorative items like plants, paintings, small figures, etc., and elevate the looks of your laundry room. Consider these efficient shelving ideas and install them in your laundry room for that extra storage!
1. Simple Open/Floating Shelves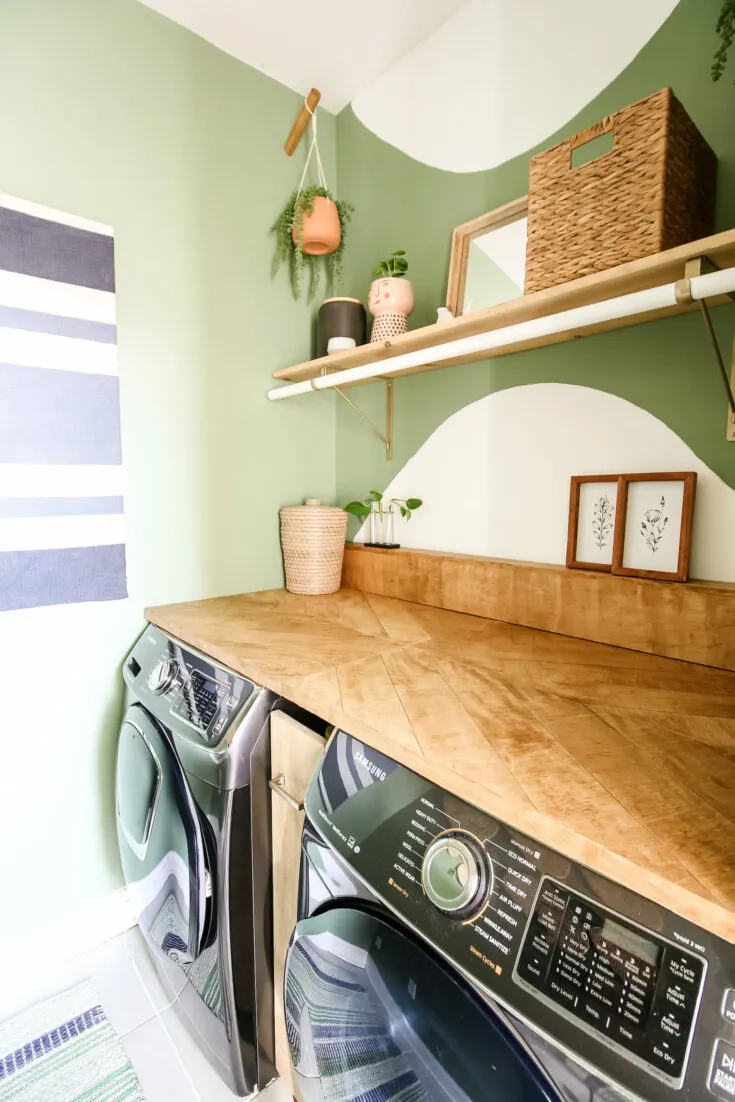 These types of floating shelves can be easily installed above the washer and dryer and can act as a good storage option. These shelves can hold considerable weight, so the materials used for washing clothes, like detergent, fabric conditioners, etc., can be placed there for easy access. In addition, these shelves can be customized, and the color can be changed to suit the rest of the decor in the room.
You can install any number of shelves as it depends on the space available and the purpose of the shelves. These types of shelves don't require a lot of effort to install and are budget friendly also. These will fit any sized laundry room, be it big or small.
2. Shelves and Cabinets Together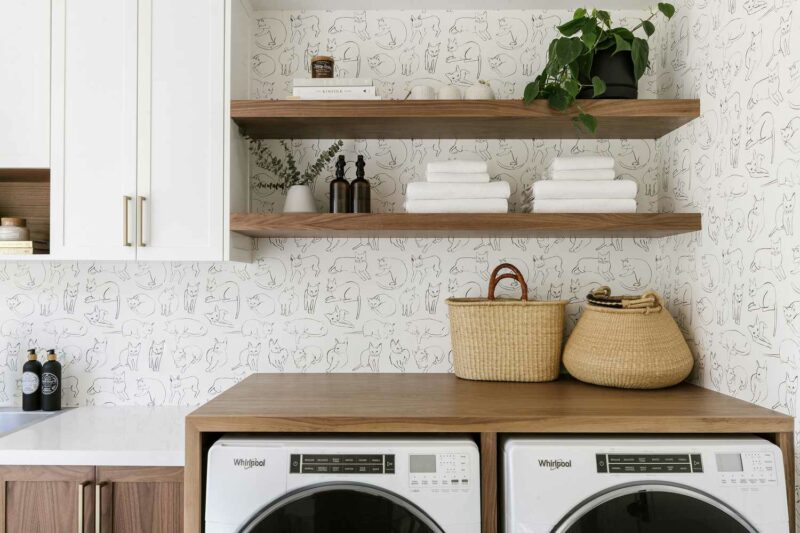 You can combine shelves and cabinets for better storage space, and this will also look aesthetic. In one corner, you can have closed cabinets, and in the rest of the space, you can install shelves. The cabinets can be customized according to your preference, and different styles, like vintage, modern, glass, wooden, etc., can be considered. The size of the cabinets depends on their purpose.
This idea works really well if you have a lot of space above your washer and dryer and may not be the best choice if you don't have enough space. However, if you want to install smaller cabinets, then you can still install both. If you have enough space, you can even consider having different styles of storage, for example, hanger racks for clothes, shelves for baskets, etc.
3. Foldable Shelves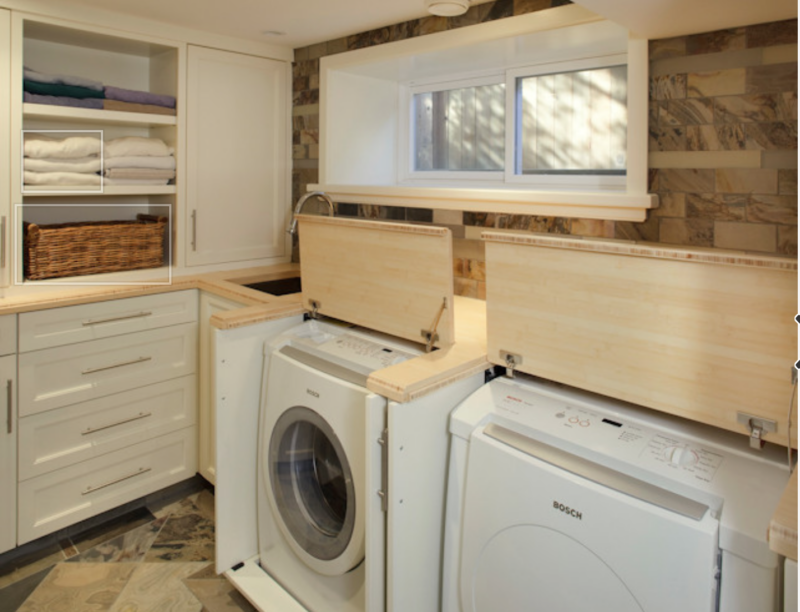 This is a good option if you have top-load machines. However, the problem with this type of shelf is that you might have to remove everything that is placed on it whenever you are operating the machines. Therefore this idea can be implemented if there is absolutely no space to install free-standing shelves or cabinets.
This over washer and dryer shelf can be helpful in storing materials required or temporarily placing your dirty laundry until you put them to wash. This way, the things on top of the shelf will automatically be removed when you use the machines. Overall, this is a good option to consider as it is inexpensive as well.
4. Wall-To-Wall Shelves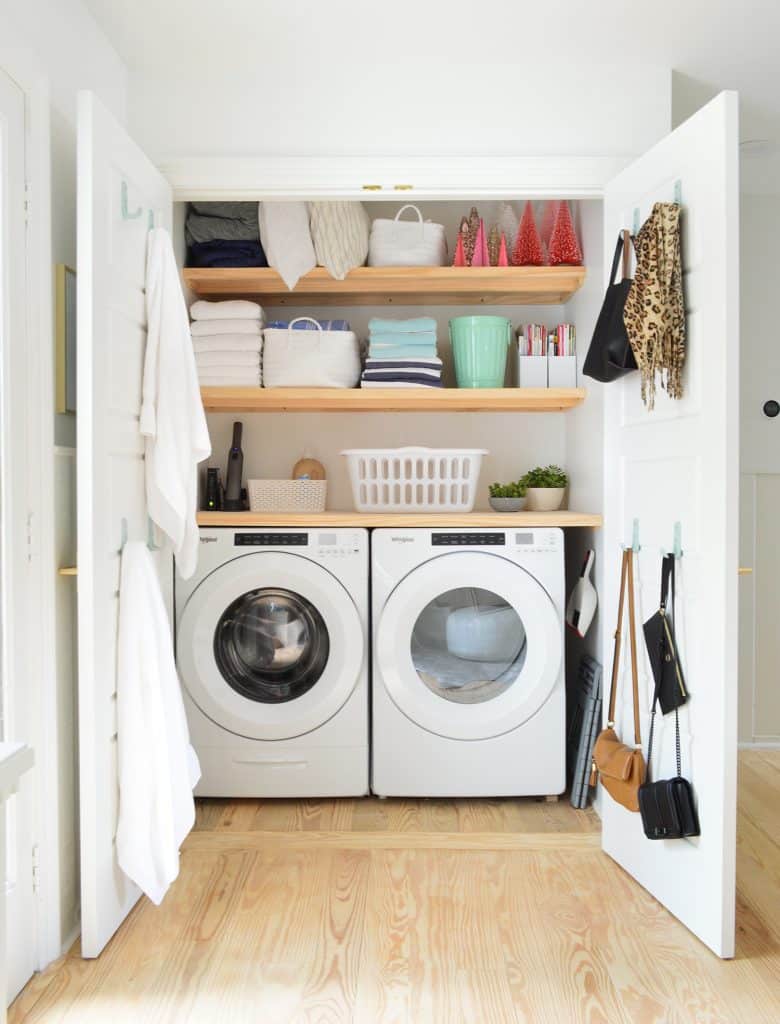 These shelves can be installed if you have a separate laundry room. You can have these shelves customized. For instance, you can have these shelves made out of wood or simply paint them a color that goes well with your decor. You can store different things here, and it would be easy for you to use them.
Where you install these shelves or just a single shelf is up to you because you can have them just below the ceiling or well above the machines. Or you can install two shelves at different heights, and this will greatly increase your storage space. These may be a bit more expensive because you will be installing them throughout the length of the wall.
5. Storage for Basket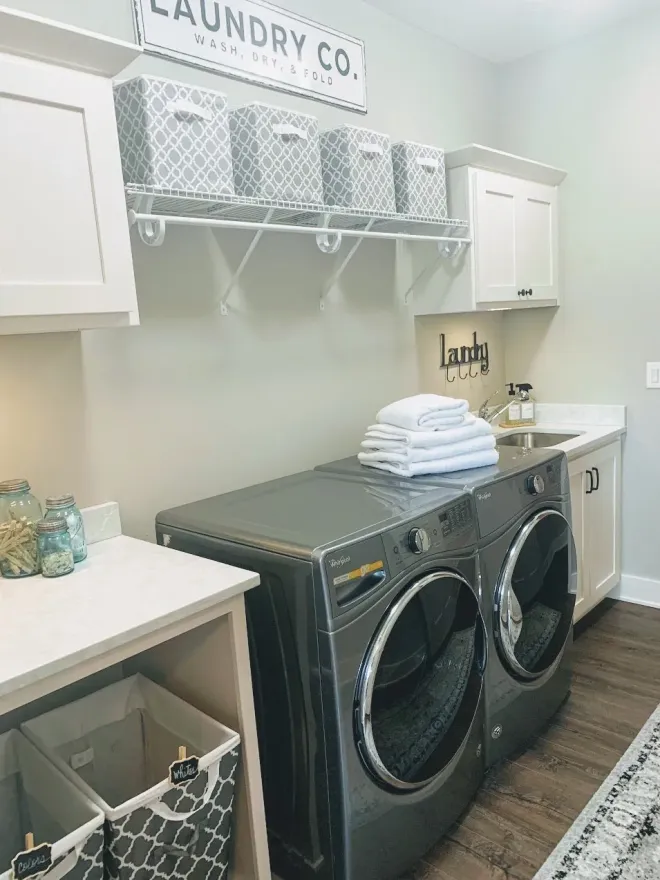 This is a great idea for small laundry spaces, as creating shelves that can hold baskets is a good use of the available space. If your washer and dryer are placed apart, and there is space between them, shelves can be added to store baskets here, also. Generally, baskets are better for the laundry room because of the ventilation they provide.
You can install this over the washer and dryer shelf idea along with other types of shelves like simple/ floating shelves or cabinets. This way, everyone can have their own baskets, and if different people are doing laundry, then everyone gets a place for their clothes. The things used for doing the laundry can also be stored here.
6. Wire Shelves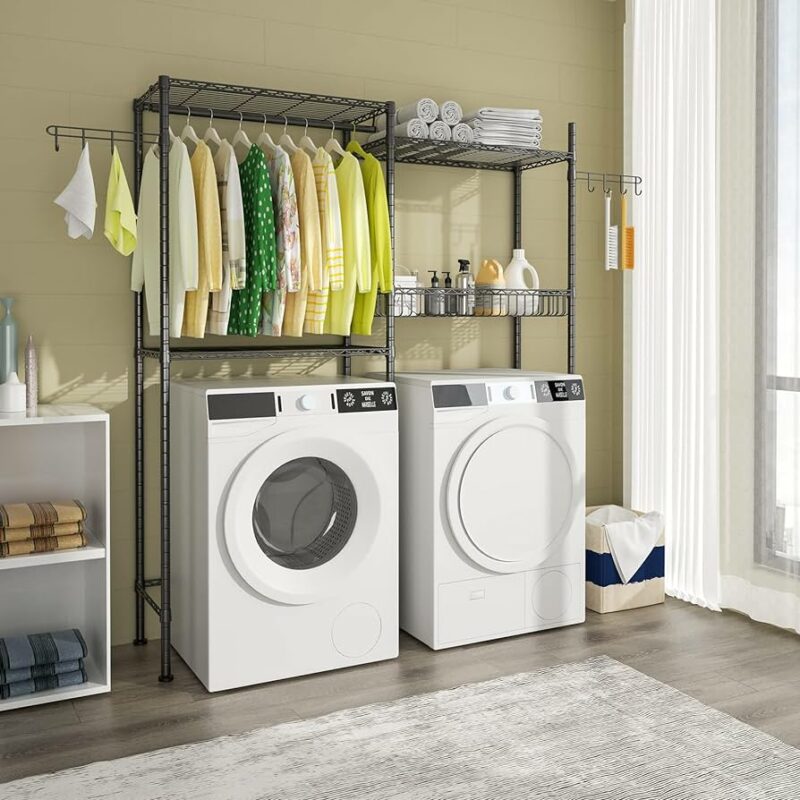 These are inexpensive and very easy to install. Different types of these wire shelves have been designed for different uses, like storing lightweight materials, heavy-weight products, etc. Depending on your requirement, you can install the ones you like, and you can also have multiple wire shelves that serve different purposes, like wire hanger racks, etc.
Although these wire shelves are not that elegant, they go well with most types of decor. They can be easily painted in any color, and they will do the job very well!
7. Wooden Floating Shelves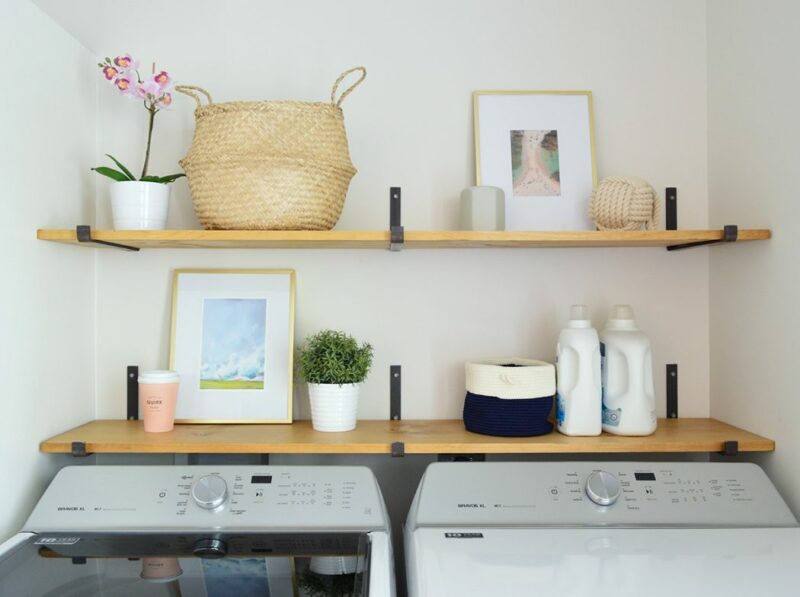 Wooden floating shelves are an aesthetic and functional choice for your laundry room. This is especially so if the laundry room has white walls and wooden floors. However, these wooden shelves need to be sealed so that if any water or liquid spills, these shelves still remain strong.
Depending on the length of the shelves, you can add support brackets. You can easily DIY these shelves and install them yourself. These shelves are also an inexpensive option and give you flexibility in installation as well.
8. Shelf with Hanging Rack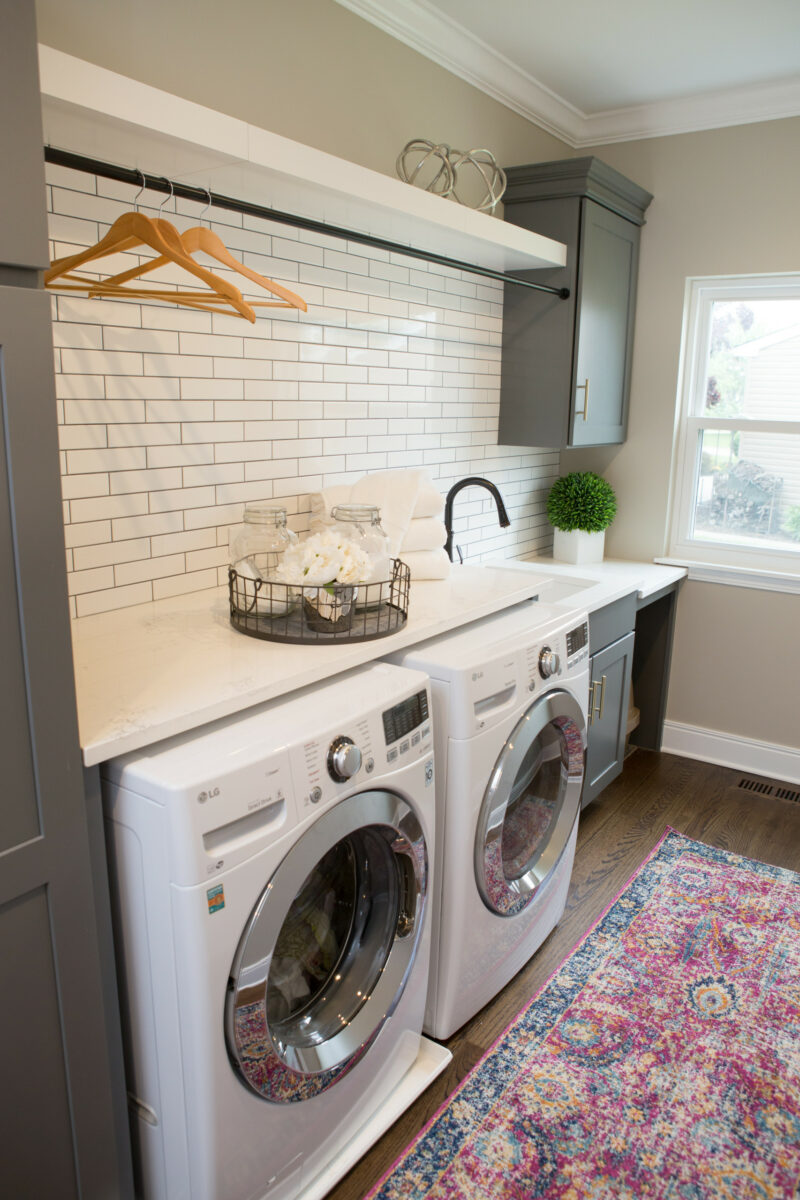 Installing hanging racks under the shelves is another brilliant use of space. You can allocate a specific location to install these shelves under which are hanging racks. The shelves act as a good storage option where you can store the materials required to do laundry.
If some of your clothes are still a bit wet, you can dry them easily in these racks. In addition, you can use these racks to organize your clothes and then have them in your wardrobe. This way, you will know what has to be ironed or folded. What better way to make use of the vertical space above your washer and dryer?
9. Painted Closed Cabinets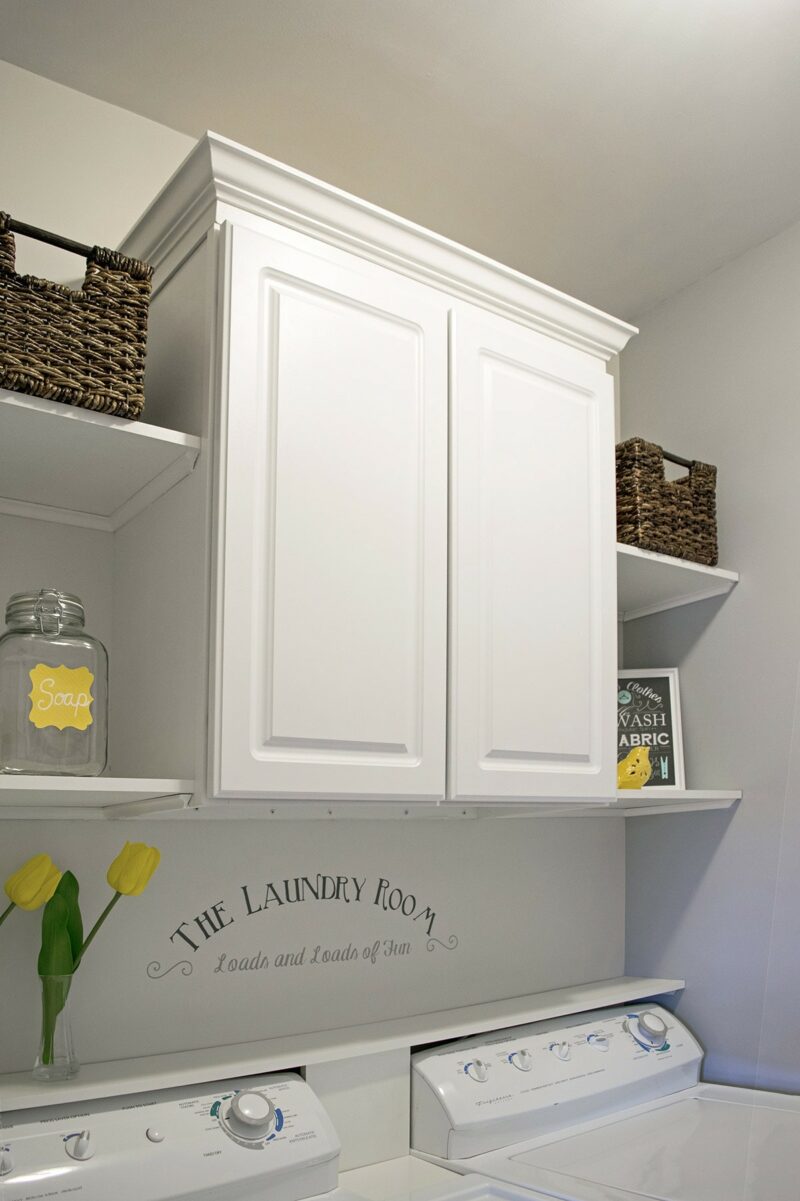 Making your laundry room look colorful and bright will motivate you to do these routine tasks. And one easy and efficient way to do this is to install cabinets and paint them your favorite color or one that goes well with the decor. This way, you will be making use of the laundry space and getting your work done without putting it off.
These cabinets act as a good space to store materials, and depending on the size of the laundry room, you can install as many cabinets as you want. You can even paint them different colors that go well with the rest of the decor. If you consider changing the wallpaper on the wall above your washer and dryer to match your cabinets, you will have an absolutely stunning laundry room!
10. Customized Shelves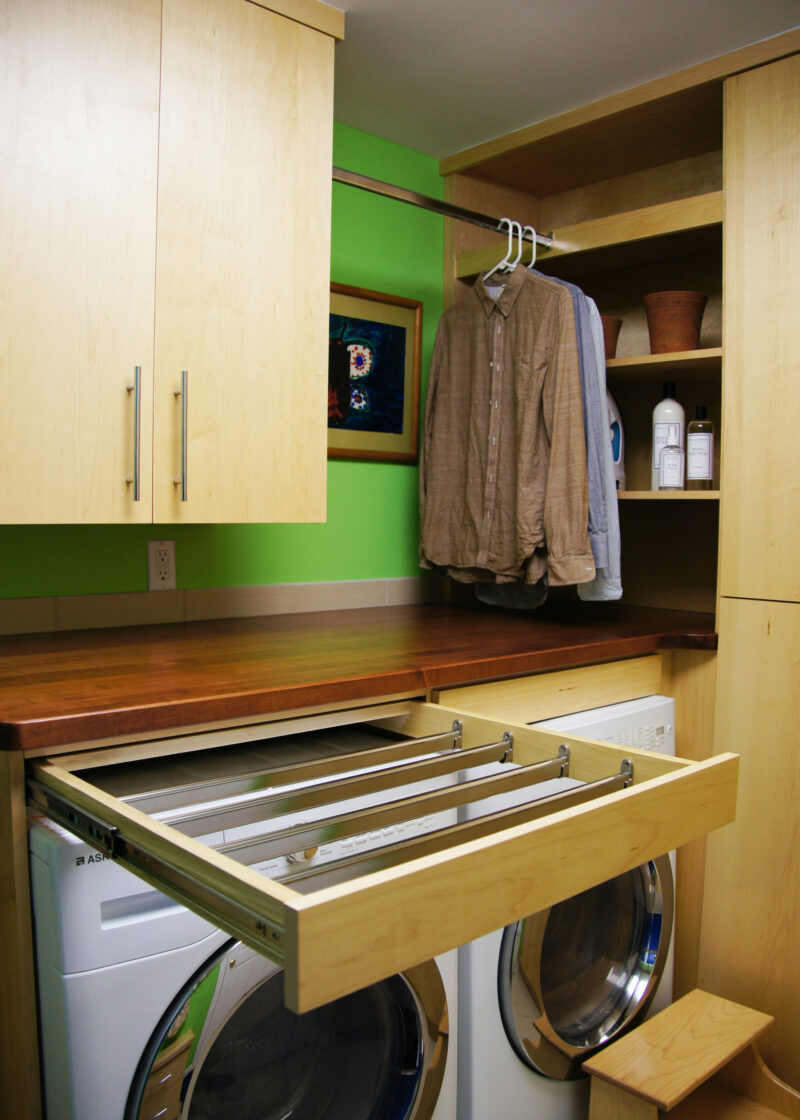 If your washer and dryer are inside a niche in the wall, you can easily customize this laundry space. You can install different types of shelves inside, including shelves, hanger racks, countertops, storage shelves for baskets, etc. You can add sliding doors to this space so that it gets hidden if this is in a strange location like the living room or bedroom.
This way, it will look just like any other wardrobe door. If you have a separate laundry room, then you can get shelves or hangers made according to your requirements. Although this might be a bit expensive compared to the other options, the end result will look beautiful!
11. Countertops and Shelves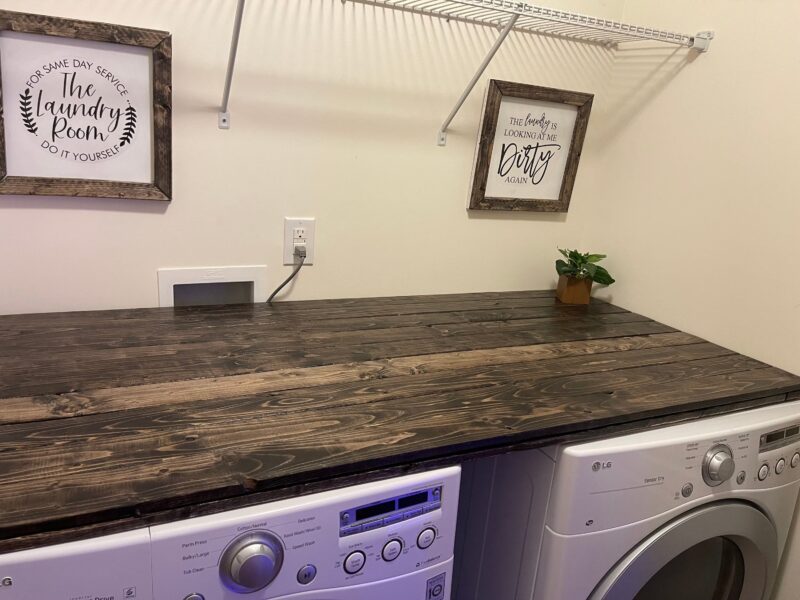 This idea will work well if you have front-load machines, and if either your washer or dryer is top-load, then you have to make alterations to this idea. This is because installing a countertop places your machines in a compact space, and you can effectively make use of the remaining space. If you add shelves, some space above the machines is likely not to be used, but with countertops, that is not the case.
This is also a good option as it is easy to place heavier materials or objects on top of a countertop than on shelves. If you are in a hurry, you can just leave everything on the counter and take care of it later. Adding a countertop is also not very expensive, so this would be a great choice.
Summary
Doing laundry can be a boring and routine task, and changing up your laundry room or space by adding shelves can be a good solution. You can increase the amount of storage space and increase your motivation to do this task simultaneously.
There are different options available for installing shelves ranging from budget-friendly to expensive ones. The easiest way is to install different types of wired shelves, and the most expensive option would be installing customized shelves.
You can think of installing closed cabinets, hanging racks, floating shelves, etc. However, which type of shelf you choose is dependent on the type of machine you own because if it is top load, you need to leave enough space to open the lid.
These are some of the most popular and efficient over-washer and dryer shelf ideas. Let us know if you have tried any of these ideas!
Frequently Asked Questions
Can I Have Shelves Even Though I Have a Top-Load Washer/dryer?
Yes absolutely! You can install shelves, but you need to remember to leave enough space to open the lid of the machine. The rest of the space can be effectively used for the shelves. You can choose almost any of the over washer and dryer shelf ideas mentioned. However, if your ceiling is low or if your laundry space is in a niche, then you cannot have different layers of shelves.
Can I Have Hanging Racks Regardless of The Type of Shelf Installed?
Yes, it is possible to have hanging racks below your shelf and make use of the vertical space while using this to organize your clothes. However, if you want to install two or three shelves below one another, then hanging racks may not work. So you need to consider the space you have available, and if there is a small space next to the washer or dryer, you can install 2 hanging racks also.
Sierra Rivera, a passionate home decor enthusiast, runs the popular blog CozyCottageCute.com. Sierra shares decor tips, DIY projects, and personal insights. Off the blog, she's often at antique markets or redecorating corners of her own space.