22 Couch Types and Sofas Worth Having with Images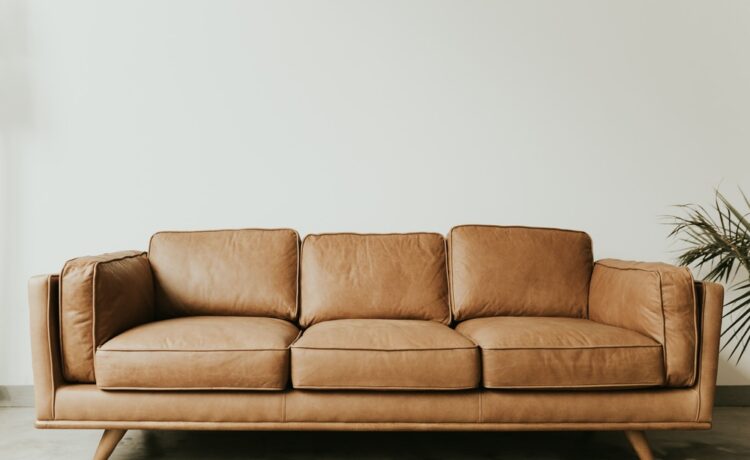 Humans have a tendency to seek comfort in whichever possible way and space. Therefore, the invention of sofas was done. Sofas or couches are pieces of furniture that offer a deep sense of comfort to anyone sitting on it. Be it chaise lounges, offering long leg space, or recliner massage couches, for a relaxed evening after a hectic day at work. Sofas are that one piece of furniture that accompany you on all your good and bad days.
In the world of comfort furniture, you can find a myriad range of sofa and couch types. However, unlike as it is commonly known, the more is not always merrier. We understand your trouble of going through a vast type of couches and getting confused about which one to buy.
Therefore, in this blog, we will ease your hassle by providing a mini-guide of 22 couch types and sofas with pictures.
Let's get started.
1. Convertible Couch
Convertible sofas are basically usual-looking couches with a built-in mechanism allowing you to pull out the couch cushions to form a proper bed. This is one of the best couch types, considering its multi-purpose use. In the daytime, it is mostly used as a comfy couch, and at night it can turn your drawing room into a bedroom without creating new walls.
Many times when guests visit unannounced, there is a lot of chaos regarding the sleeping arrangement, especially in nuclear families. Still, with a convertible couch at home, you can sleep peacefully and host your guests warmly.
2. Pull-Out Sofa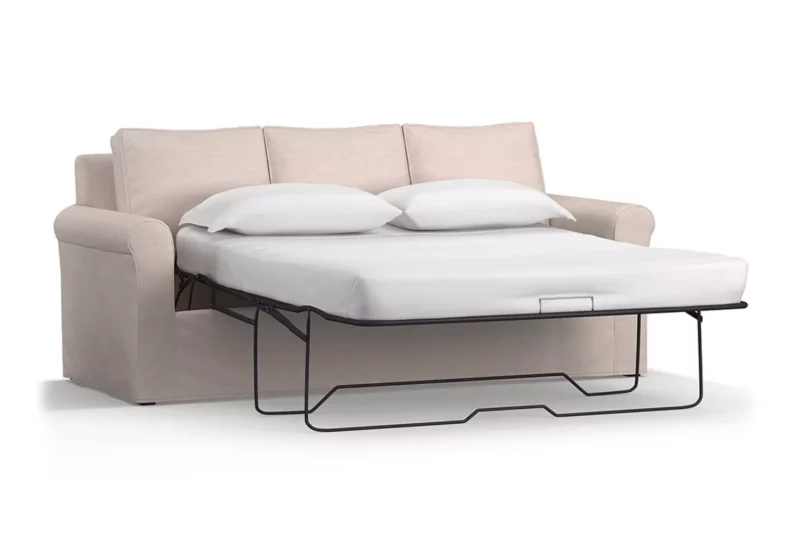 Now, this type of sofa is very similar to a convertible couch and is very easily confused as well. A sleeper sofa is also known as a pull-out sofa, which means that the sofa has a pull-out metal frame in the shape and size of a full-size bed.
However, while convertible couch types have attached mattresses, that is, the couch cushioning, the pull-out sofa doesn't have a mattress. Only the bed frame. This type of couch offers a great option when you have a particular mattress type, i.e., a memory foam sofa bed or an orthopedic sofa bed. A pull-out sofa allows you all the possibilities.
3. Divan Couch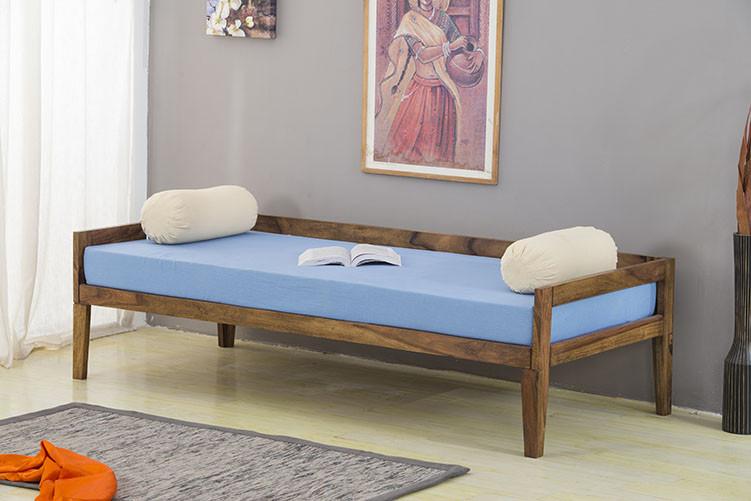 The name suggests its roots in traditional Indian society, where huge gatherings, or baithaks, took place. In those times, the divan sofa served as the only couch type available. A Divan couch is a backless sofa that is usually placed against a wall to create a sense of back support. It gives the living room a traditional vibe.
Divan couches are the best option out of all couch types if you are planning to set up a rich, Indian traditional home decor. It's best suited for family gatherings and even serves as a bed if needed. Mostly these couch types are used during intimate gatherings, especially in traditional households.
4. Lounge Couch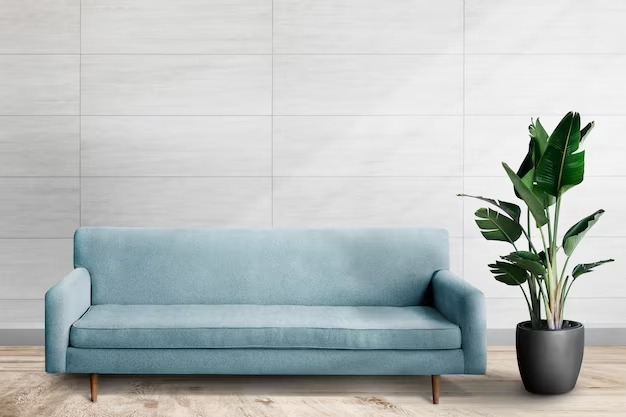 Lounge couches offer complete relaxation with their unique structure and style. There are various lounge couch types, but the most common feature in all of them is an additional space to lay back with your feet up.
Another amazing feature of lounge couches is that they even come in multi-lounge options, which means that the sofa has more than one space to put your feet up. Whether you have old guests or family members at home or you like to spend your leisure moments ideally, lounge couches are calling you for the same.
5. Pallet Couch
This type of couch is most popular among DIY enthusiasts. This type of sofa is made using small flat wooden structures called pallets. The arrangement of wooden pallets is done in such a way that they can bear human weight with much proficiency and allows enough glutes and back support.
Pallet couch types can be mostly found in spaces like garages, mechanics' offices or garden sitting areas, etc. If you love both a comfortable, natural couch offering a good body posture, pallet couch types serve the purpose.
6. Tuxedo Couch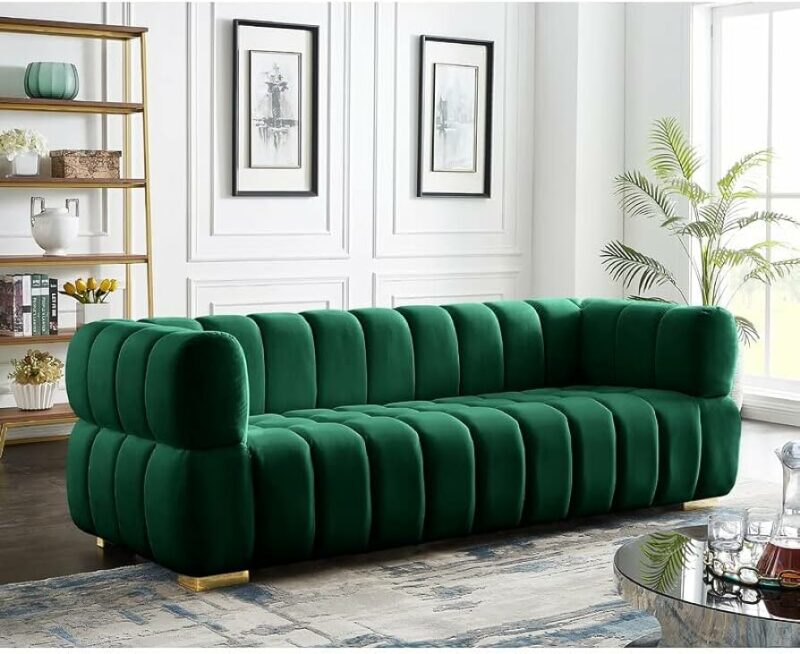 What comes to your mind when you hear the word, Tuxedo? A three-piece men's apparel? Well, that's one thing but wanna know what comes to our mind. It's the Tuxedo sofa. Tuxedo couch types are one of the most classy and rich-looking couch types.
However, even though these couch types give the best of rich class look to your interior, they do lack comfort, but once placed in your home or office area, they will certainly offer that elite style you need. Tuxedo couch types, despite their lack of comfort, do have their own unique place in the world of furniture.
7. Sectional Sofa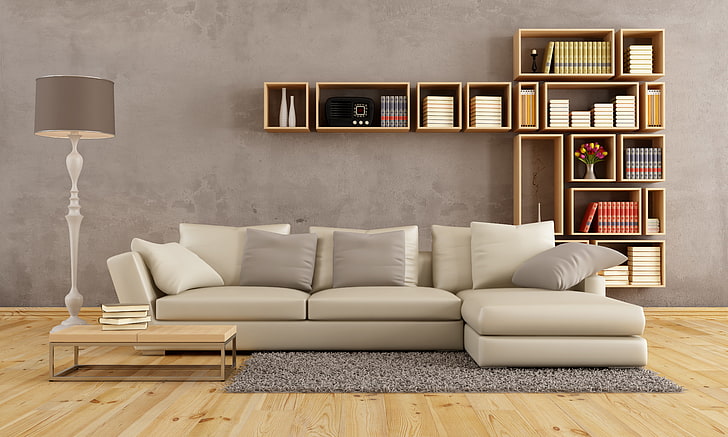 Sectional sofas are luxury couch types that are also versatile. They come in different shapes and multiple organizable pieces. The most popular of the many sectional couch types include U-shaped and L-shaped sectional couches.
Sectional couches offer the most liberty in terms of arranging and rearranging the decor of your living room. The best part about sectional couch types is that they serve best in the homes or offices of people who love to experiment with their interior decor. This couch type can be placed in more than one way.
8. Settee Sofa
A sofa that offers enough sitting space but, due to its low legs, appears to cover less room space; yep! That's Settee couch types for you. It is one of those couch types that look like a broad chair with a narrow seat.
Settee couches are not much useful in offering you comfort, but it does offer a perfect vintage, regal look to your home. In appearance, a settee looks like a wide dining chair. These types of sofas are usually placed in bedrooms or vanity closets.
9. Recliner Couch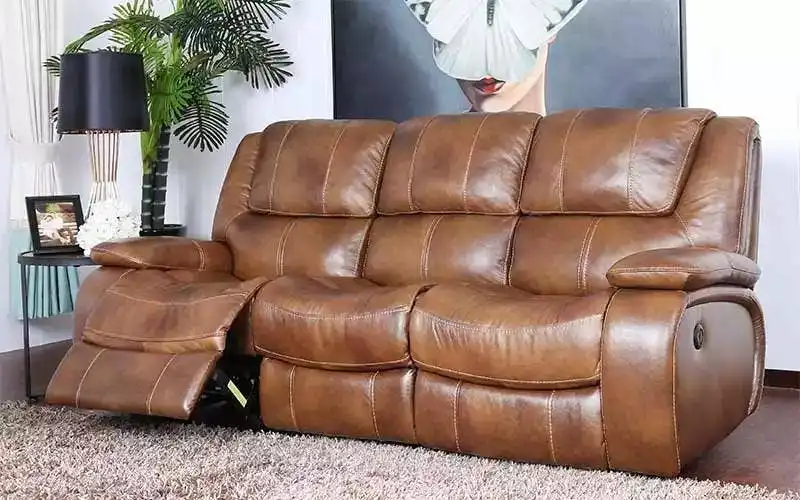 The Gen-z of couch types. The recliner couch is a new-age sofa, offering a perfect mix of couch, lounger, and technology. Recliner couches come in different shapes, seating options, and fabrics. It totally depends on where you will be using the couch.
For instance, if you wish to place it in your office, a single-seater leather recliner will look good for those after meeting naps. But if you wish to use it for late-night movie bingeing, you can go for three or four-seater cotton recliner couches.
10. Loveseat Sofa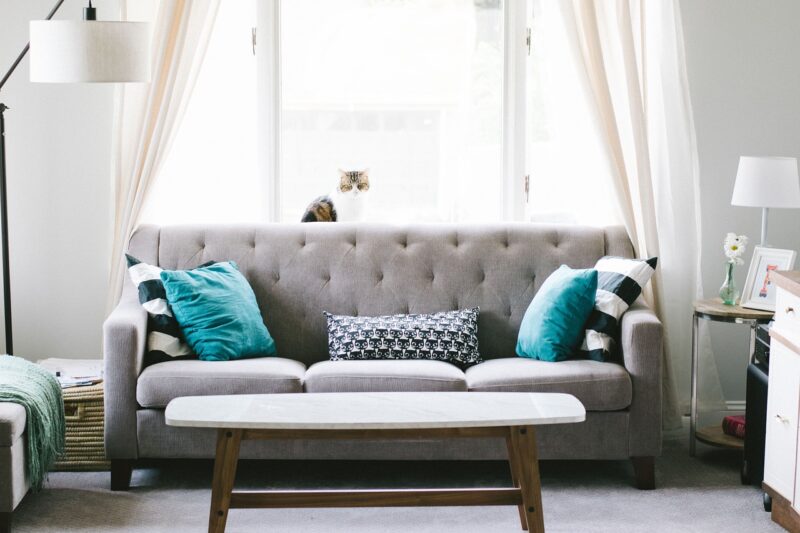 Well, it shouldn't take a genius to know what loveseats may look like. A compact, comfortable two-seater sofa precisely designed for the purpose of romantic cuddles and snuggles. However, that's not all that a loveseat is used for.
Loveseat couches serve as the best couch types when it comes to designing a small living room-like space or sitting area. Loveseat couch types have late-night movie binge written all over them (not literally, though!). These couch types allow you to spend some leisurely quality time after a long and hectic day.
11. Chaise Lounge Couch
Chaise lounge is particularly that kind of couch type, which holds the shape of a Chesterfield sofa but with only one side having a backrest. Chaise lounges can be mostly found in small living rooms, grand bedrooms, or even vanity spaces.
However, the chaise lounge offers enough versatility to be placed in formal settings as well. Chaise lounge couches come in different shapes. For instance, some have no arms, while others have single arms or backrests.
12. Mid-Century Sofa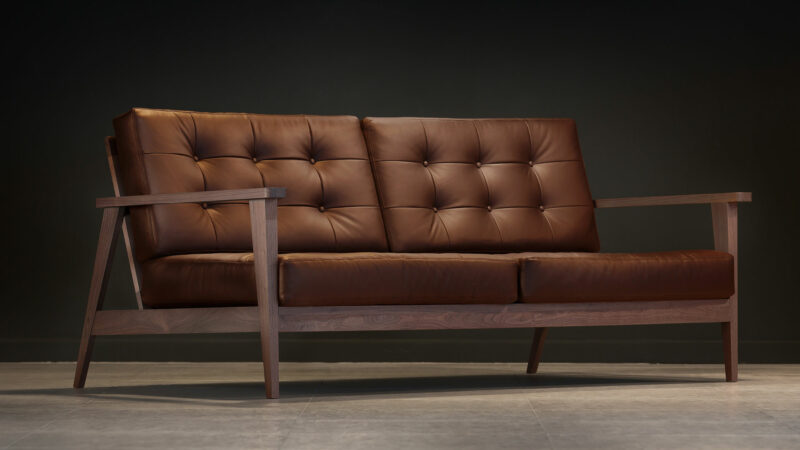 A clean, classy, and sleek piece of furniture, drawing the most attention towards itself, being the central piece of attraction. Yes, it's none other than the ever-so-stylish, mid-century sofa.
They have a deep, rectilinear structure with uncovered wooden or metal legs. The best quality of these couch types is that they do not offer a restricted design and decor setup. Rather, they meld into any and all kinds of interior design.
13. Chesterfield Sofa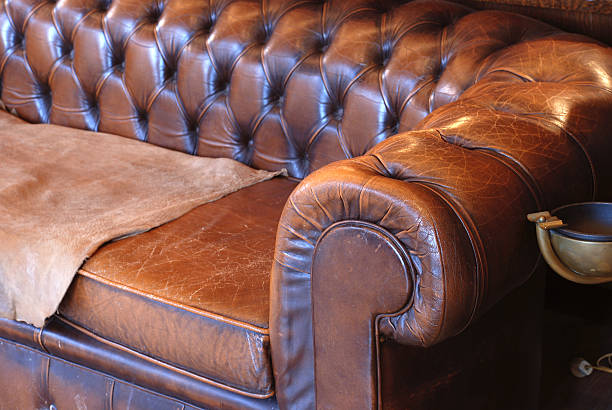 The classic 18th-century star, studded with a classy retro vibe. If you are a fan of retro vibes, chesterfield couches are your thing. An equal-weighted sofa with high rolled arms. In terms of cushioning type, chesterfield couches have quilted or tufted backs with visible nail marks.
This type of couch creates a high-class appearance in your home with a minimal sleek structure.
14. Modern Classic Couch
Classic couch types are basically simple sofa sets with the most common shape and style. However, the beauty of modern classic couches lies in the very fact that they are simple.
One of the prime aspects of classic couches is that they can be used in any kind of decor and do not disturb the vibe of the space. Classic couches are basically the kind of couch that is present in almost all households.
15. English Roll-Arm Sofa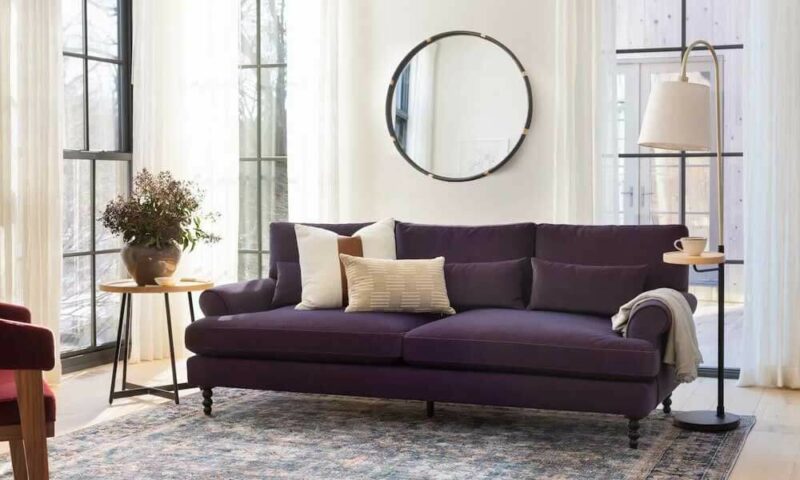 High Back, Low Arms! That's the quickest and most appropriate way to define an English Roll-Arm Sofa. This type of couch comes with a tightly fitted fabric and thick overall cushioning.
The English sofa offers a firm yet comfortable back and seating support. English roll-arm couches have been an all-time favorite among sofa lovers for their chic yet subtly classic appeal.
16. Camelback Couch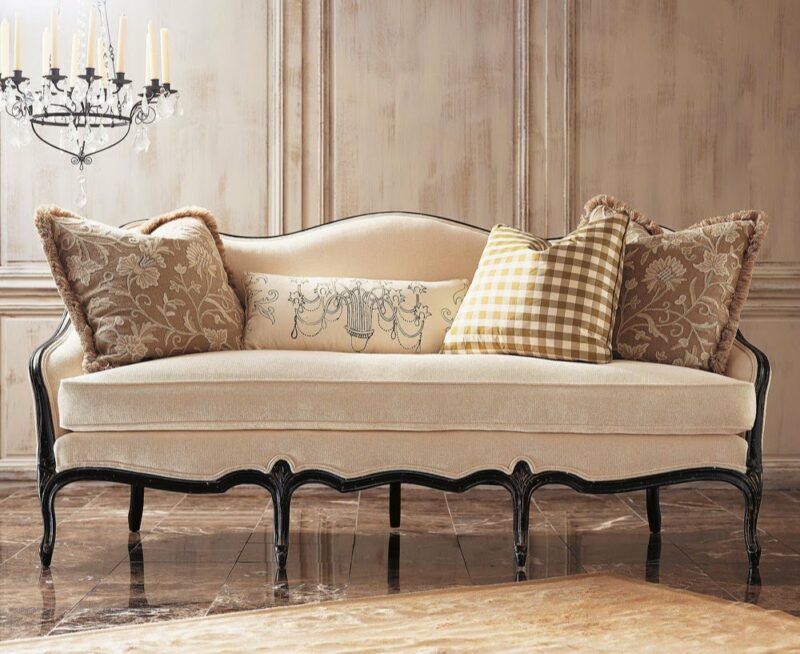 Camelback couches are high-arched back sofas descending down into the sofa arms. The sofa's back is usually deep, with a comfortable arch providing full spine support. These couch types provide an elegant vintage look to the interior home decor.
Arched-back sofas or camelback couches come in single, double, and even triple arch styles. The history of camelback couches dates back to the old English aristocracy. Even today, you can find this type of couch being used in theatres or films depicting old England.
17. Cabriole Sofa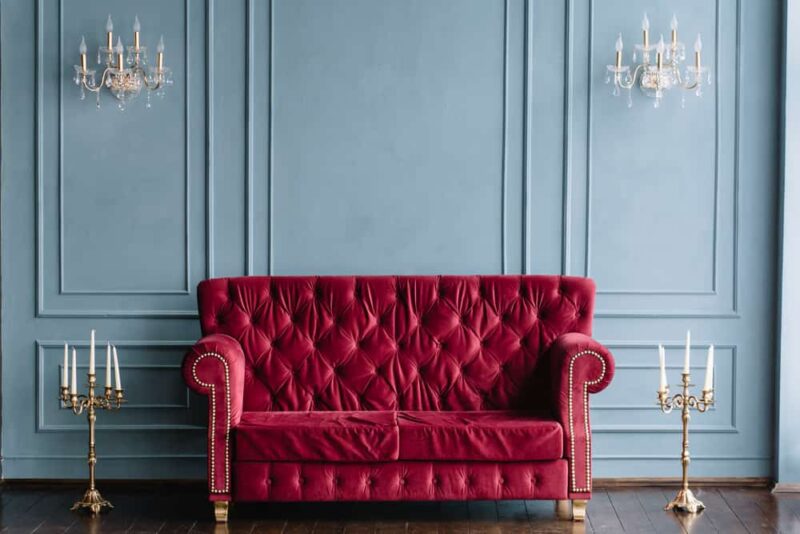 A couch that depicts the values and style of equal and balanced back and arms. These couch types do not have any specific distinction between their back and arms. It appears like a continuous line of design.
Cabriole sofas most often have simple, minimalist ornamentations. However, they can sometimes have certain elements based on the homeowner's individual style.
18. Bridgewater Sofa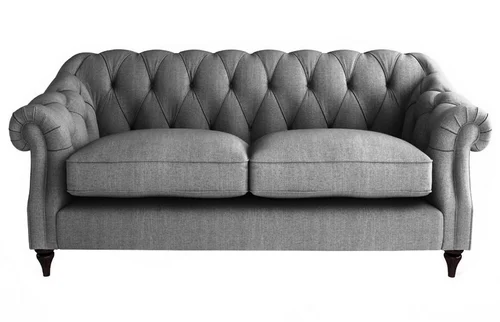 Bridgewater couches are one of the most commonly preferred couch types. They have the features of a classic couch, such as a deep cushioned back, slightly rolled arms, and inner springs to offer continuous sitting support and comfort.
Although these couch types do not draw attention as a single piece of furniture, they definitely raise the class quotient when used in a multi-sofa set.
19. Futon
Futon couch types are a true example of the merger of cultures. Futon is one of the cute yet classy couch types that originated in Japan. It is widely popular in both formal and informal interior décor settings. In style, a futon appears as a sofa cum bed, with a wide flat sleeping surface.
Futon couches come in different shapes and sizes. There are compact futons, frameless futons, and traditional Japanese sofas. So, whether you are going for a chic, modern home with traditional features or a traditional home with modern aesthetics, futons serve both purposes.
20. Cade Sofa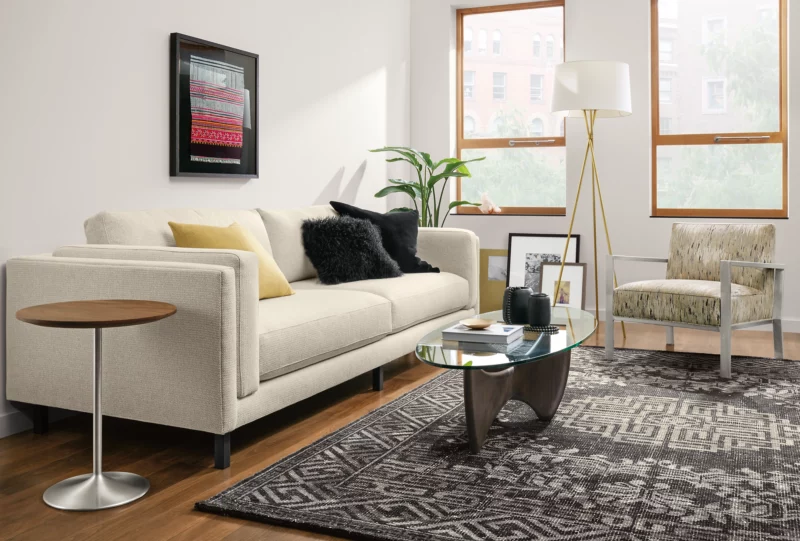 Have you ever heard of the phrase, one size fits all? Well, Cade Couches or Cade sofas are one style fits all. These couch types are not only sleek but also offer an elegant class and complete comfort. Also, this sofa is a great fit for all kinds of locations, be it the office lounge, private parlor, study room, or even the living room. Cade is one of those couch types that offer a minimal yet rich look to your interior decor.
Cade couches are also versatile in the type of fabrics. Cade couch types look great in all types of fabric, from leather to cotton to velvet. These couch types can mostly be seen in professional settings or often in modern households.
21. Daybed Couch
Daybed couches are the real impostors. These couch types do not exactly appear like sofas but beds. Daybed couch typesare good for the times when you feel more on the lazy side. Need that little nap? Go for a daybed couch.
Daybed couches can be mostly found in the doctor's clinic or in a children's daycare arrangement. Daybed couch typesallow you to create a comfortable and relaxed interior in your office or home interior. They allow the residents to maintain a cozy atmosphere.
22. Bamboo/Cane Couch
Cane couch types are basically canes or bamboo sticks laid out and structured in a particular shape and style. Most often, you will find cane couches in garden sitting areas or in porch spaces. This is one of the couch types that give the house not only a traditional and clean look but also creates a deep connection with nature. Sitting on a cane couch has proven medical benefits.
These couches can be used individually in bedrooms, as a sofa set in a garden area, or even indoors. And when it comes to versatility, cane couches can fit anywhere. All you have to do is change the cushions and covers, and they are as good as new.
Conclusion
Now, that's what we call a comprehensive catalog of the most worthy couch types. This list does not only offer you a clear image of what you will be bringing home with each type of sofa or couch type but rather create a deep understanding of couch types in you to decide your needs accordingly. So, Did you like any of them?
If yes, then go ahead, and get that beauty home. And if not, well, there are two good news for you. One, this is just a small fragment of couch types out there, and two, you can get your own couch customized as well.
So go ahead, mix up some styles, needs, shades, and fabrics, and get that beauty crafted just for you.
Sierra Rivera, a passionate home decor enthusiast, runs the popular blog CozyCottageCute.com. Sierra shares decor tips, DIY projects, and personal insights. Off the blog, she's often at antique markets or redecorating corners of her own space.