How to Hang Curtains: Unleash the Interior Designer Within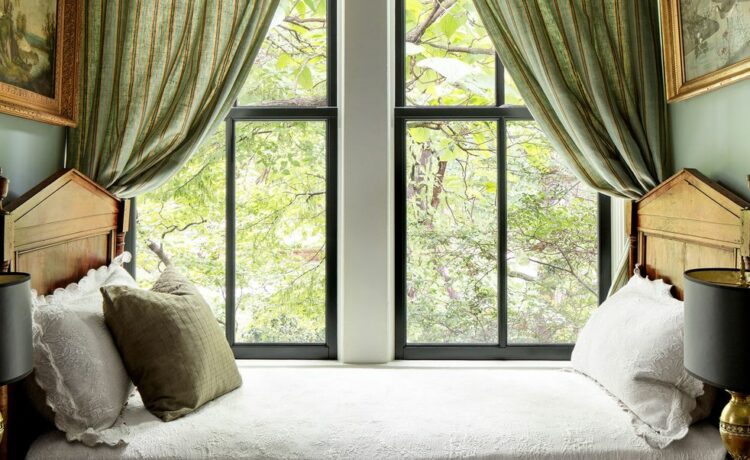 Curtains are very essential part of any household. If you do not believe this statement, then simply remove them and then compare the before and after look. However, to elevate the look of your dull room, you must have the answer to how to hang curtains, just like an interior designer.
Even if you buy the most beautiful set of drapes, it will not change your home's aesthetics if you do not hang them correctly. There are several methods to hang curtains and drapes that can elevate the look of your space, and you will be surprised by the results.
For example, if you have a small room, then you can have light color drapes to make your room look airy and spacious. There are so many small details that we aren't aware of, but they can change the entire look of your space. Don't worry. We have got it covered.
We have mentioned all the tips and tricks that will clear your query regarding how to hang curtains.
Calculations Before Hanging Curtains
The most important aspect of having a beautiful home is having the proper measurements to place everything correctly. Thus, it is necessary to calculate the height and weight of everything beforehand to know the right way to learn how to hang curtains.
1. The Correct Way to Measure Height
You should use these tips to make sure you place your rods at the right height so that you know the right way to hang curtains.
You should leave approximately 4 to 6 inches above the window trim.
It does not matter what the height of your ceiling is. The minimum distance from the top of the window casing to the curtain rod is 2 inches.
Further, if your room has low ceilings, then you can mount the drapery rods near the ceiling. This will create an illusion of height.
2. The Correct Way to Measure Width
Use these tips to have an optimum width for your windows, and also, before you measure the right size, it will help you buy the right drapes for your home.
The standard distance from the window casing should be around 4 to 10 inches apart from both ends.
Use the rods in a way that they extend at least 4 inches on both sides of the window inside the frame. This is because, during the daytime, the drapes will be open, so to avoid the accumulation of the curtain clothes, you should not skip this step.
Extend the rod outside of the window frame up to 10 inches so that there is an illusion of a wider window.
How to Hang Curtains: A Detailed Guide
There are certain things to keep in mind in order to learn how to hang curtains like an interior designer.
1. Measure and Plan
As we mentioned above that it is better to measure everything beforehand so that you don't face any hurdles in placing the curtains properly. Thus, before you learn how to hang curtains, you should plan things such as all the material required and measurements and how to begin the process beforehand. Measure both the width and height, ensuring you consider the curtain rod's length and the desired curtain drop.
Interior designers emphasize the importance of choosing curtains that extend beyond the window frame to create an illusion of spaciousness. For an elegant look, allow curtains to touch the floor or pool slightly at the bottom. Also, determining the correct height and width for your curtain rods is crucial.
2. Determine the Style
Every room has its own importance and aesthetics, so before you begin to hang curtains, it is necessary to determine the style and type of curtain you would require for your room. Suppose office curtains are a bit formal and straightforward, but curtains for a living room are of different types and styles.
Moreover, interior designers recommend using two to three times the width of the window to achieve a luxurious, gathered look. Also, they suggest avoiding skimping on fabric, as insufficient fullness can make curtains appear flat and unimpressive. When selecting fabric, consider its weight, texture, and light-blocking properties to ensure it suits both the room's functionality and design.
3. Select the Right Curtain, Rod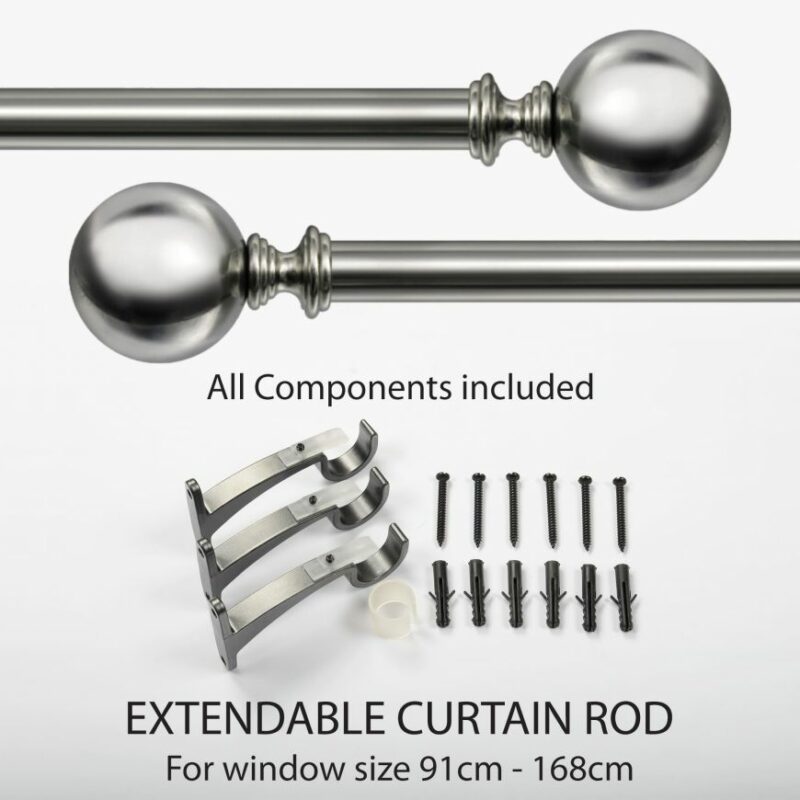 Curtain rods are equally important to enhance the overall aesthetics of your room. Thus, consider the style of your space and select a rod that complements it.
If you're aiming for a contemporary look, opt for sleek, minimalistic rods, while ornate rods work well in traditional or vintage settings. Additionally, ensure the rod is sturdy enough to hold the weight of your curtains without bowing in the middle.
4. Install Brackets
Installing a beautiful curtain in your home or office starts with the right measurements, but it also requires the right arrangement of rod brackets to the window frame or wall. Thus, you can drill small holes and place wall anchors to support the rod for the heavy curtains.
Further, you must attach the brackets to the wall and firmly place the rods. And finally, check whether the brackets are installed at the proper height above the floor or not.
5. Hang the Curtains Precisely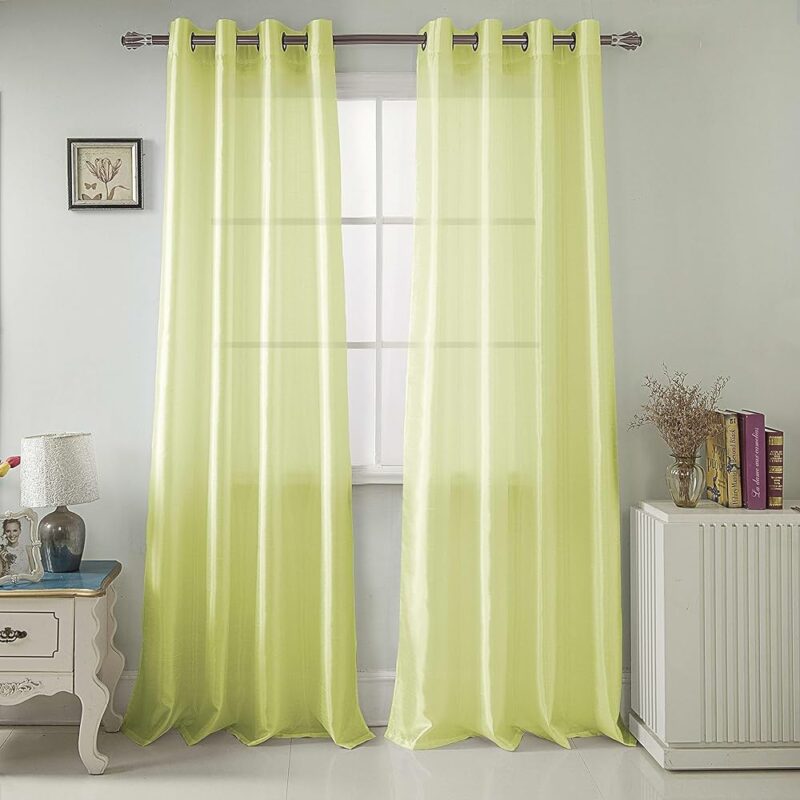 Now this is the easiest step but requires attention to detail. Before you begin hanging curtains, you should iron or steam the curtains to eliminate wrinkles and achieve a polished look. To create neat pleats, use curtain hooks or rings.
Make sure each pleat is evenly spaced to maintain symmetry. When it's time to hang the curtains, work slowly and precisely, ensuring they hang straight and level. Stepping back periodically to assess the overall appearance will help you make necessary adjustments.
6. Final Check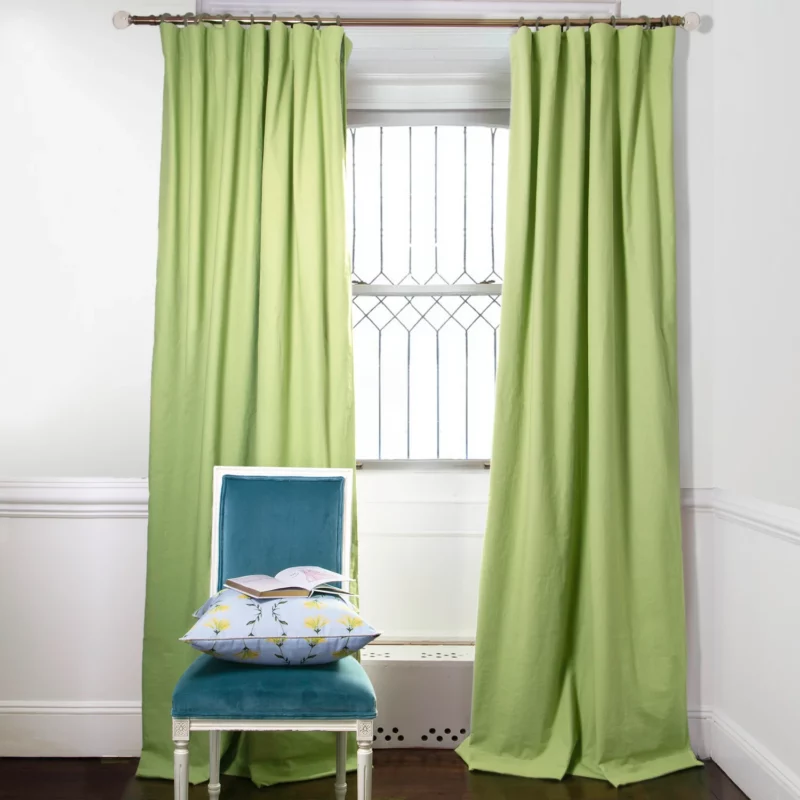 Once you are done with all the necessary steps, now just take a step back and look at what you have created. This will help you elevate your curtain display. Consider adding tiebacks or holdbacks, as that also creates a beautiful layer.
You can further experiment with different things to create a beautiful look with your curtains that blends with the overall aesthetics of your room.
Different Types of Curtains
Curtains not only elevate the look of your home but also provides you with privacy. Moreover, there are so many options available in the market to choose from. Thus, before finding the answer to how to hang curtains like an interior designer, you must learn the types of curtains.
We have mentioned the different types of curtains available today to simplify your decision-making process. From classic to contemporary, each type offers unique features and benefits to suit various design preferences and functional needs.
1. Sheer Curtains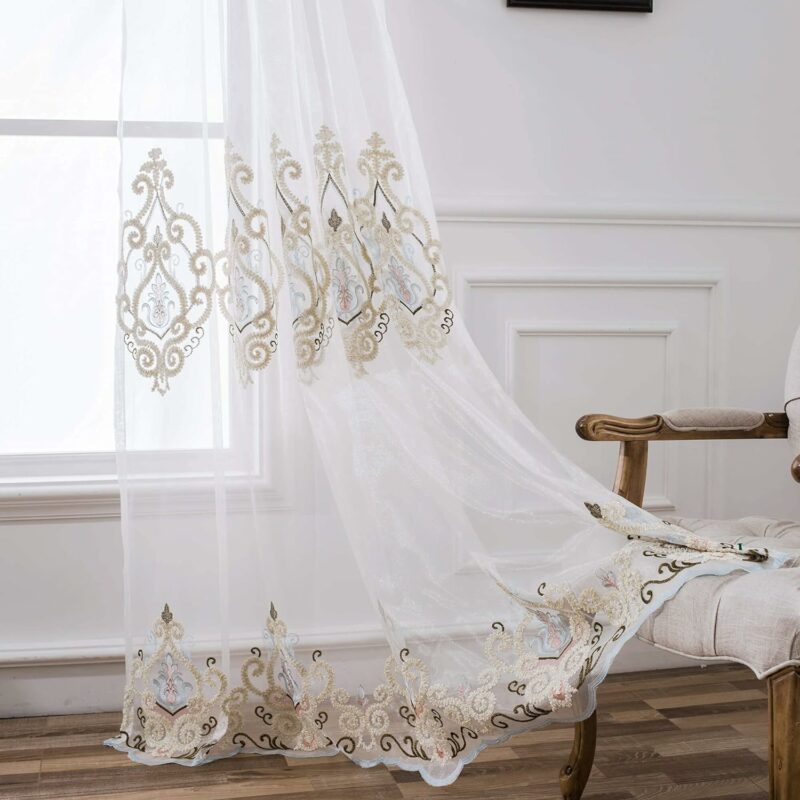 Sheer curtains are the ones that allow ample natural light while maintaining privacy. Moreover, these curtains are lightweight and translucent and add an ethereal and airy feel to any space. These all-quality of sheer curtains make them an ideal choice for living rooms, dining areas, or bedrooms. Also, these come in a variety of colors and patterns, so you have so many options to choose from to complement your existing decor.
2. Blackout Curtains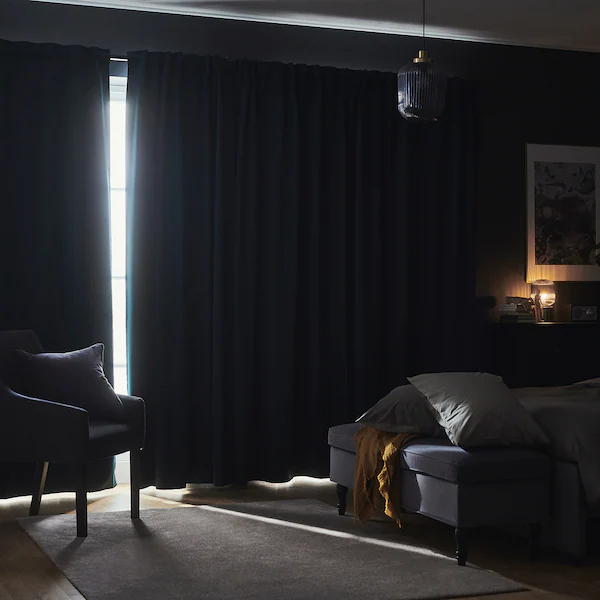 If you do not enjoy a lot of light in your room, then these blackout curtains are best for you. Once you learn how to hang curtains, you will admire the quality of the curtains as well. These curtains are typically made of heavy, tightly woven fabric or have a specialized lining that prevents light from entering the room. Thus, this type of curtain is for home theatre, bedrooms, and a space where you want to have utter calmness. One more obsessive feature of this website is reducing energy costs by keeping rooms cooler in summer and warmer in winter.
3. Pleated Curtains
Pleated curtains add elegance where ever they are hung. They feature folds or pleats created by stitching or pinching the fabric at regular intervals, creating a structured and tailored appearance. While you are learning how to hang curtains, you must also know the right use of these pleated curtains to create a beautiful volume in your room. Moreover, these popular pleat styles include pinch pleats, goblet pleats, and pencil pleats. Pleated curtains are available in various fabric options and can be customized to suit different window sizes and styles.
4. Grommet Curtains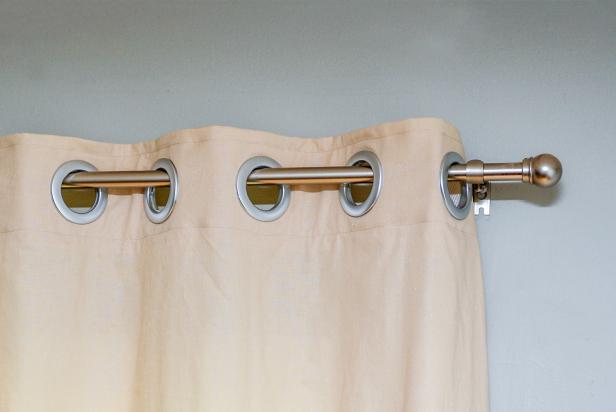 Grommet curtains are characterized by large metal rings by which the curtain rods are hung. Moreover, these are usually seen in households as they are easy to use, and people are away of how to hang curtains of this type. Also, this design creates a contemporary and casual look, allowing the curtains to slide smoothly along the rod. Grommet curtains are easy to install and offer a clean, streamlined appearance, making them suitable for modern and minimalist interiors.
5. Tab-Top Curtains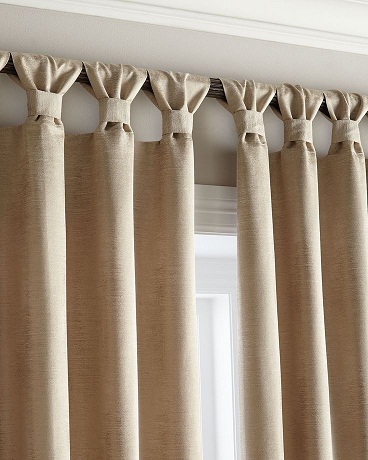 These tab-top curtains feature fabric loops or tabs sewn onto the upper edge; therefore, it allows the rod to pass through it. Also, these curtains give a relaxed and informal vibe similar to the bohemian or coastal styles. Thus, the tab top curtains are easy to open and close, and if you learn the right style and learn how to hang curtains of this type, then you can get a beautiful aesthetics of your house.
6. Rod Pocket Curtains
As the name suggests, these curtains have sewn-in pockets along the top edge through which the curtain rod can slide in. Moreover, this rod pocket curtain creates a gathered or ruffled effect. Also, these curtains create traditional or romantic aesthetics. Rod pocket curtains are available in a wide range of fabrics and patterns, making them versatile and suitable for various interior design styles.
These were some common options that suited every taste, requirement, and style. Once you learn the right way how to hang curtains, you can bring major changes to your home and make it look like a work of magic.
Conclusion
Being creative and changing the look of your home does not require enough knowledge. All you need to know is to do whatever feels right. Thus, if you want to hang curtains like an interior designer, you can do it even without becoming one. All you need to do is follow these tips and tricks mentioned above, and you are good to go.
By following these expert tips, you'll achieve a well-dressed window that enhances the overall ambiance of your space. Remember, curtains are not just functional; they are an opportunity to showcase your style and create a cohesive look in your home.
With a little patience and creativity, you'll master the art of hanging curtains and transform your windows into stunning design statements.
Frequently Asked Questions
Should Curtains Touch the Floor?
Curtains that touch the floor can create a luxurious and visually appealing effect. When they brush against the floor, curtains create soft folds and give a sense of elegance and sophistication. However, it's important to ensure that the curtains do not drag on the floor, as this can cause wear and tear over time.
How to Achieve a Luxurious Look with Not-So-Expensive Curtains?
Well, you can achieve a luxurious look with inexpensive curtains as well. All you need to do is buy a type of curtain that matches the vibe of your room. However, you can achieve fullness in curtains if you use two to three times the width of the window. This means that the total width of the curtain panels should be two to three times wider than the window frame when fully closed.
Do Curtain Rods Need Middle Support Even After Fixing Them to The Wall?
Whether to give middle support to the rod or not entirely depends on the size of the drape or curtains that you are willing to hang. However, in general, the support should be placed every 30 to 36 inches, but you can avoid this step if you feel that the brackets and rod are strong and well-placed.
Sierra Rivera, a passionate home decor enthusiast, runs the popular blog CozyCottageCute.com. Sierra shares decor tips, DIY projects, and personal insights. Off the blog, she's often at antique markets or redecorating corners of her own space.