9 Renovating Kitchen Ideas to Know in 2023
Designing the interiors of the home is not an easy task to do. There are a lot of things that one needs to consider. Well, among all the spaces, the kitchen holds a different space. For every cook or homemaker, their kitchen is love. They never want it to look messy or unorganized. If you also love to cook, you can relate to it completely and understand its importance.
By keeping the same in mind, kitchen ideas in 2023 must be considered. We have some amazing ideas for all of you who want to renovate your kitchen. In this read, you will come across all those beautiful ideas that will help you renovate the kitchen spectacularly.
Without further ado, let's explore all of them in detail!
Kitchen Ideas to Consider in 2023
1. Interiors: The Heart of the Kitchen
Before anything else, it is a must to focus on the heart of the kitchen, the interiors. If the interiors are not good, no one will like to cook. So, before finalizing anything else, do finalize the interiors.
It comprises many things, especially the color theme you can go for, partitions, if any, organizing the stuff, adding painting, and so on. From start to end, there is a lot to focus on. Make sure to keep every factor in mind while finalizing it. Some factors you need to consider while designing the interiors include color themes, cabinets, dining area, and washing area.
2. Partitions Make the Kitchen Look Organized
There was a time when kitchens were not that much spacious, and people used to stack their stuff over each other. But thanks to modernization, people are now ready to consider partitions. These partitions are not only helpful in organizing the stuff in a better way but also give a stylish look.
Along with considering the partitions to arrange the stuff, some people go for open partitions. These are helpful in differentiating the kitchen from outer space and also allow the cooks to look at what is happening outside and vice-versa.
3. A Sociable Kitchen Works the Best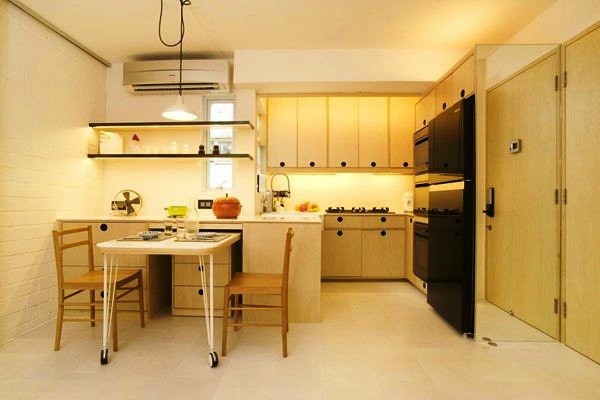 The time has gone when people focus on making kitchens the only space to "cook." There is a lot that can happen there. Give a different look to your Kitchen and make it a sociable place. For open-floor kitchens, adding on some furniture and setting up multiple exit and entry points do work.
Let your guests explore the kitchen and have a different vibe there too. Adding a dining table is unnecessary; even an oval couch or any other shape can work.
4. Consider Concealed Storage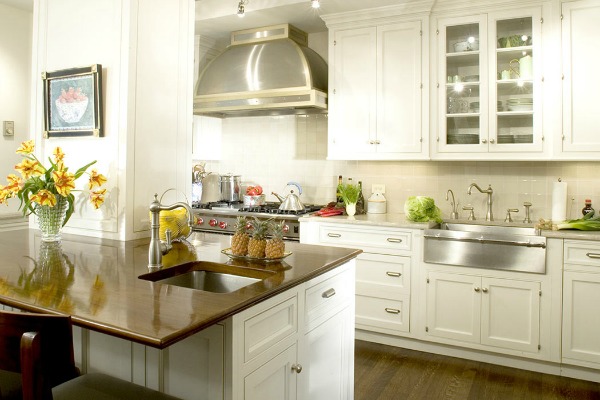 There are people who like transparent storage areas. But try to avoid it in 2023. Right now, the concealed storage areas are highly concentrated. You can see that the designers also prefer it because it prevents you from the embarrassment that can take place due to visibly unorganized stuff in the storage spaces.
This will also give a classy feel to the surrounding. The kitchen will appear organized, and you will have a feel of some cozy space inside your house.
5. Create a Space for a Pantry
Pantry space gives you the freedom to arrange all the eatables in a place. Have a separate space for the pantry and utilize it to the fullest.
You can play with colors as well when arranging it. Either you can create the same with the same color theme, or you can go for something highlighted. It is up to you which one you want to consider.
6. A Dedicated Wall for Adding a Star
You can have a dedicated wall as well. This wall must have wallpaper or some other designs that highlight it relates to the kitchen.
There are so many designers who are masters at it and know what element to add and what not. You can let them know about the kitchen Ideas in 2023 you have for the same wall and get it designed accordingly.
There are people who like quotes over it, and some prefer adding kitchen elements to it. Choose the one that suits the entire theme of the kitchen.
7. Ventilation is a Must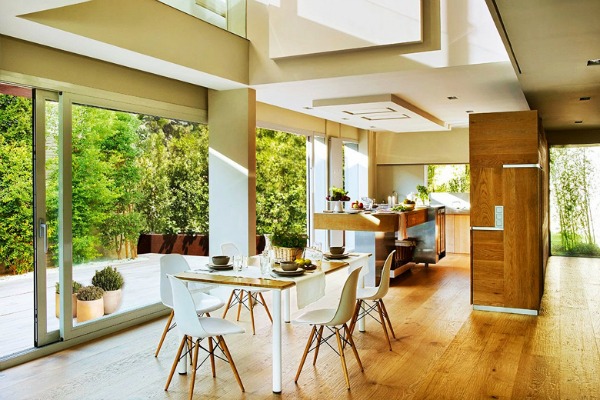 Proper ventilation is also an important kitchen idea in 2023 to consider. You can have the kitchen garden facing to maintain proper light. Also, there are cases where there is no space to make it garden-facing. In that case, the open kitchen with partitions is the best idea to consider.
8. Wood Finishes Work the Best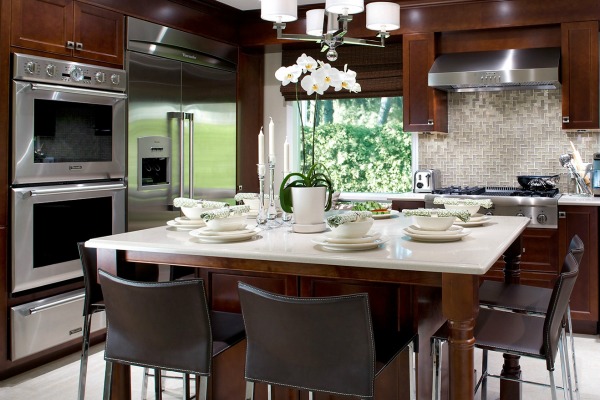 People are shifting more towards natural looks in the present times. To make it happen in your kitchen, consider wood finishes like oak, walnut, or any other. There are so many ways available through which you can go for it.
From choosing the wooden finish for the floors to choosing it for cabinets and countertops, you can consider it. But make sure to contract this wooden finish with a neutral and contrasting shade. This will give your kitchen a modernized look.
9. Play with Colors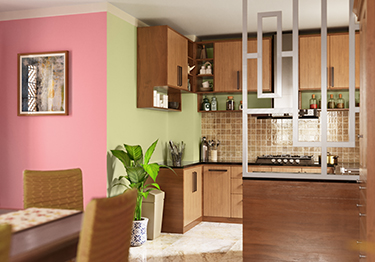 There is no restriction when it comes to playing with colors. Get happy because you can add as many colors as you want inside the Kitchen.
From neutral to dark shades contrast, you can choose any as needed. But make sure you are choosing a shade that resembles the entire interiors of the kitchen. The opposite color contrast is highly in trend; you can go for it too.
Tips to Follow While Finalizing Kitchen Decor
As a person who spends most of his time cooking, the kitchen interiors play an important role. We understand how important it can be to you. To help you in finalizing things in a better way, here are some tips that you can follow while finalizing kitchen ideas in 2023 that go as per your choice.
1. Create a Wishlist
Everyone has something in their head when they design their dream kitchen. Scribbling down all these ideas will help in getting a clear picture of what you want for your Kitchen. You can take help from social platforms to finalize the things that must be considered.
Make sure you are choosing something that is evergreen. If you follow the latest trends strictly, there is a possibility in a few years, you may get fed up and will look forward to changing it.
2. Have an Idea of The Budget
Do not forget kitchen design and renovation is an expensive affair. To keep yourself subtle throughout, set up a budget in advance. Do not go with a very loose or tight budget, as it will create a stir in the end.
Have an idea that this much you want to spend and plan things accordingly. If you plan wisely, it will lead to better outcomes in the end.
3. Colour Theme
The Colour theme of the Kitchen is also very important. Do not go for dull shades at all. Always choose brighter shades or contrasting color themes for your Kitchen. These will make it look brighter and classy as well.
You can search online for color themes that are evergreen and will go as per the interiors of your home as well. You can keep this space unique, and there is no restriction that you need to design it as per your home decor.
4. Know the Appliances You Wish to Add
There are so many appliances that are needed throughout the kitchen. It is advisable to have a clear mindset regarding the appliances because, accordingly, there is a dedicated space needed to set them up.
Along with appliances, you can also think of adding beautiful lights and other accessories that will make the surroundings look more beautiful.
5. Flooring Ideas
How can we forget about the flooring ideas that are available? Some people consider wood flooring, and some consider tile; it depends on you in which one you wish to invest as both are different.
These are not only different in terms of aesthetics but in pricing as well. So choose wisely to keep things under your budget.
6. Hire a Professional
If you find yourself capable of designing it independently, only go for it. But if not, just look for the best professional around. A professional will help you to design it in a better way with the best kitchen Ideas in 2023. The designer will keep everything in mind while designing the floor plan for the kitchen.
You can also discuss your dream kitchen with them so that they can add elements to the plan accordingly. For sure, reaching the professionals will help you throughout.
Conclusion
In conclusion, the kitchen is the heart of the home, and no one wants the heart to be messed up. Likewise, the kitchen ideas in 2023 that we have shared above are best to consider. From choosing the best color theme to arranging the cabinets in a better way, there is a lot you can do.
Make sure you are not settling up for less. Always keep the latest trends in mind while designing it. Also, don't worry because you do not need to engross yourself with all of it alone. There are multiple home decor companies available having the best ideas for you. Reach out and discuss your imagination for your Kitchen. For sure, the best designers will help you to get it designed as needed!
Frequently Asked Questions
Which Kitchen Trend is in Consideration in 2023?
In 2023, people have moved towards lighter and brighter sides, along with leaving a lot of space in the Kitchen. They design kitchens in a way that everything is available by hand with space exposure.
Which Color Theme is More in Consideration for Kitchen Cabinets?
In general, people usually choose white color for kitchen cabinets. But in 2023, a sudden change has been noticed, and they are shifting more towards warmer and natural tones. Also, people consider the color theme for cabinets by keeping the overall interiors of the house. Some people choose neutral color home decor, and accordingly, they finalize the kitchen.
Is There Any Color Lucky for Kitchen?
Well, there are some people who believe in luck a lot and want to arrange their surroundings in the same way. For them, the lucky colors, especially for the Kitchen, are white, orange, green, brown, and yellow. When finalizing Kitchen Ideas 2023, you can finalize the same by keeping the same in mind.
What Makes a Kitchen Brighter?
To make the Kitchen looks brighter, there are two options available. You can choose a light palette or go for rich, colorful, detailed patterns. These two options are best to choose when there is a need to make the Kitchen look brighter. Also, these shades set up a statement that naturally makes the Kitchen look good!
Is There Any Way to Make a Small Kitchen Look Classy?
Creativity is all around. Even if you have a small kitchen, you can make it look classy just by little effort. But along with renovating the kitchen space with the best kitchen Ideas in 2023, be sure of the color theme that you consider. Go for light color themes, as these will add elegance and make the kitchen look classy.
Sierra Rivera, a passionate home decor enthusiast, runs the popular blog CozyCottageCute.com. Sierra shares decor tips, DIY projects, and personal insights. Off the blog, she's often at antique markets or redecorating corners of her own space.