25 Boho Decorating Living Room Ideas with Neutral Designs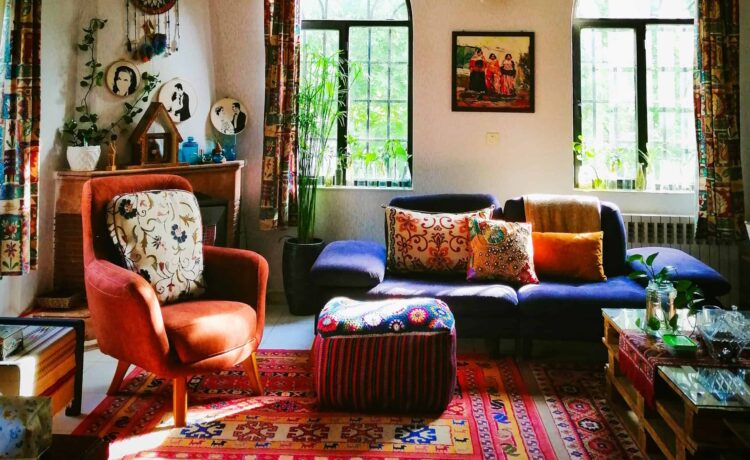 Boho living is an interior design characterized by various unconventional methods and eclectic colors, styles, and design patterns. Bohemian, AKA Boho living, suits people who want to live an out-of-ordinary lifestyle. The style is often adopted by bohemians, who are artists, gypsies, and writers. It is all about expressing your personality with boho decor in your living space.
Boho living features a mixture of patterns and natural elements, such as adding plants and flowers to the space, keeping it minimalistic. Bohemian living is all about beautifying our surroundings to satisfy our senses. It is a different and unconventional approach to life. Bohemian living is more of a larger-than-life kind of design.
You are here probably because the nomad in you wants a makeover to your living room. With the plethora of living room decor ideas, it is overwhelming to pick one, so we have compiled 25 hand-picked boho living room decor ideas you would love.
The living room is a space that reflects your personality, and it is never too late to create a Boho-inspired living room.
1. Use a Neutral Color Palette as Your Base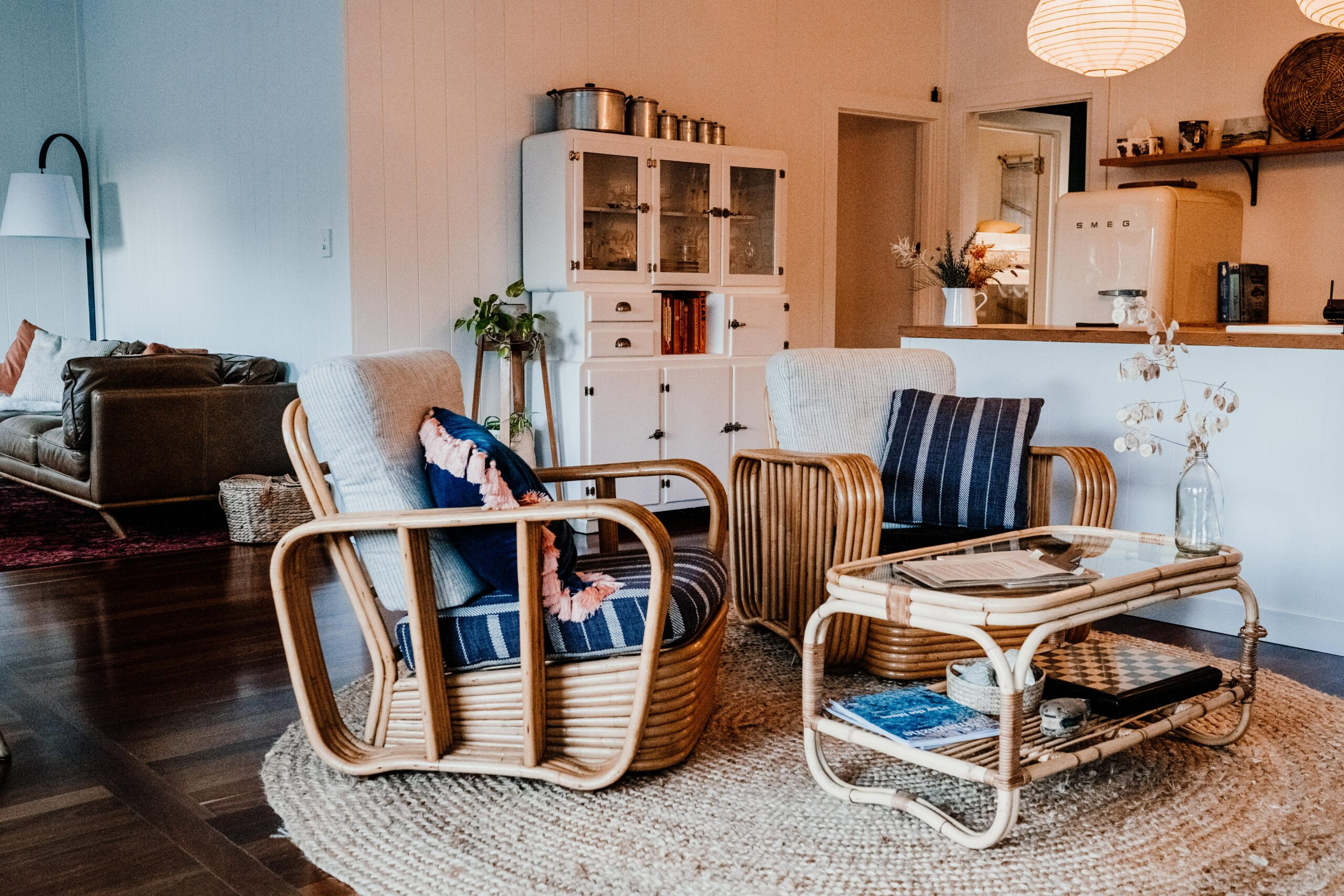 Creating a boho living room with a neutral color palette adds a serene and versatile ambiance to your room. By infusing earth colors such as warm beige, soft grey, and creamy whites, you can establish an aesthetic and bohemian backdrop to your living room.
Those earth tones make the room look spacious and pleasing. Whereas dark and strong colors make the room look gaudy and unpleasant. And some colors, like fiery orange and purple, give an electrifying look.
The neutral hues provide a sense of cohesion, enabling vibrant colors from decorative elements such as rugs and wall hangings to stand out. The neutral color palette sets the foundation for the room where free-spiritedness flourishes.
2. Go Low-Level with Your Seating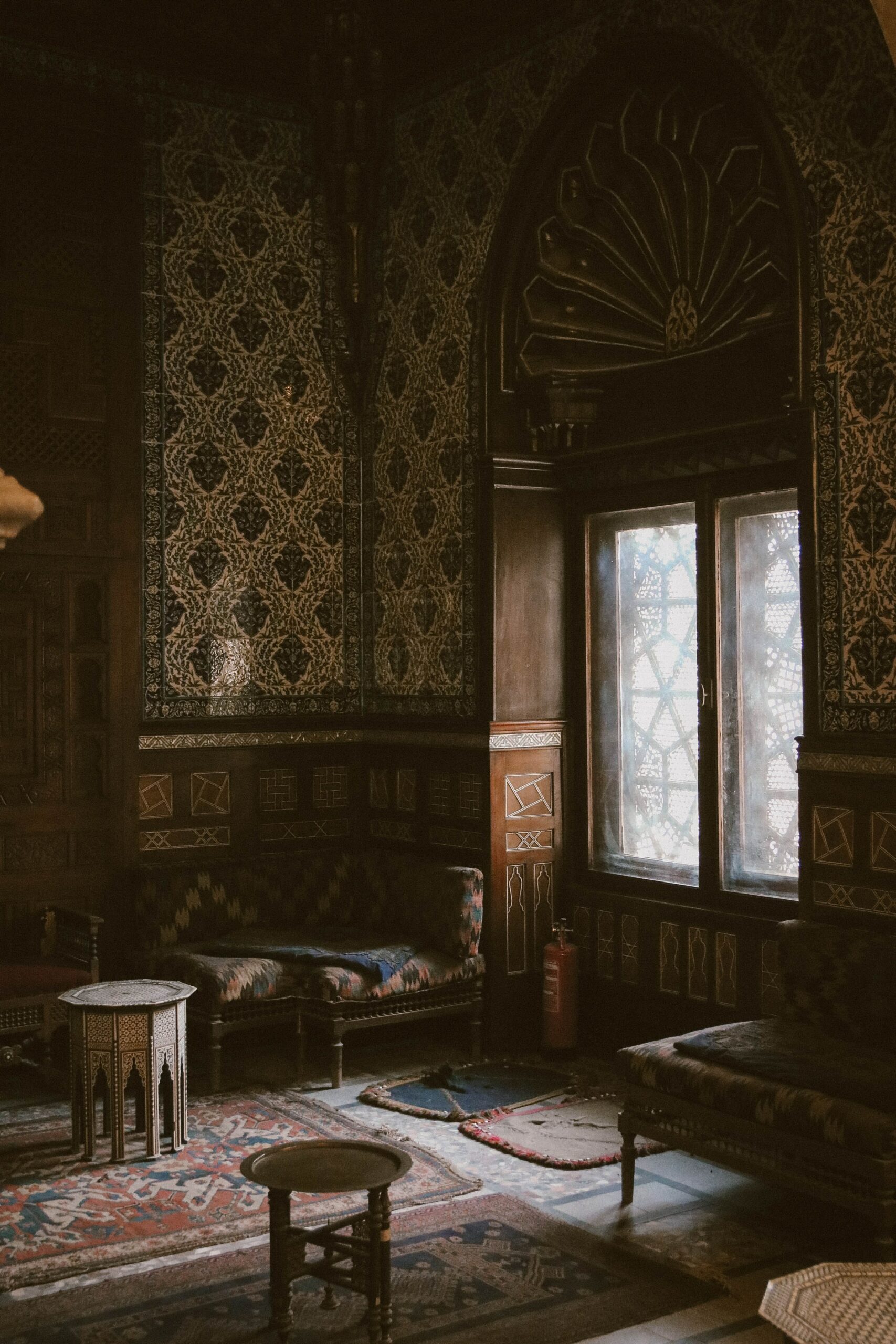 Seatings are as crucial as choosing the color palette. It is one of the few things that contribute to the room. The seating is cozy when given a bohemian touch, and it looks just perfect. Bohemian seating is low, comfortable, and inviting, especially poufs, ottomans, and beanbag chairs.
Low-level furniture gives the room a nomadic touch and coziness at the same time. These seatings encourage lounging, gathering, and a casual way of living. The low-level furniture creates a down-to-earth atmosphere and increases intimacy.
The furniture induces casual conversations and makes the environment more casual and carefree while at the same time relaxing and socializing.
3. Don't Use Too Much Black
There are no such hard and fast rules that black should be avoided in the boho living room. The reason is black is a dark and strong color that absorbs other colors. At the same time, the Bohemian design features vibrant and lively colors which are inviting and carefree.
Black disrupts the harmony in the room, where earthy tones and rich textures add life to the room. Livingroom best describes the characteristics of the owner. In that case, it is suggested to avoid black and to throw some lively colors.
Choosing the color is subjective. Black can be a strong and disruptive color, but when used sparingly and meticulously, it can suit the room fine. Selective black usage makes the look aesthetic at the same time maintaining the bohemian vibe.
4. Plants and More Plants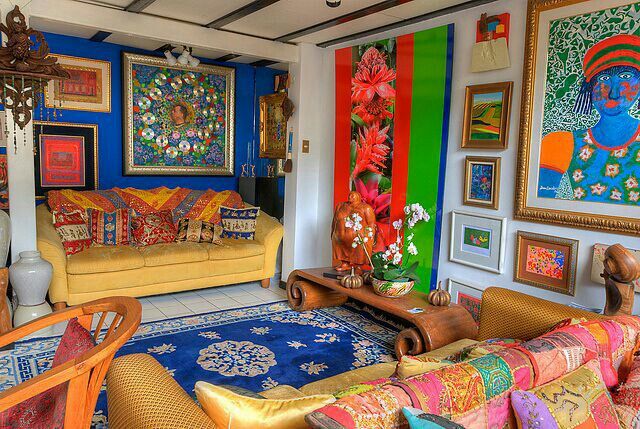 Plants play a significant role in a boho living room, as they bring a sense of tranquility and serenity to the space. Bohemian way of living suggests harmony with the world. Incorporating plants into the personal space contributes to the environment as well as one's mental peace.
A better way to achieve them is by stacking the room with potted plants, potter ferns, spreading vines, and lush greeneries. They add texture to the room and make it more life-like.
Besides providing a composed environment, they absorb the carbon dioxide we emit and provide us with oxygen. When planted in boho environment-friendly pots, aesthetic bohemian design can be unlocked.
5. A Good Mixture of Different Light Sources
Natural light is vital in creating a vibrant and lively boho living room. Natural light can be achieved by installing more windows and covering them with light-colored curtains. They let the natural light in. It is suggested to avoid dark-colored curtains.
Strategic use of mirrors can pitch in creating an aesthetic boho living room. They should be placed facing the sunlight(windows). That way, more light will be let in. Being down-to-earth and conservative is one of the beliefs of the Bohemians. Incorporating reflective properties such as metallic objects, mirrored furniture, and glasses will contribute to the room.
As discussed, walls play a titular role in a boho living room. The usage of light and earthy shades reflects the light. Thus, more energy will be saved. If feasible, installing a sun tunnel can be a good source of bringing light.
6. Layer Rugs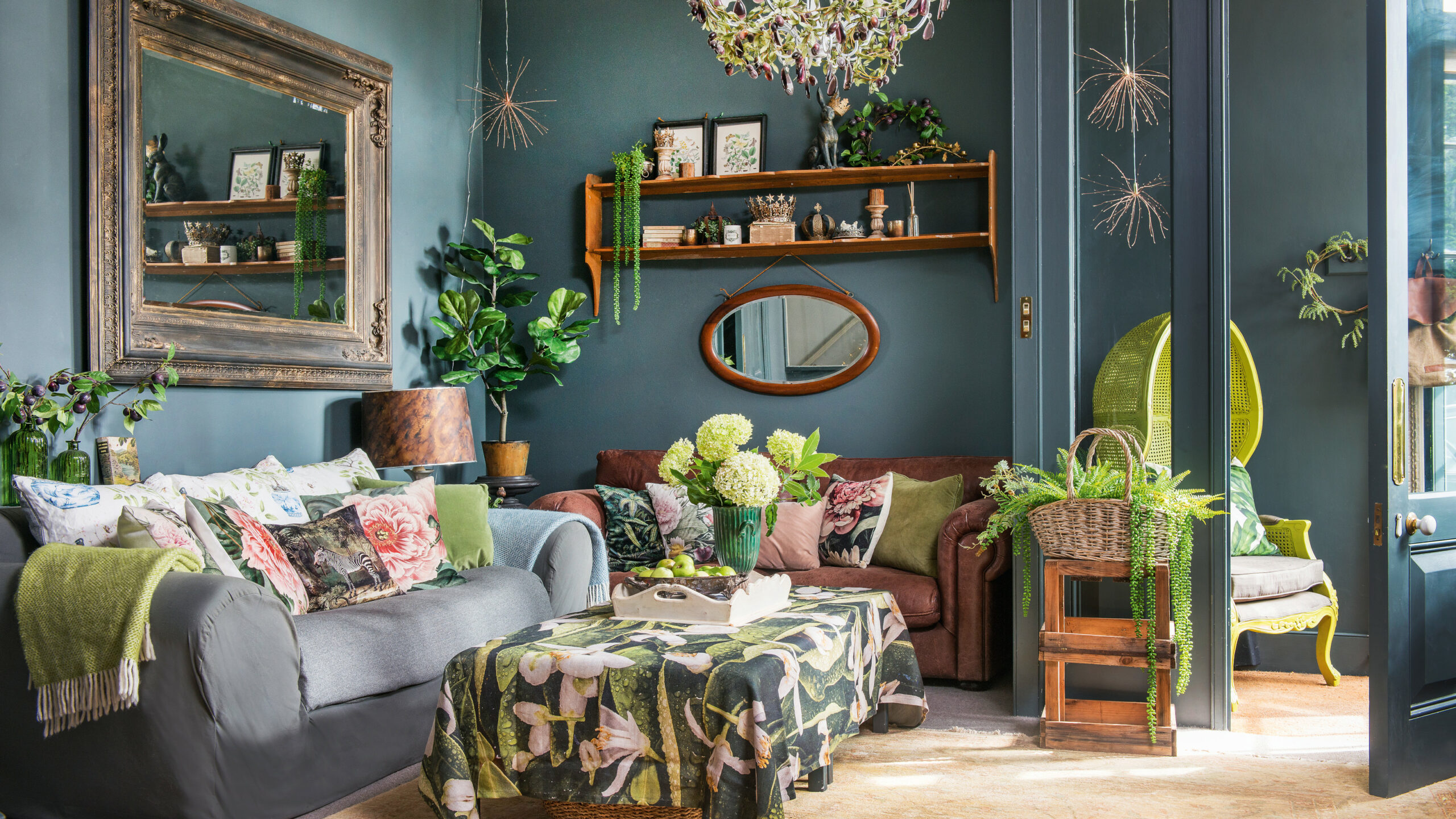 Layering rugs are the key element in creating a cozy boho living room. The Boho style embraces different types of patterns and designs. Layers add instant texture to the room. Adding rugs of different patterns shows off your personality.
For instance, you can add a jute rug with a kilim or Moroccan plush rug. They will create a visually pleasing view of the room. Besides beauty, they keep you warm, and you can sit comfortably. Placing the rug in different places serves different purposes. If you place the rug near the coffee table, you can snuggle up and read your favorite book.
Unleashing your creativity in buying your layer rug will show your free-spiritedness. Reshaping the patterns will help achieve a new design every time, showcasing your creativity.
7. Throw Some Vintage or Handmade Pieces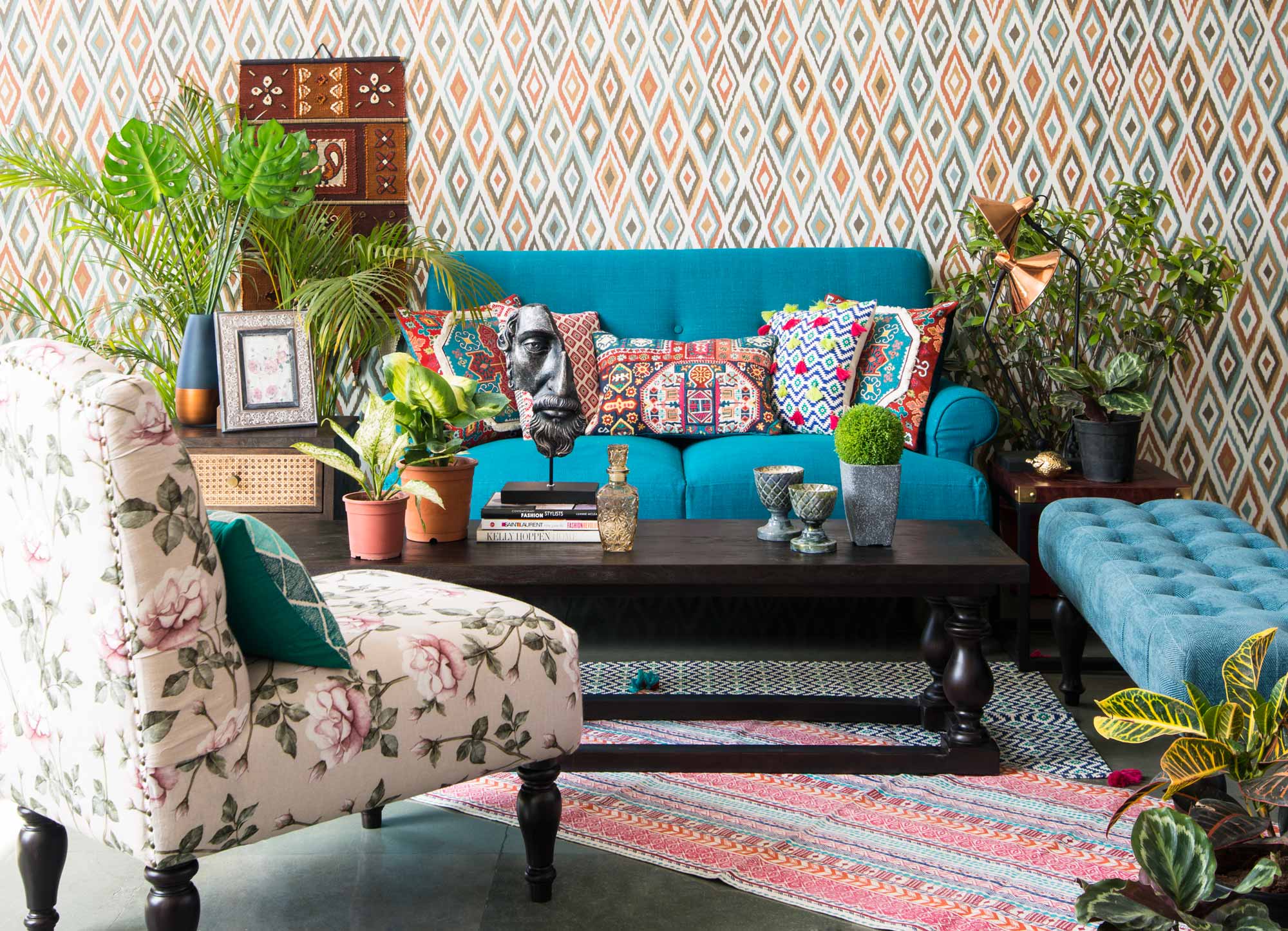 Vintage and handmade pieces are icing on the top. They add a personalized touch to the living space. Choose pieces that tell a story. They create a focal point and act as a conversation starter.
Bohemian style is all about adding eclectic designs to the room while maintaining harmony. Go ahead and add various pieces of eras, times, and influences. Blending aesthetic and vintage designs to create a harmonious design. The juxtaposition of modern, vintage, and contemporary design will create an electrifying look.
Handmade wall hangings and tapestries are the best way to express your personality. They will help poor people make a living at the same time and help you create a nostalgic connection with your room.
8. Patterns Everywhere
Adding patterns gives a sense of life, energy, and vibrance to your living room. Patterns are crucial in creating an impression and visual interest, whether it is a geometric pattern, a floral motif, an aesthetic design, or an intricate paisley.
They engage the eyes and create a sparks conversation. Patterns can be introduced through rugs, wall posters, artworks,pillows, curtains, and decorative accessories. The eclectic collection of artworks adds warmth and a Bohemian spirit to a lifeless space.
Additionally, patterns in a boho living room contribute to the layering effect, which is a characteristic of a style. Mixing and matching different patterns creates a visually pleasing environment.
9. Use Natural Minerals
Using natural minerals in the boho living room increases the overall energy and vibe of the room. Organic beauties such as geodes, crystals, and agate slates and their unique shapes, designs, and vibrant colors captivate attention and give a touch of interest in natural wonder.
Bohemian style is deeply connected to the earth, living a simplistic lifestyle, and enjoying little things in life. The designs should not be extravagant but down-to-earth.
Decorative minerals can act as captivating decorative accents. They can be placed on the bookshelf, coffee table, and focal points. They can be a good conversation starter. Those little minerals can create a huge impact on the room.
10. Accessories with Ethnic Pieces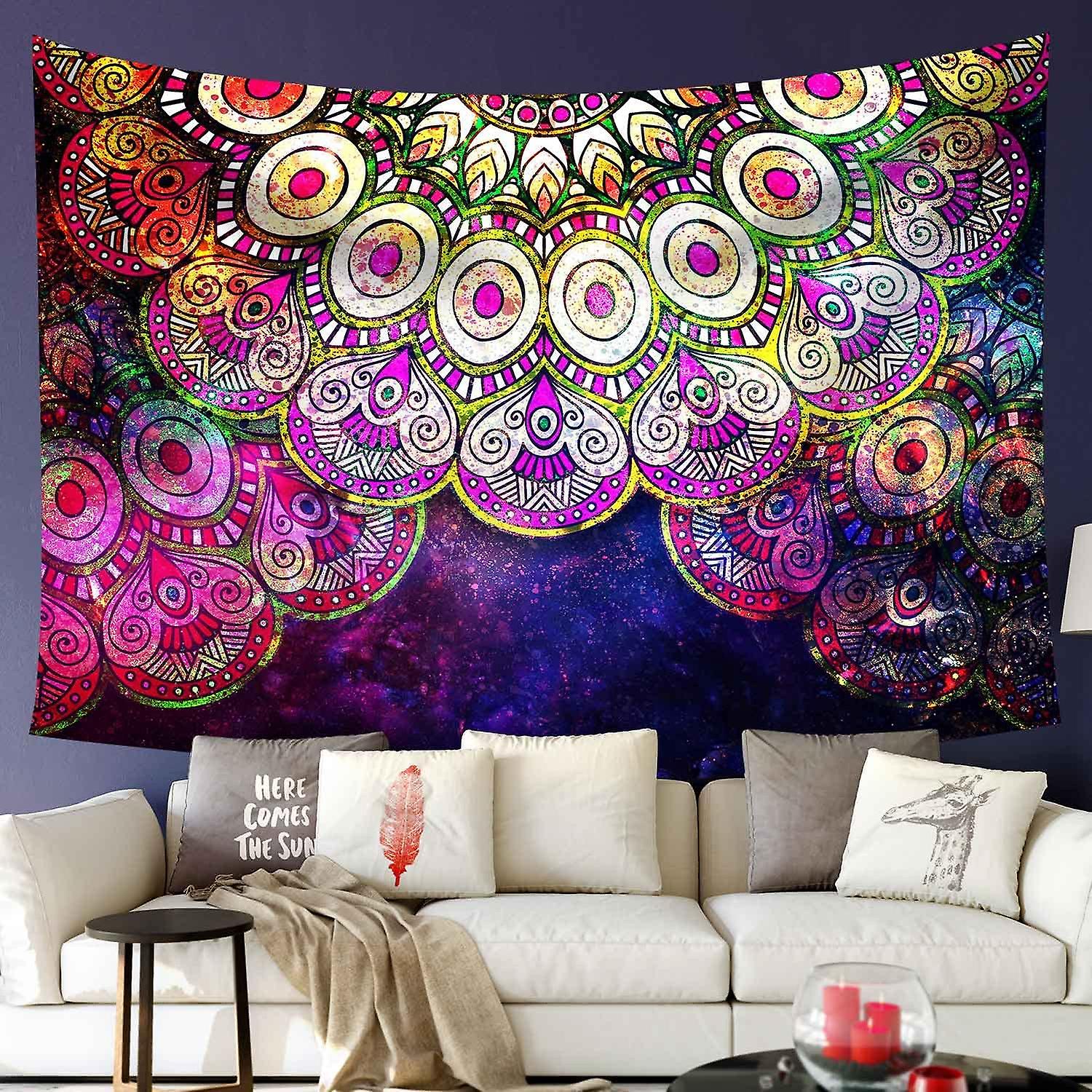 Adding ethnic accessories adds vitality, cultural richness, and a sense of global exploration. Showcasing your ethnic collections tells more about you and your inner self. It is associated with free-spiritedness and the craftsmanship of different countries. Make sure your ethnic collection tells a story of different land, language, and different people.
Boho style embraces multiple cultures. Ethnic accessories can be the best way to create a Bohemian fusion. Incorporate various ethnic artifacts and textiles with bohemian patterns to create an electrifying environment. The ethnic blend adds depth, character, and a sense of blithe spirit.
Add your personal stories to the living room by stacking souvenirs collected from various trips. Every time you see them, they remind you of the beautiful memories you have scrounged over time. It creates a sense of authenticity.
11. Hang Tapestries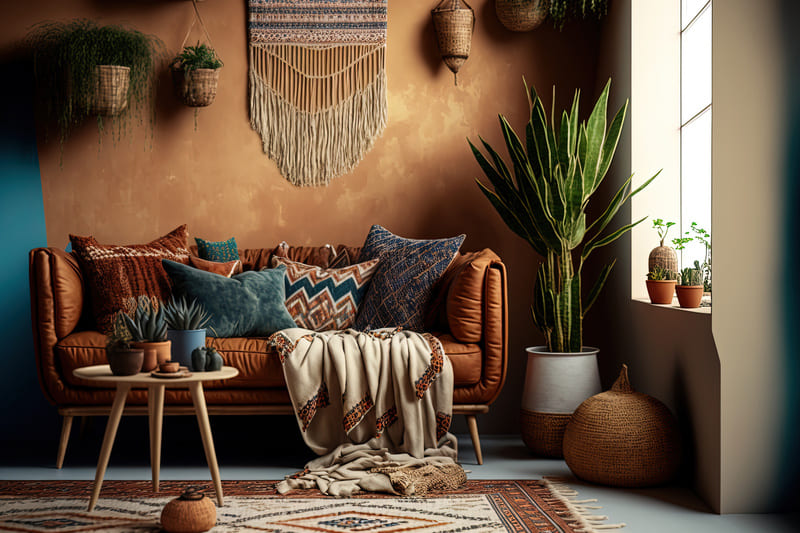 Tapestries are the best way to enliven your dormant living room. Hanging tapestries give a sense of multiculturalism and add value to the living space. Apart from embellishing the room, it says the tales from faraway lands. It becomes more of an emotion than a mere decorative.
Those large artistic pieces are capable of grabbing attention. Intricate designs and vivid colors make the room more lovable. The quality of the tapestry adds coziness and an inviting feel to the living room. Tapestries seamlessly fit into the eclectic nature of the bohemian style.
Tapestries have physical benefits as well. They act as an insulator against the wall. They help increase the acoustics by absorbing the noise in the room and creating a balanced and comfortable environment for relaxing.
12. Use Macrame Wall Hangings
Macrame, with its intricate knots and bohemian charm, plays a significant part in a boho living room. The intricacy of the woven knots creates depth and visual interest, making the room more inviting and pleasing.
Marcarame is an art that perfectly aligns with the Bohemian style. It shows attention to detail and craftsmanship. They can be a good conversation starter. Marcarame is a versatile decor that can be incorporated into various forms and functions. They allow you to personalize the living room and show off various art forms.
The soft and plush designs create an inviting environment and a sanctuary-like feel.
13. Make Your Art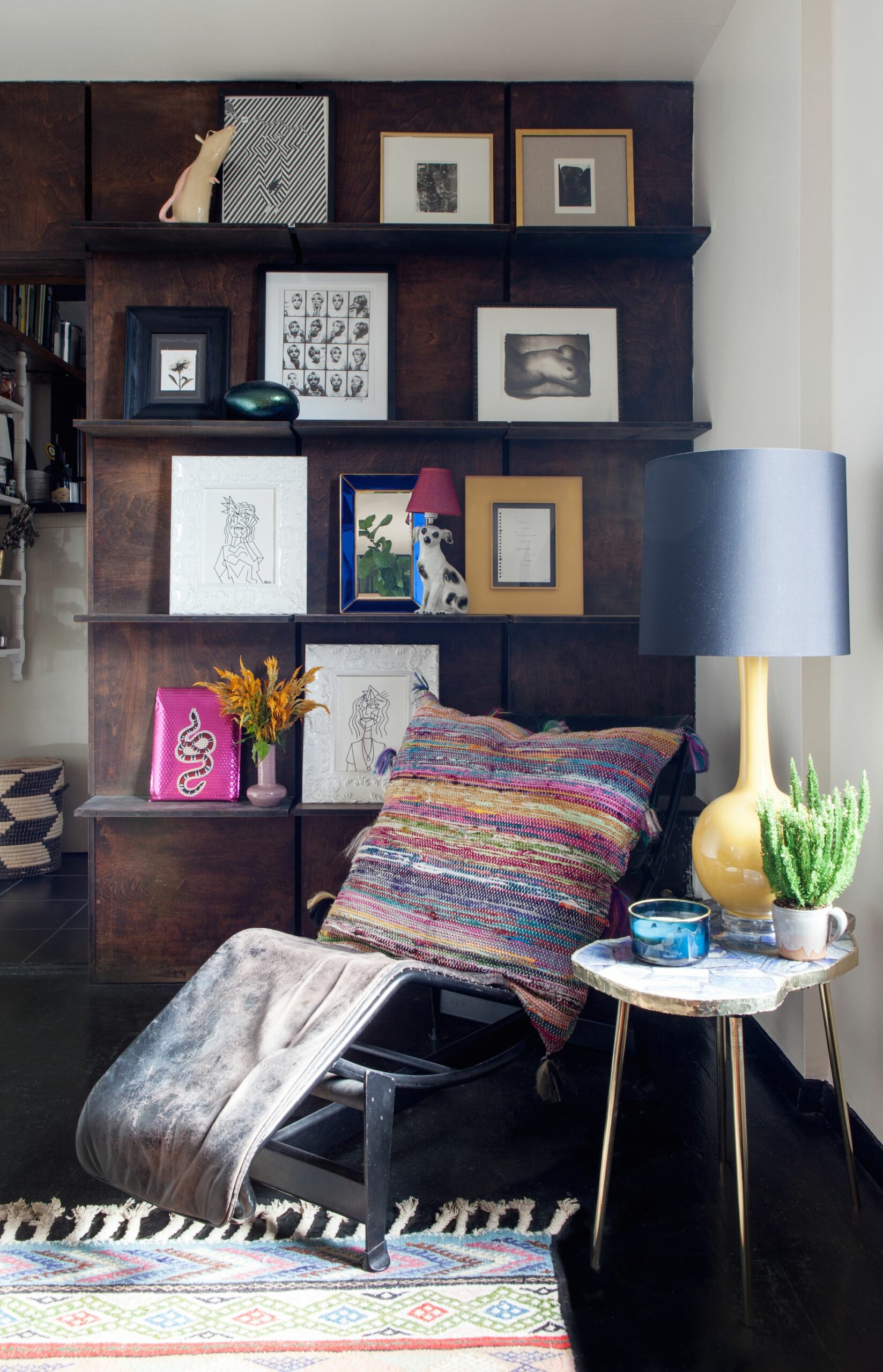 Art is the best way to express your love for Boho living. Roll up your sleeves and show your creativity. They can be a great attention grabber. Artwork contributes to the color palette and mood of the living room.
The artwork has the power to evoke emotions and spark the imagination, and inspire contemplation. By surrounding yourself with the artworks, you can resonate not only as an aesthetic but also touch you on a deeper level.
Sculptures and mixed media artworks can add an extra layer of textual and dimensional interest to the living room.
14. Display Your Treasure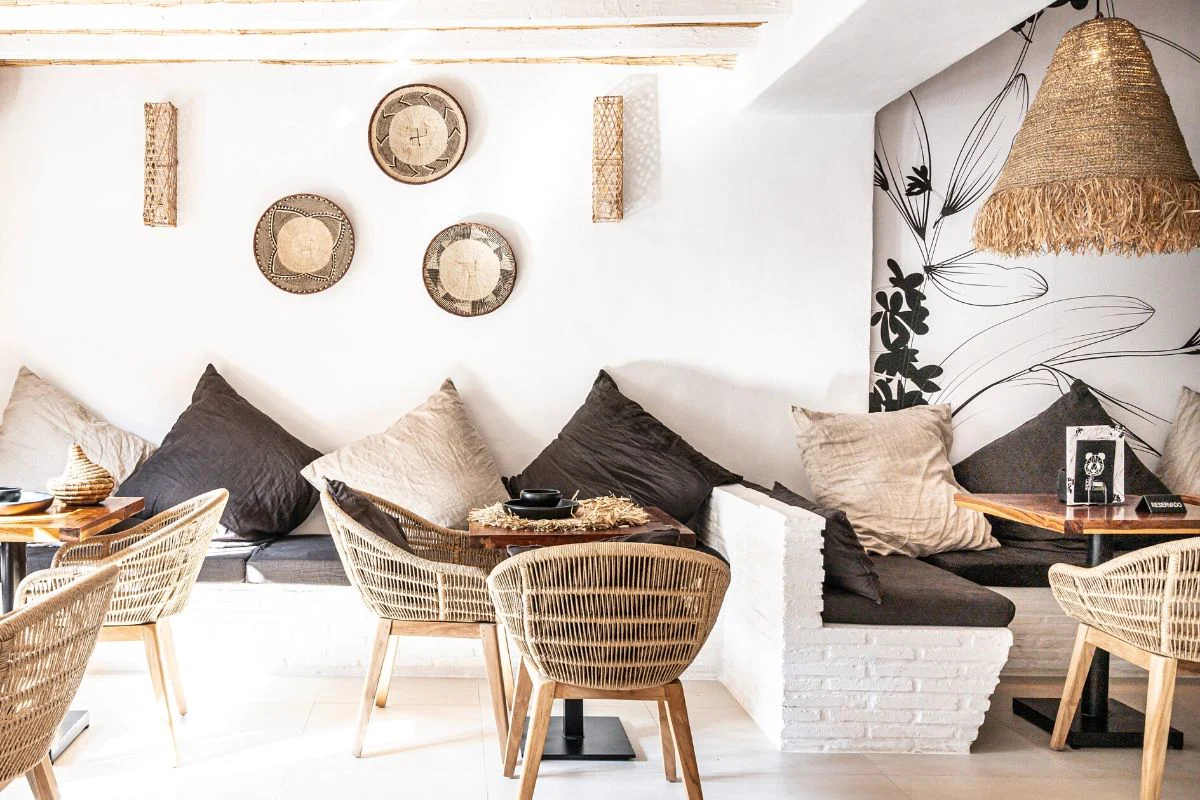 Displaying personal treasures in a boho living room infuses the space with authenticity, sentimentality, and a boho charm. Personal treasures often hold memories and stories. Whether it is a travel souvenir or a gift, as long as it is there, it will get you to reminisce and relive your favorite moment.
It shows your love for traveling and multiculturality. Those cherished possessions are evident that you have lived a worthy life. Many treasures might include handmade or artisanal items that perfectly align with the boho style.
They open up the opportunity to share stories and develop meaningful connections, fostering and welcoming a sociable environment.
15. Create a Focal Point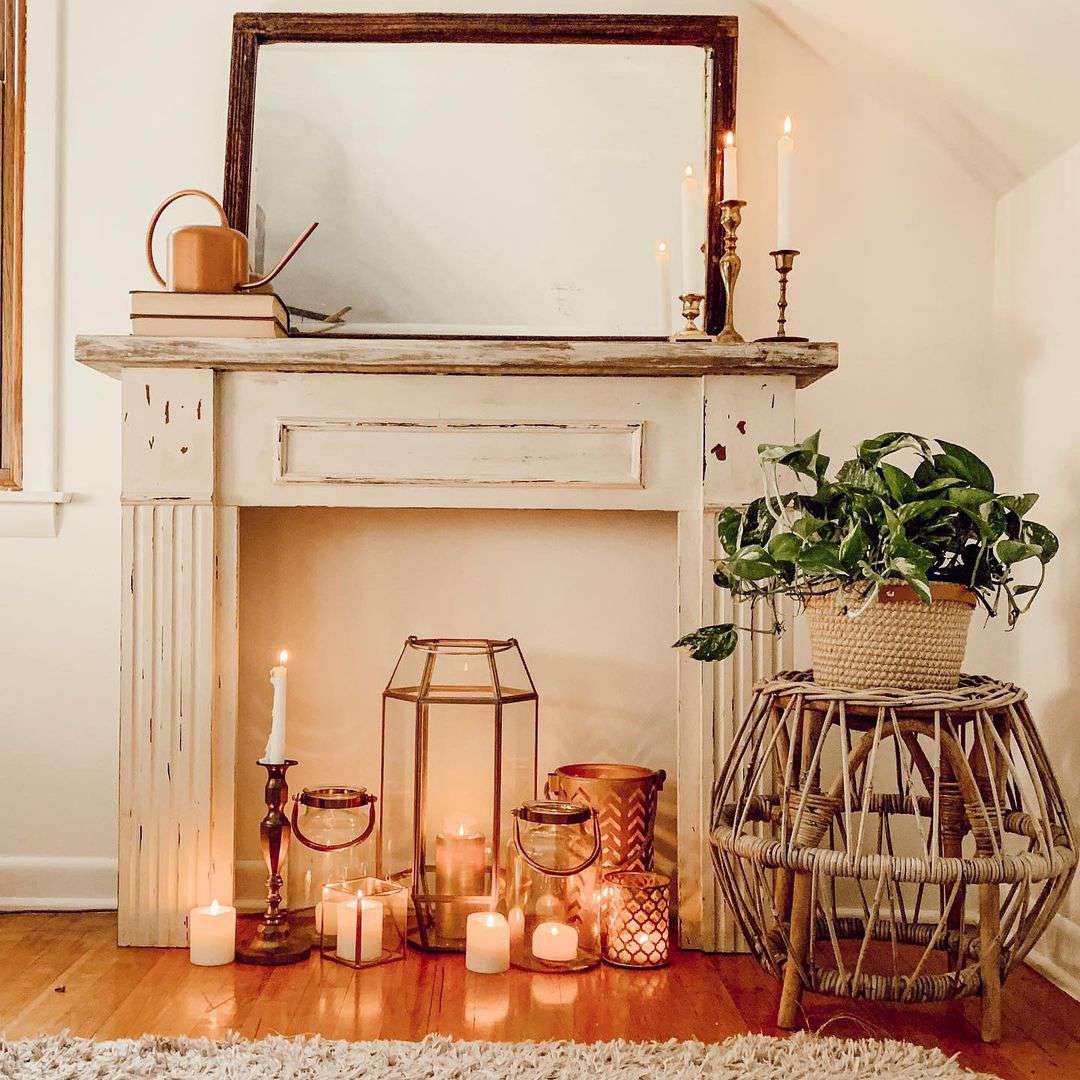 Creating a focal point in the living room is significant to grab attention and create interest. One of the best ways to create a focal point is by painting the wall with paint of vibrant and boho-friendly colors. The wall is a huge space and helps accommodate a lot of artwork.
Create a gallery wall and fill it with eclectic accessories such as paintings and wall hanging. Marcarame, woven baskets can also be a great pick.
Furniture can be a great attention grabber. There are plenty of designs available for you to decorate your living room. They contribute to the room with their unique design. Choose a design that stands out. It may be a vibrant-colored sofa or a unique coffee table.
16. Use Candles and Lanterns
Using candles and lanterns creates an inviting and comfy surrounding and glows up the room at the same time. Mix and match different colors of candles to create an artistic effect. Infuse various materials such as glass, metals, and woven designs.
The magic is at the placement. The candles should be placed at the right to unlock an aesthetic boho design. Placing them at the focal point seals attention.
Lanterns and candles together create a visually appealing arrangement. Custer them by heights and colors to achieve new looks. You can also stack them with books and some artistic accessories to create a warm and romantic environment.
17. Hang Dreamcatchers and Other Bohemian Hangings
Dreamcatchers and wall hangings contribute to the living room by infusing a space with a whimsy, spiritual, and cultural diversity. They often include hand-woven designs, macrame knots, and feathers that align with the boho style's ethos.
Dreamcatchers add designs and dimensions to the wall by adding visual effects and depth. The feathers or the woven design altogether create a tactile and visually pleasing experience.
Dreamcatchers should be placed at focal points of the room to command attention. They are believed to filter out bad dreams and give good dreams. They emit good vibes at the same time decorating the room.
18. Mind Your Coffee Table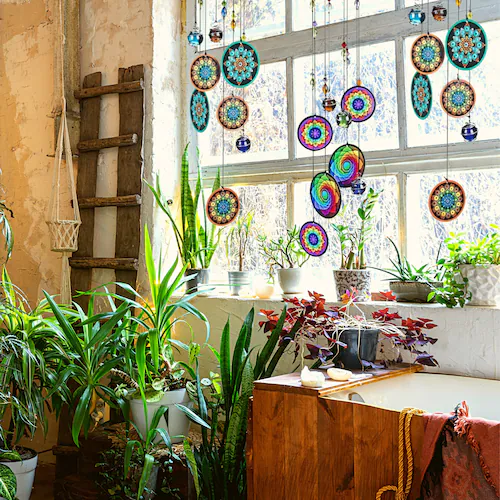 Your coffee table serves as a focal point and adds visual interest to the room. Curating a collection of boho-inspired decor accessories such as books, candles, sculptures, and small candles can get the attraction part well.
Focus on the dimension and texture by adding woven trays, patterned rugs, and piled books. The boho coffee table serves a practical purpose too. It helps you get things organized and keeps the table clutter-free.
Coffee tables are the best way to showcase your free-spiritedness. Stack them up with travel souvenirs, unique finds, and eye-catching sculptures.
19. Add Wind Chimes
Add a touch of whim with an empty birdcage or a collection of wind chimes. Boho living is highly associated with free-spiritedness. Adding an empty birdcage can be the best way to express your personality.
Windchimes create a melodious and soothing sound when they gently sway in the breeze. The soft tickling brings good vibes and relaxes your nerves. Apart from creating a melodious tune, they can add beauty to the living room. Wind chime designs made of feathers, sea shells, and crystals add enchanting visuals and draw attention.
Windchimes are often associated with nature. Windchime materials such as bamboo, driftwood, or nature-related motifs create an eco-friendly environment.
20. Try Pop Colors
Pop colors create a stark contrast against the earthy tones commonly found in boho designs. Incorporating bold and vibrant hues such as teal, Fuschia, mustard yellow, or electric blue can create a striking contrast that makes your space stand out.
Pop colors are the best way to anchor attention. By painting the furniture, cushions, artwork, and accessories, you can achieve an aesthetically pleasing living space.
21. Create a Cozy Seating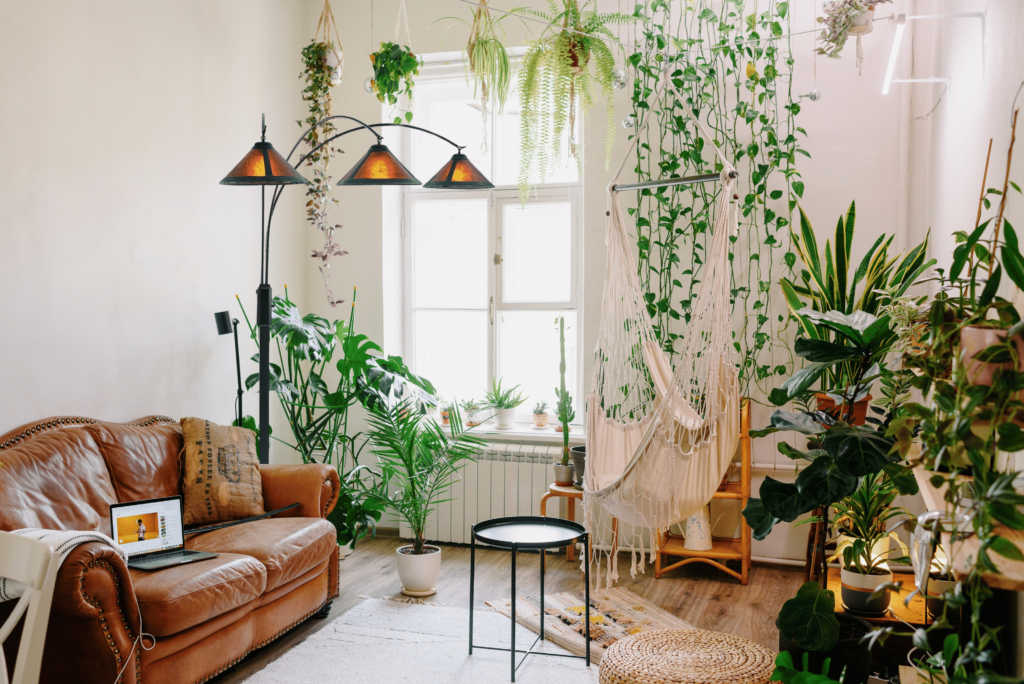 Cozy seating fosters a comfortable and welcoming atmosphere in the living room. Cozy seating arrangements create intimacy and develop conversation by creating a sense of togetherness with your friends and family. The Boho style embraces various colors and designs.
Incorporating seatings with layered textures and plush cushions, woven baskets, and faux furs throw depth into the living space.
22. Let the Natural Light In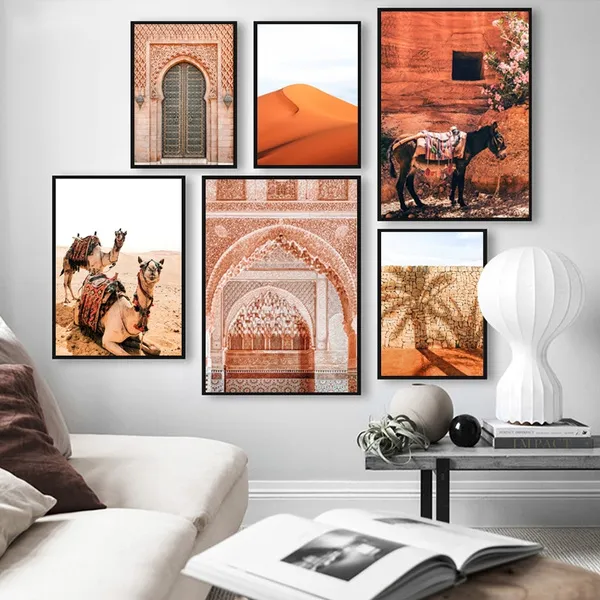 The basic principle of the boho style of living is to be in tune with nature. A bohemian living room should have plenty of natural light. The best way to get natural light is by building a sun tunnel and by using light-colored curtains.
The natural light adds warmth to the room and creates invites positive vibes. Besides, fancy natural light helps you maintain a healthy sleep cycle.
23. Infuse Your Memory in Your Showcase
Adding travel photos, postcards, and souvenirs contributes to the overall ambiance of the living room. Memories and souvenirs are tangible evidence of your well-spent times. Even if your memory slacks, those photos, and souvenirs will allow you to relive the moments.
Souvenirs are the best way to flex your free-spiritedness. Make sure each souvenir tells a story. It adds value to the living room by beaming cultural diversity, which is the doctrine of the boho lifestyle.
24. Swing and Streetlights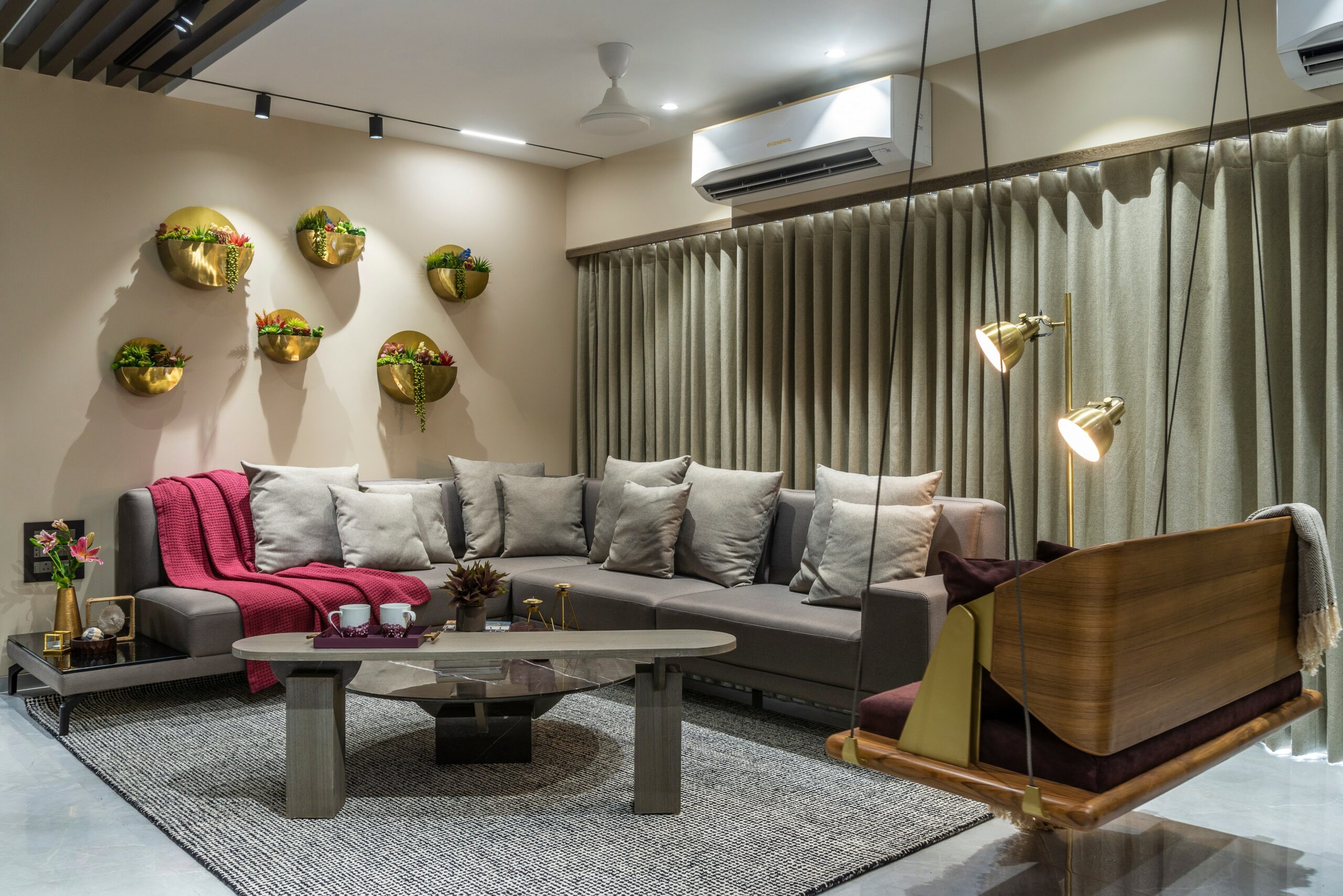 Doesn't the street light and swings scream, "Boho"? The streetlights create an inviting atmosphere and add warmth to the room. The free-flowing swing is synonymous with boho-inspired living. Swing is a versatile seating arrangement that can be used for relaxing, reading, and being at ease.
Imagine sitting on the rug under the warm street lights, reading a book on a rainy day!
25. Musical Instruments
Musical instruments such as guitars, ukuleles, and hand drums bring an artistic and bohemian vibe to the living room. They serve as an instrument as well as a decorative element. Their presence creates an electrifying vibe and showcases your love for the bohemian lifestyle.
The musical vibe to your living room adds sophistication and positivity to your living space.
Final Thoughts
Incorporating boho-inspired accessories create a serene atmosphere. Apart from embellishing the living space, they contribute to your mental health. In the contemporary world, adopting the boho lifestyle is a bold move.
While the world is rooting for expensive and fancy accessories, boho-inspired accessories will serve as a good alternative without breaking the bank.
In boho, living plants play a crucial role in bringing a natural breeze to the living room. Adding low-level furniture will create a good ambiance and enhance a good conversation. Incorporating diverse wall hangings and souvenirs from travels shows your multiculturality.
Adding boho-inspired candles and lanterns will personalize the living space and maintain warmth at the same time. An ambient chair, dreamcatcher, and macrame will add depth and a focal point to the room. Boho living tells more about your personality and screams the credo, "It is never too late to live in close association with nature."
Why not create your Boho decor living room now?
Sierra Rivera, a passionate home decor enthusiast, runs the popular blog CozyCottageCute.com. Sierra shares decor tips, DIY projects, and personal insights. Off the blog, she's often at antique markets or redecorating corners of her own space.