13 Best Bedroom Paint Colors to Enhance Its Elegance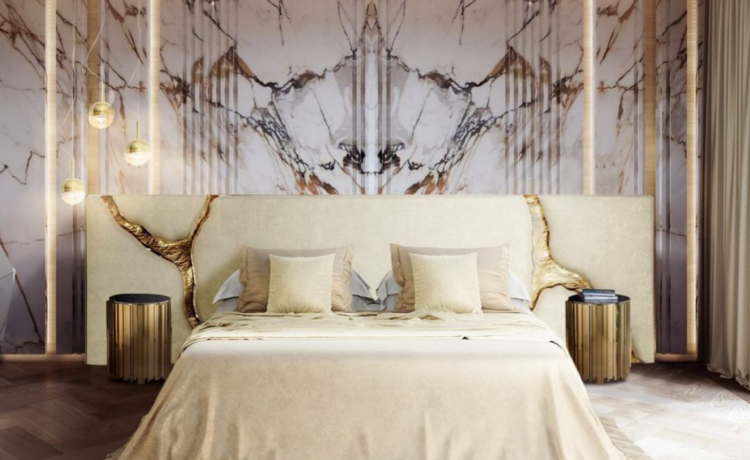 Colors play a huge role in setting the tone and ambiance of a room. They often affect our moods and even personalities to some extent. Hence, you want to make the perfect choice to elevate your room while avoiding any negative effects. Choosing the wrong palette can make your bedroom seem dull and unattractive. Then, how to choose the best bedroom paint colors?
First and foremost, evaluate your needs and explore what you want the final product to achieve. Next, consider the size of the room, natural lighting, and your budget to decide which color might look the best. Do you want to give your bedroom a new look but are confused about which color to select? Worry not because we have compiled some of the best bedroom paint colors that will enhance and make your bedroom look magnificent. Continue reading to find our top recommendations!
Best Bedroom Paint Colors
Here are some of the most beautiful color shades that will certainly make your bedroom the most picturesque in the whole house!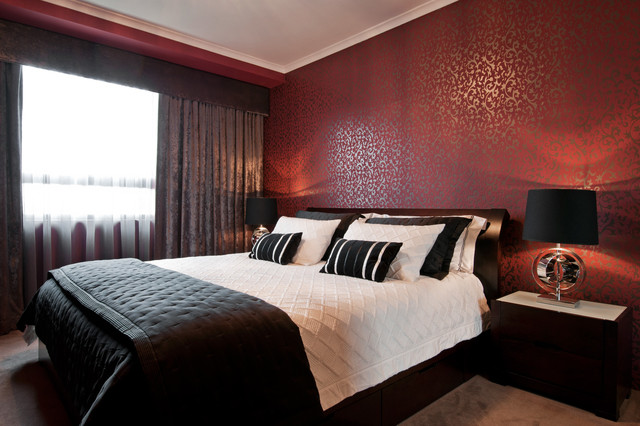 Deep shades with a polished look will elevate your bedroom to the next level. Consider red-painted walls for a romantic mood, or go for a deep earthy green for a moody and aesthetic outlook. Explore different types of finishes (like satin) to enhance the effect even more. However, we suggest you consider deep colors if your bedroom is big enough since small rooms might look duller and smaller with darker shades.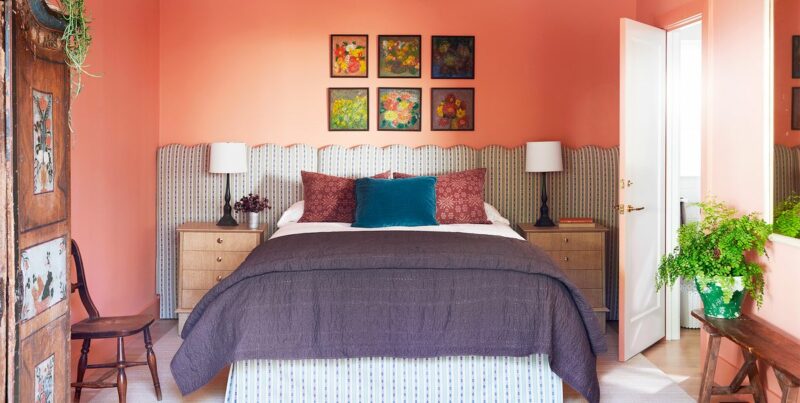 Coral, Salmon, Peach, Blush, or Petal Pink are beautiful shades that give a fresh look to the bedroom. Not only are these soft shades perfect for a small to medium-sized room, but they also create a vibe of serene calmness around the room. Furthermore, a pink palette is quite easy to complement any theme of the room – minimalistic, vintage, monochrome, whimsical, or accented.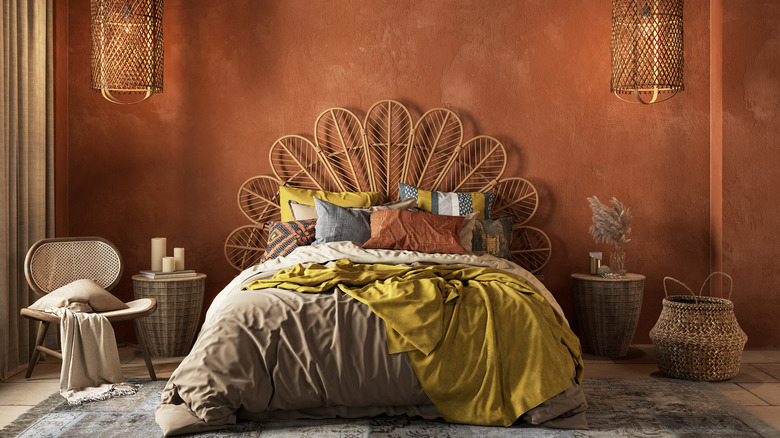 Although brown color, or any of its shades, may not be your top choice to paint the bedroom, a shade of terracotta will emit warmth while also being perfect for huge rooms. If you find it difficult to pull it off, try placing statement furniture or vibrant artwork to break the monochrome. It's a fun experiment, which can be one of the best bedroom paint colors when properly planned and executed.
If terracotta was a suggestion you liked, why stop there? Explore all shades of brown, like chocolate brown, umber, or taupe, to add depth to your room. If you feel brown is too bold, go for darker shades of yellow, like ochre, mustard, or golden rod, and complement it with an accent of brown or brown statement furniture. Its brilliance can elevate your bedroom in unimaginable beautiful ways.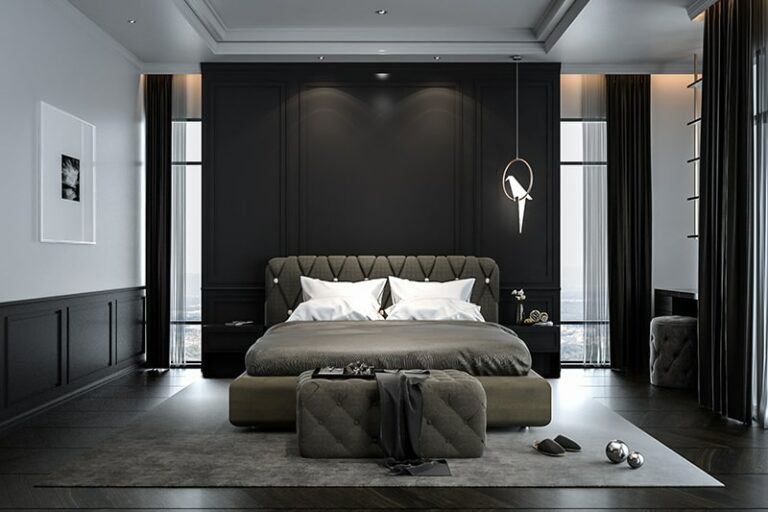 B&W is a repetitive, dull, and boring combination. How to make it better? Try black and gray! A deep jet black and a light shade of gray will perfectly complement each other to create a beautiful effect. Additionally, the dark colors create a cozy cocoon, specifically in larger rooms. If you feel adventurous enough, try purple with jet black instead of gray and instantly see the effect!
Although white may seem overdone, there's nothing better than a palette of good, old, proven choices. Furthermore, white has an expanse of shades like a white dove, origami white, off-white, or crisp. White has the power to make small rooms look comparatively bigger. If your room has minimal natural lighting and you want more, opt for white since it's best to create a brighter effect.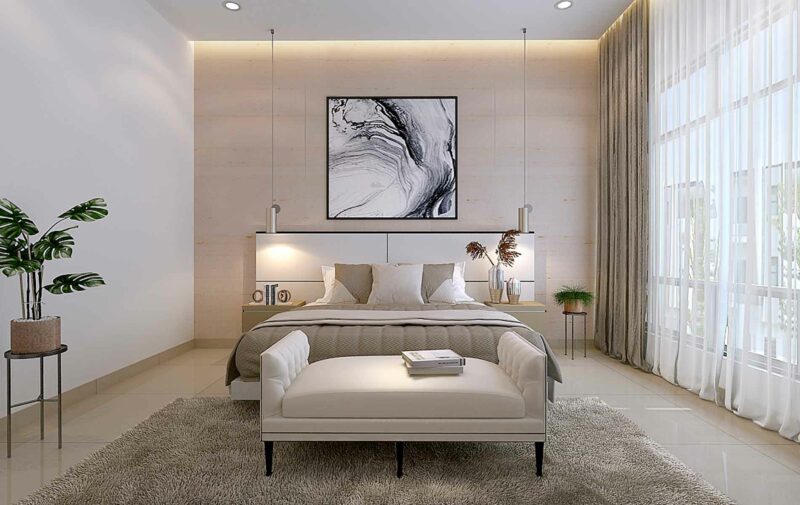 Beige and taupe are the best bedroom paint colors for creating a calm vibe. They also give a more mature and versatile look to the bedroom. You can add matching furniture and accessories to elevate the look. If you want, you can add an accent of brown for an illusion of depth and richness, as the nude shades will provide an apt backdrop.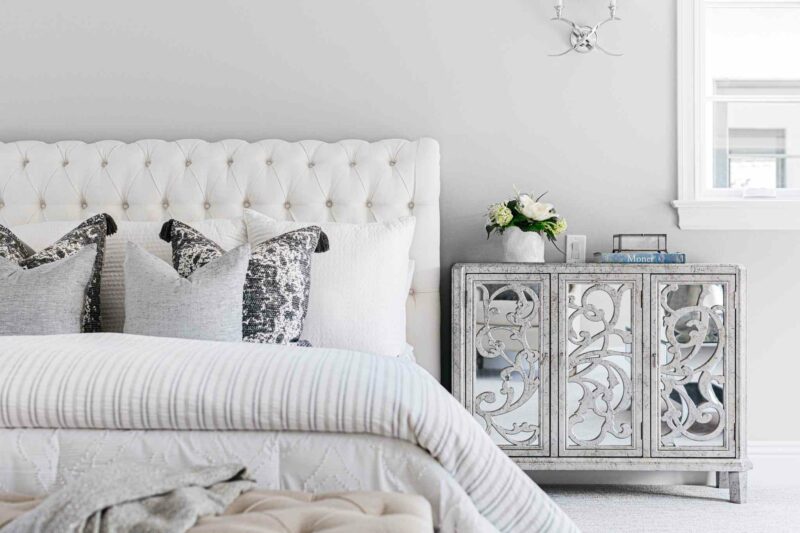 People often find plain white or similar shades too bland. How to make it better then? Add a tinge of gray to your white palette. It can elevate any monochromatic shade to make it look richer, more royal, and more elegant. Also, gray is a wonderful shade to highlight the natural lighting of your room. As suggested previously, you can use it with jet black or even any pastel colors.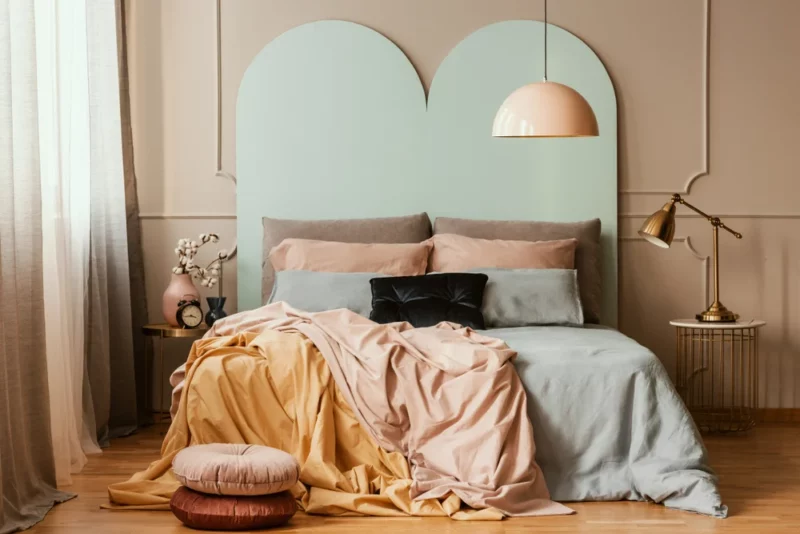 A pastel palette is hands-down one of the best bedroom paint colors. Their soft look and pleasant ambiance create a calm vibe. Since their effect is so subtle, you can place statement furniture in the bedroom, and the wall color would naturally draw more attention to the former. Some of our top suggestions to beautify your bedroom are lavender, mint green, and pastel pink.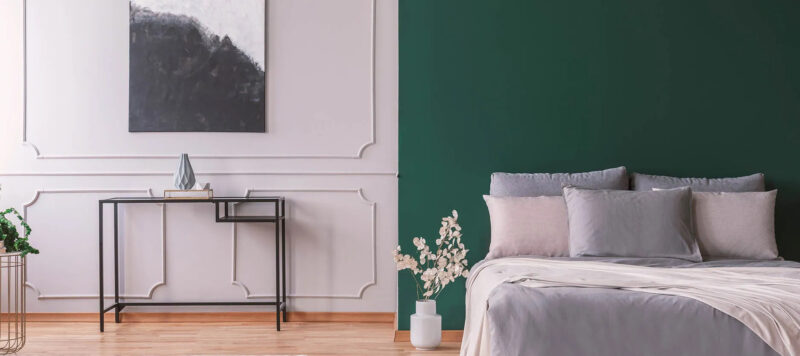 If you want calm tones for your bedroom, then, of course, our top recommendation will be a pastel palette, neutral colors, or shades of white. However, often, it becomes challenging to give softer colors a highlighted look. At such times, you can choose a bright, vibrant color to make the others pop. Try exploring different accents or statement accessories for the same effect.
Light French Gray is a beautiful, elegant shade with undertones of blue and brown. The best way to incorporate it is to create a contrast of stark white trim or white ceiling. Its versatility is best brought out in smaller rooms since lighter shades suit comparatively smaller rooms better. Additionally, it is quite easy to match any wall accessories or furniture with this shade.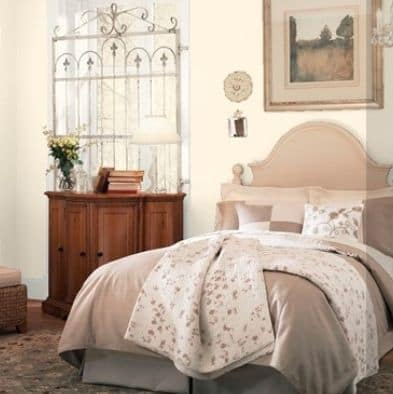 It is an exceptionally beautiful, creamy shade of off-white that gives out the perfect Victorian vibes. The unique characteristic that makes it one of the best bedroom paint colors is that it suits any theme of architecture, like modern, cottage, farmhouse, traditional, transitional, or vintage. Use this warm shade with a darker highlight, like beige, sage green, or olive, to add a modern twist.
Although named Intimate White, it falls under the pink palette. An aesthetically pleasing shade, Intimate White creates a cheery and lighthearted ambiance. It adds the warmth lacking in darker shades. We highly recommend this shade for smaller rooms, as it can give an elegant touch to an otherwise simple room. You can also pair it with darker shades to add an accent to your bedroom.
How to Pick Two Color Combinations?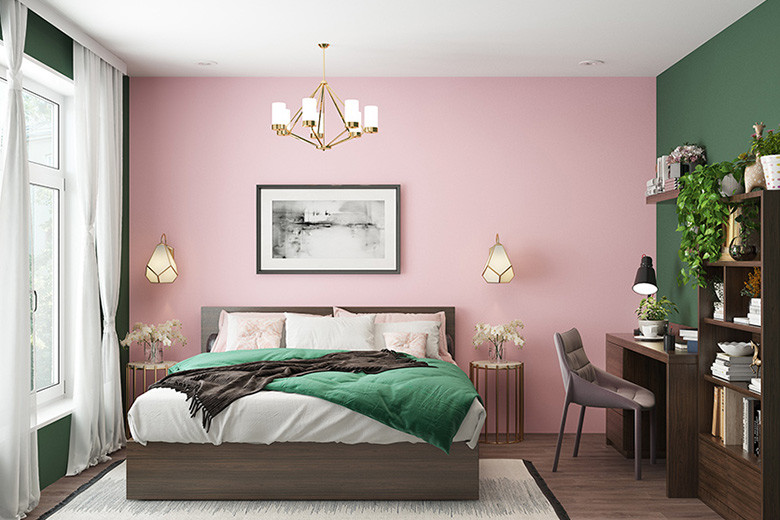 Do you feel confused while choosing one palette for your bedroom? Or do you feel it might not be as attractive as multiple shades? Then why not pick more than just one of the best bedroom paint colors that we suggested? You can use the lighter shade as the main color and the darker one as an accent to elevate your room.
It is best recommended to use the accent color on the wall adjacent to the headboard of your bed as, this way, it perfectly binds the room together. Otherwise, you can also paint the bottom half of the walls as one color and the other half as another. However, for the second technique, it is advisable to take similar colors or shades from the same palette. In some cases, contrasting colors can be pulled off if they are on the same paint swatch.
One key note to take into account is the natural lighting. If the windows in your bedroom are huge and allow a lot of light to fall in, paint the wall opposite them with a dark shade. Conversely, if you don't get enough lighting, paint it in lighter colors. This way, you can effectively regulate how bright you want your bedroom to be.
Which Type of Paint Should You Choose for Your Bedroom?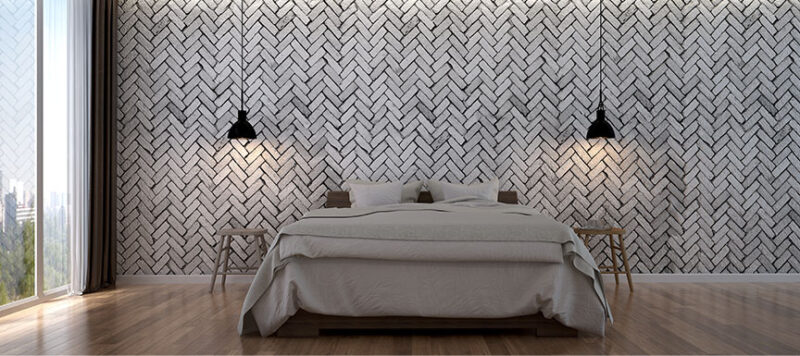 You can choose any paint from the different types available in the market. However, it is wise to evaluate your needs, the desired finish, the space of the room, natural lighting, and the overall color palette you opt for. Here are some of the recommended paint types for painting your bedroom.
Matte – Add a coating of matte finish paint to give your bedroom a smooth and velvety look. It also helps in covering any blemishes or stains.
Eggshell – An eggshell or satin finish can instantly make your bedroom look more elegant and royal. You can achieve a lustrous appearance with the same.
Metallic – Metallic paint is used to add a bit of jazz to the look of your bedroom. It will make the walls look shiny. However, these paints tend to be more expensive than usual.
Gloss – A glossy paint will give your walls a reflecting surface, ideal for achieving a bold look. However, it must be noted that glossy paint requires more maintenance than other conventional ones.
Low VOCs – Choosing a paint with little to no amount of VOC can help you avoid hazardous chemicals and contaminants. We highly recommend these for creating a healthy atmosphere in your bedroom.
Textured – You can implement any kind of textured paint to give your bedroom depth and an elevated appearance. It increases the visual appeal while creating high aesthetics.
Water-based Emulsion – These paints are quite simple to use, easy to clean, and have low maintenance. They are also water and crack resistant, which makes them a good choice for the long run.
Should Any Colors Be Avoided?
Your bedroom paint color must align with your personality, attitude, mindset, and your aim for the room as your personal space. Only then it achieves the purpose of creating a safe and comfortable environment for you to relax and rejuvenate.
Hence, you should avoid colors that would constrict this process. Typically, bright red or sunny yellow are colors that refrain from creating a serene and calm vibe. Shades that are too vibrant may increase anxiety and make it difficult to feel at peace.
Also, avoid pairing colors that don't go with each other. Before deciding on your preferred palette, ensure all colors align and come together. Otherwise, you'll end up with a mismatched bedroom.
Parting Words
Choosing the best bedroom paint colors is pivotal while designing a bedroom, as it can influence your daily life in several ways. Your surroundings can affect your mood, productivity, and even lifestyle. Hence, selecting light shades, like nude shades, a pastel palette, soft colors, french gray, or linen white, is highly recommended, especially for a smaller room. Also, if your bedroom has less natural light, you should opt for lighter shades.
If you have an ample amount of space, try experimenting with darker shades, like a combination of black and gray, terracotta, brown, or a pink palette. Additionally, you can also implement these as an accent to highlight your bedroom in a background of lighter colors. A combination of two tones is best to elevate your bedroom to the next level. However, it is essential to ensure they suit each other and don't make your bedroom look badly planned.
Which is your favorite color palette to design a bedroom? Let us know in the comments section below!
Frequently Asked Questions
Which is the Most Relaxing Color for a Bedroom?
Navy Blue is the most relaxing color for a bedroom. According to several studies, it was found that darker shades of blue typically help people calm down and feel at ease. It also helps to fall asleep faster when stressed.
Should You Prep Your Bedroom Walls Before Painting?
You should use a primer to prep your bedroom walls before painting. It is highly advisable since a primer helps the paint to stick to the walls longer and provides a smoother finish. Additionally, it also conceals any spots, marks, or stains on the walls so the look of your paint isn't ruined.
Sierra Rivera, a passionate home decor enthusiast, runs the popular blog CozyCottageCute.com. Sierra shares decor tips, DIY projects, and personal insights. Off the blog, she's often at antique markets or redecorating corners of her own space.