12 Affordable Alternatives to Traditional Box Springs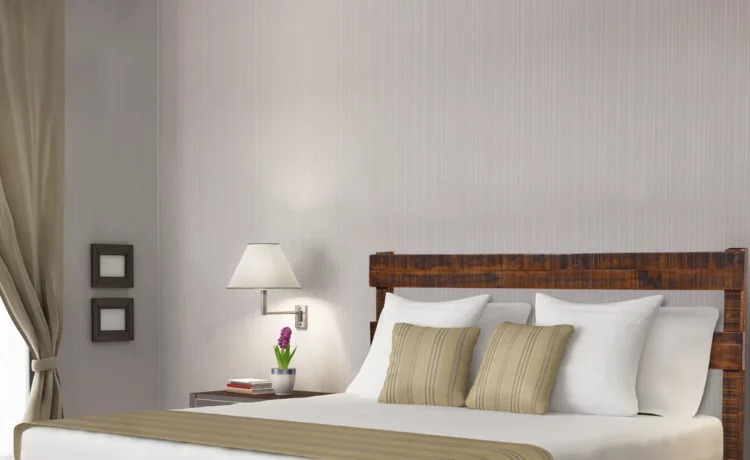 When we think of a bed, the only thing that clicks in our head is the typical and traditional square bed with a mattress on it. A box spring has long been considered a necessary component.
Though they give your bedroom a complete look, these beds can be heavy, tough to move, and cover up so much space that you can't add your new favorite interior. Not only that, if you end up choosing the wrong type of bed frame can even end up damaging your super expensive mattress.
However, as time passes by and new things are developed, a better and more advanced version making them the best alternative to box springs is also introduced. Not just that, but even better alternatives to box springs have also come around. These box spring alternatives are not only time and money-saving but also elevate the aesthetics of your overall bedroom.
These options are the best way to revamp your room and give them a look that better suits your personality and your overall taste.
Box Spring Alternative Offering Unique Advantages
1. Simplistic Elegance for Modern Living: Platform Beds
In the past couple of years, platform beds have gained quite a popularity because of their minimalistic design and clean lines. It's a low-profile bed frame with a slatted or solid surface that provides ample support to the mattress.
With easy assembly and space-saving benefits, platform beds seamlessly fit into any bedroom decor, making it stylish enough yet a practical option while being a budget-friendly bed spring alternative option as it only needs a mattress.
2. Customized Comfort: Adjustable Bed Bases
If a personalized bed is a priority while comfort is not compromised, adjustable bed bases are your perfect to-go option. These innovative alternatives to box spring offer versatile positioning options, allowing you to adjust the angle of your bed to find the most comfortable sleep positions. Because of this adjustable base, you can adjust your sleeping position to help alleviate snoring, back pain, sleep apnea, and acid reflux and improve circulation.
Additionally, you can adjust the height of the base itself, making it a great option for people with mobility issues or anyone who wants to sit up in bed to read a book or watch some television.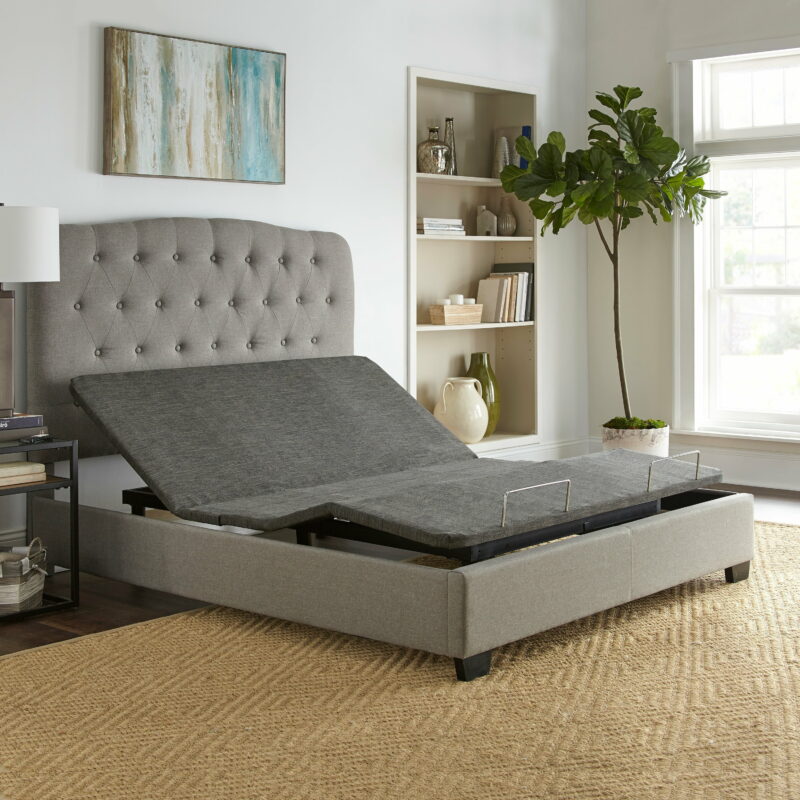 3. With a Style Maximize Space: Storage Beds
Putting practicality and organization together, storage beds have brought a revolution in the world of bed space and are a huge game-changer. These bed frames come equipped with built-in storage options, including drawers or hidden compartments, allowing you to store excess stuff while giving you a cleaner room.
These kinds of beds are especially a plus for those who are already at a loss when it comes to room space-giving them enough space to store things while not compromising on style. With a variety of designs and styles available, you can find the perfect storage bed to match your style and elevate the room's appeal while being a stylish alternative to box spring.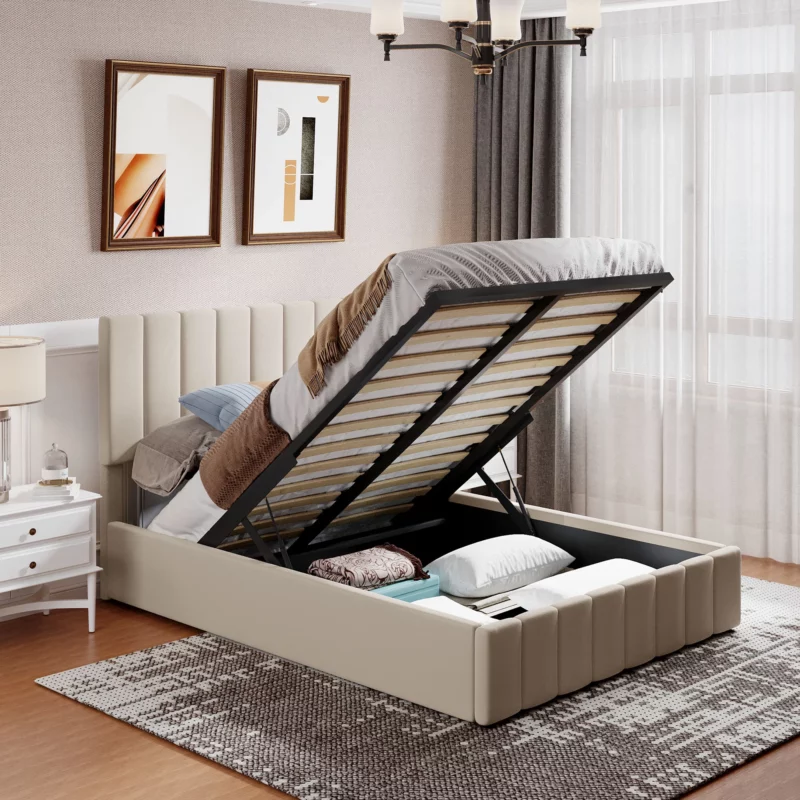 4. Breathable Support for Optimized Sleep: Slatted Bed Frames
A Slatted Bed Base is an affordable and simple alternative to a box spring. These bed frames offer a unique solution for optimized sleep by promoting enhanced airflow for temperature regulation. They are generally made of wood or metal, and slatted bed bases use slats placed horizontally across the bed frame to support the mattress.
The slats provide optimal support to the mattress, ensuring durability and hence prolonging the lifespan of the mattress. These kinds of frames are compatible with various mattress types, like memory foam and latex. The biggest pro of these kinds of beds is that they cater to an individual person's preferences.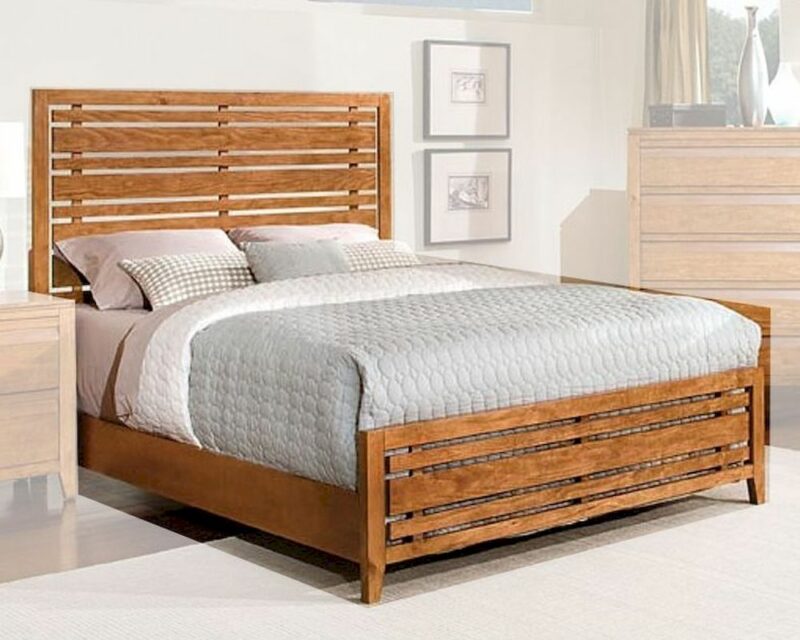 5. Versatile Seating and Sleeping Solutions: Futons
A bed that provides you versatility in both seating and sleeping arrangements is called a Futon. These dual-purpose furniture pieces are the best option for a multifunctional space, such as a studio apartment or guest room, making them a simple but better box spring alternative.
Futons offer a convenient and space-saving alternative to traditional beds because of their compact design and easy conversion from seating to sleeping. Additionally, they come in a wide range of styles and at various price options, allowing you to find the perfect futon that suits your aesthetic preferences and lifestyle.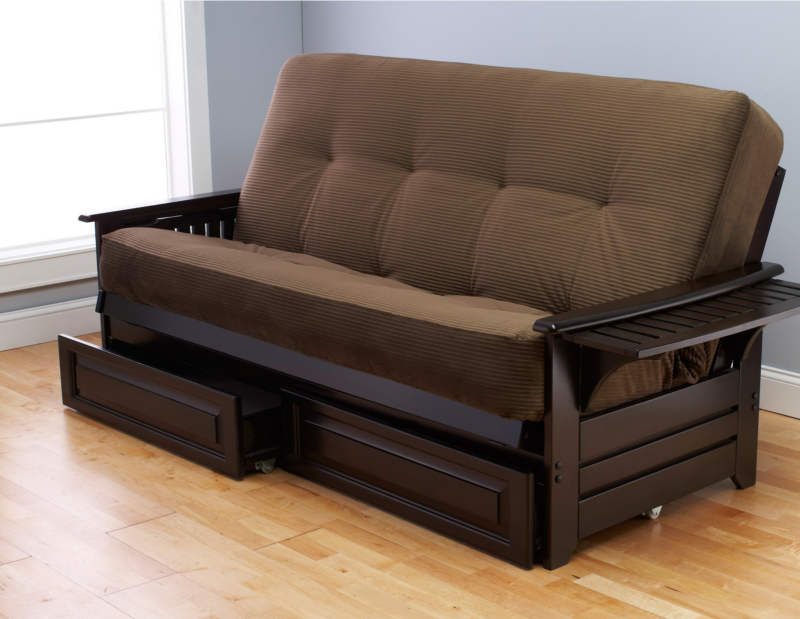 6. A Stylish Comfort for Lounging and Sleeping: Daybeds
If you need a box spring alternative with a touch of style and comfort to your bedroom, Daybeds are the perfect choice for you. This versatile piece of furniture can be used for both sleeping and lounging during the day. They typically feature a twin-size mattress and can be styled to look like a sofa during the day, making them perfect for small apartments or guest rooms.
With their chic and trendy designs, daybeds elevate the aesthetics of any contemporary bedroom. With supportive mattress options available, daybeds offer a cozy retreat for lounging and peaceful sleep. They come in a variety of styles, such as traditional, modern, and farmhouse, and can easily be dressed up with decorative pillows and throws. They are a perfect option for something practical and stylish.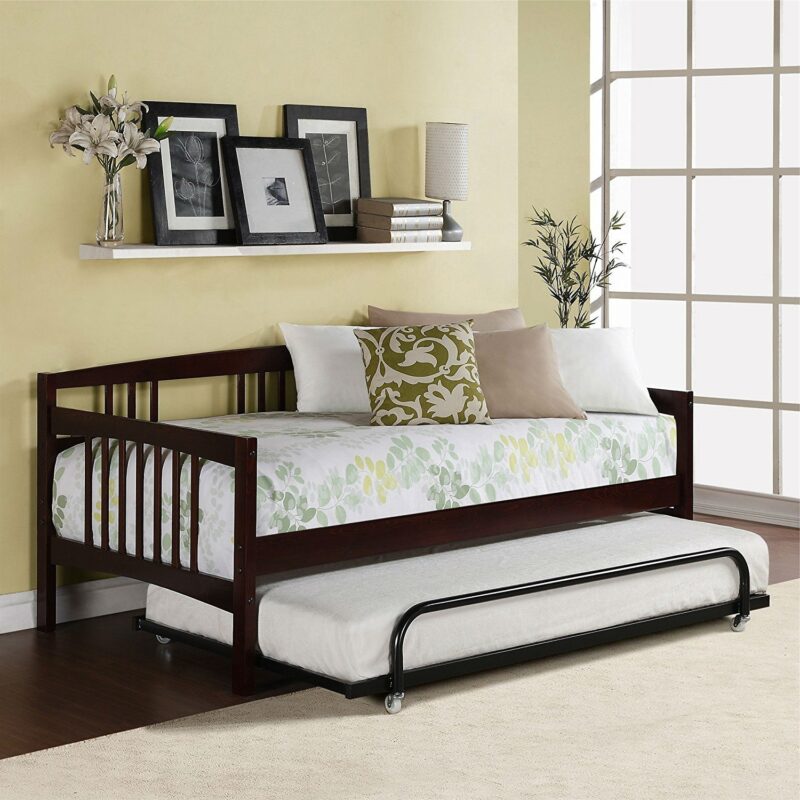 7. Clever Way to Deal with Space Issue: Murphy Beds
When it comes to maximizing that floor space, Murphy beds have no rival in that. These clever alternatives to box springs provide hidden bed functionality, seamlessly folding away into a wall or cabinet when not in use, providing you with an extra floor and a clutter-free bedroom.
These beds are easy to install and come with a user-friendly mechanism that makes transitioning from day to night with a snap of a finger while adding versatility and functionality. They are ideal for offices, studios, or multipurpose rooms. Murphy beds come in a variety of sizes, styles, and designs, making them an attractive option for any bedroom.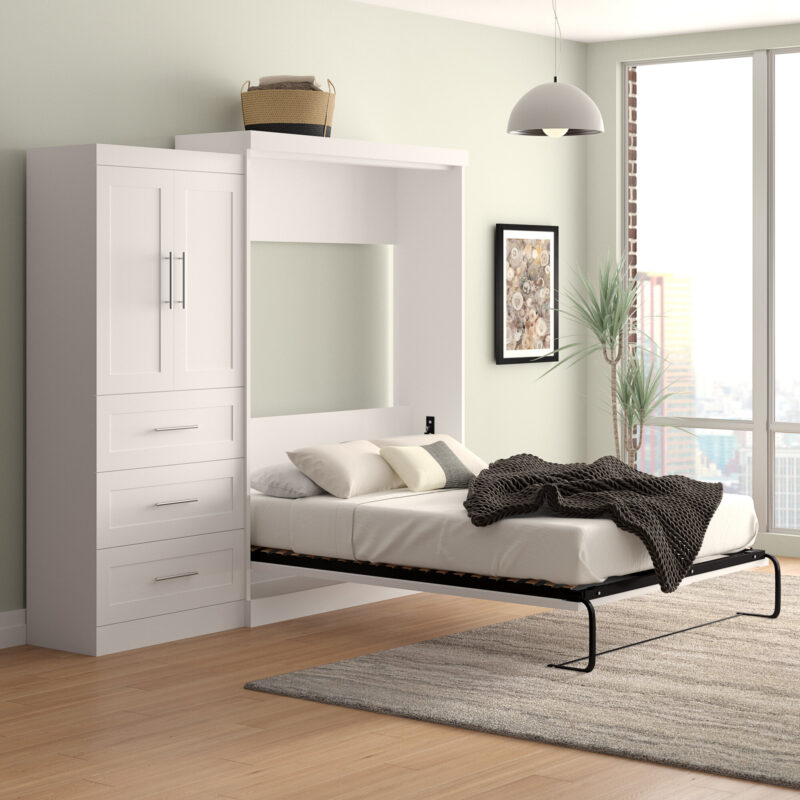 8. A Little Sprinkle of Japan in Your Living Space: Tatami Mats
If you are more of a natural and eco-friendly person, then Tatami Mats are the way for you to go. Tatami Mats offer a Zen-inspired bedroom retreat. They are often used as a flooring material in Japan, but they can also be used as a box spring alternative. These traditional Japanese mats are mainly made from natural materials, like rice straws and rush grass, creating a serene and minimalist sleep environment.
Tatami Mats are firm enough to provide support for your mattress, but they're soft enough to cushion pressure points on your body, which improves posture and provides better sleep quality. Apart from having health benefits, they are aesthetically appealing, giving your room a different vibe and something different from ordinary.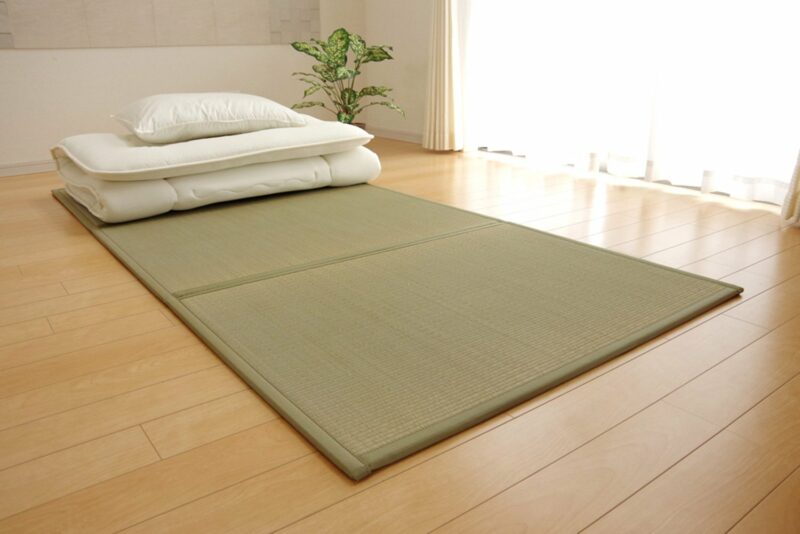 9. Embrace the Serenity of Swinging Comfort: Hammocks
The first thing that clicks into our head when we hear Hammocks is laying on a hammock on a sunny day at the beach, but these Hammocks can be more than that. They can be a great and budget-friendly alternative for a box spring. Hammocks can bring a touch of serenity to your bedroom, as suspended sleeping options offer a relaxed and stress-relieving sleep environment.
With their mobility and versatility, hammocks can be enjoyed both indoors and outdoors, making them ideal for those with limited space. Embrace a minimalist lifestyle with a hammock that provides the ultimate comfort and tranquility.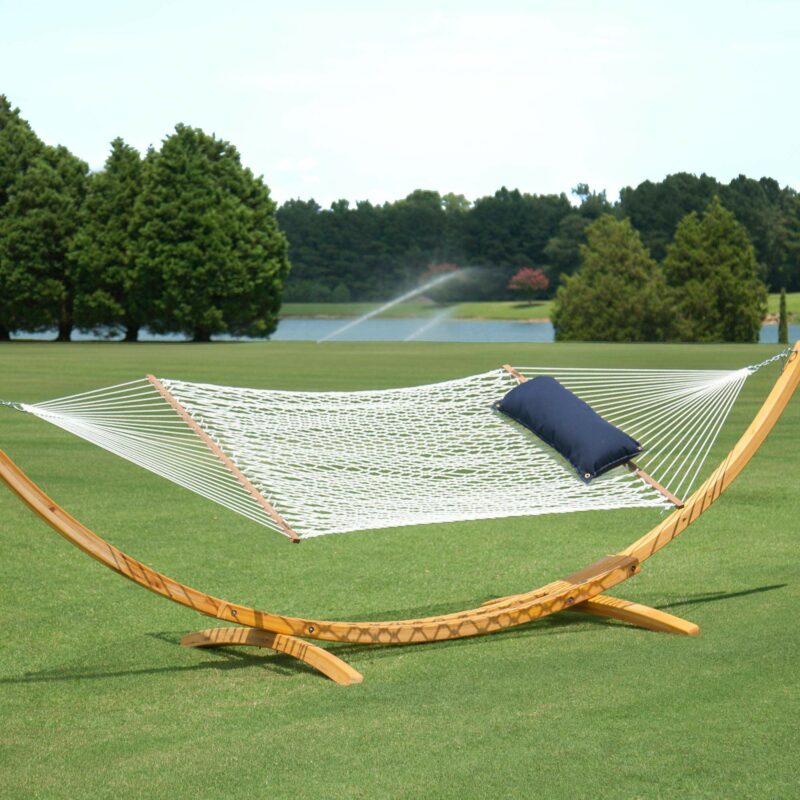 10. Versatile Comfort for Guests and Travel: Inflatable Mattresses
A portable and practical bedding that is ready to go with just a simple up-we-go mantra. Inflatable Mattresses offer this flexibility. Whether you have some unexpected guests staying the night or you're embarking on an outside trip or a camping adventure with your friends, inflatable mattresses provide a quick and easy setup.
With their compact size when deflated, these mattresses can be easily stored away when not in use. Discover the convenience and comfort of inflatable mattresses for all your guests and travel must-haves without worrying about things that would have caused problems with traditional beds, making them a travel-friendly alternative to box springs.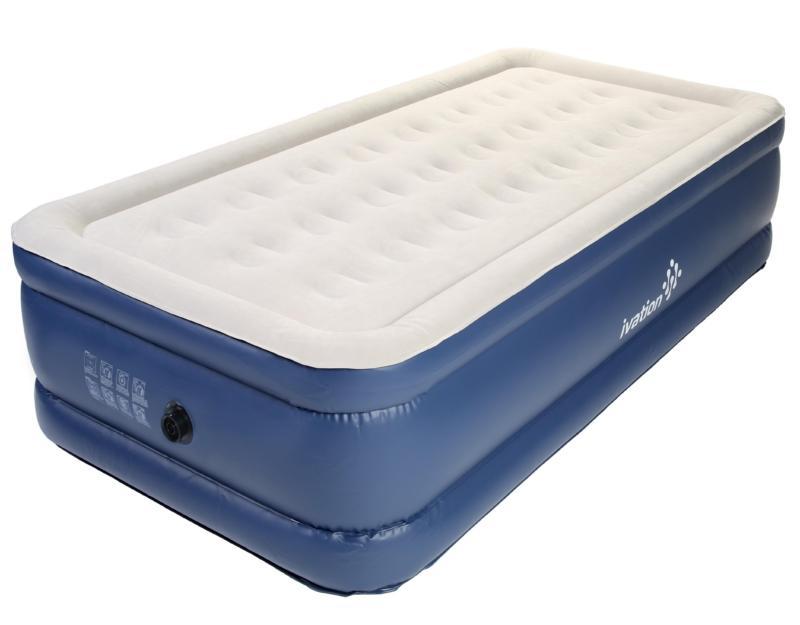 11. Crafts and Sustainable Design Solutions: DIY Pallet Bed Frames
If you are in for renovating your room by getting your hands dirty while wanting to be creative and environmentally conscious, this one is for you. DIY Pallet Bed Frames offer a crafty and sustainable alternative to traditional box spring beds.
Upcycling wooden palettes into unique bed frames not only adds a sprinkle of rustic and personalized touch to your living space but also promotes eco-friendly practices. The best part of it, apart from being custom friendly and eco-friendly, is that it is a very cost-effective option that allows you to spread your wings.
12. Perfect Support for Blissful Sleep: Foam Mattress Foundation
A foam mattress is a good option if you're searching for a supportive and comfortable mattress foundation which makes it a great box spring alternative. It's made of high-density foam that distributes weight evenly, reducing the pressure point on your body. This is because of its foundation, which is a solid wooden frame with wooden slats on top.
They have no flexible oils, only sturdy wooden slats. That provides support without an issue. The foundation's level of support is determined by the spacing of the slats, with most foundations having between 2 or 3-inch spaces between slats. Some foam foundations come with a cover that is removable and easy to wash, making it an easy-to-maintain option.
Final Thoughts
There are quite a few options out there that can be a better option and a great alternative to a box spring, each with not only its own unique benefits but something that saves time and money also. There is plenty to choose from From platform and adjustable beds to storage beds and slatted bed frames.
By exploring these pocket-friendly and space-saving alternatives to box springs, you can enhance your room's aesthetics while enjoying the benefits of improved sleep and functionality. When choosing a foundation for your mattress, it's important to consider your needs, space constraints, and budget.
Choose the right alternative that suits your style, taste, and personal needs. Get ready to revolutionize your bedroom and create something amazing that seems like it is straight out of a movie (or Pinterest photos)!
Sierra Rivera, a passionate home decor enthusiast, runs the popular blog CozyCottageCute.com. Sierra shares decor tips, DIY projects, and personal insights. Off the blog, she's often at antique markets or redecorating corners of her own space.