What is the Cost to Paint the Exterior Brick of Your Home?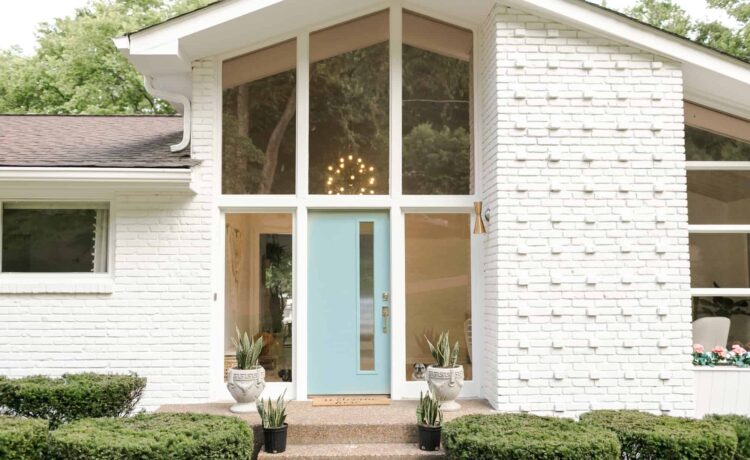 When you have a brick house, you have plenty of benefits in comparison to houses built of other materials. Bricks are strong and durable, offer better insulation and temperature control, and block out surrounding noise effectively. Bricks are also more resistant to fire than other building materials. With bricks, you can have endless design options that are otherwise limited to other building materials.
However, bricks need some maintenance time and again, and painting them is one of the ways to enhance their longevity and durability. Painting bricks can offer a new look to your house besides protecting the surface from the impacts of extreme downpours, heat, and even snowfall. With brick houses, you also have the luxury to paint exterior brick and the interior walls in different shades to add an interesting and aesthetic touch to your house.
So, if you want to paint exterior brick, our blog entails the essential information you need to carry out the job and gives you a good grasp on the expected expenditure of the brick house remodel.
Tips for Performing a Splendid Painting Job
Winters, autumns, and springs are the best time to undertake exterior painting jobs, while interior painting can be done even during the rainy or summer seasons.
Avoid windy or rainy days for such projects.
If you are using latex-based paints, ensure not to dilute them too much; however, if the application of the paint with a brush feels difficult, then you may use little water to decrease the consistency.
Cost to Spend on An Exterior Painting Project
You will need to spend anywhere between $3,500 to $10,000, with a national average of $7,000. But these figures can vary based on the state you are in. For instance, in Hawaii, you will spend around $13,000.
If you hire a contractor, you will spend $1.40 to $4.20 per square foot. So, for a $1,000 sq ft house, you have to spend between $1,400 – $4,200, and for a 2,500 sq ft structure, you will incur an expenditure of around $3,500 – $10,500.
If you do the painting job yourself, you can save labor charges somewhere between $150 to $350 per hour. However, even for a DIY project, you will still need to spend on the materials and pressure washing.
The cost of painting a house can also vary as per the finish and painting material you choose.
The below table illustrates the details of the expenses, taking an example of a $2,500 sq ft standard house.
| | | |
| --- | --- | --- |
| Type of Finish | Cost | Duration the paint lasts |
| Whitewashing | $2,225 – $4,000 | 2 years |
| Limewashing | $2,000 | 2 years |
| German Schmear | $1,500 – $3,000 | Timeless |
| Standard latex paint | $7,000 | 7-10 years |
Here is a breakdown of the painting cost as per the material charges, labor costs, and pressure washing.
Category of expense

Description

Charges incurred

Pressure washing

Includes pressure washing to clean the walls professionally

$35 – $100

Labor charges

Includes planning, cleaning, caulking, priming, painting, and final cleanup

$150 – $350

Cost of materials (for each $250 sq ft)

One gallon primer

One gallon paint

Cloth, caulk, painter's tape

$7 – $15 per gallon

$30 – $70 per gallon

$100
Materials and Supplies Needed for Painting the Exterior Brick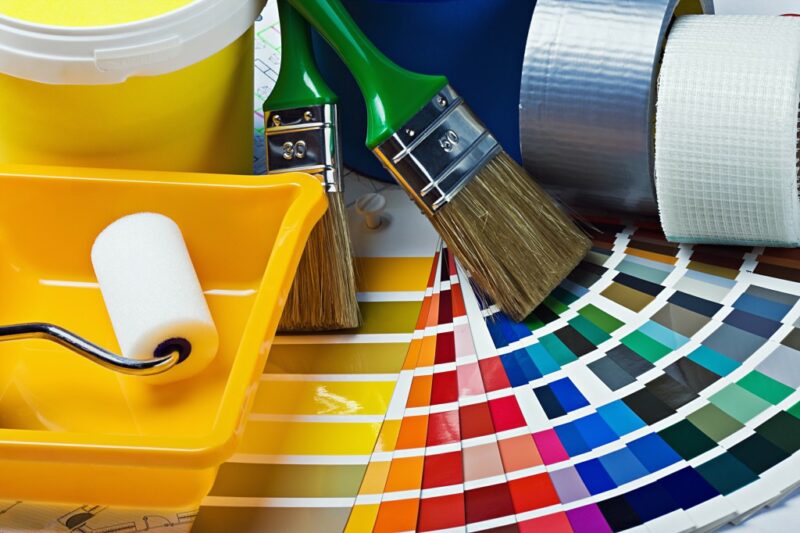 Here is the list of supplies you must gather before starting your painting task:
Power washer
Water
Exterior or multi-surface primer
Sprayer
Rough cloth
Steps to Paint Exterior Brick Structure
Once you have purchased all the essential materials, you can next begin your painting job.
1. Prep the Surface
To prep the surface, you need to be aware of when the bricks were installed first. If you are dealing with a new brick, you must know that it gives off a powdery substance in the beginning. So, you need to give it some time to cure before painting it. Otherwise, the paint won't bind properly, and you will get a chalky finish.
If the structure is old, you will need to get the old paint off the surface first. So, get your wire brushes at work and scrape off the old paint from the surface first. Once the paint is scraped off, you clean the surface with water to remove the debris, sand, and dust. For exterior walls, you may employ a light power wash.
Next, allow the walls to dry off completely for a day or two. Getting the old paint off the surface is quite an achievement in the first place. But you must ensure that the painting surface should not have any rectifications due to water seepage, renovations, and hairline cracks. If so, you must employ the surface imperfections first before proceeding with painting the walls. You can use acrylic caulk to fill in cracks and surface imperfections and allow it to dry for sufficient time.
2. Prime the Surface
Next comes priming the surface. Whether your structure is old or new, you must use an exterior primer for the following reasons:
A primer creates a bonding surface between the brick walls and the paint and helps the paint to adhere better to the walls.
It can fill pores, crevices, nooks, and corners.
They offer better alkaline resistance. Thus, it prevents the topmost coat of the paint from alkali burns.
They make the surface smooth, therefore offering a smoother finish to the painted surface.
The primer is typically thin in consistency, thereby allowing it to seep through the porous surface of the brick and bind loose materials.
Use a brush with synthetic bristles to apply the primer smoothly. For larger surfaces, you can choose rollers too.
Let the primed surface dry for at least a day before applying latex paint over it.
3. Paint the Exterior Brick with Your Favorite Color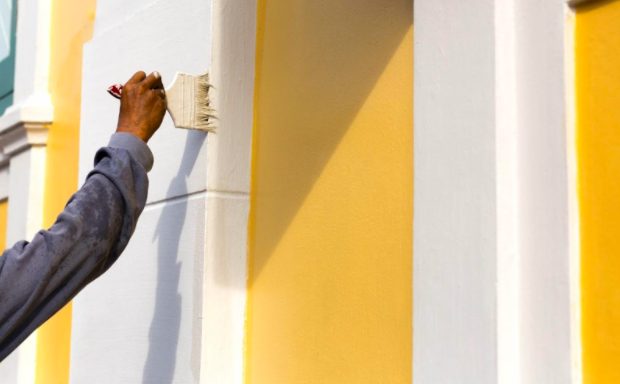 Once you are done prepping and priming the exterior brick walls, you can apply the paint you choose without further ado.
Be ready to slay anyone with a remarkable color combination. Stick to the basic three-color rule – light and deep combination for the walls and protrusions like shades and eaves and another color for the trim. You can either go with whites, as they can be matched with any other color, or use some warmer neutrals. Nonetheless, you can also try out something bold if you aren't afraid of experimenting.
You can choose high-sheen paints as they are better resistant to stains; however, matt finishes also look great on exterior walls. Latex paints are quick-to-dry, while mineral-based paints offer a harder finish upon drying and last longer than other paint variants. Go with dust-resistant and water-repellent exterior paints to safeguard your structure from damage due to varied weather conditions.
Use sprayers for reaching nooks and corners. Also, use rollers for wide surfaces and reduce the time of paint application.
Offer a 4-6 hours basic drying time before applying the second coat. Usually, a third coat won't be needed if you have primed the surface.
Paint Exterior Brick: Merits and Demerits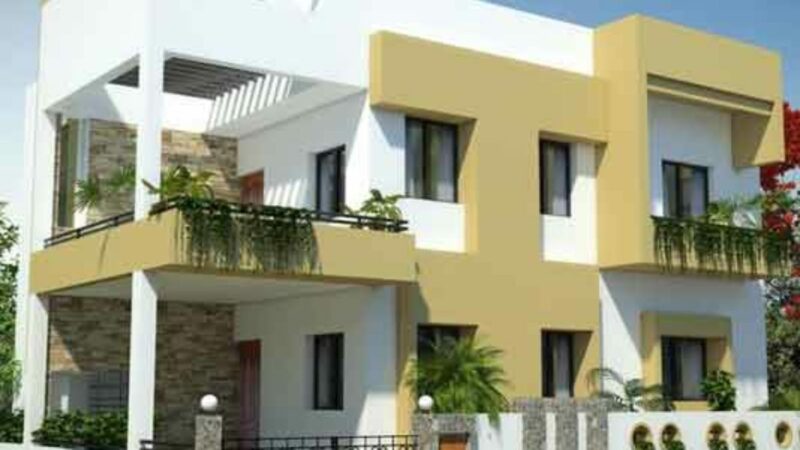 While you have the freedom to get the exterior painting job done according to your budget, you must understand that once you have painted the walls, it's final and irreversible. If you want to paint exterior brick, you must be aware of its pros and cons first.
Pros of Painting a Brick House
The numerous benefits of painting a brick house worth considering are as follows:
1. Adds an Aesthetic Touch to Your Home
The exterior home paint industry offers a vivid color palette to help you decorate your exterior and interior brick walls in captivating ways. You can paint your doors, windows, shutters, garage doors, and your roof too from the eclectic range of enamel and wood surface paints offered by the paint industry. Nowadays, you get paints in the satin finish, too, that can keep your gaze glued to the walls for quite a few minutes. So, paints offer an easy way to add an aesthetic touch to your place besides making it convenient to offer a facelift to your home.
2. Offers a Modern Appeal to An Outdated Structure
Dated, faded, and dilapidated structures can transform into stunning homes with the application of fresh paints. Given the wide range of colors and paint options that are available in modern times, you will never be short of options.
3. Seals the Walls and Prevents Effects of Environmental Degradation
Though exterior paints are not exactly waterproof, they prevent moisture retention in the walls. They also protect the bricks from damage caused by environmental factors such as rains, hailstorms, extreme heat and strong rays of the sun, and even snowfall. Furthermore, paints help to enhance the integrity of the housing structure.
The layer of emulsion paints forms a film on the surface of the naked bricks, thereby preventing seepage of water through the bricks to the interior of the house during heavy downpours.
4. Eases Maintenance by Making Cleaning Possible
Painted bricks have a smooth surface. Today's acrylic latex paints and emulsion paints are water-based and hence facilitate the cleaning of wall surfaces with water and mild detergent to keep the stains at bay. Thus, your exterior walls will appear new, as always.
Cons of Painting a Brick House
Apart from being an irreversible activity, some other downsides of painting a brick house are:
1. Expensive
The painting materials can be expensive, and the average amount that you will need to spend on painting materials and painters will be something between $3,500 to $10,000. This is usually more than the amount needed to paint other building materials because brick is rough and absorbent. Therefore, more paint is needed to do the job. Consequently, more time is needed to finish the exterior painting job, so it incurs more labor costs.
Also, every decade you will have to undertake maintenance and remodeling of the house as brick paints last for a decade only.
2. HOA Restrictions
Sometimes local Homeowners Associations or some neighborhood bodies may impose restrictions that can prevent you from using certain colors or paints on natural brick. Therefore, you will have to become aware of the locality regulations before embarking on the journey to paint exterior brick.
Conclusion
Undertaking a painting job for your home once in a while can be a little hectic but it will be crucial for making the structure durable over a long period of time. Each time you paint your house, you can stick to the same old shades or give your home a complete makeover with newer shades to overwhelm yourself and your neighbors completely.
The synthetic paint industry has significantly upgraded the quality of paints to repel moisture and safeguard brick structures from weakening due to the impact of moisture. The more the durability of the structure, the better real estate value it can reap in the future. Further, it reduces the expenditure on structural renovations.
From the above blog, you have gained a fair idea of how much expenditure you need to bear to paint exterior brick and how best you can do it. You can also paint the interior walls in interesting shades and designs to give yourself a sense of newness.
Frequently Asked Questions
Is It a Good Idea to Paint an Exterior Brick House?
Yes, it is a good idea to paint your brick house exterior to stop water from seeping through the brick walls after heavy downpours. Painting easily increases the durability of the masonry for at least a decade. Painting exterior brick walls can also help you refresh the appearance of your house.
What is the Cheapest Way to Paint Brick?
You can use acrylic latex paint as it is inexpensive. This is the cheapest way to paint brick walls. You need to apply only one coat of acrylic latex paint on your walls to give them a smooth finish. You can also go for whitewashing or lime washing options or other cheap painting material alternatives.
What is the Longest-Lasting Paint for a Brick?
The longest-lasting chemical for brick is mineral silicate paint. It chemically bonds with the surface of the bricks and becomes an integral part of the brick and cement masonry rather than forming a film over the surface. Therefore, it never peels, fades, and offers decades of durability. However, acrylic latex paints are also durable as they can evaporate moisture and prevent grease and dust from accumulating on the surface.
How Long Does Brick Paint Last?
Low-quality paints can last somewhere between three to five years, while high-quality paints like elastodynamic and acrylic latex paints can last up to a decade. If you have primed the exterior surface, then it can further increase the longevity of the paint besides offering a smooth finish.
Sierra Rivera, a passionate home decor enthusiast, runs the popular blog CozyCottageCute.com. Sierra shares decor tips, DIY projects, and personal insights. Off the blog, she's often at antique markets or redecorating corners of her own space.