21 Scandinavian Interior Design Ideas to Beautify Your Home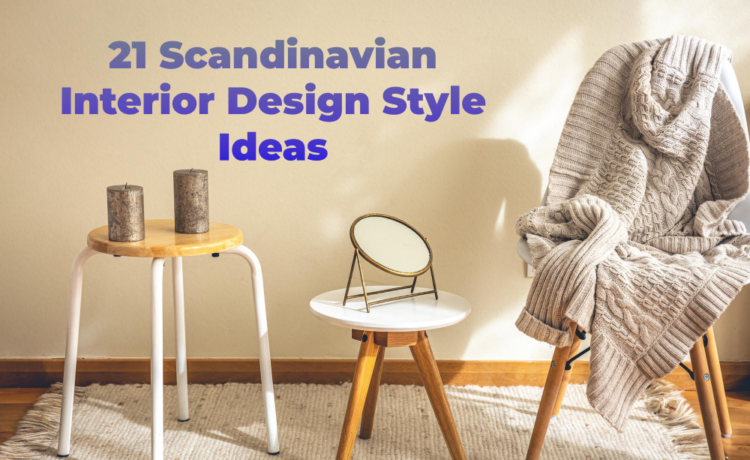 We are sure you all have heard of the Scandinavian Interior Design Style many times. But do you know what exactly this style is? If you do not belong to a creative background, then this might be a totally blind topic for you. So we are here to educate you a little regarding Scandinavian interior design style.
Even though this design style you have been many times but somehow you are not aware of its overall base features, used components, and many other essential elements. Basically, the Scandinavian design style has been adapted by various sectors, i.e., textile, architecture, home decor, graphics, and interiors.
Especially Scandinavian interior design style got the limelight in recent years. In this article, we are sharing 21 adorable Scandinavian interior design ideas.
But before that, to give you more clarity about the Scandinavian design style, let's first find out its history.
What is Scandinavian Design?
The Scandinavian design style was mainly formed in the 20th century. The prime purpose behind shaping this style was the weather and climatic condition of the regions. There are a few European countries like Sweden, Denmark, Finland, Norway, and some others that witness long time winters with minimum sunlight exposure.
Moreover, heavy snowfalls restrict outside access. Hence, these countries needed some prominent solutions to keep up with the lifestyle. That's where designers invented this Scandinavian style for people in these countries. This style has the influence of natural elements, simple appearance, clean lines, and soft color palettes.
This style gained worldwide acknowledgment in American Scandinavian design shows that took place around 1954 to 1957. Since then Scandinavian style is holding its position in every sector.
Mesmerizing Scandinavian Interior Design Ideas
1. Include Greenery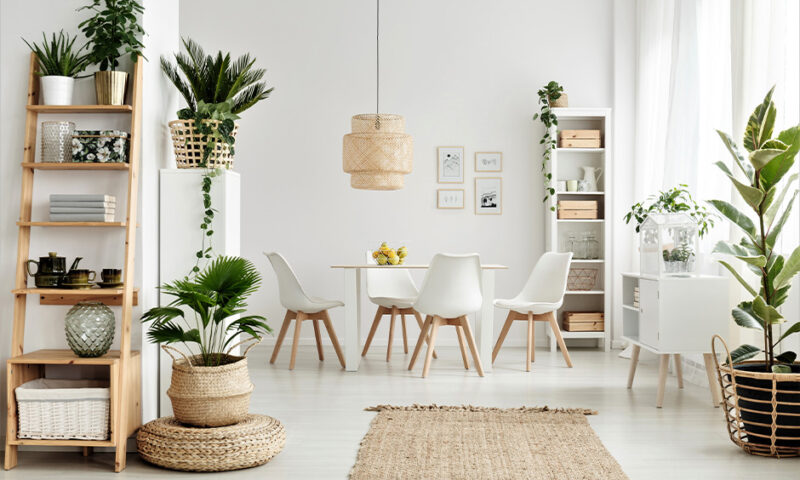 To invite nature into your house, add more plants. As you can see, the place in the image is enclosed with maximum indoor plants, which creates a natural aura in the place. The light gray color palate with all-white tapered leg chairs coordinates excellently. Apart from the huge existence of natural light, the metal light pendant upgrades the visual appearance of this place. The prime feature of the Scandinavian design style is multilevel storage, and the unique storage units placed in this place look very elegant. So you can consider this Scandinavian interior design idea to add to your place.
2. Get Warmth of Wood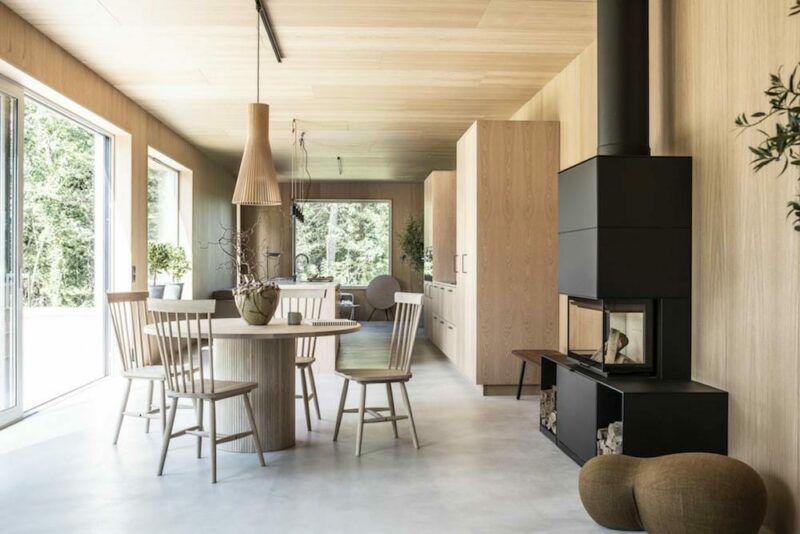 Scedenivian interior design style's important purpose is to invite more warmth into a place; wood is certainly the best choice. In this image, you will see the owner have included wooden elements like wooden wall panel, wooden roofing, and verticle storage furniture is also formed using wood. Moreover, the fireplace, another warmer feature, is crafting a contrasting look with its black appearance. Neutral shade flooring and huge windows invite more natural light into the place. This could be a perfect Scedenivian interior design idea for you if you love wooden elements.
3. Choose Low Profile Sofas
Overall low-profile furnishing style is one of the prime identification factors of Scandinavian-style interiors. The sofa added in this place has a lower profile with a neutral gray shade of fabric. And again, it shows the maximum use of natural fabric in sofas, throw pillows, and rugs with pestle color palate which is like approval of the Scandinavian interior design style carried by this place. If you want to showcase Scandinavian style in your place add low-profile furniture and get the look.
4. Apply Wooden Floor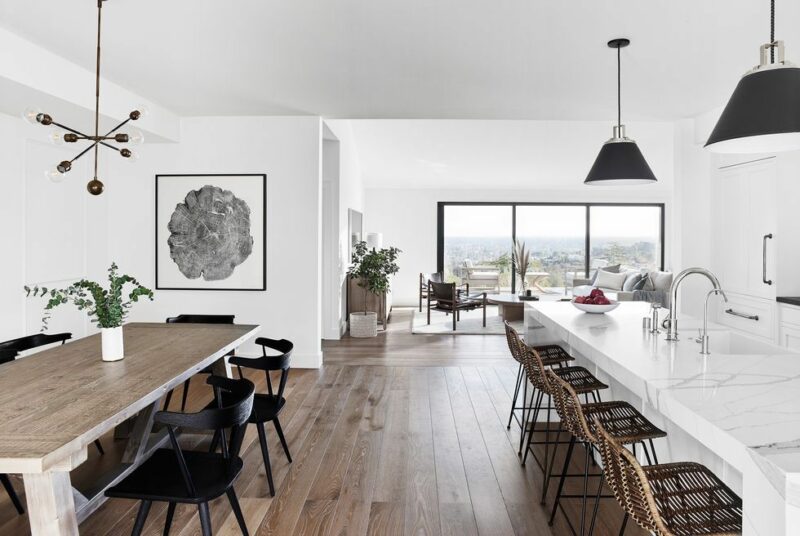 Wooden flooring plays a vital role in the Scandinavian interior design style. Like in the image, the wooden flooring in this spacious dining area has been creating contrasting effects with the wall's neutral gray shade. The clean-lined furniture, with its statement style, enhances the appearance of the entire dining area. For instance, hairpin leg bar stools across the counter and a wooden dining table with tapered led dining chairs. In this place exists the tree ring wall art frame and indoor plantings are perfect examples of Scandinavian style. This idea will work best to upgrade your dining area.
5. Opt for Multilevel Storage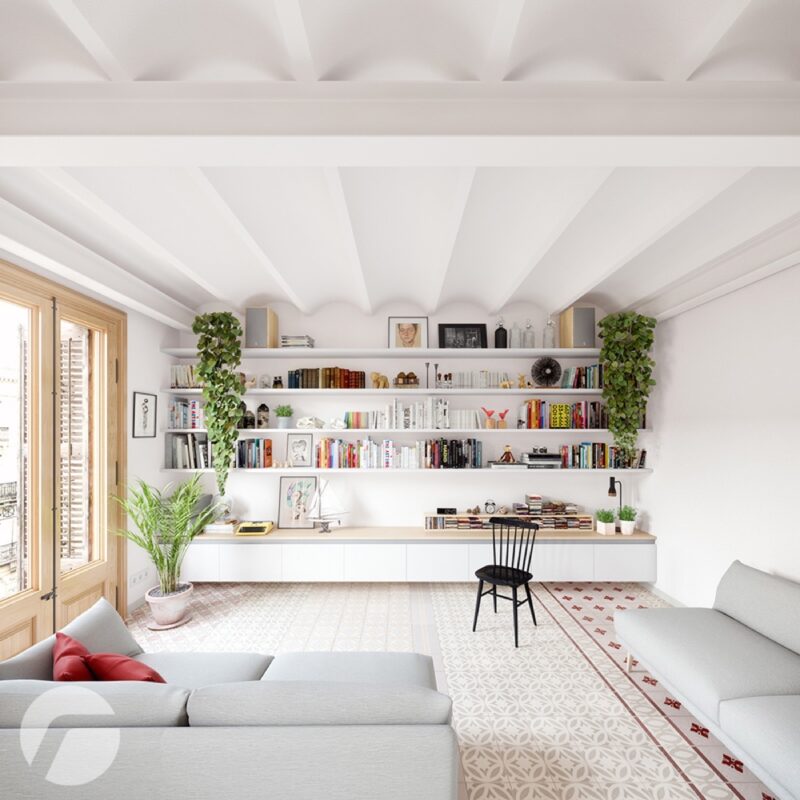 In the Scandinavian interior design style vertical space storage concept has been a core feature. As an example, you will find the multilevel storage solution in this study room. Apart from the bookshelf, you will see beautifully placed decorative items, little greener elements, and a simple table lamp. This place uses a white color palate, which identifies its Scandinavian style. A low-profile seating area and pastel shade patterned floor tiles encourage the aesthetics of this place. You can try out this multi-storage Scandinavian idea in your place.
6. Uplift Kitchens with Scandinavian Style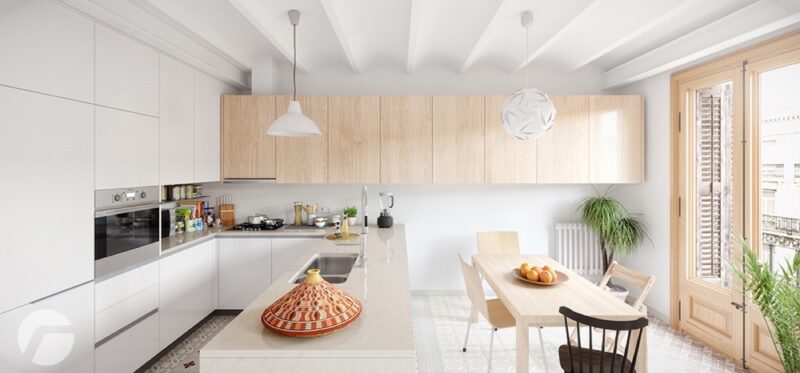 The application of the Scandinavian interior design style in the kitchen works best. The kitchen area in this image is like a dream to every homeowner. Although pastel shades in the kitchen designs need extra care still, the ambiance they create is unbeatable. Usage of wooden elements like cabinets, window frames, and dining tables with tapered-leg chairs is deploying warmth in this kitchen area. A little bit of greenery and lots of natural light are being power factors for this place. If you have a special love for pastels, then go for this design idea.
7. Get Advantage of Natural Light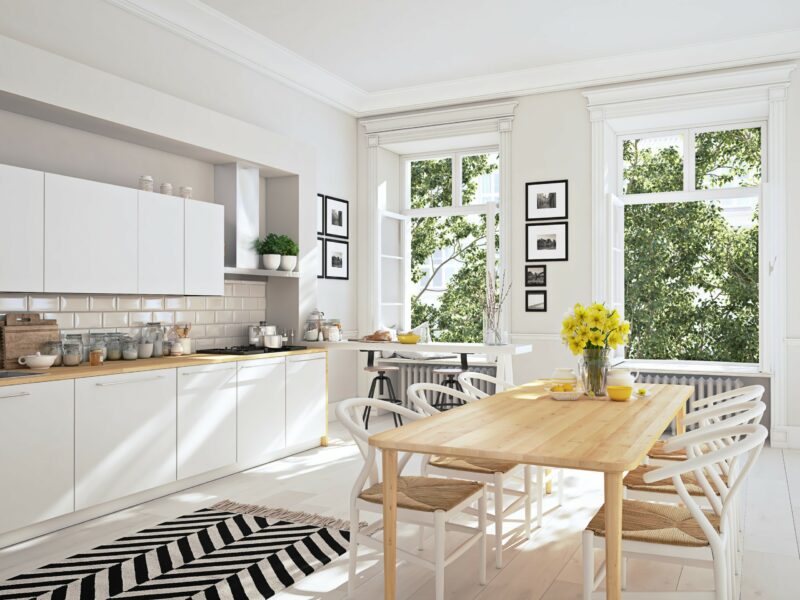 The kitchen in this image has the maximum sunlight with its huge windows. As you will notice, designers have taken full advantage of this feature by adding white shades. The round-leg wooden dining table and wishbone chairs spread cozier vibes in this kitchen. Beautiful wall art frames state the owner's affection for creativity. The use of a natural fabric-made kitchen doormat and neutral shade flooring goes very well with the entire place.
8. Use Organic Shapes
Scandinavian designs prefer organic elements the most. The place shown in this image grabs the attention of the viewer with an organic shape pendant lamp. The softer grayish background picks up very well with darker furnishing like a dining table and six-tier shelf rack, and the unique dark gray lamp has been a focal point of the whole space. Antique portraits, a blanket ladder, and the handmade soft rug is earning brownie points for this classy Scandinavian interior design idea.
9. Beautify with Wall Arts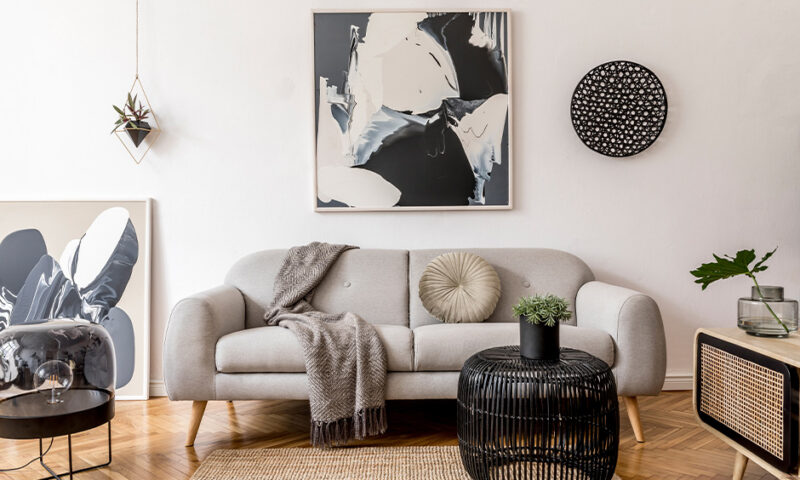 Artistic elements upraise the feel of any place. This place is a perfect example of it. Amazing canvas portrait paintings, metal wall art peace, and hanging wall planter has been crafting an artful environment in the place. Every included element states the Scandinavian approach to this place. Like low profile, tapered leg sofa, modern side table, glass vases, knitted throw blanket, and pleated round shaped cushions. In addition, the involvement of neutral shades and wooden flooring has been generating warmth in the place. This is like a heart-winning idea for a creative person.
10. Embrace Mirrors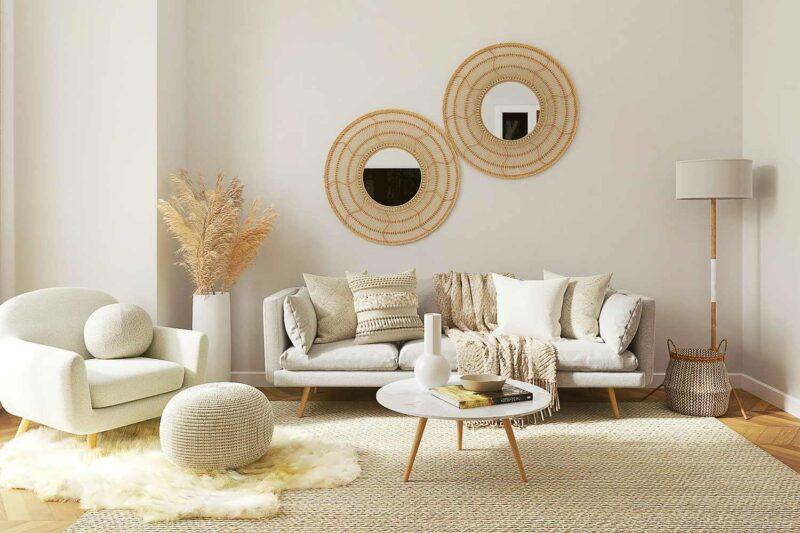 In the Scandinavian interior design style, the mirror is very important in inviting more natural light into the place. As you see in this image, the place has got the maximum amount of light due to the mirror's light reflection feature. Apart from a round mirror, other Scandinavian elements are incorporated very nicely to create a perfect design idea for this place, i.e., a large white vase with beautiful pampas grasses, a contemporary floor lamp, a low profile sofa, a lounge chair, a round coffee table, knitted footstool, and ship skin rug. Overall this Scandinavian interior design idea has a soothing environment.
11. Enjoy Unique Artificial Lightning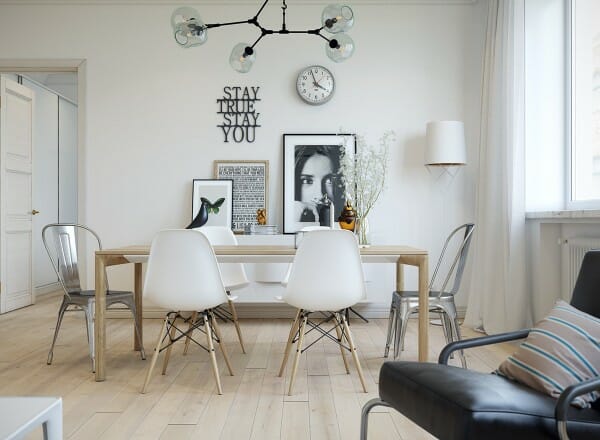 Even though the Scandinavian style prefers natural light, it also includes artificial light options. The place in this image has a unique glass bulb chandelier which makes this place look vibrant. Along with this, Scandinavian furniture, neutral background, and wooden flooring have created a cozy environment. Apart from this, the white floor lamp in the corner and the linen curtains invite warmth to the place.
12. Encourage Deeper Shades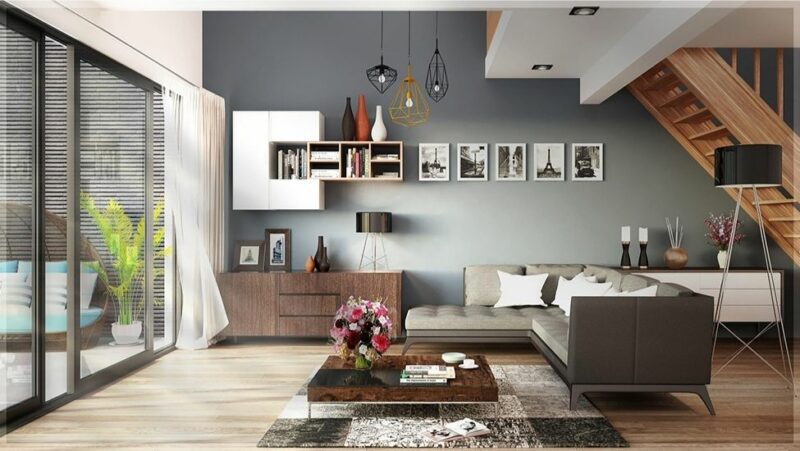 As you will see in this image, this place contains a dark gray shade. Basically, in the Scandinavian style, you will see the usage of pastel shades. But with certain improvisations, darker shades can be applied in this style; this place is the ultimate example. Apart from the darker tone, you will see the other components like low profile sofa, designer coffee table, wooden flooring, usage of natural fabric in curtains and rug, etc., are like confirmation of the Scandinavian interior style in this place.
13. Upgrade Passage Areas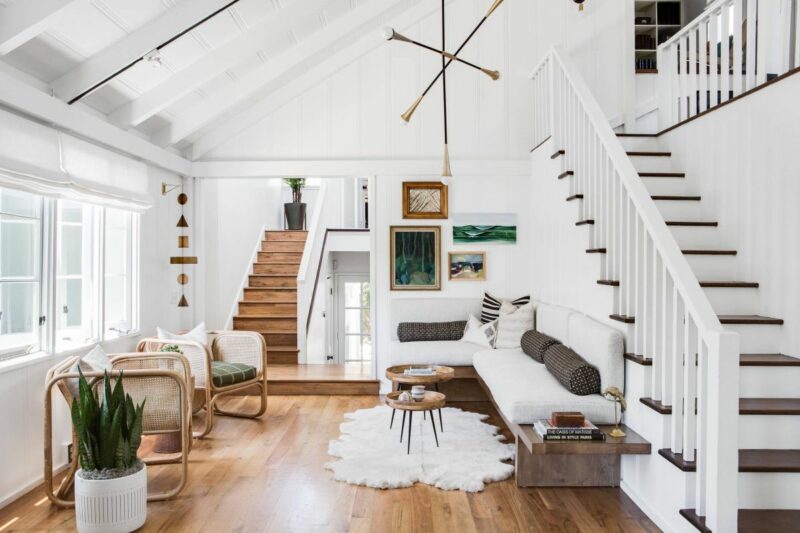 The Scandinavian Interior style can suit every place. Like in this passage area, there are featured components, i.e., pendant lamp, low profile clean line furniture, white sheep rug, metal wall hanging, etc., showcasing the Scandinavian structure of this place. Along with this incorporation of a white color palate, a little greenery and wooden flooring have been setting this place very well. This design style for the passage area can beautify the place to another level.
14. Add Contrast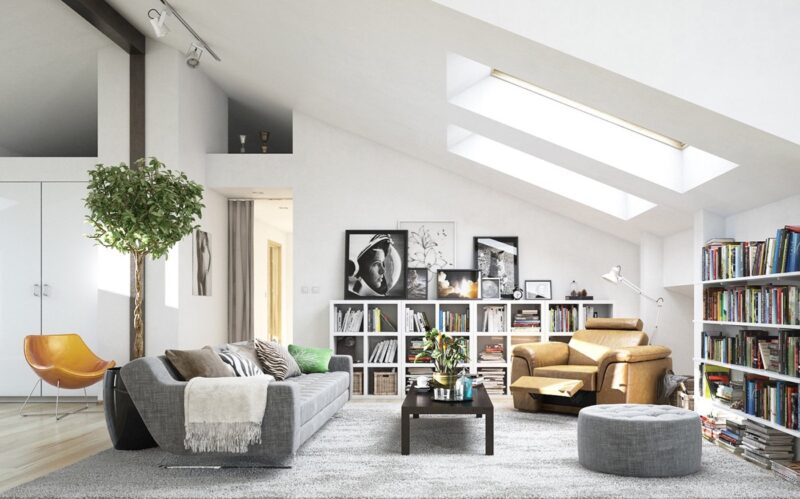 This place is stating the right contrast effects in the place. The slop roof structure of the place creates uniqueness with roof windows. Usage of the white color palate with contrast deep gray introduces the unique Scandinavian interior designstyle. The dark gray sleeper sofa, footstool, and shaggy rug cooperate very well with the overall structure. Other elements like leather recliner chairs, coffee tables, and wooden frames have been allowing coziness to the place.
15. Install Fireplace
This place gives very subtle but elegant vibes. Neutral color palates like softer gray, beige, and light browns make this place look rich and classy. The masonry fireplace has been a focal point of this place and is encouraging warmth. Moreover, little green corners and wooden frames elevate the artistic appearance. The statement Scandinavian furniture like low profile sofas, armchairs, and coffee tables adds more comfort to the place. This design idea can be called comfort with class.
16. Go for Leather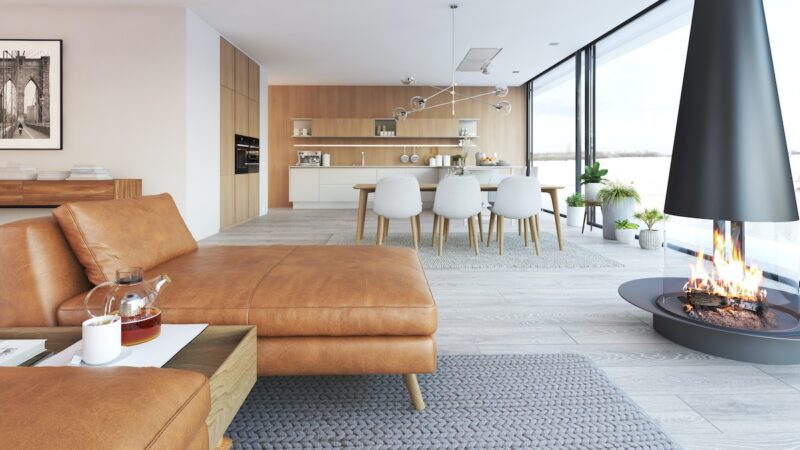 In the Scandinavian Interior design style, leather has been playing an important role. As this place consists of a contemporary-style armless leather sofa which upgrades the look of this place. In addition to it, the black suspended fireplace gives a perfect contrast to the overall structure. Along with that, the Scandinavian furniture in the dining area and the pendant chandelier beautify this place. You can consider this design idea to uplift your place.
17. Uplift Work Area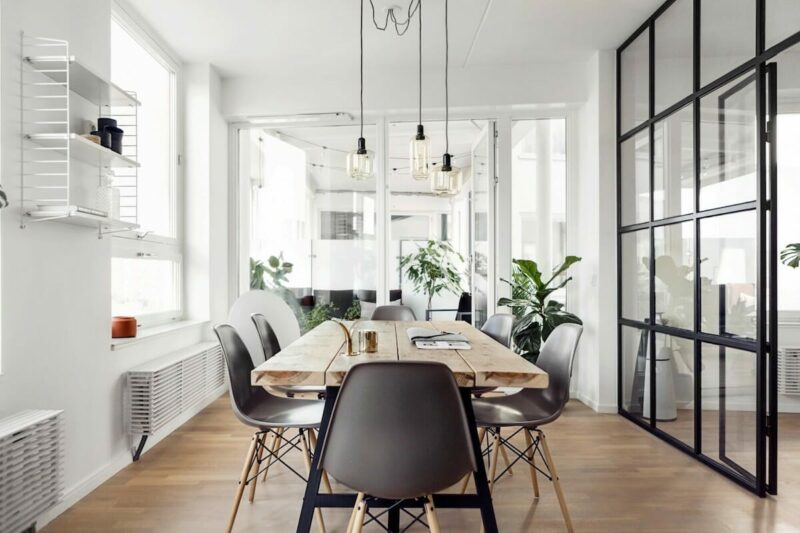 You can decorate your workspace with a Scandinavian-style design. You can see this place is the best example of the Scandinavian interior design style. White background with minimal usage of deep color palettes sets a perfect combination for this place. The beautiful, subtle pendant lights, green corner, and small vertical storage solution enhance the comfort as well as looks of this workspace. This design idea can lift up anyone's mood while working for sure.
18. Create a Cozier Bedroom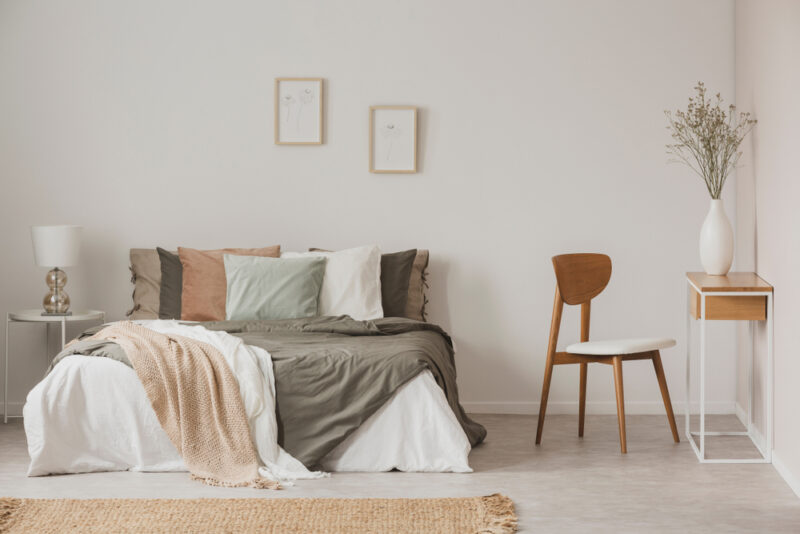 This bedroom seems very simple at first sight, but its coziness and comfort are unbelievable. You will notice this bedroom consists of minimal Scandinavian-style components, i.e., a small wooden side table, tapered leg chair, low profile bed, table lamp, bedding essentials made of natural fabric, wooden frames, and knitted rug on the floor. This idea will work best for people who want to add lesser elements in their place to invite warmth.
19. Block Excess Light with Curtains
Even though the Scandinavian style was invented by climatic conditions, especially for European countries, it is in a pick position in most countries. For instance, Asian countries are also adapting this style in their interiors with few changes. This image can be appropriate for places with excessive sun exposure. In this place, blackout curtains are added to block excessive natural light. The use of a grayish color palate efficiently carries the Scandinavian furniture, i.e., low profile seating area, coffee table, and dining table with tapered leg chairs. To give warm vibes to the place unique chandelier, wooden floors, and a knitted rug are included in the design.
20. Choose Natural Fabric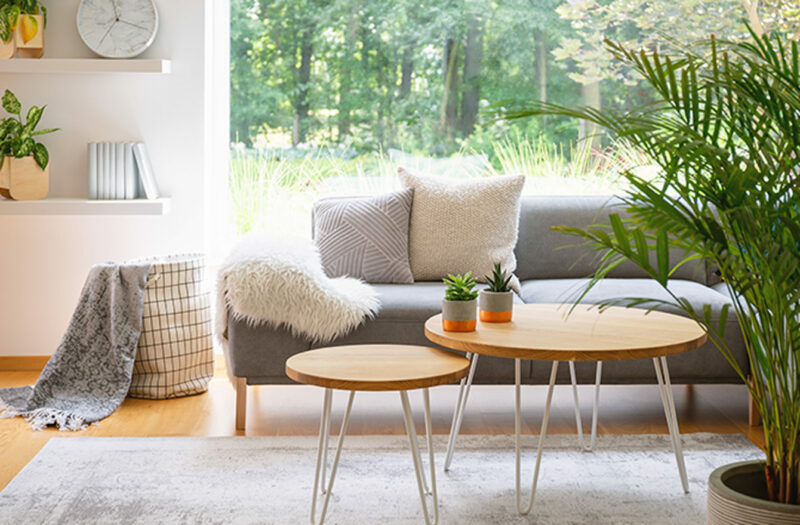 The Scandinavian Interior Design promotes a warmer environment in the place as well as maximum use of natural fabric. You can see in this image the jute fabric used for the sofa, the sheepskin rug placed on the sofa, the cotton throw blanket, pillows, and the area rug. All these elements consist of natural fabric. Apart from fabric, there is multilevel storage, planters with some greenery, and a set of hairpin-leg coffee tables that define the Scandinavian nature of this place.
21. Energies Smaller Areas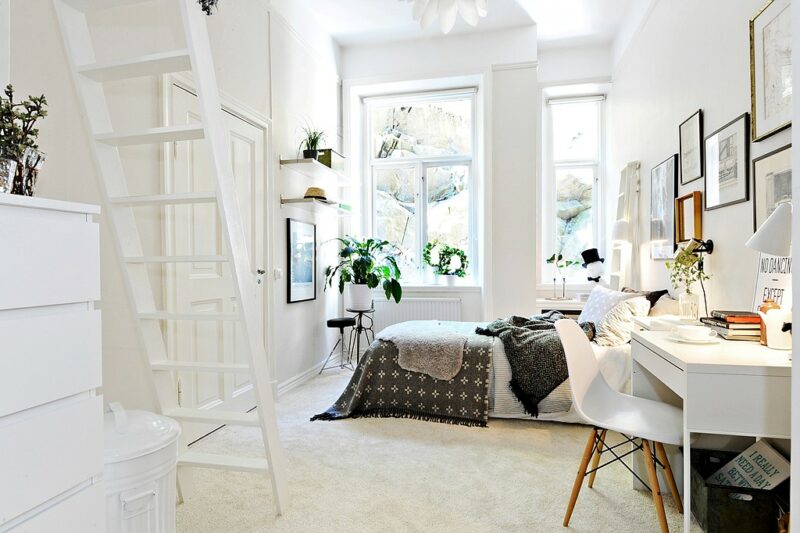 The Scandinavian interior design style is best-suitable for small places. This style can make a small place look spacious. Like in this place, a compact bedroom appears spacious with the use of white and pastel color shades. The low-profile bed, storage unit, and study table with tapered leg chair crafted comfort in this compact place. The dark bedding essential and floor rug are made of natural fabric, featuring very pleasing to the entire interior structure. You can think of this design idea if you have a smaller space.
Core Components of Scandinavian Interior Design Style
As we discussed earlier, this interior design style is truly based on the Scandinavian design style, which consists of simple, subtle, clean, and natural elements. Hence, the components used in the Scandinavian interior design style are very minimal, warm, and light, offering a comfortable, rejuvenating environment. The following prime components of this style will give some idea about Scandinavian interior decor.
1. Furniture
You must have seen Scandinavian-style furniture lots of times. Somehow you are unable to recognize it as Scandinavian furniture. However, its identification is quite easy with some specifications, like the clean and organic shape of the furniture, clean lines, soft curves, and leg structure, i.e., short leg, tall leg, tapered leg, and hairpin leg, etc. In addition, its low profile is its prime identification feature.
2. Color Palates
In the Scandinavian interior design style, you will see maximum usage of neutral and light color palates to encourage brightness in the space. White is a prominent color shade in this style. Apart from whites, light gray, beige, and light brown, as well as accent, you will notice the use of pastel shades like light blue, light pink, etc.
3. Light
The Scandinavian interior style is mainly based on inviting more natural light into space via big windows. To harness more natural light, this style also includes a mirror. Mirrors help for specious visualization of the space.
The Scandinavian style prefers minimal, subtle lighting elements as long as artificial light options are involved. The purpose of artificial lights in the Scandinavian style is functionality rather than any decor item.
4. Fabric
In the Scandinavian interior style, designers prefer natural fabric. When you scroll through some Scandinavian design ideas, you will notice fabric on the furniture, carpets, and bedding essentials are made of natural fabric. For instance, jute, cotton, wool, linen, leather, etc.
5. Decor Elements
The Scandinavian style allows minimal decor elements made of natural material. Paintings like abstract paintings and wooden frames are mostly used as decor items in this style.
Plants are the most essential part of the Scandinavian interior design style. As we discussed, the purpose of this style was to bring nature into space. Hence, this style has a minimum of one plant as a decorative element in the space.
Formation of Scandinavian Interior Design Style
The adaption of Scandinavian design style in the interior is the most famous equation having huge demand all over the world. Interior experts are highly recommending Scandinavian interior design styles. Although this style is invented for particular climatic regions, it has made certain improvisations applicable to any type of climatic condition.
Conclusion
There are a lot of interior design styles that are trending all over the world. However, it is necessary to understand the style before applying to the place. In this article, we have talked about the most popular interior design style, which is the Scandinavian interior design style. Somehow, most people have seen this interior design style but are unaware of exactly what it is.
So to give some knowledge, we have discussed the history and core components of this style which will assist you in identifying a proper Scandinavian style. Additionally, to encourage you to decide on the appropriate Scandinavian interior design for your place, we have described 21 adorable Scandinavian interior design Ideas that will help you choose the right one according to your place.
Sierra Rivera, a passionate home decor enthusiast, runs the popular blog CozyCottageCute.com. Sierra shares decor tips, DIY projects, and personal insights. Off the blog, she's often at antique markets or redecorating corners of her own space.