21 Inspiring Home Office Ideas for a Modern Workspace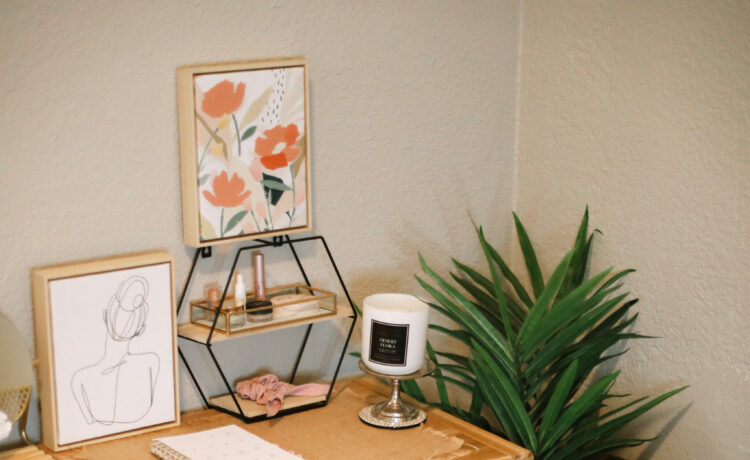 Are you working from home and planning to build a home office for motivation and ideas? Whether you are a girl boss or a guy working from his own home office, an inspiring space is truly essential to expect a seamless workflow. Your space allows you to let your creative juices flow and work with your highest efficiency.
The importance of the home office is equal to working in a corporate building with your co-workers. The home office should not be underestimated just because the work is getting done at home. When the work environment is consistent, the quality of the work also doesn't get hampered.
In light of the significance of the home office, we have curated a list of 21 modern home office ideas to help you create your dream space where you can work, unwind, relax, and be the most productive version of yourself.
1. Introduce Modern Farmhouse Features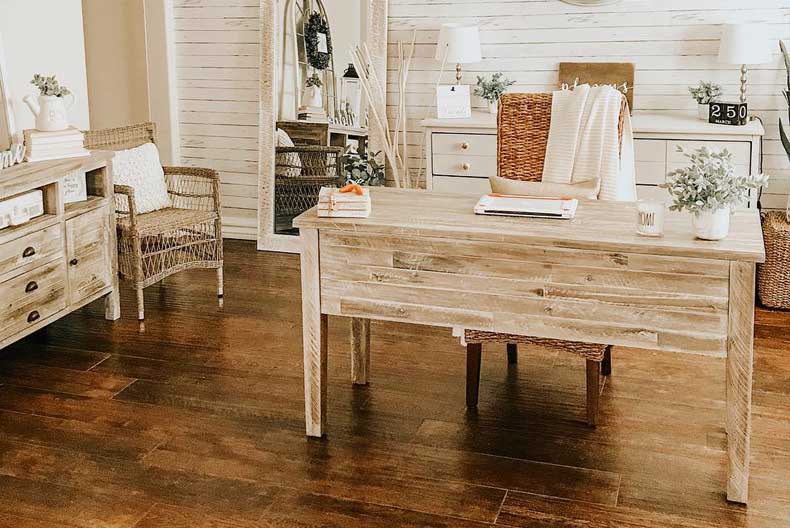 When it comes to decorating your space and converting it into a home office, a lot of factors can direct the end result. The design should be picked according to the vision you have in your mind of how your office should look like. A home office that has modern farmhouse features can be perfect to satiate your contemporary needs. You can feature a neutral wall with a rugged carpet and a stained oak table and chair to create a rustic look. Complete the vibe with some home plants for fresh modern farmhouse touch.
2. Some Shades of Gray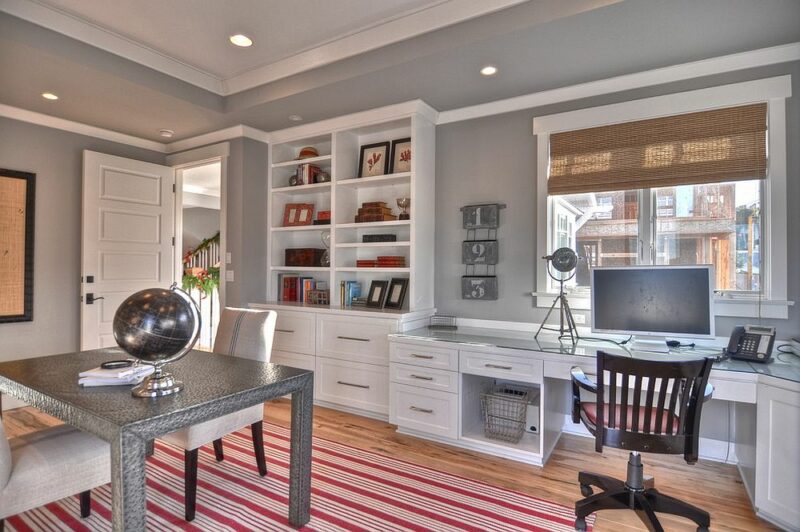 Not everyone likes to play around with colors or give the home office a home-like vibe. So if you are also looking for ways to create an authentic office vibe, then keeping the Gray tone of the office is a great option. You can use shades of gray in different areas of your home office to create a cool and calming vibe. This will remind you to follow work ethics, stay disciplined and maximize your work. The highest amount of efficiency is expected in such environments.
3. Floating Desk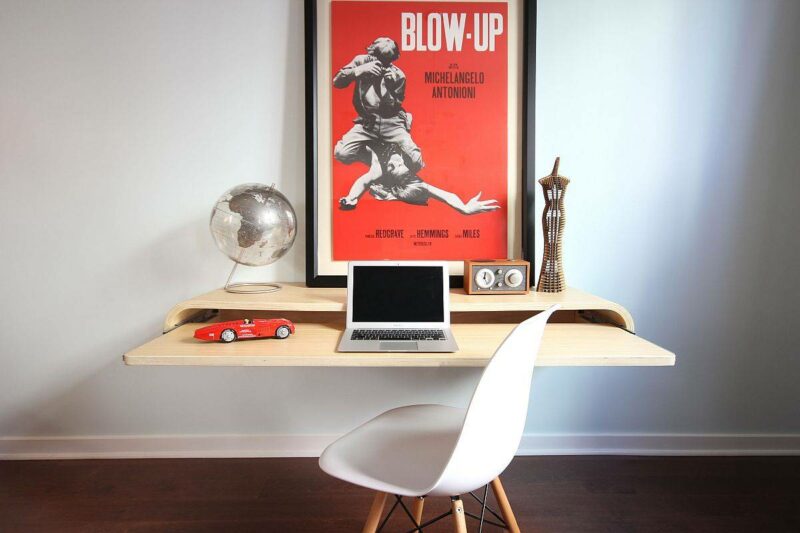 When you are looking for the perfect working desk that takes minimal space and helps you to achieve a classic yet chic look, a floating desk may come in handy. A floating desk is all that you need for your home office to accentuate its luxurious appearance. You can find floating desks online or in any furniture store near you. Pair it with a modern comforting chair for a relaxing feel, a pretty vase, and a beautiful bohemian painting to complete the overall look.
4. Incorporate Soothing Green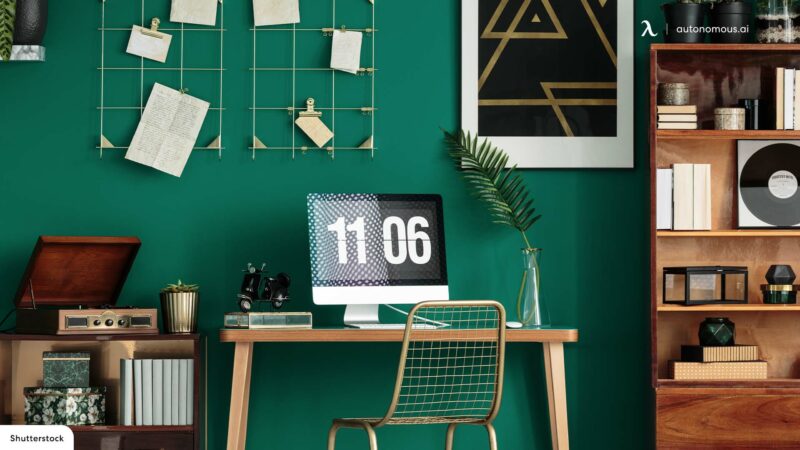 Green is a color that gives a feeling of freshness to any surroundings. It delivers harmony, new beginnings, and hopeful energy. You can make your home office full of this energy by incorporating green color in the decor. This can be one of the most underrated modern home office ideas but trust us; it can be extremely rejuvenating when you take small breaks from your work. You can paint the walls of the home office with green color to fill your mind with positivity and inspiration.
5. Go All Glam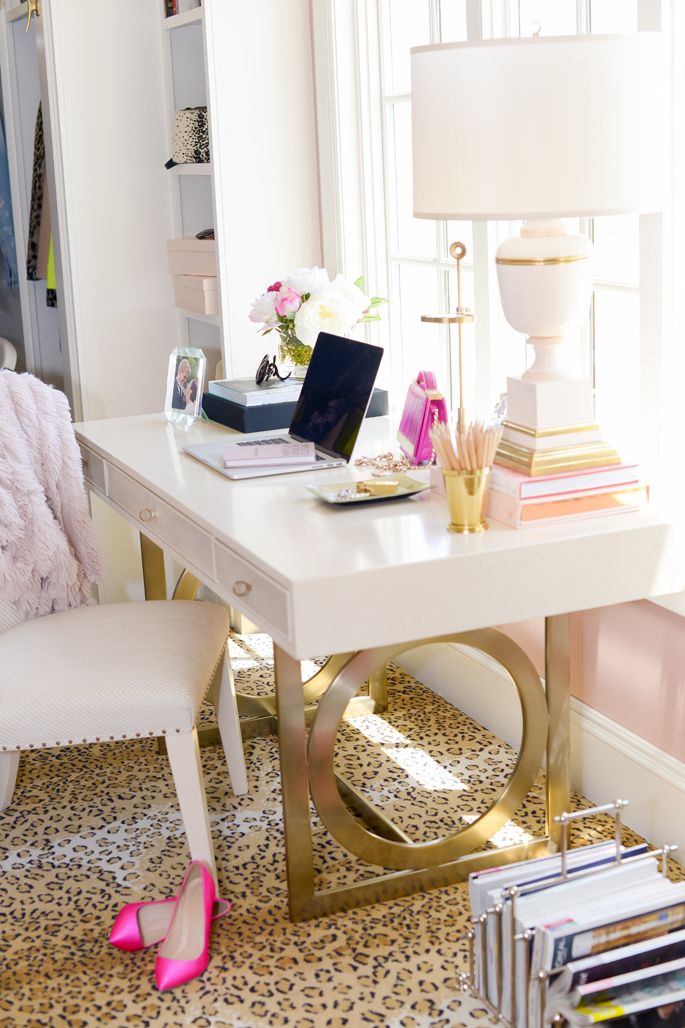 Are you the girl boss who strives for perfection? Then why limit yourself when it comes to decorating the interiors of your home office? Go all crazy and introduce all things glam to create a rich look in your space. You can simply invest in a white cabinet with gold accents or add some antiques that will eventually elevate the overall contemporary look. The home office is incomplete with a desk and chair, so choose good quality, luxurious ones that can complement the vibe of the whole space.
6. Modern Aesthetics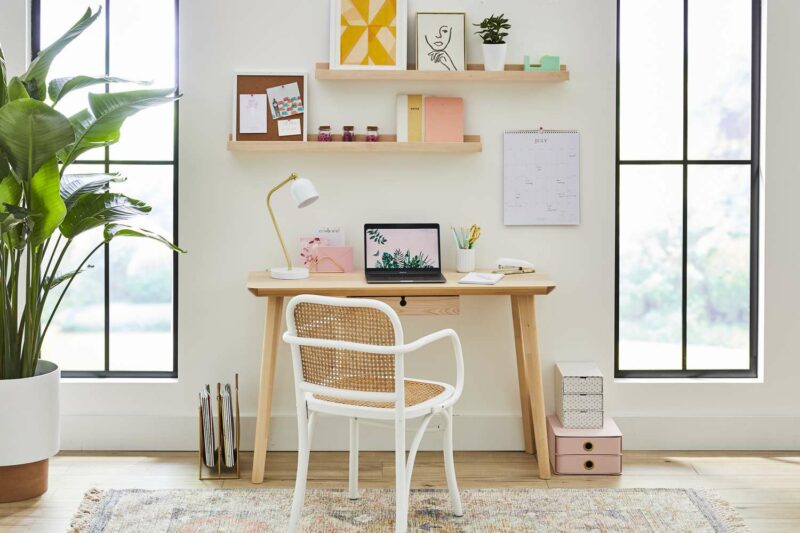 When it comes to modern home design ideas, nothing can beat the classic white chair and desk for a modern feel. White in itself is a color of sanity, peace, and integrity. Using these colors in your home office can be a great idea. And modern working problems require modern solutions, so using white in any form of your home office decor will help you to solve the purpose of creating a modern aesthetic vibe. You can use complementing frames that have inspirational quotes and some fairy lights for a dreamy look.
7. Sleek and Chic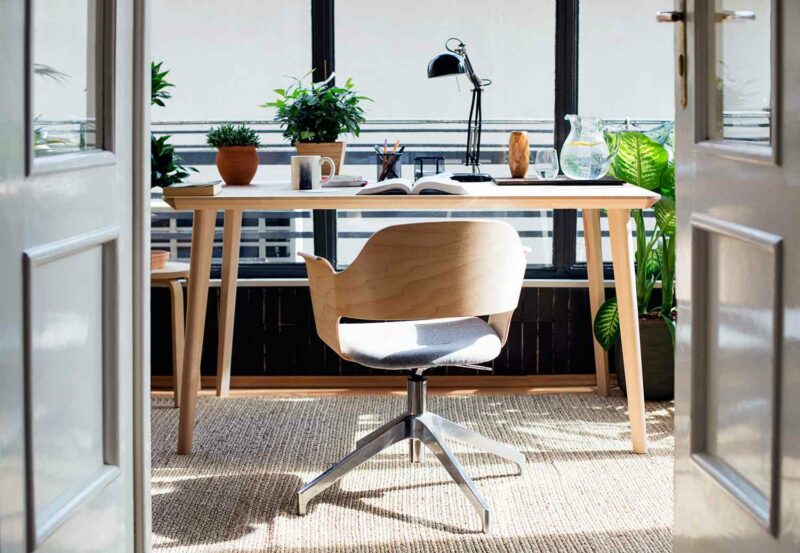 Practice minimalism! Are you tired of searching through 10,000 ideas on the internet about modern home office ideas? Relax and sit back. All you need is simple, cheek, and chic designs for your space. Include a simple wooden chair and table. If a window is there in the home office, then it will be totally a win-win situation. You do not need anything more. A window that allows fresh air to breathe into the space is what you all need for your space. Do not stress over the interiors too much, and let the simple things do their magic.
8. Stark Dark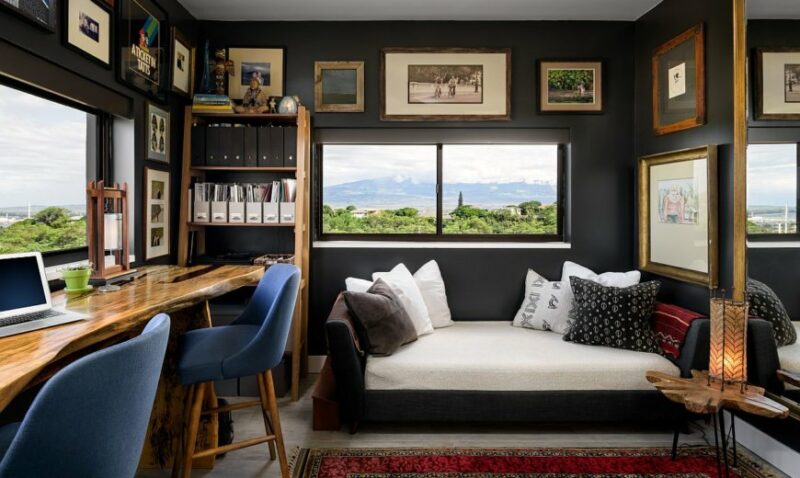 Go for a stark, dark theme for your home office for a look that will stand out. Let the dark-colored walls steal the show with the complementing gold accent accessories. The idea behind this look is to go all crazy with the colors and choose the ones that will wonder for the space. You can even put on a couch and a small coffee table for a fun, motivated, yet relaxing vibe. The sharpness of dark colors will be smoothed with the comforting furniture of the interior.
9. Cozy and Comfortable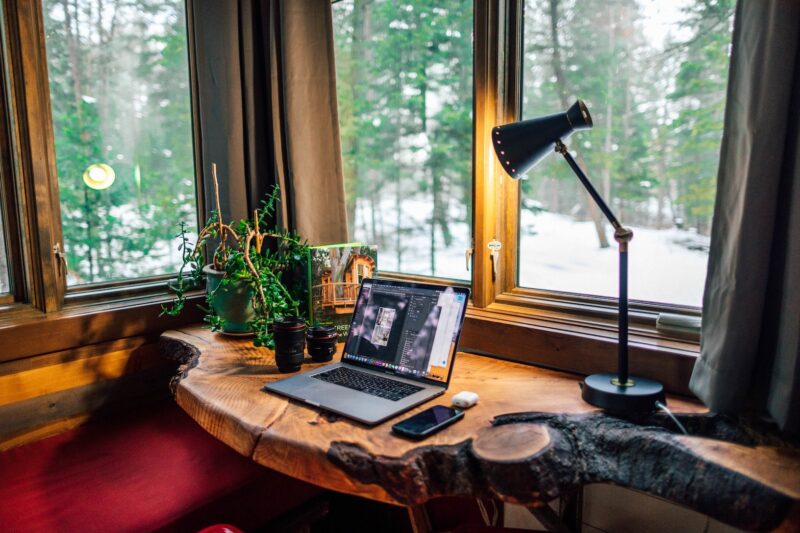 Not everyone wants to create a proper office vibe in the home. And there may be a case that some of you are looking for ideas that are cozy, comforting, and chill without compromising the motive of creating a home office. Not everyone is willing to create a strict office environment and wants to enjoy the opportunity of working from home. So for that case, we have suggested this idea where you use soft colors, comforting cushions, and soft rugs for a cozy look that will help you to work in a relaxing space.
10. Make It Terracotta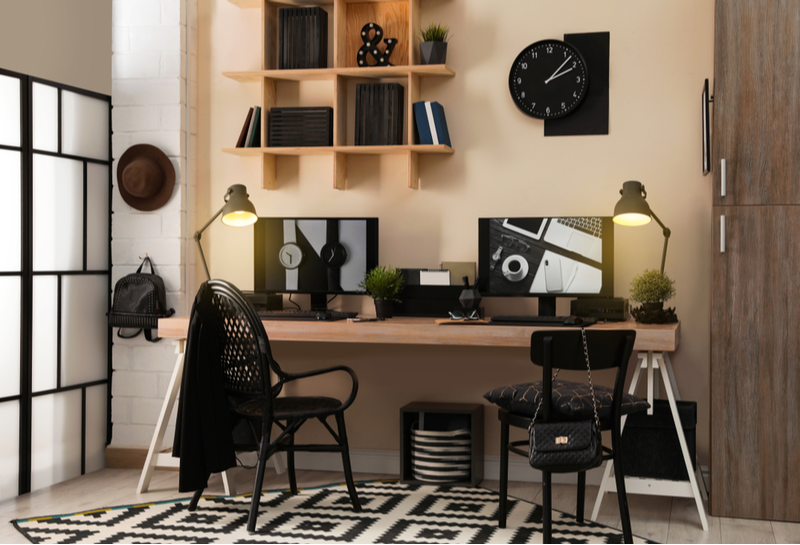 Create an energizing space for your home office with shades of pink and red. The best of all we suggest to you is terracotta, a perfect blend that offers a hue to mesmerize the eyes. Incorporate shades like terracotta in your space in different ways, like painting the colors of your home office with bright terracotta, and keep the rest of the decor white to maintain a contrasting appearance. You can even include some golden fixtures to add a luxurious touch.
11. Slant Wall Home Office
Do you have a room that has a slanted wall in the ceiling that you want to convert into a home office? Worry not; we have an ideal solution for you. Transform the hurdle into a bridge that helps you to achieve a dreamy home office. Use stained wood to cover the roof for a cottage-like look, and keep it lowkey for a mesmerizing look. Make sure that the room is airy and ample sunlight enters the room for an extraordinary experience you have when you visit a hotel in the mountains.
12. Some Drama Wouldn't Harm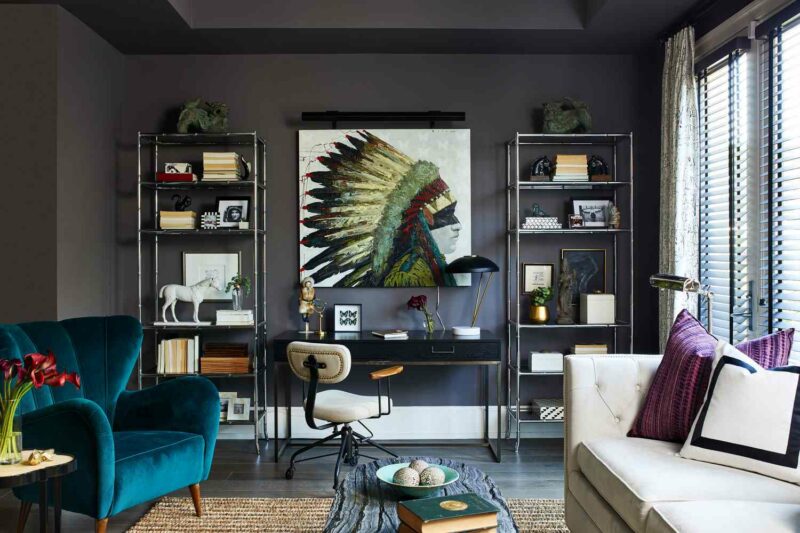 Drumrolls! We have something extra special for you if you love drama in your life. Haha… relax. The addition of drama we are talking about will be in the form of the interiors of your home office. Say goodbye to boredom with cool and funky ideas to decorate your space. A splash of colors, uncanny designs, and contemporary style can make your space stand out. Either a dramatic painting or funky cushion covers can be one of the highlighting modern home office ideas of this curated masterpiece.
13. Dreamy Curtains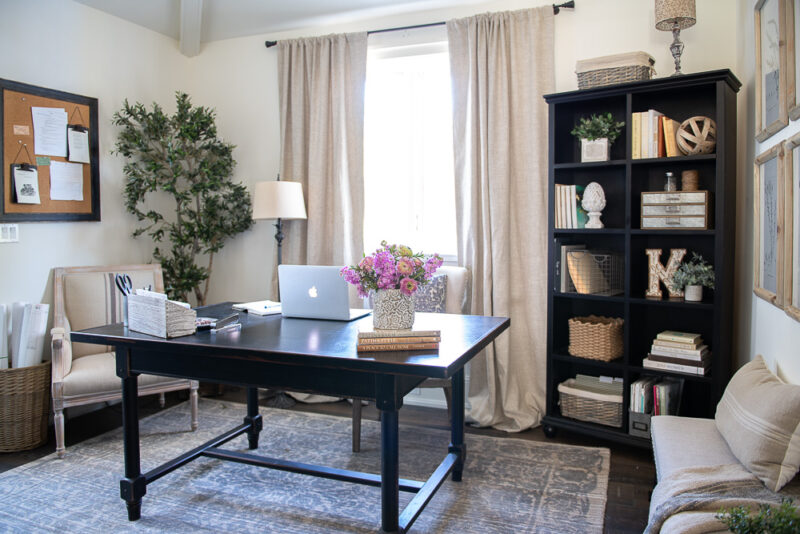 Curtains can be one of the most essential features of home decor. You can make a breezy or cool vibe using curtains of neutral hues. Let the fresh air fills the space and allow you to take a breath in the relaxing environment. Using curtains plays a crucial role in modern home office ideas as they can create a balance of working in an office without compromising the homely feel. You can bring the spotlight to the curtains by opting for ceiling-to-floor curtains and letting them steal the show.
14. Bring Some Plants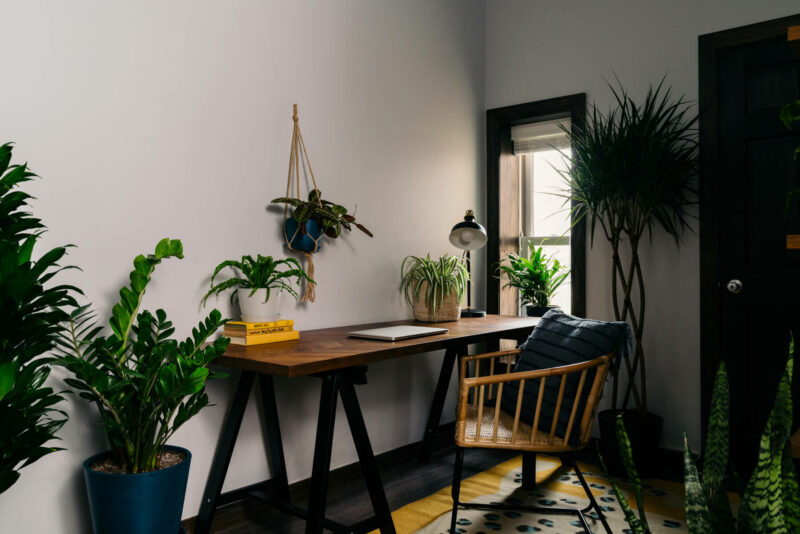 If there's one thing you will ask us to shortlist about working from home is be your own boss. Whether it is about working or making a workplace. You can choose the theme, decor items, and literally anything that a corporate building would not permit you. So bringing some indoor plants will be one of the most amazing modern home office ideas as it will allow you to bring a hint of freshness. This vibe will uplift your mood in between those tiring working hours.
15. Mix-and-Match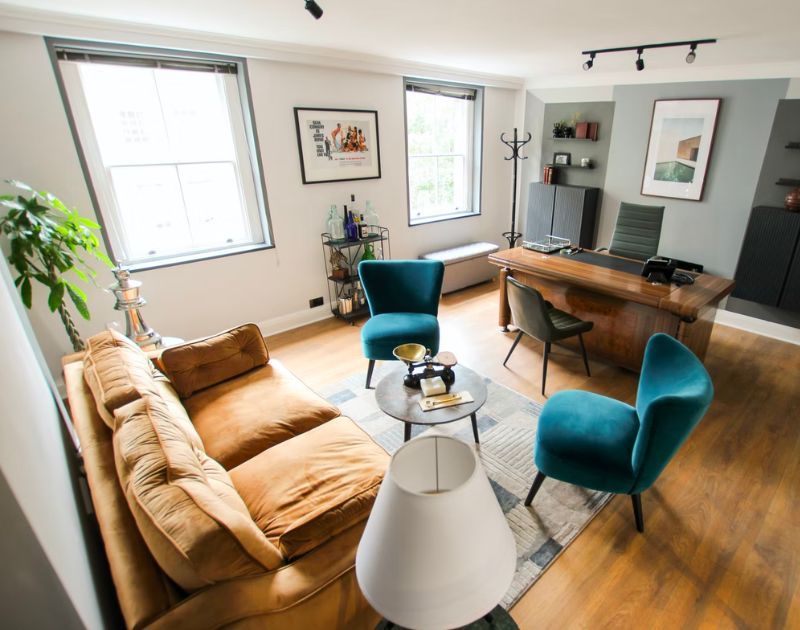 When it comes to making the interior of your home office, we would suggest you be a little more experimental and unfold the discoveries you never actually planned for. Mix and match the traditional as well as the contemporary style to achieve a not-so-planned look. You can create a completely new vibe for yourself with the designs of traditional art printed on modern fixtures. You can make a few changes here and there in the existing furniture to innovate something brand new.
16. Let Accent Wall Do the Talking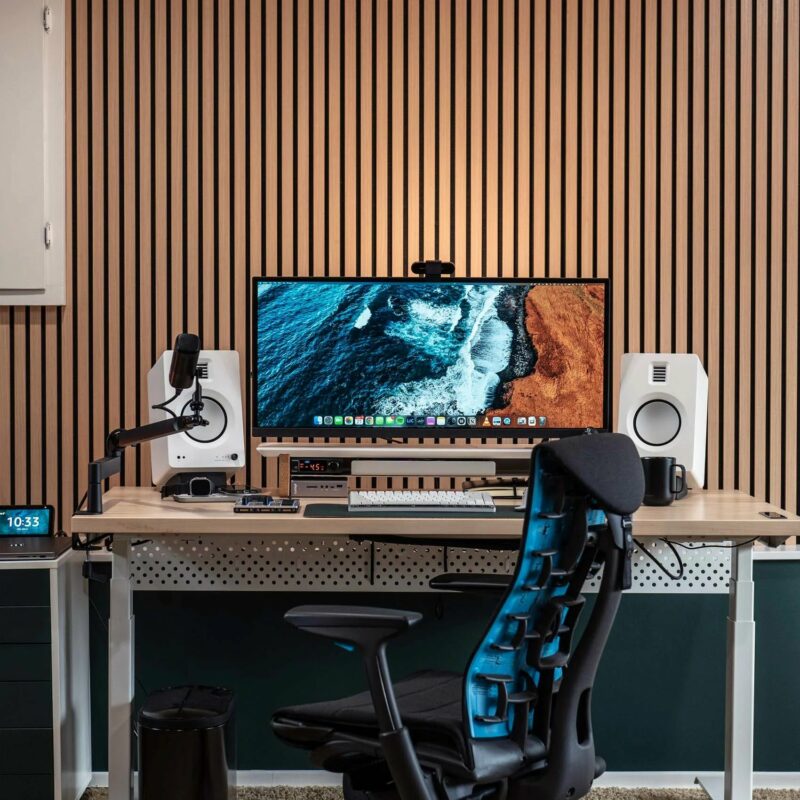 If you do not want to waste too much time and energy on decorating your home office, then the best solution in that case, would be to introduce an accent wall. Let a beautifully designed, cool-toned will catch all the attention. You can pair it with some floating shelves to display some artwork, books, or anything you feel should be visible in your home office. The planning to create a vibe with an accent wall is going to do wonders for your redecorating office game.
17. Mid-Century Modern Furniture
Are you yearning to bring that cool, vintage vibe to your modern interiors? Then including warm wooden furniture will be one of the effective modern home office ideas. An open cupboard that has a timeless wood finish would take you to a retro-style memory lane. You can make your home office completely unique by incorporating something like this vintage wardrobe, perfect for escalating your modern-day interiors.
18. An Earhty Touch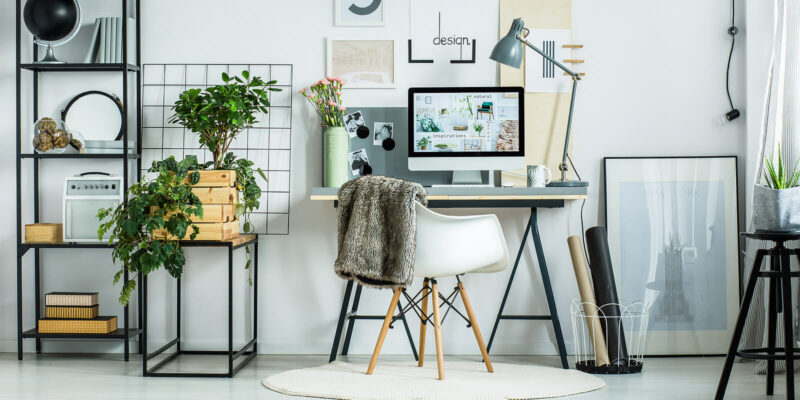 If you want to create a light-hearted space where you can feel relaxed and even unwind after a long working day, then making your space filled with an earthy touch is a win-win situation. Use white and beige or any light colors for the walls and window panes, and place a light-stained wooden table in the center with comfortable white wood chairs to complete the look. This will be a vibe that will not let you leave the home office even after your working hours are over.
19. Play with a Neutral Palette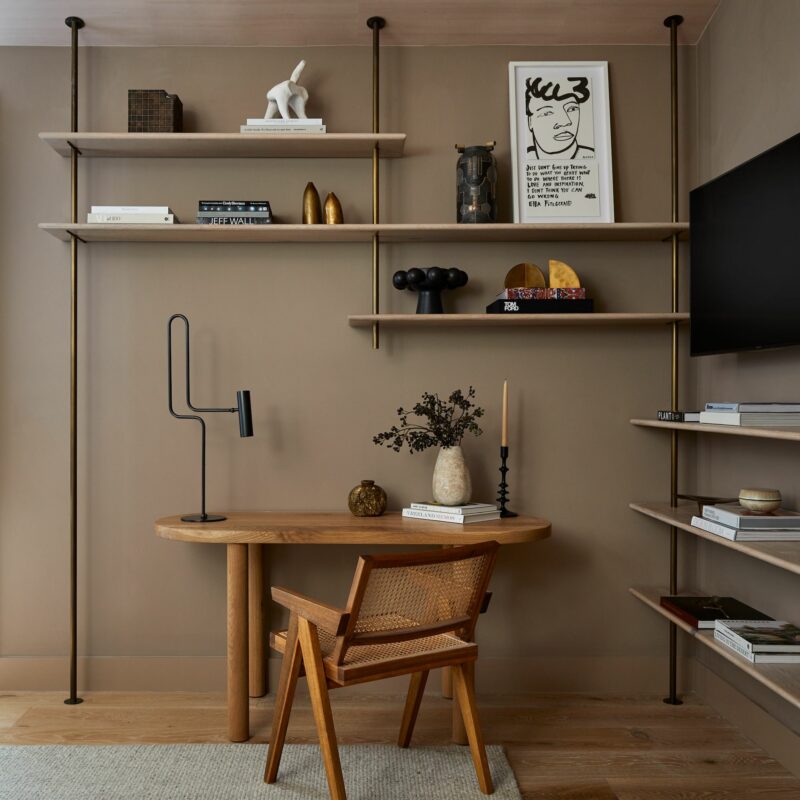 The key element to creating a modern, aesthetic, and minimal home office is to incorporate neutral colors. Keep the walls of your home office light gray, off-white, or perhaps any color from the beige family to light up the space. You can even put up a big painting of a leaf above your desk to bring the whole look together. The aesthetic of such a room is modern, requires minimal effort, and would let you enjoy a great working experience.
20. How About a Coastal Flair
Keep your love for the ocean alive and create a vacation-like mood for yourself in your home office. Bring a coastal flair to take yourself on a beachy experience at your home, even while working. You can install blue curtains or keep the color of the cushions blue for an everlasting coastal impression. Let the shades of blue in each segment of the home office take the space and win your heart. This will take you on a dreamy ride that you can't help but admire.
21. Bohemian Modern Home Office Ideas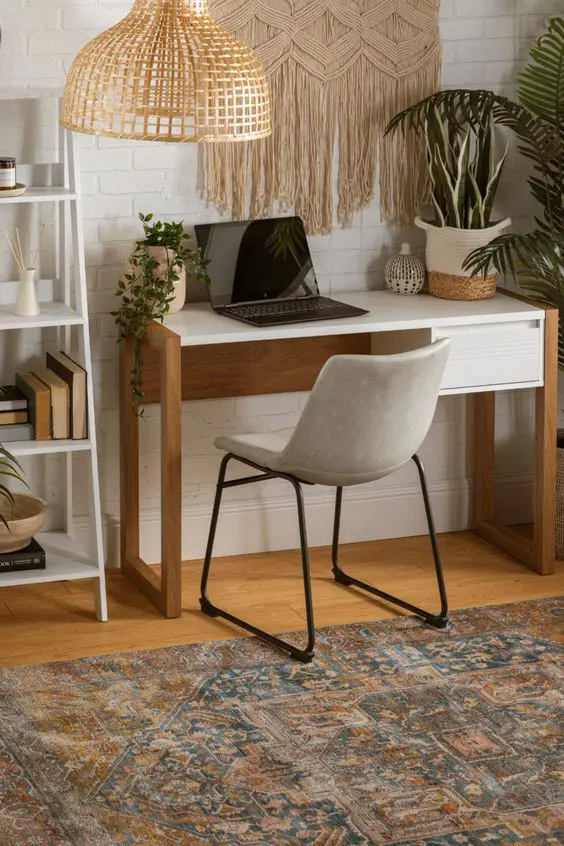 If you are an Indian and love Indian aesthetics, then this is the perfect home office decor idea. You do not have to run behind contemporary too- stylish ideas in order to achieve the desired look for your space. Sometimes traditional and intricate designs can also help to land you in a self-curated haven. Create a bohemian look with modern bohemian interiors, such as colorful carpets, mandala art paintings, and macrame, for a complete bohemian vibe.
Conclusion
As we have reached the verge of completing this extensive list of 21 modern home office ideas, we hope that you must have found your favorite idea. We have kept everyone's desires in mind while curating this list, so whether you are a minimalist or a full glam enthusiast, anyone can find their favorite modern home office idea.
A home office is a place that should resemble an office decorum without compromising the homely vibe. And giving it your own unique special touch can elevate the space altogether. But coming up with ideas to renovate it can be a challenge. Therefore, hopefully, you might have found some insights about how your dream home office should look like.
Comment down below and let us know which idea motivated you to create your own personal home office haven!
Sierra Rivera, a passionate home decor enthusiast, runs the popular blog CozyCottageCute.com. Sierra shares decor tips, DIY projects, and personal insights. Off the blog, she's often at antique markets or redecorating corners of her own space.