How to Paint a Brick Fireplace [Step-By-Step Guide]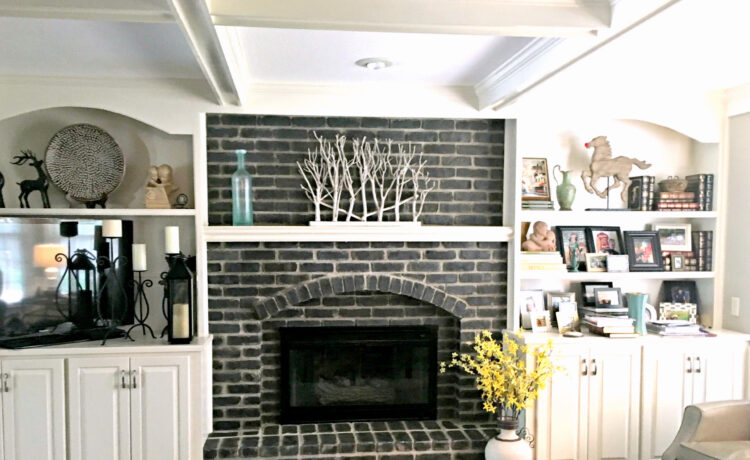 Fireplaces have always been an aesthetic addition to the house. Especially, masonry fireplaces upgrade the overall visual appearance of interiors. However, it needs to be maintained appropriately if you want them to be a focal point of the place where they are installed.
An unsightly fireplace can ruin the look of the place. Moreover, these fireplaces sometimes get monotonous to look at, with the same structure and prearranged elements.
If you have a brick fireplace in your house and you are planning to makeover your boring fireplace, then the best solution you will find is fireplace painting. It will subside all these lacking factors and will give a fresh look to your fireplace. You might think this painting process is quite critical and messy.
To resolve your query, we are excited to share detailed information about how to paint a brick fireplace easily. In this article, we are also going to give you some black-painted fireplace design ideas to inspire you about fireplace paint colors.
How to Paint a Brick Fireplace Easily?
Fireplace painting might be an easy task for professional painters. But for a house owner, it can be difficult in many ways, like what will be the better choice to get the fireplace painted, DIY, or to get the assistance of an expert, which supplies will require, what precautions we need to take, and many more.
Sometimes these queries remain as it is because we don't get the proper solution. Hence, we have decided to provide subtle and step-by-step guidance throughout this blog to encourage you to start your fireplace painting journey with the least effort, whether it is with assistance or DIY.
Required Supplies for Fireplace Painting
Supplies

Paint Material

Small paint brush(Stiff bristle)

Paintbrush/Roller

Acrylic cluck

Primer (stain blocking and with strong adhesion)

Latex paint (heat resistant)

High-heat resistant paint
Step-by-Step Guide to Paint a Brick Fireplace
The painting process is kind of a clumsy task to deal with. Many times it happens that when you paint a particular area to revive its appearance but end up with lots of mess around that area, i.e., dust, paint stains on the floor, nearby furniture or other interior components, and many other situations you will face. Hence, you will feel that any kind of painting task won't be worth it to proceed.
But let us tell you with 100% surety that this painting process can be the least clumsy if you take care of a few things. We are going to discuss some essential pre-factors to allow you a smooth fireplace painting experience. Apply the following steps when you are applying paint on your fireplace by yourself.
1. Clear Up the Fireplace Area
This step is mandatory when you want to start any kind of painting process – especially fireplace painting. Try to transfer all the elements around the fireplace area or room to a different location. Like furniture, lamps, carpets, and other decorative elements if they are portable. If somehow you have fixed or inbuilt the structure of these elements, then cover them appropriately with heavy-duty drop cloths. It will ensure the safety of your valuable assets around the area.
2. Disassemble the Enclosed Elements
Most brick fireplaces consist of a mantle, brass fender, doors, etc. If it is possible, then deconstruct them from the existing fireplace to get a more exposed area without any barrier. To beautify your fireplace, you can repaint these external elements with the required paint material.
3. Tidy Up the Fireplace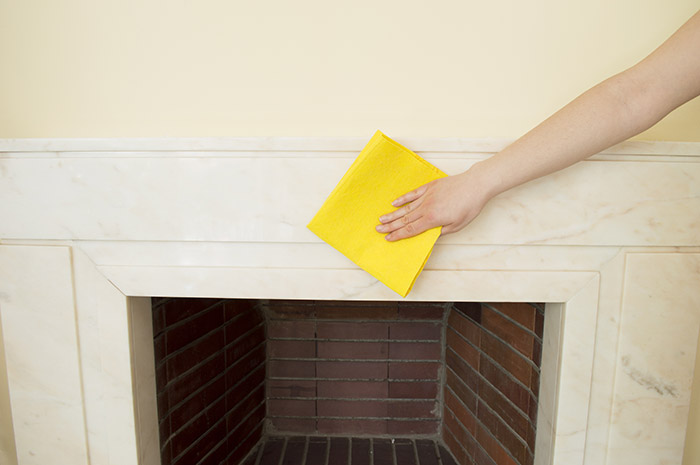 Brick fireplaces have quite rough structures to clean. Before painting a brick fireplace, it needs to be cleaned up thoroughly. It will provide ease in the painting process. Use the following steps to clean the brick fireplace.
First, eliminate all the ash consisted inside the fireplace and wipe out all the inner walls with soapy water.
Clean the surface area using a wire brush. Make sure to remove all the dirt from the bricks and mortar lines.
Blow out the dust with the vacuum cleaner and make the fireplace completely dust free.
If required, wash out the brick wall of the fireplace with water and an all-purpose cleaner using a scrub brush.
Apply painter's tape and cover the fireplace wall edges. This process will help to avoid unnecessary areas getting painted, especially in black-painted fireplaces.
4. Start Brick Fireplace Painting with Primer Coating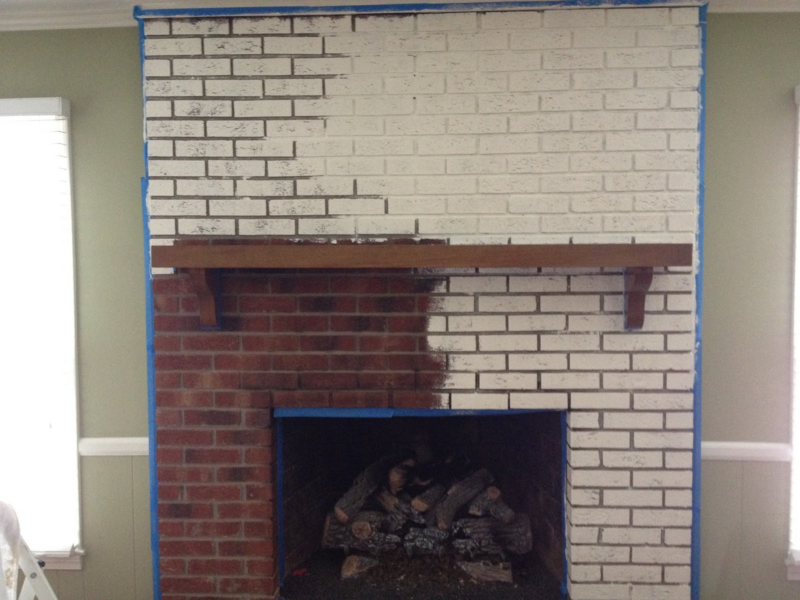 In a brick fireplace, priming is essential whether you want to have a black-painted fireplace, white, or any other color. However, some people skip this step and apply only paint on their brick walls. Hence, the results won't come out as expected, and the paint will fade out within a few days.
On the other hand, these masonry fireplaces, finely coated with primer and final paint, will provide a long-lasting shine on the brick wall. To get the best result, use a high-quality stain-blocking primer that provides strong adhesion.
Apply Primer Using the Following Method
Start priming the fireplace wall from mortar lines using a small paint brush with stiff bristles. After covering mortar areas, start priming the surface of the brick wall with a paintbrush or roller. However, using a roller for surface painting can save you a lot of time.
After application of the first coat of primer, the brick wall will be more exposed. You will notice the flaws or parts that remain unpainted. Basically, brick walls have a very rough texture; hence you will find some cracks and holes in this wall. Get them primed using a small stiff bristle paintbrush. In this case, acrylic will be the best choice to touch up these flaws with less effort.
Using the same method, apply the second coat of primer on the fireplace wall. Let it be completely dry.
In the final paint process, cover the fireplace's inner walls with high heat-resistant paint. Even for surrounding brick walls, use heat-resistant latex paint. These paints are available in matt, glossy, and semi-glossy finish. You will get many options in paint color. Somehow glossy black-painted fireplace provides an intense look to the place. White paint is also a good option to get a nice contemporary look.
Lastly, for brick wall painting, cover the mortar lines and edges with paint and then apply paint on the surface area using a paint roller or paintbrush. Let this final paint coat dry thoroughly.
5. Rearrange the Deconstructed Elements
After the completion of the painting process, enclose all the deconstructed elements, like the fireplace door, mantle, brace fenders, etc., to the fireplace. The above-discussed steps are quite useful if you are planning for your brick fireplace makeover.
Black Painted Fireplace: Is It a Good Idea?
In fireplace makeovers, a few ideas are more popular. For instance, the whitewashing of the fireplace, white painted fireplace, and black painted fireplace. You can choose any finish according to your interior structure, i.e., glossy, semi-glossy, or matt finish.
In this scenario, you will get confused about whether black-painted fireplaces are safe or not. And the answer is black painted fireplaces are absolutely safe. Here are some positive aspects of black-painted fireplaces.
Black color absorbs more heat in comparison to other colors.
Black-painted fireplaces can make your place look more spacious.
If you want a fireplace as a focal point of your place, then black painted fireplace is the best idea you can think of.
Black color is basically very elegant and formal; hence the awesome visual experience and stylish look they provide to the place is remarkable.
To give you some black-painted fireplace decor ideas, let's see some inspiring designs in the following segment.
Elegant Black Painted Fireplace Designs
1. Black Painted Fireplace with Matt/Plain Finish
This less accessorized fireplace got its elegance only with black matt finished paint. The huge brick wall, storage shelves, and specious platform give a nice cozy environment to the place.
2. Black Painted Fireplace in Living Area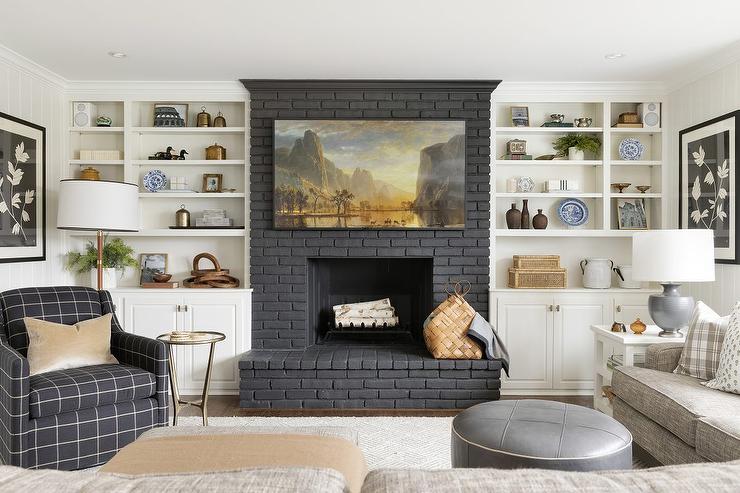 Look at the overall decor. It is just top-notch. This black-painted fireplace encourages the space to look more spacious. The combination of contrasting colors in furnishing elements is going well with the whole structure. The beautiful painting enclosing the fireplace wall enhances the look of this place.
3. Black Painted Semi-Structured Fireplace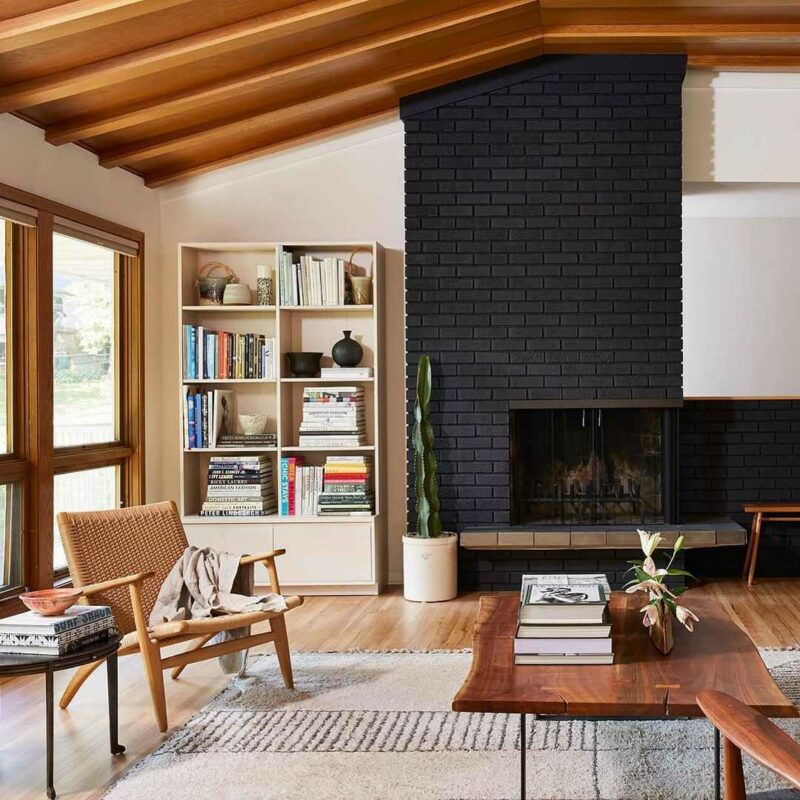 The semi-structured fireplace gives a classy appearance to this place. The high ceiling with sloopy wooden roofing coordinates very well with the fireplace. The fireplace has a unique shape and consists of wrought iron doors. All the elements included in this place are in wood format, i.e., furniture flooring. The warmer tone is used excessively in this place, providing environment-friendly vibes.
4. Black Painted Fireplace with Glossy Finish
Looking at this fireplace, it clearly shows that the house owner has quite an artistic taste. The glossy black fireplace has ultimate shine. Even though it is a compact design, the color black and the surrounding art take this place to the next level. The enclosed wooden mantle showcased beautiful elements like candle stands, paintings, vases, etc. Altogether this black painted fireplace is a good idea to choose.
5. Black Painted Fireplace with Some Contrast
As you see in this image, this black-painted fireplace includes white in it. The white-painted platform and wooden mantel create a nice contrast look to the fireplace structure. The other aspects, like candle stand, frames, and musical instruments placed alongside are stating the house owner's creative choices. The entire matt-finished black-painted fireplace structure provides a creative atmosphere to this place.
Conclusion
Having a brick fireplace in the house is always a fascinating idea. The rustic look of these brick fireplaces has no comparison with portable ones. But sometimes, it gets difficult to maintain these masonry fireplaces. Due to its fixed structure, we expect frequent updation to give a fresh look to the place.
In this article, we have shared some useful information about how to paint a brick fireplace. This information consists of what preparation you will need to do before starting painting, what method is useful in painting a fireplace, and many more tips and tricks. Overall all these essential factors will guide you in your fireplace painting journey.
Apart from that, we have also shared a few elegant and inspiring black-painted fireplace design ideas to give you some creative feed.
Sierra Rivera, a passionate home decor enthusiast, runs the popular blog CozyCottageCute.com. Sierra shares decor tips, DIY projects, and personal insights. Off the blog, she's often at antique markets or redecorating corners of her own space.