17 Creative Accent Wall for TV to Transform Your Space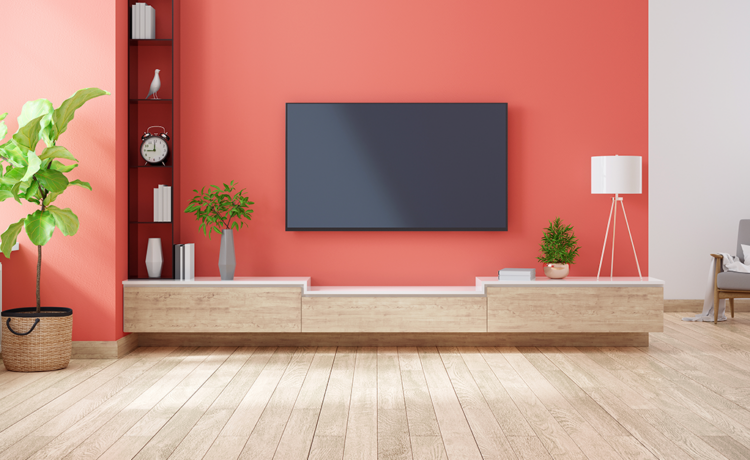 Did you know television was invented in 1927 by Philo Taylor Farnsworth? Ever since its inception, the television system has continued evolving from black & white to color TV sets, LCD and LED screens to now plasma and smart TVs.
Bringing home a brand new TV set always makes us joyous; however, setting it up at home in a way that it becomes the center of attraction can always seem challenging.
With the coming of thinner frames, accent walls for TV became the trend for all homes. An accent wall is the first wall that catches your attention when you enter the living room.
It can also be the wall that you face when seated on your living room couch. An accent wall can be of different designs, and in fact, you should explore all avenues of making your accent wall interesting.
But there are more than one ways to define your accent wall, and that is exactly what we will talk about in this blog.
Design Ideas to Decorate the Accent Wall for The TV
1. Black Wooden Slat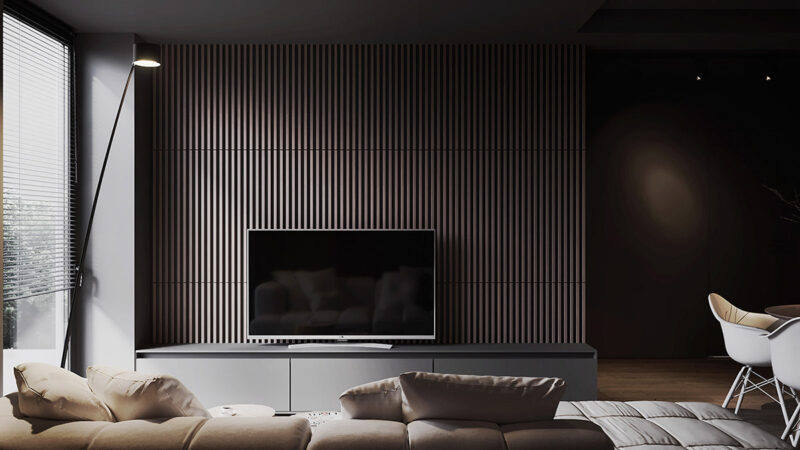 If you want to go minimalistic yet gorgeous, you can install a black wood slat and mount the TV on it. You have to get some black wood slat wall panels and then install them.
Further, you need a TV stand with an in-built fireplace and place it in front of the gorgeous wall.
Incorporating these would add some texture and definition to your accent wall. Place some plants around in big metal vases. You can also add some artificial flowers to create a warm atmosphere while you sit on the couch to "Netflix and chill."
2. White Colored Brick Accent Wall for TV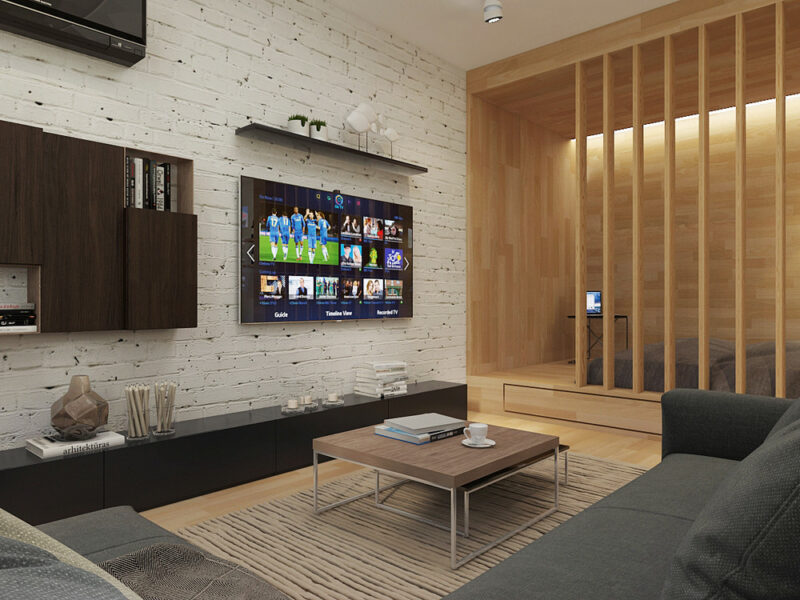 Another interesting recommendation for designing an accent wall is creating a white brick wall. To make a white brick wall, you need to color it with white latex paint. To get the correct texture, you will have to apply the color with a rug.
If you use 100 percent latex to paint over the brick wall, you will get a solid, opaque color that will preserve the brick's natural texture.
You can then mount the TV on the brick wall and add a fireplace to enhance the look further.
3. Rustic Wood Panel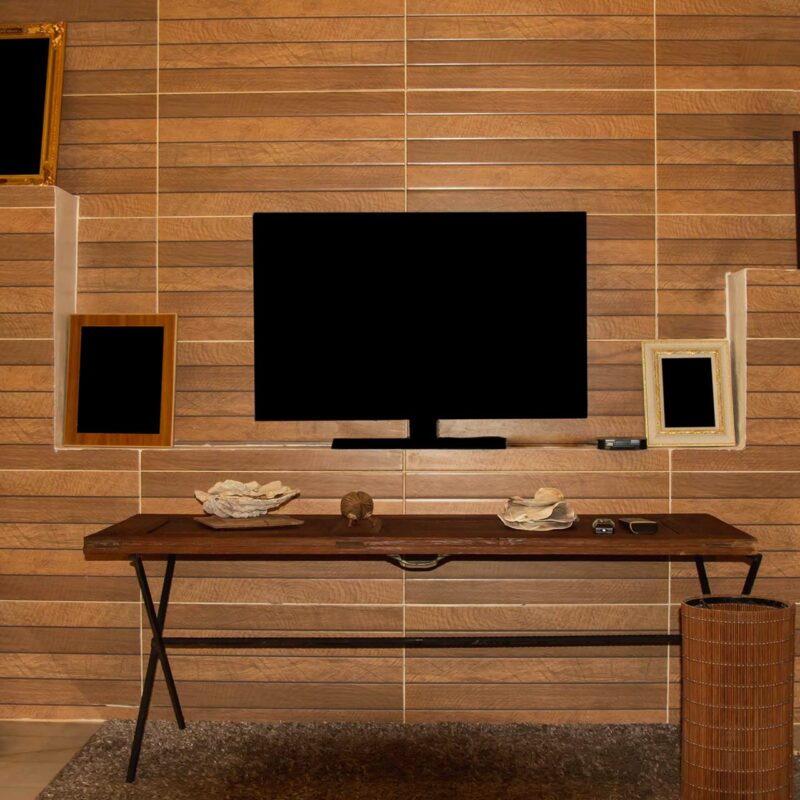 If you want to add that rustic touch to your living room accent wall, you can add a wooden panel or a plank wall behind the TV. This will add that rustic touch to your living room.
Place some white couches, a wood glass center table or a bistro table, white rugs, and a chandelier that will be perfect for decorating the living room with a rustic accent wall for the TV.
4. Walnut Wood Slat Wall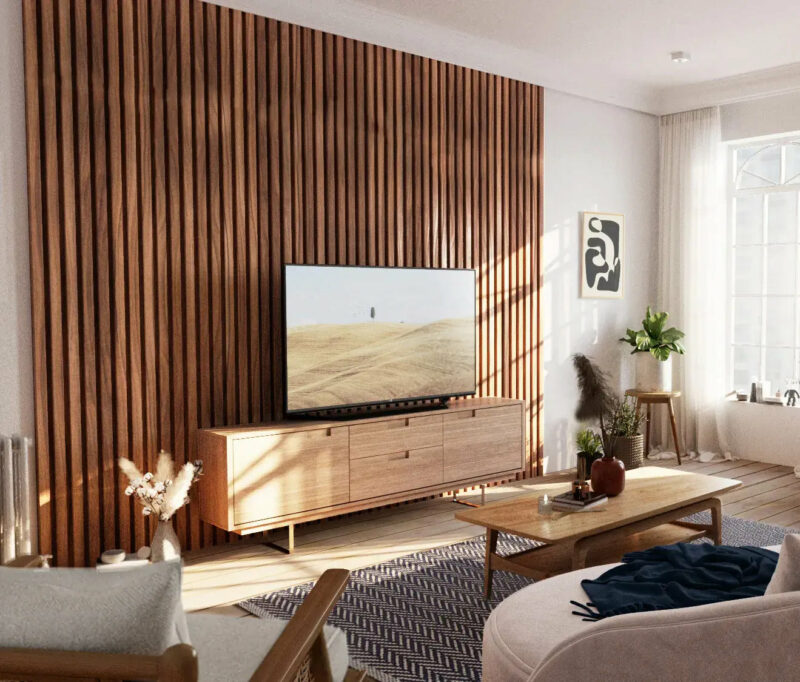 Already a part of Japanese and Scandinavian culture, walnut wood walls make a perfect accent wall for the TV.
The walnut willow panel adds a proper touch of elegance to the living room. You can use ready-made panels that are lacquered with a clear satin finish. This enhances its durability.
5. Go with Dual Textures and Shades
Once in a while, you can experiment with textures and shades of your accent wall. You can either create a dramatic look by playing with some bold colors or create some contrasts.
You can also create a more sophisticated texture by using matching shades. Doing these will impart a certain depth to the wall. Besides this, it will also be a visual treat for your guests.
6. Stencil and Wallpaper Accent Wall
Another way to create a stunning accent wall for TV is using some gradient wallpaper and stencils. Before mounting your TV, you can decorate your walls with textured wallpapers. You can also use stencils to etch out certain designs and motifs of your choice.
You can also go stamping. Stamping requires 3D stamps that are dipped in paint, and the stamp is embossed on the wall. This way, you can create intricate designs with clean edges.
7. Metallic Accent Wall
If you want to do something different for your accent wall, you can make use of this unique technique. Playing with different materials can make your living room and accent wall stand out in the crowd.
Keeping things modern and chic for your accent wall can be the best thing to mount your TV. You are not limited in your options here, as you can choose from a range of metallic colors like gold, silver, brass, and even copper shades.
8. Create a Blue or Purple Accent Wall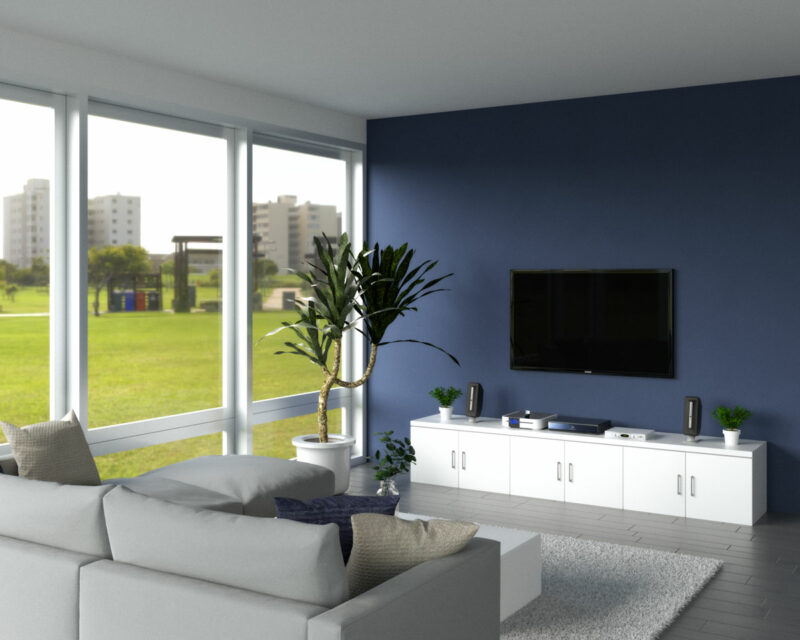 Want to make an eye-catchy accent wall for TV?
You can do something unique by painting your accent wall blue or purple. Plum and white is also another stunning combination. So, get some rollers, and paint your wall blue or purple. Further, you can use some stencils to add cute textures to your wall.
Finally, mount your TV, and then you will be all set to turn some eyes. You can even place white furniture and golden lighting to create a regal look in your living room.
9. Use Tiles to Accentuate Your TV Wall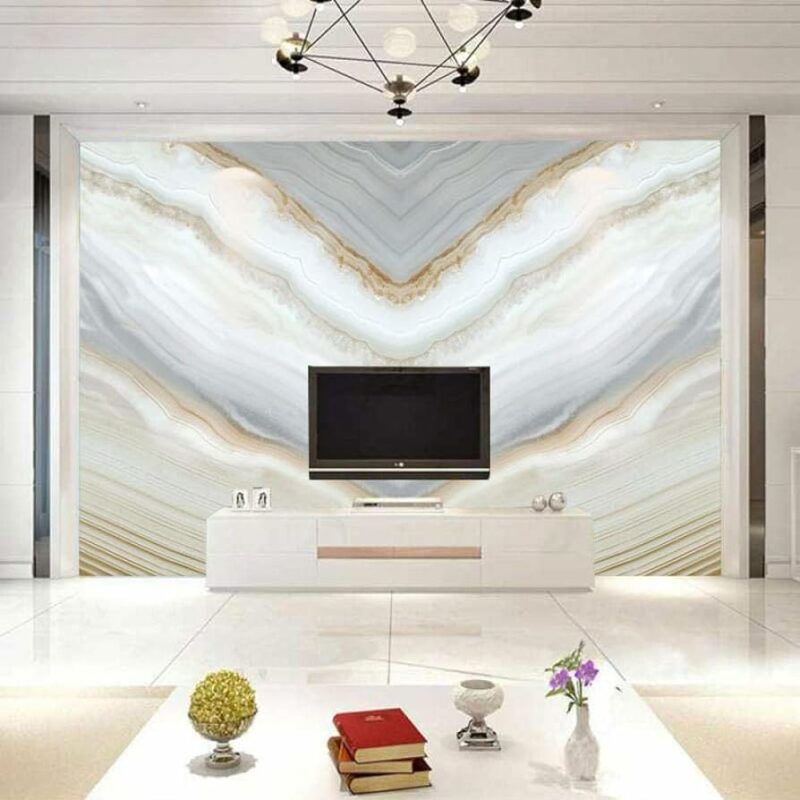 You can use a tiled wall to create an accent wall for the TV. A tiled wall is easy to maintain. You can install some 3-D printed tiles or designer tiles, and then you can mount your TV as well as the TV unit on the wall.
Further, you can place some bronze sculptures or marble statues on the TV unit. To further add to the glamour, you can place some potted plants around on the floor.
10. Contemporary Marble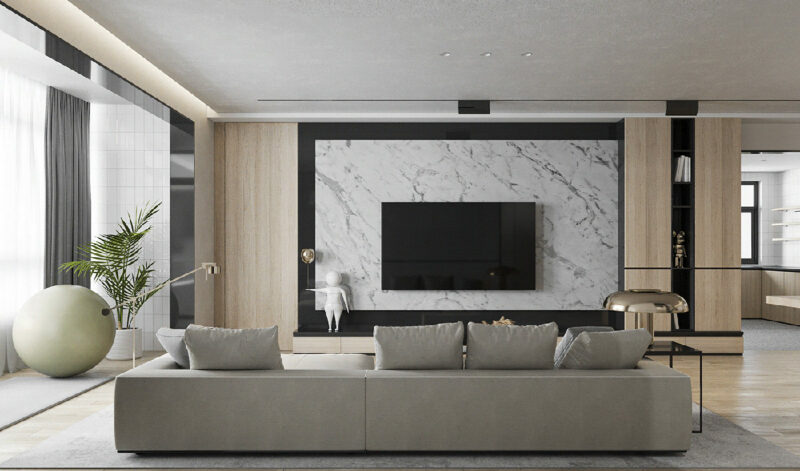 Why not go with some contemporary looks for your accent TV wall? Another alternative for an accent TV wall is adorning the wall with marble. This will go with the colors you have on your other walls, and you won't have to panic about matching them appropriately.
Then you can mount your TV and enjoy a movie marathon while catching a glimpse of your accent wall now and then.
11. Mount Your TV on Lighted Panels
How about doing something about blank walls? Why not light them up with wall panel lights?
So, you can use some lighted panels on your entertainment wall. Mount your TV and place your home theatre system beneath to enjoy your favorite movies from the comfort of your living room.
12. Bookshelves Surrounding a TV Wall
It is an excellent idea to design a bookshelf on the accent wall. Install a ply bookshelf and mount the TV at the center of the bookshelf. Place some small plants and succulents on the shelves and decorate the shelf with string lights.
It will be the perfect setting for entertainment and a knowledge reservoir in your living. When you are bored, you can turn to your entertainment center, and when you need to learn something, you can turn to your library wall.
13. Photo Frames and TV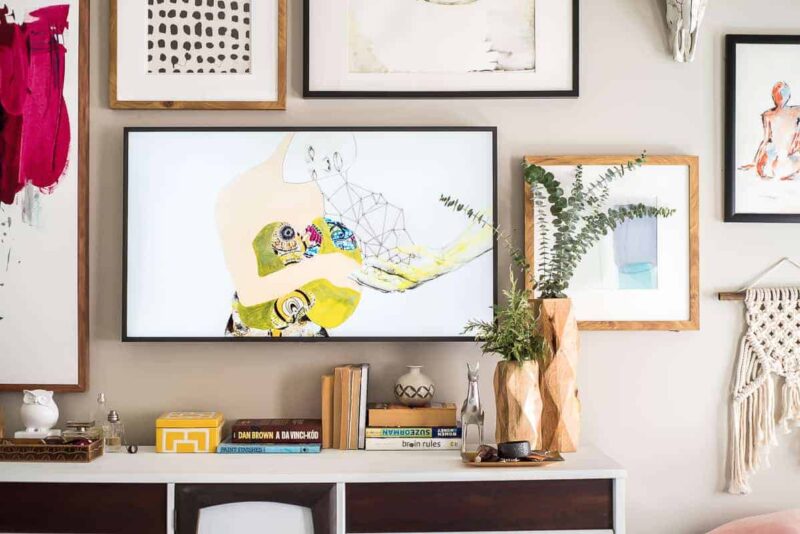 Another adorable idea is to hang your favorite photos on the accent wall and mount the TV at the center. Whenever you take your eyes off the TV screen, you can check out your lovely photos.
Adorning the wall with photo frames and wall art with a plasma TV in between is minimalistic yet eclectic.
14. Seagrass Accent Wall for TV
If you live near white sandy beaches, you can decorate your rooms as well with some element of nature in them. For example, you can decorate your accent wall with seagrass fiber behind your TV.
Seagrass is a natural fiber that can not only add some texture to the walls but also uplifts the ambiance of your room. Plus, seagrass is an eco-friendly product that is good for you and the environment and is better than darker paints.
15. Add Some Unique Planters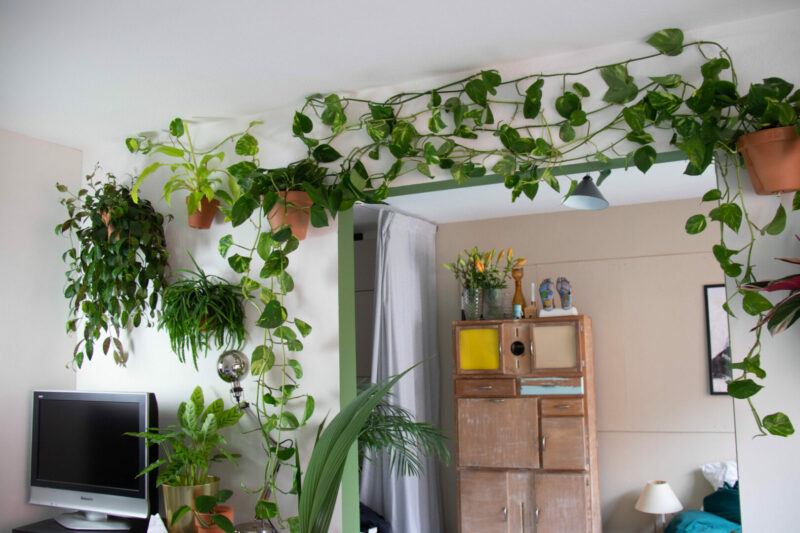 Once in a while, you can think of creating a zen environment by adding some unique planters. Some suspended lights will also make a great addition to this design setup.
Mount the plasma TV on the wall and place some cozy couches and recliners to enjoy your Sunday matinee.
16. Concrete Wallpaper for Your TV
Once again, if you wish to do something different for your accent wall, you can adorn your accent wall with concrete wallpapers. You can also experiment with concrete wallpaper murals. This is especially suited for those apartments that already have lofty interiors.
17. Accent Wall with a Vintage Touch
Although this style dates back to the 17th century, if you are looking for the perfect Victorian-era style for your accent wall, you can use this tip.
Add some fresh coats of green paint and add some wall frame molds. In place of a painting, you can mount your smart TV. This way, it would be a perfect vintage style with a touch of contemporariness.
Concluding Thoughts
So, next time your guests and friends step into your living room, if you want to blow away their minds, then follow our ideas for an accent wall for the TV. With our suggestions, you can color and decorate your accent wall in varied ways. Mounting your TV on the wall can help you save a lot of space and allow you to have an immersive experience.
If you have an open wall behind a set of furniture or the wall, you usually face while sitting in your living room can be the right wall for you. A symmetrical wall is better than an asymmetrical wall.
Walls with windows and slopes don't make perfect accent walls. If you have a natural wall to convert into an accent wall, like a wall with a fireplace or bookshelf, then you can redesign it as per the above suggestions.
Further, you can share your unique ideas with us.
Frequently Asked Questions
What is the Best Color to Put Behind a TV?
Bright, neutral, or textured backgrounds can be one option, or else you can go with bold colors to give a statement to your accent wall. You also need to balance your accent wall color with the rest of your room.
Can a TV Wall Be an Accent Wall?
Yes, a TV wall can certainly be an accent wall. In fact, having a TV on the accent wall is one of the best ways to highlight and decorate your accent wall. An accent wall can have different colors, textures, and elements.
Should the Accent Wall Have a TV?
Mounting a TV on the accent wall is a great idea as it can further captivate people's attention toward your accent wall. You can color your accent wall in either dark or bold colors, or you can choose to go with a grey background.
Sierra Rivera, a passionate home decor enthusiast, runs the popular blog CozyCottageCute.com. Sierra shares decor tips, DIY projects, and personal insights. Off the blog, she's often at antique markets or redecorating corners of her own space.