21 Stylish Bed Frame Designs to Transform Your Bedroom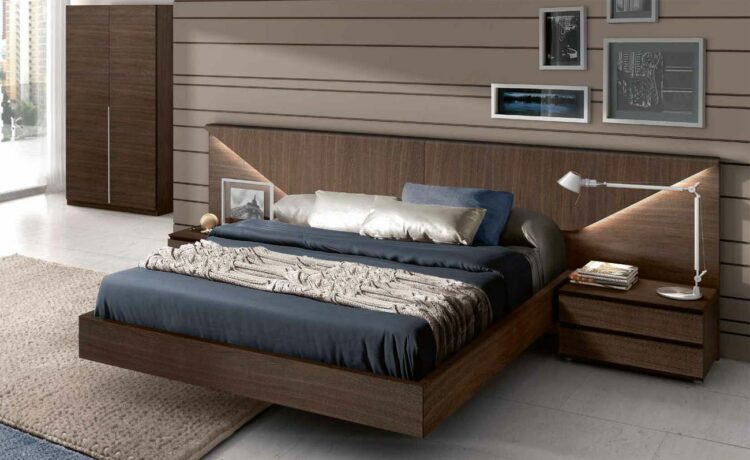 Introducing the bed, the star of the bedroom! Not just a place for rest; it holds the power to cast an enchanting spell on your sanctuary. The center of attraction, the bed, is capable enough to impress or depress the overall look of the room at the very first sight.
From analyzing the size, shape, and position of the bed, it is also very important to maintain the aesthetics of the room by choosing the right frame of the bed. The personal choice between minimalist designs or elaborated statement pieces is also crucial to make the bedroom look more homely.
Intrigued much? Well, we have got you all covered. This blog is ready to carve out the best bedroom to fit in different personalized oases.
With these 21-bed frame types, ranging vividly in style, structure, material, size, and color, you can pour in an ultimate feel to your bed chamber.
1. Begin with Minimalist
For all the aesthetic admirers, this latest bedroom style is so in trend for its sleek and streamlined outlook, solid colored, low-profiled beds with no headboard give a sense of simplicity and sophistication.
Themes to Go With
Such beds have various themes, including Scandinavian style, urban looks, and industrial approaches. Such minimalist beds with the least details are perfect in complimenting other decors and color schemes of the room.
Designer's Suggestion
These beds look most charming with crisp white sheets or other solid colors. Along with that, woven rugs or fluffy cushions suit the aestheticism well, giving a serene and clean look together.
2. Add a Canopy to The Bedroom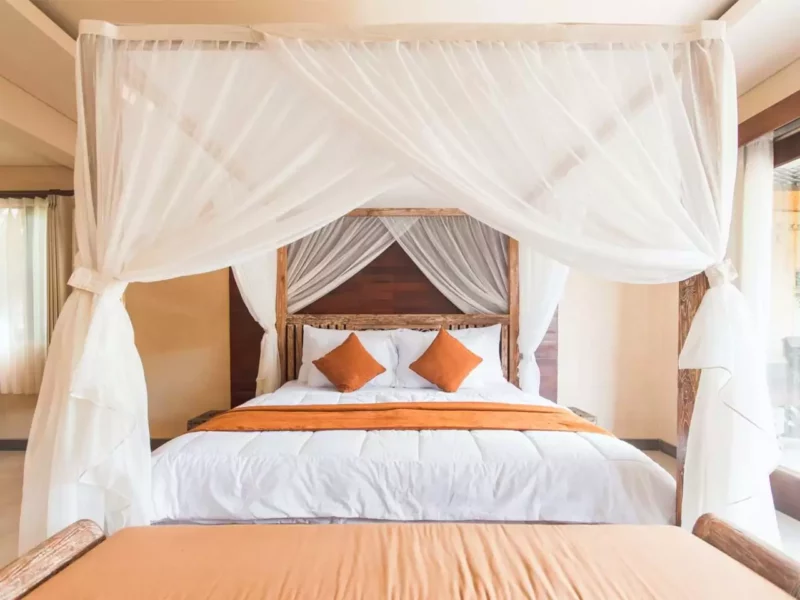 From the times of kings and queens, such beds have been in style because of their uniqueness and durability. Featuring four tall posts supporting a frame above the mattress, these beds are the epitome of romanticism and luxury.
Themes to Go With
From traditional to trendy, these beds welcome all sorts of designer themes. Traditional canopy beds with ornaments, carving on rich wooden frames, and silky drapes remind the times of pleasant mornings in the castle. On the other hand, trendy styles with metal frames and minimal lights hanging over the frames visualize gazing at the sky full of stars.
Designer's Suggestion
A canopy bed demands its tantrums to be tamed. Decorating such beds with chiffon or silk fabrics for pleasant feels and privacy maintenance is a must. Decorations with flowers at the top or candles on the sides will light up the romance even more. Enhance the beauty while using luxurious beddings made of smooth fabrics, ruffle pillows, and plush duvets to bring out the romantic yet comforting sleepy nook.
3. Ravishing Rustically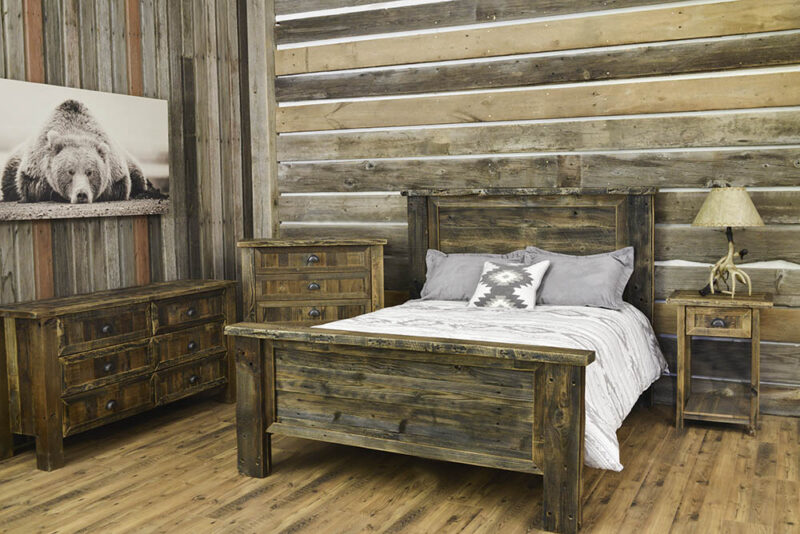 For all nature lovers, the best way to shake hands with nature is to bring natural stuff home. Then why not a bed made of reclaimed wood? By polishing and mending old woods, these beds are recycled into cozy logs of joy.
Themes to Go With
Rustic beds are well suited for vintage-themed rooms, but apart from that, these minimalist beds go finely with wooden-based rooms like the resort ones. With a warm ambiance, these beds look more charming with their flaws like nail holes, distressed finishes, and wooden shades.
Designer's Suggestions
To enhance the vintage charm, go for a wooden-based room structure or concrete wall structure. A fireplace would top the ambiance like the sprinklers on the cake. Use earthy elements to decorate the room, like plants or wooden hangings. Macrame rugs, crochet lamp shades, chandeliers, etc would clap together to bring out the best look.
4. Upholstered Beds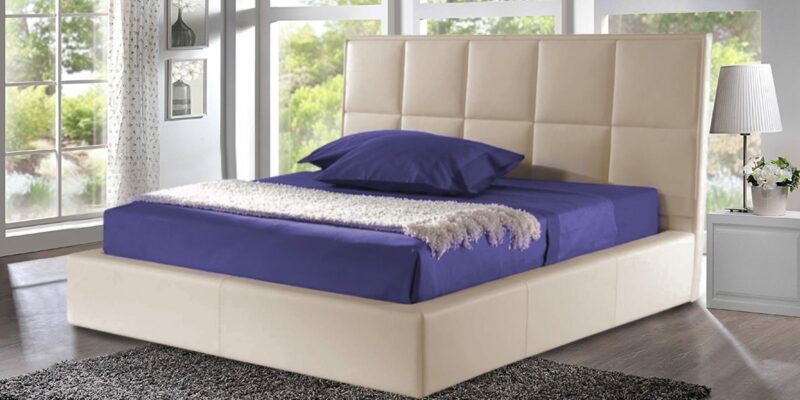 The most comfortable bed of all time, bed frames hide in padded spongy layers of fabric or leather to present comfort and luxury on the same plate. The padded headboard acts as a cozy stand to rest the head and read effectively. Padded frames on the sides made lounging much easier and chic.
Themes to Go With
A bedroom welcoming comfort is when beds offer such a range of relaxation. From classical and traditional to luxurious, such beds have a wide range of varieties to choose from. Talking about the textures, these bed frames can be made with leather, velvet, suede, or linen as per the demand.
Designer's Suggestion
Well, as per the personality of the bed, comforting elements should be showered upon to maintain the vibe. Scented candles, calm abstract artworks, deep, thick curtains, and minimal lighting would get along with such bed frames. Squishy pillows, spongy quits, and double-sponged mattresses are perfect for such beds.
5. Retro Beds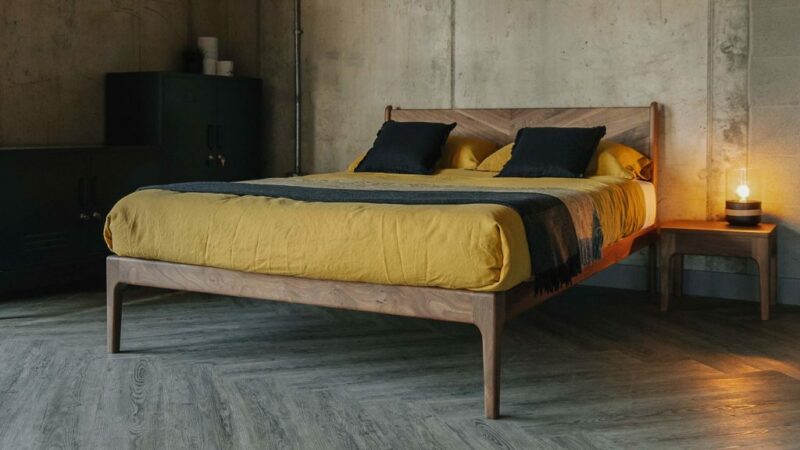 Famous in the years of the 1950s -1960s, the mid-century beds are back with their nostalgic ambiance. The clean tall stands, tapered legs, and organic shapes take into the flashback of families staying together era.
The lowkey design of such bed frames makes them adaptable to every interior decor while giving a sleek and sophisticated presentation of the bedroom.
Themes to Go With
Such bed designs go well with mid-century room designs with plain painted walls and paintings hanging on them. Lamp shades, carpets, and the basic wooden side table. Opt from different wood types, oak, teal, or walnut. Attach headboards or not as per the requirement.
Designer's Suggestion
Indulging the mid-century vibe with the latest trend can be adventurous. Choose furniture, like side tables and shelves, while considering the old era. Use abstract art on walls or modern lighting systems to mix both timelines.
6. The Four-Pillared Bed Frames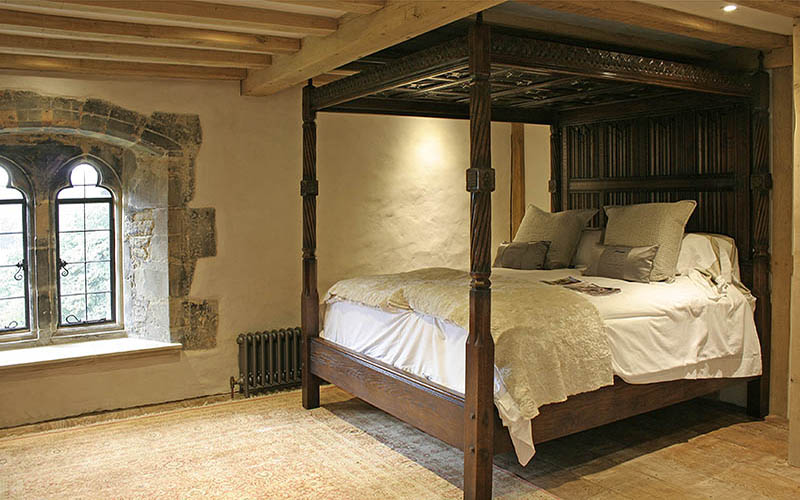 To add grandeur to the bedroom, four poster bed frames play well in being a statement piece. Withholding the beauty of the room in four pillars, these bed frames give a majestic look to the space.
From contemporary styles to old and antique presentations, these bed frame types can be molded as per one's choice. Carving on the stands or hanging ornaments over them, there could be a huge way for bed decorations to satisfy the opulence need.
Themes to Go With
These bedframes welcome a certain kind of retro vibe that ensures a sense of a beautiful yet eerie feeling. If your bedframe is made of dark wood, go for passionate plains. Subtle light shades compliment the majestic dark wood frame. One color that best suits dark wood is beige or creme shade with a little coffee hue. Choose your drapes, bed linens, etc., in the shade to compliment the overall look of your room.
Designer's Suggestion
To give a queen's feel to the bedroom, draping the four stands with light chiffon fabrics in light shade colors is perfect. The luxurious set-up with comforting bedding is perfect for a romantic, dreamy sleep.
7. Emphasizing the Storage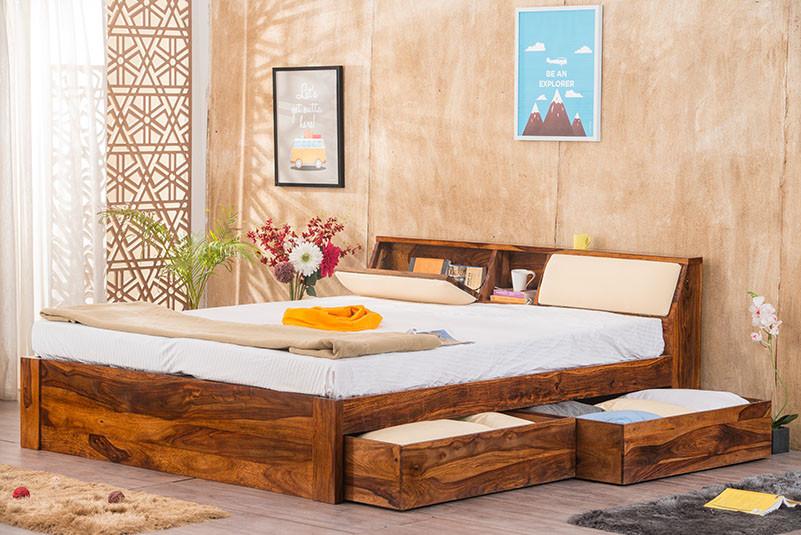 What could be better than a bed that increases storage in the rooms? Such multi-purpose bedrooms are functional enough to store belongings securely. Compartments and drawers are spacious enough to store clothes, shoes, extra bedding, and other major belongings.
A boon for smaller bedrooms, such beds provide space-saving solutions and increase the functionality of the room.
Themes to Go With
Get these storage beds in suede texture to highlight the dominancy of your bed in the entire room. Choose exceptionally dark colors to make them stand out. Color code your sheets and drapes in one tone lighter yet keep it overall dark to give out a bold statement.
Designer's Suggestions
Storage beds are admired in every space. From customizing it to choosing the minimalist outlook, such beds are available in different sizes, patterns, textures, shapes, etc. Choose one that fits well according to the room vibe and sleep peacefully over the belongings.
8. Float Into the Air
Floating bed frame types are the chicest and most fun but are adopted by only a few people because the new concept of such bed frames hasn't gotten familiar to everyone.
Such bed frames are designed in a way that looks like it is floating in the air. Attached to the walls with hidden stands, these beds do not touch the floor to give the room a sense of lightness and spaciousness.
Themes to Go With
An unorganized, dull-looking bedroom is so much of a mood killer. And the best part is the whole outlook of a bedroom can be enhanced by having a majestic, gorgeous floating bed frame design. Keep the bed plain, but the surroundings a bit dramatic. One of the best choices is to have wooden texture go along in your room, be it the furniture or the wall tiles.
Designer's Suggestions
Such bed frames are the epitome of modern-themed looks. The sleek and streamlined appearance with uncluttered bottoms gives the bedroom a resort feel. Geometric patterned rugs, sleek lamp shades, and floor-to-ceiling windows are some additional elements to increase the charms of such bed frame types.
The refined-looking floating beds made from polished wood or metallic frames overlapped with neutral color sheets and decorated with minimal lighting at the base compliments the modern aesthetics well.
9. Slay with Sleigh Beds
Sleigh beds have been in fashion for so long, and still, their craze has not faded. Such beds happen to be the most attractive focal point because of their sleigh-shaped headboards and footboards.
Such bed frames are a symbol of luxury and reflect the sense of modesty in their personality.
Themes to Go With
This royal bed style needs an equally majestic interior. Pair your furniture very diligently, and do not stuff your room with these wooden handicrafts so as to loosen the sparkle of your bed. Keep it simple and keep it minimalistic!
Designer's Suggestions
Such beds act as a remark of sophistication and maturity. Pleasing them with rich quality sheets and expensive bedding is a tradition in itself. Adding complementing colored drapes, a beautiful light fixture just above the bed, and a cool-toned ambiance are recommended for best-achieved looks.
10. Industrial Bed Styles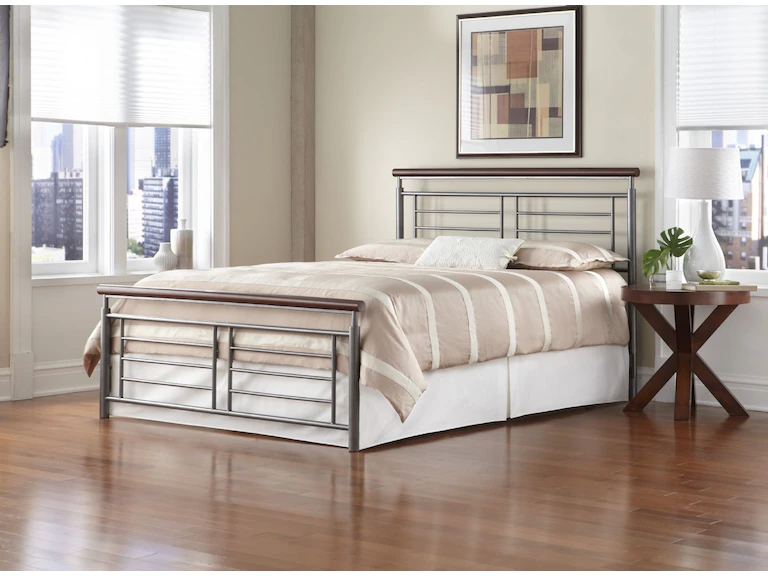 For an urban-looking apartment bedroom, industrial-style bed frame types are very much appreciable. Bed frames with distressed metals and exposed bolts express their richness in an unconventional manner.
Such beds are long-lasting and durable and can be customized for headboards or side stands. The rawness of the bed frames adds character to the focal point making it desirable for urban grace.
Themes to Go With
Pour in the modernities, and there you go. Install Alexa or Siri, hidden charging ports, metal wall art, sleek lamps, drop ceiling lights, and you have got it all covered.
Keep your drapes simple, for your theme is minimalistic. Satin Silk curtains will complement your space like nothing else. Plain cotton sheets in a pastel color are just the right pick for your bedroom.
Designer's Suggestions
For a crisp industrial look, go for bed frames with exposed bolts and details. Choosing a frame with a metallic texture that fits into the contrast of room decor is recommended.
Enhance the theme by adding metallic fixture lights, metallic side tables, and other furniture with other aesthetic charms such as rugs, pillows, and other decorations to create a homely look.
11. Japanese-Inspired Bed Frames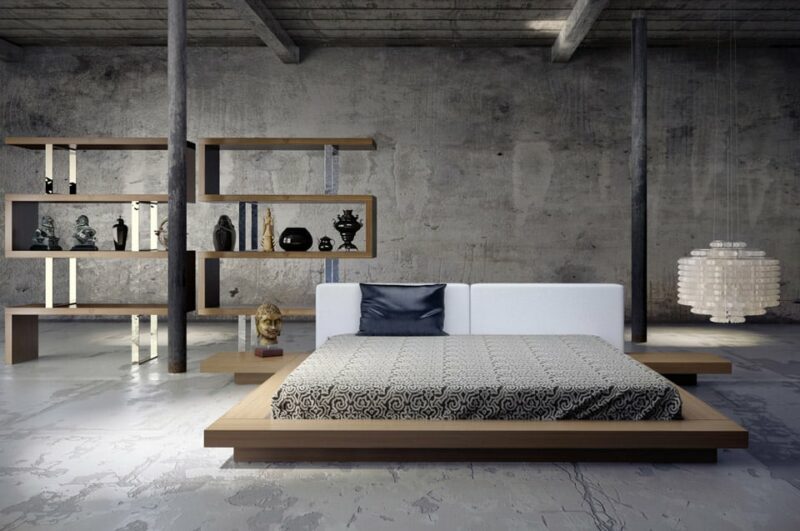 Japanese, known for their calm and sweet natures, also give preference to comfort over appearances. Inspired by such cozy beds that would sink one into the ditch of its softness, the transformed bed frame with the latest style and color patterns is a treat for all sleepyheads.
The low-profile beds with uncluttered finishes call everyone to jump into the corner of tranquility. These bed frames are made with bamboo sticks or wood, which surely pay homage to the roots.
Themes to Go With
Get grey with this theme. Keep it subtle and cool. Try something that is out of the box. Go for a slightly darker shade to highlight your sense of choice.
Marbles for floors immediately boost your aristocratic feel without a blink. Get them in gray and the wall tiles as well. Your sheets and drapes are surely going to be in a lighter tone of gray. Mix and match with colors in this palette to stand out in a very obvious and perfect way.
Designer's Suggestion
With the Japanese-inspired bed frame types, pleasant decors would go hand in hand. Neutral pastel colors on sheets, light pastel-colored chiffon curtains, and Japanese decorations like shoji screens, tatami mats, and paper lanterns are some other stars for the moon.
12. Adjustable to The Preferences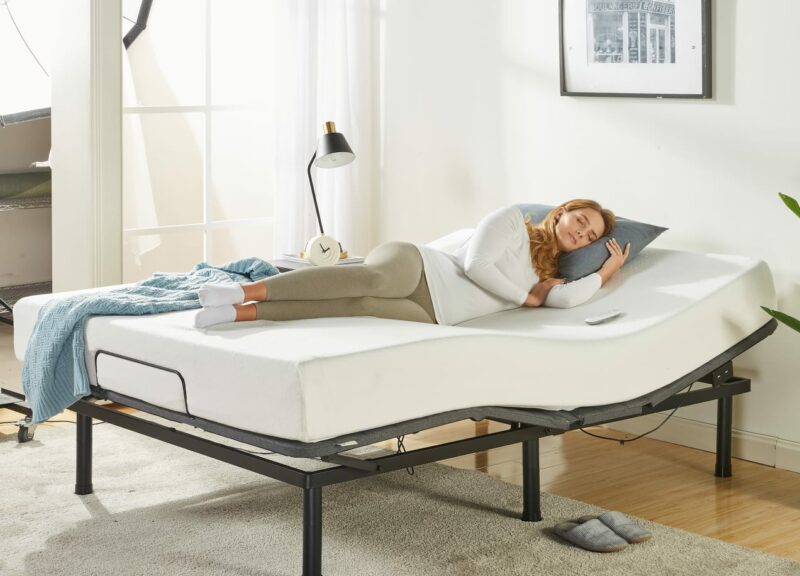 The best bed frame types for people who prioritize comfort. Adjustable beds are most beneficial as they can be adjusted as per the needs. With options of changing positions of the head and feet, it confirms comfort by relieving the body pressure.
Also prescribed by orthopedists, such bed frames help in curing acid reflux and back pains, reduce swelling and snoring, and are preferable for people with limited mobility.
Themes to Go With
This is the kind that goes well with all. Instead of following our road map, take the steering wheel and get creative. Yes, you can frame out the best with these so very perfect bed frame types in your room.
Designer's Suggestions
A flexible mattress to support the bed is suggested for its better functioning. Using latex mattresses or memory foam is recommended as they can be twisted at any angle without causing lumps and are durable enough for a long period. Nightstands, adjustable lights. Storage compartments etc., are some additional details recommended to enhance the functionality of the room.
13. Scandinavian-Style Bed Frames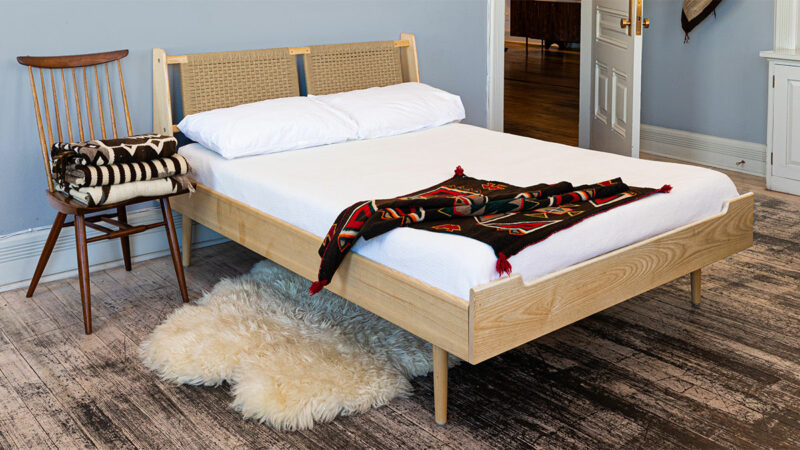 A very simple way of beautifying the bedroom in its most classic way is the Scandinavian bed frame type. Minimally framed beds with short heightened wooden stands and uncluttered finish, these beds are in top demand by urban designers.
The calming beds carved in smoothly finished woods and coated with prime neutral colors provide tranquility and cleanliness.
Themes to Go With
This, among all bed frame types, invites themes like a magnet. Since the feel is woody, go woody. Add in complimentary jute mats, jute-like or Boho curtains to get a brown bash going. Add in those artificial bird nests and good-looking jute bags to have the feeling going.
Designer's Suggestions
For a warm and organic feel, soft pastel bedding framed inside natural-grained woods like pine, ash, or beech is perfect. Opt for a naturalistic ambiance. Beautify the room with hand-woven carpets for the floor and furry rugs for the couches, soft and diffused lighting pendants, and voila, a perfectly serene escape point is ready.
14. Books in Nook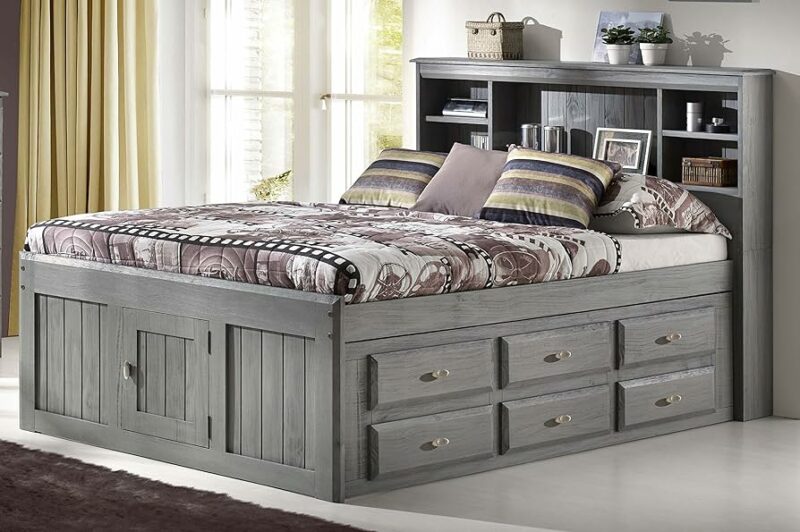 A heaven for all the readers is this bookcase bed. Designed in such an efficient manner that it increases the storage space along with better functionalities.
Sleeping with a book in hand and glasses in your eyes has found the perfect solution with such interestingly designed beds. Different shelves and compartments as the headboard provide space for keeping books and other stuff.
Themes to Go With
Got a thing for books? Make your room your reading sanctuary. Go all colorful. Use wall art stickers themed on readingto get a goofy vibe. Bed frame types in such categories welcome openness; you can try your creativity at its best.
Designer's Suggestions
Such bed frame types can be used to utilize the extra space in the rooms. Compartments can hold books, photos, and other aesthetic decorations. Also available with doors mounted on the cabinets, these beds can keep the mess hidden.
Complementing the bed, additional room decors like storage cabinets, drawers, side tables, and wall-mounted hooks or compartments are recommended for a balanced look.
15. Back to The Victorian Ages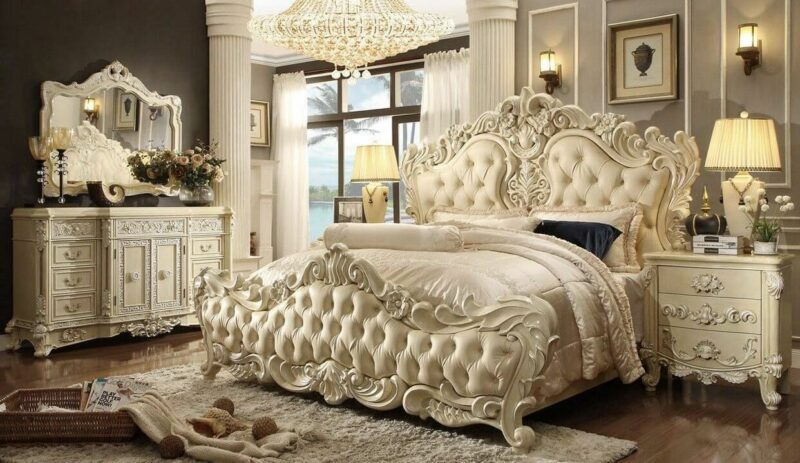 Remember the old horror movies with beds framed with metal? They did look one of a kind. The trend is back with Victorian-style bed frames but with a hint of fanciness.
Witness the instant nostalgia while falling into a bed with intricate carvings, ornamental motifs, and luxurious upholstery, taking one back to the mystical Victorian era.
Themes to Go With
By now, you know it already. These bed frame types go directly under the category of ROYAL. So, theme it accordingly. Get the gold pouring. Gold linen sheets, gold satin drapes, gold ottomans, gold dressing tables with woodcraft, and there you go. You can opt for any other color but stay consistent with what you choose. Use multiple shades of the same color but don't go for colors in any other category.
Designer's Suggestions
Along with intricate details and carvings, go for canopy decorations or four poster looks to make it look more regal. Add other Victorian elements like furniture with curvy silhouettes, chandeliers, fireplaces, and antique candle stands for a more cohesive look.
16. The Richness of Leather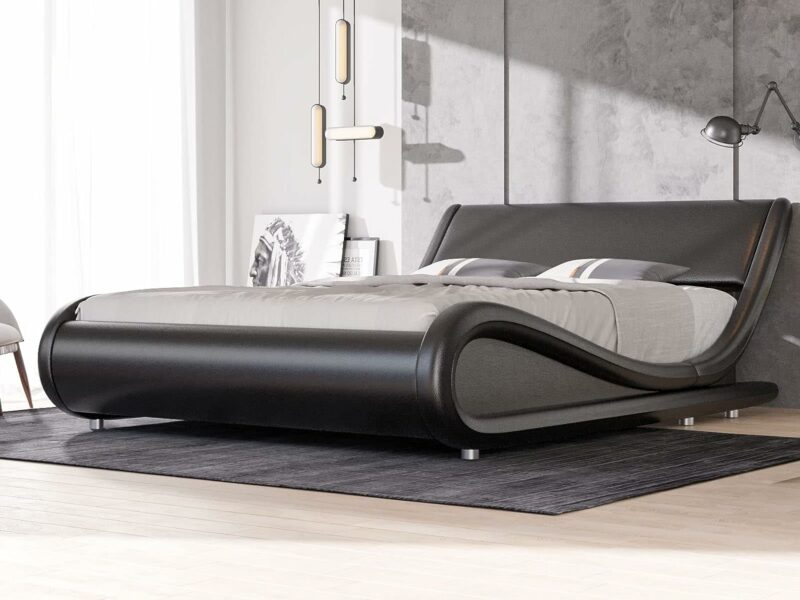 The basic characteristic of leather is its class. A product's value can swing to the sky when wrapped in leather. Leather-based bed frames are dipped in cash yet most appealing to luxury.
With a sense of luxury, leather beds mold the look of the room into a 5-star hotel room. The smooth and slippery texture of the bed provides a sleek and sophisticated look.
Themes to Go With
LEATHER means black. Our liking goes with such bed frame types. You are also open to other choices, but our heart goes with getting the room darker and more dominating. Dark grey curtains, dark grey or black rugs, black marble floorings, super dark grey sheets, and pillow covers, and you got it there just fine!
Designer's Suggestions
Forming a look with leather beds, it is recommended to use rich bedding with neutral colors and sleek ironed pillows. Adding other furniture made from leather, ambient lamps with reflective floors, and sleek finished cabinets can further make the room look more classy.
17. Bring the Beach Home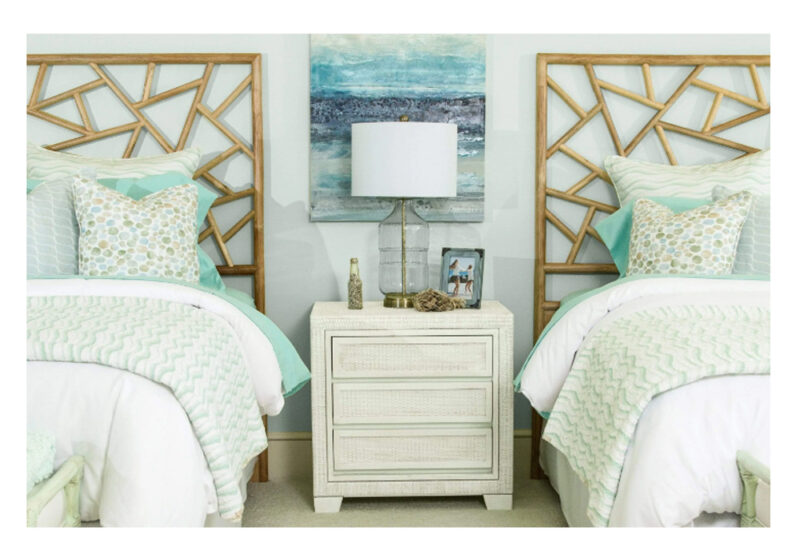 The coastal-themed beds are so effortlessly relaxing and calming that they would surely give vacation feels to anyone. Made with light-colored woods or wickers, such beds are lighter than the feather itself.
Dive into the sea with all the positive energies swimming around in the serene atmosphere. Such bed frames are perfect for seaside-themed bedrooms.
Themes to Go With
Talking of beaches? Well, then, a wave of calmness must soothe your mind. The theme goes with cool hues as well. Get all the light colors you can and mix and match them appropriately. Follow your choice of theme, be it a Barbie one or a seaside look, with the right props to add in. With light colors, you can marvel at any zone of interiors, and with such bed frame types at your rescue, you already hold the key to successful interior decorations.
Designer's Suggestions
With colors inspired by the sea, bluish tints or soft pastels are perfect for cotton/linen bedding. Decorate further with bed accessories like throw-over cushions, beachy macrame rugs, shell-embroidered cushions, etc
18. Live-Edged Bed Frames
As an organic look, such bed frames are statements in themselves. Bed frames made without carvings, just big logs of wood stacked together, take back to the stone age times.
The king's feelings while lying in such beds are unexplainable. The imperfectly arranged wood pieces together add a sense of uniqueness while connecting one to nature.
Themes to Go With
When such bed frame types already hold a lot of wood, then go for minimalistic. Choose plain-colored sheets and frames to beautify your room. Use good lighting arrangements to have your bed in focus. Reflecting marble floorings, too, are a good choice.
Designer's Suggestion
With such a naturalistic focal point, the other decorations should also be made from natural stuff. Begin with natural fiber beddings in the lightest shades. Use wooden blinds at the windows, pitted plants as decorations, furniture made from straws, and other decorative elements reminding their source of nature.
19. Change the Game with Art-Deco Beds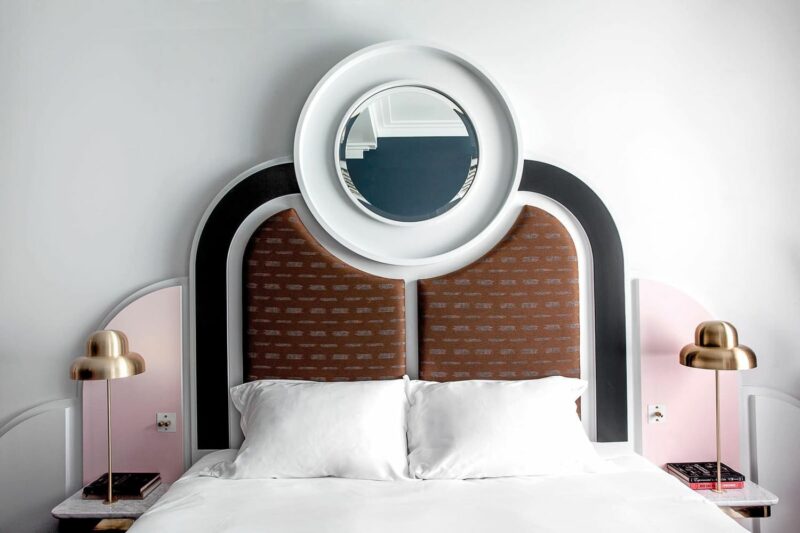 Remember the trends of the 1920-1930s? The art deco beds back then were outshining themselves in every neighborhood. The trend is back now with a new light of transformation.
The famous luxurious metals and intricate detail images have already exuded sophistication, but now geometric patterns, mirror furnishing, and expensive materials like velvets have rejuvenated the art deco era
Themes to Go With
Such bed frame types are whole in themselves and leave you with nothing much to do. Since these bed frame types are so enormous, keep the surroundings neat and sophisticated. This calls for a theme in white. White walls, white furniture, white rugs and drapes, white sheets, and you have got your room decorated.
Designer's Suggestion
For such beautiful bed frame types, bold contrasting colors with abstract arts mounted beddings are suggested. Embroidered cushions with rich blankets are recommended for completing the look.
Focusing on the room decor, artistic mirrors with mirrored furniture, art deco-inspired wall art, geometric ceiling, ambient pendant lights, and rich velvet curtains are some elements to make the bedroom look more luxurious.
20. Geometrized Beds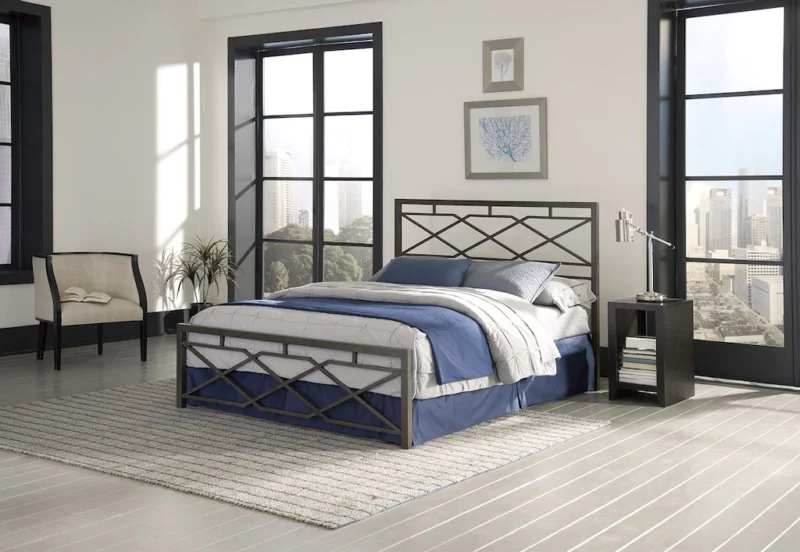 Unusual but practical, such bed frames are known for their unique adjustments to the walls. Created with metal rods, these frames are the only striking element in the room.
For experimenting with artistic skills, such bed frames are perfect for describing different personalities based on the shapes.
Themes to Go With
People tend to keep it simple, but our opinions are otherwise. Instead of going plain light, go plain dark. Navy color always pumps in a sense of artfulness, and that must be your theme with such bed frame types. Navy curtains, light navy sheets, navy rugs, and bright white lights will give you a beautiful dawn-ey effect.
Designer's Suggestions
Bedding accessories that go along with such beds are sleek and streamlined approached sheets with solid colors. Cushions with geometrical patterns could also go along the flow.
As for other bedroom decors, opting for metal-based furniture and wall art with a geometric design, geometrically shaped mirrors, and metallic light pendants are recommended for attaining a cohesive design scheme.
21. Water/Air Beds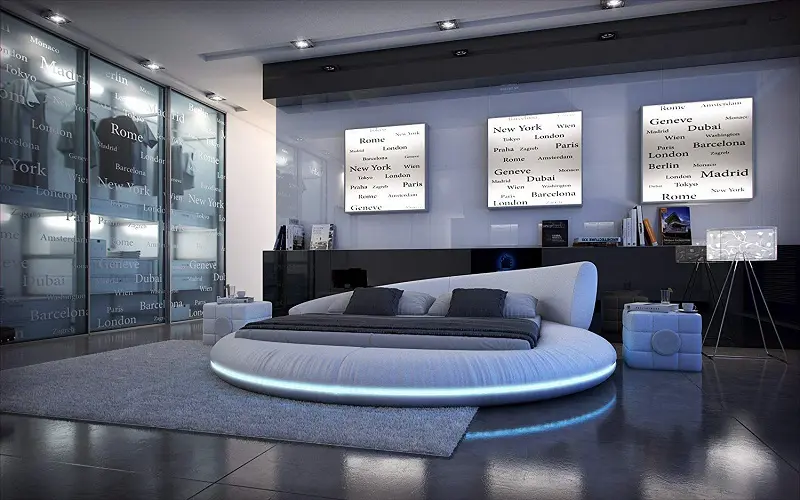 These are very out of the box but most liked by children and youths as it gives them a sense of excitement.
Beds and bed frames made of air and water trapped in a structure not only gives a comfortable platform, but the continuous movement inside turns out to be the best sleep achiever.
Themes to Go With
These bed frame types have the buzz going, and the theme that suits them best is going all starry. Outline these bed frame types with brilliant light blue lighting. Add neon blue wall stickers to glow at night. To do the extra bit, also have the starry light going on the drop ceiling. For a more tacky feel, you may add mood boards on Van Gogh's starry night theme to get an artful look.
Designer's Suggestions
Go for a durable air/water-based mattress with relatively hard pillows for better posture and comfort. The room can be decorated with children admiring decorations such as cartoonist artworks, bright colors, colorful shelves, etc. In context to an adult, cool-toned decors with bluish wall art and big pendant lights are recommended.
Final Thoughts
These were all the bed frame types that are strong, durable, effective, and currently being fantasized all over social media. The installation and expense can never go wrong with the quality and satisfaction provided.
The basic statement of any bedroom, i.e., its bed, should be chosen with full attention and choice while keeping the theme in mind and getting ready to be congratulated by everyone on such brilliant interior designs.
We aimed to provide the best in the most pocket-friendly manner, and that is what we delivered. We sincerely hope that these suggestions will contribute to the glaze of your bedroom with comfort, style, and elegance.
Sierra Rivera, a passionate home decor enthusiast, runs the popular blog CozyCottageCute.com. Sierra shares decor tips, DIY projects, and personal insights. Off the blog, she's often at antique markets or redecorating corners of her own space.