25 Sofa Types that Redefine Comfort in Your Home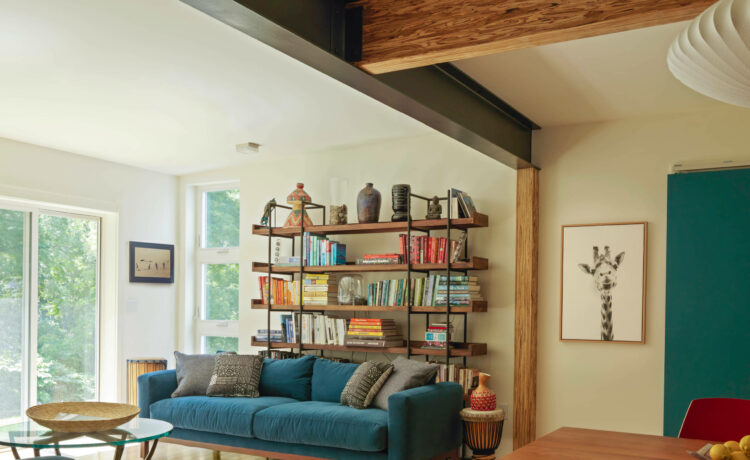 Are you ready to explore the world of sofa types and styles? Now, you might be wondering, "Sofas? Really? What makes them so exciting?" Oh, my friend, let us enlighten you – sofas are more than just pieces of furniture. They're incredibly comfortable and relaxing. From smooth and modern designs to cozy and traditional ones, you'll find a sofa type that perfectly suits your taste and complements the vibe of your living room.
So, whether you enjoy snuggling under a soft blanket or hosting movie marathons with friends, having knowledge about various sofa types is essential. Get ready for some laughter, fascinating sofa trivia, and tons of inspiration as we explore the marvelous world of sofa types together.
Let's make your living room the talk of the town, one cozy seat at a time!
Explore the Marvelous World of Sofa Types
Are you tired of the same old boring sofa that just sits there like a lump? Well, fret no more! Introducing the sectional sofa, the versatile hero of sofa types! With its multiple sections, this incredible piece of furniture can be arranged into various configurations to suit your needs. Want a cozy L-shape for movie nights? Feeling adventurous? Go for the U-shaped extravaganza! The possibilities are virtually endless, my friend! Get ready to kick back, relax, and embrace the flexible awesomeness of the sectional sofa!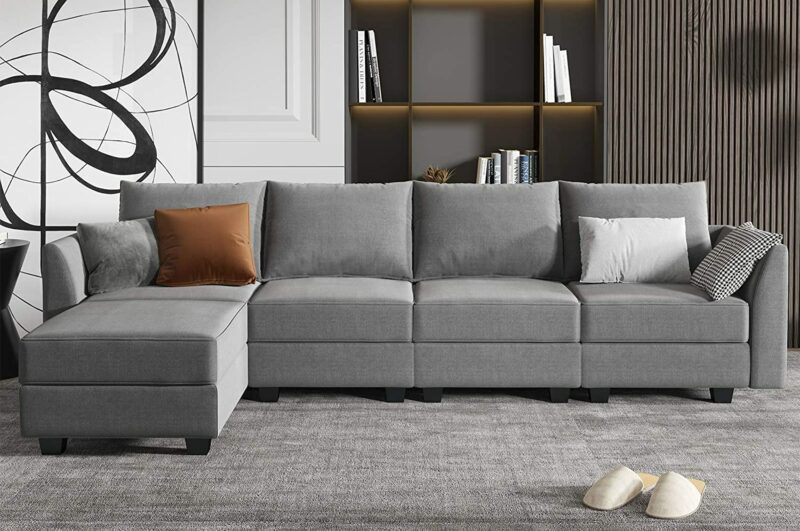 Let's talk about the oh-so-elegant Chesterfield sofa type. Picture this: deep button tufting, rolled arms begging for a cozy snuggle, and upholstery exuding "luxury!" This classic beauty is a true embodiment of sophistication, and it's no wonder it's a beloved choice among sofa types. Whether you're hosting a delightful tea party or curling up with a good book, the Chesterfield sofa is here to transform your living space into a haven of timeless charm and style.
The camelback sofa is one of the stars among all the sofa types. With its curvy and stylish arched backrest, this beauty brings a touch of elegance and sophistication to any room. Picture yourself sinking into its plush cushions, feeling like true royalty on your one throne. It's the kind of furniture that effortlessly transforms an ordinary space into a haven of class and refinement. Get ready to let your inner diva shine with a camelback sofa!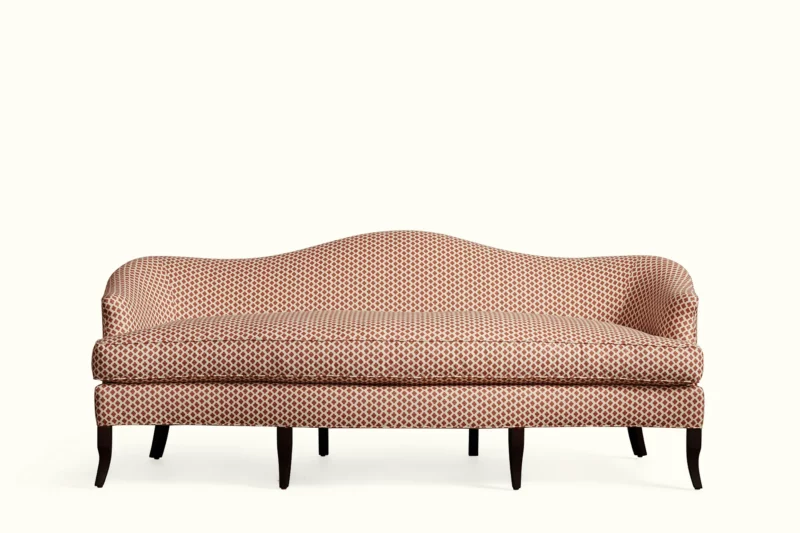 Looking for a sofa type that's both cozy and laid-back? Here's the Lawson sofa! With its simple yet versatile design, this sofa will fit seamlessly into most living spaces. Its square or rectangular cushions provide excellent comfort for lounging, napping, or even jumping around (if that's your thing!). Whether binge-watching your favorite shows or hosting a movie night, the Lawson sofa is the best. Do not settle for ordinary sofa types when you can have this fantastic, all-around seating option.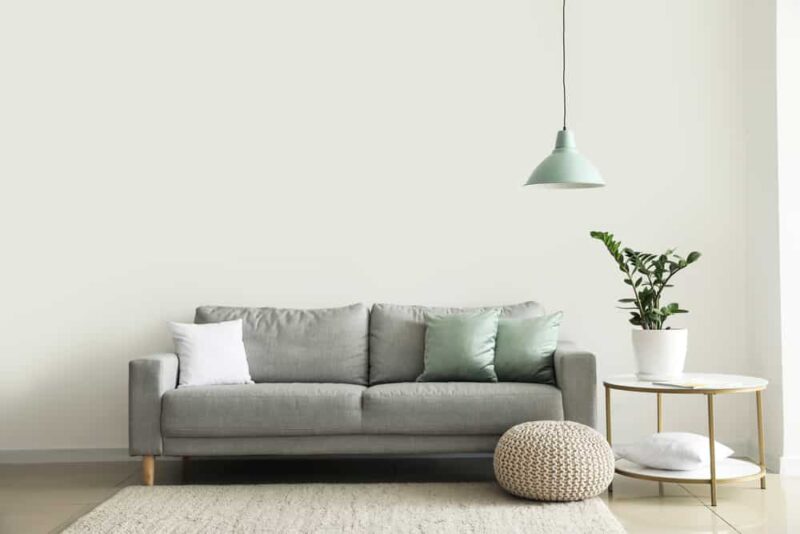 Looking to jazz up your living space? Get the Tuxedo sofa! With its straight arms and backrest that are the same height, this striking piece of furniture showcases a clean and tailored appearance. It's like a dapper gentleman in sofa form! This sofa type adds a touch of sophistication without sacrificing comfort. So, whether you're hosting a classy cocktail party or simply binge-watching your favorite shows, the Tuxedo sofa is here to make a stylish statement among the various sofa types.
Step right into comfort and tradition with the English roll-arm sofa! With its low, rounded arms and loose cushions, this sofa delivers a comfortable and traditional feel. Sink into its welcoming embrace and feel the stress of the day melt away. Whether you're curling up with a good book or hosting a lively gathering, this sofa type has got your back – literally! So, why settle for ordinary sofa types when you can indulge in the charming allure of the English roll-arm sofa?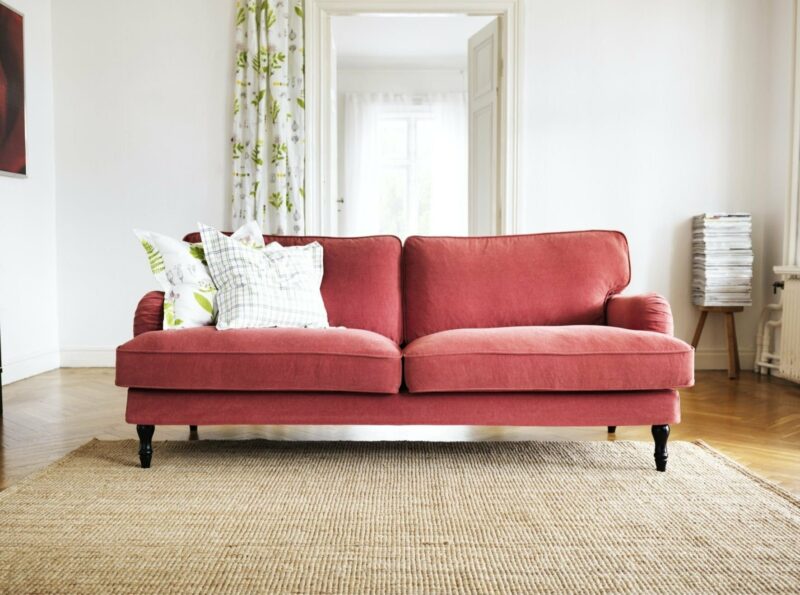 Mid-Century Modern Sofa will add a pinch of retro charm to your living space. This marvelous sofa type is inspired by the design trends of the mid-20th century. This sofa exudes coolness with its sleek lines, tapered legs, and minimalist look. It's like a time machine that effortlessly transports you to a hip and happening era. Get rid of ordinary sofa types and welcome the groovy vibes of mid-century modern!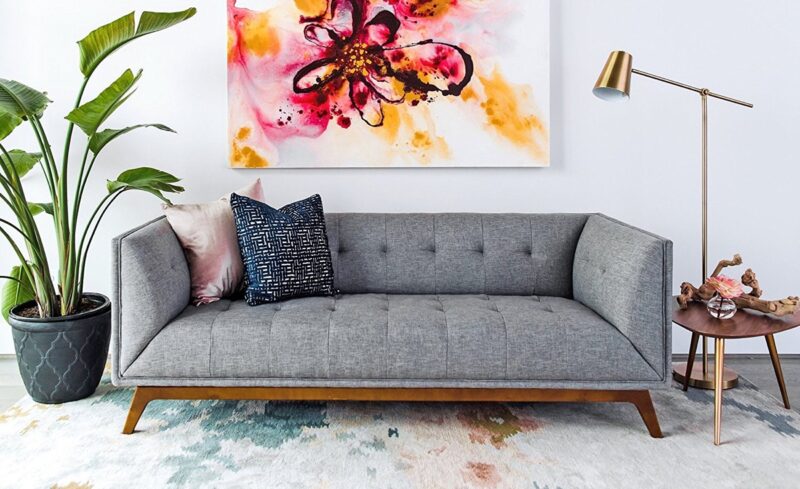 Looking to brighten up your living space? The contemporary sofa is a trendy piece of furniture that is all about embracing current design trends with a modern and fresh style. Its clean lines give your room a sleek and sophisticated look, while the bold colors and geometric patterns add a playful touch. Plus, with various sofa types to choose from, you'll find the perfect one to match your unique personality. Say goodbye to boring seating and welcome an ultimate statement piece!
Step into the world of timeless elegance with the traditional sofa! Bursting with personality and adorned with intricate details, this classic masterpiece effortlessly combines style and comfort. Whether you're entertaining guests or simply lounging with a good book, the traditional sofa promises to transport you to a bygone era of grandeur and grace.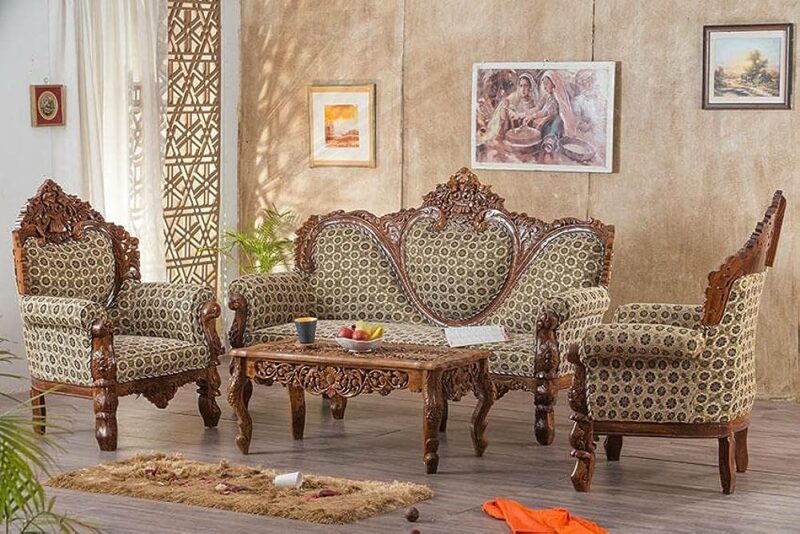 Looking for a furniture piece that's both cozy and convenient? Check out the sleeper sofa! This marvel of multitasking is designed with a fold-out mattress, making it the ultimate two-in-one superstar. Need a comfy spot to lounge during the day? Boom! Sofa mode activated. Hosting unexpected guests? Bed mode engaged. With its dual functionality, this sofa is the perfect solution for those impromptu sleepovers. It's like having a magical transformer that caters to your comfort needs.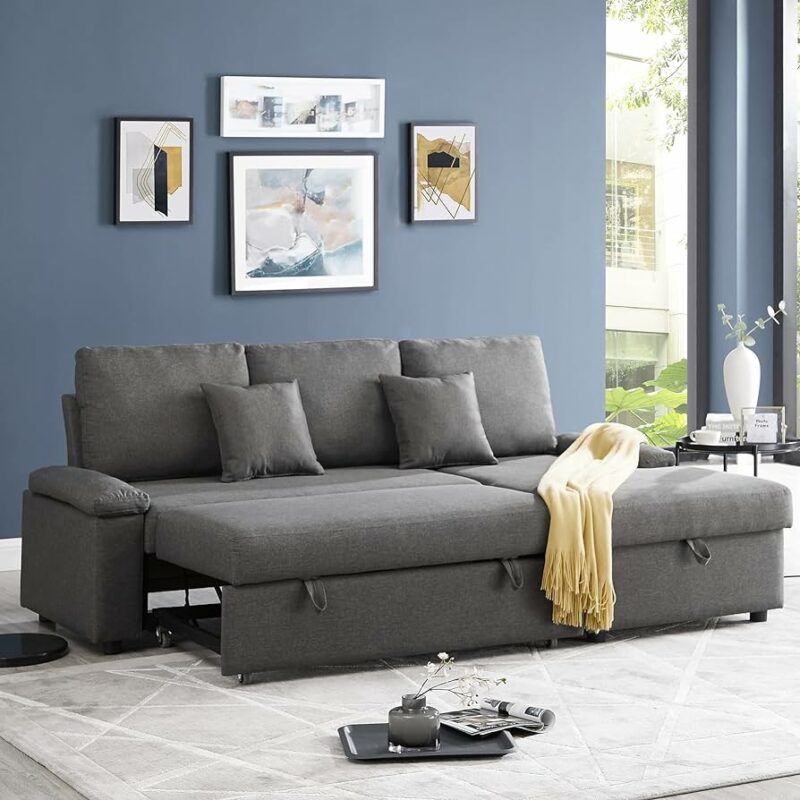 If you're on the lookout for the ultimate relaxation station, let us introduce you to the marvelous reclining sofa. Picture this: with just a flick of a lever, you'll find yourself sinking into a cloud of coziness as the backrest reclines, and your feet enjoy their well-deserved vacation on the extendable footrests. It's like having a personal relaxation chauffeur for those much-needed moments of tranquility. Put your feet up, kick back, and let the reclining sofa type work its magic!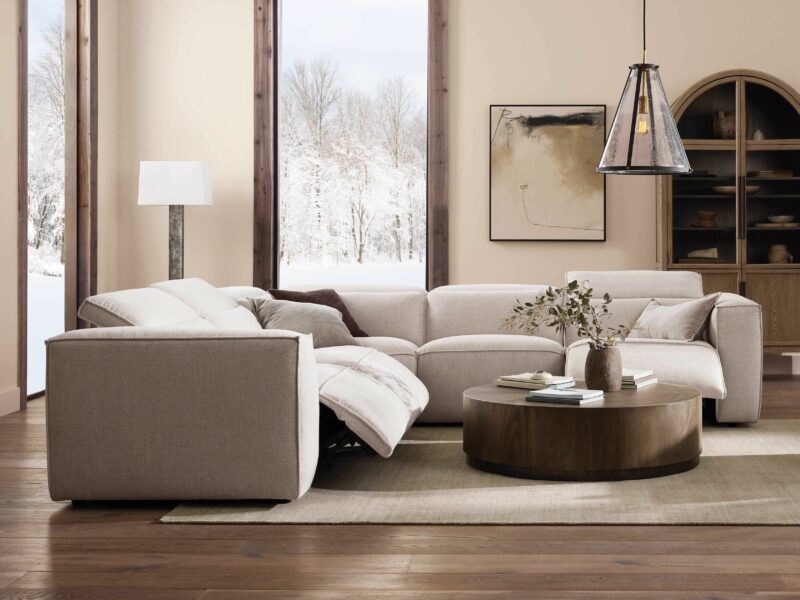 Are you ready to indulge in an incredible level of relaxation? Enter the chaise lounge sofa! With its elongated seat and a wonderfully comfortable backrest that's just begging to be snuggled into, this sofa type offers a truly luxurious and exceptionally lounging experience. Picture yourself sinking into its plush cushions, a good book in hand, or perhaps catching up on your favorite show. Trust me, once you experience the irresistible comfort of a chaise lounge sofa, you'll find it hard to leave the comforting embrace!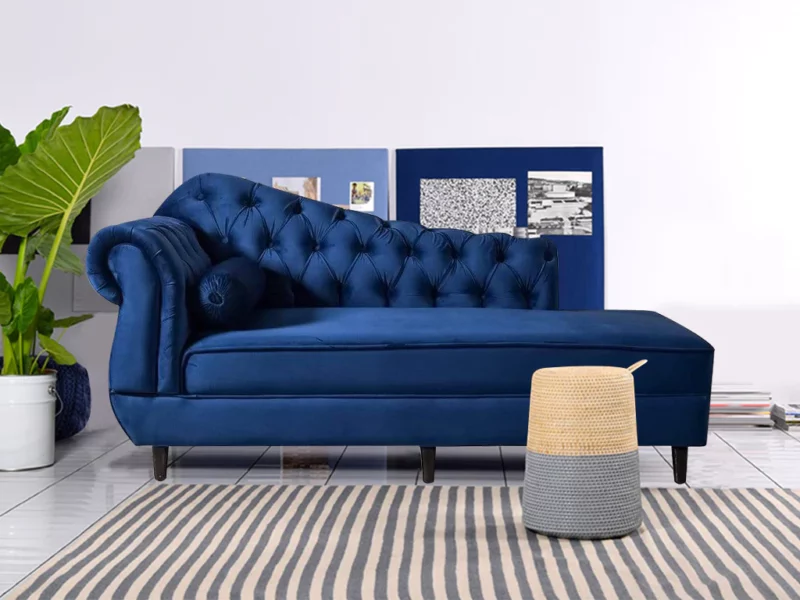 Looking to add some cozy charm to your living space? The loveseat sofa is your delightful answer – a compact and charming two-seater, perfect for intimate conversations or snugly Netflix marathons. With its petite dimensions, this lovable piece is a great match for smaller spaces that demand a touch of style. So, if you're in the market for a sofa that exudes "cozy," you've found it – this loveseat sofa is the bee's knees among all the other sofa types!
Looking for a sofa that's as flexible as a yoga instructor? Well, say hello to the futon sofa! This nifty piece of furniture is known for its incredible versatility. With just a flick of the wrist and a little backrest folding action, it transforms from a cozy couch into a comfortable bed. Talk about a multitasking champion! So, if you're tired of browsing through countless sofa types, try the futon sofa. It's the perfect companion for your living room adventures!
Do you love to host parties, sleepovers, or movie nights at your place? Do you wish a sofa could accommodate all your guests and activities? If you said yes to any or all of these questions, then you might be interested in a convertible sofa. Convertible sofas are among the most flexible sofa types you can find. They allow you to switch from a regular sofa to a bed, a chaise, or a sectional in a matter of seconds. These sofa types are perfectly suitable for small spaces, large families, or anyone who wishes to mix up their interior setting.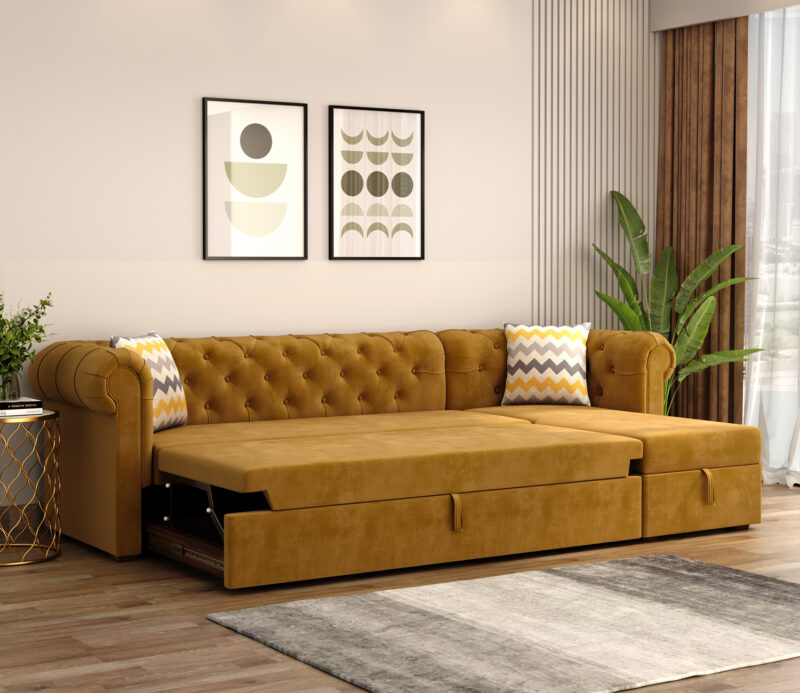 If you're looking for a sofa that can make your living room cozier and more stylish, you might want to consider a tufted sofa. A tufted sofa is a sofa type that has button or stitch details on the upholstery, creating a textured and elegant look. Tufted sofas come in various sofa types, such as Chesterfield, sectional, or loveseat. They can also match different decor styles, from classic to modern. A tufted sofa is a comfortable seat and a statement piece that can enhance your home.
If you're looking for a sofa that combines style, comfort, and versatility, you might want to consider the Bridgewater sofa. This sofa type is recognizable by its low, rolled arms that are set back from the front, giving it a relaxed and inviting appearance. The Bridgewater sofa can suit any decor, from traditional to modern, and can accommodate various upholstery fabrics and colors. Plus, it's perfect for curling up with a good book or watching your favorite show. Sounds tempting, right?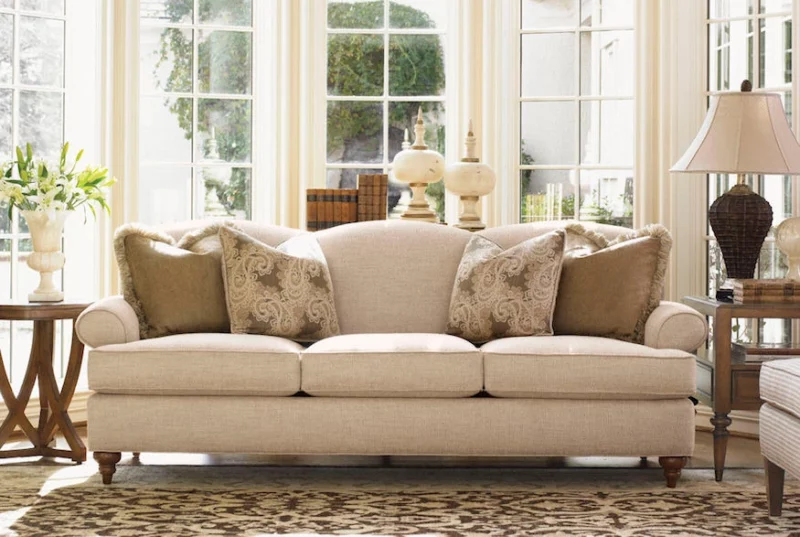 Do you need a sofa that exhibits elegance, comfort, and style? A cabriole sofa type would make the right choice for you. This sofa type has a distinctive S-shaped curved back and exposed wooden frame, which makes it a graceful and timeless design. Whether you want to add some charm to your living room, bedroom, or office, a cabriole sofa can fit any space and decor. It's also a great conversation starter for your guests who appreciate sofa types. Who wouldn't love a cabriole sofa?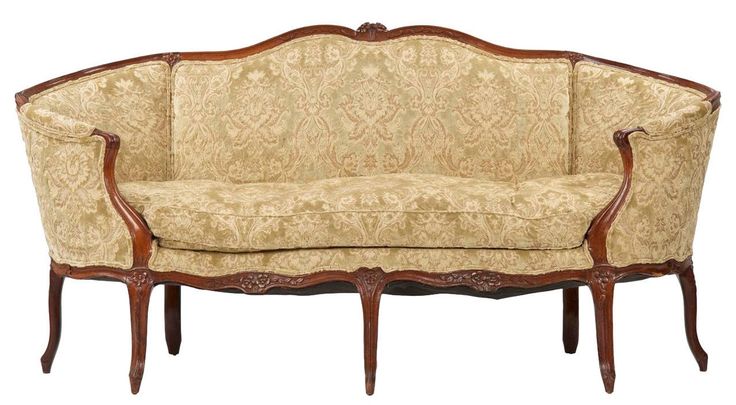 Imagine having a sofa that can transform from a majestic throne to a cozy bed in seconds. That's the magic of a Knole sofa. This sofa type is recognizable by its high, straight back and adjustable side arms, which can be lowered to create a comfortable sleeping space. It looks grand and formal, but it also feels comfy and inviting. A Knole sofa is perfect for curling up with a good book, a cup of tea, or a special someone.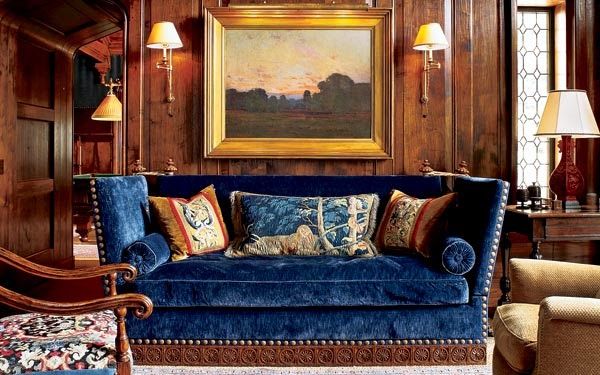 Are you seeking a cozy, stylish sofa that won't cramp your space? Then, you'll love the settee sofa! This cute sofa is just the right size for your small-bedroom apartment. It can fit two people snugly and feels so comfy and soft. You'll want to sink into it every day. But the settee sofa is not just a sofa. It's also a versatile piece of furniture that you can use in many ways. The settee sofa is the ultimate sofa for small spaces. It's practical, comfortable, and charming. Don't miss the opportunity to get yours today!
Do you know that awkward corner in your living room that you don't know what to do with? Well, we have a solution for you: an L-shaped sofa. It's like a regular sofa but with an extra piece that lets you stretch out and relax. You can snuggle with your boo, chill with your pals, or just enjoy some me-time on this comfy couch. And don't worry about finding one that matches your décor. There are tons of L-shaped sofa types to choose from in different colors, fabrics, and styles.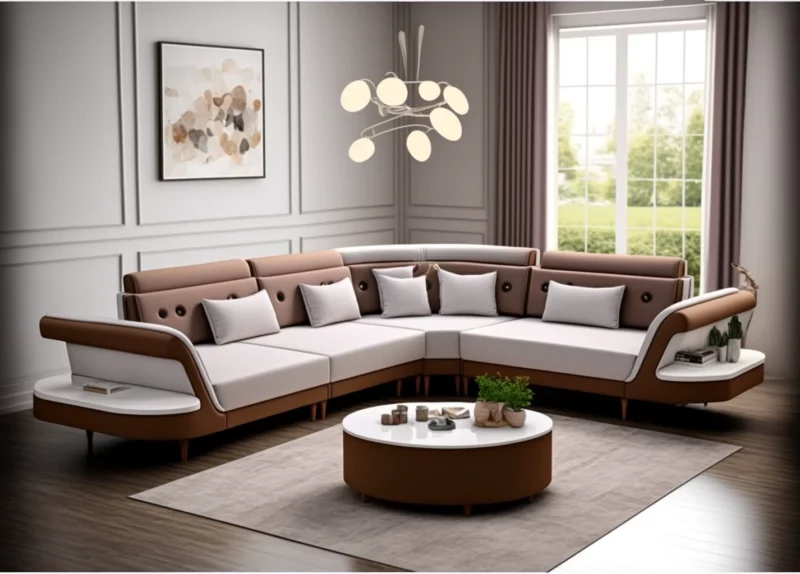 If you have a big family, many friends, and many furry companions, you can check out a U-shaped sofa for the best seating accommodation. It's a sofa that's shaped like a U, so it has plenty of room for everyone. You can snuggle with a book, binge-watch your favorite show, or chat with your guests on this cozy sofa. And you can pick from different sofa types, like leather, fabric, or velvet, to match your taste and comfort. A U-shaped sofa type is perfect for your living room.
Are you tired of the same old sofa types that limit your creativity and cramp your style? Well, say hello to the modular sofa! With its individual modules, this ingenious piece of furniture gives you the power to play designer and create the seating arrangement of your dreams. Need a cozy corner for a movie night? No problem! Want to entertain a crowd? Just rearrange and reconfigure the modules like a champ.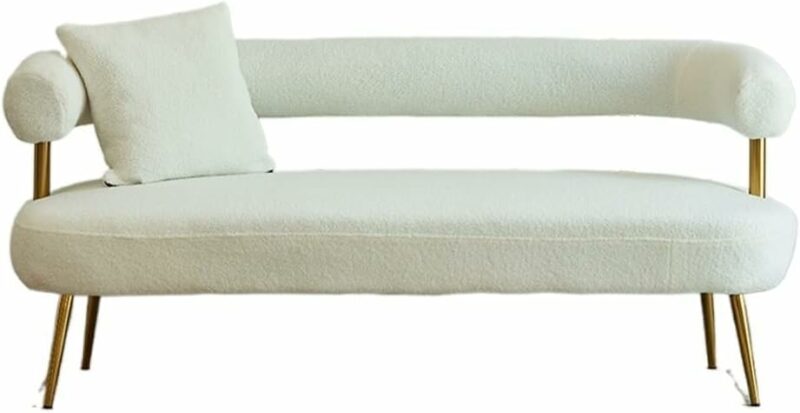 Looking for a sofa that's as stylish as it is cozy? Well, say hello to the curved sofa! With its gently curved backrest, this beauty brings a delightful touch of softness and elegance to any room. It's like having a warm embrace from your furniture! Whether you're hosting a fancy soiree or binge-watching your favorite show, this sofa is the perfect companion. So why settle for ordinary sofa types when you can have this curvy charmer that'll make your space shine?
This magnificent piece of furniture is like a time machine that transports you straight to the elegant Victorian era. With its intricate detailing and plush upholstery, it's a true feast for the eyes and a delight for your posterior. And let's not forget those carved wood accents, adding a touch of craftsmanship that would make even Michelangelo jealous. This is the epitome of sofa types, bringing style and sophistication to any living space.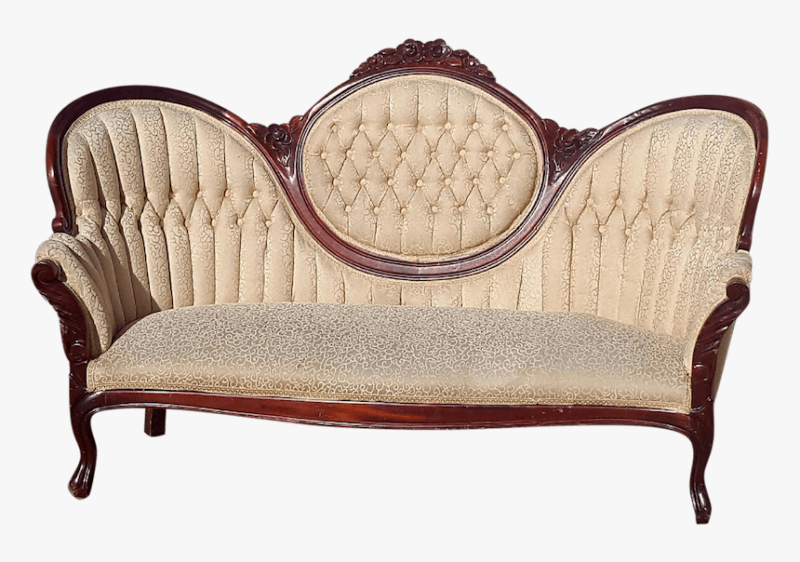 Conclusion
From the timeless charm of Chesterfields to the trendy sectionals, we've delved into the world of comfort and style. It's been quite the adventure, filled with fluff, cushions, and plenty of quality sitting time. But fear not, for our journey isn't quite over yet!
Armed with this newfound knowledge, you can confidently go out for sofa shopping. Whether you lean towards a tufted sofa or the versatile functionality of a sleeper sofa, rest assured that the perfect match awaits you. So go forth, and embrace the cozy bliss that comes with finding the sofa of your dreams.
Remember, life's too short for uncomfortable seating arrangements. Treat yourself to a sofa that reflects your personality and brings joy to your living space.
Frequently Asked Questions
How Do I Choose the Perfect Sofa Style and Type for My Space?
While choosing the perfect sofa style and type, it is important to take the space factor into consideration. If your space is on the smaller side, go for a sleek and slim design to maximize your legroom. For a larger space, opt for a statement piece that commands attention. And remember, the key is to find a sofa that speaks to your soul while also leaving room for that elusive thing called "walking."
How Can I Keep My Sofa Looking Fabulous for Years to Come?
First, give it some maintenance by fluffing those cushions regularly. Secondly, avoid placing your sofa under direct sunlight unless you want the fabric to fade. Lastly, treat spills and stains really fast to get rid of the spots! Blot them gently with a clean cloth and a mild cleaning solution. With these tips, your sofa will look fabulous!
Sierra Rivera, a passionate home decor enthusiast, runs the popular blog CozyCottageCute.com. Sierra shares decor tips, DIY projects, and personal insights. Off the blog, she's often at antique markets or redecorating corners of her own space.