21 Rustic Cottagecore Decor Ideas for a Charming Home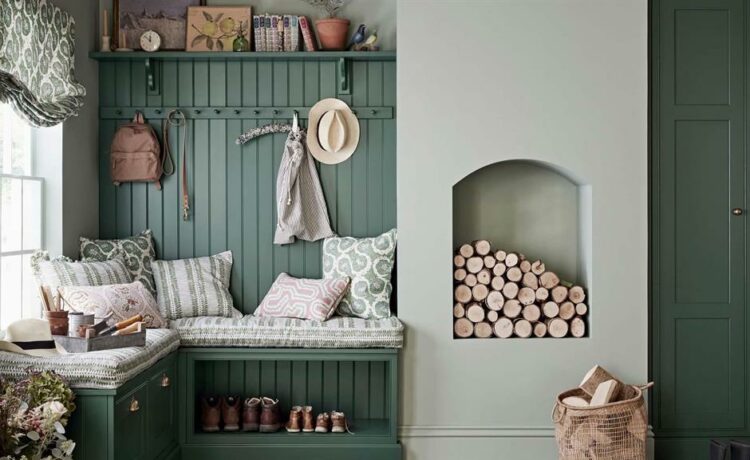 Do you want to fuse romanticism with rustic living when it comes to doing your home decor? If so, then cottagecore decor is the ultimate trend you should follow.
The cottagecore theme was made an internet sensation by millennials and Gen Z. The term "cottagecore" first came into existence in 2018 on Tumblr, even though the theme of decoration has been around for more than a decade. Currently, there are 7.2 billion views of cottagecore-themed videos on TikTok.
The European countryside living style inspires it. Cottagecore is also described as a movement to celebrate pastoral farm life and countryside living by some interior designers.
Cottagecore is also about promoting sustainable living and balancing it adequately with the right elements of personal aesthetic sense. It is about inviting nature indoors through the right color palette of neural or nature-inspiring colors and pastel shades to incorporate invigorating and vibrant aesthetics.
So, here is a blog that takes you through 21 cottagecore decor ideas for your home.
Key Elements of Cottagecore Decor
During the lockdowns, when people had time to slow down and start baking for themselves, it's then that people started connecting back to the roots. When you want to embrace a cottagecore theme, do remember to include the following:
Nostalgic Cottagecore Decor Tips for Your Home
1. Embrace English Countryside Decor Styles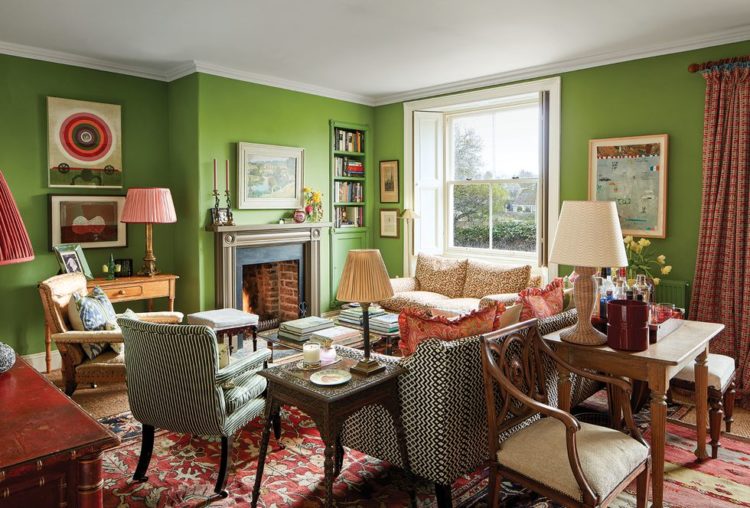 The main purpose or theme of cottagecore decor is to embrace the countryside living style and embrace decorations around it. It is about creating that romantic charm and adding a nostalgic touch to your rooms through specific decoration items.
So, hang a vintage mirror, roll out the old rugs, and place a vintage painting on the wall to make things look serene and lovely.
2. Decorate the Dining Area with Rustic Pieces
Use natural wood for creating shelving and cabinets to create ample storage space in the dining area. Place vintage utensil pieces on the open shelves, like bone china teapots and cups. Design the dining table and chairs with pure wood reflecting vintage designs.
Also, hang a chandelier and place some antique candle stands and holders on the open shelves.
3. Tall Fireplaces with Matching High Ceilings
One cannot miss recreating the cottagecore decor without tall ceilings and generous fireplaces. One of the show-stopping features in the olden days of English households used to be the tall fireplaces.
White wood paneled fireplace, wainscotting around the doorways, in-built storage units, rattan carpets, wood blinds, and more could be the perfect ensemble cottagecore decor features.
4. Install Bow Windows and Bay Windows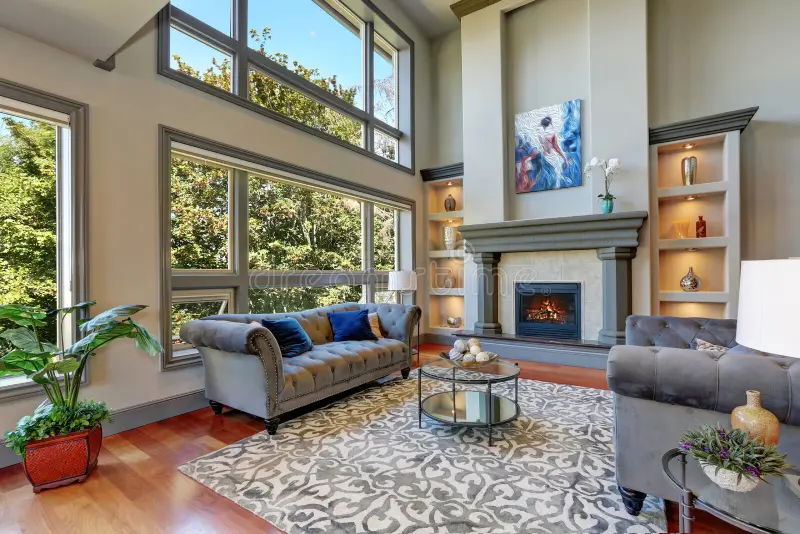 People still flock to countryside housing styles and crave countryside living because they want to breathe in clean air, drink fresh water, and feel the brightness around them.
That can't be achieved without installing a bow or bay window in your living space. Shiplap ceilings with tons of large windows allow natural light to flood the living space with natural light and save you from feeling homebound.
5. A White-Washed Bedroom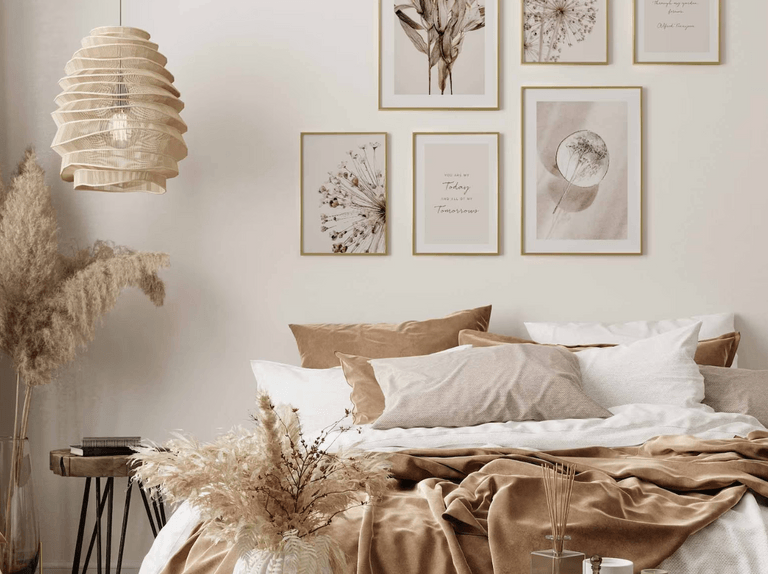 If you have a high-angled wood paneled ceiling, you can white-wash the rest of the walls and color the wood panels of the ceiling in vibrant colors.
To create the ideal mix of rustic cottagecore charm and dreamy romanticism, you can hang some cream satin curtains or shades, hang a dreamcatcher above the headboard, and have some ratan-like light features.
6. Don't Forget to Include Green Buddies
Cottagecore decor is incomplete without incorporating green members inside your home. Cottagecore is all about getting away from the hustle and bustle of modern life to reminiscence the simplicity of earlier times.
So, incorporating lots and lots of greens in houseplants will help create the right appeal for your home, be it your living room, porch, or bedroom. Consider planting orchids to bring in the right cottagecore ambiance indoors.
7. Play with the Right Colors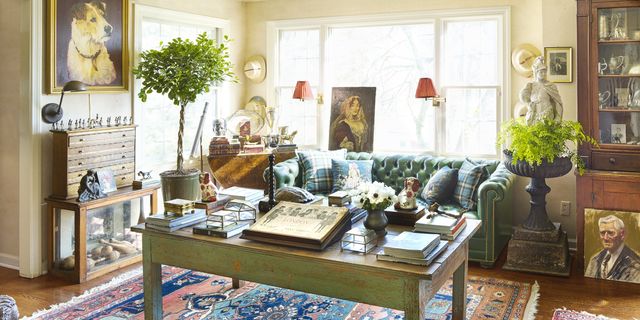 The cottagecore palette comprises the most vibrant colors, all capable of evoking nature's best attributes inside your rooms. The ideal colors of this color palette are sky, marigold, sage, white, teak, and amber.
Some neutral tones with deeper accents are also popular. You could also consider playing with dual tones, such as a cream-painted room with a sage accent wall and white ceiling.
8. Library in The Living Room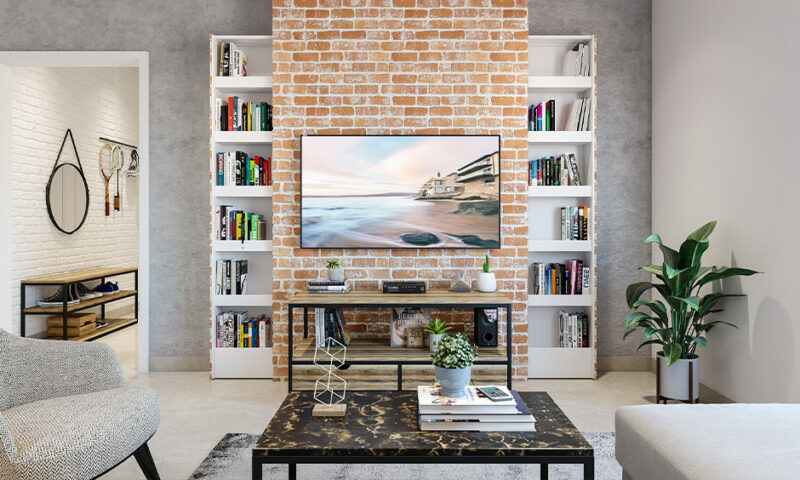 The cottagecore theme is incomplete without an impromptu library in your living space. You could either utilize a built-in wall to set up your library with your favorite classic novels, thrillers, books on mythology, fictional depictions, and classic romances or cream plywood shelves.
For the color scheme, stick to the sage, blue, or other tones of the cottagecore palette. Place some fabric armchairs, accent chairs, a rustic wood coffee table, and vintage carpets to blend in some comfort factor.
9. Combine Cottagecore Chic with Floral Designs
Incorporating vibrant floral accents and a floral carpet is enough to bring a sense of joy and harmony into your rooms. You could also include some comfy floral couches and utilize built-in shelving.
Besides this, consider planting orchids, guzmania, and other vibrant flowers in pots to add a natural touch to your rooms. Hang some floral curtains to add to the feel. You can also keep an oil diffuser in the corner and pour some essential oils like jasmine and lavender to further make your room smell like flowers.
10. Dreamy Cottagecore Decor for The Living Room
You can opt for white and blue color combinations when you want to combine modern aesthetics with cottagecore elegance. Rustic wood features with beamed wood ceilings and a grand fireplace can create the cottagecore charm.
You can balance this with the elegant blue and white paint all over the walls and over your furniture to add a touch of modern elegance. Alternatively, you can use neutral shades with blue-colored furniture.
If you want to make your living room cozy, further consider making vaulted ceilings with intricate wood paneling on every wall.
11. Greenify the Windowsill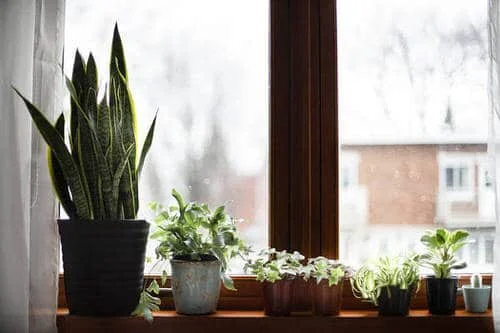 Greenery is one of the components of cottagecore, and it has several benefits apart from just making your home more visually appealing. Add some colorful pots with vibrant flowering plants on the windowsill and mesmerize yourself.
If you have broad windowsills, you should never leave them bland and empty. One of the best ways to decorate the windowsill is by greenifying it. Apart from adding plants, you can also place some soft toys, beautiful candles, and lovely faux vines on the windowsill.
12. Incorporate Textural Pieces
Adding various textures to your bedroom can be an excellent way to make it extra comfortable and outstanding. Adding some texture means incorporating furniture pieces, textiles, and other items to give an aesthetic touch to your room that can simultaneously provide some tactile variation to your room design.
Place a knitted blanket on the bed, toss some dried flowers on the bedside table, and hang a macrame plant holder above the headboard. Another way of adding texture to your rooms is to include dual-layer curtains and shades.
13. Dedicate a Wall to Your Best Memories
Converting a blank wall into a photo wall to relive and cherish your best memories is certainly the best thing you can do for yourself in keeping up with the cottagecore decor trend.
Display a collection of photos on the string DIY wall hanging frame. Add some string and fairy lights to brighten up the wall. You can also use some decals to make further the wall aesthetically pleasing.
14. Don't Forget Ample Lighting Options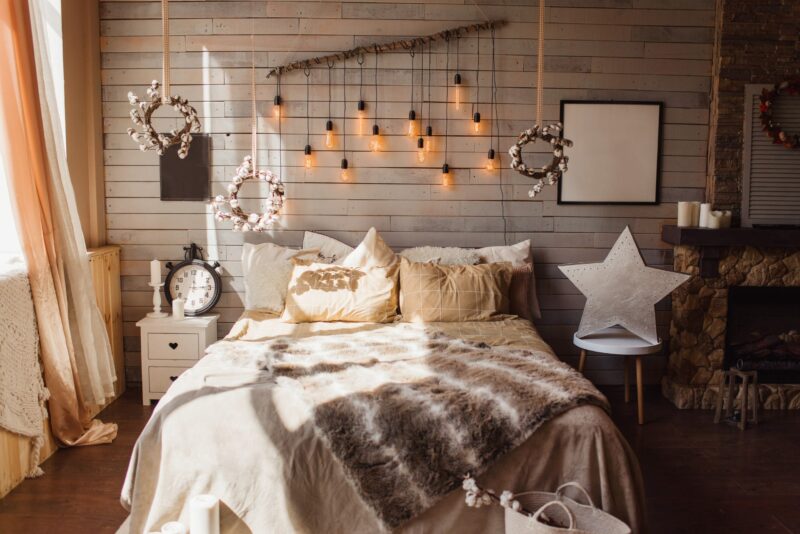 You need to decorate any space with the correct amount of lighting just to set the right mood and ambiance. Nothing can beat good lighting.
So, light up your rooms adequately according to your needs. Choose chandeliers, string lights, and floor lamps for the living room. Furthermore, go for panel lights and table lamps for the bedrooms. The key to good lighting is to leave no corner in darkness.
15. Add Some Cozy Touches
When decorating any room, and you must keep up with the cottagecore trend, remember to add those softening touches. But if you are wondering how here are some tips.
Place some soft cushions and pillows everywhere, from the couches and chairs to beds. Layer pillows on the bed, toss knitted rugs on the floor and add subtle and warm lighting options. Don't forget to add a vanity dresser and set up a vibrant bed.
16. Sustainability is Key to Cottagecore Decor
The best part of cottagecore decor is that it is eco-friendly and can be implemented in homes in a cost-effective way keeping sustainability in mind. As already mentioned, cottagecore is a mindset or a guiding principle towards sustainable living, so here are some ways to make your house sustainable.
Therefore, jute, rattan, bamboo, dried flowers, and fresh flowers are some of the core ingredients of cottagecore aesthetics. Using vintage homewares and handcrafted materials is ultimately sustainable for the planet.
17. Candles Go Hand in Hand with The Victorian Era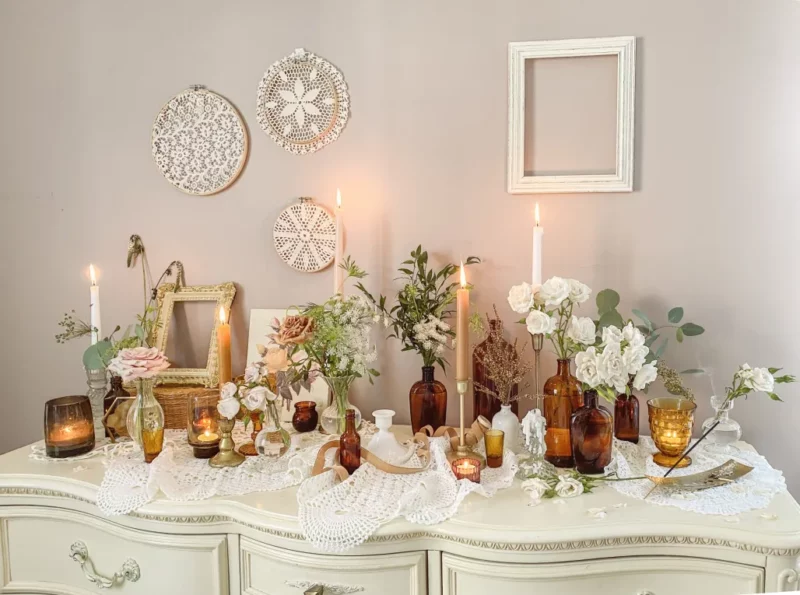 If the cottagecore trend on social media influences you, you cannot miss including candles everywhere in your home. You can either opt for aromatherapy candles or LED candles.
The candle market is widespread and offers a great range of products, from fumeless to aromatic candles. Toss a candle on the dresser, some on the shelves, and a few on the table. Once in a while, dim the lights and ignite the candles to have peace of mind and live nostalgic moments.
18. Add Wood Element
When you are doing a cottagecore theme, you cannot miss adding wood. Wood is a key ingredient in countryside living. In modern days, you have the liberty to mix different kinds of wood instead of sticking to one kind. Wood can offer character and depth to your room.
Pair some mid-century modern chairs with a rustic farm table. You can also pair a distressed dresser with a metal bed frame. You can try more variations, as the possibilities are endless.
19. Don't Ignore the Corners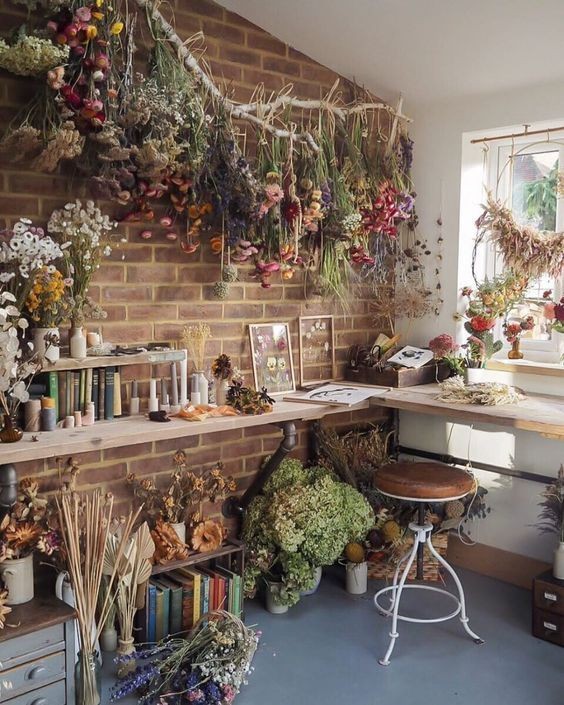 One common mistake we all end up making is ignoring the corners while decorating our homes. But if you want to decorate your rooms aesthetically, you mustn't ignore the corners.
Hang up some plants, fairy lights, or wall shelves, or simply put a floor lamp in the corner to transform the space from a dull, boring, dark, and ignored corner to a creative and bright corner.
20. Don't Skip the Natural Aroma
Natural scents and aromas inside your home can make you relate to nature more deeply, and that's the very idea of the cottagecore trend. So, get an electric oil dispenser today and stock up on aromatherapy oils like frankincense and lavender.
These can uplift the mood of the house you are staying in and help de-stress and calm you and your loved ones. Further, you can use some other oils like chamomile and peppermint oil to help you sleep better.
You can also place some fresh flowers in a vase to flood the room with the flower's natural aroma.
21. Add Some Inviting Countryside Touches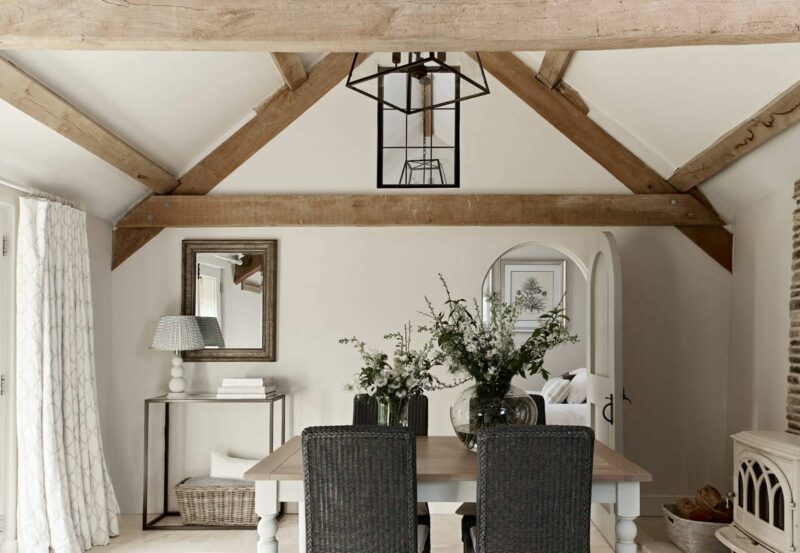 Countryside living was about living simply, stress-free, and always in the heart of nature. When you want to recreate the sense of rural aesthetics, don't forget to incorporate rustic wood ceilings, hardwood flooring, rustic side tables, jute carpeting, and white-washed walls.
Further, you can add an upholstered ottoman, sumptuous fabrics, rattan shades, and more to blend rustic and romantic together.
Some Cottagecore Decor Theme-Inspired Objects
Below are some suggestions that you can incorporate into your living space to resonate well with the cottagecore theme of interior decorations.
1. Vintage Wall Mirror
You can find this OIGUMR Shield Wall Mirror on Amazon, and it is all set to make your dressing-up routine more enjoyable. You can even recite the lines "Mirror, Mirror on the wall" and check if you get a response! But jokes aside, who wouldn't want to stare at a beautiful mirror each morning?
2. British Porcelain Tea Set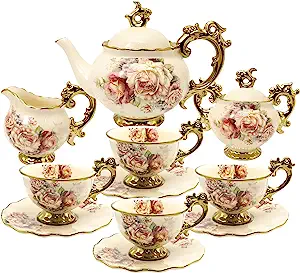 You can get your hands on this fancy Fanquare British Porcelain Floral Tea Set from Amazon and get nostalgic with this mnemonic piece. This is a wonderful tea set to have tea from during high tea with your friends and neighbors.
3. Macrame Wall Hanging Shelf for Plants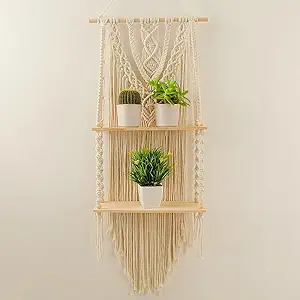 This Mong Macrame Wall Hanging Shelf is ideal for keeping floating plants. The macrame wall hanging shelf can be a wonderful addition to your room and perfectly vibe with your cottagecore decor and your nature-loving spree.
4. Vintage Floral Throw Pillow Cover Set
You can get this Vintage Foral Throw Pillow Covers Set from Amazon. This is the perfect farmhouse chic pillow cover or cushion cover. You can get it in three shades of pink: beige pink, white pink, and brown pink. There are also three size ranges available, and they are 16" x 16", 18" x 18", and 20" x 20".
5. Vintage Dried Flower Wall Decor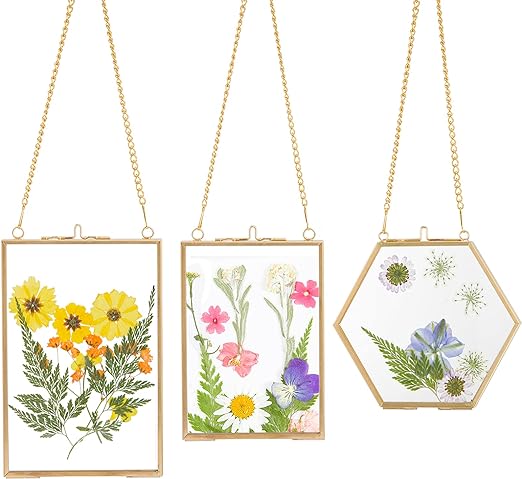 These Pressed Flowers Glass Frames are available on Amazon. These dried flowers will absolutely spread the cottagecore essence and would be a unique wall decor idea. They are available in rectangular and hexagonal floater frames.
Final Thoughts
In this technology-dominated era, finding some peace and solitude and establishing a connection with nature is difficult. Embracing cottagecore decor trends promotes inclusivity of nostalgia, nature, and romance with rustic charm into daily living.
Today's cottagecore trend is about recreating the beauty of olden days with the comfort of contemporary times. Rural living was simple but had hardships. So, when you are adopting such a theme, you need to eliminate the hardships by replacing them with the comfortability factor of modern life, yet retaining the simplicity and beauty of countryside living.
If you want to epitomize English countryside living, you can take ideas and tips from the above blog. Also, remember to combine your sense of aesthetics with the decor tips and ideas that you are taking inspiration from the above tutorial. Ultimately don't forget to balance naturalness and comfort with rustic elements of decoration.
Frequently Asked Questions
What is a Cottagecore Aesthetic?
Cottagecore is an aesthetic sense that aims to celebrate a simple pastoral living style. It is not just limited to household decoration but also aims to make living sustainable for our home planet. Activities like baking bread, gardening, sewing, and reducing screen time are included in this kind of lifestyle.
Is Cottagecore Still Trending?
Cottagecore decor has been part of European culture for centuries. However, it recently came back into the trend, thanks to social media, millennials, and Gen Z. The term "cottagecore" was coined in 2018 and was popularized on the social media platforms Tumblr, Instagram, and TikTok.
How Do I Make My Room Look More Cottagecore?
To adopt cottagecore aesthetics for your room, you need to incorporate natural elements like plants, rattan items, and stone decor. You can toss plush and cozy seating and resting elements everywhere. You can also hang macrame pieces and string lights in your room.
What is Dark Cottagecore Called?
Goth Cottagecore or Dark Cottagecore reflects a sense of strong focus on countryside life, vintage pieces, baking, and more. However, it resembles the darker aspects of nature, such as rotten mushrooms, forest cryptids, occult, thorn bushes, dark fairy tales, and other such elements.
Sierra Rivera, a passionate home decor enthusiast, runs the popular blog CozyCottageCute.com. Sierra shares decor tips, DIY projects, and personal insights. Off the blog, she's often at antique markets or redecorating corners of her own space.