15 Innovative and Stylish Alternatives to Closet Doors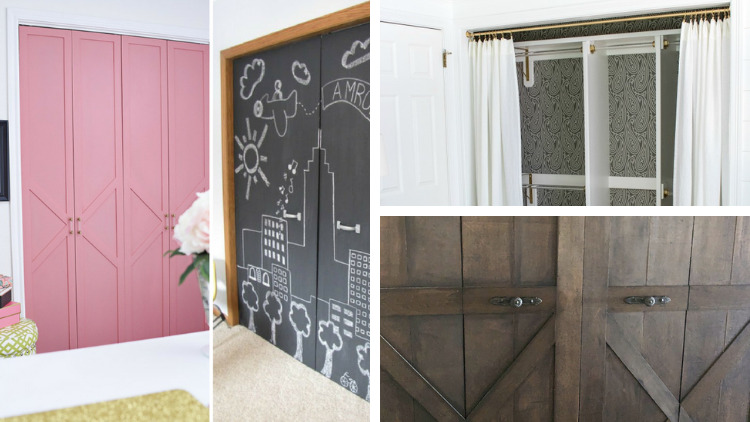 Your closet is a significant part of your room and probably the most ignored space. Doesn't the place that keeps your personal belongings taken care of? Talking of closet doors, the first thing that strikes our mind is the sliding door. What if we say there are a lot of mind-blowing closet door alternatives that will amp enhance the room's view?
Go ahead and unveil the endless alternatives of closet doors and bid bye to conventional and mundane closet doors, and get ready to leave your guests awe-struck with your outstanding closet.
It is high time you break out the time-worn closet doors and replace them with a sleek and chic closet door. Your search ends here.
Unique and Creative Alternatives to Closet Doors
1. Repurposed Vintage Shutters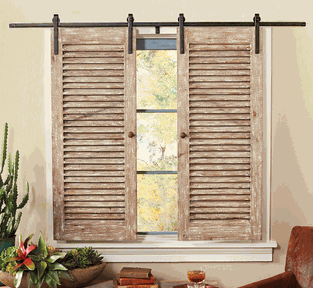 Repurposed vintage shutters are a one-of-a-kind closet design that brings nostalgia and character to the living space. They are a unique and better alternative to conventional closet doors.
They introduce an element of visual interest and texture to the closet. The weathered wood, complex designs, and rustic look seize attention. They resonate with your personality. Unlike other nondescript doors, repurposed vintage shutters can be an artful statement and reflect your style. They offer easy access and can be used to showcase your unique finds.
With plenty of color schemes available, you can choose one for your closet. You can choose a color scheme that blends with the room, or you can choose a stark contrast color to make your closet stand out. Repurposed vintage shutters come with hinges, saving space, unlike conventional sliding doors.
2. Geometric Sliding Panels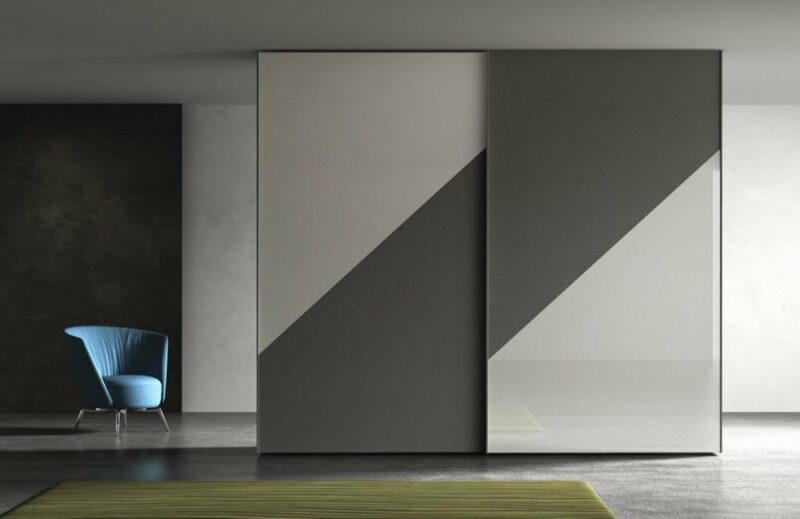 Geometric slide panels are the revolutionized sliding panels. They offer unique features that ease usage by providing a sleek, modern, and visually striking alternative. The features enhance usage and serve as the best alternative to traditional doors.
One of the key benefits is their space-saving nature. Unlike traditional closet doors, they work on a smooth sliding mechanism that simplifies usage. The feature allows you to utilize every inch of your room.
Furthermore, they come in various geometric and precision-cut designs, enhancing the room's view. They are the perfect pick to create a striking look and a focal point. The cherry on top is that they come in various materials like wood, glass, or metal, allowing you to choose the best for your room.
3. Chalkboard Doors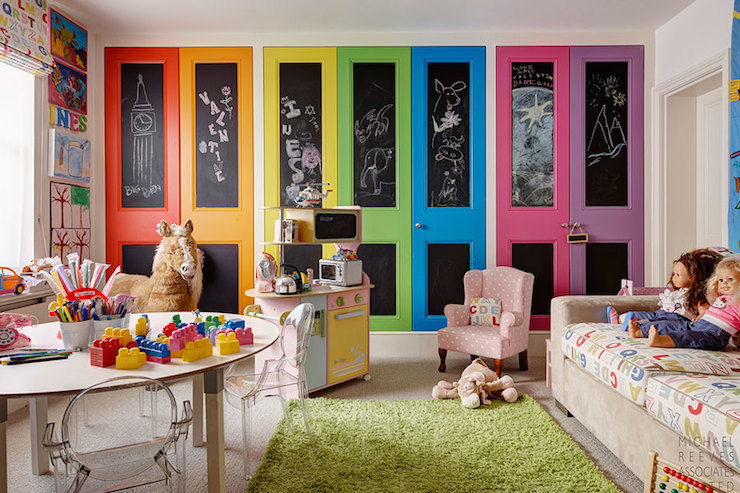 Chalkboard doors are a delightful and elegant pick for your living space. It infuses creativity and a personalized touch into the room. One of the perks of having a chalkboard closet door is that it can forever be used as a canvas for self-expression. With them, you can start your day with a motivational quote, you can use them as a to-do list, or you can do doodle art or write anything to your heart's content.
They offer a unique opportunity for customization. You have the liberty to choose whatever color, design, and pattern seamlessly fits your living space. They usually come in dark-colored paints, but you can use any color of your choice.
Talking about practicality, they are easy to clean with a wet cloth, which ensures a tidy living space while still offering the opportunity for endless creativity.
4. Mirrored Doors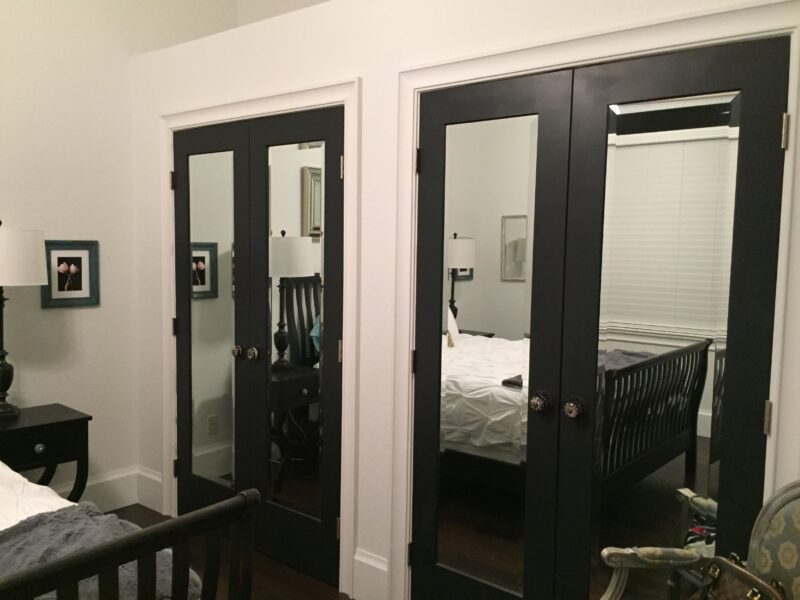 These sleek and reflective additions not only enhance the usage but also bring an elegant and chic look to your room. One of the best features of mirrored doors is their ability to create a sense of openness and spaciousness in the room. By bouncing and reflecting, mirrors give the illusion of ample space.
The best thing about the mirrored closet door is it eliminates the need for a separate dressing mirror, saving space and money. This will save you time and effort for sure and help you take a glance at yourself before you step out. The reflective surface adds a touch of elegance and sophistication to the room and increases the overall aesthetics of the room.
Mirrors are a timeless choice for a closet door. They can easily blend in on any surface. The mirrors can be tailored to fit your personality and likings to create a seamless living space.
5. Bookcase Doors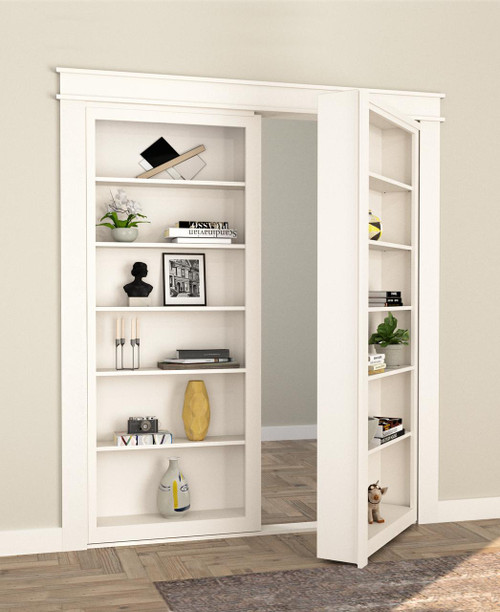 Bookcase doors serve as multipurpose by blending design with secret storage. The setting not only adds sophistication but also saves space and adds mystery to the living space. Bookcase doors are designed to introduce comfort and save space in the room. On the outside, they appear to be a bookshelf, and on the inside, it serves as secret storage.
They create a focal point and easily spark conversation with guests. Other than books, the bookcase can be used to feature your unique finds, treasures, and valuable possessions.
They come in unique and sleek designs. Whether you seek a chic design, a minimalistic, or an aesthetic design, there is one for everyone.
6. Barn Door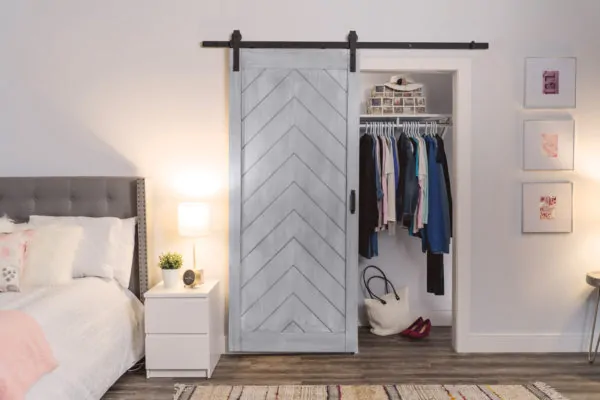 Barn doors offer a unique, rustic, and stylish look to your closet. Apart from the looks it features, they offer many advantages to your living space. One of the key features is their unique design and visual impact. Inspired by traditional doors, they offer a combination of natural wood and distinctive hardware, and the sliding mechanism adds a rustic yet modern touch to any room.
The rich texture and color schemes used create a warm and inviting atmosphere. Barn chic instantly grabs attention and can be a great conversation starter.
Moreover, they come in different designs and colors from which you can choose the one that best suits your personality. The sliding mechanism helps you handle things hassle-free.
7. Stained Glass Elegance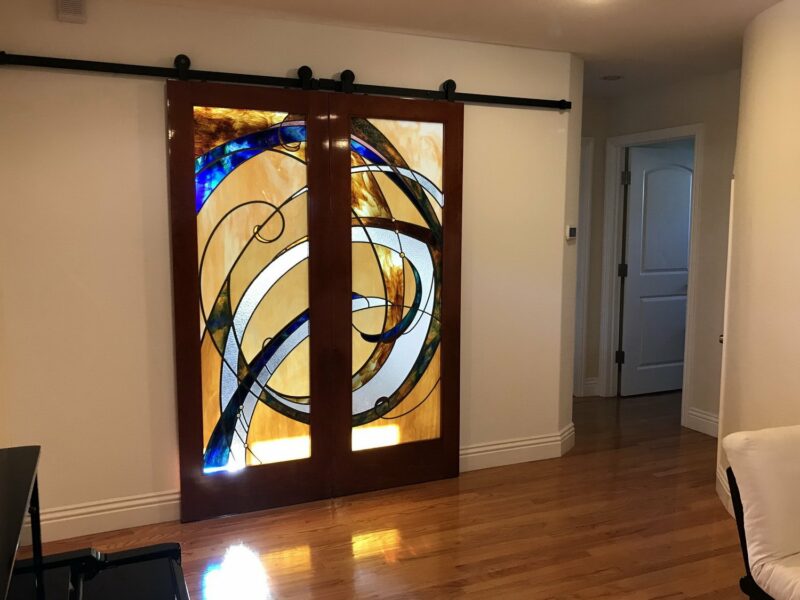 Stained glass elegance offers a captivating and luxurious that can replace traditional closet doors by adding a touch of beauty, sophistication, and artistic brilliance. The design not only enhances the outlook of the room but also has several advantages.
One of the best features is the mesmerizing play of colors and patterns. The intricate designs and complex hues of stained glass add a sense of elegance to any room. The interplay of vibrant hues captures your guests' attention and transforms your closet into a piece of art.
In terms of privacy, stained glass provides a touch of sophistication while at the same time maintaining privacy. If you are an artist, stained glass can be a great pick to flex your artistic interest.
8. Laser-Cut Patterns
Laser-cut patterned closet doors offer a striking and appealing alternative that can replace conventional closet doors by infusing the living space with a touch of elegance and sophistication.
Laser-cut patterned closet doors are the best way to flex your artistic intelligence. Being unique, they can easily create a focal point and capture attention.
Moreover, laser-cut patterned closet doors can be tailored to suit any personality. They are available in various designs, patterns, and materials. Whether you are a minimalist or someone who seeks a grand design, or an ornate one, there's one for everyone.
In terms of functionality, laser-cut patterned closet doors allow you to decorate your room and, at the same time, provide ventilation. The laser-cut in the doors allows air and light to pass through and eliminates musty odors or any humidity building up in the closet.
9. Bamboo Curtains
Bamboo curtains are an eco-friendly alternative to your traditional closer door. The natural alternative comes in versatile designs and patterns. They provide an organic yet sleek look to your room. Eco-friendly additions not only enhance the aesthetic appeal of the room but also provide practical benefits.
One of the key features of bamboo curtains is their ability to create a calm and serene atmosphere. The warm colors create a natural atmosphere. The interwoven bamboo salts allow air and light to pass through, thus creating a soft, calm, and inviting environment.
Unlike traditional closet doors, they are easy to use, take up a small space, and can be easily fixed and discarded whenever needed. Choosing bamboo curtains is the best thing you can do for the world by reducing carbon imprints.
10. Artistic Tapestries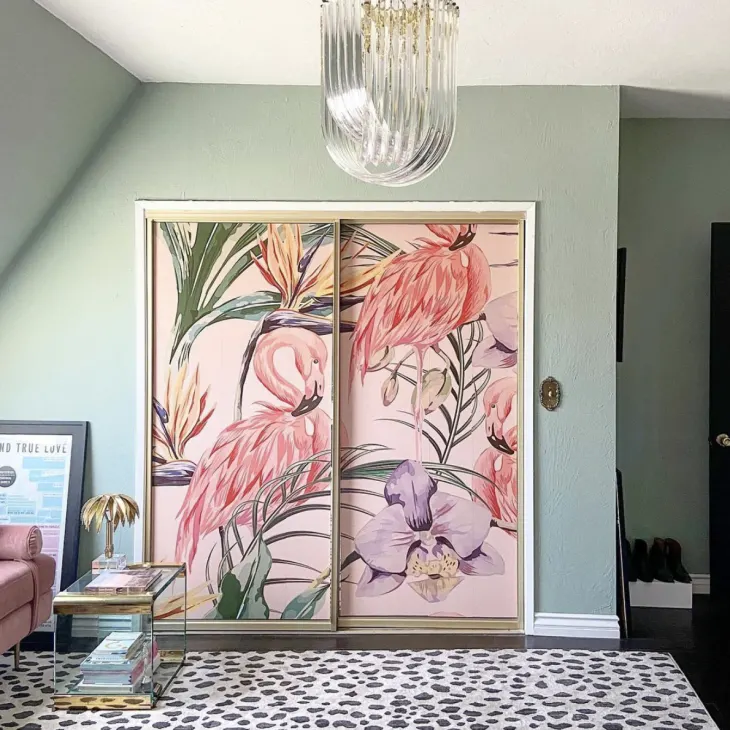 Artistic tapestries offer an unconventional alternative that can replace conventional closet doors. They provide a unique outlook to the room by transforming the living space into a gallery of self-expression.
These unique alternatives not only provide an aesthetic look but also offer some practical advantages. One of the advantages is the artistic finish the tapestries feature. Large tapestries can create a focal point and demand attention.
Tapestries with vibrant colors and intricate designs can create a visual effect and add depth to a living space and elevate the overall ambiance. Talking about functionality, tapestries feature multiple designs and partially cover the closet. These unique alternatives add a touch of creativity and are the best way to flex your artistic interest.
11. Vintage Fabric Panels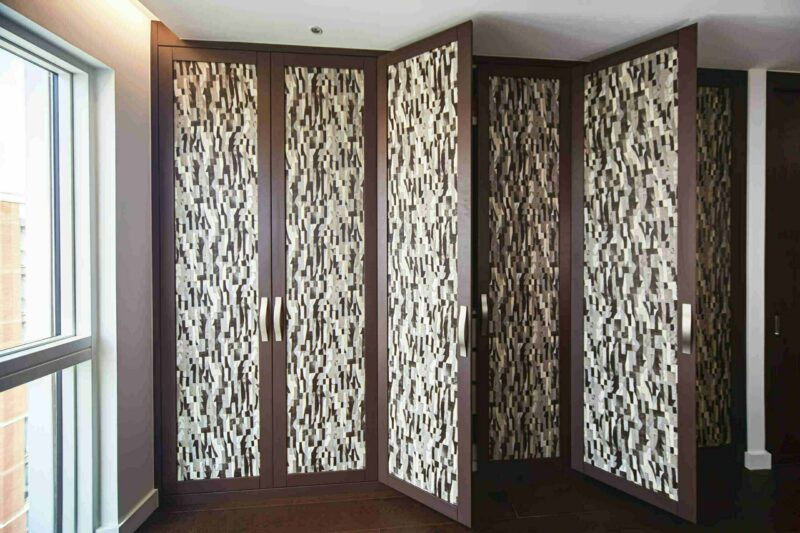 Vintage fabric panels offer a charming and nostalgic alternative to conventional closet doors by infusing artistry, history, and aesthetics into the space. These timeless alternatives maintain the sleekness of the living space while at the same time providing many practical advantages.
The vintage fabric panels add a romantic vibe to your room and transport you to a bygone era, enveloping the living space with an artistic ambiance. The fabrics feature versatility in terms of design and sophistication. Whether you seek a muted design or vibrant hues, they can be tailored to suit your unique preferences.
Coming to functionality, they can be easily installed as curtain rods, featuring a soft and flowing partition that conceals your closet.
12. Stencil Masterpieces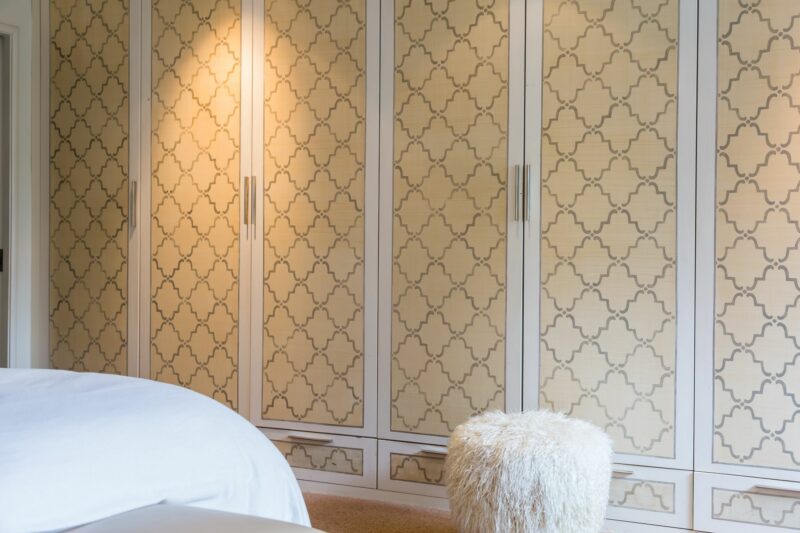 Stencil masterpieces feature versatility in terms of design and customization. You can choose one that resonates with your preferences from the endless array of stencils available. These alternatives can transform your closet into a piece of art by adding depth and visual interest.
Moreover, stencils can be designed to resonate with your room and its articles. Once it blends with the room, they create an artistic outlook and infuses harmony in the room. Stencils are easy to install, durable, easy to clean, and handle.
By replacing the traditional closet doors, you introduce artistry and aesthetics into your room. Stencils are the best way to showcase your artistic flair and convey a bold statement.
13. Nature-Inspired Wood Carvings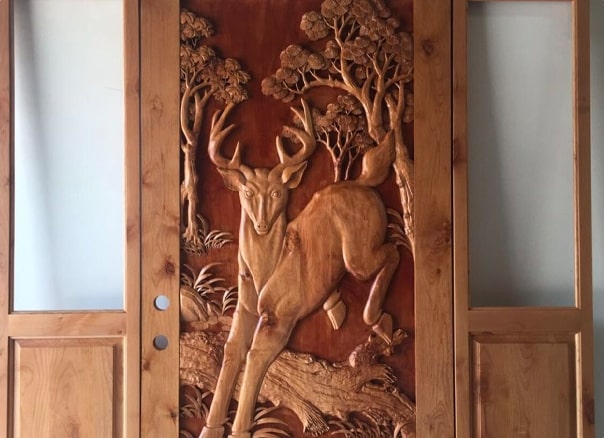 Nature-inspired wood carvings offer a serene environment by establishing a connection with the outdoors. Those intricate carvings of trees, leaves, flowers, or wildlife establish a connection with nature and beings in the wild.
They can act as a striking focal point and make a bold statement. Unlike other temporary designs, wood carvings stand the test of time. Wood carvings stand for longevity and strength and are a timeless option.
Moreover, the wood carvings create a sense of warmth and coziness in the room. The carvings bring a rustic charm and a welcoming ambiance to the room.
14. Industrial Metal Grills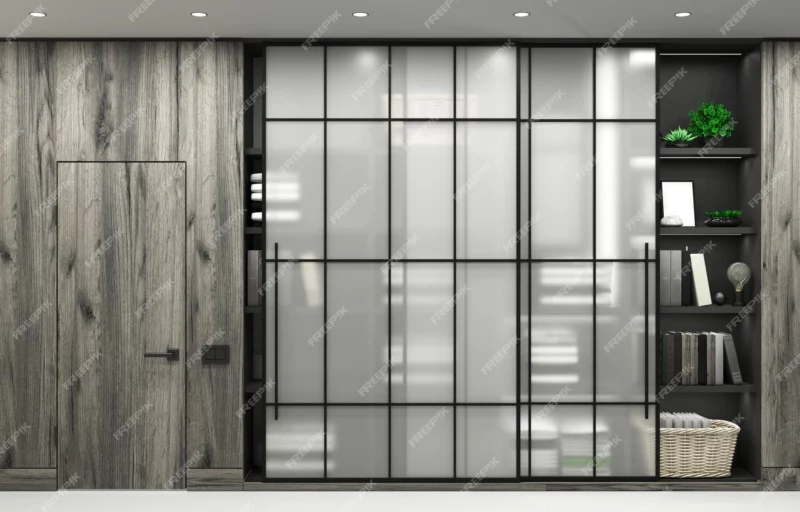 Industrial metal grills create a sense of openness and coziness in the room. The design allows air to pass through, creating ventilation and eliminating humidity and musty odors in the closet. They are known for their urban sophistication and edginess.
The clean lines and metallic texture of the grill exude a sense of boldness and durability by elevating the overall ambiance of the living space. The grills can be tailored to suit your personality, be it a simple, straightforward design or an intricate geometric design.
15. Colorful Macrame Panels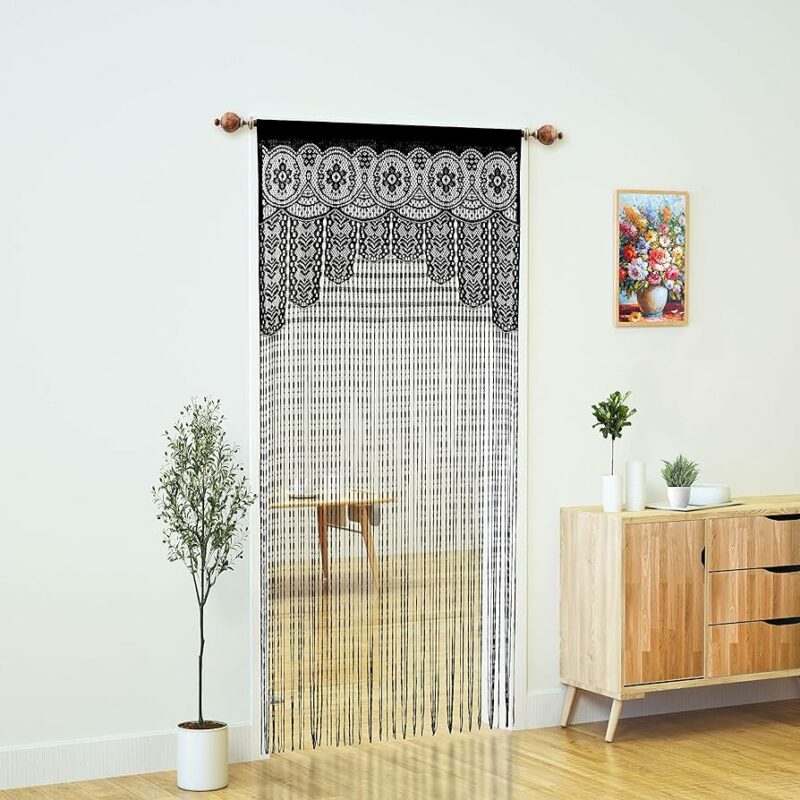 Colorful macrame panels are the simplistic yet cozy alternative to your traditional closet door. The intricate knots and patterns add depth to the room and offer an aesthetic outlook to the space.
The vibrant colors and knots transform your closet door into an eye-catching focal point. Besides beauty, they provide some practical advantages to the living space by partially covering the closet and letting the air and light pass by, and being affordable.
The soft and textured macrame adds a cozy and inviting feel, creating a warm and welcoming atmosphere.
Final Thoughts
Replacing traditional doors with unique alternatives can transform your living space into a personalized and visually pleasing environment. From repurposed vintage shutters to geometric sliding panels, there are endless options available. Chalkboard offers functionality and an artistic twist allowing notes and doodles.
Mirrored doors add a touch of elegance and sophistication. Bookcase closet doors offer secret storage space. Barn chic doors bring a rustic and trendy vibe to the room. Stained glass elegance adds sophistication and colorful beauty. Laser-cut patterns feature eye-catching designs. Artistic tapestries bring uniqueness to the room. Wood carvings create a bold statement and draw attention.
Bamboo-designed doors create an eco-friendly storage option. Colorful macrame panels infuse texture and creativity. By embracing an unconventional closet door design, you can showcase your individuality, enhance the aesthetic appeal of your room, and create a truly personalized living space.
Sierra Rivera, a passionate home decor enthusiast, runs the popular blog CozyCottageCute.com. Sierra shares decor tips, DIY projects, and personal insights. Off the blog, she's often at antique markets or redecorating corners of her own space.