21 Gorgeous Wallpaper For Your Powder Room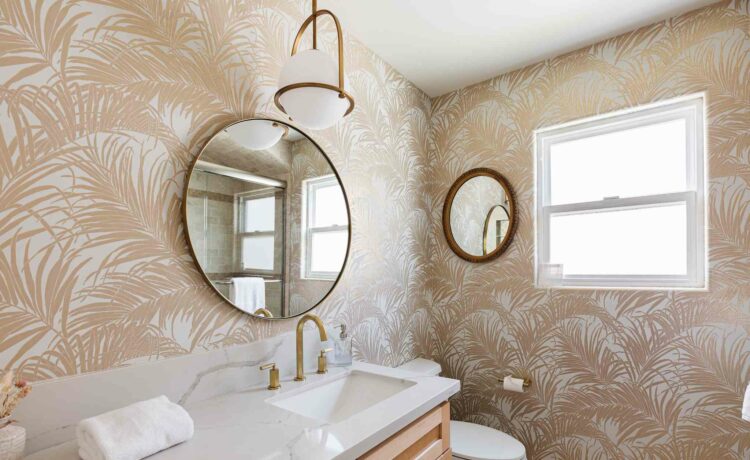 Did you know that the space in the house, commonly referred to as the washroom, bathroom, or toilet, used to be called a powder room? Now you might wonder what correlation the bathroom has with powder. Or why is it not called what it actually is?
Well, as we go back centuries, women were considered shy, soft, sophisticated beings, and it was "improper" for them to mention their bodily functions. This was also the place where women would touch up their makeup and fix their hair. And that is how the term "powder room" became popular. Earlier, these separate rooms were only used by the women.
If you have been looking for ideas to deck up these rooms, you might want to consider the use of wallpaper for powder rooms in your home, as they do not run into the risk of getting spoilt by water or moisture.
Aesthetic Wallpaper Ideas for Your Powder Room
1. Choose Green
When we say "choose green," we do not necessarily mean that you buy green color wallpaper. All we mean is that you bring nature home. Display a variety of wildlife and pair them up with the beauty of nature. You can add a mirror with a different-colored border to help it stand out. Whether you prefer a subtle, monochromatic vibe or the boldness and vibrance from all things tropical – you might want to consider this kind of wallpaper. It truly adds life and character to your powder room. Choose from a wide range of modern, vintage, or minimal styles available in the market. If you are creative, you can even create these yourself.
2. Eclectic Details
Our experts believe that you are unique, and so should every corner of your house. If you are all in for celebrating your own personality through your home decor, you must try a gorgeous eclectic wallpaper for your powder room. The shiny gold accents perfectly complement the bright walls. You can even choose a background that has a specific area of focus. Try geometric shapes, bold motifs, combinations of textures, and so much more. Let your imagination run wild, and try a combination of eclectic designs before you choose what's best for you.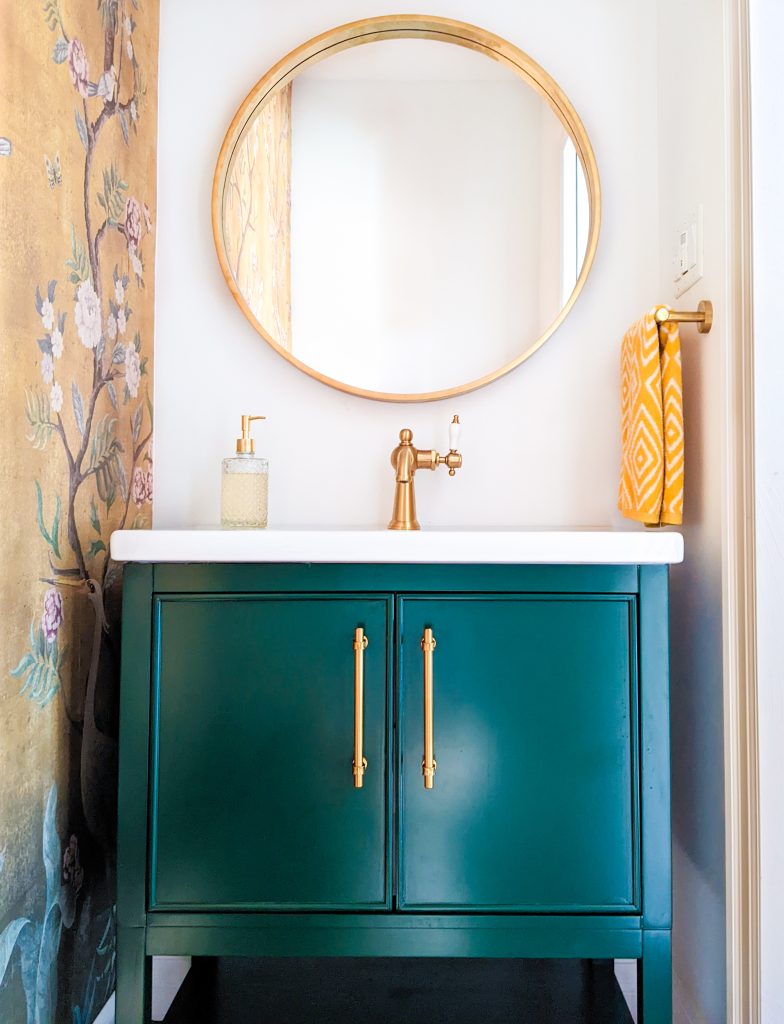 3. The Rustic Charm
Since the concept of a powder room dates back many centuries ago, it is only fair that this corner of the home is studded with rustic charm. A floral wallpaper, a rustic, contemporary-style mirror, and shiny gold accents – complete your vintage vibe with all that you need. This concept works wonders for homes that, anyway, have a vintage appeal. Wooden floorboards and walls, the doors and windows that appear to have been around for decades, and lighting to complete the look – try this style out today.
Who said the wallpaper for powder rooms could only be serious or have to be synced with the rest of the house? It's time to rebel. Neon is in, and they are considered the epitome of being artsy. Use a wallpaper that is bold, vibrant, and neon in nature. Creating a disc-like atmosphere is not just about the lights you put in. It is also about the way the elements are put and the amount of space you have left overall. This is perfect for a guest-powder room. Your guests will come seeking privacy and leave with a heap of photos to put up on Instagram. So do not forget to add the mirror for that perfect selfie.
5. The Brazilian Quartzite
While our experts agree that marbles have their own charm, it is not enough when it comes to thematic powder rooms. These rooms carry a lot of aesthetic appeal, and they are designed to enhance the beauty of your space. Try a wallpaper that depicts a Brazilian Quartzite. Since there are a lot of variations available in the market when it comes to these kinds of designs, our experts ask you to do your research before making the final purchase. Choose the one that is unique and holds aesthetic value.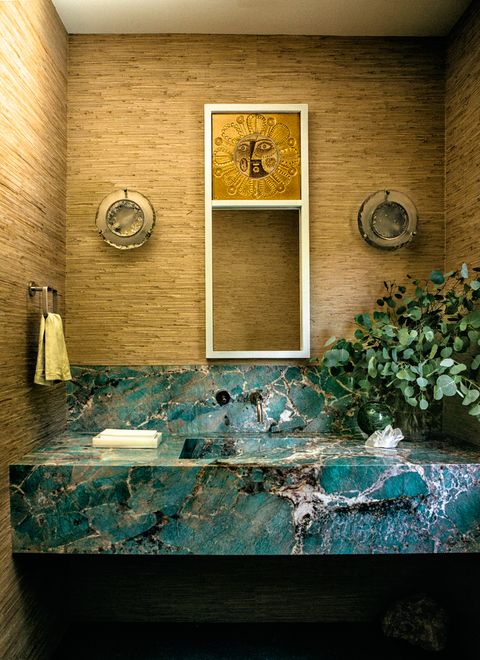 6. Create a Contrast
Creating contrast is the most popular to bring the focus to one area, and this is also true when you are using wallpaper for powder rooms. If you are building a new home, it is easier to rethink and create the impact you want. But if you are redecorating an already existing space, you might have to think harder. If you have a dark-colored ceiling, you might consider the use of golden-based wallpapers for your walls. Similarly, if your walls are light in color, you might want to try and consider a blue-based or black-colored wallpaper.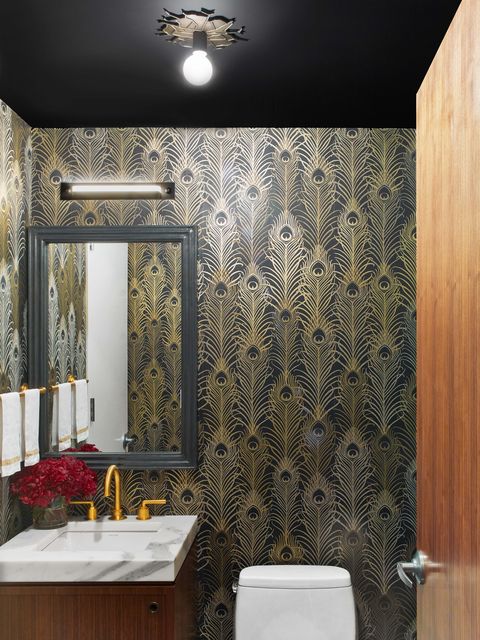 7. Bright and Tropical
It's the colors we use and the materials we incorporate that determine the vibe of a place. Our experts say that if you want to create a tropical climate in your powder room, you might consider using wallpaper with white, blue, and sea-green colors. Having beachy trees is a plus. Adding a decorative mirror will only take the entire ambiance a level higher. If you are someone who is in love with the beaches, you might want to consider getting this. Additionally, you can also use tropical colors for other elements of the powder room.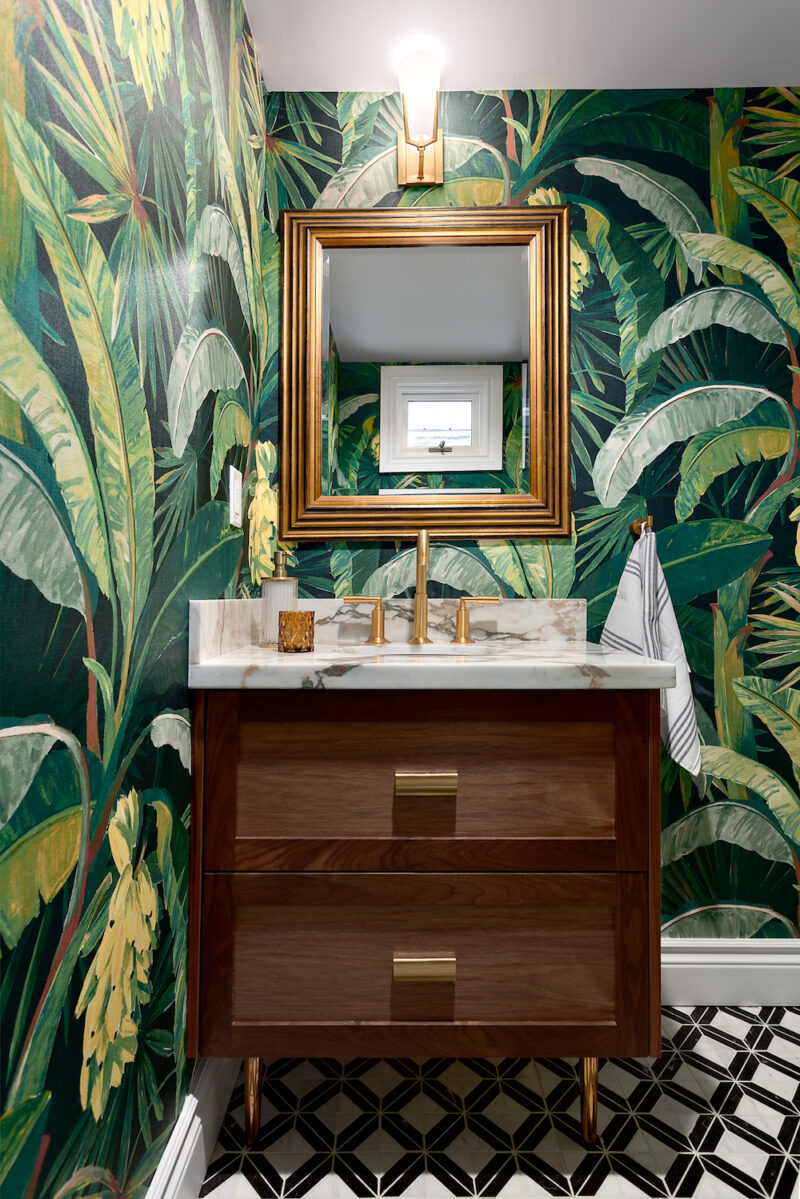 8. Mix and Match
A consistent and well-thought mix and match of colors, patterns, and textures can go a long way in creating uniqueness with wallpaper for powder rooms. These rooms aren't very large in size, and that is why it is important to think of accentuating elements that blend perfectly well with the wallpaper. Mixing and matching is different than creating a contrast. Try using different patterns around the mirror area to give it a classic, whimsical look. You can also try using a bold-colored wallpaper with a patterned sink.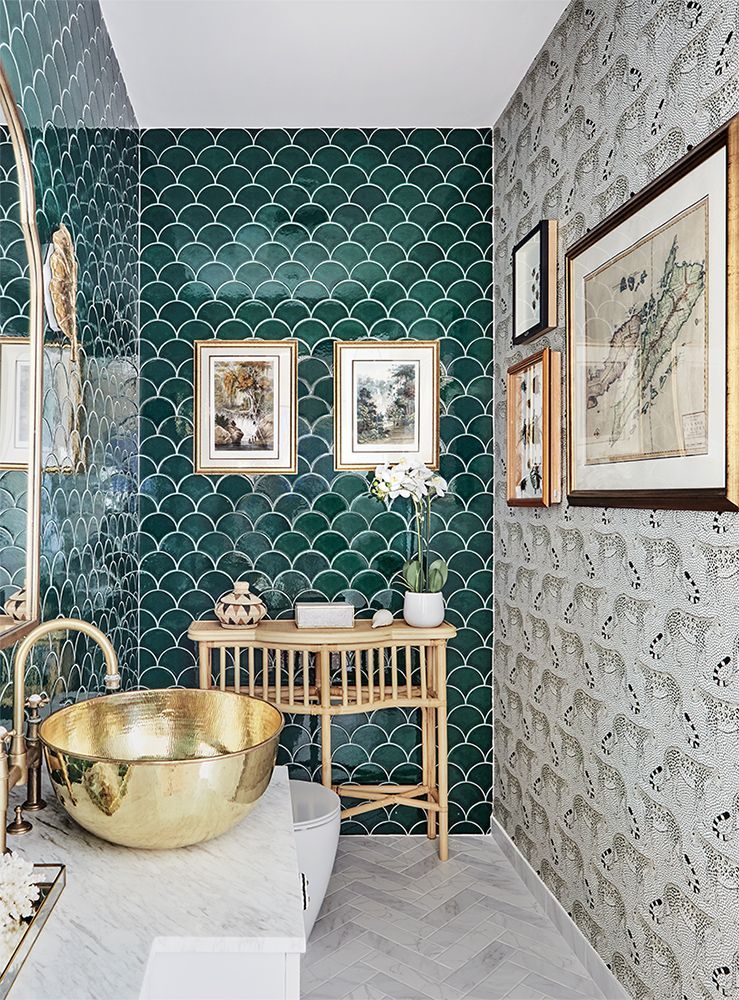 9. Retro Style
Again, this is one of those styles that can't be achieved with only retro wallpaper. It is about the ambiance you create. This includes the floor style, the tiles and marbles used, and the kind of materials you use for your sink and other fixtures. Try a playful, wall-covering style of wallpaper to get the retro look you have been thinking about. This wallpaper for powder rooms is easily available, and all you have to do is strike the right balance between overdoing and underdoing the place. This is the risk you run high with when trying the retro style.
10. Step into the Jungle
This is very different from the botanical style of wallpaper we explored earlier. If you want to create a jungle atmosphere, try using a covered wallpaper that showcases a wide variety of animals. There are wallpapers that even have graphic movement of these animals. While these might seem childish to some, our experts assure you that incorporating this style of design is one of the best ways to take a quick break while you step into the jungle. You can mentally travel to your favorite destination. Sounds lucrative, doesn't it? Try this style today.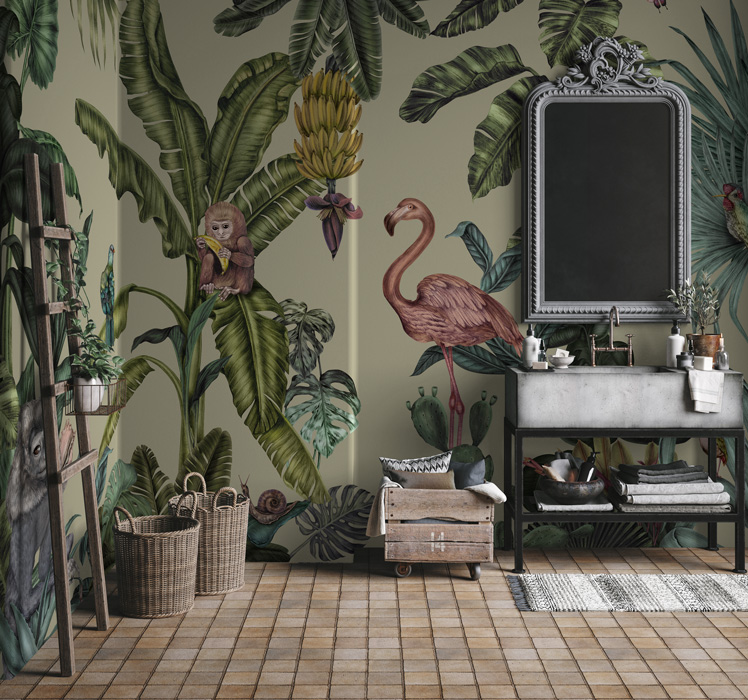 11. Color Splash
What is life without some colors in it? While many interior designers are strong protestors of using too much color, we believe you should go for it if you love colors. If you have dull-colored walls, using vibrant, colorful wallpaper for your powder room is a great idea. They pump up the space, add much-needed brightness, and you will notice a lift of mood when you walk into this space. The colorful wallpapers come in a variety of styles and designs, and you should go crazy by choosing the one that perfectly suits your personality.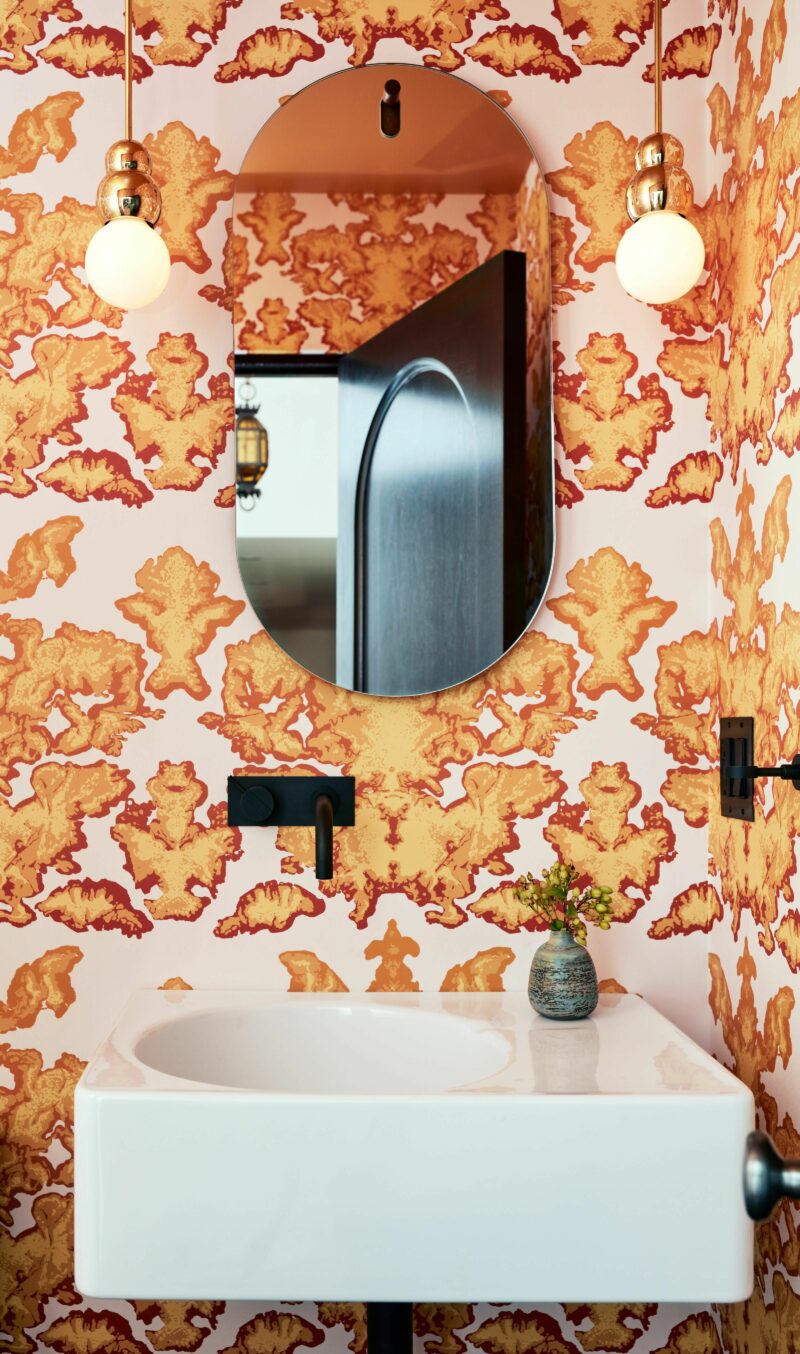 12. Prominent Details
We know how much time you spend meticulously creating each and every corner of your home. And for those perfectionists, it is the tiny details that matter the most. For all those people, our experts suggest using wallpaper with intricate details that not only accentuate the wallpaper but the entire area where it is placed. Such kind of wallpapers usually have a distinct pattern that creates an airy, whimsical ambiance. Try these sophisticated accents for your powder rooms today.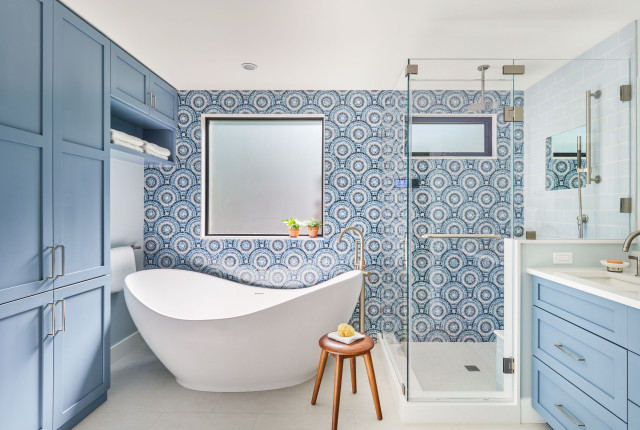 13. The Floral Fun
Who doesn't love flowers or the aura the floral wallpapers create? You can choose a wallpaper for your powder room that has a combination of colors and makes the space breathable. Try light-colored wallpapers if you are going with this theme, and look at the wonder they create for your space. You can also use a decorative mirror and a lighting fixture that brightens the floral patterns. Additionally, you can add a few pots of flowering trees to complete the overall look.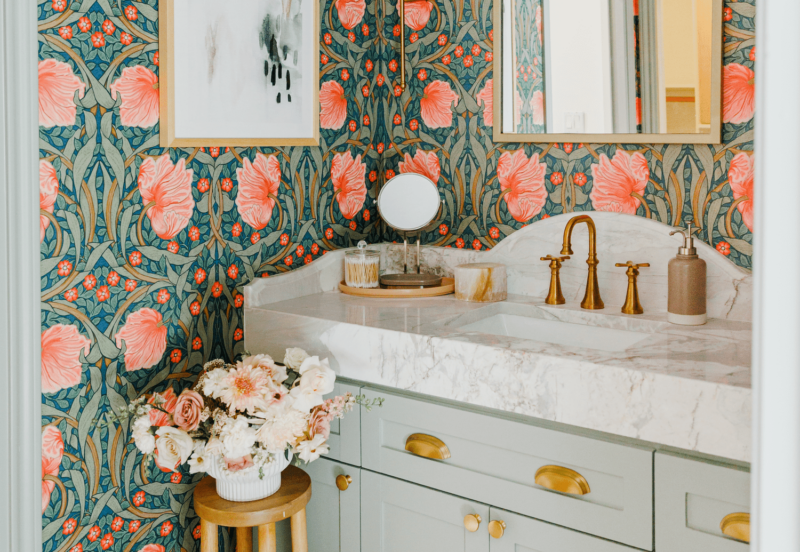 14. The Waves
No matter if you are a beach person or a mountain person, everyone loves it when they get the vibe of the waves hitting the shores every time they walk into this space. And this wallpaper, that is exactly the ambiance that we want for you. Many people use these powder rooms as a space where they can relax and catch a breath quickly, and we are certain that if the waves are something you walk into, there's no way stress can win over you. Create a whimsical, cool, and calming effect in your powder room with these gorgeous wave wallpaper.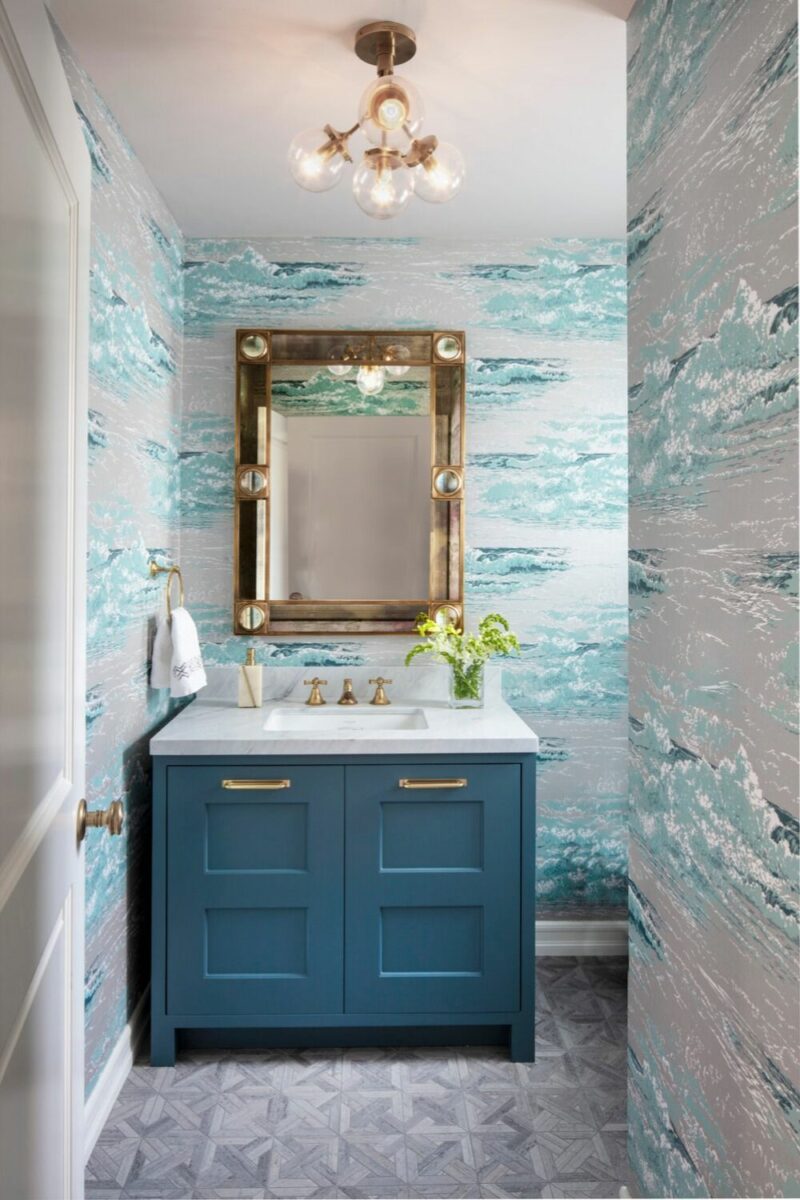 15. Create Playfulness
This kind of wallpaper is meant to create a flowy, playful ambiance that soothes you. There are different kinds of wallpaper for powder rooms that you can choose from if you want to create a playful aura. Some examples include fish, birds, water, and air. They usually come in lighter tones, but you can be experimental. However, our experts suggest avoiding dark-colored wallpapers if you want to create playfulness. Dark tones take away innocence, which is exactly what you need. Try using complementary-colored stuff around the space to keep the area peaceful.
16. Cover with Darkness
Who said that the powder room area always has to be nice and flowy? They do not. Our experts believe that it is your personality that should reflect in every corner of your home. And that is why, if you are someone who loves dark colors, set the mood in this space just like that as well. When choosing dark-colored wallpapers, make sure that your floors aren't too light in color. That way, you won't get the right kind of dark mood that you are looking for. Don't forget to add a mirror that creates all the difference in this dark-themed area.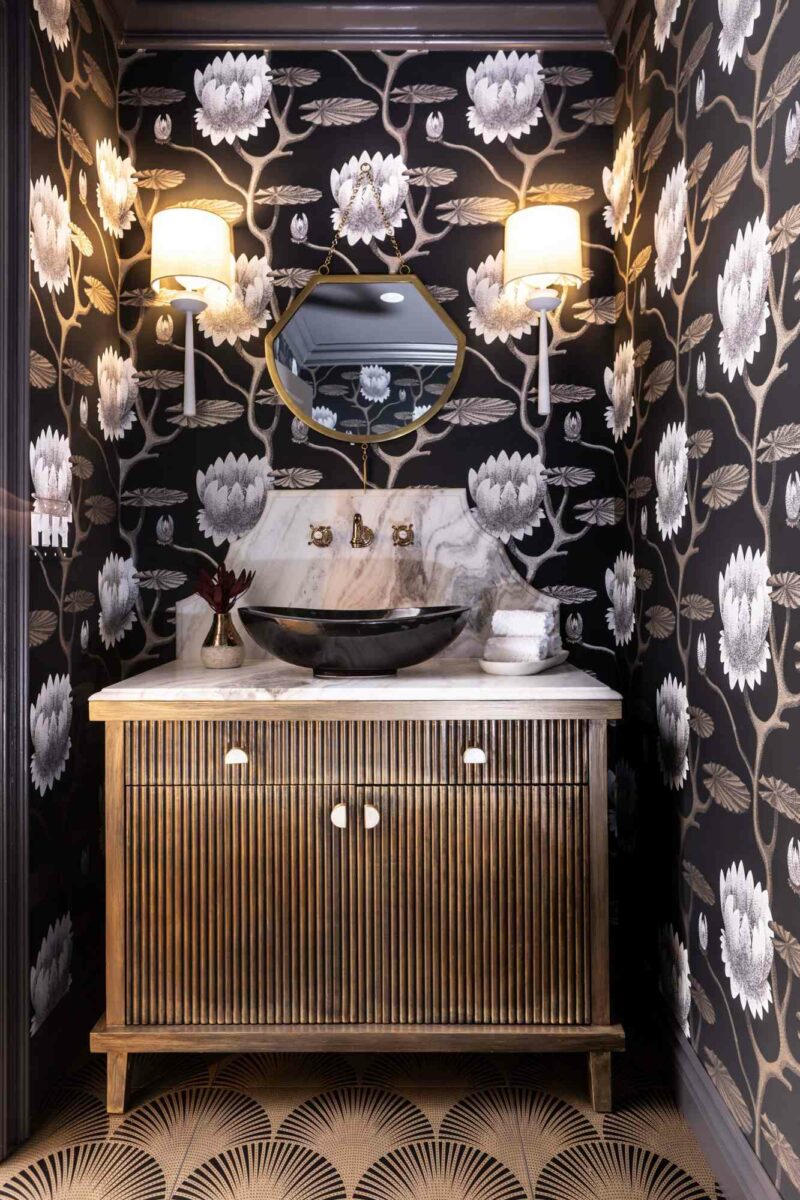 17. Color Block the Walls
The best part of these kinds of wallpapers for powder rooms is that you can use more than one color. Color blocking simply means covering your wall with a certain color. You can choose as many colors of wallpaper as you want for color blocking. But be mindful not to overdo it. There are color-blocked wallpapers that come in patterns like hexagonal boxes. Using such kind of wallpapers creates a very different vibe, often attracting attention to this area.
18. Go Superhero
Well, your love for comics doesn't have to be limited to your books and the caricatures you make. Bring your idea of a superhero to life. While they can be something as prominent as a poster of your favorite superhero, our experts suggest using something more personal. You can choose wallpapers based on the superhero themes that you relate to. Create the fantasy within your home that you dream of. Bring your imagination and creations to life. You can even try your hands at creating something of your own.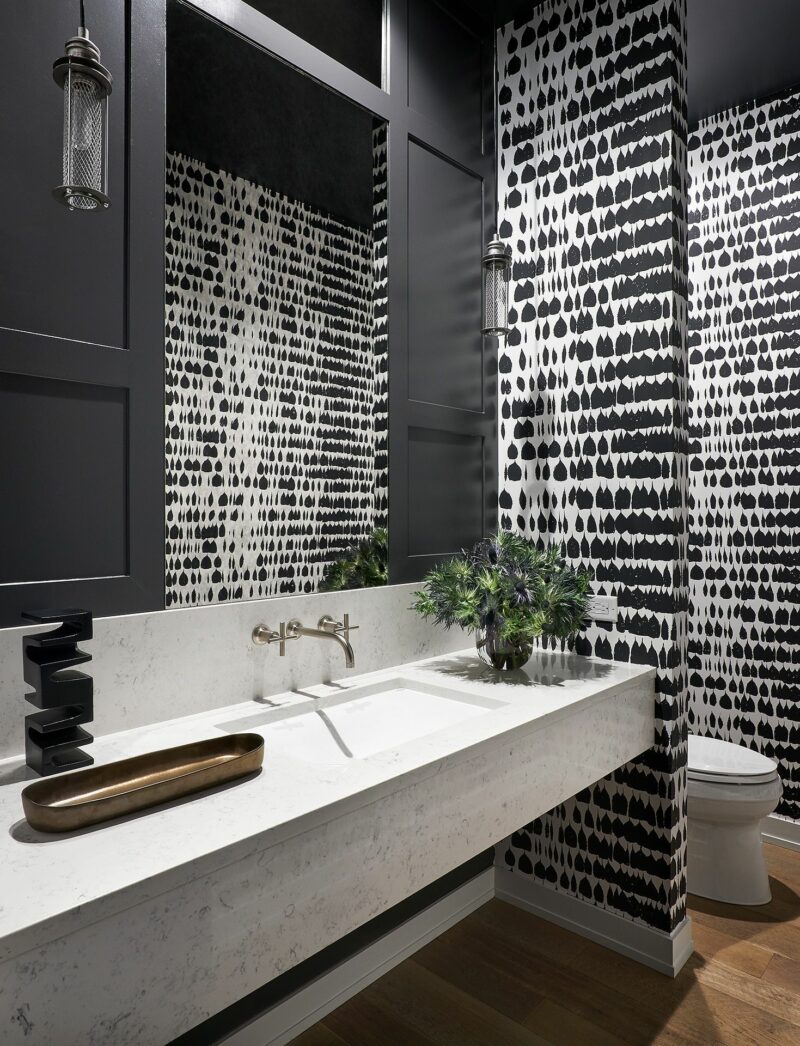 19. Princess Theme
Do princess themes and designs inspire you? Then this idea is for you. Using princess theme wallpapers provides an illusion of an eternally sweet-smelling space. Choose light-colored custom fittings that go perfectly well with your wallpaper for powder rooms. Our experts also suggest that you use natural materials like wood, bamboo, etc., to create these fittings. You can also get them customized to create the free flow of the space. Don't forget to have fun and go crazy with your ideas.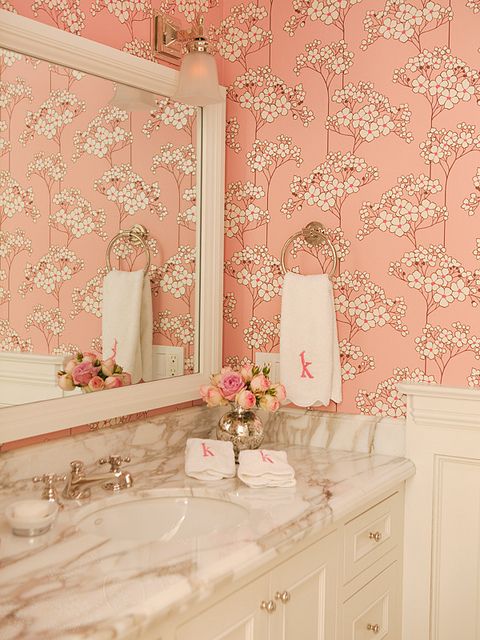 20. Miracle of Mirrors
This doesn't mean that you use a lot of mirrors throughout the powder space. By the miracle of mirrors, we mean creating an illusion of mirrors. Use a wallpaper that is transparent in color or helps create a mirror-like illusion. You can try a combination of a variety of colors and patterns. As for the fittings in the powder room, try elements made of glass. However, it is important to be cautious when using glass materials as they can break quite easily. You can also add unique waterworks that accentuate the mirror impression throughout the space.
21. Use Graphics
While this might seem one of the most common options, you will be surprised to see how rarely graphic wallpaper for powder rooms is used. The best part of these graphic wallpapers is that you can try a variety of design elements. If you know of a local artist, you can even try customizing the designs as per your own choice. They give a realistic impression, one that is raw and fresh. The charm lies in the unique stories that these beautiful graphic elements reveal. If you are in love with graphics, try using this wallpaper.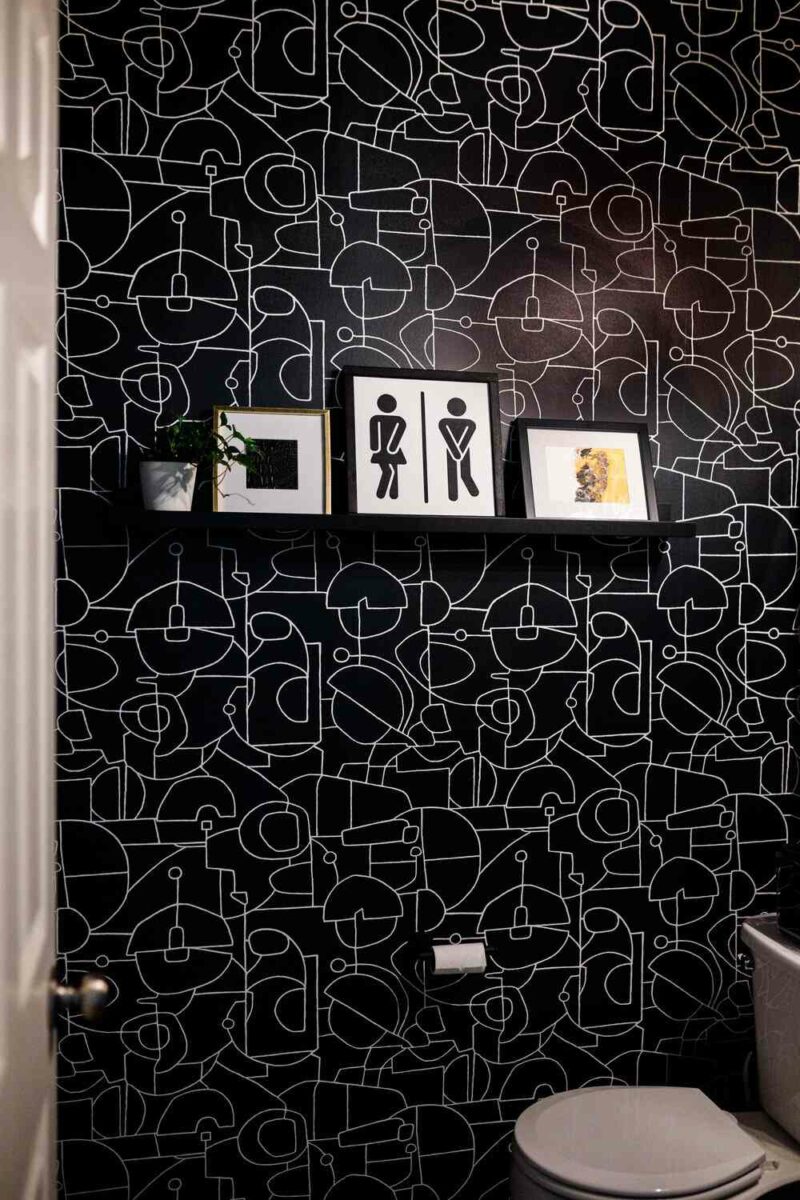 Conclusion
The purpose of wallpapers for powder rooms is to elevate the unique vibe of these small and cozy spaces. Our experts believe in creating uniqueness in all that you have. Trust us when we say this, you do not need to splurge a lot to create the unique vibe you want with these wallpapers.
If you have a knack for creating beautiful elements with your artistic side, this might be a project you want to take up. Using wallpaper doesn't have to be limited to just one side of the powder room. You can use more than one or all of the walls to create a beautiful imprint with a wallpaper you love. This is probably one of the least time-consuming and inexpensive ways to renovate your home. In love with the idea of creating wonders with wallpapers?
We hope that these ideas that our experts have brought together will help you in creating the aesthetic appeal you have been looking for. You can try a combination of more than one idea to give your powder room the look they deserve. Happy renovating!
Sierra Rivera, a passionate home decor enthusiast, runs the popular blog CozyCottageCute.com. Sierra shares decor tips, DIY projects, and personal insights. Off the blog, she's often at antique markets or redecorating corners of her own space.