20 Boho Bed Frames to Elevate Your Space Effortlessly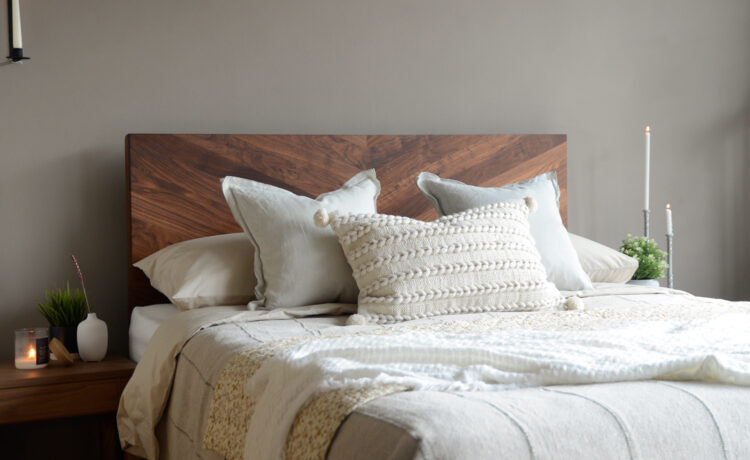 If you think that Boho style is taking over your life and you can't help but include it in your lifestyle shamelessly, then you've come to the right place. As you will find some of the amazing boho-inspired bed frames in this article.
Boho designs and aesthetics have become quite popular among people of all age groups. But the bohemian aesthetic is much more than displaying some plants in the interior of your room. It is about playing around with colors, and other decor items, such as a boho bed frame or headboard.
You need to look for all the intricate details to uplift the overall aesthetic of your space. The reason behind successful bohemian decor is the contribution of little things. As a wise man said very well, little things make a big difference, and you can pay attention to these decor items in your home decor to transform it into a dreamy place.
In this article, we have covered 20 beautiful boho bed frame ideas that can turn your place into a cozy retreat.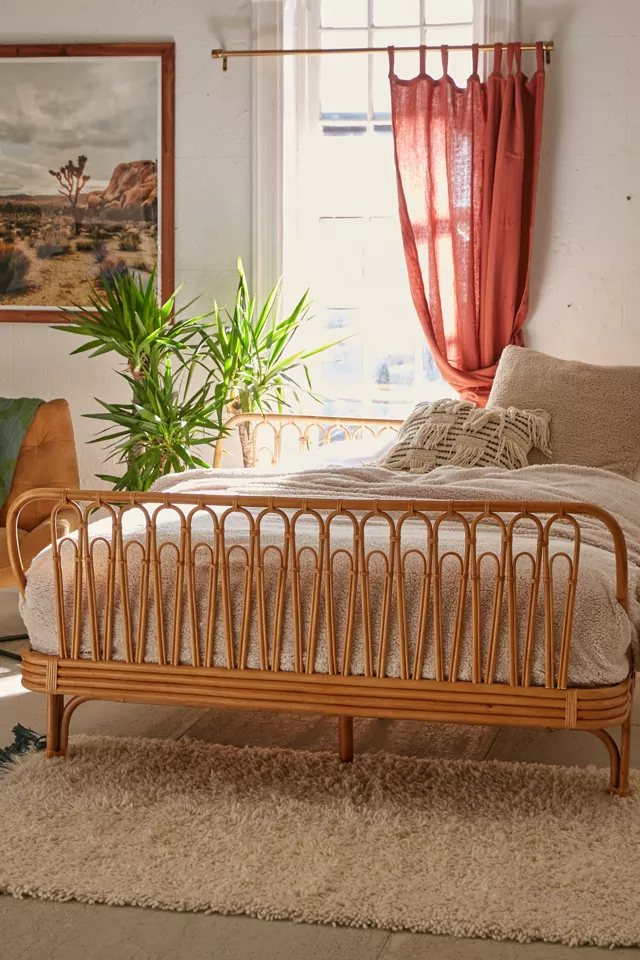 The nature-inspired bohemian style calls for some earthy tones in the interior of a place. Following the same line of thought, the Canoga rattan bed is a perfectly crafted boho bed frame. It is made of superior quality rattan that lasts for a very long time as it is made from natural wood. It can be customized according to your needs, as it comes in standard and queen sizes as well. And another reason to invest in this piece of boho bed frame is its tendency to get cleaned with a single wipe.
When it comes to headboards, nothing can beat this exquisite piece. This deco sun headboard will become the center of attraction in your bedroom. And steal the hearts of all the friends and visitors who will see it for the first time. This boho bed frame features an arced design with a wooden panel in a metallic finish. Some of the features of this headboard that will make you fall in love with it includes its capability of mounting on the wall so you can either put it behind your bed or as a centerpiece above your sofa easily, easy to clean, and made from durable wood. It is one of the most versatile boho bed frames present in the market.
If you are looking for intricate details, ancient designs, and natural wood finish, then Gafford Rattan Headboard would be an ideal pick for you. Wake up on the sunny side with this sunflower-designed headboard. It is a very lightweight headboard crafted especially by artisans using different techniques. It is perfect for you if you are looking for a handcrafted boho bed frame for your bedroom. The best part is that it can be easily cleaned with a single wipe of cloth.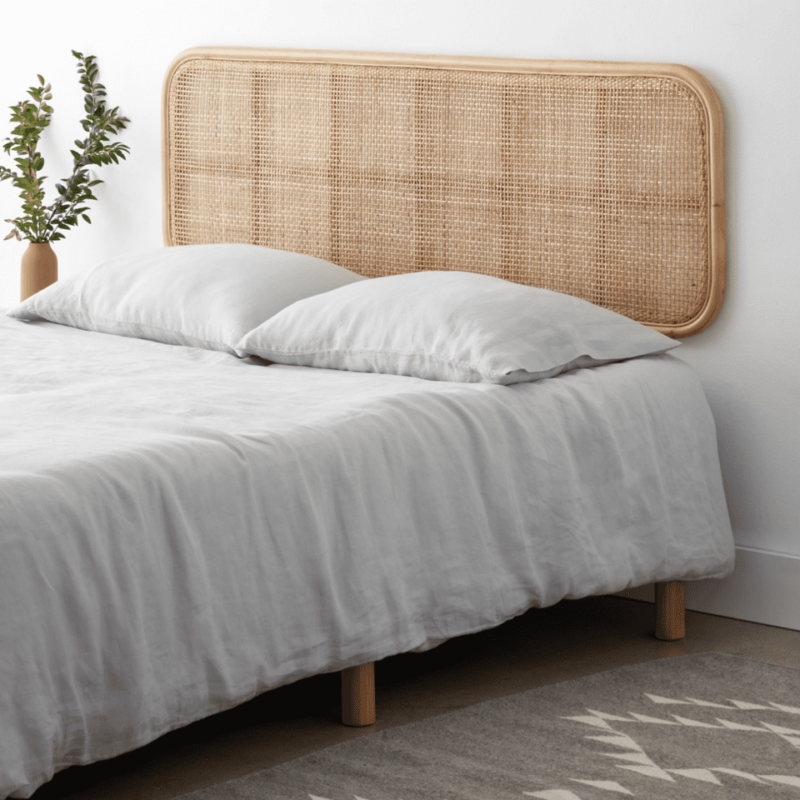 If you want your room to have a touch of organic warmth, then this boho bed frame is ideal for your space. It is handcrafted from original rattan and cane. The perks of installing this headboard are endless, as it can be easily installed, super lightweight, and many more. If you want to celebrate a minimalistic vibe to your room and want to stick with basic, then this boho bed frame can do the trick for you. Place a ceramic pot beside the bed with some pampas grass in it to accentuate the boho vibe.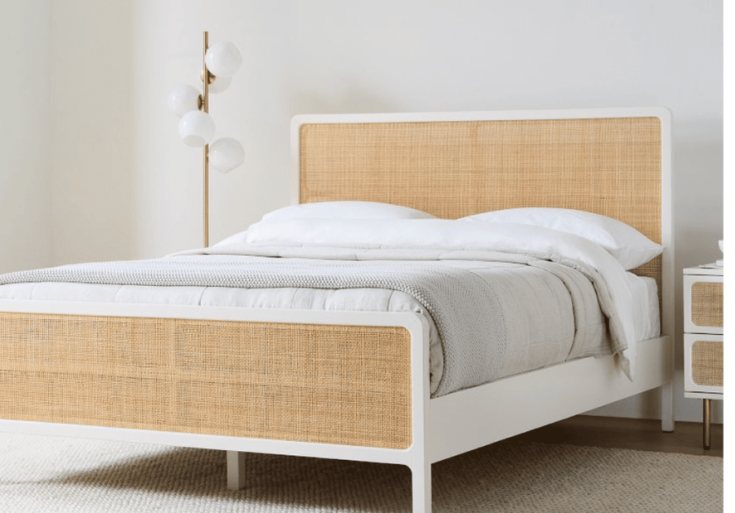 Are you a fan of neat and tidy designs? Then this boho bed frame can satiate your desire. This boho bed frame has supportive legs made from solid mango wood, keeping its sturdiness intact. The legs come in black-and-white variations, giving multiple options to people who are looking to add a classic piece to their space. You can pair it with beautiful jungle-theme wallpaper and a distressed rug to tie the whole look. One can never go wrong with this beautiful boho bed frame.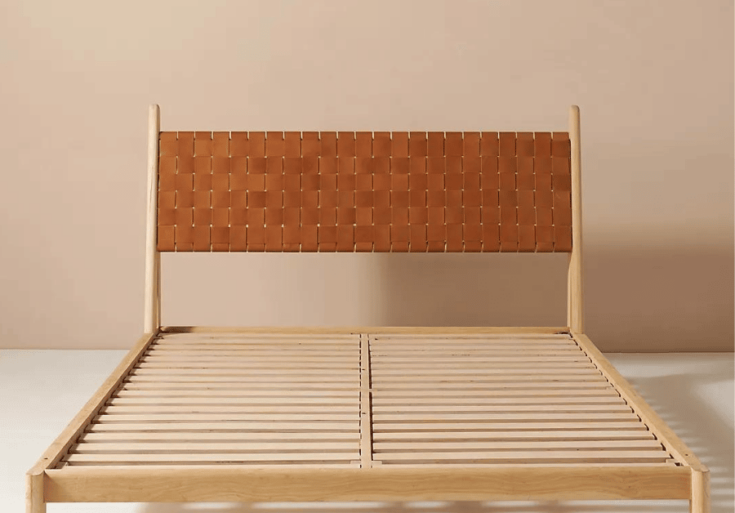 This boho bed frame features a woven leather headboard for a luxurious touch. The oak wood used in making this bed frame provides impeccable durability, so it can be a one-time investment allowing you to enjoy it for a couple of years. Some of the other features that make this boho bed frame stand out are that it is easy to clean, assemble, and sealed with clear lacquer for protection. It can be a perfect addition to your modern interiors. Elevate the boho aesthetic of your space with this bed frame.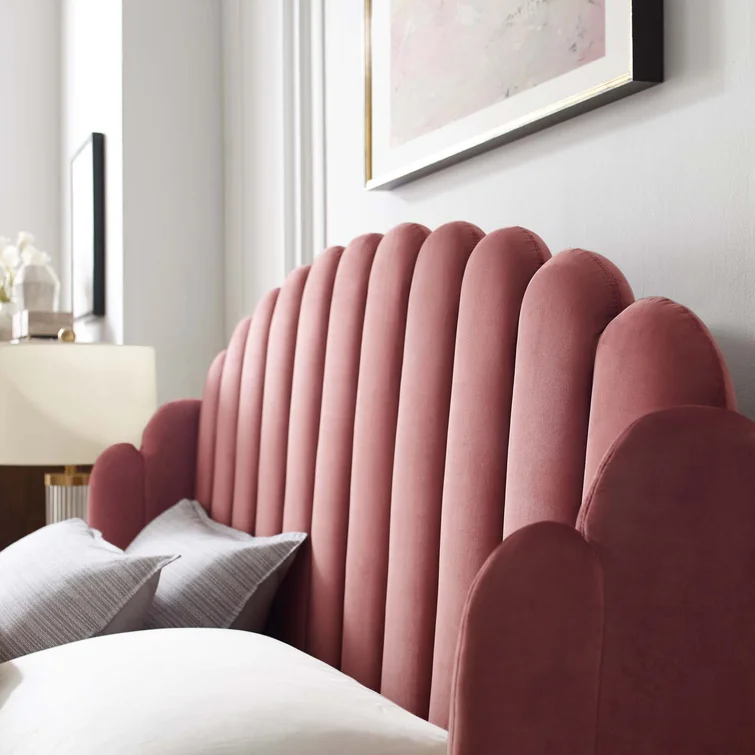 Do you want modern trends to take all over your space? Then consider this platform boho bed frame that is ideal for adding a touch of glam to your interiors. This vintage bedframe features vertical tufting, an arch shape, and a unique design. The goal metal legs provide unbeatable support, rich texture, and double durability. You do need to pay too much attention to the rest of the interiors if you are investing in this headboard, as it is sufficient to make a statement in itself.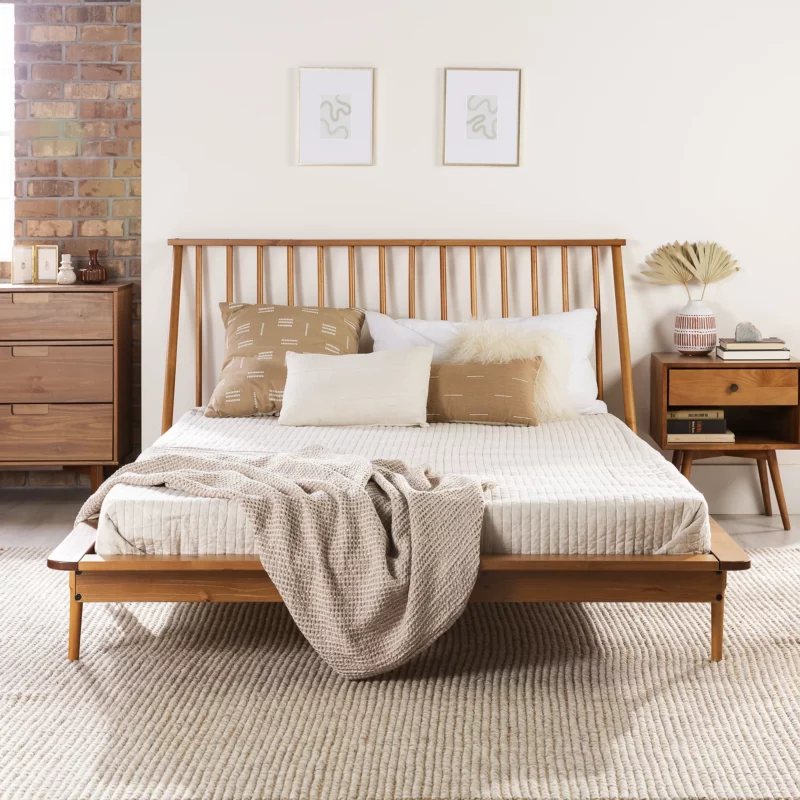 This spindle-framed solid bed design is perfect for your space. If you are looking for nothing fancy and a bed frame where you can put your mattress effortlessly, then this should be your pick. It is a perfect blend of a mid-century modern vibe mixed with traditional or minimal designs. The beautiful stain finish is ideal for uplifting the boho spirit in your room. Keep the other furniture items of the same neutral color to bring the whole look together.
Spread the joy of colors in your space with this unusual boho bed frame. Practice sophistication and embrace the sleek look with this bedframe in your bedroom. The cool and trendy jungle print is all hearts, whereas the combination of colors will bless your eyes. This boho bed frame also features many other qualities as well as it provides great comfort due to the plush foam used to make it. It is the upholstered bed frame gives you endless options and inspires you to create a beautiful jungle-inspired vibe in your interiors.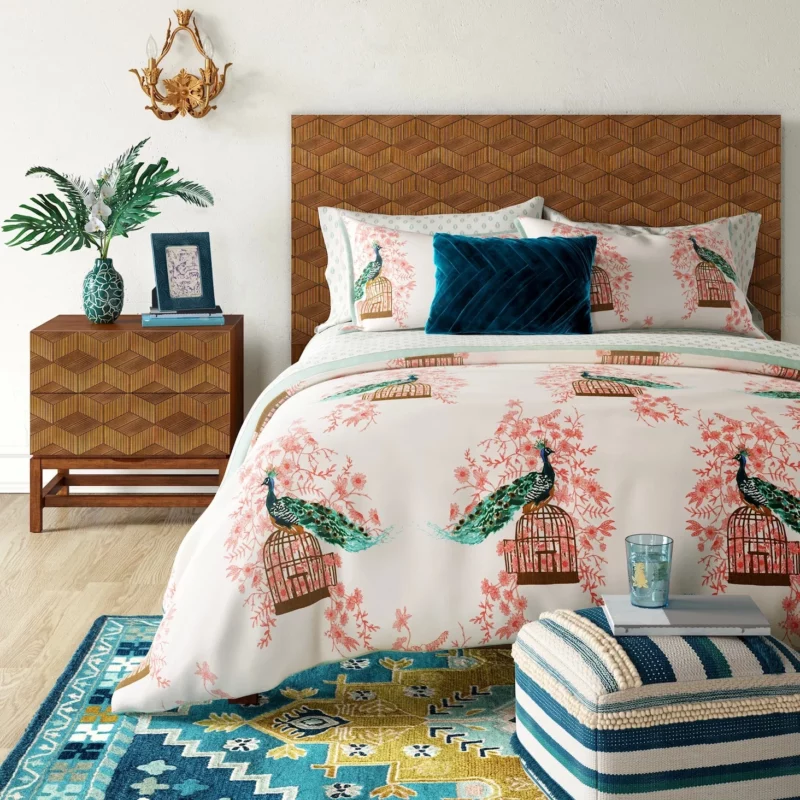 Are you willing to create a dreamy vibe in your bedroom? Then you have come to the right place. This boho bed frame is ideal if you love intricate designs. Bring cheers to this piece by adding a few decor items along with it. Unleash your creativity to uplift the boho vibe and do justice to the beauty and durability of the boho bed frame by pairing it with colorful, simple, and minimalistic decor items. The geometric carvings are eye-catchy and fill your space with quirky energy.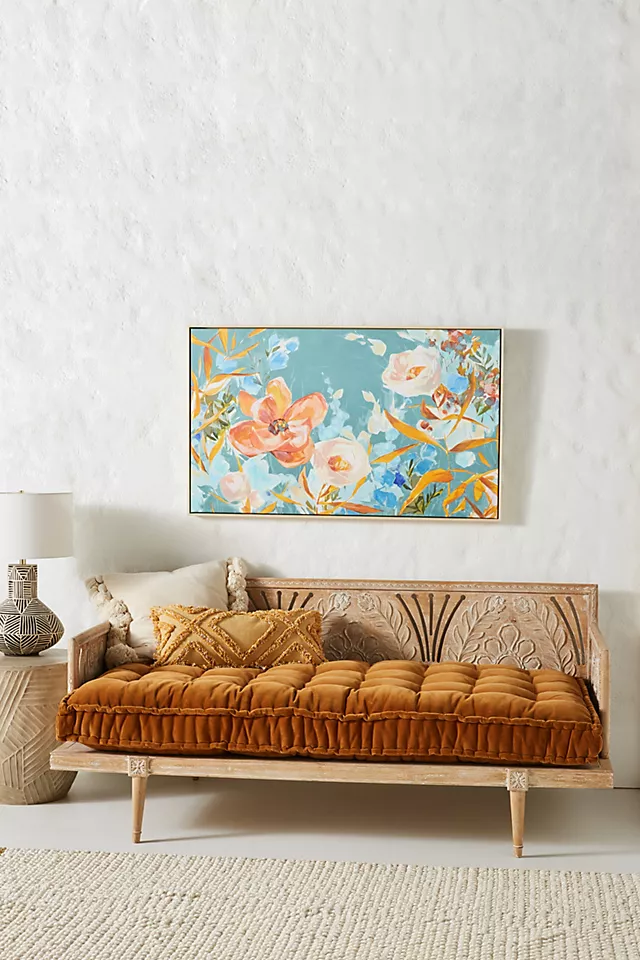 Celebrate your love for intricate designs with this exquisite boho bed frame. It perfectly displays traditional designs and modern features. You will fall in love with its versatile nature as it can blend and camouflage in any setting. This handcrafted bed frame is perfect for lounging on a lazy Sunday afternoon. Elevate the aesthetically pleasing vibe of your room with this bed frame, which is durable, easy to maintain, and flexible to suit every setting or space.
Who said wicker bed frame comes in all-natural, earthy neutral colors? The most favorite boho bed frame, available in beautiful teal color, creates a tropic vibe wherever installed. You can embrace the boho beauty in your bedroom with this delicate yet interesting piece. This rattan-crafted piece brings a cozy atmosphere to ensure sound sleep. Also, the teal color of the bed frame adds calmness as well as evokes electric energy from time to time.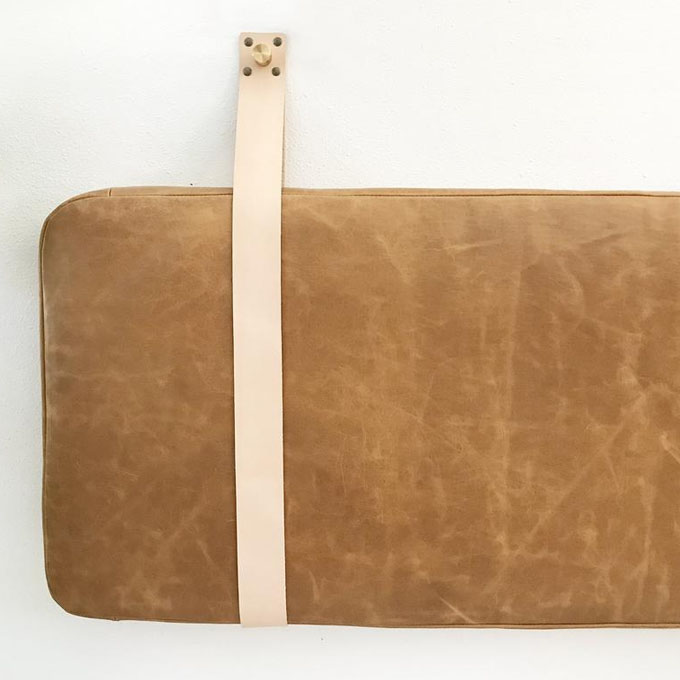 If you are looking to add a luxurious, elegant, and clean look to your space, then this leather strap headboard may do the trick for you. Before you even realize it will become the highlight of your interiors. So if you want that perfect '90s boho vibe without spending a fortune, then this one is perfect for you and your bedroom. Celebrate the uniqueness of the soft leather that is suitable to provide comfort without compromising the aesthetics.
If you think we are done with geometric boho bed frame designs, then you underestimated us! We have another one in this list of boho bed frame ideas that are perfect for adding a touch of glam to your space. The wonderful geometric metal bedframe comes in four different hues like gold, silver, bronze, and black. So if you want to invest in any one-bed frame, our recommendation would be this one in particular because of its versatility, durability, and tendency to make any space aesthetically pleasing.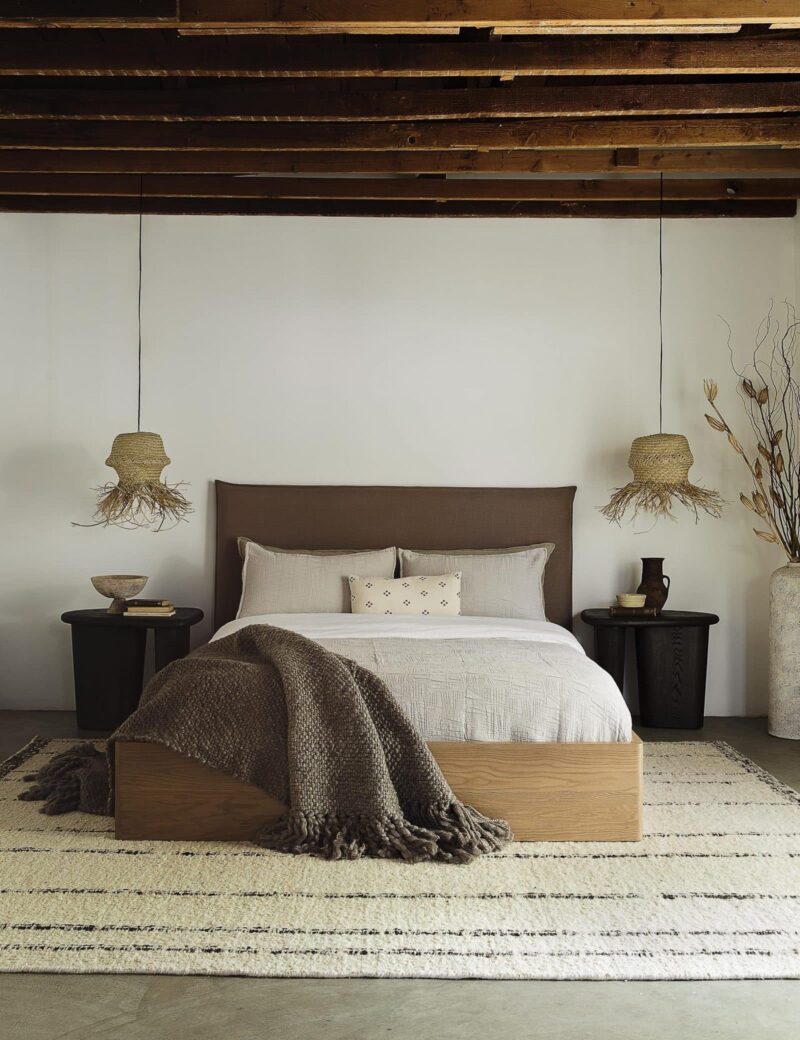 Do you want an authentic boho look? You can consider introducing a two-toned bed to make it the focal point in your bedroom. The dark-colored headboard adds warmness to the space, while the neutral bedframe will elevate the energy of the whole boho vibe. You can put up some fancy decor items for a cool and pleasing aesthetic vibe. You will be able to pull off an extremely amazing look with this dual-toned boho bed frame without putting too much effort.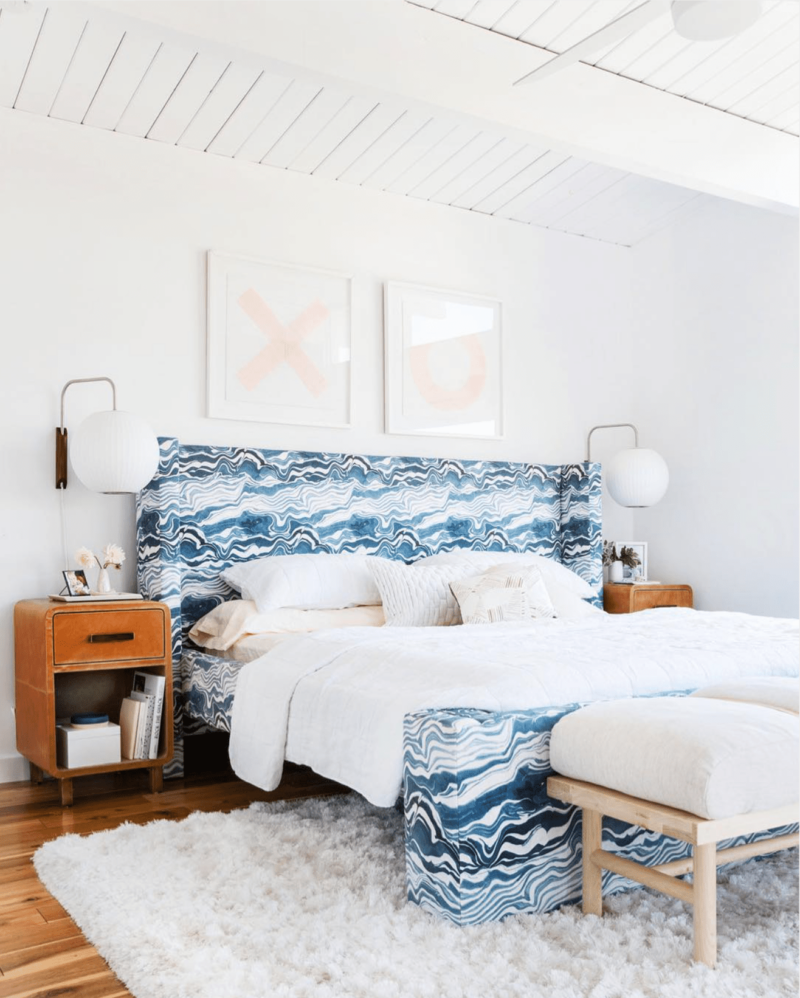 If you love funky prints, cool designs, and dark colors theme, then a boldly patterned boho bed frame is perfect for making a statement in your room. Let the cool-toned theme of this print become the center of attraction of the room. It will add a touch of glam to any space in no time; ideal to be added to your space, or you can even keep it in the guest room to leave them astounded with this beautiful piece. It features a headboard that is filled with foam, plus the good part is it is upholstered with linen which is ideal for adding an airy and comfortable appeal.
The charm of solids is endless. Nothing can beat the beauty and aesthetics of good solid colors. This solid bed frame features a solid oak bed frame paneled by a cane at the foot and the headboard. Embrace the elements of nature with the simple and minimalistic design of this boho bed frame. You can pair it with fresh linen fabrics and other soft materials that can complement it. The neutral elements of this boho bed frame are the perfect match for your boho theme bedroom.
If you think a boho theme is all about neutral colors and muted undertones, then you may understand it wrong. Sometimes a splash of colors can do wonders for your space and help you to achieve that adorable look. Introduce a soft pink headboard that features a soft and breathable high-density foam to offer you a comfortable backrest experience. This boho bed frame comes with many other benefits, such as being easy to install, sturdy, and durable.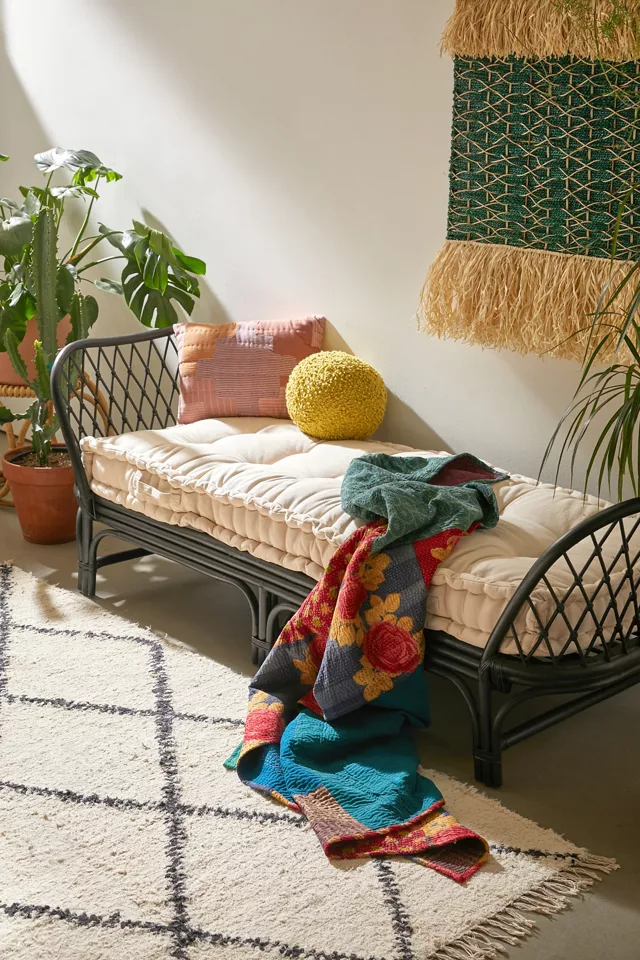 Do you have a hallway or an empty corner in your space that you wish to decorate and increase its functionality? Then, consider installing a Rattan Daybed at your place. This bedframe gives the perfect boho vibe when paired with cozy and colorful cushions. Use a soft fabric mattress that provides comfort and bounce on this simple bed frame. The sleek design gives you an opportunity to fit it in a small space as well. You can use a floral throw blanket and place a house plant alongside to complete the look.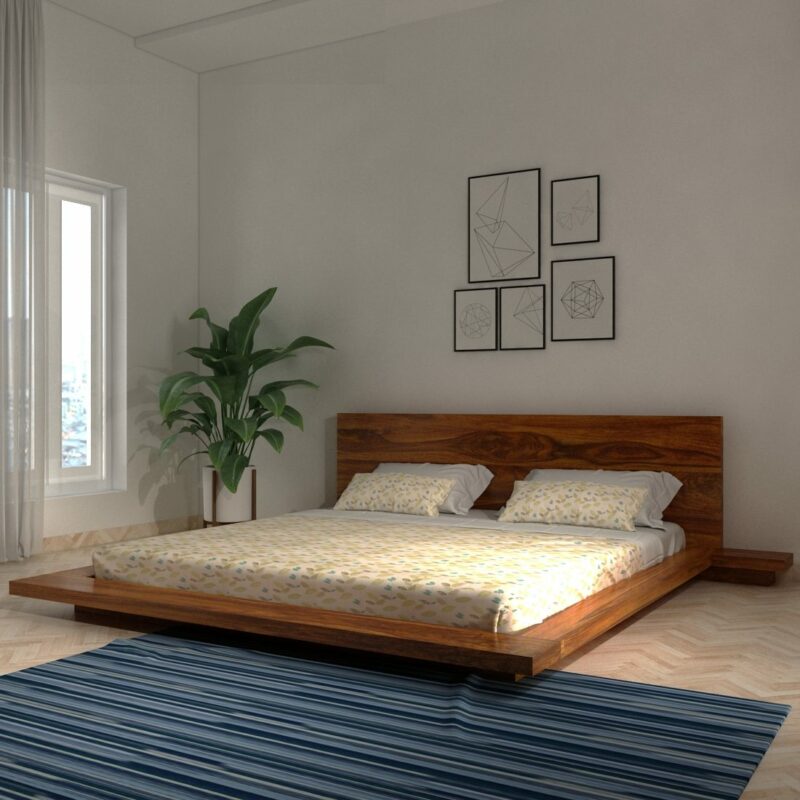 What is better than simple, timeless, and classic design? Trust us when we say this is one of the best boho bed frames you will find in the market. The natural sturdy appearance and durability give you a solid reason to consider it. The extra large space enables you to enjoy a comfortable sleep for longer hours. The natural Sheesham wood provides you with a lifetime warranty for this bed frame. This can be a great addition to your boho bedroom theme when paired with some neutral carpets and sleek photo frames.
Summing Up
Now that we have reached the end of the article, so we hope you must have found your favorite Boho bed frame. We tried our best to cover some of the best headboards for people with different desires.
Whether you want to keep it lowkey with minimalist designs or want to go all glam with bold detailing, we have suggested something for everyone. Celebrate the vibrant boho vibe in your home by introducing the above-mentioned boho-inspired ideas.
The Boho theme is popular and ruling the hearts of people in every way possible. It is not only limited to boho fashion but has been incorporated into the form of home decor as well. So, if you are also a fan of boho trends, then this article will definitely interest you.
Comment down below and let us know which boho bed frame is a winner for you!
Sierra Rivera, a passionate home decor enthusiast, runs the popular blog CozyCottageCute.com. Sierra shares decor tips, DIY projects, and personal insights. Off the blog, she's often at antique markets or redecorating corners of her own space.