21 Best Mudroom Bench with Storage to add Charm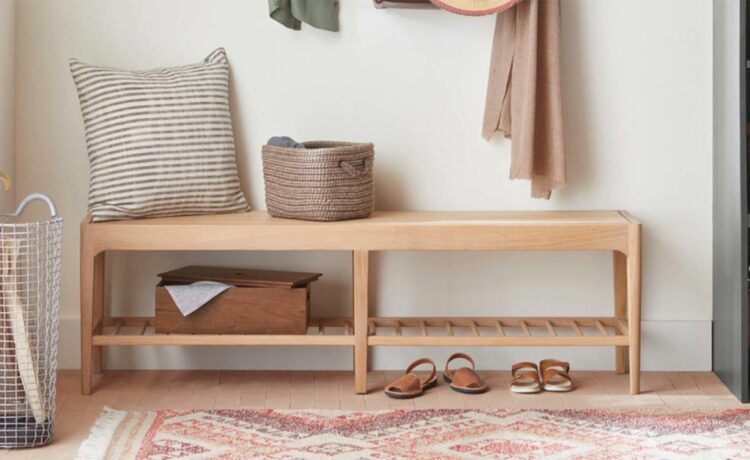 Are you constantly struggling with the ways you can find organize your home? No matter how much space you have, it always tends to seem less when you try to keep everything in place. And the chances are you may feel stuck and find yourself spending endless time finding storage ideas so you can get rid of the mess and enjoy a clutter-free space.
It may sound uncanny, but the mud room bench with storage is the new trending approach to keep your space neat and tidy. Since modern problems demand modern solutions so, here we have come up with some of the best mudroom benches with storage ideas that are practical and functional.
In this article, we have curated a list of the 21 modern ideas for mudroom benches with storage, along with some tips and tricks on what should be done and the things you can avoid while installing mudroom benches.
1. Halloween Decorated
If you love the spooky, chill, and ghost vibe, then this theme may work wonders for you. The Halloween-inspired mudroom can be decorated with scary yet interesting items, keeping the bench as the main center of attraction. You can place two to three straw baskets below the seat of the bench. Also, place or hang a classic broom with the authentic witch hat to bring the whole look together of the Halloween theme. This can be the favorite spot for your guests when they arrive at your house.
2. Chessboard Theme
Do you have an endless love for black and white? This love might have developed from your childhood while playing the classic chessboard game. Keeping the same tradition alive, you can incorporate the black and white in your mudroom to give it a chessboard-like appearance. Keep the color black on the bench in the mudroom and paint the walls white for a classic black-and-white look. It will give you a delusion of experiencing some chessboard visuals.
3. Metal Accents
In a lot of cases, mudrooms are treated as not-so-important parts of the house and hence left abandoned without any decoration. However, the current popularity of using it as a storage option has caught the attention of many people. And people have been searching for ideas through which a mudroom can look fancy. So, one such simple yet effective way to achieve this goal is to install some metal accents in the mudroom where you are planning to keep a bench for storage.
4. Shiplap Mudroom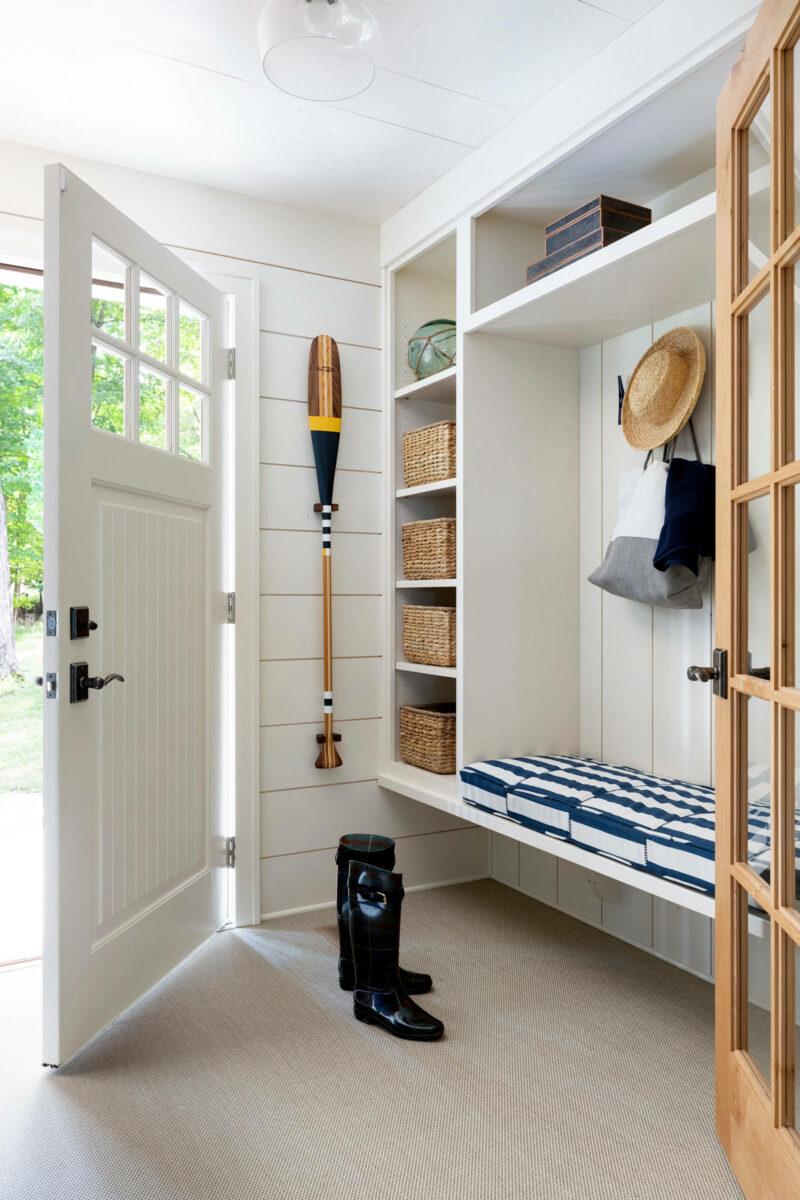 If there is any decorating method that is spreading and ruling the hearts of people nowadays is the shiplap walls. You can use shiplap walls to decorate the mudroom, choose the color white for the walls and make the bench camouflaged by keeping its color also white. This will add a contemporary touch with no additional expensive charges. Built some cabinets above the bench for extra storage. This mudroom will look airy, bright, and inviting to leave anyone astounded, whoever enters your house.
5. Mudroom with Black Board and Batten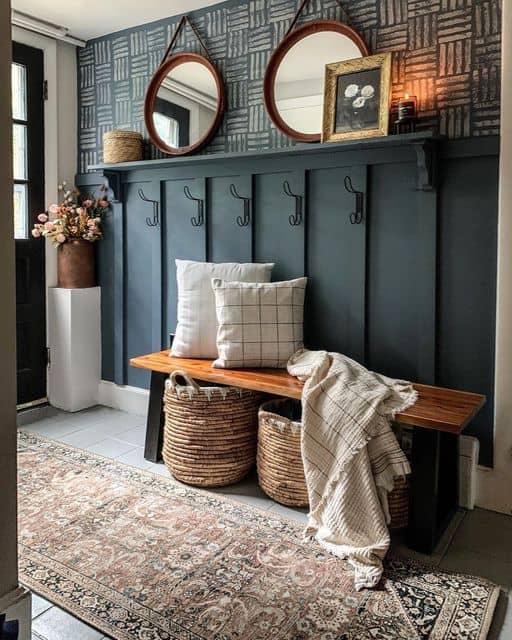 You can create a dreamy modern mudroom with beautiful black wallpaper that contains circular mirrors and a bench with straw baskets below to provide you the storage for your stuff. You can hang a small plant alongside the mirrors to tie the whole look together. For a cozy touch, do not forget to put some pastel-colored cushions. This mudroom bench with storage idea is one of the most simple and elegant, and that would win the hearts of many minimalists out there.
6. Farmhouse-Inspired Mud Room Bench with Storage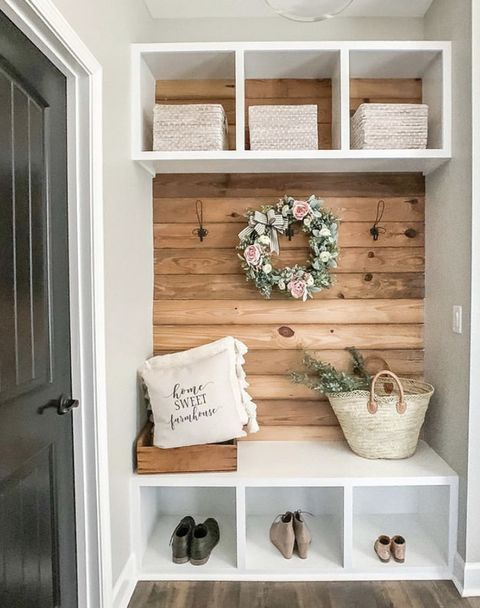 If you love earthy colors and your love for neutral tones. Simple browns, soft greens, peaceful white, and deep blue is never-ending, then this mudroom bench with storage idea is a perfect match for you. You can discover a wide variety of soulful and playful items online that can help you to achieve the farmhouse look in your mudroom. Choose the stained wood bench and put some plants on floating shelves for a more vintage feel. And hang a leafy wreath at the center of the neutral-painted wall that would complement the idea.
7. Small Mudroom Bench with Storage and Hooks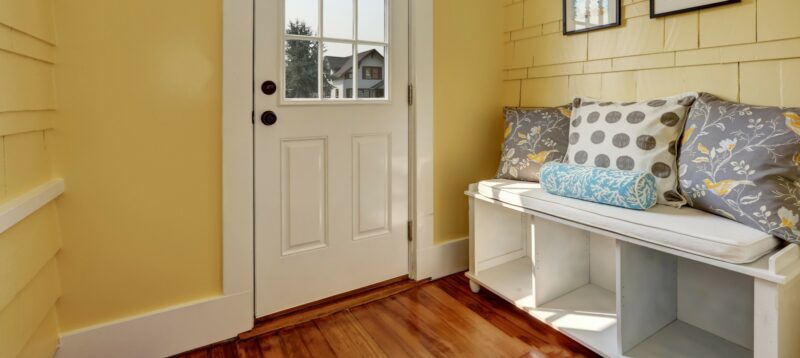 We have the solution to your every problem. Do you think your mudroom is too small to be decorated according to your wish? Well, it may be a challenge, but it is on you how you can make the most of it. Install multiple hooks in your mudroom while keeping the color scheme of it warm, yellow. Put up some wreaths for a fall vibe. The end result of this mudroom will be more amazing than those ten thousand extra large mudrooms, taking hours and comparatively much more money to decorate them.
8. Spacious Mudroom Bench with Storage and Herringbone Tile
You can create a super unique mudroom by installing herringbone tiles. Just keep the rest of the space neutral or not-to-fancy so that the herringbone tile can be the star of the show. And if you are someone who likes to put too much thought and effort, then this mudroom bench with storage idea is the perfect match for you. You can complete your haven by keeping benches for storage, and your self-made mudroom is ready to receive numerous compliments from the guests arriving at your house.
9. Beige Mudroom with Orange Painted Bench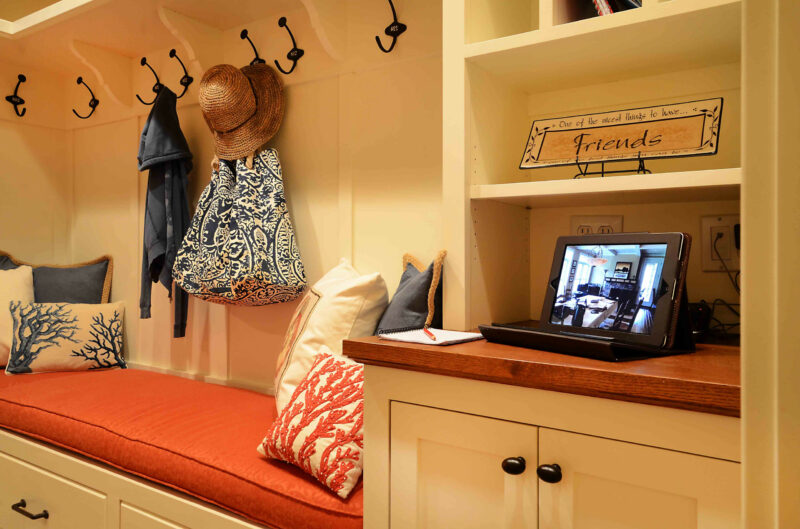 If you think that you are unable to decide between keeping it minimal while playing around with a neutral palette or a splash of colors will be your friend while decorating the mudroom bench with storage; we curated a brilliant idea for you. A mudroom that has beige walls and minimal fixtures, but the main highlight will be the orange-painted bench that would catch the attention of anyone with its vibrant hue or pop color in no time.
10. Mudroom with Pastel Door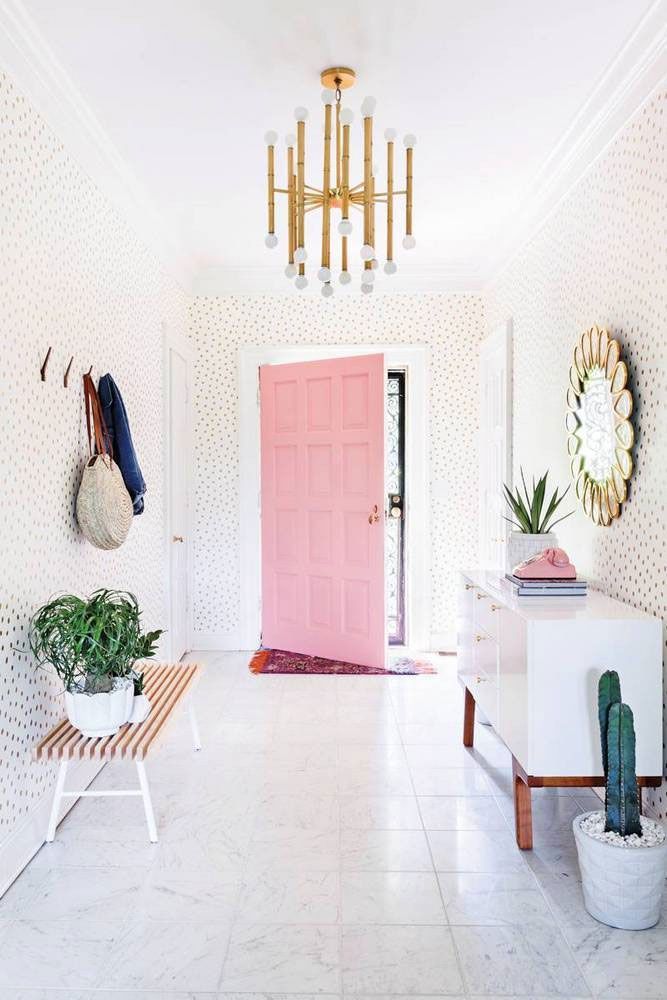 Create a super cozy, unexpectedly cute, and simply chic vibe in your mudroom with this idea. Introduce a pastel-colored door in your mudroom that will bless your eyes as well as visitors. You can put huge baskets below the beach in the mudroom to create space for the stuff. None of your childhood memories are complete without those shades of pastel colors; then relive, or we would say, recreate your childhood by renovating your mudroom bench with storage inspired by this idea.
11. Drawers for Extra Space
There is no such thing as too much space. When it comes to keeping your space organized and messy, it is difficult to tell how much space is needed to simply put everything in place so that your space looks neat and tidy. So one way to deal with it is by incorporating complete drawers in a row. This would help you to make your space look the way you have always wanted, and that is clutter-free. Keep the mudroom simple and minimalistic and focus on achieving the goal of creating a functional space with a lot of drawers to provide storage.
12. Two-Toned Mud Room Bench with Storage
Modern times call for new and innovative ideas for decoration. And renovating a mud room is a task in itself. So we have come up with a completely trending mudroom bench with a storage idea to transform your space into a haven. Incorporate a two-tone theme in your mudroom for a modern look. You can build the walls of the mudroom with any neutral color and keep the color of the bench along with other interiors, including doors, and curtains of one color, for a two-toned muted appearance.
13. Mudroom Bench with Storage and Seat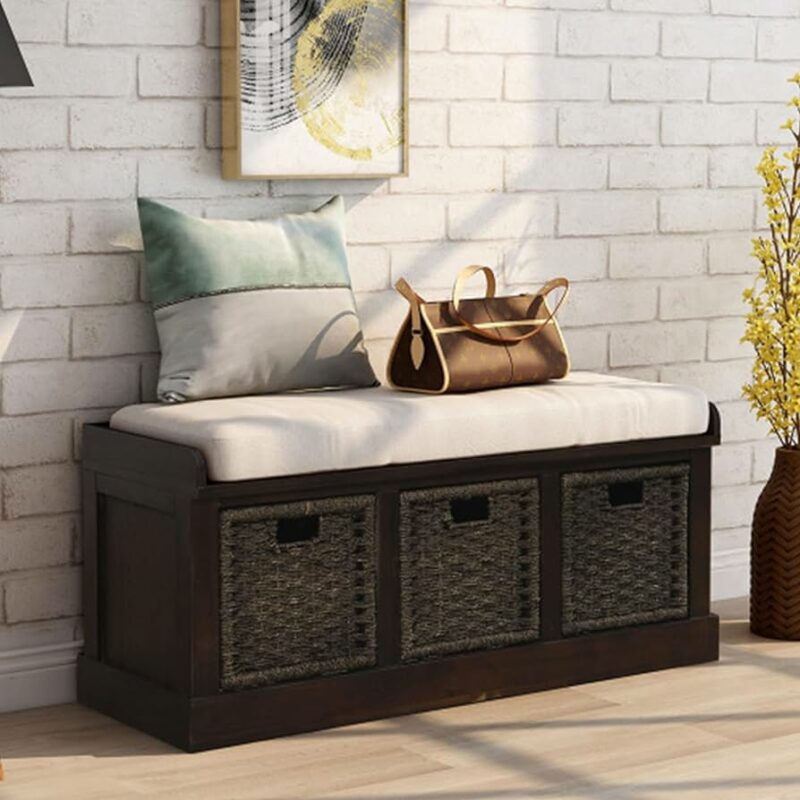 We have a treat for you. There is no limit to the ways you can use the bench in the mudroom. Think out of the box and let your creative juices flow to make the most of the limited space. You can install a floating bench with storage beneath it where you can put baskets to keep your stuff. Also, do not forget to put some hooks on the wall above it to hang raincoats and umbrellas to turn it into a functional space. Some plants, paintings, and keyholders can help you to escalate the aesthetics of your mudroom.
14. Mudroom with Pendant Lights
Your modern mudroom is incomplete without some pendant lights that can make it aesthetically pleasing. Find beautiful, budget-friendly, and matching pendant lights online. You can install some scones as well, similar to the mudrooms or entryways witnessed in Hollywood movies. And keep the rest of the interior simple for a minimalistic vibe. You can find pendant lights online at a very reasonable price or anywhere near your area.
15. Mudroom Bench with Pet Vacancy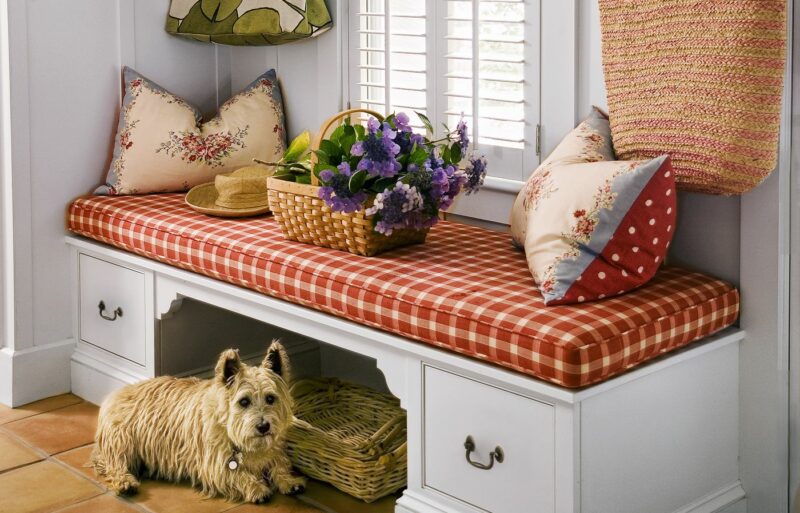 Do you want to save space for your pet as well? You can create a secret place beneath the bench in the mudroom for your munchkin. The idea for this type of mudroom is super fancy and unique. You can use oak-stained wood for the ceiling and keep the color of the doors and walls white. Right next to the door sits the bench with space beneath it for your dog. This mudroom style is awesome for pet lovers who don't know how to manage the space for their dogs.
16. Super Fancy Mud Room Bench with Storage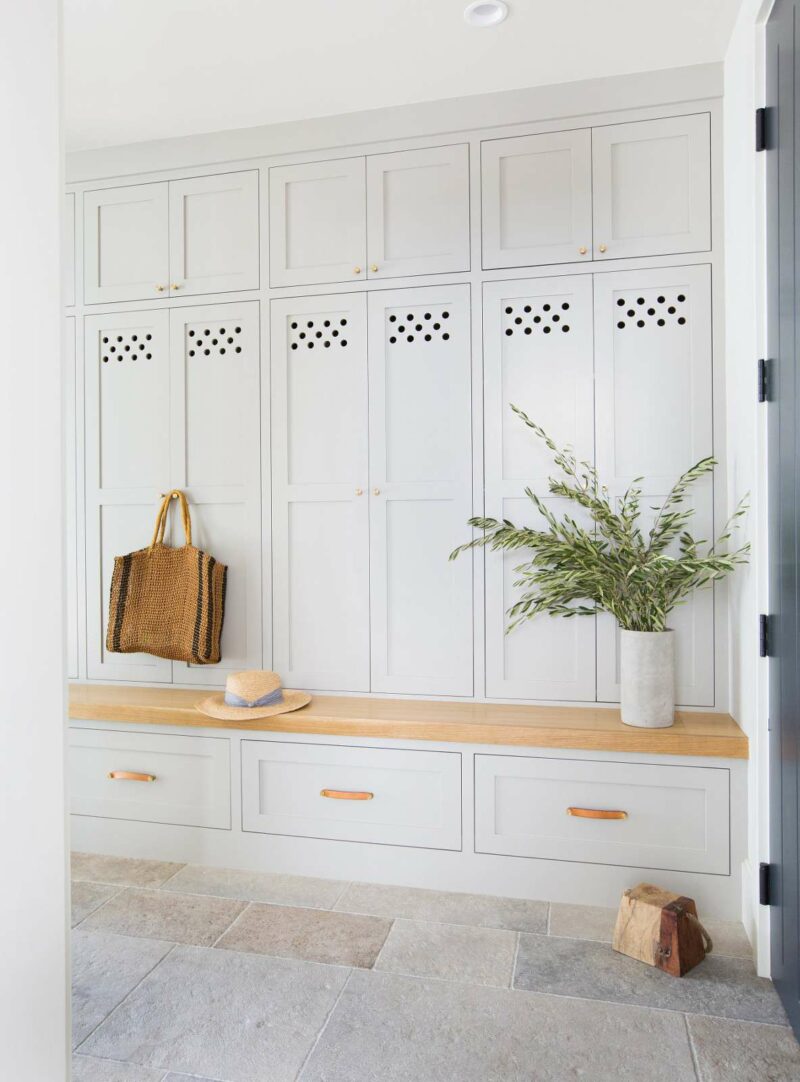 Make your not-so-important place called the entryway or mudroom an extraordinary space. All you need is little creativity, some willingness to create an interior that can stand out, and a thoughtful execution for an outstanding result. Use the herringbone tile on the floor of the mudroom, a stain with a glossy finish for the bench, and compartment-style storage below the bench for a more organized approach. You can put some big vases with pampas grass for a modern touch into your mudroom.
17. Mudroom Nook with Hooks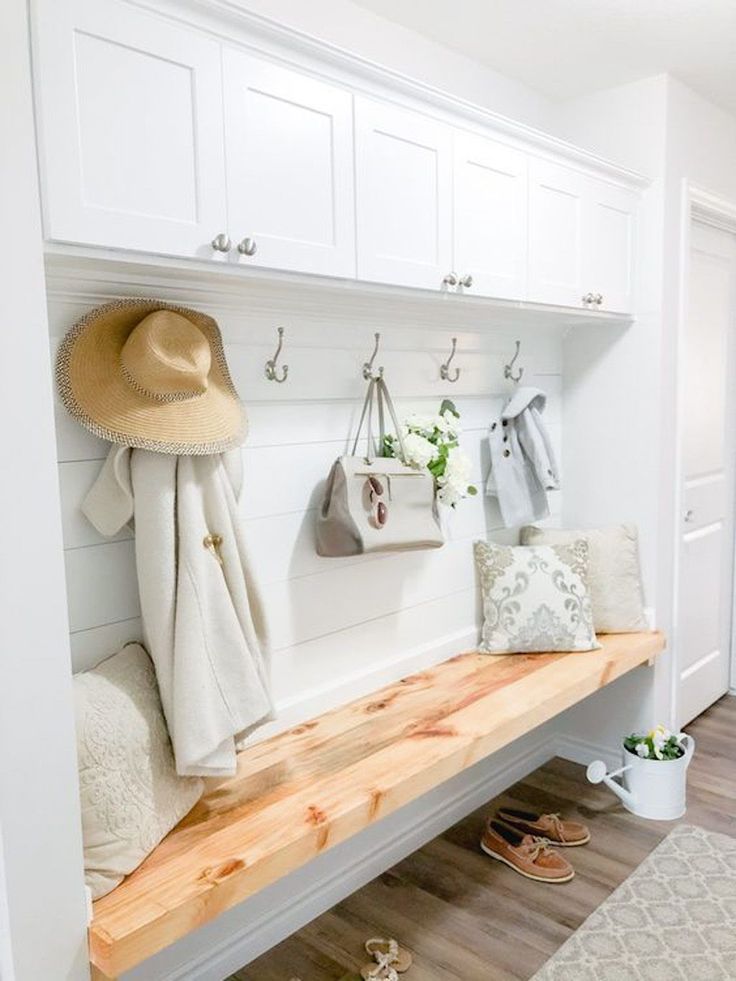 If you are unsure about constructing compartments or building storage cabinets in your mudroom, then the best way is to replace them with hooks. You can install multiple hooks in your mudroom that can hold items like hats, raincoats, jackets, umbrellas, and many more. Keep the style of the bench very minimal. For instance, a floating bench will work wonders in this mudroom. However, you can still place some baskets beneath it as an extra storage option.
18. Corner Mud Room Bench with Storage
Are you worried about the shape of the mudroom? And do not have any idea if it can even be turned into a mudroom. Well, we've got you. A special, completely unique design mudroom is introduced just for you. The corner mudroom can be built easily with little effort and a creative thought process. You can customize the storage bench for your corner and throw some pillows over the bench to transform it into a cozy corner.
19. Traditional Storage Mud Room Bench with Storage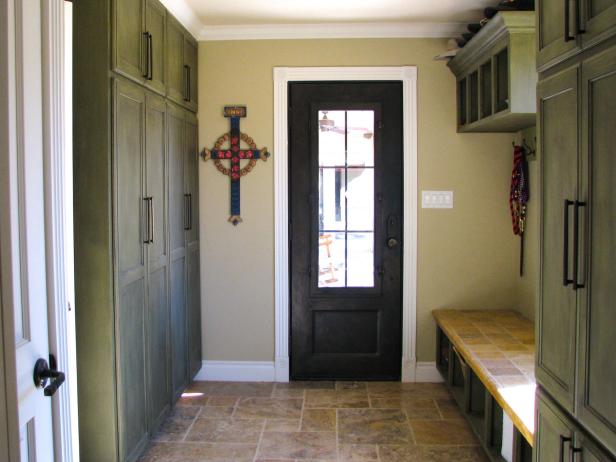 Create an inviting space with some innovative ideas to turn your mudroom into a contemporary place. A mudroom should not be underestimated with its small size. You can do wonders with this little space and make the most of it. Anyway, the traditional mudroom bench is built with loaded storage. So, taking the same legacy forward, you can also install a bench that has a lot of storage. Basically, what you can do is make storage below the bench and cabinets above the bench for extra storage.
20. Customized Granite Mud Room Bench with Storage
If you want your mudroom to look modern, elite, and classy, then the best way to achieve it is to use granite in it. The reasons to use granite are endless, as the finish of it is unbeatable, easy to clean, and it is durable for a longer period of time. You can customize and install a granite bench that can match the granite floor of the mudroom. This is an innovative design perfect for you if you aim to construct a dreamy mudroom.
21. Coastal-Theme Mud Room Bench with Storage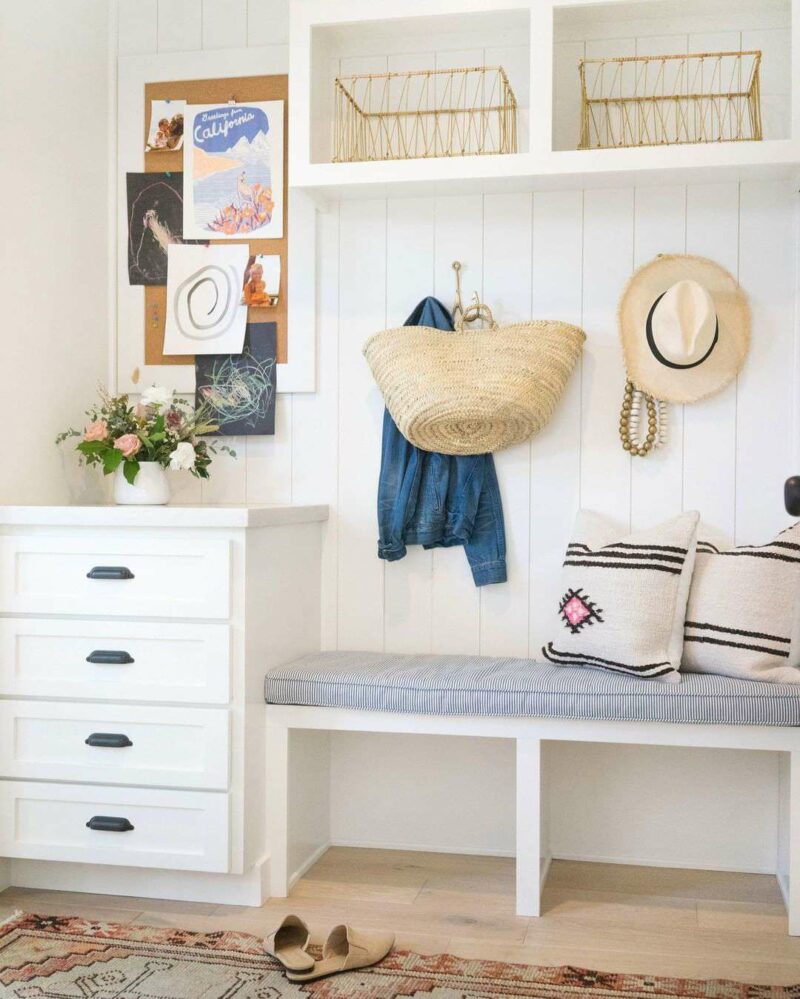 Are you planning to give some oceanic touch to your mudroom? This idea talks about a coastal-theme mudroom that reminds you of a beach. Bring the coastal vibe to the mudroom by incorporating a standalone wicker bench with storage beneath it. You can use natural elements as decor, for example, some shell-shaped mirrors, jute carpets, and soft sky-blue walls for a breezy and relaxed look. This is a completely personalized idea that involves the items handpicked by you to create your haven.
Summing Up
In conclusion, we can say that all the ideas of a mud room with a storage bench discussed above are curated by keeping in mind the desires of everyone. Some people like a minimalistic approach, while some want to go the extra mile to create a personalized space. And it is okay if you are also one from both of these categories. We have tried our best to include ideas that can suit the taste of anyone.
Get inspired by the mud room bench with the storage ideas discussed above, and we are sure you will be able to pick your favorite design from the list. You can also mix and match the ideas to create a personalized mudroom.
Do not forget to comment down below and let us know your favorite mudroom bench with storage ideas.
Sierra Rivera, a passionate home decor enthusiast, runs the popular blog CozyCottageCute.com. Sierra shares decor tips, DIY projects, and personal insights. Off the blog, she's often at antique markets or redecorating corners of her own space.