21 Best Gliders for Nursery, Rockers, Recliners & More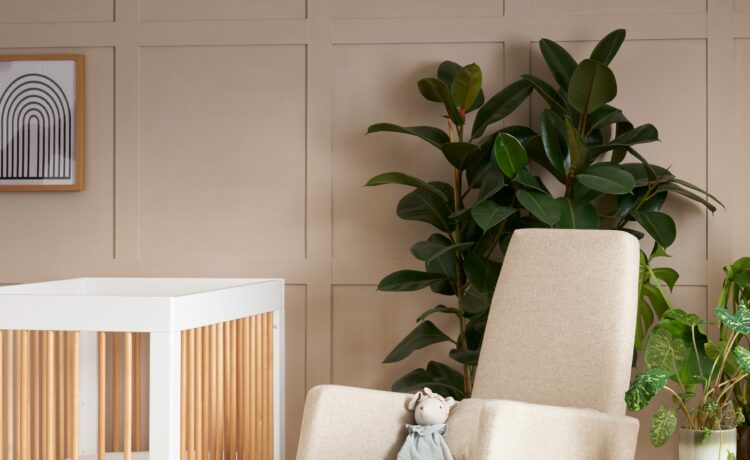 Few things in the world can compare to the joy of becoming a new parent. But with this title comes a set of responsibilities that are not so easy to handle. For instance, newborn babies tend to sleep for most periods during the day and night, and if they are uncomfortable, they start crying. This interruption in the sleep cycle can be annoying for everyone, including babies.
Rockers and gliders are chairs that rock back and forth or move in fixed directions. This movement can help babies sleep peacefully, and you also get a cozy place to rest and spend time with them. Therefore, buying a good rocker and glider for the nursery will be a smart investment.
There are several choices in the market with different features. If you are confused about what to buy, take inspiration from these 21 best gliders for nurseries, rockers, recliners, and more!
Best Gliders for Nurseries for Better Sleep for Your Baby
1. Glider, Rocker, Recliner with USB Charge Port and Headrest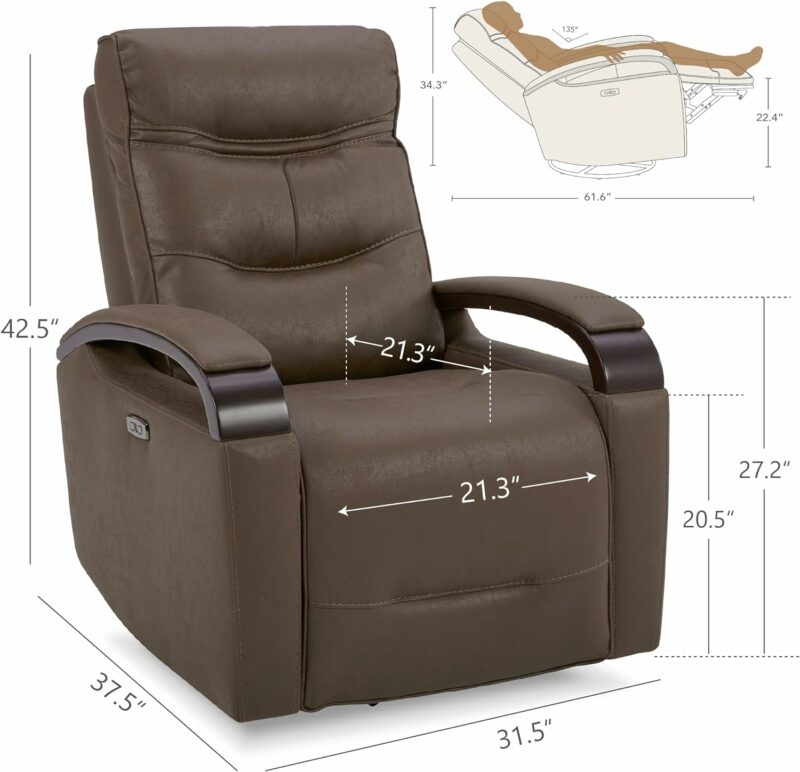 This deep brown glider chair functions as all three – recliner, glider, and rocker and therefore is a great option for the nursery. Anyone can use it, and it is very baby friendly because it has cushion padding even on the armrest. This can be a comfortable place for you to nurse, feed or put your baby to sleep. This has an option for you to charge your devices through a USB port.
It has a 270-degree swivel function and a wide seat so that you can move around easily and change positions. Its dimensions are 37.4″ D x 31.5″ W x 41.7″ H. This chair also has a back and headrest, which can be essential as you need to stay there for a long time. Although a little bit on the expensive side because it is a power glider, this chair boasts a great rating of 4.5!
2. Recliner, Swivel Glider with Lumbar Support and Footrest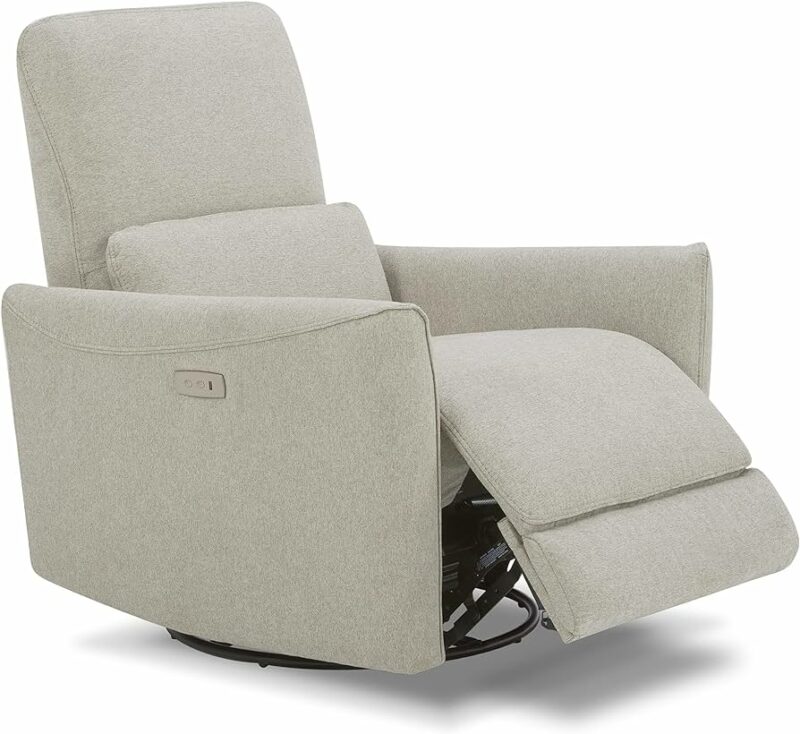 Back support, also known as lumbar support, can be essential if you are going to spend a lot of time in any rocker or glider. This power recliner and swivel glider does exactly that! This is available in different colors and is a little bit on the expensive side. The chair has a 270-degree swivel, a USB charging port, and the footrest comes up with the press of a button.
All these make for a comfortable time in the nursery with your child. The dimensions are 35.8″D x 32.3″ W x 39.8″H. It comes with a one-year warranty and is easy to assemble. This has an amazing rating of 4.7 and over 325 ratings.
3. Electronic Swivel Glider with USB Port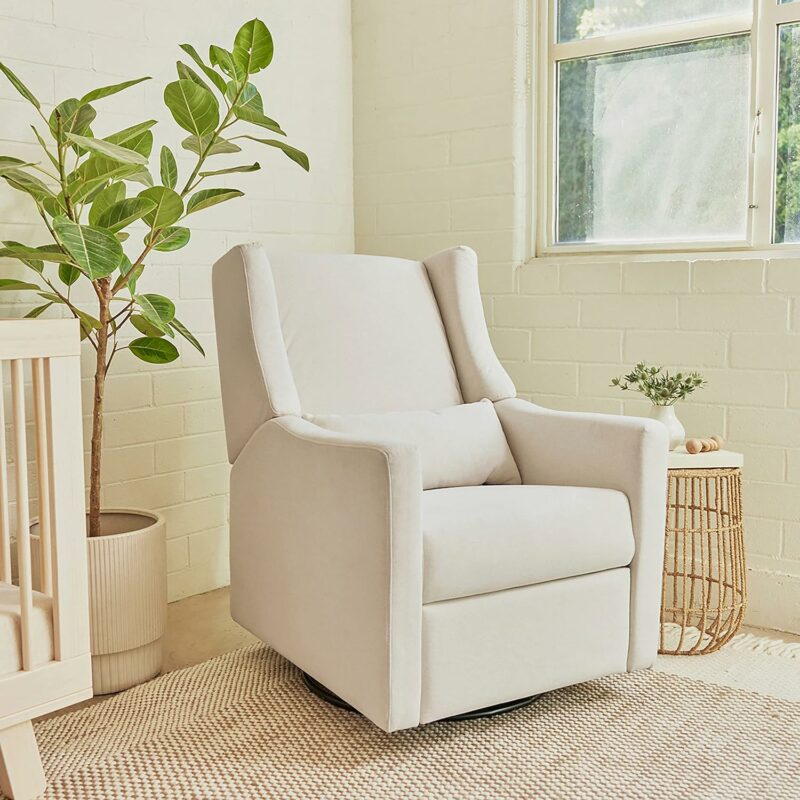 This is one of the best gliders for the nursery as it is an electric recliner and swivel glider. It has a USB port for charging, a lumbar support pillow, and a wide seat so that you can conveniently move around. It is easy to set up and has a 270-degree swivel. The dimensions are 36″D x 29″ W x 41″H.
If you are an environmentally conscious person, this is a good option because at least 50 plastic bottles were recycled to make this. It has a total of 498 ratings with an overall rating of 4.4, which can be a valuable investment for your nursery.
4. Electronic Glider, Rocker, and Recliner with Hand Remote Control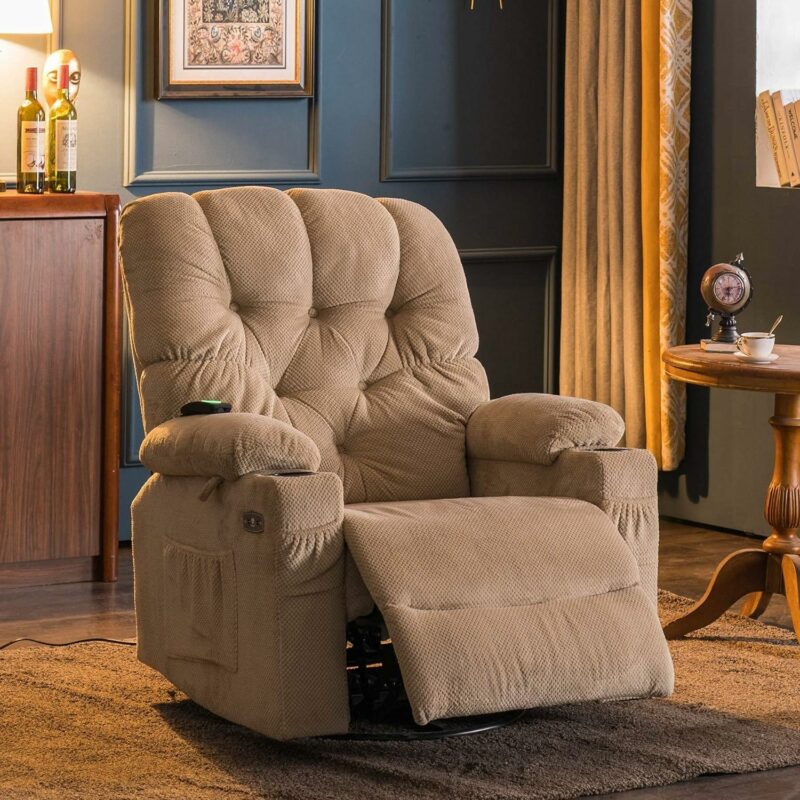 This is another multi-utility glider because it has all three in one: swivel glider, recliner, and rocker. In addition, it is electric and can be controlled by a hand remote control. It has 2 USB ports, 2 cup holders, 2 side and front pockets, and 2 anti–falling ropes.
It comes in 3 colors, has 2 positions, and has a 270-degree swivel movement. It is also larger in size when compared to other products, as its dimensions are 41″D x 34″ W x 42″H. The customers have rated it 4.8 for support and 4.6 for easy assembly.
5. Delta Children Blair Slim Nursery Glider Swivel Rocker Chair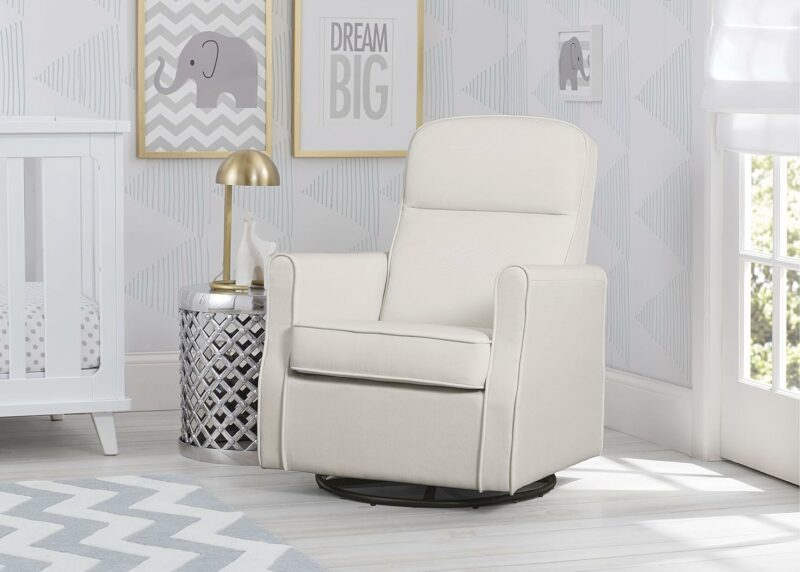 This cream-colored chair is a less expensive option. It comes with a headrest and soft armrests and is made of upholstered leather! The dimensions are 31.5″D x 26.5″ W x 36″H. This simple but classy-looking chair will suit all your baby's needs as it has a 360-degree swivel, gentle gliding, and rocking functions.
On a budget, you will be able to have a cozy place to rest and look after your baby. This also has a stunning 927 rating of 4.3 which suggests that this is a good and durable product.
6. Upholstered Gliding Chair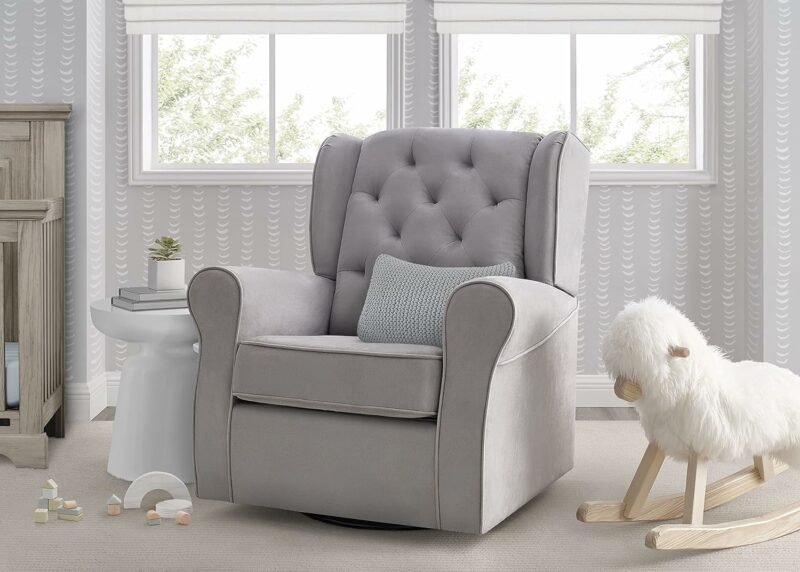 This is a grey swivel glider and rocker chair, but it also comes with optimal cushioning to nurse your child. The chair is cushioned, and the armrest is comfortable as well. Its dimensions of 35.75″ D x 34.75″ W x 39.5″ H inches,
Unlike other gliders or rockers, you can place your things on the chair because of its increased depth or put down your baby there momentarily. But be extremely careful while doing this because there are chances that your baby could fall or be scared. It has a rating of 4.5, and they are slightly on the expensive side.
7. Glider/Rocker and Gliding Ottoman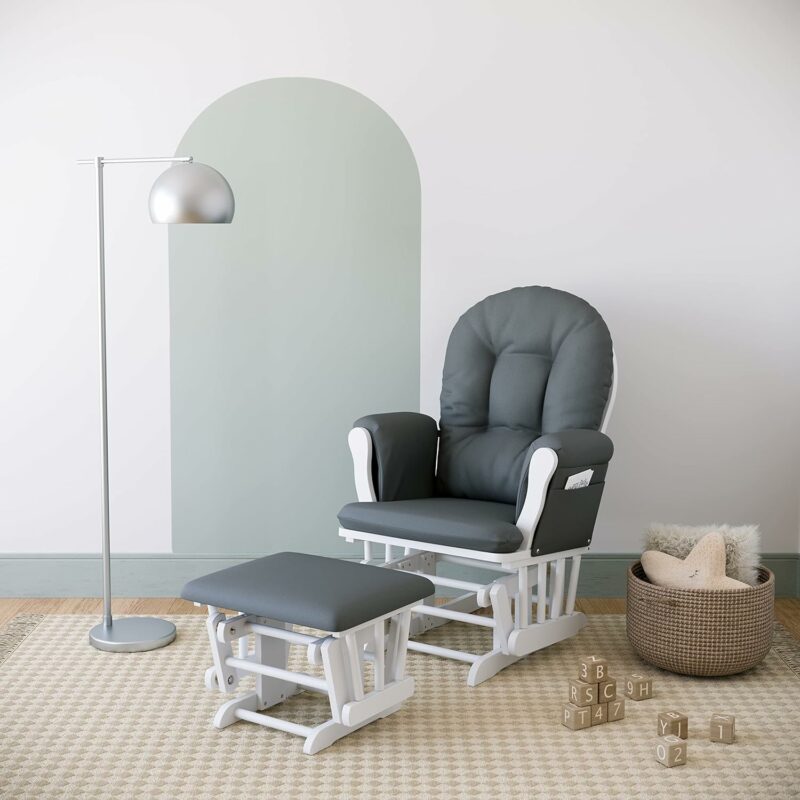 This glider and Ottoman chair are grey and white colored and require you to assemble them. This is a very inexpensive option, and it also has a slight and gentle rocking movement which is beneficial for your baby. One interesting feature is that the ottoman also has the same features!
The dimensions of the glider are 27.7 5W x 24.75 D x 39.5 H inches, and the ottoman is 19.00 W x 14.5 D x 14 H inches. It has a stunning 4,290 ratings, and the overall rating is 4.5. The ratings suggest that around 4.3 out of 5 customers find it easy to assemble.
8. Glider with Ottoman and Nursing Stool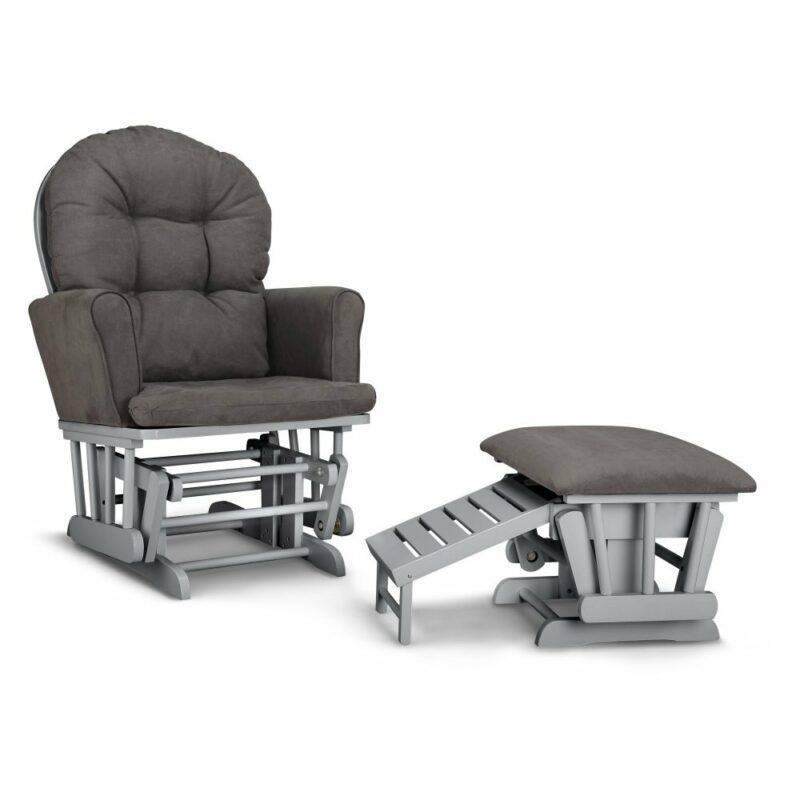 Although this is similar to the last one, this chair has a small advantage as it has an additional nursing stool in the ottoman. This can make the process of nursing your baby a little easier. The dimensions of this two-piece set are 42.7″D x 29.5″ W x 28″H. It is easy to clean and comes at an affordable price. Around 600 individuals have given ratings, and the overall rating comes up to 4.3, which is quite impressive.
9. Recliner and Glider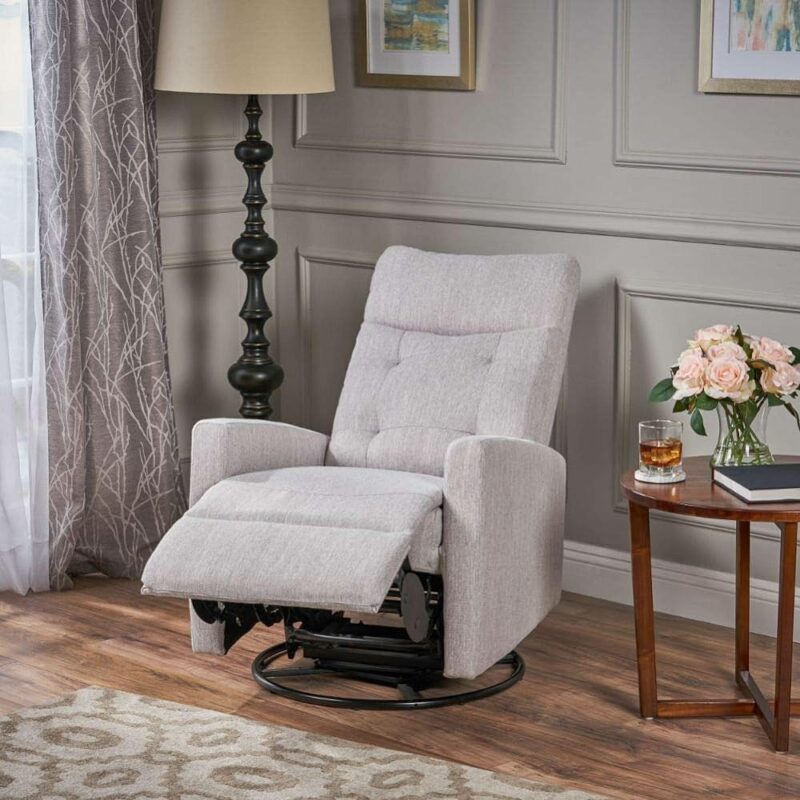 This looks classy and simple and has a high headrest. The dimensions are 35.75D x 25W x 39H inches. Although this falls in the expensive range, the looks and functionality of it can be a good investment in the long term. One unique feature about this recliner and glider is that it is a push-back one wherein you put your body weight on the backrest to convert it into a recliner. This product has an overall rating of 3.8, and some parts need to be assembled, but the tools and instructions for that are provided.
10. Swivel Recliner and Glider
This comes in several colors and has a 360-degree swivel function. It has a side pouch to store things and is a push-back recliner. It also has cushioned armrests and can be positioned in several reclining positions. The dimensions are 31″D x 32″ W x 39″H, and compared to other products, this chair is wider and so be more easy to change your positions. It is easy to assemble and has a 12-month warranty as well. This product has 1,156 ratings, and the overall rating is 4.2, and customers' ratings suggest that it is very easy to assemble!
11. High Back and Head Support Glider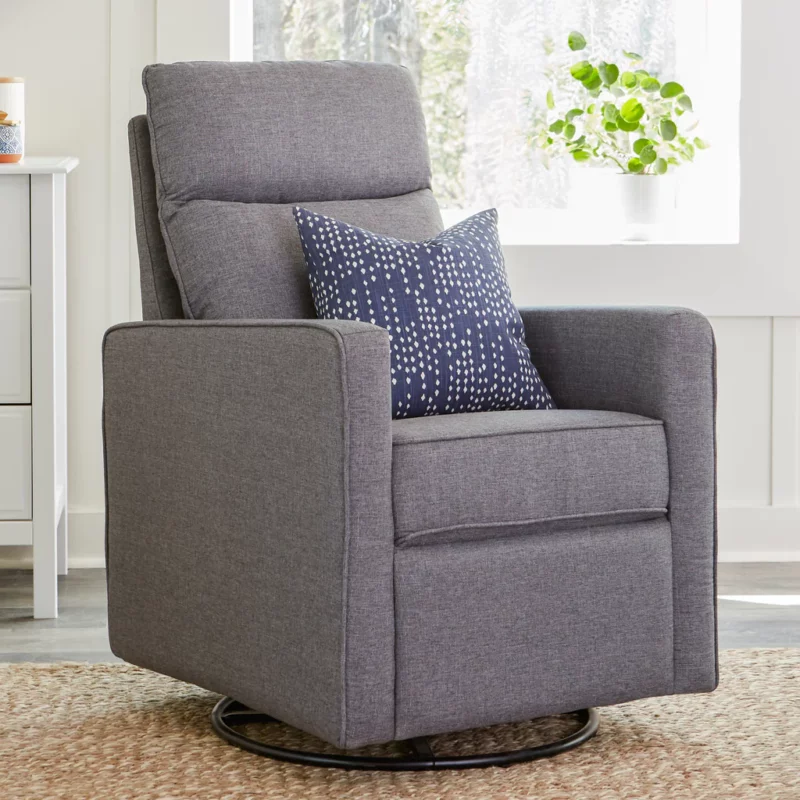 This swivel glider has a 360-degree swivel and an amazing pillow backrest. The frame is made of wood, and the seats are made of polyester. The dimensions are 33.5″D x 27″ W x 41.25″H. This is also available in colors such as beige, gray, and a darker shade of gray. An interesting feature of this chair is that it contributes to cleaner indoor air and makes your room more healthy. This is a good choice to consider for your nursery as this is affordable and eco-friendly. It has 1076 ratings and an overall rating of 4.5!
12. Modern Accent Rocking Chair
This chair has a unique appearance as the seat cushions are made of a soft and fluffy material. The dimensions are 32D x 28W x 37H inches. It can be easily assembled within 20 minutes, and the package received includes the parts, instructions, and tools. The customers have given it a rating of 4.6 for sturdiness and 4.5 for easy to assemble. This product has an overall rating of 4.6, so it is one of the affordable and best rockers for nursery.
13. Wooden Rocker with Cushion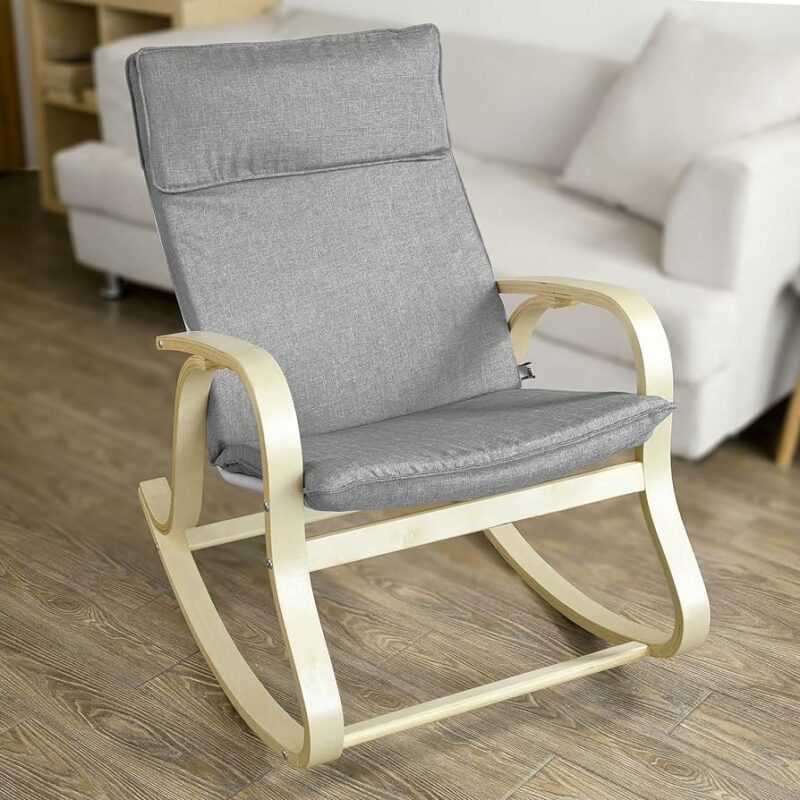 This off-white rocking chair is a good choice to consider. However, this might not be the best choice for your nursery because the armrests are not cushioned, and there are gaps under them. It is possible that the baby's legs get stuck there. The cushions are also thinner, so if you add thicker cushions, this can still be a good choice. The dimensions of this product are 19.7″D x 22″ W x 38.8″H. It has an overall rating of 4.3, along with 1,531 ratings.
14. Modern Rocking Chair with Side Pouch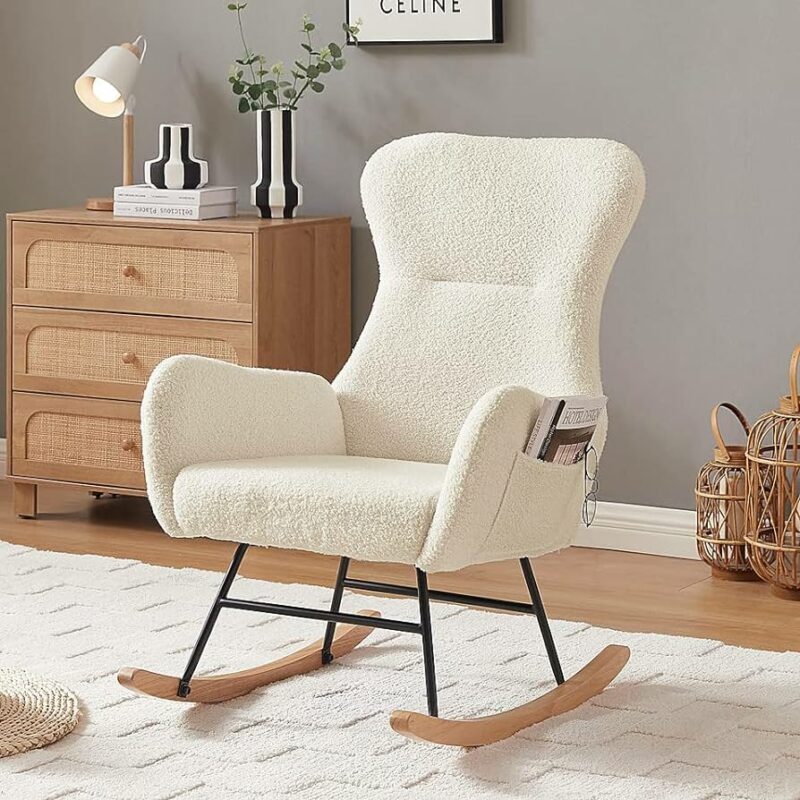 This rocker looks aesthetic, and the cushions are made of teddy fabric which is extremely soft. The armrests have cushions and side pockets for extra storage. The dimensions of the product are 25.9″D x 25.9″ W x 37.8″H. It doesn't have a wide seat, and that can make it difficult to move around in the seat to find a position you find convenient. The price is in an affordable range, and it has an overall rating of 4.3, so you can check out this simple but efficient rocker.
15. Classy Minimalist Rocker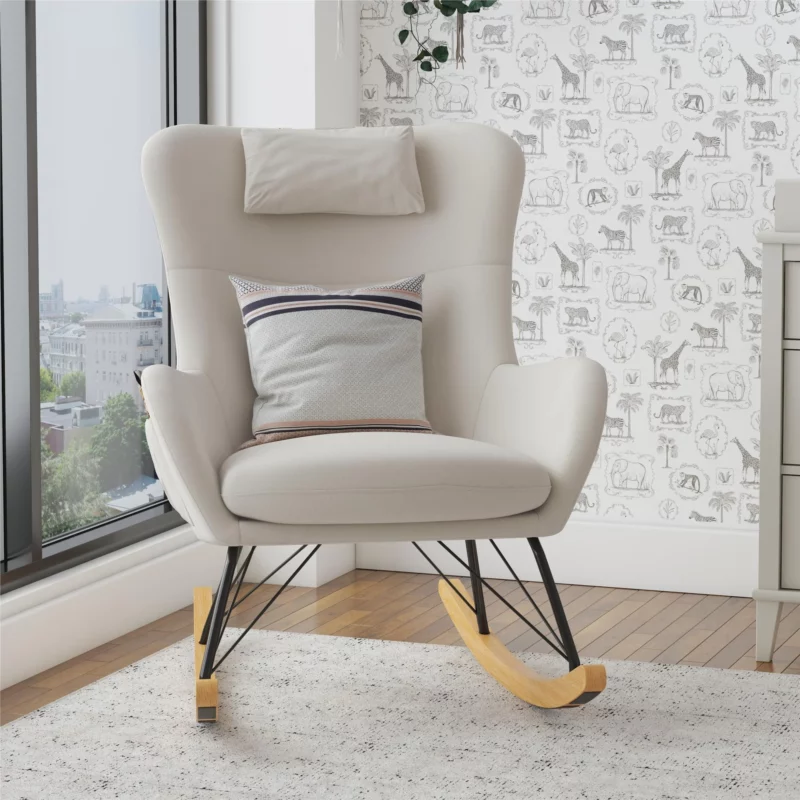 One useful feature that this chair has that most other models don't is a headrest that is placed on top of the backrest. Having a small cushion here can support the head and neck very well, making sure that the tired parents have a good rest. The seat cushion also is comfortable and firm. The rocking chair is durable, and the side pockets help you store things that you might need. Therefore, this rocking chair can be a choice for you to consider as the price is also not that expensive. It also comes in several stunning colors.
16. Velvet Upholstery Rocker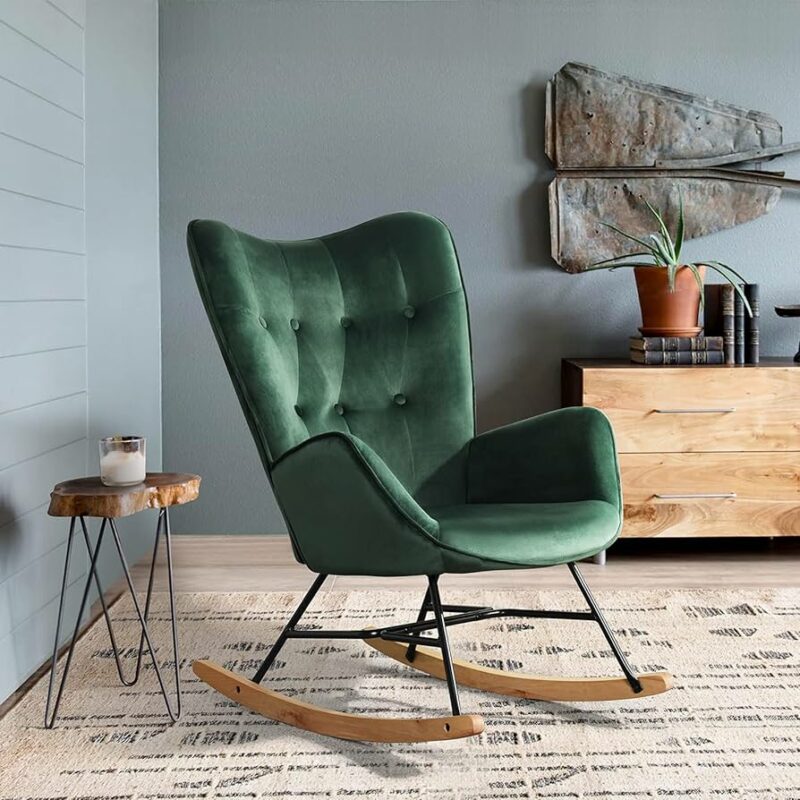 This is another aesthetic rocking chair that comes in 2 colors, namely a deep royal green and a lighter shade of blue. This is affordable, and the seat is covered with a velvety material which is a Scandinavian fabric. It has back support and dimensions of 37.8″D x 26.8″ W x 33.5″H. It comes with the tools required to assemble it, and you can do it in around 30 minutes! One review summarizes the product – 'easy to put together and looks fantastic.'
17. Velvet Upholstery Rocker with High Backrest
The frame is made of wood, and the seat material is made of velvet. It has side pouches. The simple and sleek design looks good in a modern and traditional-themed nursery. The product's dimensions are 32.28″D x 37.8″ W x 25.99″H. This rocking chair is also safer because it has a non-slip mat on the wooden base. This will ensure that it doesn't slide from one place. The velvet material makes the seat cushion feel soft, helping you have a good rest! This product has an overall rating of a stunning 4.6!
18. Cino Rocker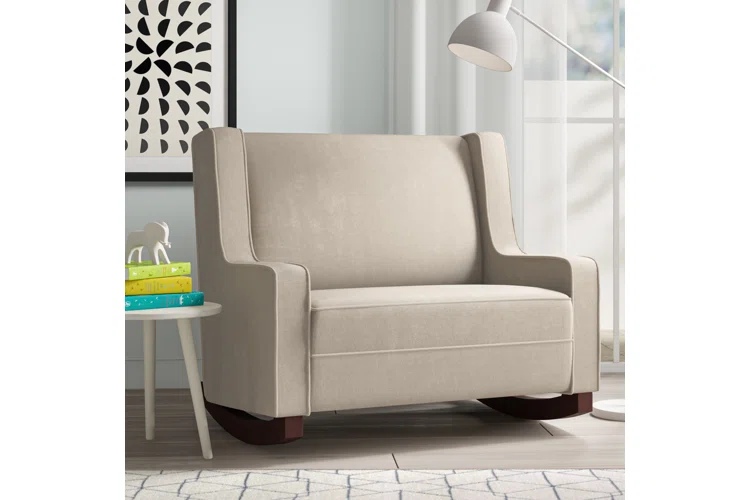 This rocker chair is one and a half times bigger, and if you have twins, this will be a great choice that you can consider. This has cushioned armrests and soft seats. The frame material is made of wood and is quite sturdy. This chair can be ideal for you and your child/ twins to rest, play and read stories. It has an average rating of 4.3!
19. Wide Rocking Chair for Twins
This beautiful extra wide seat glider and rocker comes in two colors. This can be an inexpensive option for your twins, and it has cushioned armrests. It also has high headrests, the seat material is made of polyester, and the frame material is made of wood. The dimensions of this chair are 40.9 x 31.9 x 36.4 inches. This has an overall rating of 4.0 and around 484 ratings.
20. Pairing Cushions with Wooden Rocker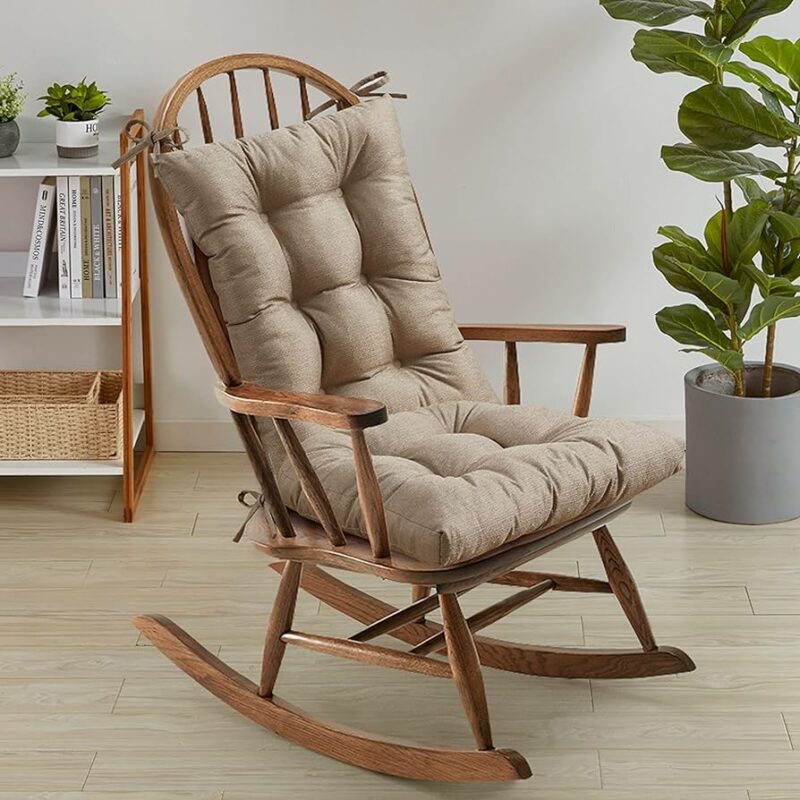 This is a very affordable option, as you can buy these cushions and add them to a simple wooden or metal rocking chair. It is a two-piece that fits almost any type of chair. It would be convenient also because even if you plan to sell or exchange the rocker, you can still use the cushion as they are long-lasting. They have a non-slip backing layer that prevents them from slipping. The upper cushions can be tied to the chair. This also works if you already have a rocker or glider where the cushions have worn out. These cushions have 4887 ratings with an overall rating of 4.3!
21. Portable Rocking Chair
If you are worried about how to put your baby to sleep when you are traveling or away from home, then this will be the perfect solution for you. This portable rocking chair cushion can be used anywhere, and as you lean on it, it will push you in front, and you have your rocking movement. This is easy to carry and can be used on beds, so there is no need to buy a separate rocking chair, although that would be a good investment. This is lightweight, provides back support, and is made so that at least 1 million rocks can be made on this cushion. The product dimensions are 11″D x 16″ W x 17″H. The customers have given it a rating of 4.6 for sturdiness and 4.5 for easy to use.
In Summary
Choosing a comfortable rocker or glider that can put your baby to sleep and allow you to rest at the same time can be a blessing. There are several types and models available, and you can choose one that best suits you. For instance, your baby might get better sleep when he/she is being rocked, so rockers might be better for you.
Some prefer the rocker cushion because it can be carried everywhere. Different rockers and gliders come with other features such as ottomans to rest your baby or place things on, USB ports for charging, recliners for you to relax and long-term utility, cup holders, side pouches, etc.
You also need to consider factors like your budget, space available in the nursery, requirements, presence of back and head support, upholstery, etc. If you have bought any of the best gliders for nursery or rockers, for that matter, from this list, be sure to let us know!
Frequently Asked Questions
Before Buying a Glider/Rocker, What Do I Need to Consider?
You need to explore the types of movement your baby is more comfortable with and choose a rocker or glider accordingly. If you are not sure, you can buy models which have both in one. In addition, you need to consider the price, durability, material, locker feature, wider seat and cushion type, back and head support, color, and features to choose the best gliders for the nursery.
Are Three-In-One Chairs – Gliders, Rockers, and Recliners Worth It?
Absolutely! They have better utility in a way that they can be comfortably used by anyone in the house, even after the baby grows up. New parents might be exhausted from all the new responsibilities, and so, after putting the baby to sleep, just resting in the recliner can be a way to boost energy. In addition, it is a good choice if you are not sure of which movement your baby prefers.
Sierra Rivera, a passionate home decor enthusiast, runs the popular blog CozyCottageCute.com. Sierra shares decor tips, DIY projects, and personal insights. Off the blog, she's often at antique markets or redecorating corners of her own space.